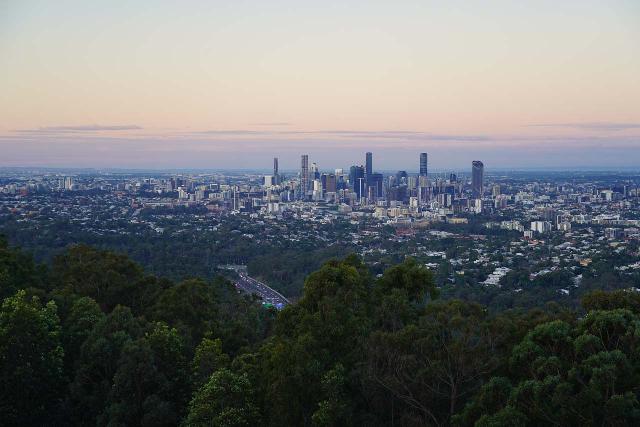 27-June 2022 to 8-July 2022:
Just as we were about to use the restroom facilities, I got a text from Julie saying something about my sister-in-law needing to contact Mom ASAP about something urgent.
When I relayed the message to Mom (just as she was in the process of warning another couple about darkness as they were about to start their walk to Josephine Falls), she then immediately made a roaming call.
I was overhearing the conversation just as I was loading up the car, and that was when I realized that something very bad had happened to our family…
Day 19 (June 27, 2022 – Cairns, Queensland, Australia): "Running Ragged"
After what seemed like some much-needed shut-eye, the plane landed seemingly on time at around 7:10am as scheduled, but then it took some time to get out of the plane.
Since filling out the passenger card was one of the first things we did while boarding the Jetstar flight when we first got on, we also breezed through the passport control queue by 8am though most of the other passengers didn't bother with that card and had to do it on the spot.
We then had to wait for our bags and get through a pretty strict customs queue with dogs constantly sniffing for stuff that should have been declared before we finally got our rental car at the Avis counter at 9:05am (which required us to hike to the domestic terminal from the international one).
It was quite the windy and cloudy day with some sporadic sun, but it was quite a different feeling relative to the Balinese humidity and heat that made it feel relatively comfortable here in Far North Queensland by comparison.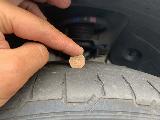 As we were loading up the car and doing our rounds of looking around the car, the first thing we noticed was that the front tyres looked very worn (so much so that most of the treads didn't pass the Lincoln's head test).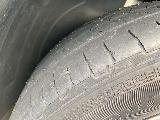 So we expected to have to get this car taken in to a Pep Boys or something to see if we could rectify it since we were renting this car for a long time covering a lot of kilometres.
But we first went back to the Avis counter to apprise them of the situation.
Another guy was helping us out, and he ended up giving us the same Hyundai Santa Fe full-sized SUV but this time it was a diesel-powered car (which meant petrol prices would be even more since they charge more for it here).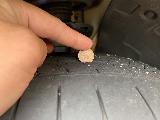 Upon looking at the front tyres, they didn't seem that much better than the first one, but we just ran with it anyways.
And with that, we then loaded up this car, and then drove off by 9:25am as we were finally able to move on with our next phase of our long Oz/Bali Trip.
With everyone needing a shower as well as a teeth brushing and perhaps some much needed sleep, we really didn't have the time to do that so most of the people (especially Tahia) were sleeping.
However, Mom and Julie did note the striking difference between touring in Australia versus Bali, Indonesia, and that was we didn't have to worry about scooters weaving in and out of traffic and that there were far fewer people here than over there.
That made the experience a bit less hectic, and in that sense, we were glad that we got to unwind a bit from our 10 days in Bali.
Nevertheless, I did the drive heading north of Cairns and then heading west on the Savannah Way, which leading towards Kuranda.
The first target for this day was the Barron Falls, which was the waterfall that Julie and I did as part of the Kuranda Scenic Railway experience when we were last in this part.
Sure it was a repeat (since 2008), but I wanted to see for myself if this really could have been done on our own.
And we were about to find out even if we were a bit ragged from the red-eye flight and from having sweated and had a full day of touring in Bali before that flight.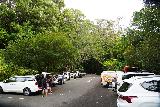 So by about 10:15am, we finally arrived at the well-signed Barron Falls Lookout car park after spending a bit of time going slow and following one of the slower trucks on the Savannah Way.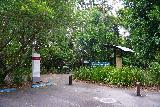 The car park here was surprisingly busy considering it was only Monday morning, and many of the cars here consisted of families with kids (aren't Aussie kids supposed to be in school?).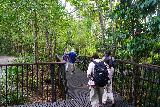 I wondered if this has to do with schoolies where the kids have certain weeks off (like a mid-Summer break in December and perhaps they have another one in the dead of Winter in June which would be around now).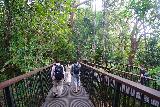 Regardless, we quickly got out of the car (and woke up Tahia to try to get adjusted to local time since Cairns was two hours ahead of Bali), and then we proceeded on our walk down the well-maintained path.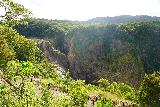 Just a few paces on from the car park was a lookout peering down at a partial view of Barron Falls in its typical Dry Season flow (no surprise there).
But it left much to be desired so we continued down the walking path leading us through an attractive rainforest where the walk was well elevated above the monsoonal forest floor.
This elevated walk kind of reminded me of the way they do treetop walks in other parts of Australia like the Otway Fly as well as the treetop walk in the southern part of WA somewhere near Walpole.
Nevertheless, we quickly made our way down past a worker blowing leaves to clear the trail (again showing the level of maintenance that was going on here), and pretty soon we went past the familiar railroad and then out to the lookout platform.
From there, we got the familiar nice view of Barron Falls, which was exactly the same thing that I remembered us being able to do from the Kuranda Scenic Rail that we had done nearly 12-13 years before.
I didn't recall whether we saw this falls in a similar flow or higher or lower, but if the weather today was any indication, maybe it might have been enhanced somewhat given the unseasonal Dry Season rains that were said to be affecting this area today and tomorrow.
Of course, that made us concerned about whether our planned Great Barrier Reef snorkel was going to be a go or not since we wanted Tahia and Mom to finally get to experiencing seeing Nemo in real life.
Well, after having our fill of the Barron Falls Lookout, we did notice that there was another lookout area way on the other side of the gorge that I had never seen before.
In fact, I had never seen the whole Sky Rail thing before in the past and I wondered if that was a new thing that they put in ever since after we first came here.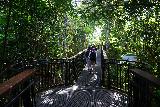 Regardless, there didn't seem to be a way to bridge between here and the opposite side, and we weren't going to do that anyways since we still had two more waterfalls to do on this day.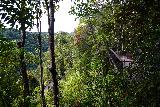 So we went back up the way we came and returned to the car at 10:55am.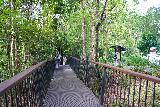 Next, we drove back towards the Savannah Way and then headed further down the road towards the well-signed turnoff for Davies Creek Falls.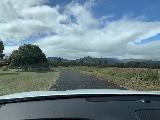 This was another thing that was a striking difference between Bali and here – that the signs were well-marked in addition to the roads being wider and less chaotic.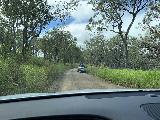 We then had to follow an unsealed road for a bit, which was pretty smooth relatively speaking, and then we followed a pretty scenic ledge-hugging unsealed road (which was fairly wide enough to accommodate bi-directional traffic).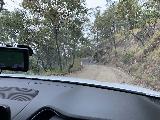 Eventually, we showed up at the fairly small Davies Creek car park (beyond the camping area), where there were already four cars here, and we managed to find a fifth spot to park at.
We got here at 11:30am, and out in these parts, the sun was partially out even though some of the clouds overhead caused it to sprinkle a bit.
Julie and Tahia opted to stay in the car this time around, and so Mom and I first started going down the path to the lookout, which was a mere 200m away.
We first got down to the lookout, which was a generalized view down towards the valley from which the Kennedy Highway went through way down below, but when we panned over to the waterfall, we saw a partial view of the base of the Davies Creek Falls.
It was a large waterfall, but we were only able to partially see it due to a big boulder blocking our view from this vantage point, so Mom and I continued down the rock-slabbed path leading steeply down to the main lookout for the waterfall lookout, which we got to at 12pm.
At this vantage point, we got a sideways profile view of the main drop of the Davies Creek Falls, which looked quite impressive from here.
We also noticed an upper tier of this waterfall, where some people appeared to have been able to scramble and take a dip at the pool at the lip of this waterfall, which I'd imagine might be a pretty cool "infiniti pool" kind of experience.
Mom noticed down below the waterfall that there was some kind of birds nest looking thing, which another lady from these parts who happened to be here pointed out that they were built by greenants.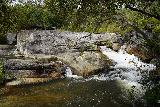 Apparently, they're a kind of ant that actually bite, and she also told us that you could apparently sterilize water or take the foul taste of badwater by boiling these ants in the questionable water.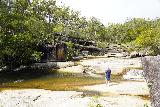 That was interesting to know, but in any case, we then continued back towards the trail where we noticed that there was a side path leading towards Davies Creek upstream of the waterfall itself.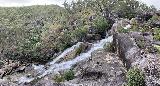 I had noticed that there were people who were swimming there, and it was basically an unsanctioned scrambling path over dark rocks and some tree roots leading to the banks of the creek.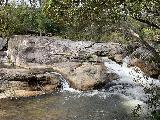 I had no interest in swimming, but I did have an interest in seeing how these pools were accessed.
In one instant, I went around a fairly sketchy bit of scrambling and noticed the couple that we had met earlier now swimming in the hole just upstream from the brink of the Davies Creek Falls.
It was backed by some minor cascades, and it made for a nice spot to chill out.
So once I got the gist of this place, I then rejoined Mom back on the trail and we decided right then and there to just continue the loop track instead of going back up the way we came.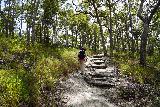 As we did this, we noticed that there were more spots for swimming holes within Davies Creek, and then we kept going towards the "picnic area", which was really nothing more than a shaded area by the banks of Davies Creek where you could sit on rocks for informal seating.
After having our fill of this spot, we then spotted the trail leading back up to the car park for the final 300m and we got back to the car by about 12:35pm.
According to the signage, we had gone about 850m in total, but it was a nice, quiet, and gentle walk, and I was glad to have finally been able to do this place since I had never done it before.
Actually, we avoided doing it because the rental car had a loose oil pan when it bottomed out after our crazy adventure to Blencoe Falls way back then.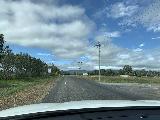 Anyways, we then continued our drive back towards the Kennedy Highway (the unsealed road provided a few more nice views along the way) before we then went past some kind of Emerald Creek Creamery, which caught my attention and I made a mental note to come back here for ice cream.
Eventually, we entered the outskirts of the town of Mareeba, where we then turned left on another well-signed turnoff for the Emerald Creek Falls.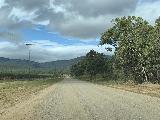 We then followed another unsealed road that was a little bit rougher than the Davies Creek one, but this one also skirted what seemed to be some kind of banana plantation.
There were also a handful of more washboards and potholes along the way so we definitely had to be a little more careful (including a pothole at the end of a bridge).
Regardless, on one of the descents, we did start to see the impressive Emerald Creek Falls in the distance.
We ultimately made it to the elongated car park for the Emerald Creek Falls at 1:10pm, which was actually quite busy with a handful of vehicles strewn about a picnic area.
Some of the cars here looked like they were recreational vehicles, and I wondered if locals were using parts of this day use area for informal camping (even though this spot was clearly marked for day use only).
Nevertheless, Julie and Tahia opted to stay in the car again so Mom and I geared up and embarked on a hike that looked to be uphill and estimated to take about an hour or so.
We then followed the mostly uphill path in a combination of sunny weather and partial cloudiness, but man when the sun was out, it felt quite hot.
Sure, it was nothing like the Bali mugginess experience, but we continued going uphill just as a handful of hikers were coming back down the other way.
It was another nice and pleasant hike even though Mom and I were sweating quite a bit.
We eventually got to a fork in the trail where a path went to the bottom of Emerald Creek Falls while the right fork went to the right up to a lookout.
By about 1:40pm, we ultimately made it up amongst the interesting black boulders and right to the overlook for the Emerald Creek Falls, which pretty much reduced to a fan-shaped upper drop with quite a few cascades further downstream.
We couldn't get the whole thing in one go from this vantage point, and thus pictures didn't really do this place justice.
I noticed that there were more use-trails going beyond this lookout, and I followed it towards what seemed to be a closer profile view of the main drop of the Emerald Creek Falls.
That was my turnaround point, and so I rejoined Mom, who herself was joined by another pair of people, and then we headed back down to the signed fork where we'd deviate to the base of the waterfall.
I recalled that this part of the trail was said to be "grade 4", which was higher than the "grade 3" to the lookout that we had just done.
This was an interesting trail in that it was mostly on the slippery slabs of rock with arrows pointed on them or bolted onto the rocks themselves to help us navigate the way.
There were a couple of bridges to help get across some of the really slippery and dicier parts of the this hike and scramble where the creek ran across the trail.
And beyond the last of the bridges, the trail was then pretty much a choose-your-own-route scramble directly on the sloping slabs of rock where it was real easy to slip and fall even when it was dry (let alone wet!).
And so Mom and I savored this alternate way to experience the Emerald Creek Falls, where we got a more direct partial view of the fan part of the waterfall while also looking directly at the more lower drop that couldn't be seen from the lookout above.
I also noticed that there was a rope swing above the plunge pool of the lower drop of the falls from the end of this trail, and that it required a short scramble from a deviation of the trail we had taken to get here.
I'd imagine some of the younger shirtless people we saw coming down earlier must have gone for a dip by that rope swing at this spot.
Nevertheless, after having our fill of this waterfall at 2:10pm, we then went back down the remaining part of the trail and got back to the car park at 2:40pm.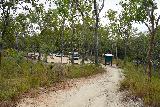 Now, we could finally start heading back to Cairns as we very much looked forward to getting a much-needed shower and good brush.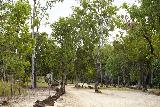 But along the way, we stopped by the Emerald Creek Creamery at 3:05pm, and unlike earlier when this place looked empty, this place was now bustling with people showing up just as we came.
Since Tahia was still having a mild fever probably from food poisoning in Bali, it was only Julie, Mom, and I that got the ice cream here.
Both Mom and Julie got a combination of passion fruit and mango sorbets, while I decided to go the dairy route (they were a creamery after all), and I got cookies and vanilla bean.
And all I can say regarding this experience was wow!
This place was the real deal and definitely one of the better ice cream and/or gelato experiences that we've had on this trip.
It was too bad that Tahia missed out on it, and she wasn't even aware since she was still sound asleep.
I almost wanted to buy yet another helping of the passion fruit and mango sorbet since that seemed to be the real deal here (suggesting that they grow and harvest these fruits locally here).
Regardless, we had our goods and continued the drive back to Cairns at 3:20pm.
During this drive, Julie checked her emails and saw that our tour for the Great Barrier Reef tomorrow was cancelled due to bad weather (which was a real bummer).
So right then and there, I was thinking about how we were going to make use of the suddenly free day tomorrow, and I started to think about knocking off some of the waterfalls that we'd want to do when we head towards Millaa Millaa and Innisfail over the following two days.
And mentally, I had targeted Josephine Falls and Babinda Boulders, but I also wondered how good (or bad) of an experience that might be if the weather still turned out to be sour.
Anyways, I was fighting fatigue since we weren't getting good sleep over the last two long days, and so I probably wasn't as alert as I could be.
Fortunately, there were lots of cars around, and I pretty much followed the traffic flow though it was kind of sluggish on the way back (and Tahia would probably get carsick if she were awake).
Eventually by about 4:15pm, we got to the Hilton Cairns Hotel, where we were about to spend the next two nights.
It took some time to get the keys and the ability to get into the car park, but we'd finally park the car by 4:30pm, and then we got into our room at 4:45pm to unload our stuff.
However, the room we had gotten was some kind of ADA room (for people with disabilities), and even though it had a nice ocean view, its shower area was prone to injury due to not having a tub (it was one of those showers where water gets all over the bathroom).
And so after Julie talked to the front desk to address this situation, we got a better room upstairs (why didn't we get this room in the first place?), and so we moved our stuff up there and then we finally got settled.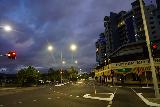 It wasn't until about 6pm when we started to go back down into town for a little bit of exploring of the downtown Cairns area in search of a place to eat dinner as well as a place to do some grocery shopping.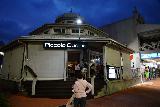 We ultimately went down to this place called the Piccolo Cucina, but they didn't have a spot until around 7:45pm, which gave us time to go for some grocery shopping before having the late dinner.
And that was pretty much what we did though parking was hard to find (we would have been better off just walking from our hotel to the Woolly's and then back instead of driving and walking a similar distance).
Regardless, by about 7:15pm, we made it back to our room to put stuff away into the fridge, and then by about 7:35pm, we finally got back to the Piccolo Cucina, where we then were immediately seated.
For the next hour or so, we got mains of a Trasteverde pizza (which had prosciutto ham with buffala mozzarella), a crispy pork Maiate dish, a veal scalloppine, and Tahia's spaghetti a la Bolognese.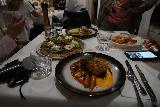 These dishes made for the perfect contrast to the spicy Indonesian and/or Indian foods that we had eaten for each of the last 10 days, and what was way to change things up because this was one of the better Italian experiences that we could remember.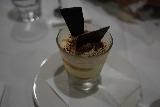 Sure we were back to paying western prices (as we had to retrain ourselves to stop thinking in terms of Balinese cheap), but it definitely hit the spot.
In fact, we even got a tiramisu dessert though we had to refrain from getting the nutella pizza dessert (which included vanilla bean ice cream).
So we left the restaurant fully sated by about 8:45pm, and we were back in the room by 9pm to finally unwind on the night and get cleaned up for the first time in two full days!
Man, a shower and a bed never felt so enticing!
Day 20 (June 28, 2022 – Cairns, Queensland, Australia): "The Snorkel Irony"
It was about 5am when I first awoke to the alarm, but given that I was still a bit tired from yesterday, I decided not to get caught up on blogging straight away and go back to sleep.
30 minutes later, I awoke to the second of my alarms, but felt the same kind of fatigue and need to rest so I stopped it and went back to sleep.
It wasn't until about 7:15am when I awoke for good as the daylight was definitely out and revealing that the skies were cloudy and very windy.
If ever there was any doubt about our Great Barrier Reef snorkel tour being cancelled, this observation quelled any kind of second-guessing in the back of my mind (as well as Julie's).
So with the late start, I only then started to get caught up on the happenings for the last couple of days since it was difficult to do in the moment considering we started with a very long last day in Bali followed by a red-eye flight to Cairns, and then another full day of touring.
It was probably one of the roughest two day stretches that I could recall on a trip, but when you can't control the flight schedules you try to take advantage of whatever time you do have, and the way it played out according to plan made the most sense when we booked everything.
It took a while to get all settled in, and Tahia was trying to hold me to my Waterbom promise of playing Roblox with her on this day, which was looking more and more likely considering it was an unexpected free day.
Although I had thought about doing a divide-and-conquer type scenario in the back of my mind (where Julie and Tahia would visit the Cairns Aquarium while Mom and I would go hiking), I ultimately decided that we should visit the aquarium together and take it easy.
Thus, we proceeded in that manner although it took a while to get moving (the aquarium opens at 10am) and I was getting very antsy when 10am came and went.
It wasn't until about 10:40am when we finally started walking towards the aquarium while taking the walk along the Esplanade to get there.
Even though the skies were gray and threatening rain, the winds seemed to have calmed down and we tried to soak in the sights of the ambience of The Esplanade Walk.
On the ocean side of the walk, there were views towards the south as well as across mud flats where some bird life could be seen going about their business.
There was also an interesting public pool where some families and kids were already taking advantage of it despite the non-ideal weather for a swim (which was unusually cold for this part of Queensland, I'd imagine).
We'd continue to slowly walk along this side of The Esplanade while Julie was using Google Maps to navigate, and then we finally left The Esplanade and headed towards Florence Street, which led us towards the Cairns Aquarium.
When we got there at about 11:10am, there was already a line to get into the facility, which caused us to realize that perhaps this place was the place to be when you have Great Barrier Reef Tour cancellations.
That made us even more vigilant about wearing our face masks, and we noticed that we were one of the few people (if not possibly the only people) doing this as we entered the building.
After paying to get in, we then pretty much went on a one-way self-guided tour through the various displays in the mostly dark interior with mostly dimly lit passage lighting as well as brighter aquarium lighting for the actual captive wildlife themselves.
This reminded me very much of the Monterey Bay Aquarium though in this case, there was a greater emphasis on the larger ecosystems that help give rise to the Great Barrier Reef itself.
We took our time checking out the various freshwater and sealife displays as well as some of the Wet Tropics displays, which featured megafauna like the Saltwater Crocodiles as well as snakes (both venenous and the constrictor types).
There were also notable large spiders and even a burrowing cockroach that made the household types look miniature by comparison.
We also spotted fish like the barramundi, which were one of the more ubiquitous types of fish that we've encountered (both in the wild as well as in restaurants) in these parts of Northern Australia.
As we progressed away from the Wet and Dry season displays concerning the land contributors to the Great Barrier Reef, we then got to the displays about the reef itself.
Although it was sad that we didn't get to experience the reef in the wild (especially for Tahia and Mom, which was the very reason why we opted to spend two nights in Cairns), we did marvel at the wildlife we probably would have seen (as well as those we probably wouldn't have seen).
There were many colorful coral as well as interesting sea life, including an upside down jellyfish as well as a giant tank that where we got to watch black-tipped reef sharks and huge manta rays (or sting rays? I can't get them sorted out) swimming gracefully as we watched from different spots.
We probably could have spent even more time in the aquarium, but Tahia was complaining about discomfort in her stomach as we suspected the food poisoning symptoms from Bali were still having an adverse effect on her.
Julie had already mostly gotten over her symptoms, but this experience was definitely something that may impact Tahia more since she was usually cavalier about what she ate (especially if there was a lot of sugar in it).
So we ultimately left the last of the displays, which was pretty much the huge tank where we saw lots of fish as well as the rays and sharks gracefully moving this way and that, and we ultimately left the aquarium at 12:40pm.
At that point, we then meandered towards a possible place where we might be able to do laundry as we found a "coin-op" laundromat in the heart of the touristy part of Cairns right across from the Novotel on Lake Street.
Unfortunately, that facility looked super busy, and we weren't really keen on driving to this spot only to have difficulty finding parking nor haul our three bags of laundry for some 10-15 minutes walk and then haul them back.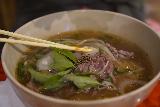 When all would be said and done, most of the day would be over though we also didn't want to wait around until getting to Millaa Millaa which was our next accommodation, and where we knew (and confirmed) that there would be a laundry machine to use.
I recalled from our first trip to this part of Queensland back in 2008 that our trailer park room actually had its own laundry machine inside the unit!
Anyways, after getting this bit of intel, we then headed back towards the Esplanade, where we stumbled upon a Vietnamese pho place, and so we made a stop there for lunch.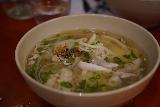 We figured that perhaps since it involved hot broth or hot soup that maybe it might help Tahia's symptoms even though she didn't really have an appetite.
And so we went in there, got seated, looked at the menu, and then ordered like 4 different types of pho bowls that they offered.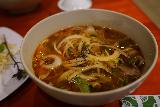 We got Tahia some kind of chicken pho for something simple that might soothe her tummy, I got Bun Bo Hue (though they called it something like chili pork and beef noodle soup), Julie got the standard beef pho (Pho Tai, I believe), and Mom got a special combo that included tripe and other things.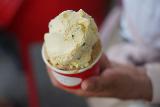 Although this meal wasn't anything like what we're spoiled with in Little Saigon in the OC, the quality was actually not bad though they did fill the bowl with mostly noodles to kind of hide the fact that there really wasn't that much meat in them.
After having had our fill of the lunch, we then walked on the more business side of The Esplanade, where we also stopped for one of the gelato kiosks (there were actually a whole lot of them though we stopped for one that actually had soursop sorbet).
Tahia felt like we were being cruel to her because she had no appetite and here we were having gelato in front of her.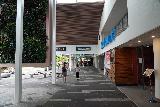 Nevertheless, we were also scoping out possible dinner spots along this more happening part of Cairns, which vaguely tickled my memories as I had recalled there being things like a large night market as well as numerous eating establishments here.
Back then in 2008, the Australian Dollar was actually as strong (possibly even stronger) than the US Dollar so it was actually a pretty expensive part of the trip.
But these days, the US Dollar was way stronger than the AUS Dollar, and so whatever prices we were seeing was essentially like a 40% discount (kind of like how UK visitors must perceive costs when they'd visit the USA or something).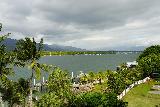 In any case, we ultimately ended our little tour of Cairns and its aquarium (which was actually something recent as it didn't exist when Julie and I were here back in 2008), and we ultimately returned to our room by 2:10pm essentially to get Tahia to rest while also grabbing our laundry.
Well when we showed up, it happened to be just in time for the housekeeping worker to show up and about to tend to our room.
So we let her just keep going about her business while we were just chilling out mostly on the balcony while she did what she had to do (though any bathroom trips had to be put on hold until she was done).
It actually took some time before the houseskeeper (who was actually a young Caucasian Aussie lady that didn't fit the profit of the mostly senior Latina workers that we had been accustomed to seeing) finished up with our room.
And then it took even more time for Julie to figure out an alternate spot to do the laundry perhaps where I could drive her and Tahia to (she was suddenly feeling better now that we were back in the room and possibly hopeful to be playing game).
We ultimately decided on this place called the Spin On Reservoir Laundromat, which was a bit away from the touristy part of Cairns but still in Cairns City, and then Julie and Tahia would catch an Uber ride back to the hotel.
In the mean time, Mom and I would go to at least one waterfall though we were running out of daylight as it was 3:10pm when we finally got into the car and made our moves.
This late start was definitely not what I was hoping to do, but the thinking here was to alleviate some of the activities from later on in the trip starting tomorrow when we'd be in Millaa Millaa and then Innisfail the following day.
As we drove off, it actually took some time to find the Spin On Laundromat, because we were going into a part of Cairns where the locals would essentially do their day-to-day activities.
We'd eventually find the laundromat at 3:30pm where it took a little figuring out (as Julie thought she had to download an app on the phone to get the machines working, but actually credit card worked just fine).
Eventually by 3:40pm, Julie and Tahia were left at the laundromat so they could finish off doing the much-needed laundry chores, and then Mom and I headed south towards Josephine Falls to at least salvage something from today.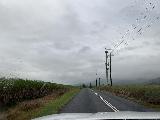 The drive south along the Bruce Highway was for the most part uneventful though we were concerned that the further south we went, the more the darker clouds seemed to be hugging the mountains as well as overhead of us.
In some stretches, there was light rain and sprinkling, and I swore that the low clouds that were moving rapidly across the skies reminded me of the kind of scene I'd be seeing in Scandinavia or Patagonia but not in Far North Queensland of Australia!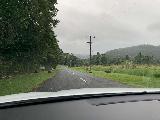 Indeed, Global Weirding was definitely in effect in these parts, and when you couple that with the heat wave throughout much of Northern Hemisphere, I guess Global Warming was happening faster and more persistently now more than ever.
Well, we couldn't control these kinds of things and we just tried to make do with the circumstances.
So we continued past a large construction zone before going through more free-flowing traffic as we passed by Gordonvale, Fishery Falls, Deeral, and Babinda while going by what turned out to be Queensland's second highest mountain (Mt Bellenden Ker).
Eventually, as we passed Babinda, I noticed a big sign for the Babinda Boulders, which was another one of the stops I wanted to make on this trip, but it wouldn't happen on this day since I knew we were running out of daylight.
Ultimately, we then got to the well-signed turnoff for Josephine Falls, where we then took the road up towards Mt Bartle Frere (Queensland's highest mountain) before reaching the fairly large car park at 4:55pm.
Believe it or not, even though it was lightly raining and quite cool as darkness was rapidly approaching, there were actually quite a few cars that were here.
In any case, we were now in a race against darkness, and so we quickly geared up and proceeded with the 700m walk to the Josephine Falls.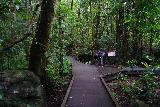 I recalled that the first time I was here, I actually slipped and fell and broke my tripod at the time (which rendered it useless on our round-the-world trip which included Africa later on).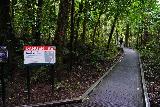 So this place had a little bit of an ominous feel to it as far as I was concerned though I was well aware of what a popular swimming hole this place was (so it also wasn't surprising to see numerous warning signs about drowning deaths here as well as calls for safety and caution).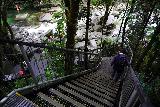 Anyways, the forest canopy here was quite thick and it already felt like it was post dusk in some stretches, but Mom and I pushed on as a couple of parties were on their way out after having done their swims.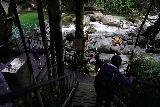 We couldn't imagine how cold it must have been for them since they were in shorts and flip flops despite it being cold and misty this late in the afternoon.
But when we finally got to the familiar lower lookout platform for the Josephine Falls after going down a series of steps, we saw that there were two more parties here just about to wrap up their visit.
So it was pretty much just Mom and I alone here though the boulders that were slippery and worn smooth definitely made us very wary of proceeding too far away from the viewing platform.
Now, I could better appreciate why I slipped and fell and broke the old tripod at this spot, and with that in mind, I just found as flat of a spot where I could appreciate the falls and then document it as usual.
After having our fill of this spot, Mom and I then went back up the steps and continued the short walk further where there was another signed fork (where the sign said "Creek View").
A short distance down this fork, we then went to a nice viewing platform that had a satisfying view of the Josephine Falls from a viewing deck, which was perched a little closer to the three-tiered drop of the falls kind of near the brink of its lowermost drop.
Of all the views we'd have of Josephine Falls, this was perhaps the best photo spot in my mind though with a name like "Creek View" it seemed to really sell this spot short.
Anyways, after taking our videos and photos of this spot, we then went all the way to the end of the walk where there was a seemingly newly-built walk and viewing platform right before the upper two drops of the Josphine Falls a little upstream from the lowermost drop.
From here, we could feel the mist coming from Josephine Falls, and Mom and I hastily took what photos and videos we could from this spot as darkness was definitely fast overcoming us.
I never recalled this walk and platform being here before but when looking down at the wet and smooth rocks below, it was pretty obvious why it was a wise move to have this elevated and developed viewing spot.
When Mom and I finally had our fill of this spot, we then walked back through the darkness (still not needing a torch though it was getting quite close), and we ultimately made it back to the car by about 6:05pm.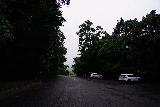 Just as we were about to use the restroom facilities, I got a text from Julie saying something about my sister-in-law needing to contact Mom ASAP about something urgent.
When I relayed the message to Mom (just as she was in the process of warning another couple about darkness as they were about to start their walk to Josephine Falls), she then immediately made a roaming call.
I was overhearing the conversation just as I was loading up the car, and that was when I realized that something very bad had happened to our family.
I could only hear Mom's reaction to the call, but I heard her say the words "drowned?", then asking "is he at the hospital?", and then finally "Oh no!"
I could tell from the conversation that my brother had drowned in Maui, which was a place he'd go back to often.
And from that point forward, a trip where Mom and I were riding high from the experiences we've been having so far (and we're not even half-way done yet) all of the sudden didn't matter anymore.
I still tried to process the information as it happened, but it hit Mom way harder (as you can imagine when you just learned that you lost one of your sons).
In fact, I still was unable to accept the news since it happened so suddenly (I guess I can now emphathize with other people who have lost loved ones, especially while on holiday).
But it felt like deja vu when Julie's cousin passed away on a trip to Puerto Rico when a wave swept him off a cliff, and I wasn't even that closely attached to him.
In this instance, I overheard that it was a snorkeling-related incident, and the first thought in my mind was whether he was wearing a floatation device like life jacket or floatie.
This was something that Julie always made sure we did even if we'd be the only people doing so (just like on our last trip to Puerto Rico when we went in the water and were the only people wearing floatie jackets).
Julie was always cautious about these things because she couldn't swim, and even though Tahia and I could swim, the power of the ocean (let alone freshwater streams) was something that can't be underestimated.
There were definitely more questions than answers at this point, but now we had to process this new reality in which life would be very different going forward.
I knew at that point that there was nothing I could say nor do to rectify this situation.
If anything, Mom put on a brave demeanor and assured my sister-in-law (or at least her best friend if she was doing the talking) that she was going to do what it took to ensure she and her two kids weren't going through this alone.
I also knew at that point that finishing this trip would be futile, and my next thought was what trip insurance would cover as we'd have to accelerate the end of this trip.
So it was a seemingly long and endless drive back from Josephine Falls to Cairns, and I wondered if Julie knew the news and could get right to looking up flights as well as ways to get back home as soon as possible.
It was a mostly quiet ride back as Mom was now on her phone trying to figure out her next steps at the same time I was deep in thought trying to process my next steps while at the same time ensuring that we at least got to Cairns safely.
By this time, it was now night time, and I was well aware of kangaroos darting out in the middle of the road even on busy highways like the Bruce Highway.
So I definitely drove slower than the speed limit and tried to keep the high beams on until there was oncoming traffic going the other way.
Breaking the silence, I could hear Mom trying to reason with what happened (as painful as it was for her), and she did tell me that "Tommy had a good life".
We'd eventually get to our accommodation at 7:15pm, where we saw that Tahia was still in bed but Julie was not in the room.
Julie eventually got back to the room a few minutes later, and what transpired after that was basically a blur of lots of tears as well as lots of planning and phone calls concerning the change of plans of this trip.
Ultimately, Mom requested to be on the next flight back to LAX so she could support Dad (who doesn't know about the news yet), and so that both my parents could grieve together in the near term while also trying to support my brother's family as best as possible.
In the meantime, Julie and I eventually decided to cancel the entire New South Wales part of the trip, which comprised the final couple of weeks of the trip.
However, we'd still have to fulfill the non-cancellable parts of the trip concerning the remainder of Queensland, and that we'd have to reschedule to have our Sydney to LAX flight in late July be replaced by a Brisbane to LAX flight in early July.
It was difficult to try to grapple with the new reality of life without my brother from this point forward.
However, I witnessed how much worse it was for Mom though she also tried to assure Tahia that this is life and there's nothing that can be done at the moment.
The police still have to release the body back to the family, and thus we can't make funeral arrangements until this is done.
So Mom suggested that we continue with our trip, but only to the extent that we can get back to Brisbane which was the next city where we could leave and go home to tend to the next pressing matters.
At least we were successful in getting Mom on a flight from Cairns to Melbourne and then from Melbourne to LAX tomorrow, but that took an hour-long wait before Qantas could finally answer our call.
But we also learned the limits of Travel Insurance when it came to trip interruptions regarding a death in the family, and in this case, it seemed like Allianz could only reimburse prorated portions of the trip expenses that we've already paid for.
New expenses from new flights like this reschedule of the Cairns to LAX route was not reimburseable, and paying the extra $979 USD to get Mom home just seemed like adding insult to injury (as trip insurance wouldn't cover new expenses like this).
I guess it's times like these when you truly find out how good a travel insurance company is, because now is the time to start filing claims as well as figuring out how I can help support my brother's family that has been survived by him.
At this point, having dinner plans and going back into Cairns to live it up was the last thing on our minds, and so we went through the evening without dinner as no one had an appetite.
We ultimately tried to sleep by about 1am in the morning, but on this night, no one was sleeping easy.
To make matters worse, Tahia was running a mild fever over 100F as apparently she was still fighting off whatever bug she caught.
So while Trip Insurance was pretty much on our minds at the moment, the very real possibility of checking her into a clinic was also becoming a possibility as I was now wondering if she might have contracted a mosquito-born illness while in Bali.
Indeed, when it rains, it pours, but we ultimately opted to let Tahia fight it off on her own, and only move on to taking Tylenol and going to a clinic if her condition doesn't improve overnight (what else could emergency rooms be doing at this time of night anyways?).
Sleep didn't come easy, and for Mom, she was on her phone a lot, and I wasn't sure if she was trying to occupy her thoughts with Chinese news or if she was making her next move in terms of how to move on and go through the unpleasant act of "celebrating life" from the passing of one of her offspring.
Meanwhile, as we were uneasily trying to get some sleep, Julie showed me an article about Black Rock (which we assumed was where my brother died since no one told me anything about where it all happened yet), but when I saw that someone died there 6 months earlier, I just knew that my brother must have suffered a similar fate there.
Then my thoughts hovered on thoughts about what Tommy's last moments must have been like, what he might have thought, and what I could have done to prevent it (even recalling my near-death experience in Matamanoa Island, Fiji, when I nearly got swept away by a current attempting to windsurf).
Would it have changed anything if I mentioned this story to him when we were talking about near drownings and close calls during Fathers Day dinner (the last time the family would be together like that)?
He generally doesn't pay much attention to our hiking stories or our trip stories in general since we have pretty much opposite tastes and different ways of traveling.
And now here we are trying to make sense of something that I'd imagine not many people have to go through, and the heart felt heavy all night…
Day 21 (June 29, 2022 – Millaa Millaa, Queensland, Australia): "Triggers"
It was 4:55am when I awoke, and I noticed that Mom was also awake as she couldn't sleep. How could she be able to?
As much as I wanted to go back to sleep, there was just no way that I could too as questions still swirled in my head about what happened to my brother.
Since it was still dark outside and Mom was trying to grapple with the new reality that had befallen all of us, I just got cleaned up and proceeded to blog about yesterday – as painful and as emotional as it was.
It was probably one of the hardest composings that I had to do, but I was carrying so many thoughts that I knew that I needed to get them down as a form of therapy.
I wasn't sure if I should do this or not, and I knew that now there would be many thoughts that would trigger an emotional reaction because they would suddenly bring me back to the memory of my brother.
That said, I also couldn't carry the burden of these thoughts in my head about how it all went down, and I just tried to carry on the way that I have been carrying on in this trip.
But today was the day that we booked Mom on a last-minute flight from Cairns to Melbourne and then back home.
This third leg of the Australian/Bali Trip barely started, and we were excited to have Mom experience the more iconic parts of Australia, especially towards the end when we'd get to Sydney so she could finally see the Opera House.
I also wanted her to see kangaroos in the wild or other wildlife that you'd never see at home.
But alas, it wasn't meant to be, and we'd have to carry on without Mom, plus we'd have to rebook for a shortened trip as we'd be leaving Australia from Brisbane on July 8th instead of from Sydney on the 21st.
All I knew was that even in the shortened trip, Trip Insurance was unlikely going to cover the change fees imposed on us for rebooking the flight (at least that was the guidance we got over the phone with Allianz though their system was wonky as they couldn't even look up our particular policy at the moment).
However, we did act soon enough yesterday to stop with the entire New South Wales part of the trip so we got back most of the accommodation costs without hassle and without cost with the exception for Tenterfield, which we'd have to appeal to the owners about our situation.
So while all that was going on, I did establish communications with my sister-in-law's best friend Alicia.
It was probably the hardest call that I made in life so far (I was even overcome with grief the moment we finally connected and for the first half-minute, I sobbed and she even asked if I was there).
Unfortunately, I'm sure there will be more of these kinds of moments and calls to come since that's how life rolls sometimes.
Nevertheless, in speaking with Alicia, I had to power through the breakdowns and tears to finally learn that my brother did indeed lose his life at Pu'u Keka'a, which was also known as Black Rock.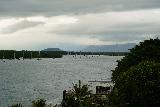 When Julie showed me the news of other drownings when she was doom scrolling after first hearing of the news last night, I knew that it made sense since a lot of the golf courses were on that side of Maui Island.
I also knew that numerous people die of water-related activities (this includes waterfalling) throughout the Hawaiian Islands because it's heavily touristed, and they were always passing footnotes, new stories, or statistics.
But this one hit different because it was my brother.
We always had different interests, and he was more of the people person as well as the more city person, and I was the more reserved Nature lover who's more comfortable in the outdoors and less so around people.
I know that when I visited places, I do my research, and even then, there are inevitably things that are dicey even if you know what you're getting yourself into.
But in this case, from what Alicia told me, they really had no idea how dangerous the conditions were, especially if you venture out towards the point where Black Rock is, where the rips and currents can pull you beyond visibility further to the north.
Alicia also confirmed that it was in the afternoon when the incident occurred, which was also when the currents tend to be stronger and more turbulent according to last night's research.
When I heard Alicia tell me that everyone was accounted for except my brother, I kept playing flashbacks in my mind that he must have been lured by better snorkeling near the rocks since that's where there's likely fewer people (especially if it was crowded closer to the beach).
And then when she confirmed that everyone was asking where my brother was, I knew that within the moment, it was hard to keep tabs on who was doing what if there's so many heads around (let alone looking down into the water instead of around).
I could only imagine my brother's last moments when he must have realized that he was being pulled away from shore that no one could hear him let alone see him, especially if he ended up past Black Rock.
What also further confirmed that they underestimated the conditions (regardless of whether this place was crowded or not) was that no one wore floatation devices.
Even when I asked her whether anyone did, I kind of knew they didn't because when we tried to snorkel off the white-sand beach of one of the islands off of Fajardo, Puerto Rico, we were the only people who bothered to wear floatation devices.
So this level of precaution doesn't look cool, but we were never really one to care about what other people think when it comes to our own safety.
Heck mask wearing to protect from breathing in other peoples' globules also comes to mind since we seemed to be the only mask-wearers in many places we went to throughout Australia so far (despite their prior history of a zero COVID policy).
Regardless, I knew that even if warned about wearing floatation devices, my brother was one who was confident and would likely reject such precautions, especially if no one else was doing it.
Plus, he did have more of a risk-taking posture as evidenced by how he took on snowboarding and got his kids into it, even showing videos to us of when he'd be gunning it down the mountains at the speed you'd be driving cars on the highway at.
So I tried to rationalize that this was likely an inevitable result given that this place didn't have life guards and that it had the generic warning signs that people routinely ignore, especially if there were other people there snorkeling.
But with his tendency to push the boundaries, it was one fatal decision that there was no coming back from, and I don't think that he nor anyone else realized how risky this place was, especially without a floatation device to at least buy some time.
In the end, my thoughts turned from that to what could be done now going forward, which Mom was already acting on as strong as brave as she was.
I knew that Alicia was also very strong and trying to alleviate the burdens of my sister-in-law from having to relive the incident while also taking care of the kids.
It sounded like the kids seemed to be handling it well, but I knew that the reminders and the actual impact of not having their dad will come later.
Nevertheless, she was being that best friend, and I also knew that leading up to the tragedy, everyone was having a good time and sharing more memories with close friends on that trip.
So there were so many pleasant memories that both Mom and I could take comfort in the fact that he did have a good life, especially considering where he came from…
After all in his younger days, he took a bullet in the leg, got rescued at Mother's Beach in Long Beach, nearly fell into the wrong crowd, and was nearly disowned by the family in the darkest moments of his youth.
But to get from where he was to being the VP or head of some position at both Nielsen and now CBS, I knew that his people skills did him well, and that he channeled his energy towards being that loving father where my parents could now be very proud of him.
I only wished that I could have been there to warm him to at least do the research and wear a floatation device, but I also knew that my advice and warnings wouldn't likely be heeded.
I knew he wasn't into hiking where it's really a game that boils down to risk assessment (i.e. what's the easiest and less risky way to go) because you'll always encounter obstacles and make decisions based on observations of what's around you and what you know.
But without even going on a single hike with us, there was no way anyone could have fathomed how we think and how we observe and assess the conditions before engaging in any activities.
Heck, we've even gone on road trips where we took his kids on road trips with us along with my parents but not with my brother and sister-in-law, which tells you how not into hiking and Nature that they were.
The necessary cross-communication was never there, and there was no way anyone could have imagined that it would ultimately result in a family tragedy that will rock everyone's world.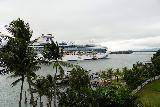 Regardless, by 8:45am, I was done with my call with Alicia, and I learned that the Maui police department still have my brother's body for an autopsy as well as other paperwork to get through.
So a funeral wasn't likely going to happen in the near term, and so we felt justified in continuing on with the trip that wasn't cancellable and then leave Brissie by the 8th or 9th.
Now, this trip (as meaningless as it felt now) was now becoming more therapeutic as Nature taketh, but she also giveth, and now more than ever, I'd need Nature for healing and introspection while also spending even more precious time with my family.
There'll be plenty more grief and dealing with what to do next when we get home.
And with that, Julie continued to make bookings for our changed itineraries, and to further add insult to injury, we had to eat pretty much another $2500 worth of change fees with Qantas.
And I further realized (or thought) that our trip insurance policy wasn't going to cover trip interruptions like this where a sudden death that related to real-world trip expenses incurred would not be a coverable justification for a claim.
It could only cover what has been paid for regarding this trip, and well, now we know that while travel insurance is important to purchase, there are definitely limits to its coverage concerning circumstances related to family but not directly related to the trip.
Julie did mention that Travel Guard had a more expensive policy, and that they might cover something like this, and perhaps that's yet another lesson learned.
Travelex didn't even respond to my wife's inquiries so that was why we didn't even give them a look on this trip though I also wondered whether their policy would be just as limited as Allianz's.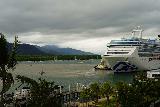 Boy, there are so many lessons learned from this, and it was so unfortunate that it had to be triggered by one decision that was made by my brother that threw everyone's world upside down.
Eventually with all the logistics (or at least from what we were aware of) sorted out, we finally left the Hilton Cairns by 10:20am, and then we drove towards the Cairns Domestic Airport Terminal.
We got there at 10:45am where we dropped off Mom at the domestic terminal so she could do the domestic flight to Melbourne and then do the international flight home soon thereafter.
Next, I then went to the Avis counter since we picked up the car rental from this terminal, and I let them know that we changed our trip to return the car in Brisbane instead of Sydney two weeks prior to planned.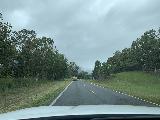 When all was said and done, it was 10:50am when we finally drove away from Cairns as a trio again, and we then had to go to the Atherton Tablelands.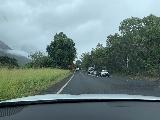 While the original itinerary called for visiting numerous waterfalls on this day, I knew that it was going to be way scaled back, especially as it was still misting and raining, we lost a lot of time this morning, and hitting all the waterfalls as planned just didn't have meaning anymore.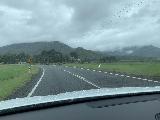 Now Tahia was sleeping in the car, which was a good thing because the road from Gordonvale to the Atherton Tablelands was actually quite twisty, and she certainly would have gotten carsick if she were awake.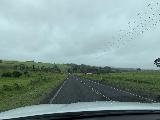 Moreover, her fever seemed to have gone down somewhat, but it was something we still had to keep an eye on because her bug seemed to always get worse in the evenings but improve in the mornings.
Eventually at 12:25pm, we spontaneously decided to stop at Malanda Falls since its signs were the first thing we noticed when we approached the town of Malanda.
It was still misting rain, and it was weird that we were essentially getting Seattle weather here in the tropics of Far North Queensland.
Nevertheless, we took the time to briefly visit the swimming pool waterfall, where there were actually a couple of people swimming in the green, cold water here.
However, there was a lot of construction going on so it wasn't possible to legally visit the other side of the North Johnstone River (even though I saw two other people there).
When I tried to cross the road bridge and look for a way to get there, I ended up at the caravan park further up the road, and I learned that it was not possible to go down to the falls from here unless I was staying here.
So with that, I turned back, got back to the falls, took photos with Julie and Tahia, and then spent time in the visitor center here, where Tahia was getting into the displays.
Whether she was really into it or whether she was just trying to help me get my mind off of my brother, she was showing maturity and empathy that was well beyond her age.
The ladies at the visitor center were really sweet, especially when they learned of our family tragedy, and I really appreciated the effort they went through to get my daughter into checking out the wildlife here through the exhibitions inside.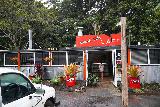 After this brief visit, we then had a lunch of sausage rolls and brownies at the Malanda Cafe next door.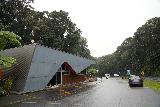 The guy running the place was also very nice, and he even concocted a lemon and honey drink when he learned that Tahia was fighting what we think was food poisoning.
We also had another family moment trying to think through what happened on this trip while having our impromptu lunch, and while also sharing more tears as it seemed like so many things were triggering me.
At 2pm, we were finally back at the car, and then we proceeded to drive towards the Hypipamee National Park (something that I just learned was pronounced "hye-PIP-uh-mee" instead of "hip-PIP-uh-mee" by the lady inside the visitor center) and the Dinner Falls.
After driving through a few more mist and rain through rolling hills kind of reminiscent of some of the pastures of New Zealand, we eventually got to the Hypipamee car park at 2:20pm.
This car park was also surprisingly busy given the wet weather, and we proceeded to walk towards the familiar crater view, which can definitely induce a sense of vertigo given how high up the cliffs were and how far down the acidic pond below was.
There were also lots of people coming in and out of the lookout, including a private tour with German-speaking people as well as plenty of Aussie families.
And then, we continued with the Dinner Falls circuit where we got to see at least three parts of it, which Tahia posited that these represented the three courses of a typical dinner!
We always thought Tahia was a smart cookie, and she was definitely showing it at this time.
Anyways, this waterfall was one we did before, and that it was definitely pretty much as I remembered it from the past, but given the wet conditions, we definitely had to be careful of the slippery rocks closer to the Barron River.
I think the family found this place to be therapeutic, as I knew it would be considering that this is what spending meaningful time in the bush does.
But when it got to 3:30pm, we were back in the car, and then we proceeded to go to the Millaa Millaa Caravan Park, where we were to spend the night.
It was getting late in the day, and by the time we got settled in our room at a little past 4:10pm, I ultimately decided not to push our luck with the weather and the incoming darkness to pursue the Waterfall Circuit.
And so we just decided to get settled, and then by 5pm head out for dinner at the only place open in town, which was the Millaa Millaa Hotel's pub.
Down there, it was just a seemingly local pub where people shot the breeze over some beers, and it didn't seem like the right place to go for a dinner.
But the proprietor showed us the dining room, and that the food wouldn't start to be served until 5:30pm, and then that was when it finally felt like a humble little place to get settled and have a bite to eat.
This place served up some typical local bar food fare as it was mostly crumbled mains (since it was a "Crumby Wednesday" after all), and we ultimately got a Parmagiana (basically the Aussie version is a chicken cutlet with sauce on it), a rump steak, and a whiting fish.
Then, we had a sticky date pudding dessert, which was right when the place was really getting full of people by the time we were having our dessert as this was indeed the only shown in town in the immediate area.
By about 7pm, we were back in the car as it now seemed to be foggy and misty rainy still as we made the short five-minute drive back to our room, and then we settled in for the night.
While Tahia was starting to come to terms with the grief of my brother's passing, I think she was getting around to the acceptance part of the grief stage, and once again we were having another good cry in the room.
I was especially triggered when Tahia was singing "Memories" by Maroon 5, which was a song that I never really cared for when Julie would play My FM on the radio every morning (I was always more of a Triple J kind of guy), but now this song hit really different.
Then, Tahia and I had a moment together while Julie was showering as we were basically making small talk about how important it was to treasure the moments that we do have now and not take them for granted.
It was why my Mom always had family gatherings at her place at pretty much every birthday, holiday, celebration, special event, you name it.
And it was also a major lesson in why you want to make friends by being nice to people and trying to be helpful to solve whatever issues or problems they may have (if requested of course).
There were huge life lessons here, and I knew at the moment that we were sharing a very priceless one as I'm sure our conversations will be very different later in life when her mind is off of 5th grade dramas.
I remembered how she said she wished this was just a bad dream that would go away, but reality can be cruel sometimes, and this will be something that we'll have to only get over with time.
It's another reason why you want to be surrounded by people who care about you because trying to deal with these issues without support would be very difficult.
When all was said and done, I knew that as much as this was important for Tahia, it was also therapy for me to get over my own grief.
I could only imagine how it would be for Mom and Dad, and we'll definitely have to help them get through this as well even though I know Mom has been putting on a brave face through it all.
And so passed another night as we all slept by around 9pm or so, all to the sounds of rain outside as we tried to keep a steady head even if there are triggers all around at this point…
Day 22 (June 30, 2022 – Innisfail, Queensland, Australia): "Natural Healing"
It was 3:40am when I awoke without the need for an alarm, and I had awoken to the sounds of running water from the rain runoff after it had been raining all night long.
I actually was awoken earlier in the night when I heard some strange noises coming from the roof or from a neighbor sometime in the middle of the night, but I wondered if it might have been a tree kangaroo or something hopping around atop our shared cabin.
I then conked back asleep and slept surprisingly easier compared to the previous night when all I could think about was my brother's passing and the hurt that Mom was feeling in real-time.
Moreover, it felt like everything little thing was triggering me especially when my wife and daughter tried to console me, which really hit home regarding what really matters in life… family!
Anyways, I spent the better part of the morning in the darkness trying to get caught up on the blogging, which was both triggering and therapeutic at the same time.
I'm the kind of person that wears my heart on my sleeve, and trying to keep things bottled up inside me just doesn't work out for me.
It comes out in some way shape or form, and in this instance, it was a burst of tears that would spontaneously come and go.
When I noticed that Julie and Tahia slept right through both the 5am and 5:30am alarms, I knew that Julie wasn't going to fulfill her intention that we were going to check out and leave Millaa Millaa together before 6:30am.
So I suggested to Julie that I was going to go out solo to visit at least a couple of waterfalls (though I had hoped to do four), which would buy them time to sleep in more and take their time packing up.
She was OK with the idea, but she wanted to know what time I'd be back, and I told her that I didn't really know because I could come back after two excursions or after four.
Thus, she told me to text her when I started to head back.
And with that, by about 6:35am, I headed out into the gradually increasing daylight solo, which revealed pretty foggy and misty skies, which was pretty much the same weather that we had been experiencing yesterday.
I decided that I would visit both Little Millstream Falls and Millstream Falls at the very least.
Then, time permitting, I wanted to pursue both Pepina Falls and Souita Falls.
The thinking was that I hit the high priority repeats (as all four of them were repeats), and that time permitting, I might hit up the two less popular waterfalls off Middlebrook Road.
I guess the weather does play a key role in the mood as well as the conditions of what can be accomplished, and it sure wasn't looking good as I was driving further to the west towards Ravenshoe.
However, as I got closer to "Queensland's highest town", I then headed towards the road leading to Tully Falls National Park, which then allowed me to deviate and head towards the Little Millstream Falls car park.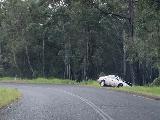 After missing the turnoff for the car park and seeing some vehicle in a ditch off the side of the road (seemingly evidence of it taking a turn too fast), I then U-turned and went back to the deeply potholed and rutted unpaved road leading to the small car park for Little Millstream Falls.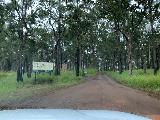 In fact, there was another named trail called Misty Mountains Trail, that was apparently a multi-day trek.
Nevertheless, I got here at 7:10am, and I wasted no time gearing up and proceeded onto the Little Millstream Trail, which said it ended in 700m or so.
Well, it turned out that this trail skirted above a slope on the lower reaches of the big plunge pool fronting the Little Millstream Falls.
I swore that when I first came here in 2008, the views of the falls from this section of the trail were much better, but alas, now it seemed that trees were blocking the way of the views, and thus the experience wasn't quite as satisfying as the last.
Nevertheless, I continued with the trail, which then curled around the east side of the plunge pool before making a slippery rocky descent towards the eastern end of the large plunge pool.
The air was crisp and moist but I noticed that the sun was also coming out as apparently the weather in this part was just west of the worst of the fog and drizzle plaguing much of the Atherton Tablelands.
When I got to the bottom of the muddy and slippery, rocky descent, I then took what photos I could, which weren't all that satisfying from this vantage point (and I'd need to scramble more along the shore for something more direct; granted that I don't get injured if attempting).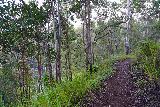 Ultimately, I just was content to get my views (albeit in a less optimal manner), and then work my way back up the muddy and slippery rocky trail (now climbing).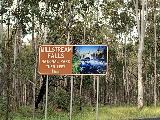 By about 7:40am, I was back at the parked car, where I then made my way towards the Millstream Falls, which I also knew was pretty attractive.
The road went back to the Kennedy Highway near Ravenshoe, and then I passed through the town before ultimately reaching the turnoff and the car park for Millstream Falls.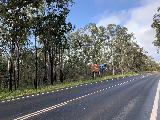 Along the way, there was some sign saying that Millstream Falls was up ahead leading to its signed turnoff, but the picture on that road sign showed a picture of Millstream Falls from its bottom!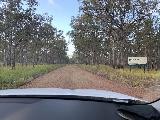 From past experience, I knew that wasn't true, but then again, maybe they might have changed the access situation of this waterfall.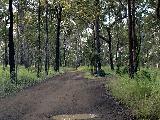 There was an easy-to-reach car park for long vehicles, but the more individual passenger vehicles had to follow a different fork that curled back towards another car park over a sporadically rocky unpaved route.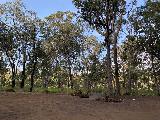 In between both car parks was a bathroom facility, and I wasted no time to get geared up and start going down the 340m path to the Millstream Falls.
So at 7:55am, I started from the Millstream Falls car park and proceeded to walk the short, paved track down to the lookout of the waterfall itself.
But like in 2008, this route and lookout only revealed the front facing waterfall, but there was another segment facing away from the lookout that also looked like it was flowing.
Thus, I documented the experience, but I also noted that the picture on the road sign was a fraud shot as it was totally misleading to put the base of the falls where the waterfall itself was only mostly visible from the overlook and not the base.
Anyways, I had my fill of this waterfall (seeing that the experience wasn't all that different from before other than this was a morning visit while the prior one was an arvo visit), and then made it back up to the car park by 8:25am.
By this point, I definitely noticed that the sun was out and the fog with drizzle was giving way.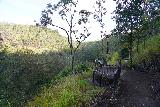 I texted Julie that I might consider going to both Pepina Falls and Souita Falls on the way back to the Millaa Millaa Caravan Park.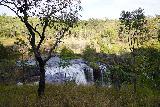 However, when Julie texted to me that check-out was at 10am, I knew that trying to visit the waterfalls while racing the clock before 10am was really pushing my luck.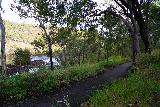 So I made the risk-reward calculation in my mind and ultimately decided that Pepina Falls and Souita Falls were off the table.
Now, we were passing through a monastery-like steps before descending towards both the base of the falls as well as some overlook shelters.
Thus, I headed straight back to the Millaa Millaa Tourist Car park, and thus noticed that I had left the sunny weather west of Ravenshoe and towards the fog and misty weather prevalent throughout the rest of the Atherton Tablelands.
Eventually by about 9am, I was back at our room at the Millaa Millaa Tourist Park.
In 10 minutes, we quickly loaded up the car with our belongings, double-checked that we didn't leave anything in our room, and then proceeded to continue the waterfalling tour starting with Millaa Millaa Falls.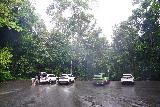 When we pulled up to the car park for the falls, at 9:20am, there were 2 cars that just pulled up as the weather started to turn to a weird combination of misty and sun trying to break through the thinnest layer of fog.
There was also one other car that was parked here, which attested to the popularity of this place despite the non-ideal weather.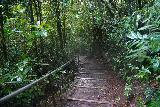 From this car park, there were a set of steps leading down to a more developed and larger car park surrounded by a couple of restrooms and some signage.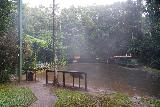 But this car park was only for buses and long vehicles, and it was why it was primarily empty.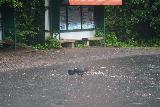 When I went over to look at the signage, I saw that one of them still had Pepina Falls and Souita Falls mixed up after all these years (I first noticed this on our first visit at around the same time in 2008).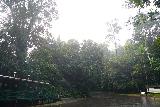 Anyways, there was a viewing platform as well as steps leading down to another developed viewing area right next to the waterfall's plunge pool.
This waterfall still had that attractive plunge though something seemed a little different about how we experienced it now versus how it looked 14 years ago, and it had to do with a fern tree that seemed to be missing.
That made for slightly more unbalanced photos (since this was one of the more popular photo spots so composition was important), but at least the misty wasn't so intense from the weather that this waterfall couldn't be enjoyed.
Julie and Tahia both had rain ponchos on, but they truthfully looked like they were wearing trash bags.
Meanwhile, the mist was light enough that I really didn't need a rain poncho for this experience.
And so we took our pictures, witnessed other groups come and go with this waterfall (no one felt like swimming with this kind of weather), and then we were back at the car by about 9:45am.
At 9:45am, we resumed with the Waterfall Circuit, which was a 15km (I think) loop drive on the outskirts of the Millaa Millaa Township, and it continued through rolling hills that also reminded Julie and I of New Zealand though it was now rather misty and foggy.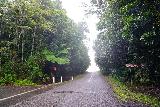 By about 10am, we then got to the well-signed Zillie Falls car park, which we saw the same Juicy Rental vehicle that we had seen earlier at Milla Millaa Falls.
Apparently, the people driving this vehicle had the same thought we did in chasing waterfalls to make the most out of some not-so-great weather that seemed to be persisting.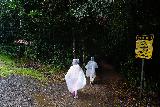 Anyways, we wasted no time crossing the road and then embarking on the short walk to the overlook of the Zillie Falls just as a pair of girls were concluding their visit and returning to that Juicy Rental.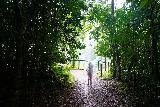 When we got to the overlook, it was quite muddy and so we noticed a bit of a detour path that went towards the far side of the overlook area, which was a rather disappointing partial top down view of the Zillie Falls.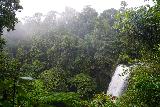 I swore that the last time Julie and I were here 14 years ago, we could see more of the waterfall, but in any case, both Julie and Tahia headed back to the car while I wanted to see if there was a way down to the bottom of this falls.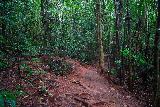 Well, it turned out that there was another fork deviating from the bypass trail that tried to avoid the mud and puddle at the overlook of this waterfall.
When I pursued this path, I at first thought I might be pursuing something that was unsanctioned and a bit of a risk, but after getting past some roots and mud puddles, I noticed that there were actually rock steps to aid with the descent!
Unless there were explicitly closure signs and barricades blocking you from doing this trail, this suggested to me that this unsigned footpath was indeed a sanctioned trail given the maintenance that this place received!
Indeed, this was the first time that I did this path since we totally missed it our first time around, and soon I found myself around a rather slippery rock where I could at least see most of the Zillie Falls though there was another tree that was kind of blocking its view down here.
In order to try to clean up the view, I would have to scramble right into more muddy spots, and then I'd have to contend with even more spray coming from the waterfall.
So I decided just to document this place from that slippery rocky viewing spot, and then head back up to rejoin Julie and Tahia.
By the time I got back to the car park at 10:30am, I realized that I was the only person that was down there, and I'm sure there were other people that came and went, but they definitely didn't pursue going to the base of the falls.
And so we continued with our clockwise drive (I think we went anticlockwise when we did this 14 years ago), and then by about 10:35am, we arrived at the Ellinjaa Falls.
When we first showed up, we were the only people here, but as we were gearing up, a couple more vehicles showed up, and then another van showed up just as we were getting started.
Indeed, this place was pretty busy, and we weren't going to share it alone.
As we went down the nicely developed and paved walking path with steps, we then got down to the familiar bottom of Ellinjaa Falls, where this time, we didn't have to contend with looking across sun beams at the falls.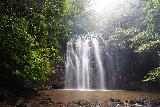 Instead, we took advantage of the even lighting, documented the experience, and even had another family that showed up later help us with taking a picture of us.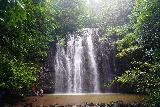 That same family braved the cold water and actually went underneath the far left side of the falls, which actually made for an interesting bit of perspective photography as it best showed the size of the falls in relation to a person at its base.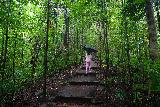 Another family that we had spoken to at this spot who were from Queensland said that the weather we were experiencing was very unusual and atypical of the "sunshine state" during the Dry Season (another sign that something was very off about this part of the trip).
I guess that was fitting because trying to fulfill one more week of a trip after learning that my brother had passed away just kept things heavy, and I knew that going home was going to be the hardest homecoming ever when the reality of memories and what my bro left behind would affect everyone.
By about 11am, we had had our fill of this spot and returned to the car, which was just in time to listen to Dr Karl on the radio for the first time on this trip.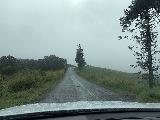 We then left the Waterfall Circuit and resumed the waterfall-laced part of today's itinerary, where we then tried to pursue the Mungalli Falls.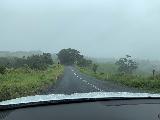 I noticed that the road to get us to the Mungalli Falls actually said "road closed, local traffic only", which suggested that this was not a public road and that it was perhaps no longer sanctioned to visit that waterfall with the student village.
So that forced us to continue with the drive further to the east along the Palmerston Highway as the road was generally going downhill back into Wooroonooran National Park though we were caught behind a rather very slow moving long vehicle hauling goods towards the coast.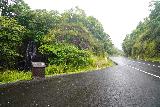 This vehicle was moving so slow that it allowed us time to notice that there was a large pullout near where I had marked the location of Serendipity Falls, which was something that I hadn't noticed 14 years ago (maybe because it was sunny and dry back then).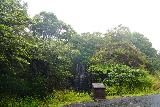 So we crossed the road and pulled into this rather large pullout at 11:20am, where we noticed that there was indeed a small roadside waterfall with some kind of block with a missing sign in front of it.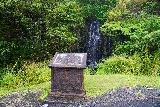 I merely got out of the car and documented this waterfall quickly just as there was a large caravan of slow-moving vehicles caused by a large big rig pulling cargo up the fairly steeply graded road.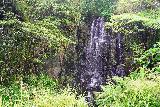 I wondered if this pullout was supposed to be a slow-vehicle pullout and not really a tourist stop, but I'd imagine that it might have made for a short breather spot if caught behind such slow moving long vehicles just to experience a waterfall before going back behind the long vehicles again.
So at 11:25am, we continued going downhill deeper into Wooroonooran National Park along the Palmerston Highway, where we then noticed the familiar signed turnoff for the Henrietta Creek campground.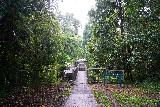 This time, I noticed where the path for the Nandroya Falls was at, but this time, I saw that there were barricades that were set up to prevent people from parking on the grass like we did last time.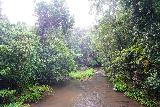 There was also a ditch to further prevent vehicles from doing that maneuver, so at 11:40am, I pulled into the side road leading to the campground, where I then noticed that there was actually a more formal car park for the Nandroya Falls.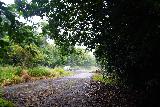 At this spot, there were actually a couple more vehicles parked here as well as a couple that was standing on a bridge over Henrietta Creek.
When I got out of the car to at least check out the walking path leading from here to the familiar trail that Julie and I took 14 years ago, the couple that were on the footbridge looking down at the creek said that they had noticed a platypus before it went under the water again.
Knowing how rare and endangered these guys were, that must have been quite the thrill though I also saw them near Cradle Mountain on an evening walk a few years ago back in late 2017 I think.
Anyways, I went back and forth noticing the now more obvious way you're supposed to do this hike along the highway hugging part of the trail, and then we resumed our drive at 11:45am.
At 11:50am, I then noticed the pullout for the Wallicher and Tchupala Falls, where we once again saw that Juicy Rental vehicle.
This time, Julie and Tahia stayed in the car due to the not-so-great weather, and I proceeded to walk to the familiar trail, which was hidden behind a short distance back from the pullout and then disappearing into the bush.
I then embarked on a rather calm (albeit drippy) forest canopied path and it didn't take long before I reached a signed junction where I noticed a sign that now said Tchupala Falls 360m to my right and Wallicha Falls 500m to my left (and yes, I noticed the different spelling of the falls).
I first decided to take the shorter path on the right, and that was just when the pair of ladies who were driving the Juicy Rental came back towards the junction.
They greeted me once again while also warning me about leeches, which made me wonder if they had gone into the Henrietta Creek or something or if there just happened to be some of them on the walking track itself.
By about 12:10pm or so, I arrived at the Tchupala Falls, where I noticed now that there were steps leading down to a more open view of the waterfall.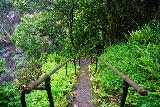 I believe the last time I was here 14 years ago, there was cyclone damage that prevented me from having a good experience with this falls, but now it seemed like the view was all open and quite satisfying.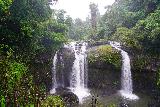 I also noticed that there were more steps leading further down to the bottom, but there was a permanent-looking barricade essentially saying not to go down there (though I wondered if the two ladies I saw earlier did that and encountered leeches).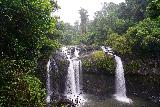 So after having my fill of this waterfall, I then headed back the way I came to the junction but not before encountering another one of the red-headed bush turkeys (though at first I worried that I might have started the more aggressive cassowary if not for the red head).
Part of me wanted to see a cassowary in the wild since I knew they looked very much like a cross between a bracchiosaurus and a bush turkey or emu, I guess (knowing they have a reputation for being aggressive and using their razor sharp claws).
But if there was any embodiment of an ancient dinosaur attesting to the primordial Gondwana continent that Australia was once a part of (as it was joined with South America and Africa at the time), then this might have been it (besides the menacing saltwater crocs).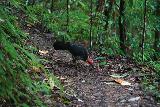 Anyways, I observed that this turkey was trying to dig up the trail to do something (was it trying to lay eggs or something?).
Well whatever the case, after watching it do its thing, I then slowly tried to go past him (it went away just enough for me to pass before resuming its duties), and then I got back to the junction to finish off this hike to the Wallicha Falls.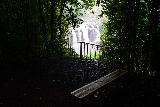 This time, I followed a path that was just as forested as the Tchupala path, but I kept hearing Palmerston Highway noises, which meant that this road was quite busy with traffic and that it was quite close to that road (despite the forest cover concealing most of the road and vice versa).
There was one fallen tree obstacle to get over, which I did manage to get by, but since I was wearing Chacos, I had to be mindful if any of the leaves there were had those serrated heart-shaped leaves which were apparently had a neurotoxic sting.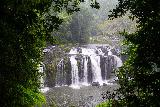 By about 12:30pm, I arrived at the Wallicha Falls Lookout, which had a railing and looked pretty much as I had remembered it 14 years ago, where the trees kind of framed the attractively wide waterfall that looked eerily similar to the Tchupala Falls further downstream.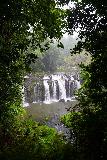 Nevertheless, after having my fill of this waterfall, I then headed back the way I came to the pullouts where shortly before ending the walk, I noticed at least two other groups starting their walk.
For the most part, I had been alone on this hike except for encountering the Juicy Rental ladies a couple of times (once on each branch of the Y-shaped track), but I wondered if the increased attention was due to the lemmings effect of having a car pulled out in a rather conspicuous spot.
That said, I appreciated the alone time I was getting (as well as the alone time I got at the Millstream Waterfalls earlier this morning) because I felt like I was getting the therapeutic benefits of Nature.
Even though I still had depressing thoughts about my brother, I knew that Nature heals, and observing the truth of what was around me was comforting and assuring that I was doing exactly what was needed in this time of pain.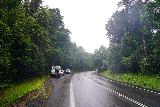 Anyways, I got back to the car at 12:45pm, and then we continued the drive towards Innisfail, where we were to spend the night tonight.
When we continued towards the coast, I couldn't help but notice the presence of more Paronella Park signs, where I knew we still had to visit Mena Creek Falls, which was another waterfall that I had yet to visit.
And so we made the executive decision to just go there first before going to Innisfail to check in and settle down for the night.
Thus, we took one of the turns pointing towards Paronella Park, and then we eventually arrived at the very busy car park for the Paronella Park at 1:15pm.
This was surprising to us because we weren't quite sure why this place was so popular even though there was some kind of Spanish heritage to this place.
Nevertheless, since the main car park for Paronella Park was packed, we did notice that there were more parking spots a little further past the bridge for the Mena Creek Falls.
From there, we first went past some smelly toilet facility before going down a short walking track to a viewing deck on the far side of the large plunge pool fronting Mena Creek Falls.
The view from this spot was both distant and partially obstructed by a tree so you definitely had to go into Paronella Park to property experience this falls, which was something we were going to do anyways.
So we then went back up and over to the suspension bridge, which was perched right across from the brink of the Mena Creek Falls.
Once we got to the other side, we then went to the entrance of the facility where we wound up paying about $146 AUD for all three of us (I think), making this one of the more pricey visits that we've made.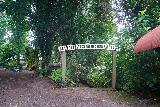 But then again, they claim that this spot was a heritage site and that they're completely self-sufficient and not dependent on state-funded resources.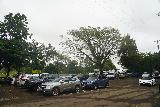 I was trying to put my finger on what it is about this place that attracts people (more so than other waterfalling sites throughout Australia), and I guess we were about to find out once we had our red wristbands put on.
Then, we went ahead and walked about the property behind the cafe (though Julie opted for us not to do the tour and instead read about the place through the map brochure offered here).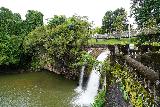 I know she wanted to remain socially distant, which would be harder to do on a tour.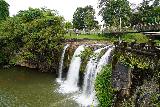 Nevertheless, we went towards the brink of the falls where there was a lookout (though the castle-like towers, lookouts, and structures were all under renovation).
Then, we went through the so-called Grand Staircase before reaching the lookout at the bottom of the falls, where Tahia had a good time feeding black fish, an eel, and a few turtles.
The wildlife here seemed to be dependent on the constant supply of feed from customers, which was why they flocked to this part.
It was curious though because there were also signs indicating that crocodiles can access this part of the ecosystem, and so visitors were asked to stay away from the water's edges as much as possible.
After having our fill of the Mena Creek Falls, Julie and Tahia opted to go up to the cafe for a quick lunch while I took the time to explore more of Paronella Park as I realized that there was a garden with all sorts of trees and other structures further along the property.
During my explorations, I realized that many of the tall trees were actually Kauri trees, and I also noticed that there was even another spring-fed waterfall called Teresa Falls (though it was tiny).
In addition to the falls, there was also a closed off "Lover's Tunnel", where I noticed that there seemed to be bats flying back and forth about inside, and there was also a bamboo forest.
Anyways, my visit took a little longer than I expected, but I felt like I got the general gist of this place before heading back up to the cafe to rejoin Julie and Tahia.
As I was eating the leftovers of some kind of Mexican or Spanish folios, which seemed like stuffed empanadas, we noted how this was a bit of a contrast to the usual fare, which was what stood out to us about this bite.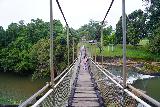 I also learned that Julie and Tahia appreciated this experience because it was a bit different from all the waterfalling that we had been doing on this day, and Tahia really liked feeding the animals along Mena Creek here.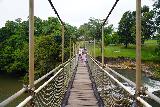 Anyways, by about 2:50pm, we were back in the car and then we proceeded to drive north towards Innisfail, where we finally checked into the Black Marlin Motel at 3:15pm.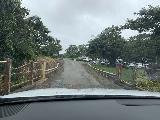 I guess Julie had completely forgotten that we had booked two rooms here (mostly because we thought Mom and Tahia would be sharing their own room), but now with Mom on a flight back home by now, that second room was vacant.
So this would have to be another expense that we'd have to try to get back from the travel insurance, and it would be another test to see just how well Allianz handles their claim (you never really know how good an insurance company is until you file a claim).
Anyways, after dropping off our stuff at the motel, which was as basic as I had recalled when we had stayed at the Barrier Reef Motel in Innisfail 14 years prior (which was still there by the way), we then went to Cole's for a much-needed grocery run.
At 3:35pm, we went ahead and got some Pureau water (which was in the 10L bag that was free of the plastic taste from leaching as well as more sustainable; they had run out of this at the Cairns Wooly's), and we also got some basic brekkie food on the go for tomorrow morning.
By about 4:20pm, we were back at the room, and then we headed back into town for some Indian food at this place called A Taste Of India at 4:30pm.
We showed up just when they opened up, and ordered a Saag (spinach), Fish Masala, and Mango Butter Chicken as well as a bowl of basmati rice, and a garlic naan.
While waiting for the food, I got a call from my parents through WhatsApp, and it was a video call so I could see that Mom made it home, and Dad also got the bad news.
It was so painful to see them suffering in this way that I fought back tears the whole time I was having a conversation with them, and even Tahia who wanted in on the conversation had to go back into the restaurant because she couldn't bare to watch their faces.
That said, the call was basically to let us know that Mom did indeed make it home OK, but also appeal to me that my brother's family needs our help (which I already knew).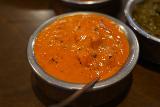 We weren't sure what this was going to look like, especially since the kids will be missing a father figure, but it sounded like our weekends are going to get a lot busier so I'll have to figure out how to make time to do all the other commitments that I've got outside of those weekends.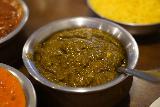 Maybe I could find a way to work over at the parents, but that's going to be a tall order because I also have to be present for my brother's family.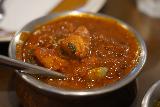 Anyways, we ended the call on that note, and so I had to keep thinking about how life carries on without my bro.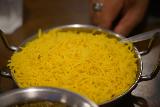 And as far as the meal went, this place ended up costing us a reasonable $63 AUD (which was way less than the nearly $100 USD spent at Spice's Mantra in Kuta, Bali, Indonesia), and the food was pretty decent for what we were paying.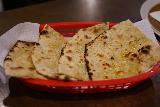 In fact, it did seem like this place had mostly take-out customers though we did eat inside as well as another family that showed up just as our food came out.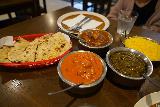 Regardless, this place hit the spot, and then we returned back to our room at 5:50pm to finally unwind from this day.
It was still raining outside throughout the night, and in some cases, it seemed like the rain got heavier at times, and this didn't bode well for some of the excursions we're doing tomorrow as we're headed further down the Queensland Coast towards Townsville and beyond…
Day 23 (July 1, 2022 – Townsville, Queensland, Australia): "Weather Moods"
It was 3:30am when I awoke with no need for an alarm as we pretty much were able to sleep well before 10pm last night (possibly even earlier though I can't recall).
It was still raining outside (at times hard unless it was the wind and the storm gutters made it seem like the rain was harder than the reality).
Nevertheless, it had been raining all night, and I kind of knew that we were pretty much going to have to continue to deal with the rain all day today.
I spent quite a bit of time doing the usual chores of getting cuaght up with the blogging, but as much as I knew there were still certain triggers that would set me off emotionally, I was surprised that I was able to sleep and have a bit more clarity in the way I was thinking.
Eventually by about 6:15am, we were done loading up the car and were heading out, and as expected, there was still light to moderate rain and some wind as we left Innisfail in the dark.
Even though it was dark, I noticed that it was definitely getting some daylight coming through to reveal silhouettes of trees alongside the Bruce Highway as well as clouds pretty much blanketing the horizon.
The roads were suprisingly busy at this time of the day, but we were able to use the caravan of traffic in front of us to pretty much guide our way along the drive without the fear of kangaroos dashing in front of the car (something I was always concerned about when driving in the dark).
Eventually by around over a half-hour or so into the drive, there was enough daylight to confidently go the speed limit as we were cautiously below to buy us a little more reaction time (though the people in front of us were intelligently doing the same thing and setting the pace).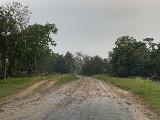 By about 7:25am, we took the well-signed detour to the Murray Falls car park after going along a fairly lengthy stretch of unsealed roads that were mostly benign save for a few potholes.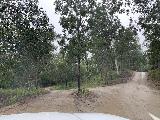 This drive and the car park area seemed more developed than I had recalled, but there was one fork that was confusing as we had to figure out whether to head left or head right (with the latter being for camping).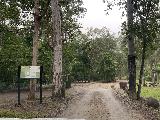 We ultimately decided to take the left fork, and that led us to an unfamiliar day use car park area, where there seemed to be a trail with a sign for swimming near it.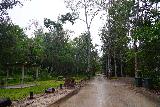 When we geared up and got out of the car, I pursued that path and saw pretty much straight away that it wasn't the trail I was familiar with as it was nothing more than a short jaunt to a swimming hole right before some wide but short cascade.
So we backtracked and then walked beyond the end of the cul-de-sac and then headed towards what seemed to be some steps leading up to the camping area above us.
This part of the walk also didn't seem familiar to me, but as we got up to the restroom facility that was surrounded by a handful of people who had been camping here, that's when my memory was finally jogged to the point that things looked familiar again.
Indeed, I had recalled that we started our walk for Murray Falls in a wide open area, and without realizing it at the time, it was wide open because it was a camping area!
Anyways, when we got to the end of the camping complex, we saw that there was limited parking space for the "Murray Falls Lookout Car Park".
In hindsight, we should have taken the right fork after all and driven up to this spot to start our walk, but regardless, it didn't matter too much since the walk up the steps and past the restrooms were pretty trivial for all intents and purposes.
Nevertheless, we now took a much more familiar boardwalk, which was actually composed of sturdier steel materials topped with some kind of rubbery grid for grip.
And at the first lookout, which was on the left side of a fork in the trail and down some steps, we saw a somewhat limited view of the Murray Falls that didn't jog my earlier memories.
At this spot, we could see Murray Falls, but it was set back from the familiar view where we could see the plunge pool and possibly some turtles (at least that was the case the first time we were here 14 years ago).
We tried to enjoy the views from here, but the mosquitoes here were pretty relentless, and I was getting multiple bites (as well as Julie), and so they beat a hasty retreat back to the car without exploring the rest of the boardwalk here.
At first, I thought that this boardwalk's continuation was for some upper lookout that I had recalled was present but I never bothered to find its connecting trail.
But when I got to the end of this boardwalk at about 8:10am, that was when I realized that it was this spot that was the familiar one where we had been before.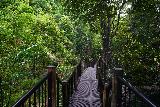 And it was a pity that Julie and Tahia went back to the car so early though Tahia was complaining about a pretty bad tummy ache (which still concerned Julie and I because we weren't sure if it was still the aftereffects of food poisoning from Bali or if she got a mosquito-borne illness).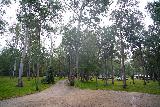 Anyways, under the depressingly rainy weather (which was going on at least three days in a row now with threatening weather when we first got into Cairns), I wondered to myself if we were experiencing something that shouldn't have been the case during the Dry Season.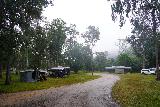 Regardless, I still documented the experience and enjoyed the views from here, but the mosquitoes were back and they were still aggressively trying to feed on me.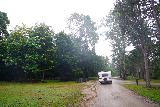 Moreover, I did observe that there was some railing further up the hill, which made me even more determined to see how to access that point.
So after having my fill of this spot, I then headed back to the large wide camping area, and then I pursued that other trail, where I had noticed that there was some ominous fencing and barricade that made me wonder if that trail was even accessible due to possible closure.
But when I got closer to the campsite nearest the barricades, I saw that there was an interpretive sign as well as a clear path onto the well-forested trail where the signs said that I was now on the Yalgay Ginja Bulumi Walk.
This was a pleasant bush walk as it was on a natural trail this time surrounded by the more familiar fern-laced jungle or forest that were sustained by the typically replenishing waters of the Wet Season (though this Dry Season seemed to get an extension of the Wet right now).
The walk was mostly uphill, which surprisingly got me to sweat quite a bit even though it was still raining, but the forest canopy helped to alleviate some of the impacts of the light rain.
In any case, this uphill track went up a handful of steps as well as skirted by some bouldery and rocky sections all while navigating through a gradually thinning forest.
Eventually, the trail reached a series of metal steps leading down to the overlook that I had always wondered about all these years, and now I was finally able to do it.
Of course, now that I paused a lot more to take photos and videos, it seemed like the mosquitoes were also back and swarming around me as they were now getting bites even though my hiking clothing!
If not for the low cloud ceiling from the rain, I'm sure this lookout would have allowed me to look across the valley and notice the mountains in the near distance as I could already start to see hints of them through that cloud ceiling.
In any case, I had gotten to this point at about 8:30am, and after having my fill of the falls, I then quickly made my way back down the trail, which was considerably easier than on the way up.
Finally at about 8:55am, I made it back to the car park just as I had noticed a handful of campers had already driven off.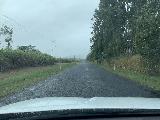 It was now raining harder, but I was a bit more wet from the sweat of climbing up to the overlook than I was from the rain itself (so I wondered how useful the rain poncho would have been had I donned it and gone for the walk).
Next, as we entered the town of Cardwell, we then drove inland from Brasenose Street, which crossed the railroad tracks and then eventually led onto an unpaved road that seemed a little smoother than I had recalled 14 years ago.
In fact, it seemed like this road now had more signs and hence it felt less like the logging roads that we had experienced the first time around back in May 2008.
Now, there were signs pointing the way towards what I knew was the trailhead for Attie Creek.
However, aloong the way during this drive, Tahia was complaining about more pain in her tummy, and so we had to pull over at some random unpaved road and then see if she could let out what her body was rejecting.
I wasn't sure if she was successful or not, but I kind of knew that this would prevent Julie and Tahia from participating in the short hike up to the Attie Creek Falls when we'd get to the trailhead.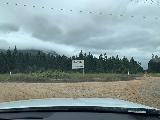 When we got to the dead-end for the start of the hike at 9:45am, I swore that this was a new road that got here because I recalled the old trailhead was further below and I had to go up steps to get up to here.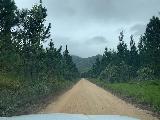 Regardless, there were now way more cars and way more people going in and out of this spot than our first time here when Julie and I were all alone and we only came on a recommendation from the proprietors of the Mudbrick Manor where we had stayed at 14 years ago.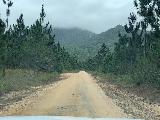 I remembered we had planned on staying in Cardwell for two nights back then so we could access Blencoe Falls via Kennedy to the north, but a cyclone destroyed that road at the time so we had to swing around to Mt Garnet.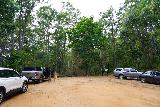 Well, this time around, we had no intention of doing the 4wd road down to the falls that was part of the trible council in season 2 of Survivor game show, and well, we wouldn't have been in position to do something like that anyways given the family tragedy that just happened a few days ago.
And so I got out of the car and finally patted DEET on myself as the mosquitoes continued to swarm around me.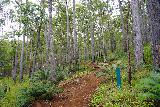 Right at the start of the trail, I saw that there was a fork but it wasn't clear whether to go down or to go up, but I knew from memory that this was a mostly uphill walk to the Attie Creek Falls so I kept right to get up there.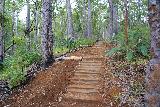 That said, it seemed like the majority of visitors here took the lower path past a couple of picnic tables that I definitely knew wasn't there 14 years ago, and it surprised me that I was pretty much alone for the legit part of the Attie Creek Falls Track.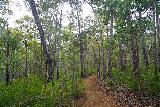 However, all that traffic going down did pique my interest in what was down there, and so I made a mental note to come back and explore it once I was done with the Attie Creek Falls.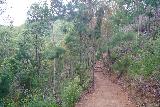 Anyways, the hike continued uneventfully as I made my way further up the track which included more switchbacks as well as sections involving rock steps.
I remembered the first time around that this trail didn't have such steps and the trail was a steep uphill walk, which took a bit more out of me than one would expect.
Ultimately as I got near the Attie Creek Falls, I did notice one family that was making their way down the track, and that made me think that they must have swam in the plunge pool of the waterfall.
And sure enough, when I got to the Attie Creek Falls, there were rock steps leading down to the creek level where there were slippery rocks that I could stand on to get a direct view of the falls being reflected in the plunge pool.
The rocks were wet, which made the footing even more slick, and I knew that they got that way because the family here must have tracked water onto them once they were done with their swim.
So I documented this place, and I also got an unusual side view of it as I noticed there was another spot to look at the falls framed by foliage further up by the rock steps.
And with that, I then headed back the way I came just as I noticed another more senior couple approaching the waterfall.
It was a lot easier going on the way back since this was a significantly more gentle trail than I had remembered, and when I returned to the trailhead, I then pursued that lower path as I had promised myself I would do.
It didn't take long when I saw that there was another fork in the trail down there, and I first pursued the right path towards some barricades, but the trail skirted around it.
Then, it eventually led to some rocky area where there was a small somewhat trickling cascade further downstream.
The behavior of this creek perplexed me because there was a lot more water on Attie Creek Falls than there was on the creek down here, which was surprising since usually more water drains downstream so I would have expected there to be more volume here than on the main falls itself.
Regardless, after having my fill of this spot, I then swung around the other fork, which led down to another plunge pool swimming area backed by a more direct view of the trickling cascade that I had noticed earlier.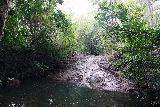 Upon looking at the waterfall from down here, I could kind of envision the mentality of disappointed visitors who'd come here only to see this swimming hole backed by a trickling cascade, and they must have thought that the main Attie Creek Falls wasn't worth it.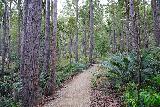 So I was glad that I did the main waterfall first because I might have been similarly discouraged had I done the shorter path to Attie Creek to get to this point first.
Anyways, by about 10:45am, I made it back to the car, and the first thing I had noticed throughout this walk was that the weather was actually calm throughout.
In fact there were even moments of some sunlight trying to break through the clouds, but it actually didn't last long.
Regardless, we made it back to Cardwell by about 10:55am, where we stopped across the street from this spot called the Seaview Deli Cafe, which had a big picture of a crab on its corner facade.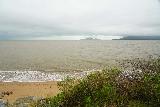 This place was actually quite busy, but Julie wanted to come here for an early lunch, which I knew might put pressure on me to get the remaining hikes finished and then getting to Townsville at a reasonable time later this evening.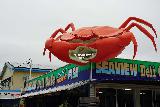 Indeed, it took some time to get our food, where both Julie and I shared a simple crab sandwich as well as a crab cake burger, but Tahia didn't really have much of an appetite to eat her conventional burger (which had beets in it, which seemed like an Aussie thing when it came to burgers).
She was once again running a fever, and her mood was really sour as she even complained that Julie and I were having some kind of smoothie that Julie customized, and that seemed to trigger something within Tahia regarding her stomach ache and fever.
We finally had our fill of the lunch at 11:45am, and now we had to drive towards Ingham and then to Wallaman Falls.
But as we went south on the Bruce Highway, I realized that the clouds were low in the general direction of where I knew Wallaman Falls would be, and I worried already that the experience would be severely impacted by low clouds as well as rain.
Sure enough, as we headed west of Ingham (after a bit of a railroad delay in town), we'd eventually be driving the rural roads past sugar cane fields on the way to Girringun National Park, and that was when the rain got worse and the clouds became fog the higher up we drove.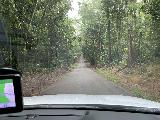 I also hoped to finally have a wild cassowary sighting while driving this stretch as sort of a lucky consolation prize, but alas, that wasn't meant to be.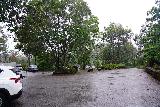 When we finally made it up to the Wallaman Falls car park at 1:20pm, the rain was even heavier and the cloud cover remained persistent.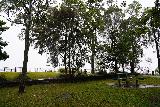 Julie and Tahia were having their siesta at the time so I just geared up and headed out alone, and the first thing I did was to go to the overlook, which looked hopelessly foggy.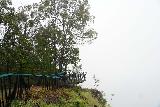 When I got to the overlook, there was one guy who was headed back from the overlook saying to me (noticing I had a GoPro on my head) that "I'm glad you are getting video because you can hear the falls but the view's disappointing, mate".
I noticed that the guy promptly went back to the ute that had pulled up beside us after we had parked, and he promptly left, which made me wonder if he had driven all the way this way only to be disappointed and took off.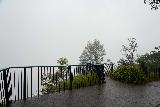 Of course, regardless of the weather, I knew that I was going to go down to the bottom of the Wallaman Falls anyways, and maybe, just maybe, the experience might be better down there than trying to look across the valley where I knew clouds were blocking the line of sight.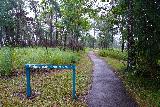 Anyways I went along the familiar walking track that started off paved as it went to a gorge view (which was pretty much nothing), and then the track entered the ancient rainforest that was the reason why Girringun National Park was gazetted.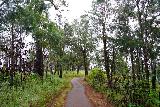 Eventually, the paved track went down some metal steps before giving way to the conventional trail that I was more familiar with.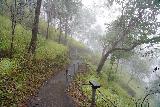 However, the downhill, switchbacking path seemed a lot longer than I had recalled, and I knew that going back up was going to be a challenge.
So the signs saying that this 4km walk (2km in each direction) would take 2 hours really was legit and wasn't exaggerating on that time commitment.
Well, I continued with the descent, and while I was now well within the rainforest canopy, there was still enough rain and drip from the trees overhead that I was getting wet.
I was also getting wet from sweat as there still seemed to be humidity in these parts even though it was cold and wet and very unlike the Dry Season in this part of tropical North Queensland.
There were a handful of people who were coming up, and when I noticed that I was partially able to see the waterfall from an intermediate overlook through mostly fog, I braced myself for a disappointing visit as the clouds seemed to remain low to the ground.
But when I caught up to and passed a family that was slowly making their way down to the bottom of the falls as well, I then witnessed for myself that Wallaman Falls could indeed be seen from here, and I was glad that I made the decision to come down here!
I got down here at around 2pm or so, and I immediately tried to take pictures and videos while I still could, and I did so before that family that I had passed would arrive.
Although it was misty down here, it was largely due to the rain and not so much from the waterfall's spray.
Nevertheless, I was already happy that this experience exceeded my expections given the miserable foggy view you get at the top as well as all the intermediate views along the way.
When the family showed up, I commented to them how we were glad to have made it down here and not settled for the disappointing views from the top.
Nevertheless, once I had my fill of the falls and gave the same spiel to a lady who hiked solo and said the same thing I did, I then made the long climb back up the escarpment keeping my fingers crossed that maybe the clouds might lift by the time I make it back up.
Well, the climb up was long as expected, and I was pretty much drenched with a combination of rain and sweat so I knew that having a rain poncho wouldn't have mattered because the non-breathability of Gore-tex would have made me sweat it out from the inside out.
Regardless, I finally made it back to the car park at around 3:10pm, which was getting late for my liking, and I did make a final try at looking across the gorge for Wallaman Falls, but the view up here remained too foggy.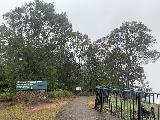 Regardless, we then headed out from Wallaman Falls, where Julie complained to me that I wasn't wearing my poncho though I don't think she realized how keeping dry would have been futile because I would have drenched myself with sweat from the inside out.
Anyways, I was definitely nervous about getting to Jourama Falls before it got dark.
And there was definitely more moderate rain around the Wallaman Falls area as we were going back down the steep and narrow mountain roads to return to the sugar cane fields.
As we got closer to the Bruce Highway and closer to Ingham, Julie managed to get ahold of the tour operator for the Whitsunday Tour that was scheduled for July 3, but with the crummy weather and in light of my brother's situation, Julie cancelled with that tour.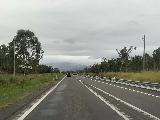 We just couldn't rely on the fact that doing such a tour under rainy and windy conditions like this would have been a worthwhile experience, especially when the tour would have costed us upwards of $700 AUD.
After another railroad delay before getting back to Ingham and ultimately the Bruce Highway, we then headed south where we were surprised to see that the weather was finally starting to let up the closer to the Paluma Range (where Jourama Falls was) we were getting.
Right around this time, we got a video call from Mom on my cell, and Julie picked it up to see that Mom was with my brother's kids.
As emotional as the moment was, I still had to focus on the driving but we let Tahia talk to her cousins which seemed to really cheer her up and get her mind off whatever stomach ailments she had been suffering from throughout today.
This chat continued for a couple of minutes, but then we were losing our signal and eventually they exchanged texts since it was about midnight back at home.
By about 4:30pm, we finally made it to the Jourama Falls trailhead, which was at the end of a narrow road after going past a couple of concrete fords (which were well below what I had remembered the first time we were here in May 2008).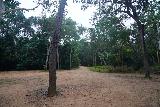 In fact, I had braced myself for the crossing of Jourama Creek when doing the hike, and that was what compelled me to continue wearing Chacos for this hike just in case I'd have to get wet again.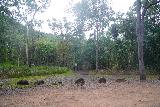 Anyways, there was one moment where there was some signed picnic area well before the familiar concrete fords, which made me wonder if the actual trailhead started from back there or not.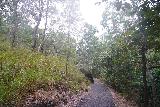 Regardless, I got out of the car, geared up again (even though my pack and camera bag as well as GoPro was a bit damp from the prior excursion).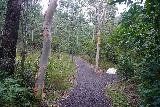 And then I re-applied DEET since the mozzies were swarming around me again.
Then, I proceeded with the walk as I continued along the benign path, but now I saw there was one fork leading down to the creek, but I later learned that it was nothing more than a swimming hole on Jourama Creek.
Then, I continued with the trail as it eventually descended to the anticipated crossing of Jourama Creek, but this time instead of trying to stand on filled-in buckets acting as steps, there were now a handful of bridges.
It was too easy this time around, and whatever fears I had about crossing Jourama Creek based on the first experience were pretty much unfounded now.
And so I continued up the switchbacking trail, where I did make one detour to the "Rock Pools", where I got my first glimpse of the uppermost drop of Jourama Falls as well as a family enjoying some plunge pool further downstream.
But I continued the ascent as the weather around me looked ominous though there was still nothing in the way of Wallaman Falls-like weather save for a few sprinkles here and there.
In fact, this hike to Jourama Falls was surprisingly calm weather-wise, but now I was fighting the onset of darkness as it was around 5pm when I finally made it up to the lookout for the falls.
As before, I saw that there were at least 6 or 7 distinct drops as Jourama Creek made its way down the cliffs before continuing onto the Rock Pools further downstream.
I documented what I could and tried to take my time though the mosquitoes were back and it continued to want to get dark.
So I had my fill and then headed back down the trail, which was also considerably easier since it was mostly downhill.
By about 5:35pm, I was back at the car, which was just in time to make the remaining 84km drive to Townsville.
I was glad that we had communicated with the accommodation earlier about a late check-in so we got instructions to unlock the lock box for our room keys as we weren't likely to get to Townsville until around 7pm.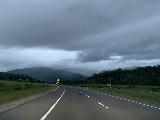 So the drive the rest of the way pretty much involved following a caravan of cars and big rigs down the Bruce Highway, but I always tried not to be the person in front due to the kangaroos-in-the-dark situation.
Eventually, we'd leave the Bruce Highway and then go on a fairly extensive stretch of non-highway streets leading to Townsville, which was surprisingly much larger than we anticipated.
I guess we should be because it was essentially the capital of this part of North Central Queensland's coast, and it definitely felt more like a city more than any of the towns we had done so far on this leg of the trip (save for perhaps Cairns though Townsville was seemingly bigger).
Anyways, we'd eventually arrive at The Strand Motel at 7:05pm, where we promptly got the keys to our room, dropped off our stuff, and then proceeded to walk to The Strand just to soak in some night time ambience since we were already pretty centrally located here.
So by 7:20pm, we first walked past the Seaview Hotel, which had a bustling bar and restaurant sceen, especially since today was a Friday night.
But since we needed something quick, we decided on getting takeout Thai food a little further inland from The Strand.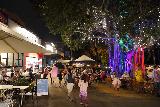 Since the takeaway was said to be 20 minutes wait, we then saw that there was a Cole's so we did some last-minute grocery shopping before picking up the Thai takeaway.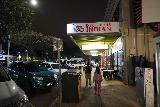 We'd eventually bring all our groceries and the takeaway food to some empty public tables in front the Seaview Hotel in front of some lit up banyan tree, and then we proceeded to finally have dinner.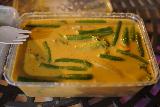 There was actually a lot of food, but the meal itself wasn't that great, which we kind of expected.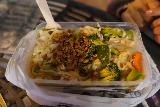 Nevertheless, by about 8:35pm, we made it back to the motel so we could take time to drop off the groceries, and then we went back to The Strand to live up the rest of the Friday nightlife (or at least observe it).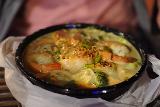 We ultimately walked along the business side of the Strand where there were pockets of activity and then dead zones, which pretty much occurred outside of the bars and restaurants (all of which were bustling).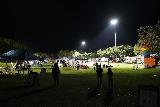 We'd eventually walk far enough to get to a Friday Night Market, which looked like it was getting dead, and when we walked past most of the booths, they were apparently closing shop.
Julie saw some gluten free donut booth, but they had been all sold out so she was SOL as apparently we were maybe an hour or so too late for all the festivities here.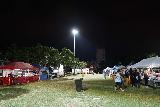 I wondered in hindsight if we would have been better off having food from the booths here instead of the disappointing takeout that we ended up getting.
Nevertheless, the Night Market here didn't keep us for long and then we walked towards some pier where there was some kind of colour-changing Liberty Statue-like figure in the water.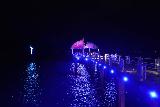 Apparently, this statue changes according to temperature, but we couldn't understand why it was orange from time to time (suggesting that the statue was over 30C at the time).
I wasn't sure whether that was merely a gimmick or if there was actually a sensor by where we were standing essentially indicating what the nearby "body" temperatures were.
Nevertheless, after having our fill of this spot, we then walked back along the beach side of the Strand, which was pleasant though there were lots of motorized scooters zipping by and around us along the way.
When Julie and Tahia held my hand as we were doing this walk, I had another triggering moment where I realized that my brother's family could no longer engage in these kind of family walks anymore.
It was sad to think about this, but I also realized that I wasn't getting as triggered as I was a couple days ago so perhaps this notion of moving on with life without my bro was happening even though I knew that it would all come back once we get home and experience more triggers…
Nevertheless, in the moment, we ultimately made it back to our motel room at 9:20pm, where we had to sleep in separate rooms because each room only had one bed.
However, it was reminded that one of the rooms was supposed to be shared between Tahia and Mom, but since Mom was already home in California, this was yet another triggering moment where my thoughts once again went to my brother's family and how was now alone with my thoughts on this night.
Anyways, I did have my chores regarding getting the photos and notes all sorted while also trying to charge the batteries on the devices, and I'd ultimately fall asleep some time around 12:30am, which I knew wasn't going to give me much sleep ahead of another long day of driving…
Day 24 (July 2, 2022 – Airlie Beach, Queensland, Australia): "Risky Situations"
It was 4am when I awoke to the alarm, which actually meant that I didn't get a whole lot of sleep since I had slept at around 12:30am last night.
I spent the morning alone in my room working on yesterday's happenings and getting caught up, which I guess was made easier since I wouldn't be disturbing Julie and Tahia.
This time took longer than I was hoping for knowing that it was going to be a long drive to Airlie Beach from Townsville, and that I wanted to fit in a long detour to the Finch Hatton Gorge to visit the Araluen Falls.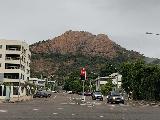 Anyways, it wouldn't be until about 7:25am when we finally headed out, which was about 90 minutes later than I had originally planned given the long driving involved.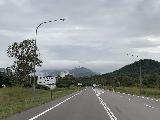 If there was ever a time where that second driver would be helpful (which was my Mom when we set out from Cairns earlier in the trip), this would have been one of those days.
However, that was also another one of those triggering thoughts because so many things now connected to thoughts of my brother whether it was thoughts about my Mom and Dad grieving to random things like the songs my brother liked.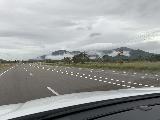 Indeed, with such a long drive, I had time to gather my thoughts or just let things pop in and out all while listening to Triple J (at least where it was possible since reception didn't seem to be great once we left Townsville and were back in the boonies along the Bruce Highway).
One song that really triggered me was Julia Stone's Catastrophe, which really hit different this time around.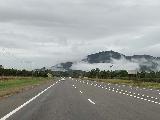 Back when I first heard the song, it was just a cute ironic song that I enjoyed that reminded me of why I like Triple J which always mentally brings me back to Australia.
But now that there was a real catastrophe in our family's case, it was yet another moment where I had to break down crying knowing that there was a permanence to this situation even though it still didn't feel real.
While we have coping mechanisms in continuing on with the abridged version of the long trip to Australia that we're in right now, I also knew that it was going to hit hard when we get home where there'll be more reminders and triggers, especially when I see the rest of the family again.
Nevertheless, there was enough to occupy my mind as the drive continued through increasingly worsening weather, which got me to reflect on the irony of how we're here in Australia's sunshine state but the sun itself has been elusive ever since we first arrived from Bali.
Of course, that was little consolation for us as we were about to hit yet another great-when-it's-sunny destination in the Whitsundays (whereas the Great Barrier Reef was already a no-go earlier in this trip).
But with the weather being so bad, Julie already knew that paying through the nose for an all-day tour to the Whitsundays tomorrow when we knew it would be trying to force the situation wasn't the best idea.
Besides, we were already bleeding money due to change fees and other incidental fees (many of which aren't covered by Allianz's policy) so that compelled her to just cancel our booking, which we were still in the window to allow it without hefty penalties.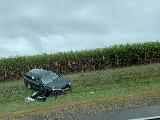 That said, Julie was still holding out hope that we still might do a half-day tour to just the Whitsunday Islands, but the likelihood was low that it was going to be that magical experience we had back in May 2008 when it was like living through a painting.
As we got further south of Prosperpine (which was the town where we would turn off and head towards Airlie Beach), that was when I made the executive decision to pursue the Finch Hatton Gorge and not punt it for tomorrow.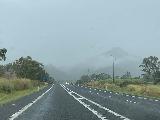 That said, as the weather had gotten worse throughout the drive, I was really concerned about the hiking conditions as well as the driving conditions there knowing that there were stream crossings (especially the creek fords) involved.
Well, when we finally got to the town of Marian (ignoring the GPS routing that tried to get us on some rural roads near Mount Ossa), this time we passed through the main routes that were actually signposted.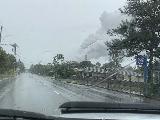 In the past, we didn't see such signage because of the GPS routing, but really the way to do it was to essentially head towards Mackay, and then follow the numbered routes (which are state highways or routes) that had signs at all the key junctions.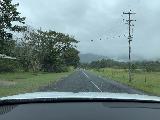 Even though this route was a little longer than than what the GPS wanted, I knew it was the safest and sanest way to go.
Eventually, we got into the Finch Hatton Gorge, which at first didn't look promising because the weather was particularly raining hard aroud Marian.
Plus, when we approached the gorge, the clouds looked dark and the clouds also touched the ground, which was a sign of heavy rain.
However, when we got into the forested part within the boundaries of Eungella National Park, we noticed that the rain was lighter (even barely sprinkling).
Of course, there were at least four concrete fords (which I remembered from the past though they were all unsealed and not really as developed as now), and they looked scary.
But the depth indicator suggested that the water levels were still below 0.2m or so (Tahia looked out the car and saw it only got about half way up the tyres), and we even noticed a passenger car doing this route (leaving though) as we did 14 years ago.
Eventually by about 12:40pm, we made it to the end of the road and the trailhead for the Finch Hatton Gorge, and I knew that I was going about this hike alone.
Julie and Tahia stayed in the car as they were already pretty waterfalled out (though I knew that such unusual weather this time of year actually presented opportunities to see waterfalls in the Dry Season that otherwise wouldn't be flowing, and Cedar Creek Falls near Prosperpine was one).
This time, after gearing up and hastily getting started, I did remember to bring a rain poncho just in case it started raining hard again.
However, after a few minutes of wearing it on the hike, it already had gotten hot, and I had to take it off (hoping I wouldn't jinx myself that taking it off would cause it to rain again).
It didn't take long before I reached a signed trail junction shortly after passing by some large boulders that I did remember seeing on the first visit.
So I first headed downhill to get towards the familiar Araluen Falls or Araluen Cascades and got there at 1:25pm, and it seemed like now it had a railed overlook with rock steps leading to the plunge pool.
With all the rain that had fallen here, I made sure to stay on the flat parts of the rock and dared not venture any closer to the creek given how slippery it was.
It didn't take long to re-experience this waterfall, where I was all alone, and then I went back up to the junction and proceeded towards the Wheel of Fire Falls.
This waterfall was closed the first time I was here 14 years ago due to a bridge wash out, but now it looked like the signage suggested that 400m beyond the junction was an unbridged creek crossing.
As I continued the walk up the path that I hadn't done before, I saw some side views and accesses of other segmented cascades along the way.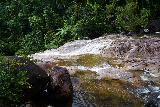 When I got to that creek crossing, I then saw how the path pretty much disappeared right into the creek and continued on the other side.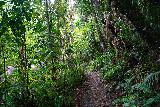 However, the creek crossing looked quite dicey as the rocks were definitely slippery, and it didn't seem obvious where to wade across the creek safely.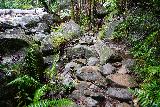 I was especially concerned about my electronics, and it was at this point that I realized that I made two mistakes.
First, I forgot to bring my trekking poles which would have certainly helped with my balance as well as probing the creek depth when it didn't look like I could see the bottom.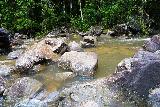 Second, I forgot to bring my dry bag to keep the sensitive stuff dry, especially in case I'd slip and fall.
I was cursing at myself since I generally prided myself on coming prepared, but perhaps I was already a bit worried about a flash flood preventing us from getting across all those concrete fords earlier.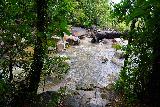 And now, there's this creek crossing that looked as dicey as any that I've done before, and now I had a decision to make.
Should I just turn back and give up? Or should I proceed at risk knowing that if a flash flood came by here, I could easily get swept away.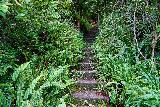 I ultimately decided to put my electronics in my backpack knowing that the water would have to be over waist deep as well as me having to fall if I was going to get them wet (as opposed to my pant pockets).
And then I took very slow steps even bending over and using my hands to try to hold onto rocks for balance while I was half-submerged in the creek, which had a current to boot.
I'd eventually make it to the other side, and from that point, I knew that I didn't have much time to get to the Wheel of Fire Falls and then come back hoping that the creek levels wouldn't rise beyond what they were now, which was already borderline.
It was starting to sprinkle and lightly rain as I continued ascending the still developed trail, where there were intermediate cascades that were much taller than the Araluen Cascade.
And I wanted to stop for them, but I guess I felt the need to get to the Wheel of Fire Falls first since that was the goal.
Well, I ultimately got to the Wheel of Fire Falls at around 2pm, and then when I got down to the end of the trail at the edge of the huge plunge pool, I realized that there was no way I could even see the Wheel of Fire Falls iteself from here.
I'd either have to swim in this pool, which I wasn't prepared to do, or I'd have to do this dicey ledge-hugging scramble to get up to the base of the waterfall and get some awkward viewing angles from there.
There were repeated signs discouraging people from going along the ledges and climbing the rocks, but I saw that I had little choice but to do this in order for this visit to finally pay off.
But the further I went along the slippery ledges, the more I wasn't liking the precarious situation I had put myself in.
Nevertheless, I did manage to awkwardly document the falls without incident, and then I got back to the safety of the trail, where I next started to head back down by about 2:25pm.
Knowing that there was that creek crossing again, I knew that I had to get across that before finally being allowed to breathe a little easier though there were also those concrete fords to get across in the car as well.
So I got back to the crossing a few minutes later (but not before capturing some of those intermediate cascades that I had seen along the way on the way up), and then I did the protocol of putting stuff in my day pack and slowly wading across.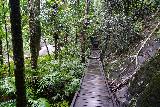 This time, I took a slightly more upstream route next to the submerged rocks, and it was in the deepest section that the water got up to my crotch while standing on my tippy toes.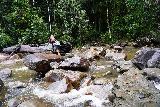 But once I got onto the main trail, I saw that there were a pair of women about to attempt the crossing, and I apprised them of the situation, but I guess they had to see for themselves what I was talking about.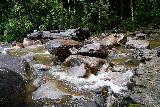 As they were crossing, that was when I wanted to take a picture of the context of them doing the crossing, and that was when I completely forgot that I had the iPhone in the same camera bag as the Sony, and when I took the mirrorless out, the phone dropped to the ground and ultimately into the creek!
Damn, so just when I thought I had gone past the worst of the creek, I now had to deal with this!
So I immediately went into the creek, got the phone, and immediately turned it off while also separating the battery pack from the phone.
From this point forward, I was now concerned about whether this device was any good anymore for the rest of the trip, but I was surprised that the phone actually was still working!
I wondered if it was the battery pack that saved the phone's internals or something, or if the phone itself was just well-designed enough to at least handle dunkings like this.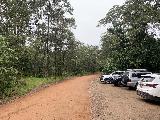 Nevertheless, I actually was able to continue my hiking and trail breadcrumbing on the way back to the car park, and I ultimately got there by 3:05pm.
Unfortunately, the GoPro ran out of batteries when there was about 5-10 minutes to go, but I wasn't going to bother with stopping and continuing the recording at that point.
So with that, we drove off and headed towards Airlie Beach, where on the drive back, the weather seemed to really calm down though it remained quite overcast.
In fact, on the 2-hour drive back towards Airlie Beach, the sun even made a brief appearance through the clouds, but it didn't last that long as we were back into that pattern of light drizzle or rain combined with pockets of heavier rain.
Somewhere along the way, I heard a Wolf Alice song that really hit hard emotionally called "How Can I Make It OK?"
I bet the lyric to that song probably was meant to be interpreted from the standpoint of how to encourage someone to take a chance on her (or him) in new romance.
However, I actually took the interpretation of me asking myself this question to see how I can get through our family tragedy.
Who knew that a throwback 80's ballad could be so emotionally triggering?
Nevertheless, it essentially brought me back to Wolf Alice since the days when I enjoyed "Freazy".
Now I was curious about their whole catalog of songs that I kind of overlooked over the years even though Triple J had been playing them all those years (albeit sparsely since I never recalled them being on the Hottest 100).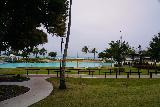 We eventually got to our motel at Airlie Beach at 5:15pm (called Whitsunday on the Beach.
And after parking the car, I noticed that there was a nice view looking towards the "lagoon" at Airlie Beach, which looked more like a large public swimming pool with some sandy edges.
I wanted to get a better view so I thought I could walk up the steps and see if I could improve the viewing angle, and I even noticed that the steps leading up to the roof was unlocked so I went up there as well.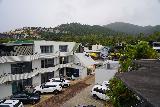 After taking some pictures from up there for a minute, I then went back down where there was one guy waiting for me.
He told me in a rather condescending way that what I did was illegal and that this area was all private and that I could have figured this out with the closed gate.
I apologized and told him that I didn't realize this as there was no signage anywhere saying as such, and then went about my business, but he seemed to not let it go and talked to I guess the proprietor about it.
The proprietor basically just said to us that upstairs was off limits, and we acknowledged that.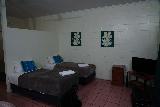 Anyways, we got settled in at 5:30pm, and then as we were getting unpacked and changing clothes, I noticed that there was some kind of blotch on my hiking pants.
When I saw that the blotch was moving and kind of rubbery, I immediately thought about whether this little guy was a leech.
Well, it turned out that it was because I was a big blood stain on my left foot (maybe that was the stinging that I was feeling during the hike), and so we ultimately tried to flush it down the toilet.
Of course, that proved more difficult than anticipated because it clung to the toilet bowl and then onto the toilet brush, until Julie finally managed to get it down the drain after repeated attempts.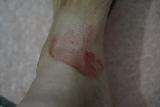 I guess when it rains, it pours (literally) on trips like this, and it just seemed to be the way things are at the moment that we still had to get through the remainder of this trip in this sort of tragic limbo that we've been dealing with.
Anyways, we ultimately decided to go out into town to explore Airlie Beach a bit for the rest of the night.
We originally wanted to go to Woolly's for a quick grocery run, but it was already closed by 6pm so we pretty much killed time by soaking in the ambience of the place.
There were a handful of pubs with live performances, which really made for a lively scene, and we scoped out the restaurants that we were to eat at.
We actually had a lot of time to kill because our dinner wasn't scheduled until 8:30pm, and so we pretty much went this way and that while the night time weather was still relatively calm.
A lot of the establishments had indoor public walkways, which was interesting because we at first thought we were trespassing or something, but it seemed to be the norm here.
We were also concerned that there were numerous people (none of which were masked, and there was even one kid who made fun of us with her dad upon seeing us with our masks), and that kind of spoke to the attitudes towards masking in these parts.
I guess Australians were pretty over the COVID-zero policy, but we also had to recognize that Queensland was kind of like the Texas of Australia, and so perhaps ignorant attitudes were more of the norm in these parts just as they would be in much of the rural US.
In addition, as we walked by the happening pubs, there were also big screens showing footie games that were on, and that kind of triggered me when I realized that my brother was a big NFL fan.
Sure they're not the same sports, but I knew that he was quite up-to-date on a lot of the fantasy football happenings, and so this was another one of those surprising things that hit me that I didn't expect.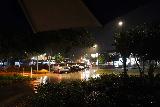 By about 7:45pm, we then killed time at one of the picnic tables as the rain then came back with a vengeance.
We were just occupying ourselves looking at Julie's phone (as my was out-of-commission at the moment), and also playing thumb wrestling or hand-slap or rock-paper-scissor with Tahia.
But eventually by about 8:20pm, we finally got seated at La Tabella Restaurant, which was still quite bustling.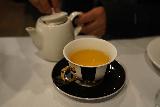 The guy who seated us tried to speak Mandarin Chinese to us, and I guess it was his excuse to use it since no Chinese visitors from the mainland could be here since the pandemic outbreak.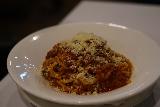 He made a pretty good effort though it was the tones that tripped him up, but just the fact that he knew what to say and that he relayed to us that his relative procures ingredients from Chinese shops that I guess that was how he got him working knowledge of Chinese.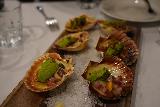 Anyways, we knew that the food would come out quite slowly, and I was even starting to fall asleep as it was getting late.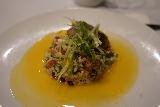 Nevertheless, when the food finally did come out, we were enjoying Tahia's spaghetti a la Bolognese, which she finished before our scallop appetizer came out.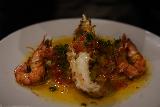 Then, we finally got our mains which consisted of some kind of fancy ravioli that included tiger prawns and seemingly a small crayfish or something.
The duck confit was also good, and it was clear that this place was really quite the culinary experience, and I guess we could see why it got such good reviews.
That said, I was dozing off when waiting for the mains, so after the dinner was over, we then walked in the rain back to our room at 9:50pm, where we could finally wind down on this day.
Even though there were lots of festivities and live performances still going on (and the night clubs were bustling), I couldn't help but to feel this sense of emptiness knowing that I knew in my heart of hearts that it was hard to get emotionally into the moment.
I always said that travel was all about being in the moment and experiencing things as you go, but in this case, I found that it was difficult to do as my thoughts continued to be towards my family and how it all went down with my younger brother…
Day 25 (July 3, 2022 – Airlie Beach, Queensland, Australia): "Just Not Meant To Be"
It was 7am when I awoke where I intentionally left the alarm off so I could finally sleep in for a bit since we were anticipating a do nothing kind of day given the bad weather.
It was still raining outside (albeit lightly), and there was already daylight so part of me felt like the catching up I was about to do wasn't efficient in terms of maximizing the daylight that was available on this day.
Nevertheless, this was an unplanned day knowing that there would be no Whitsundays Tour given the bad weather though it was said in the forecast that today was going to be relatively calm before the next round of heavy rain was going to happen.
As I was busy trying to get caught up with the blogging, Julie and Tahia had a video call with the parents, where both Mom and Dad still looked visibly shaken from the loss of my brother.
It was triggering to me to see this, but at the same time, Tahia tried to keep things light with her usual talk about cute animals in Australia and that she was hoping to talk to her cousins.
Well, they were already out and about with the kids of my brother's friends so that chat between Tahia and them didn't happen.
I tried to stay strong and let Mom and Dad know that I was responsible for the slide show that I knew was going to be very difficult to do, and even the thought of having to go through pictures to bring back memories of my bro was very triggering to Mom.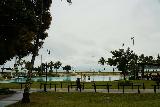 When the call ended, Julie and Tahia had already started to head over to the Woolly's for some groceries that we didn't get a chance to get yesterday.
But by about 9:35am while they were still over there, I was also done with my blogging business so I decided to just head out and pursue the Cedar Creek Falls.
It was the lone waterfall for the day, and aside from this visit (that I knew wouldn't take much time), the rest of the day was just going to be a day to take it easy.
So as I drove out, I noticed that the weather definitely calmed down for the most part as the skies were lightly drizzling for the most part or didn't rain.
I was surprised that there were already a lot of cars headed in the same direction as me, but then again, when the weather was crummy, it made sense that this was the next best place that people would go.
I'd eventually arrive at the Cedar Creek Falls car park at 10:10am, which was pretty well-signed throughout the drive (though the turnoff towards Conway Beach from the Airlie Beach Road wasn't signed going south only going north).
It really did seem like everyone was going to this falls because when I showed up, the parking lot was filling up relatively quickly as there were at least a half-dozen vehicles already here not including the three or four that were part of the entourage that I was in.
I basically geared up only with my camera gear as well as trail runners and wool socks (as my Chacos were still wet and smelly from yesterday's hike).
Sure enough, as I approached the short jaunt to the large plunge pool before the flowing waterfall, I finally got to witness this waterfall flowing for the first time, which was crazy considering that I didn't imagine to be seeing this so deep into the Dry Season.
The last time I was here in May 2008, this waterfall wasn't even close to trickling as it was basically a silent pool backed by the rock wall that should have had the waterfall.
Anyways, some families were already here in the water braving the cold swim due to the cold and wet weather while others basically came and checked out the falls and then left.
I did see that because the waterfall was flowing, there were some creeks where it was a trickly and slippery rock hop to get across without getting the feet wet (one time where I wished I had the Chacos so I could just go right through).
Nevertheless, when I did get across these outflow streams, I managed to get a few more photos and videos from differing angles and perspectives.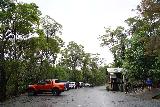 But eventually by 10:40am, I had my fill of the falls and let Julie know that I was heading back to Airlie Beach.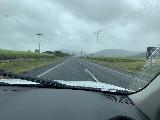 This happened just as even more cars were going towards the Cedar Creek Falls, which further indicated to me that this was the thing to do when you have bad weather and no ability to do the tours to the Whitsundays.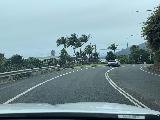 With many families here, I guess the so-called "schoolies" was still going on, where the kids still had some days off from their schooling in the height of the Australian Winter months though I didn't think it would be quite the 2- to 3-month Summer vacations that we'd get in the States.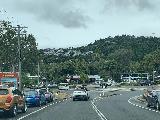 Nevertheless, as I headed home, I decided to stop over at a United petrol station that also had a Pie Face with it.
Whilst there, I called Julie and got a curry mince pie as well as a butter chicken pie for takeaway, and eventually by about 11:25am, those pies were our brekkie (or more like brunch I guess) while I also had some fresh croissants from the Woolly's bakery.
Tahia was in the shower at the time trying to warm up from her time in the lagoon while I was away, but she didn't linger in there for long because it was a very cold swim.
So we were killing time in the room for a bit until finally at 1:35pm we decided to kill some more time by walking around in town, especially since Tahia had a pizza craving.
We wound up having a late lunch at this place called Beagles Pizza at 2pm, which was a cash only place but was reasonably priced.
It wasn't extraordinary pizza, but it seemed to hit the spot for her though I did worry about ruining our appetites for our 5:30pm dinner reservation.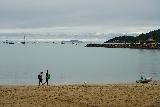 Once we were done with the pizza and walking about along the beach, we were eventually back at the room at 2:50pm.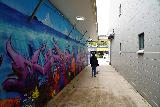 During our stroll, I couldn't help but wonder about the memorial and the lives lost as a result of Cyclone Ada in 1970, which was apparently the reason behind this marina being built the way it is now.
When looking at how most of the lives lost were at sea during the Cyclone, I couldn't help but notice that some of the lives lost were an entire family.
Now that I could empathize with losing loved ones, especially for those people that were survived by, I realized that tragedies aren't anything knew and that people throughout the years have to deal with the grief of such loss.
And all those memorials that we've seen on our travels now hit way more differently now, which was a sobering thought considering that these things do happen, and that other people have had to move on with life.
I knew our particular tragedy was a matter of just trying to live life without my brother as much as possible taking things day by day.
But I knew that family gatherings won't be the same and that numerous things would be triggering as the healing process would be uneven and asymptotic.
That said, those thoughts could be countered by the fact that grief is nothing new, and it is an inevitable part of life…
Heck, life in general can have cruel moments, but when I thought back to how some people had to live in Bali and why it's cheap, well some people have been dealt a bad hand at birth, well that really puts into perspective the good life my bro had.
Anyways, by about 3:05pm, Julie had this idea to do a brief drive to Lion's Lookout at Shute Harbour just to see what things were like over there.
I think she had her fill of Airlie Beach and wanted to see something else for a change.
So we drove out there, and went to the Lion's Lookout, where we got there at 3:15pm.
It turned out that Shute Harbour was nothing more than a ferry terminal that was a work in progress while there were no tourist facilities let alone accommodations or residences from what we could tell that were there.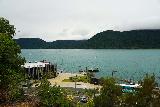 Perhaps there were big plans in store to make this the launching point for ferries and tours to be taking off to other far-flung islands throughout the Whitsundays or something.
I wasn't sure what was going on here, but in any case, we were back in the car at 3:35pm after having our fill of the overlook (which was primarily of the terminal or marina down below).
We got back to the Airline Beach about ten minutes later, and then Julie and Tahia opted to chill out at our room for a bit before dinner.
In the meantime, I decided to do a solo walk just to explore at least the Bicentennial Walkway and hopefully to get a few more top down views of Airlie Beach and perhaps Cannonvale.
Well, it turned out that as I did the walk up the Airlie Beach Road, it seemed like the walkway curved towards the Bicentennial Walkway, where a sign indicated that it was still nearly 2km to Cannonvale Beach and the town.
Moreover, I could see that the next wave of rain was coming from the Cannonvale side and I didn't have time to go there and back before dinner anyways.
So after briefly checking out Shingley Beach (basically a calm beach facing a harbor or marina), I then followed the path back in the direction of Airlie Beach (another 1.4km away).
Most of this walk was dominated by the Coral Sea Marina Resort, which had its share of shops and restaurants, which were already bustling with people.
But beyond the busy parts, I found myself on a boardwalk surrounded by bush scenery with hints of views towards the harbors and beaches.
I could already hear music in the distance coming from the live performances at the bars within Airlie Beach long before getting back to town, which indicated to me that this was indeed the touristy part of the Whitsunday Islands.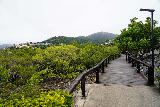 Anyways, this was a kind of lonely walk where I had more time to myself as rain was lightly falling on the way back.
I still couldn't believe what a shame it was for my brother to go out in the manner that he did, and I still kept playing in my mind what kind of thought processes that would have compelled him to put himself in such a dangerous situation.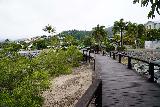 Even though I knew the whole hindsight is 20/20 post mortem thoughts wouldn't bring him back, I kept wondering what I could have done differently that might have gotten him to at least fear Nature enough to wear a life jacket or floatation device during his final snorkel.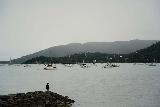 I couldn't even recall if I had ever relayed to him my own near ocean tragedy in Fiji in 2005 when I tried to give windsailing a go but do so on my own without help while the winds were strong and they were blowing sideways away from Matamanoa Island.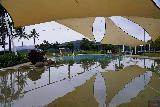 All it took was three failed attempts at even getting up onto the windsail that I realized that I was quickly moving away from the island.
When I realized that trying to swim back towards my starting point was a losing battle as the currents were too strong, I then realized that I had to swim sideways relative to the current and at least get to the far side of the small island.
It was my last chance at getting to land without being out in the open ocean and possibly to another island without anyone seeing me or knowing where I was.
Well, it was a bit of a struggle, but eventually I figured out that I could float on my back (thanks to my floatation device) and pull the windsail while kicking and using my legs for propulsion.
Eventually, I'd get back to the rocky side of Matamanoa Island after the exhausting swim, but at least I had a life jacket on the whole time so I was able to at least buy time for myself and assess my situation before it was too late.
I could only imagine what a similar situation my brother was in, but since he didn't have a life vest, he didn't have a shot and probably panicked when he realized his particular predicament regardless of whether he had fins on or not.
Would my story have made him reconsider going into the death trap without a floatation device and/or life jacket (as dorky and uncool as that would be)?
I kept grappling with that thought and regret as it very easily could have been me that the family be mourning instead of him.
Had it gone down that way, Tahia wouldn't have been born, and our life of traveling around the world (chasing waterfalls) would have been cut drastically short.
Anyways, with this alone time, I was also thinking about the memories of my brother again, which were triggering once again, and I knew that I'd have to go through repeated episodes of suddenly crying.
I'm sure if some bystander happened to observe me, he or she would probably think I was doing this for no reason.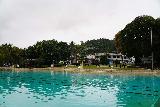 But during my walk, most people (especially if they were women walking alone in the opposite direction) seemed more concerned that I was a male and could pose a threat to their safety so I drew more suspicious glances than the friendly greetings of hi when Tahia and Julie were with me.
I guess that's also the state of the world these days as women always have to be vigilant about their own safety, and that corrupt political systems like what's going on back at home in the States continue to strip back rights to not only women but to minorities as well.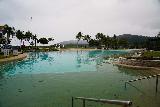 Obviously, the checks and balances of our politics was long gone with the Trump administration, and we're now dealing with the consequences of a Supreme Court that just does the bidding of the rich and powerful from the right pretty much double-dipping and perverting the system as a whole.
So with all these thoughts swirling in my head, I was back at the room at 4:30pm, where I spent some time trying to get caught up though I was dozing off (as I apparently needed a siesta or something).
But by about 5:25pm, we finally headed out to dinner to this seafood place called Fish D'vine.
When we got there, we pretty much had a simple but expensive dinner that consisted of a whole mud crab as well as a whole reef fish both on a bed of rice with Asian sauces.
Tahia had her spaghetti a la Bolognese (because her first choice of a burger was unavailable) though she wasn't too happy about her spaghetti compared with the very good Italian food we had at La Tabella yesterday.
The oysters were pretty good though, and the dessert of brownies with ice cream as well as banana fritters with ice cream were also pretty good.
That said, Julie thought that both the mud crab and fish weren't fresh because of the way the meat felt kind of stuck to the shell of the crab or felt watery in the fish (a sign that it came out of the freezer for a much longer period of time).
Nevertheless, after about 2 hours of mostly waiting (as the half-full place still was busy and slow), we finally finished with dinner and paid the $180 AUD for the splurge (making it the most expensive meal of the trip so far).
On our way back, we were lamenting how all the picture galleries were showing the Whitsunday Islands under blue skies, and we were wishing that Tahia could have experienced this on this trip (let alone the Great Barrier Reef).
But alas, this just wasn't meant to be on this trip.
And by about 7:35pm, we were finally back in the room to wind down for the night just as the rain really started to come down later on.
Indeed, we were worried about how the weather would affect us in Rockhampton and especially the Blackdown Tablelands tomorrow as the next wave of heavy rains would come upon us.
And overall, it just felt like with this trip, the whole theme about things being out of place and not meant to be would persist until perhaps the dark clouds that we were bringing with us to the East Coast of Australia would finally part when we leave the country.
Well, at least it certainly felt this way, as absurd of a thought that was to think that we could control the country's weather like this…
Day 26 (July 4, 2022 – Rockhampton, Queensland, Australia): "Dealing With Floods"
It was 4am when I awoke to the alarm while I could also hear the rain pounding outside (which had been going on throughout the night).
I wasn't in the most rested state because I did have a hard time falling asleep last night as I had too many thoughts about what to say at my brother's funeral.
Moreover, I had thoughts of my parents that had to endure such pain so late in life that it almost didn't seem fair to them how all this went down.
Anyways, I spent the better part of the next 1.5 hours getting caught up on the blogging, and Julie and Tahia eventually got up at around 5am.
Ultimately, we were packed up, loaded up the car in the next wave of rain, and then headed out by 5:55am.
On the way out, we made a stop at the Pie Face at the United Petrol stop just outside Cannonvale, and we got another round of butter chicken meat pie as well as the curry mince pie.
These pies were interesting because they put faces on the tops of each of the crusts of the pies, and we could kind of tell which flavors were different based on the facial expressions put on them.
Anyways, after briefly spending time in the car eating the meat pies while they were hot (for the most part), we then resumed our drive at around 6:15am.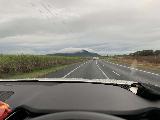 At this point, we pretty much would take the A1 south towards Marian again (the same route that we took to get to the Finch Hatton Gorge), and then we would continue south on the 5.
It was a good thing that we had gotten the Finch Hatton Gorge hike to Wheel of Fire Falls and Araluen Falls on the day we checked into Airlie Beach because the rain storms had intensified (especially today).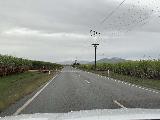 In fact, Sydney and the surrounding area was getting pounded by another flood event, which was said to be like the 3rd or 4th major one in the past 18 months, and this one could very well be the worst one yet for them.
That said, we still had rain issues of our own as this weather had stuck with us ever since we were in Cairns at the start of this leg of the trip, and thus it just wasn't meant to be as far as experiencing the Great Barrier Reef and Whitsunday Islands on this trip.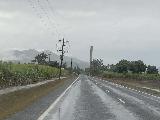 The ABC News was suggesting that Australia's East Coast could be stuck with such rain storms for the rest of the year.
So I guess maybe it was a good thing we didn't have to deal with these flooding issues later on in the trip since we had to cut our trip short so we could be back home to support the family and attend my brother's funeral.
I know going home was going to be very hard, especially since I was apparently tasked with coming up with the slide show, which I knew was going to send all sorts of triggers to me the more memories I'd have to bring back of him.
I'm sure Mom would also be triggered by this as we were still getting used to the idea that my brother is no longer with us, and that we'll have to pick up the slack to raise his family's kids, whom I guess are part of his legacy as he lives on through them.
Anyways, the drive was long as we were listening to Bryce and Ebony on Triple J Radio, which was getting good reception until we were approaching Eton beyond.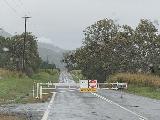 Just past North Eton, the GPS had us take a road that was closed due to flooding over Sandy Creek, but fortunately, I saw locals who didn't hesitate to take a detour away from Sandy Creek, and it was a good thing I followed them because we eventually got onto the 70 in no time.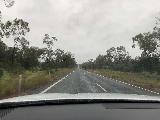 In fact, the 70 was a major highway, and we would continue to follow this route before eventually turning left onto the Fitzroy Development Road (Hwy 67).
That was when we started to run into scary water crossings as parts of the highway were flooded by the heavy rains that must have come through this area.
In fact, with every bridge that we crossed, we noticed how brown the streams were, which was a sure sign of higher-than-normal stream levels.
Anyways, there had to have been at least a half-dozen or so of these types of crossings on the highway, but we saw a passenger vehicle driving in the other direction so we knew that our SUV shouldn't have much trouble as we continued to head south.
After the scary floodways, we did happen to start seeing kangaroo roadkills and we even saw a family of live kangaroos staring at us on the road before they hopped off.
Julie and Tahia just so happened to be awake at the time so I guess this would count as Tahia's first kangaroo sighting in the "wild" though it was fleeting.
We'd eventually reach the town of Dingo, which was where we then picked up the A4 as we headed west towards the Blackdown Tablelands National Park.
Along the way, I had another triggering episode where Triple J was not getting reception and I stumbled upon a simplified version of Aha's Take On Me, which I recalled my brother once having a ring tone with this song.
How such a random thing that came up out of the blue that reminded me of my brother induced another round of tears, and I knew that any little thing like that would cause triggering episodes where an outbreak of tears would happen before my thoughts turned to something else.
I can only imagine how Mom and my sister-in-law have it worse as they spent more time with my brother, and thus, there would be constant reminders causing triggering moments.
So it turned out that the weather was pretty calm throughout the drive somewhere between Eton and the turnoff for the 67 as well as much of its drive on that highway.
However, the rain picked up again as we continued towards Blackdown Tablelands to the west, and it definitely gave me cause for concern about whether we would even be able to do the excursion to Rainbow Falls or Gudda Gumoo, which I was aware required a 4wd vehicle.
We'd ultimately make it to the signed turnoff leading to the Blackdown Tablelands National Park, and then we'd proceed to drive the road that started off paved then went unpaved for a long stretch.
The road actually seemed tame at first, but ultimately the road conditions narrowed and deterated more and more, and it made me wonder if our vehicle was going to make it our not.
As we got further down the access road almost to the end, there was one other vehicle that was making its way back up, but that vehicle was the Park Ranger (so we were still the only people crazy enough to come here in such crummy weather).
Well by about 12:05pm, we finally made it to the Rainbow Falls car park and trailhead though we had to endure quite the harrowing drive that involved even more large standing puddles of water on the road as well as protruding rocks and washboards.
I quickly geared up and put on hiking boots this time instead of doing the hike in Chacos as I had been doing almost exclusively up to this point.
And it was probably a good thing that I did this because it was quite cold in this part of Queensland, and the rain felt more like a temperate rainforest kind of rain than it did a Wet Season tropical one.
Given that we were close to the Tropic of Capricorn line, I guess there was also a reason why the A4 highway that we had just driven from Dingo was called the Capricorn Way.
Nevertheless, the weather at the moment was somewhat light to moderate rain so I immediately donned the rain poncho in addition to the rest of the hiking gear.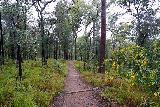 And thus I got started telling Julie and Tahia that I expected to be back in around 2 hours given that I knew the hike was about 4km round trip to get to the swimming hole above the Rainbow Falls.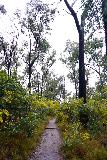 The trailhead signage also said something about it being about 1.8km round trip to get to the bottom of Rainbow Falls and back, so I might have also underestimated the overall time it would take.
In any case, I immediately set about on the trail, and it went somewhat gently downhill over some spaced out steps flanked by ghostly-looking trees that were tall.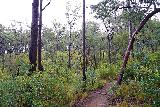 Many of them had black bark, and I wondered if there had been a recent fire that went through here to cause that (could they have been victims of the devastating Black Summer from right before the pandemic?).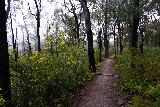 Even though it was starting to get a bit warm underneath the rain poncho due to the Gore-tex, I was also feeling like this heat was getting offset from the chilling rain that was falling on me.
So far, I was able to keep dry for the most part with the exception of the sleeves on my Fjallraven hiking shirt, which was protruding a little from the poncho.
I was also trying to protect the camera bag though it was lower down the poncho, and it was getting to that part where the rain might hit it from time to time (same with the wallet, which I forgot to leave with Julie).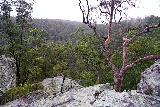 Nevertheless, I pretty much breezed through the beginning of the hike through the forest, which was quiet with the odd bird sounds probably alerting others of its kin of my presence.
The weather at the moment was still somewhat light- to moderate rain, but when I got to the first trail fork at 12:30pm, which led to an overlook with a distant view of Rainbow Falls, the rain started to come down a bit harder again.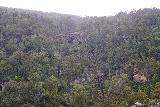 This lookout was on a rocky protrusion, and I kind of had to follow some trails of use to get the most satisfying of the views of Rainbow Falls in the distance, which revealed that it had multiple drops of it.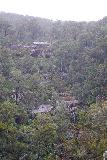 The falls looked pretty far away so I knew that I still had a little ways to go.
And as the rocky outcrop was a bit on the wet side, I also made sure not to get too close to the edge to risk a fatal fall, especially given that my parents already just experienced the tragic loss of one of their offspring, and I didn't want to be the cause of another one.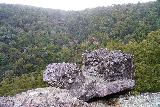 As I was taking my views, the clouds were coming in quickly, and before I knew it, the viewpoint was getting fogged up as I was trying to get my views at the moment.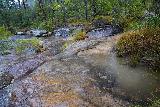 Indeed, the rain at this point was Wallaman Falls-like from a few days ago when the overlook was nothing but fog but the bottom was still a nice experience, and so I did what I could to take advantage of the view while I still could before going down to the bottom of the falls.
So with that, I resumed the hike and it didn't take long before I reached the signed junction near an obstructed overlook, where the path on the left fork went down to the bottom of the falls in 240 steps while the path on the right continued to the Instafamous pool.
By now, the fog was pretty thick and there wouldn't be much of a view of anything from the overlooks anymore.
Thus, I first went down the steps, which weren't bad compared to all the upside down hikes that Mom and I had to endure in Bali earlier on in the trip.
There was even an interesting section where the trail went beneath a tall rocky overhang, which provided some welcome shelter from the rain though it was temporary as I couldn't linger here for too long.
I eventually made it down to the bottom of the steps where some mild rock scrambling and getting around muddy puddles ultimately led me to the base of the Rainbow Falls (or Gudda Gumoo) at around 1pm.
At this point, the weather continued to rain and I was getting what views I could from the near side though a tree was obstructing the views.
Some kind of wooden pole that appeared to be cut also seemed to mark the end of the official trail so any more exploring from here on out was not part of the official path.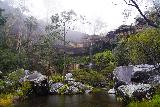 Nevertheless, I did notice one rock that was flat enough for me to stand on, and that was where I got my first decent looks at the Rainbow Falls, which was definitely flowing in the rain.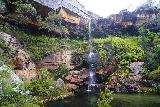 All indications were that this waterfall wouldn't typically flow like this in the Dry Season, but the rain storm that we were experiencing throughout this week was anything but typical.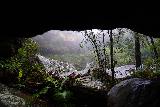 Once I had my fill of this view, I then noticed that there were some use trails that led towards a fairly slippery but manageable creek crossing over slippery creekbed surfaces.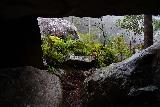 The puddles were not deep enough to ruin my hiking boots and so I managed to get across those without issue, and I also didn't really need my trekking poles for this.
As I got to the middle of the creek, I got a few more nice looks at the Rainbow Falls before getting across the flowing parts of the creek without issue.
Then, as I continued along more use-trails, I saw that there was a boulder jumble obstacle, where I needed to duck under one "archway" in order to get to the other side, and that was where I then climbed onto another somewhat flat rock surface for the most direct look at the falls.
It was still raining and the moisture was threatening to mess with the Sony camera, but I documented what I could while also documenting the experience with the iPhone as well (knowing at this point that the battery charger might have died at this point).
Anyways, once I had my fill of this spot as the fog continued to start to blanket the upper parts of the falls, I then made my way back across the creek and then back up the steps to the signed trail junction.
Then, I pursued the unsigned path that continued further upstream, which just so happened to coincide with another momentary break in the rain.
In another unsigned spur, it led me towards the brink of the Rainbow Falls, and as much as it would have been nice to scramble even further from my vantage point, I ultimately decided against doing that given the slippery conditions.
Nonetheless, I did get nice views further down the canyon of clouds momentarily breaking.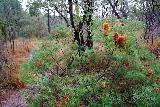 And so I continued with the hike further upstream as the trail continued along the creekbed until at around 1:45pm I then arrived at a series of jagged creekbed with what seemed to be some concealed mini-waterfalls and potholes.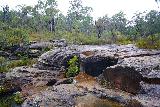 At this point, the trail also seemed to disappear into the creekbed so I went ahead and took my first glimpse of the small series of waterfalls that I also knew would be used as swimming holes in more benign weather.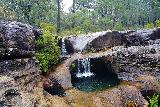 I also knew that people doctored photos to really being out the colors of the potholes under better weather, and I knew the filtered reality of social media and internet pics were nowhere near what I was seeing right at this moment.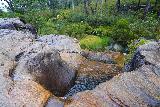 After having my fill of this side of the creek, I then scrambled and hopped over the narrow chute of the creek feeding the waterfalls here before getting around to the far side for a final descent closer to the front of the trio of waterfalls.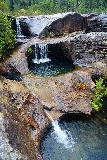 And so this was the Instafamous pool that people touted when they come to the Blackdown Tableland version of Rainbow Falls though no one was nuts enough to get in the water on this very cold day.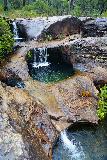 The water was definitely clear though as I looked down at the potholed pools, and I could totally envision how people would chill out here under more benign weather even if Gudda Gumoo waterfall wouldn't be flowing as well in the Dry Season.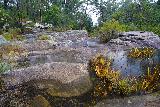 I eventually had my fill of the falls at some time around 2pm, and then after changing my GoPro batteries, I had to make my way back to the trailhead knowing that Julie and Tahia were waiting for me, and that I was probably going to exceed the expected return time of 2 hours past 12pm.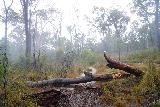 In any case, after getting back across the creek, I was curious about another creekbed series of slabs in the distance, but there didn't seem to be an obvious trail at this point, and it was probably nothing more than a straight scramble that I wasn't going to do.
Sure I did see some sketchy faint use-trails continuing further upstream before disappearing, and so I sensed that this was the end of the line for me.
The rain pretty much came back again while I was at the Instafamous pools, but for all intents and purposes, this was a relatively straightforward hike.
As I hastily made my way back up the gently ascending trail, I did manage to startle a wallaby, and then got a picture of it (albeit surrounded by lots of foliage so the shot wasn't great).
But aside from that bit of delay, I then almost made it back to the trailhead before I encountered a large family that was making their way down to the falls.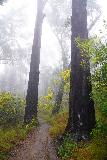 We briefly chatted about how we didn't expect there to be other people crazy enough to come here in the rain, but here we were.
One lady told me that she'd pay be $20 AUD for the rain poncho that I was wearing though I did warn them that it was getting hot underneath it and it might cause sweat from the inside out.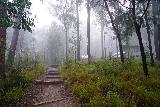 This was a pretty large family that included at least three kids in the front of the pack and at least three more adults with a couple more middle-aged kids.
And none of them had any rain gear on so I was going to be a bit of a cold hike for them, I reckoned.
I eventually got back to the trailhead at about 2:30pm, where we then promptly drove back down the access road knowing that there were still large puddles and potholes to deal with as well as rock protrusions.
I had 4wd mode (or the 4-wheel lock mode) engaged the whole time we were doing this drive, and we even noticed that there was one other vehicle making its way down so apparently this place wasn't as isolated and there were more crazy people coming down here.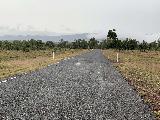 And so we would eventually make it back out of the Blackdown Tablelands National Park and its 4wd road (though I'm sure 2wd passenger vehicles MIGHT make it if going very slow and carefully though there would be some bottoming out sections and the climbing parts might get sketchy).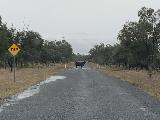 And ultimately, we'd make it back to the Capricorn Way A4 as we finally headed east towards Rockhampton.
There was still quite a bit of a drive left, but I managed to make good progress following one local driver who was pretty much gunning it slightly past the 110km/h speed limit though I kept my distance to ensure decent enough reaction time should something happen in the rain.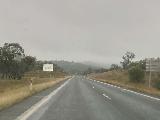 In fact, it seemed to get rainier the closer to Rockhampton we got to, and by the time we finally got into the big town, it was pretty much raining moderately hard.
It was already a little dark by the time we got to town, but it was still a reasonable time as we got to the Empire Apartments at 5:20pm to check in.
After parking the car in our designaged spot at 5:30pm, we then got our stuff and got up to the room at 5:50pm, where we were treated to a nice spacious apartment.
Finally, for the first time since what seemed like a while, we finally got an apartment that was of the same quality as what we had when we first arrived in Darwin (i.e. it wasn't another sleepeazy).
It was too bad that we only had this one night and then we had to get out with an early start tomorrow for yet another long drive.
Anyways, after getting settled, we then walked next door to this place called TruFusion, which was an Indian restaurant despite its non-Indian name.
And what we had there was a quality foodie experience as we got a tandoori chicken, a tandoori rack of lamb, and a butter chicken along with a bowl of rice and some garlic naan as well as a mango lassi and chai.
It turned out that the tandoori-cooked meats were very good, and they didn't need to put that red food coloring that you get at restaurants with less quality Indian food.
In fact, even though we didn't have as many curries this time around, this felt like the best Indian meal that we've had throughout this trip, and this included the more pricier one in Bali as well as another one we had in Innisfail.
It was turning out that as far as Rockhampton went, it was exceeding expectations as being nothing more than a long road trip stopover at least as far as our apartment and restaurant experiences were concerned.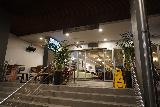 I recalled from our prior trip 14 years ago, this was known as the beef capital of Australia (let alone Queensland, I think), but there wasn't really anything memorable about the town.
Regardless, after leaving the restaurant at around 7:15pm, we then got back up to our room so Tahia could warm up with a shower as she was getting chilly, and then Julie and I made one quick grocery run at the Cole's before they closed up shop at 9pm.
And with that, we ended yet another full day where this one was dominated by the lots of driving and Triple J Radio with some ABC news sprinkled in there.
Tomorrow was going to be another long day of driving, but at least we'd be settling in for two nights in the Gold Coast before returning to Brisbane for one last night before heading out to end this abridged and difficult trip.
I know the return home would be difficult as we'd have to face the reality of the aftermath of my brother's passing, and without being in Nature and trying to move on without my bro, it was going to be even more triggering given all the reminders of him that we're going to encounter…
Day 27 (July 5, 2022 – Gold Coast, Queensland, Australia): "Potholes and Chippies"
It was 4am when I awoke to the alarm as the weather was still cloudy and somewhat raining outside.
I took some time to get ready and get caught up again as per the usual ritual for the entire trip.
Julie and Tahia didn't get up until around 5:30am so I was a little concerned that we wouldn't be getting out before 6am as I had hoped given that today was going to be an even longer drive than yesterday.
Nevertheless, when all was said and done, we loaded up the car and started driving out by 6:10am.
As we made our drive, the weather remained rainy, and it would continue to be this way pretty much on and off for the next several hours.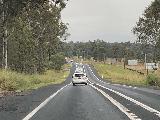 During our drive south on the Bruce Highway, we started to notice more and more potholes on the road, which was cause for concern because any one of them could cause a flat, especially in these rainy conditions.
Moreover, we started encountering more sounds of pebbles or rocks hitting the windshield, especially around trucks in front of us.
And in one instance, this resulted in a couple of chippies on our windshield, which I'm sure we'll have to pay even though there was nothing we could do about it.
I wasn't sure if this was covered in our excess reduction, but regardless, we were still liable for up to $1000 AUD, and I'm sure this would show up as a surprise charge at some point down the road.
Well, lots of things had been going south on this trip with the big one being the loss of my brother, but other things like the weather cancellations, having to cut the trip short, the phone getting in the water, and now this.
What else could go wrong?
Oh yeah, I forgot to mention that both of the battery packs appeared to have died, and I wondered if it was a case of the iPhone frying both battery packs or if both battery packs themselves were done and the phone was still fine.
Whatever the case, I did find it disconcerting that both battery packs (including the backup one that didn't get in the water) pretty much died at the same time, and that made me wonder if there was something wrong with the phone as well.
In any case, the drive pretty much went for a while as I knew this was the most challenging day in terms of how much time we'd be spending on the road.
Moreover, there was already a lot of traffic on this highway, especially in terms of trucks that needed to be passed, especially since they were chucking rocks our way and causing the potential for chippies (already causing at least 2 on the windshield that we could tell).
At least Triple J reception was pretty good as we were listening to both Bryce and Ebony's show as well as Lucy Smith's show.
That gives you an idea of how long this drive was taking…
We did make one pit stop somewhere just in front of the town of Childers at 9:50am.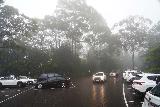 Anyways, it wouldn't be until about 12:45pm when we finally made the detour around the Sunshine Coast to the Kondalilla Falls car park.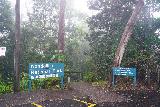 It was disheartening to see that the rain seemed to have gotten worse the further south we went, and we're getting some of the brunt of it at this location as there was some pretty thick fog on the narrow and steep (albeit highly trafficked) access roads to get here.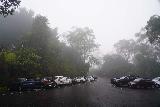 Reluctantly, both Julie and Tahia got out of the car to join me on this hike, where all of us donned rain ponchos given the wet and cold conditions.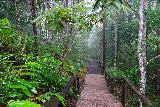 Even despite the bad weather, I was quite surprised by how busy this place was, but I guess when there's a school holiday, which I'm presuming goes on for the better part of June and possibly into July, then Aussies have to go somewhere for holiday.
In any case, we went ahead on the well-developed track, which descended towards an open picnic area.
Beyond this, we then went onto the bush walk, which was still mostly paved as it made its way down towards a bridge over Picnic Creek (which I'm presuming would be the creek responsible for the Kondalilla Falls).
There was an attractive cascade just upstream from the bridge, which we briefly paused to take photos.
Then, the track went up some steps immediately past the bridge towards a trail junction, where only the right side was signed saying something about Rock Pools and Waterfall 1km.
Julie and Tahia had already gone ahead of me at this point, and I assumed that they took the signed path as the lower path seemed to follow along Picnic Creek.
A few minutes later, we then arrived at the Obi Valley Lookout, which was mostly clouded up but it did reveal some glimpses of the valley below the cloud ceiling.
We didn't linger here for long, and it seemed like many people showed up to this spot shortly after we did.
So we continued with the walk as it continued its somewhat gentle descent revealing partial views of what seemed to be an upper tier of the Kondalilla Falls before reaching another signed fork.
This time, the left fork said Rock Pools were 100m away while the continuation of the track down steeper series of steps below went to the Kondalilla Falls.
So we first went to the Rock Pool, and after hugging a railed ledge then descending to the top of the main drop of the Kondalilla Falls, we finally got to see the waterfall backing the Rock Pool.
The water was a bit on the murky and brown or green side, and given how cold it was today, no one was having a swim.
We also saw that there was a bridge continuing over the creek and continuing the trail as well as some fencing and closure sign on the near side of the cliff harboring Kondalilla Falls.
That fencing and closure area may have been an older trail that seemed to have been obliterated by a landslide, and in fact, this trail was closed the first time Julie and I were here in May 2008, and I suspect that this is the reason why.
Anyways, after having our fill of this spot (just as more rain seemed to be falling in this spot), we then backtracked to the signed junction and continued down the trail steps.
That was when we saw a signed lookout for the Kondalilla Falls, which also said that the word was Aboriginal for falling water as well as the falls being about 80m tall.
At least under the cloud cover, we could get a pretty clean look at this waterfall with some mild overgrowth from a tree in the line-of-sight, but other than that, it was a pretty satisfying experience.
In fact, it was enough for Julie and Tahia to get their photos and then head back the way they came, but I was going to finish the circuit and experience the bottom of the waterfall.
Knowing that at this point it might be a bit sporty to include JC Slaughter Falls and possibly Simpson Falls on Mt Coot-tha in Brisbane before it gets dark on the way to the Gold Coast, which was our destination for today.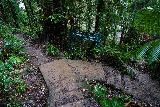 And so with that, I continued down the steps deeper into the rainforest canopy, and the weather now definitely felt more like New Zealand than what I'd imagine a monsoon rainforest might be.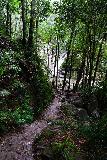 Actually, I'm not sure if the rainfall here is typical of southeast Queensland even though we're now south of the Tropic of Capricorn line (where I'd imagine you have pronounced Wet and Dry Seasons within that tropical band).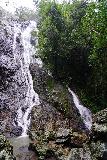 In any case, I eventually made it down towards another signed fork, where going left went the final 100m or so to the bottom of Kondalilla Falls while the other path continued the Kondalilla Circuit.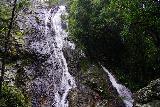 So I first pursued the base of the falls, which involved a rather slippery and somewhat sketchy rock scramble (that appeared to be sanctioned despite its somewhat sketchy nature given all the moisture around here).
And I ultimately got there at around 2:25pm, where the rain kept coming, but I did my best to document the experience under the less-than-ideal conditions.
Then, I continued with the Kondalilla Circuit and left the base of the falls just as another couple showed up.
After crossing the bridge over the creek downstream of the falls (which I think is indeed Picnic Creek), I then went up a series of switchbacks (that even had sanctioned shortcuts, which was kind of unusual to see).
Knowing that this would add about 600m to the overall hike necessary to experience Kondalilla Falls, I was definitely reserved to the fact that JC Slaughter and Simpson Falls will have to happen later on in the trip when we get back to Brissie from Gold Coast.
Anyways, it was rapidly getting darker under the rainy skies and the cloud ceiling definitely seemed to have gotten lower than when we first showed up.
By about 3pm, I made it back to the familiar top of the Kondalilla Falls and Rock Pool, where there were another group of people that just showed up, which indicated how less-used the circuit track was.
Not that the circuit track was a mandatory part of the experience though because it didn't seem to add anything more than the out-and-back trail that most people took other than a little peace and quiet.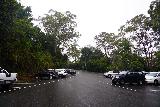 After changing the GoPro battery, I then went back up to the car park this time taking the Picnic Creek portion of the initial part of the figure-8 loop of this track, and then I finally rejoined Julie and Tahia at 3:25pm.
At this point, my sleeves were wet, and the rain poncho made me reek of BO, but other than that, it was a successful hike though it did take way longer than I was hoping to get to this point.
And so detouring to Mt Coot-tha was definitely looking less likely as the daylight was running out fast.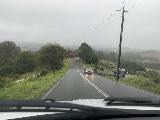 Anyways, we drove back to the M1 and took it south into the Brisbane City where we ran into some pretty sluggish rush hour traffic by about 5:20pm (and quite a bit before that actually).
Down in this part, the freeway was actually about four-lanes wide, and it was resembling something out of our own infamous LA Rush Hour, but at least the traffic was moving for the most part and not stop and go like it is back at home.
We were also going into road toll territory, but I wasn't sure how we were going to pay for it as our vehicle didn't seem to be equipped with some kind of transponder.
Anyways, rain continued to come down even harder as we were going through Brisbane City before continuing to take the motorway further south towards Surfer's Paradise.
There continued to be pretty heavy traffic on the motorway before we finally got off the exit for Surfer's Paradise, and then we took a series of roads and roundabouts to get all the way to the touristy beachfront town.
Eventually by about 6:20pm, we got to the garage entrance of the Grosvenor Apartments, where Julie then got out of the car to check-in after hours.
After securing the fob and key, we then proceeded into the garage to park the car at 6:30pm, and about 15 minutes later, we finally lugged our stuff into our pretty spacious flat.
Like with Rockhampton, this place was nice and fully stocked with laundry, kitchen, two bedrooms, two bath, and a living room.
There was also a balcony where we could look towards the crashing waves and the beach, which Julie couldn't wait to see when it becomes daybreak.
In any case, the rain was forecasted to continue through tonight and into tomorrow morning before finally starting to let up.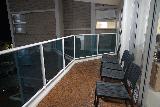 It was clear that by now, we were pretty much over the rain though I guess we could spare a thought for the Sydneysiders going through yet another flood emergency situation (the 4th one in 18 months).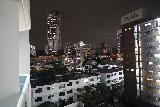 I guess in hindsight, if Australia is going through a wet La Nina year like this (probably amped up by Global Warming), then we should steer clear of the continent though my first choice of WA would have been better for this time.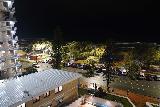 Oh well, hindsight's always 20/20, and we'll have to live with our decisions as Great Barrier Reef and Whitsunday Islands will have to happen as a redo some time in the future (assuming other life changing events don't undermine these intentions).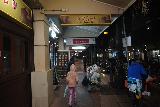 Eventually by about 7:20pm, we then went down for a last-minute walk to a dinner spot while running errands and getting the flavor of the walking area in the centre of Surfer's Paradise.
Indeed, the apartment was well-situated, and we pretty much walked in the light on-and-off rain at the time towards this Vietnamese Restaurant called Vietnam Lotus.
We just wanted something warm to offset the cold weather, and it seemed like pho was the answer.
Along the way, we also noticed there were quite a few Chinese Restaurants as well, and it seemed like there was a definite Asian presence in these parts.
Whether this was to appeal to the Asian tendency to want to gamble or something (since I know my Dad likes to gamble in Vegas as well as other Baby Boomer Chinese that I know of), this seemed oddly "appropriate".
Nevertheless, we quickly had our reasonably-priced meal of Bun Bo Hue (Hue-style spicy noodle soup) and Pho Tai (Beef Pho) while Tahia insisted on fried rice (instead of their lemongrass chicken).
It was a quick meal, and then we went about going to the Cole's nearby for a quick grocery run.
Inside that shopping mall, there were coloured high ceilings and a more toned-down vibe of what downtown Las Vegas was like.
I always contended that Gold Coast was sort of like a cross between Miami and Las Vegas, and there were even lots of American chains like Krispy Kreme, Wendy's, KFC, and the usual suspects like Mackas (Mickie D's or McDonald's) and Hungry Jacks (i.e. Burger King).
There were also numerous night clubs, which were definitely meant more for adults.
In any case, after having getting our groceries, we then did the spontaneous walk around the Surfer's Paradise area, which definitely had its share of arcades and brightly-lit promenades.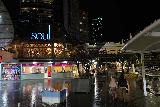 There were still quite a few people out and about despite the cold weather (though the rain calmed down for the moment), and we easily could have spent even more time out here if not for the fact that it was getting late for us and that we were tired from the long drive.
So at 8:55pm, we were back at the room, and we finally unwound for the night.
Tomorrow looked to be another divide-and-conquer day as I was going to chase waterfalls on my own, but I was debating whether to wake up early and try to see glow worms in the wild or just settle for the glow worm tour tomorrow, which Julie had already booked for the late afternoon.
We'll see how it plays out, but with the mood still being somewhat somber from my brother's passing, we were just trying to make the most of the remaining days of our shortened trip…
Day 28 (July 6, 2022 – Gold Coast, Queensland, Australia): "Stubborn Storm"
It was 4am when I awoke to the alarm.
As much as I wanted to get caught up on the blogging, I got distracted and tried to figure out how to pay the road tolls for Brisbane.
I wasn't sure if I succeeded, but it at least appeared that I have an account set up online, but the app wasn't working.
Moreover, I didn't see the $1 AUD deposit to get this set up that the help said would happen.
All I saw was that my account was set up with a zero balance, and that there didn't seem to be a whole lot that could happen until I saw an invoice, which was said to typically take about 3 days.
Apparently, they do the video thing where someone looks at footage of all the cars on the road (must be a tall order), and then bills retroactively based on the registration or license plate number.
I'd imagine this ought to be automated based on various capture stations or cameras stationed throughout the toll routes.
Nevertheless, without internet at the accommodation, I pretty much just tried to do this via mobile, but that was pretty clunky.
All I know is that one way or another, I'm going to get billed whether it's the credit card company, the rental car company (or both), or it shows up on my account, which I have to pay down online.
With that, I spent the next couple of hours getting caught up with what happened yesterday, which really wasn't much considering we had been dealing with rain and a lot of driving the whole time.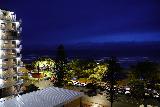 Nonetheless, I was debating whether to pursue seeing glow worms in the wild, whether it was at Curtis Falls or at Natural Bridge in Springbrook National Park.
However, it was still raining outside, and there was also that added complication that our accommodation only provided a single key and fob.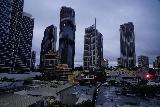 Speaking of which, I actually had to wait for Julie to wake up and escort me out in order to get out while she could still get in and out of the apartment.
You see, the plan was for me to continue with the task of waterfalling in the Gold Coast Hinterland (mostly repeats except for one excursion from the Tannibanna Trailhead and Picnic Area).
While this was going on, Julie and Tahia would pretty much do stuff in and around Surfer's Paradise on their own in another divide-and-conquer arrangement.
Then, I'd have to go back from the Gold Coast Hinterland to pick then up from the accommodation and then head towards Mt Tamborine so we could fulfill our pre-booked Glow Worm Caves Tour, which was set at 3:30pm.
Having to go to Springbrook Mountain and back instead of direct to Mt Tamborine wasn't efficient (as I had to add another two hours of going back and forth from the bush to the city and back), but it was the compromise as Julie and Tahia were pretty sick of waterfalls and the rain at this point.
Anyways, I finally left the Grosvenor Apartment complex at 7am, which was right after Julie used the fob to get me out of the garage, and this was a bit later than I was hoping.
Then, I pretty much drive the roads towards Nerang, which then led me back up into the mountains, where it was still raining and there was quite a bit of thick cloud cover and fog.
I eventually made it to the Natural Bridge car park, which seemed pretty familiar at 8am.
Knowing that I was likely in for even more rain even though the forecast anticipated a stop to the rain at around 9 or 10 in the morning, that was when I looked around for the rain poncho and realized that it was still at the room!
Oh well, I guess I now had to rely on the Gore-tex jacket and the day pack cover, but it wasn't ideal in terms of protecting the electronics, which had already been exposed to quite a bit of water (especially the phone, which got dunked in water at Finch Hatton Gorge).
Anyways, I proceeded along on the circuit walk and I noticed that there was quite a bit of construction work going on here at the time (apparently, the toilets were being upgraded).
It didn't take long before I got to a signed junction which marked the start and end of the loop walk, which was right beneath some very tall strangler fig trees.
I thought I could be smart about the walk and do this in an anticlockwise direction since I saw that there were more steps on the way down than up going in a clockwise direction.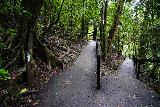 And I always I thought that it was better to go steeply uphill than downhill to save the knees.
So I pursued this line of thought and went towards the next lookout or trail fork as I proceeded in an anticlockwise direction.
But that was where I saw that there was a sign saying that this was a one-way walk in the clockwise direction.
I decided right then and there that I should just check out this overlook real quick (which was of the top of the Natural Bridge Waterfall from the near side of Cave Creek), and then proceed with the walk as the authorities want you to do.
So I did that, but it started raining again when I got to the overlook.
Then, I followed the familiar path in a clockwise direction, where then it didn't take long to descend the combinations of steps and boardwalk down to the bridge spanning Cave Creek.
Shortly thereafter, I then went into the familiar cave part of the Natural Bridge, where I had hoped to see glow worms inside what's left of the darkness given all the moisture, but it wasn't meant to be again (like the first time I was here).
So I documented the experience, and there was even one young woman who showed up while I was down here, but she was doing her tour quickly and didn't really say a word when I greeted her with a "Good morning".
As I continued with the walk, when I got up to the other brink-of-the-falls lookout above the natural bridge's hole, that was when the rain really came down.
While I tried to wait it out, that young lady came by, took her photos in the rain, and then continued on her way.
I basically waited long enough for the rain to ease up but it was still raining pretty good, and I knew this wasn't good for the Sony let alone the water-affected iPhone.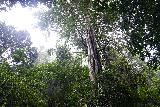 By about 9:10am, I returned to the car park, where I kept the hiking boots on and didn't waste time changing shoes and that kind of thing.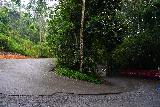 So next up, I went up to the Purling Brook Falls car park, which was a little bit of a short drive back down towards Pine Creek Road, and then on a cliff-side drive on the ridge of the mountain peering in the direction of the Gold Coast.
The weather was in between being bad and breaking up as I noticed there were dark clouds in the distance encroaching on Springbrook Mountain.
Even the drive to get to the car park was interesting as there was one split section of road where it was one-way in each direction as it hugged some mild cliff ledges.
The road going in the other direction from the Pine Creek Road junction was closed due to landslide, which probably wasn't suprising given all the crazy rains we've been getting the whole time.
Anyways, at 9:45am, I made it to the Purling Brook Falls car park, where I was only one of a couple of vehicles, but they started showing up as I was quickly gearing up.
There was one couple that came after me, and they were pretty much going ahead of me and then slowing down to take pictures for very long stretches of time.
As much as I wanted to say G'day to them, they didn't seem to want to do that to me as they'd always be silent or pretend I wasn't there when we'd see each other each time.
Nevertheless, I did the Purling Brook Circuit Walk in a clockwise direction, where it didn't take long before reaching the first lookout of the falls atop the escarpment with a view of the falls at an angle.
Just as I showed up and started taking pictures, the clouds moved in rapidly and started fogging up the views again.
Well, at least I got what views I could before it became foggy, and then I resumed the familiar walk as it descended the escarpment shortly after reaching the brink of the Tanninaba Falls.
I recalled this waterfall was one that you could hear but not see (at least that was the experience from our first time here in May 2008), and I fully expected a similar experience.
But when the trail eventually descended to the waterfall's rock-laden base, I noticed that there was actually quite a pronounced surface section of the waterfall!
I guess the out-of-season heavy rains did have some benefits, and I guess getting my first meaningful photos of this waterfall was one such benefit.
Down at this waterfall, I ran into that silent couple again, but there was also another couple that was here who managed to do the circuit in the opposite direction (opposite of what the authorities suggested the walk should be done).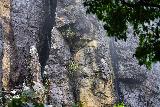 However, as I descended the track, I realized that the authorities wanted you to do the hike in a clockwise direction (or at least just one direction) because it reduces the amount of encounters with other people.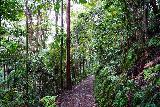 It's actually a simple suggestion and solution to enhance the hiking experience here since if everyone was going in the same direction in the circuit, then it feels more like a naturesque experience and less like a more tense touristy experience.
Eventually by about around 11am, I finally arrived at the base of the Purling Brook Falls, but it was a bit misty and rainy here at the same time.
That made for taking pictures and videos even more taxing on the Sony as well as the iPhone so I tried to make do with what I could.
I did notice that the old trail that let you go behind the waterfall was no longer sanctioned nor allowed as I saw that there was a landslide obstacle as well as overgrowth on the way there.
I swore that when I was here 14 years ago, there was a similar landslide obstacle on the opposite side of the approach to the backside of the waterfall.
So now I wondered if it was even possible to do the circuit track, or if there was a dicey and slippery stream crossing that I had to endure to get to the other side.
Well, after having my fill of the waterfall, I did notice one couple that kept going (that silent couple went back up though I wasn't sure if they did the longer circuit or if they just did this as an out-and-back hike), and they never came back.
Thus, I followed suit and quickly noticed that there was a swinging bridge that traversed the creek to continue the circuit track.
This definitely wasn't here before, but it was raining quite heavily when I was on the bridge so I tried to take what videos and photos I could in the rain before continuing back into the relative safety of the forest canopy to somewhat shelter from the downpour.
From this point forward, it was mostly an uneventful switchbacking track going back up through the rainforest as the sun finally started to make an appeareance as I got more than half-way up the ascent.
Eventually I made it to the last of the overlooks that was just a short distance downstream from some upper intermediate cascades before the cliff-top overlook near the brink of the falls.
There were three more senior or middle-aged Aussies here when I showed up, and we shared a moment as the weather was momentarily clearing up so we could look against the sun into the distance.
We could also see the brink of the falls and the tiny people down at the base of the falls as well as the swinging bridge that I swore wasn't there back in 2008.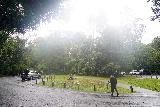 By about 12pm, I was back at the car, where the car park was now quite full of cars, which attested to this place's popularity.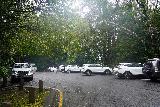 At this time, I was a bit worried about running out of time to pick up Julie and Tahia and then making it to the Glow Worm Caves tour, which was scheduled for 3:30pm.
That meant that I needed to get out of here by around 1pm to comfortably drive back to the Gold Coast and then drive back towards Mt Tamborine.
So it definitely crossed my mind whether I should punt the Twin Falls hike for tomorrow or just try to fit it in today.
I ultimately decided to just push forward and see what I could get away with, and so by about 12:10pm, I arrived at the Tallabanna car park, where there were only a couple of parking spaces left (though they were tight as people double-parked).
Without changing shoes, I wasted no time gearing up and getting started just as a family was also getting started shortly after pulling up when I started walking.
I then quickly made my way downhill past the picnic and restroom facilities before going onto the bush walk where there was one hiking group or tour that was going up in the opposite direction.
It didn't take long before I got to a bridge near the brink of the Twin Falls, which was indicated as such on my map as well as on the signs.
Then, the hike continued further along the escarpment towards another series of waterfalls as the trail was steeply descending.
At first, I thought this was the Twin Falls and not the one I had passed over the brink of earlier on, and that was because I saw there were a pair of waterfalls here including one that spilled right onto the trail.
However, when I descended further down and past that waterfall that went onto the trail, it then went underneath a couple of wedged boulders before a sign suggested that the Twin Falls was still another 390m away or so.
So that me