Day 1: WIMPY WATERFALLS
Julie and I awoke early despite not having slept very much given our late arrival to Hobart after the very adventurous Adamson's Falls hike yesterday.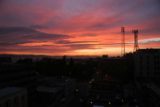 Nonetheless, we checked out and left Hobart at 6:25am. The drive out to the east was pretty long and eventful, and it wasn't until around 8:12am when we arrived at some town called Swanko just so Julie could pick up some meat pies for brekkie.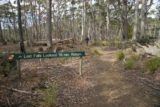 At about 8:37am, we arrived at some kiosk with a map near the turnoff for Lost Falls. And at 8:54am, we eventually arrived at the car park for the falls.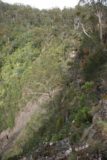 When we got out of the car, we were looking around wondering where the falls was supposed to be. Then, we realized that the reason why we had trouble finding it was because it wasn't flowing! Thus, it wasn't producing any sounds.
In a trip so full of dry waterfalls, I guess Tasmania wasn't immune either. So that was a royal bummer.
So we were right back in the car at 9:07am seeing that there wasn't much of a reason to linger any longer.
I wondered whether this was normal, or if this was merely a casualty of the drought. I guess speculating about it now didn't do us any good so we took off.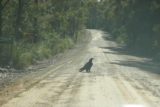 We ended up driving north across the B34 then continued going onto an unsealed road bound for Meetus Falls. On the way up there, we noticed a couple of wombats (which were slumbering fat furry four-legged creatures) as well as a bunch of kangaroos and even a trio of big black eagles (the same ones picking on roadkill that we saw way back in WA earlier this year).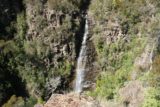 At 9:41am, we finally arrived at the Meetus Falls Lookout Car Park. At least with this waterfall, we could hear it so that got us to hasten our paces towards the lookout where indeed we saw the tall waterfall with a partial rainbow going across it. The walk was said to be 20min return, and it was probably spot on though we got there pretty quickly.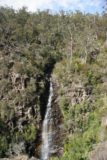 All we did was photograph the falls, and we didn't linger any longer where there was a separate walk going to some kind of lookout of the ocean. I guess with more waterfalling to do on this day, we didn't tarry any longer than we felt we had to. So we were back at the car at 10:04am and continued our long drive further up the eastern side of Tassie's coast.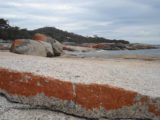 We eventually arrived at the town of Bicheno at around 11am.
The first thing we did was go right to the Bicheno Blowhole, which we knew from our pre-trip research was the main scenic attraction here. However, when we got there, the blowhole wasn't blowing too well though it was indeed blowing.
So we spent quite a bit of time trying to time our photographs while waiting for the blowhole to at least make one big spew. But these were so few and far between that we never really got the photo of the blowhole doing its thing in the way we hoped.
We then returned to the car at 11:40am and headed further into the town for a lunch. I think all we had was some greasy fish and chips so it wasn't particularly memorable.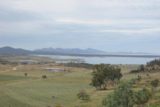 By 12:35pm, we finally took off from Bicheno and continued our waterfalling.
From Bicheno to the next waterfall was a fairly long and non-trivial drive. It was starting to get late in the day and we still had at least two waterfalls to visit before checking into St Helens. So time was getting short.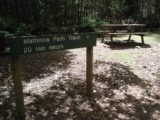 We'd eventually arrive at the Mathinna Falls car park at 2:17pm after driving some mostly unsealed roads (B43) when we left the A4. Apparently, had we approached from the north (from Fingal to Mathinna), it would've been more sealed, but we didn't know it at the time.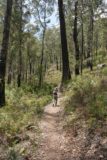 The unsealed roads here tended to be somewhat rockier and bumpier than what we were used to throughout the rest of Australia. On the flip side, I guess these roads were possible because they were logging roads for logging the Fingal Forest.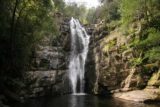 Anyhow, we did the short and straightforward walk to the falls, which was on the order of 20-25m tall. The falls had decent flow, which made us think well of this experience. There was a little bit of a fallen tree obstacle that we had to get around after hanging a left at a fork before the bridge just as the trail was going uphill.
At 3:06pm, we were back at the car. Now, there was one more waterfall to check out, and it wasn't far from this one.
So we went on the unsealed roads again and eventually arrived at the Evercreech Forest Reserve car park at 3:43pm. Little did we realize that this place was more known for giant trees than it was for the waterfall we came out this way for.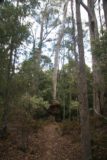 At first, we went right to what was called the White Knights. It was a short 5 minute track leading right to the base of a whole cluster of these giant white-barked gum trees (almost reminiscent of Kauri Trees in New Zealand).
Even though it was only a 5-minute track to these trees, we made a loop out of it that was around 20 minutes that allowed us to get a more elevated view of these giant trees.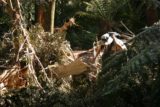 Then, we finally embarked on the waterfall hike thinking it would just be as easy as the White Knights walk.
However, there was a bit of scrambling to do because there was a fallen tree that practically obliterated a large section of the track. So with that rough bit of bushwhacking, we lost a little confidence about how easy this track was. Apparently, a detour to get around this obstacle hadn't been made yet so this fallen tree probably happened not that long ago.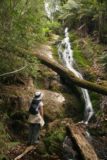 But once we got around it as well as a short stream crossing, then we eventually made it to the rather anticlimactic 5-7m tall falls. Actually, the falls was not on the same stream that the walking track followed most of the way.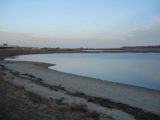 By 5pm, we finally made it back to the car park. With this last bit of waterfalling done, we now felt better about finishing off the drive towards the town of St Helens.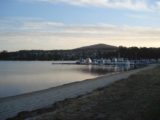 We'd eventually get to our accommodation there (The Bayside Inn) by 6:18pm, which was right by the water. So before going out for a quickie dinner, we actually spent a few moments on the beach here while watching the sun disappear inland. This was one of those places where perhaps it would've been nice to spend another night or at least allow ourselves a little more time just to enjoy the scenery at this accommodation. However, that was not meant to be.