Day 1: SURPRISE WATERFALL BONANZA
It was 5:00am when Julie and I awoke, checked out of the Downtown Motel Wollongong, and headed straight for Kiama at 6:15am. I thought we could get a few more looks at the blowhole without looking against the sun (like yesterday arvo). I thought we might also get a chance to check out the Little Blowhole nearby as well.
And so by 7:03am, we were once again before the blowhole at Kiama. The sun had already risen and hidden itself behind some dark and threatening clouds. It was rather chilly and windy this morning, but we had no trouble photographing the blowhole. We momentarily had it all to ourselves though other early birds soon started showing up.
By 7:34am, we got back in the car and arrived at the Little Blowhole – seeing how it was still too early for some of the brekkie places in Kiama town center to open.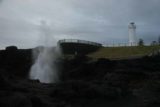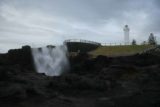 Finding this place was a bit trickier because we had to weave our way through some hilly residential neighborhoods to find it. But eventually, we found the little reserve right in front of some house that was for sale.
This particular blowhole was definitely a more consistent performer and had a more geyser-like behavior than its larger counterpart. Despite her reservations, Julie actually enjoyed this one as did I. Sometimes I wonder how often the locals who live nearby come out here to see nature in one her mood swings.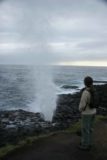 By 7:45am, we headed back into the waterfront town center of Kiama and had a very decent brekkie at the Park View Cafe. Afterwards (8:56am), we were refreshed and fueled up for our anticipated waterfall sightings of the day.
First up was the Minnamurra Falls.
It wasn't long until we arrived at the well-forested Minnamurra Rainforest at 9:22am. After paying our fee and parking the car, we headed to the visitor center where a sign said the following:
"WHAT'S ON AT MINNAMURRA
Welcome to Your Park
Water flow over the falls is low due to the drought conditions But the whole Rainforest experience is still exceptional…"
The low water flow part was particularly disconcerting. Still, we proceeded through the visitor center and started the well-developed 2-hour return walk to see the falls.
As we strolled along the wheelchair-accessible boardwalk, we noticed several interpretive signs talking about the rainforest. It was quite lush and peaceful. After about half an hour, we reached a trail junction where a spur to the waterfall led steeply uphill. It was easy to see why wheelchair access was no longer possible at this point.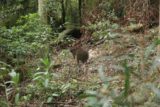 We huffed and puffed up the seemingly relentless hill. While we were busy concentrating on making it up the hill, we unknowingly startled a kangaroo. And for the first time, we heard low-pitched thuds as it landed on each hop as it ran away from us.
"Their hops are pretty loud," Julie said.
"Kind of makes you wonder how they run from predators… Oh wait, they don't really have predators here," said I.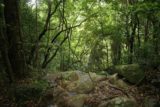 Eventually, the track flattened out as it followed some narrow ledges. We would eventually pass above Lyrebird Falls, which we could hear but we couldn't photograph since we were too far upstream from it. But a few minutes later, we could finally see the Minnamurra Falls.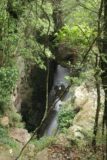 The falls itself was actually flowing quite well – contradicting what the sign we saw at the visitor center said. Sure it could've had higher flow, but with the drought and all, we were glad to take what we could get.
It turned out that the falls was actually the Upper Minnamurra Falls. We could see through the foliage a taller, louder, but mostly hidden Lower Minnamurra Falls. An interpretive sign mentioned how there used to be access to the base of the falls and it was the main draw of the walk. But a landslide did away with it and now all we get to see is an unsatisfying profile view into its narrow slot gorge.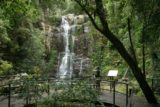 Julie and I lingered at the Upper Minnamurra Falls for quite a while. But finally by 10:55am, we started to head back to the visitor center. On the way out, we started to notice more people heading to the falls so I guess we beat the rush. Many of them took advantage of the many rest benches along the way to catch their breaths after the steep uphill part.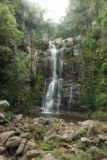 Eventually by 11:30am, we were back at the car park quite satisfied with this lovely walk and especially the waterfall.
Next, we drove to Carrington Falls and got there at noon. There was a small bit of unsealed road to get here, but otherwise the car park was big and the tracks were easy to follow towards its multiple overlooks.
When we first saw the falls, we were surprised at how well it was flowing. Julie remarked how this was easily the best falls we saw. Obviously she didn't think too highly of the Blue Mountains waterfalls to make that statement. It was probably because this one still had the volume and it had converging columns in sort of a Y-shape at its top.
We spent time looking at the various angles of the impressive waterfall afforded to us from the established overlooks. The sun was finally out though, which make long exposure photography tricky and difficult at best.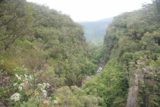 At 12:45pm, we finally pried ourselves away from Carrington Falls and proceeded on to Belmore Falls. Along the way, we stopped by a road shop selling meat pies. We didn't eat them until we got to the car park for Belmore Falls at 1:20pm and then after we viewed the falls.
Once again, the road to get there involved a bit of unsealed driving on narrow roads, but it wasn't at all bad. There was a one way loop that ultimately took us to the official car park for the falls.
From there, we kept the meat pies in the car while we anxiously went on the short walk to the overlook. And when we got there, we oohed and aahed at the towering two-tiered waterfall. Sure the falls were far away from the viewpoint, but once again we were quite satisfied with its volume – especially in light of the drought. Perhaps the rain that followed us around really did deliver the moisture we needed to revive or at least sustain the flow of the falls.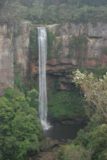 When we returned to the car, we finally had our meat pies which were still quite hot. As we picnicked, an elderly couple parked next to us and asked how the falls were going. We proudly told them it was going well and off they went to experience the similar joy we had just experienced.
By 1:50pm, we had left and it wasn't until 2:15pm did we arrive at the well-developed car park for Fitzroy Falls. Surely with this much infrastructure, this waterfall must be doing well. So we parked the car, fed the parking fee kiosk, and placed the printed ticket onto the dashboard.
From there, we headed to the visitor center, where we spoke to the lady working at the cashier office to inquire about park passes (considering how we probably could've saved a good deal of money in Western Australia on our previous trip to Oz). It turned out that we didn't really need one of those park passes unless we were camping. So we continued with the pay as you go mentality.
We also engaged in a friendly conversation with her. Upon learning that we were from Los Angeles, she went on to tell us that she has a cousin living in Pacific Palisades. Not knowing what a well-off neighborhood that was, we made it known to her that he certainly must be doing real well to be living there. She then went on to tell us in response that she'll be making plans to visit her cousin to see his place 😉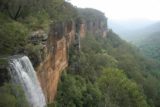 And with that, Julie and I walked onto the well-established track. At the first overlook, we had a top-down profile view of Fitzroy Falls and the valley beneath the falls. It was hard to see all of the falls from here, but the view was quite impressive nonetheless. Still, storm clouds were looming in the horizon and it was just a matter of time before this view would become clouded over and wet.
So on we went towards the next major overlook called the Jersey Lookout. It was here that we could finally get nice direct views of the Fitzroy Falls. We spent quite a bit of time enjoying the scenery here before we continued onwards towards the so-called Twin Falls.
Now since I hadn't known about this waterfall prior to the trip, I was real curious to see what it would look like. After a few minutes of walking beyond the Richardson Lookout (the next one beyond Jersey Lookout), we made it to the well-signed Twin Falls.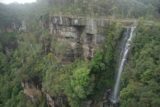 Before us was a pair of cascades. The nearest one to us was the most impressive with nice volume and unobstructed views. The other parallel column of water was more obstructed by foliage and had less flow. Together it was easy to see why it was called Twin Falls.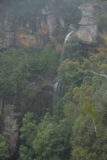 By now, the misty rain had arrived and we headed back to the car park. By 3:18pm, we had left Fitzroy Falls and proceeded to drive towards Canberra – the Australian capital.
The weather remained most misty and cloudy, but as we continued on the Hume Highway, we could start to see brown grass and bare trees. We were hard pressed to see any green and every time the road would cross a bridge over some creek, I swore neither Julie nor I saw any water in any of them. Even the rivers looked either dry or just a tiny stream leaving the rest of its channel overgrown or bare.
There were some dark clouds up on the horizon so perhaps that provided some hope that it would dump rain on some of the area we intended to see near Canberra.
By 5pm, we had finally crossed the Australian Capitan Territory boundaries and eventually into the city of Canberra. After passing by some sobriety check point on the north end of town, we were on the main street in search of our motel.
The first thing Julie and I noticed were how wide the streets were. It almost reminded us of how things were back in Los Angeles or anywhere else in the Western US. It totally didn't have the "tightness" we felt in Sydney, Wollongong, Kiama, nor even the townships of the Blue Mountains.
Eventually at 5:25pm, we arrived at the Comfort Inn Downtown Canberra just north of the CBD of the city. After parking the car, it took a while for Julie to get checked in. The delay, it turned out, was that they didn't have bookings for us despite our voucher saying otherwise.
Julie started having concerns as to whether it was a problem on the hotel end or if it was a problem on the tour operator (GoWay) end. In the end, they put us in one of their roomy luxury suites at no extra charge. Still, if the problem was on the tour operator end, Julie was very concerned about whether we'd be shut out of other accommodations later in the trip.
Once we got settled, Julie and I proceeded to walk into the CBD looking for a place to eat. After a few minutes of strolling around, we eventually walked into a sort of promenade area where there were plenty of shops, restaurants, and even theaters. Many of the restaurants looked and sounded busy. In fact, many of the patrons were dressed up as if they were going to the prom or something. We started seeing more and more of this phenomenon as we walked deeper into this CBD area.
And so as Julie and I continued strolling around the CBD of Canberra looking for a bite, we couldn't quite figure out why so many people were dressed to impress. Complicating the scene was the menacing skies relentlessly dumping its rain. I was amused watching people either taking shelter or allowing their clothes to get drenched. But Julie kept an eye out on me as she kept pinching me painfully every time some attractive well-dressed lady would walk by as if to ensure I didn't have wandering eyes.
Eventually, we settled in on some Italian restaurant called Mamas Trattoria. While Julie could order her linguini pescatore, I would have some pizza (hadn't had one of those in a while). When I inquired with the waiter why everyone's so dressed up, he told us it was the Melbourne Cup.
Ah, so that's what Triple J Radio was talking about.
My sentiments kind of echoed one of the Triple J Presenters (or DJs) as he mused that it was the one day Australians cared about horse racing. For the rest of the year, just about everyone but the most hard core followers couldn't tell one horse from another. But on this one day, everyone cared. And everyone got dressed up for it while almost everything stops (including shops and businesses) during the horse race. In other words, it was the race that literally stops the Nation.
Anyways, some Japanese-owned horse won it this year. It got the Presenters trippin' about it.
By the end of dinner, Julie and I were quite satisfied. This place also served up sticky date for dessert so of course we allowed ourselves to have another helping of this – knowing weren't likely to find something like this back home.
It was quite cold this evening back at our motel, but this was the type of conditions that made things easy for me to sleep. And that I did…