Day 2: MORE WATERFALL SURPRISES
The next morning was considerably sunnier than yesterday. It was still a bit chilly, but we could tell it was going to be a warm day as the storm over Canberra seemed to have passed. By 6:52am, we traveled light and got in the car as we were southbound for Cooma.
The big excursion for today was to try to see Tuross Falls. I had reservations about this excursion because the literature mentioned that the unsealed road to the trailhead was suitable for 4wd, which we didn't hire.
I didn't really tell Julie this fact because she would've stopped me from trying out this excursion. Still, I felt compelled to drive to Cooma and talk to the folks at the visitor center there to get a more first-person take on the situation.
It was 8:28am when we got to Cooma. The town looked like it was a gateway to Kosciuszko National Park, which was known for skiing. However, everything was dry and brown around here with no snow in sight, which was not a good sign for our waterfall prospects.
Nothing was open yet except for an internet cafe, which is what Julie took full advantage of. So we lingered around until the visitor center opened at 9am.
When the visitor center did open, Julie continued internetting. In the mean time, I headed over there and proceeded to ask the clerks there about Tuross Falls while picking up free literature.
Upon the inquiry, the first young lady I talked to was about to say it wasn't flowing due to the drought. However, she thought about it and asked an older lady in the back about it. She, too, thought about it and told me that she was in contact with someone who's in the area and that they had been getting a lot of rain lately. Based on that, she went on to tell me the falls could very well be flowing, but the road might be a little rough due to the recent rain.
When I inquired further about the road conditions, the younger lady told me that they go there often in a passenger vehicle so it's not necessarily exclusive to 4wd.
Now that was what I wanted to hear.
I was game to try out this excursion and these ladies provided all the motivation I needed.
As I left the visitor center, Julie was headed my way. I proceeded to start the car and set up our GPS tracking. In the mean time, Julie spent a little more time picking up a quick brekkie takeaway for us.
And with that, we left Cooma at 9:50am.
The drive was fairly straight forward and the falls were properly signposted as we were in the vicinity of Wadbilliga National Park.
Sure enough after about half an hour of driving on sealed roads, the road became unsealed. At first it wasn't too bad, but it did start to get rough and rutted the further we went. There were a few close calls where the ground threatened to scrape the undercarriage of the car and there was a couple of steep hills as well.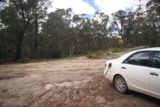 Still, we ended up at the car park at 10:42am and proceeded to lock the car and get walking.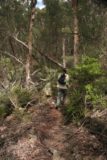 The hike was on a pretty well-developed track (considering the remoteness of the area) and easy to follow. There was a bridge crossing at the start of the track with no water running beneath it. So certainly that was a bad sign.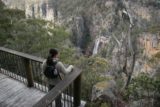 But as we got further along the track we could see evidence that there was a fire that raced through this area at some point. So with all these signs telling me that the falls won't be doing so well and a cynical Julie wondering why we took the trouble to go this far, we started to hear the slapping sounds of water in the distance.
There wasn't any wind so we knew we weren't being fooled and the falls were legit.
As we descended some wooden steps towards the overlook, Julie and I delighted at the sight of Tuross Falls. It wasn't flowing at its best, but it certainly had sufficient flow to look beautiful.
We wasted no time taking photos and basking in the reward for our hard work to get here.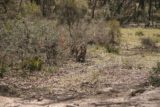 But by 11:57am, we managed to pry ourselves away from the place and walk back to the car. It was 12:35pm when we returned to the car park. Having accomplished this task with its most pleasant surprise, we headed to Gibraltar Falls, which we knew was on the way back to Canberra.
We noticed a kangaroo staring right at us as we were driving the rough road out of Wadbilliga National Park.
After getting momentarily lost due to a closure sign that turned out not applying to us, we managed to finally get to the signed car park at 3:13pm. From there, the short walk led to an overlook perched midway down the tall but rocky cascade. The falls continued further down the cliff, but there was no way we'd scramble down there.
Considering the dry conditions surrounding this area, we were once again surprised at this waterfall's fullness. I started to wonder whether all our fears about the drought impacting our waterfall experience were overblown.
Anyways, we returned to the car at 3:40pm and made it to the visitor center in Canberra at 4:53pm. Since the facility closed at 5pm, we had to quickly get the literature we were after and also try to learn the whereabouts of Ginninderra Falls during that time.
Well that was when a guy working there told me that the falls was on private land. And unfortunately, the cost of insurance (liability) was too much for them to bother with so they just closed off access to the falls. So in his words, the falls "no longer exists."
As we left the visitor center, I made an attempt to use the Australian saying "No Worries" considering how often it gets used here. I couldn't quite recall the exact context I attempted to use it, but I induced a sarcastic laugh from a young female worker as everyone there who was closing up shop.
Hey, at least I tried.
Back in town, Julie and I went back to the CBD. This time, she had another one of her southeast Asian cravings and we ended up eating at this Chinese restaurant called Sammy's Kitchen that served some laksa as well as other southeastern-influenced dishes. Julie picked this spot because of how busy it was; so it must be good, right?
Well the meal was satisfying. We were amazed at how many Chinese people we saw in Oz. Julie theorized that many of them left Hong Kong when the Brits had to give it back to China. I'm sure their open immigration policy at the time didn't hurt either.
After the meal, Julie and I continued into the town center to pick up some groceries from the Supabarn. We were low on water and munchos (our little term for snacks) so we stocked up on this before we returned to our motel.
And with that, another satisfying day came to a close. Tomorrow, we planned on seeing some of Canberra and their Parliament District before heading out to Tumut…