Day 10 (November 18, 2017 – Apollo Bay, Victoria, Australia): "Before And After"
It was 4:55am when I awoke as Julie got up and started hacking with her seemingly worsening (or at least not improving) cough. She was now wearing shoes inside the Sea Form unit since the floor was a bit too dirty to be going barefoot. And since she was wearing them inside, I had to wear my sandals inside as well.
After Julie made another brew to break up her congestion while also spitting out more phlegm, she eventually went back to sleep at 5:15am to try to get caught up on more rest. In the mean time, I was already up and writing more on the trip journals from yesterday's happenings.
Eventually by about 6:15am, I was done. But I also figured that she needed the time to rest more before making brekky. So I decided to drive out to the Twelve Apostles on my own. With the sun already breaching the blue skies on the horizon, I knew that it was too little too late to see the sunrise colors on the Twelve Apostles themselves.
However, they were still promising to get good lighting in the morning so I figured I could use this idle time to do that.
The drive going east on the Great Ocean Road was challenging because I was driving totally against the sun. It was good that no kangaroos were around to jump in front of the traffic because the blinding sun meant that the reaction time would be much slower (if at all).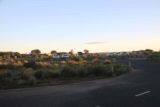 At about 6:25am, I arrived at the Twelve Apostles car park, where I was surprised to see that there were quite a few cars already parked here. Clearly, the allure of sunrise at this scenic lookout promised to be too good to pass up accordingly to lots of people. Of course, I was too late for the sunrise as that had already happened prior to me getting out on the road.
Regardless, I promptly got the camera and jacket and headed out towards the overlooks again. At least it wasn't quite the zoo that it was yesterday arvo. And I managed to get quite a few morning shots while experimenting with the lighting. The lighting was a bit too harsh to show the sea stacks with the kind of reds that would really jump out at you in photos. However, the sun was also too far north on the horizon as the shadows were pretty long coming from the cliffs to the right.
I guess this would have been a better Winter sunrise spot under agreeable weather, but the lack of clouds also meant that it wasn't a particularly dramatic scene for photos.
I then walked all the way to the Castle Rock area, which was where most of the tourists out and about this morning were trying to get their early morning photos. One couple hopped the fence and went all the way out to the edge of the ridge on the Castle Rock.
I was merely content to stand on the main area and look back towards the sea stacks though the backing fence reduced the contrast. Meanwhile, looking east, I could see against the sun the sea spray backing a couple more of the sea stacks.
Most of the people out and about were Chinese, but there were also a few Germans that were out and about (I could tell because I overheard German words being used in casual conversation).
Anyways, after getting my shots, I returned to the car at 6:55am. And fifteen minutes later, I was back at our room at the Sea Foam, where Julie was already up preparing breaky.
As she was doing her thing, I walked around town to see if I could pick up more supplies but the grocery store wasn't open until 8am. That said, the ice cream shop appeared to be open (since they also served breaky there), but when I showed up and asked to see if it was possible to have the Timboon Ice Cream that I had been craving this early in the morning, one of the workers said that the machine was busy defrosting and wouldn't be ready until 11am. Bummer…
Eventually when 8am rolled around, I picked up a few more things for Julie, including ginger, lemon, strawberries, and a tomato. She still couldn't shake her cough and that was the motivation for the ginger and lemon.
It wouldn't be until about 8:30am when we were finally leaving Port Campbell and headed east towards the Otways and then towards Apollo Bay, where we were staying next.
The drive out east was for the most part uneventful except when we were stopped at a road construction stretch (road work on a Saturday?) at 8:50am and didn't start moving again until around 9:05am. That was quite a delay.
We'd eventually show up to the Triplet Falls Trailhead at 9:45am, where we were the first people there. The last 2km was on unsealed road as the Philips Track Road eventually stopped being paved shortly after the Otway Fly turnoff, which we were going to check out after our first waterfalling excursion of the day.
We then promptly got out and did the 2km loop track that was said to take an hour. Something that we didn't really appreciate until re-doing this track was that it was a long downhill and I knew that we'd have to get back all this elevation loss.
The arrows pointed such that we had to do this hike in a clockwise direction. I suspected that the reason they did that was so the climb on the return would be shorter in distance but steeper, and it wouldn't be recommended to go down that way. So instead, we had a longer downhill stretch on steps then eventually on slippery metal grating on the forest floor amongst ferns and the wide girth of tall trees.
Eventually at the third viewing deck since the Triple Treat sign, we finally got to see the familiar Triplet Falls at 10:25am. The most thick segment of the three-segment falls was under shadow while the other two segments were under sunlight. So it wasn't the best for photos, and the middle segment seemed to have less flow than how we remembered it the last time we were here when it was raining.
While the signage wasn't explicit about it, this falls was on Youngs Creek (because I could see from the road signage to get here that there was a 4wd track before the car park that was for Youngs Creek Road).
As we were enjoying the falls, we were joined by another couple so clearly we wouldn't be totally alone on this hike. But they did help us take a couple shot before the falls, which was nice of them.
After the falls, we then hiked up the steep series of steps, which Julie wasn't looking forward to given the state of her lungs. After getting past some historic relics, we eventually returned to the car park at 10:50am where there was now 6 cars.
Five minutes later, we then made it to the Otway Fly car park, where there were a lot more cars and we managed to score a somewhat shady spot, where most of the cars were parked. Just as we were about to leave the car and head towards the Visitor Centre some 600m away from the car park, a tour bus group was just getting out of their vehicle, and so we determined to beat that crowd by making a beeline for the cashier within the visitor centre to pay for our admission to get into the tree top walk.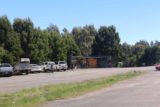 After paying some $50 AUD for two adults, we then continued hiking what seemed like forever to get all the way to the metal walkways amongst the height of the forest. There was a buggy that offered rides to people of limited mobility, but we certainly didn't qualify.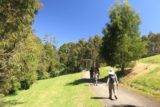 It took around 800m or so to get from the visitor centre to the start of the tree top walk. There was another tower for the Fern Tree, but we opted not to do that one. We could also hear the zip of ziplines as I'm sure it would be a rush to zip amongst the tree tops from station to station.
Once on the tree top walk, the swaying but sturdy walkway eventually led us to some spiral tower where we could try our best at conveying that we were indeed high up on the forest canopy. With the bright blue skies, it was nice to get this vantage point.
After going back down the tower, we then went onto the cantilever, which was a dead end where we could get that sense of vertigo as the walkway was high up above the forest floor above Youngs Creek. We could also look across at the walkway leading back to the Visitor Centre.
Just as we were done with the cantilever part, the big Chinese tour group showed up to the tower. Good thing we finished when we did.
Next, we walked back towards the end of the tree top walk, which I swore might have been more extensive than the one we did in WA 11 years ago. Then, we started to walk along the forest floor looking up at the tree top walk before beginning the hot ascent back up to the visitor centre.
When we got past the turnoff to get onto the Tree Top Walk, there was another tour group that sounded like they were Korean just about to start their tree top walk. And eventually at about 12:15pm, we were back at the visitor centre where we decided to pick up a lunch from the Otway Fly Cafe since I had a feeling that we wouldn't be in Apollo Bay until much later in the afternoon (where I was afraid Julie might get hangry if she didn't eat right now).
We ultimately got a couple of burgers to go since they didn't really have a healthy eating option for Julie as they had ran out of chicken. So it wouldn't be until about 12:45pm when we were finally back at the car to finally eat our takeaway lunch in the car, which was no longer in the shade. The food was filling, but it wasn't as good as the burger we had at Kangaroo Island's Flinders Chase Visitor Centre.
Once we were done with the lunch at 1pm, we then drove out towards unpaved Binns Rd, and eventually down the Beauchamp Falls Road to the familiar Beauchamp Falls car park at 1:15pm. There were a handful of cars already here as well as someone camped in the main picnic area. Julie opted to take a siesta while I was going to do this hike solo this time around.
So I promptly got out with the etrex
ready plus the iPhone
in my pant pocket, and I partially trail ran my way down the long gradual downhill track. I knew that it was going to be a bit of a brutal climb back up to the trail as this was clearly an upside down hike like I had remembered it from the last time. But at least it wasn't rainy and muddy like the last time.
It was getting to be a little on the steamy side as I descended deeper into the rainforest as there were ferns all around and the vegetation (like with the Triplet Falls) was kind of reminiscent of what I might find in New Zealand.
Eventually, I made my way down to the falls where there appeared to be an elevated walkway leading to a lookout platform. I didn't recall that this was here before.
I also noticed that there were people at the bottom on Deppeler Creek, which was where I remembered was the last place we checked out the falls from before. I guess the authorities didn't want people to go down there anymore as the path was railed off. But that didn't stop people in the know from hopping the railing to go all the way down the muddy path to get there.
Once I was down there, I was kind of looking against the sun. But at least there were enough moments where the sun was hiding behind some of the clouds to get a better long exposure shot.
Eventually, I had my fill of the falls shortly after a trio of guys joined me at the bottom. And then I started the long uphill hike back up to the car park. But just as I was already about a third of the way up, I realized that I had forgotten to take a video with the iPhone. Damn, I did it again!
Well, back at the car park at 2:15pm, I was a bit of a sweaty mess. Julie said there were mozzies around the car park so she didn't sleep very well.
Next, we drove further along the unsealed Binns Road towards the familiar car park for Hopetoun Falls. Once we got there at about 2:30pm, we saw that there wasn't much space to park as we settled on a somewhat muddy spot near some fence. I swore in the past that this was a through road, but now, it appeared that this was now a dead-end.
Just as we were trying to figure out how to park in such tight spaces, some kind of emergency vehicle showed up. Apparently, someone got injured on this track.
So Julie and I promptly went down the familiar upside down track where after seeing the obstructed view of Hopetoun Falls, we then went down the steps before we were stopped as the medics were tending to a lady who apparently slipped and fell on one of these steps.
The medics let the remaining hikers through going up and they let us continue to the bottom whilst squeezing past the commotion. However, they weren't going to let anyone else down. So we were lucky that we had gotten started when we did, I guess, though I suspected that there was going to be a bit of a delay when we'd come back up.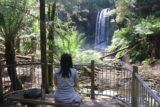 Once we made it back down to the Hopetoun Falls and the familiar lookout, we could see that this classic falls had a healthy flow just like before. The difference was that this falls was under the warm sun, where the last time we were here, it was very overcast and rainy.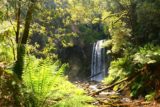 After having our fill of the falls, we headed back up the track, but then we were stopped before the injury site as more medics showed up with a stretcher. So we had to wait before we were given the OK by the medics to let us pass. It was clear that this lady must have broken something, and one of the medics confirmed that she had broken her ankle.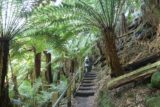 Man, that was a tough break. I could only imagine how debilitating that could be, and we could easily see how this can happen given how slippery the steps were.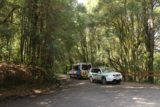 Finally at 3:10pm, we were back at the car, where we hastily unslung our stuff and got back in the car before more mozzies would come in. And as we drove past the medic vehicles, the GPS then had us turn right on Binns Rd and keep going down this unsealed path for another 10+ kilometres towards the Great Ocean Road.
I didn't recall going this way last time, and in hindsight, I wish we had backtracked to the Beech Forest Rd and then head to Appollo Bay that way on paved roads.
Oh well, eventually after a little indecision to see if we could squeeze in an excursion to the Cape Otway Lighthouse (which we opted not to do), we then arrived at the bustling beach town of Apollo Bay at 3:55pm. We made a brief grocery run before getting back in the car 10 minutes later.
And then we continued driving further east of town, where the Seafarer's Getaway was located. Julie picked this secluded location for the views, but after seeing how busy it was in Apollo Bay, it was a wise decision that she made. While it was certainly no Port Campbell in the serene department, it did have lots of beach access.
Eventually at about 4:15pm, we checked into the Seafarer's where the reception was scenically located as it was elevated on some hillsides. And after getting our keys for our unit even higher up on the hillside, we promptly got into our room at 4:20pm.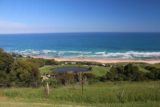 That was where we were immediately enjoying the commanding views towards the Southern Ocean as well as towards Apollo Bay. There were those annoying black flies again so we suspected that we couldn't eat outside like we were hoping to for dinner later on. But I could see now why Julie picked this accommodation.
At about 4:40pm, I was back in the car to do the Stevenson Falls excursion on my own. Meanwhile, Julie would prepare a chicken soup dinner as we opted not to eat out on this evening despite all the options. But at least she could get to enjoy the views as she was cooking.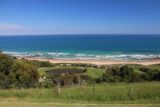 Meanwhile, I drove down towards Skenes Creek, where the C119 led back north towards Beech Forest, and in hindsight, I probably could have gone to Stevenson Falls first before going to Apollo Bay. In any case, I went up the twisty road and eventully turned off at the Upper Gellibrand Road near Barramunga.
The Upper Gellibrand Road was unpaved as I remembered, and it was also narrow though not seemingly as single-lane as I thought I had remembered.
It also seemed a bit more developed than I remembered.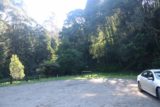 Eventually, I reached a busy campground, but the signs said it was still another 1.2km further to the Stevenson Falls and day use car park. So I went past a bridge and onto a narrower and more rougher unpaved road before finally arriving at the day use car park at 5:20pm.
I didn't see the scary concrete ford (it looked bridged now) nor the other trail approach from the campsite as I had recalled from 11 years back. Either they made changes to this area, or my memory was quite dodgy so many years on.
I was the only person at the day use car park, but just as I was getting onto the trail, there was another car that was pulling up. And as I got further on the trail, I heard music from a third car that was pulling in. Even this late in the afternoon, it seemed like this falls was surprisingly popular.
Anyways, I took the short 500m track that went through a large clearing and then followed the Gellibrand River up to the familiar Stevenson Falls. It didn't quite have the brown tinge in the water nor the volume from last time, but it was still pretty nice.
So I took my photos and videos, then jet. When I returned to the car park at 5:50pm, there was all of the sudden some 5 other cars! I guess my parking job was terrible since I had no reference, but now with the other cars, it was obvious that I was the outlier.
Anyways, with it getting late in the day, I decided not to go out and do the Carisbrook Falls today, and instead punt that for tomorrow.
Ultimately, I'd return to the Seafarer's Getaway at 6:35pm which was just in time for Julie's home made chicken soup dinner. Both of us had a low key dinner while looking out towards the Southern Ocean from the lofty vantage point of our unit.
Even though Julie was still getting over her flu, it was nice to have this moment together while not subjecting ourselves to eating out and worrying about what they put in the food. Still, after the dinner, we then caught some views around the property before driving back into town for a little stroll in Apollo Bay just to get a feel for the town while also checking out the beach.
We got there at a little before 8pm, and just killed time just as the clouds were turning pink from the setting sun. I got to splurge on some Dooley's Ice Cream in town, but it wasn't all that impressive in my mind. I was still paying for my regret for not trying to Timboon's Ice Cream when I had the chance back at Port Campbell.
After having our fill of Apollo Bay, we returned to the Seafarer's Getaway at 8:55pm where it was just becoming twilight. We enjoyed the views once more before it got too dark to take photos. And from that point on, we just wound down the otherwise very busy day and just enjoying the accommodation.
It wouldn't be until after 11:30pm when I went to bed after cleaning up. With an early wake-up for tomorrow to squeeze in an excursion before Julie wakes up and does breaky, I'm sure I wouldn't be having a very deep sleep…
Visitor Comments:
Got something you'd like to share or say to keep the conversation going? Feel free to leave a comment below...
No users have replied to the content on this page