Day 11 (November 19, 2017 – Melbourne, Victoria, Australia): "How Can You Not Be In A Good Mood?"
It was about 5am when I awoke. Even with the pre-dawn low light, it was still a pretty view looking out towards the direction of the sunrise from our bedroom window as well as the living room window. Indeed, you can't beat views like this, and it would cost an arm and a leg back home in the States. But here along the Great Ocean Road, it seemed like such views were a bit more reachable for common folk like us.
With Julie sleeping in still trying to shake off her ailments, I did some catching up on the blogging until the sun started to rise. So I took some photos before I got into the car at 6:15am to pursue a couple of waterfalls while Julie took her time to get ready for the day.
The target waterfalls were Marriners Falls and Carisbrook Falls. I figured that I could probably visit those waterfalls before we get ready to leave Apollo Bay. Julie also left me with a honey do list regarding some groceries. I also thought I could pick up some of those scallop pies that this one bakery sold in the Apollo Bay centre as well.
So with that, I first went to Marriners Falls. I made a brief stop at the bakery, but the scallop pies weren't ready for another 20 minutes. So I figured that I could come back after Marriners Falls.
So back in the car, the GPS
had me take Nelson Street towards the back of Apollo Bay, and then onto the Barnham River Road, which eventually became unpaved after the first single lane bridge, and then became a narrower dirt road the further I went.
After driving around 12km on the Barnham River Rd, I eventually got to the dead-end near the Ubuntu Wildlife Centre or something like that, where the Marriners car park was located just to the right of it. I managed to get there at about 6:45am, but when I saw that the track was closed due to storm damage, I knew that this waterfall couldn't be done on this trip.
So with that detour, I went back in the car and headed back into town at Apollo Bay. It was about 7:05am when I returned to town. I saw that the IGA was closed until 8am so I figured that I could go all the way to Carisbrook Falls then come back to do the honey do list. In the mean time, I returned to the bakery to pick up some curried scallop pie.
The other stuff in the bakery was real tempting like the chocolate chip cookies and the death by chocolate brownies, but I refrained on that visit.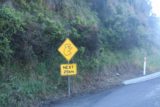 The drive out to Carisbrook Falls was very scenic as the skies were very clear except for one stretch where the fog was rolling in. Eventually, I saw the easy-to-miss turnoff (it was right before a koala sign), where I then turned in and parked at the familiar trailhead at 7:25am.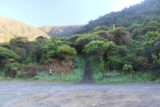 I was holding off on eating the scallop pie until I parked the car, and it was still very hot even after 15 minutes of driving.
So after having the pie, I promptly hiked past the sign that said it was "15 minutes one-way" to get up to the falls and promptly went on the uphill narrow hillside hugging trail. The whole trail was still in shadow, but across the ravine, I could see sunlight already hitting that side.
It didn't take long before I got up to the dead-end and lookout where I could see the Carisbrook Falls very much looking like it did 11 years ago. This time though, the falls was in shade while the hillside to its topleft was starting to get some sun.
It was still a bit of a distant look at the falls, but now that I could see that it was very tall, I might have been a bit on the harsh side in rating this falls only a 1.5 in the past.
Anyways, after capturing the falls, I raced back down the narrow track before returning to the car at 7:50am. So it took me about 25 minutes to complete this excursion even with the photos and videos, and I guess that 15-minute estimation by the trail sign was a bit of an overestimate. In my mind, it was more like between 15-30 minutes round trip.
During the drive back to town, I was making spontaneous stops whenever something caught my eye and there was a safe pullout to take snaps. With the early morning sun behind me and the signature coastline that made the Great Ocean Road as famous as it was, I could've spent all morning doing this. In fact, I had to really be willing to not stop for some choice stops and really cross my fingers and hope that of the stops I do end up skipping that I wouldn't regret it.
When I got back to Apollo Bay at 8:15am, I did the grocery run, where I went down Julie's list. I thought it was strange that she wanted garlic and tomatos and celery among others when we wouldn't be having a kitchen in Melbourne.
When I checked out, I was a worried that I had lost my credit card because I didn't see it in my wallet. Luckily, the cashier found it in the grocery basket I was carrying. Whew! But I did manage to buy the groceries with an alternate credit card so I expected to get hit with a foreign transaction fee.
After the grocery run, I went back to the bakery to pick up a scallop pie mornay (the other flavor of the scallop pies). I liked the curried one so I thought I'd give the other flavor a try. This time, I was too tempted with the chocolate chip cookies and the death by chocolate brownies that I finally caved in and picked them up too.
By 8:35am, I returned to the Seafarer's Getaway where Julie was done with breaky. When she saw what I had picked up for groceries, she was mad because she showed me the other side of the grocery list, which had lemons and other things. No wonder why the list didn't make any sense!
Anyways, I finished the breaky as well as the other pie. I also finished kefir with some fruits. So I was pretty stuffed by the time I was done with the breaky and started washing the dishes.
It wouldn't be until about 9:45am when we loaded up the car and started to leave. It was now definitely much later than I had hoped, and I was afraid that we wouldn't be in Melbourne until very late as well. After all, we still had some excursions to do as we made the drive from Apollo Bay to the city.
But before we made the drive in earnest, we went back to the IGA at Apollo Bay one more time so we could return the mistaken groceries that Julie wanted me to return. So it wouldn't be until about 10:05am when we finally took off for good.
At about 10:30am, we pulled into some miscellaneous side road near Kennett River, where there was a tour bus and some people parked with lots of people looking up at trees. We figured that this must be the place to see the koalas.
So we did the same and pulled off some unsealed road. Then, when we got out, we looked up at one of the trees that other people were looking at, and sure enough, there was a koala high up on a tree.
This one was hard to photograph given the presence of branches in the way as well as the koala looking the other way. But it was cool to see it.
Regardless, we weren't going to linger any longer since we had already gotten a real quality sighting by the Flinders Chase Visitor Centre on Kangaroo Island.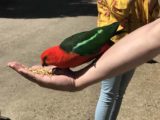 There were also lots of those parrot-like birds pecking around as apparently lots of tourists were feeding them. I wasn't sure if this was a wise thing to do or not, but plenty of people got their iPhone shots closeup with cooperative birds after they got their bribe.
At 10:45am, we got back in the car and continued our beautiful drive along the Great Ocean Road. With so many opportunities to pull over and take photos or chill out at a beach, we really had to stay focused and keep driving. Both Julie and I thought there were several protected beaches that Tahia would have really loved to play at.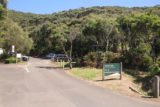 At 11:15am, we made it to the Sheoak Falls car park, but the parking lot was full. So we had to drive across the road and park at a large pullout over there. It was going to be roasting hot in the car as it was all exposed to the sun.
But as we walked across the Great Ocean Road and into the car park, I saw that two cars had pulled out and vacated parking spots. One of the spots was shaded! So I dropped the pack and Julie looked after my stuff. Then, I ran back to the car, then drove across the way to park in the lone shaded spot at the time. I had mistakenly pulled into a private driveway adjacent to the car park so I actually had to back out into the Great Ocean Road before turning left into the correct turnoff.
At 11:25am, we finally started the hike. It was already hot and we had to go up some steps immediately. So we knew it would be a sweat fest.
That said, the reward for such sunny conditions was the bright blue water, which we could see from the trail. And speaking of the trail, it seemed like this official track was slightly longer than the path we took from a hairpin pullout 11 years ago. That one didn't require going up and down, but perhaps we took an unsanctioned track that last time around.
This time, there was a lot of infrastructure to re-vegetate and conceal that old track though I could still see it.
After descending into the wetland, we then hiked along its edge before going up another set of steps. Then, the track gradually led to the base of the familiar Sheoak Falls.
Unlike the last time we were here, we weren't alone as it wasn't early in the morning. So the falls was in half shadow as the cool cove to the right of it was dark while the sun-exposed cliff to the left was very bright. Lots of people were rocking up to the falls to get their photos while a family was further downstream to let the kids play around the water.
However, the last time we were here, we saw that some foaming in the water at the plunge pool, and that foaming was still there this time around. We suspected that there could be some pollution in this creek, which gave rise to that foaminess. And despite the hot day, we could clearly see that no one was swimming.
At 12:15pm, we returned to the car a hot and sweaty mess as expected. We then drove into the very bustling beach town of Lorne, where we managed to score a parking spot at 12:30pm. I had originally wanted to go to Erskine Falls first before going to town, but Julie wanted to have lunch now. I was still stuffed from the big breaky, but I figured this would be an opportunity to join in on the bustling activities of the town.
While Julie was busy looking for suitable "clean" places to eat, she settled on this joint called Andrew's Chicken, where they had rotisserie chicken. She also picked up some kind of chicken salad.
She even managed to Facetime Tahia to show her what we were seeing at this time. Meanwhile, I went down to the beach to just soak in the activity and the weather. I told Julie that with all this activity and beautiful weather, how can you not be in a good mood?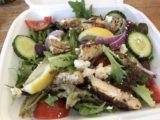 Tahia definitely wished that she could be here, but she was back home with the grandparents doing homework and trying to keep up while Julie was spending some time not stressing about her. We were missing her, but despite Julie's flu, it was still what she needed.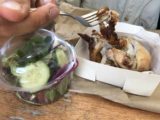 While looking around and soaking in the ambience of Lorne on a Sunday afternoon, we realized that it appeared the closer to the city we were getting, the busier it got. Now while that may seem very obvious, what was telling was just how crowded it got the closer to the city we got. It was definitely no Apollo Bay, and it was certainly no Port Campbell.
By about 1:35pm, we were back in the car. Now, we could pursue the well-signed Erskine Falls, which I knew was one of the more popular waterfalling excursions in the Angahook-Lorne reserve.
We'd eventually get there by 1:55pm, where the car park was busy, but we still managed to score one of the shady spots.
Julie decided to join me on this excursion despite the presence of steps leading down to the base of the falls (similar to the Hopetoun Falls experience that she complained about yesterday). There were some mozzies in the area so that meant it was unwise to stay still and let them get pot shots at you.
Then, we promptly went down to the upper lookout, which was obstructed (but not as bad as Hopetoun Falls) like before before going down all the way to the bottom where we saw the tall falls from the bottom. There were lots of people who managed to scramble all the way to the shady base so photographing the falls was a bit tricky given all the high contrast.
After having our fill of the falls (we didn't scramble all the way to the very base), I then crossed the creek and followed the rougher and more slippery track to the Straw Falls.
I went there alone, where after going by some girls who had already made their visit, I was pretty much alone at the falls. This waterfall was actually not on the same creek as that for Erskine Falls. It was on a thinner side stream so the falls took on a more light appearance as well as facing somewhat against the sun.
On our first visit to Erskine Falls, Julie didn't want to do the Straw Falls as there used to be a sign warning about snakes in the area. But this time, I wasn't to be denied.
We were back up at the car park at 2:45pm, and at this point, I still had one last bit of unfinished business to do – Phantom Falls.
The first time around 11 years ago, we visited this falls, which actually flowed fairly well. I also had visited the Lower and Upper Kalimna Falls, but given the length of those hikes, there was no way I'd be doing that today.
I didn't recall the exact road to go on to get to the trailhead, and it didn't appear that there was reliable signage noting the Phantom Falls. But I wound up taking a roundabout that led to the Allenvale Road. And once on that unsealed road, I knew I was going the right way because it seemed to have the kind of length and reach that I had recalled from the past.
By about 3:15pm, I arrived at the Allenvale Campground car park, which had quite a few cars. There was the familiar signage saying that Phantom Falls was another 2.5km away. I wasn't sure if this was the round trip distance or just the one-way distance. Regardless, Julie stayed in the car to have her siesta while I would do this hike solo.
At first, the hike meandered alongside then crossed some farm or private property. It seemed kind of weird to be walking through this as part of the trail, but there was signage that pointed the way for walkers.
I did recall having to walk through private property in the past, but I didn't recall this property being nearly as developed nor as awkward of a traverse back then as it seemed like it was now.
The track then went pretty steeply uphill as it rose above some ravine with the stream that I supposed the Phantom Falls was on the way down below.
After the apex of the fairly long climb, the trail leveled out and remained somewhat in the shade before reaching a trail junction. I got there at about 3:50pm, which was sooner than I had anticipated. Another sign here also said that the Allenvale Road was only 1.6km back the way I came so clearly it wasn't 2.5km in one direction.
The signage here also claimed that going across the ford above the Phantom Falls and towards the Cora Lynn Car Park was only 1.2km. I never made it to that car park before so I guess I'll have to look up to see if that was the preferred route or if the Allenvale Campground approach via private property was the way to go.
Regardless, five minutes later, I descended the steep path to the base of the Phantom Falls. There was a pipe along the vertical cliff here, which I wasn't sure what it was for other than water diversion (probably for the private property down below).
Still, the falls had a decent flow and there was a pair of young women on the way up (as I was heading down) as well as a family already down there frolicking and just enjoying this spot.
The falls was in mostly shade and the wall to the left of it still had some light. So the high contrast made for difficult photo conditions. I made do what I could at the time, and then after having my fill, I went back up and headed back to the Allenvale Campground.
I was making quick pace especially using my momentum going down the steep hill. I even caught up to the pair of ladies I saw during my descent to the base of the falls.
Back at the campground car park at 4:25pm, I then drove over to the Sheoak Picnic Area to see if that was where the Lower and Upper Kalimna Falls trailhead was.
Five minutes later, after more unsealed driving, my suspiscions were confirmed. It seemed like this picnic area was more developed than I remembered from the past.
Anyways, with that, I drove back to Lorne, where Julie decided that we should have an early dinner here before making the drive all the way to Melbourne. It was about 4:45pm when we returned to town, which now seemed much quieter than it did earlier in the day.
I guess most of the visitors here were weekenders from the city, and it was time to return to the rat race.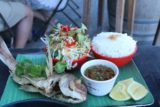 We wound up eating dinner at this Asian fusion place called Chopstix. Julie got some fried fish while I got some kind of green curry chicken. It wasn't anything ordinary, but it was a relatively cheap and quick eat. However, our decision to eat outside was probably not a great one as lots of flies were buzzing around us and not leaving us alone.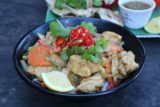 By about 5:35pm, we were back in the car, where we finally started to final leg of the drive towards Melbourne. At first we considered grocery shopping at the Foodland in Lorne, but when we saw how expensive things were there, we passed and decided to do our shopping either in Geelong or Melbourne.
And so the drive resumed as we made our way along the Great Ocean Road towards Angelsea and more coastal towns until we got near Geelong where we left the coastal road and went inland. We originally thought that a grocery run in Geelong would be a cinch, but it turned out that it was a full blown city and we didn't feel like dealing with traffic there.
So we got onto the M1 and drove the rest of the way to Melbourne. Eventually, the GPS
got us onto some surface streets within the CBD area (and we managed to avoid paying any tolls via City Link paths), but then our progress really crawled as we were in long traffic lights, confusing hook turns, and a fruitless detour towards a Coles where it didn't look like they had a convenient parking structure or garage.
Julie was mad that we didn't bother getting groceries in Lorne, but I figured we could still check into our hotel, get settled, and then get groceries using a combination of walking and mass transit.
I guess the stressful city driving kind of drove that decision, and after a bit of a struggle figuring out where to park near the Grand Hyatt in the Melbourne CBD, we eventually entered the Wilson Parking garage right by the valet area, and parked the car at 8pm.
Once we checked in, where a friendly guy at the World of Hyatt desk told us everything we wanted to know about parking, groceries, Julie getting over her cough, things to do in Melbourne, etc., we were finally settled into our room at 8:30pm, and a few minutes later, we went downstairs, to drop off the keys with the valet, who then converted our Wilson Parking ($156 per night? seriously?) to the $55 valet with in-and-out priviledges.
I guess when you're centrally located in a metropolitan city like this, high parking fees were to be expected. So our 5 free nights using points was definitely chewed into with the parking fees, and probably the breakfast from the hotel since we no longer have a kitchen during our stay in the Melbourne CBD.
In any case, we made our grocery run at 8:45pm, we picked up 2 10L boxes of the Pureau water as well as some more fruits and veggies. And then by 9pm, we were finally in our room for good to unwind the night and try to rest up for tomorrow.
I was busy trying to figure out what to do tomorrow since I expected at least 1 or 2 of the 4 full days we're here to be solo touring. Eventually as I finally went to bed after midnight, I figured that tomorrow would have to be an "easier" day with an expected late start. I couldn't get too ambitious with an early morning wakeup and self-tour without getting a real feel for how things work in and around the Melbourne area.
Visitor Comments:
Got something you'd like to share or say to keep the conversation going? Feel free to leave a comment below...
No users have replied to the content on this page