Day 12 (November 20, 2017 – Melbourne, Victoria, Australia): "Triple 0"
I had woken up at about 4:50am, but my throat felt like it was scratchy and I was coming down with something.
Uh oh…
Julie sensed that something wasn't right and she got up to both cough as well as make some brew. This time, she was making her concotion not only for herself, but she was making it for me too. She was also making sure that I ate some manuka honey in addition to the lemon ginger water to try to nip this thing in the bud before it would be come a full blown flu or cold like what she was still going through.
So we both went back to sleep to try to maximize the rest that we needed. Clearly, today wasn't going to be an early start day. Instead, I resigned myself to going for something shorter like an excursion to the Macedon Ranges to see both Trentham Falls and Sailors Falls. And maybe with the rest of whatever daylight we have left, go for perhaps Strath Creek Falls.
All of these waterfalls would be do over waterfalls since they were either bone dry or trickling when we were last here in November 2006.
Well, I was up for good and busy blogging and checking on Triple J songs that I couldn't get out of my head during this week-and-a-half of driving through the southern parts of Australia. Meanwhile, Julie would continue to sleep in until after 8am.
So it wouldn't be until about 9:15am when we went downstairs for the Hyatt breaky. Indeed, we were getting a late start, and I was a bit worried about what I was sacrificing in terms of things that needed to get done on this trip while we were here.
The original plan was to visit the Macedon Ranges then spent the afternoon city touring in Melbourne, but clearly that wasn't happening today.
When we finally got back to our room at 10am and got our stuff, we then recovered the car from the valet at 10:10am. It was funny to see how we had the dirtiest car in the lot.
At that point, we were finally on our way out of Melbourne and out into the bush again.
Well, at first, it still took us some time (like at least 30 minutes) to get out of the Melbourne City as we were driving what seemed like forever on Elizabeth Street after not taking the City Link Toll Road onto the M1. In hindsight, maybe I should have spend one less night in Melbourne and spent that night in the Wine and Spa Country of the Macedon Ranges like Ballarat and Daylesford before making our way into Melbourne.
Things were starting to ring a bell with me when we finally got out of the city and we passed by the Organ Pipes. That was something that we did on the last trip so I didn't feel the need to go make another stop back there again. The Organ Pipes was basically like a less geometric version of the Devil's Postpile as they were old basalt formations.
At 11am, just as we were getting momentum, we had to make a stop at a service station shortly after the Organ Pipes exit, where Julie needed to potty (she was going very frequently due to the amount of water she was drinking to try to shake off her cough). In the mean time, I could clearly see that the gas prices were very high (like $1.49 AUD per litre as opposed to $1.29 AUD per litre in Hamilton or $1.34 AUD per litre in Lorne). I couldn't figure out why the gas was so expensive here as compared to the more touristed Great Ocean Road. So that was something to keep in mind.
We then kept driving until we got towards the vicinity of Woodend, where we then drove west towards Trentham. There was a police barricade on the last 10km of road leading to the turnoff for Daylesford from Woodend so they made us take a detour through some farm roads before regaining the way to Daylesford.
Eventually, after recovering the correct route, we then arrived at the Trentham Falls car park at 11:55am, where there were already some 7 cars here! That was a bit of a surprise considering this was a weekday. Plus, we didn't have high expectations for this falls given that it was trickling the last time we were here.
But with the amount of cars that were already here, this was a good sign!
As we got out of the car, we could hear the sounds of rushing water!
Shortly after going down a ramp and some steps, we got to the official lookout, where some fencing and signs said that the trail going any further was closed. But as we took photos of the falls from this lookout, we could clearly hear voices coming from down below. We could also see some other people just arriving go past the barricade without problems and make their way to the base.
While we were busy enjoying the falls from the official vantage point, Julie struck up a conversation with a pair of Asian photographers (maybe Cantonese Australian) who were really into photography. They had some serious equipment, and when Julie asked one of them to take a couple shot of us with our iPhone, I could tell by the way she composed the shot that she really knew what she was doing.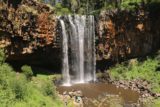 We learned that they were locals from Melbourne who were on an extended weekend. They asked if we had been to Daylesford yet, and I told them we hadn't but we were planning to eat lunch there (actually I had just thought of it seeing how late in the morning or early afternoon it was already becoming). This was when I realized that perhaps we should have spent a night in Daylesford instead of Melbourne so we wouldn't have had to drive as far.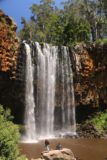 Regardless, while Julie was staying up top, I went around the barricade and also went down to the bottom. The last time I did this trail, there was a huge and rugged rockslide that made the trail practically impassable (and perhaps was the main reason why this trail was and remained closed). However, when I followed the path down again, I could see that the path was a bit easier and more defined (probably as more people took this path down over the years).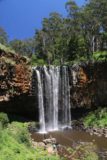 Eventually, I'd get to a nice spot where I could take a comprehensive shot of Trentham Falls flowing nicely and flanked by basalt columns with some people in hijabs sitting on a rock in at the base of the falls. There was also an Aussie trio chilling out a little further downstream.
The trail to the bottom of the falls was actually quite tame. I guess Parks Victoria were being extra cautious since they knew that the vertical cliffs could flake at any moment. But that was a risk that many people here (myself included) were willing to take.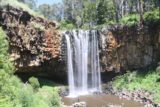 Naturally, I got my shots and movies from as many different perspectives and lighting as I could in the limited amount of time I was giving myself here. I didn't bother going into the mist to go behind the falls, but it seemed like a very doable thing.
After having my fill of this area just as more people were showing up, I then went back up where I saw that Julie and the Cantonese-Australian couple were still chatting.
Upon me joining them, I learned where the photography shops were in the Melbourne CBD (as a possible venue to replace my faulty lens), and we learned a bit more about the mentality of photographers who employ lots of patience in order to get that good shot to work with using Photoshop.
Both Julie and I were amused when upon learning about our waterfalls website that the guy was criticizing the photography of some Chinese guy who authored a book telling you how to get to the waterfalls. I was wondering in the back of my mind if he was talking about me and my work on New Zealand Waterfalls.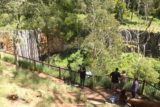 He then said that the photography was terrible, and that he didn't get the book since you can get information for free on the web these days.
I wasn't taking any offense to it (if he was talking about me) since I knew that my travel goals were far different than a landscape photographer looking to do this for a living or for additional profit.
Indeed, fine art photography was something that just wasn't my cup of tea though I definitely respect what it took to do it right.
Eventually at 12:55pm, we were back at the car. Now, it was time to head to Daylesford as it was already lunch time. And during the drive to get there from the falls, we passed by more wineries. Again, this reinforced that there must be good eating options here since good wine and good food tend to go hand and hand in Western Culture.
At 1:20pm, we parked the car in the town centre of Daylesford, which had a bit of a historical vibe to it. While Julie was going from place to place in this town centre, I was busy trying to check out some of the fancier building facades as well.
In our brief search for a place to eat, I've come to the realization that with hindsight being 20/20 I probably should have spent a night in Daylesford instead of having the first of five nights in Melbourne. Given the amount of driving it took to even get out here, it probably could have been more enjoyable to stay out in Daylesford, enjoy the food here, do the waterfalling, then slowly work our way to the big city.
Anyways, we'd ultimately settle on this place called Larder, and we wound up getting some kind of Vietnamese chicken salad while I got a pretty good grilled Barramundi dish.
By 2:10pm, we were back in the car clearly sated from the wonderful (albeit expensive) meal we had just had.
As we drove south of Daylesford, we'd eventually spot a signed picnic area for Sailors Falls. There were quite a few cars parked along that road shoulder or clearing. We got out of the car at 2:25pm, where we then managed to score a shady spot.
The last time Julie and I were here, the falls was bone dry. However, we also questioned whether we did see the correct waterfall or not back then. So this do over excursion promised to answer a lot of the unanswered questions and unsatisfying experiences of the past.
So we got out of the car and walked towards the viewing areas. And as we were going down the steps, we could see that this falls had seen better days, but it did have a much more satisfying flow than 11 years earlier.
It turned out that the best views of the falls were from the top of the steps. As we went lower towards the official lookout down there, the views were obstructed by trees. When we went back up to get back the good views to capture the falls in video and in stills, we saw that other people had scrambled off the trail past the bridge over the creek.
Those folks managed to make it all the way to the bottom of the falls. I wondered if I'd regret not doing as they did, but the falls also struggled to flow well so I wasn't exactly that motivated to go all the way back down and go where they went just for another photo or video.
Besides, I still wanted to get in Strath Creek Falls before returning to Melbourne when it might be too late for dinner.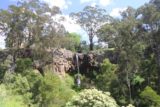 On our way back up, we spoke with a couple of the locals who started a conversation with us about our experience here. It turned out that one lady was very old and she actually wanted to go down the steps to get closer to the falls. I wasn't sure if she was going to make it or not since we was walking with a stick to help with her balance.
The elderly lady told us that she was from Kangaroo Island, which she was excited to hear that we had been there earlier on our trip. She also said that a psychic told her that she was a Native American in a past life, and that a hole scar on her neck was because she was shot there in her past life.
Anyways, the conversation ran its course, and so we returned to the car at 2:55pm.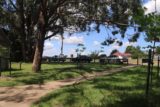 Just when Julie was about to get into the car after using the restrooms here, she smelled something burning. At first, I thought it was something with the car. But she said it was more like a fire smell, and when all of the sudden we saw lots of smoke coming out of a house right across the street from the Sailors Falls car park, we knew that that home was in trouble.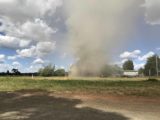 We weren't quite sure what to do, but apparently other locals started showing up and told us to call Triple 0. So Julie did just that and after struggling a bit with trying to tell the operator the necessary info about the house fire (she was looking for a street address, but all we could say was that it was right by Sailors Falls).
Eventually, Julie was told that a fire brigade was on the way. So with that, we drove off and didn't see any fire brigade until we were right within the 60km/h speed limit of Daylesford.
Next, we were on a long drive to get from Sailors Falls to Strath Creek Falls. I figured that we mind as well give this place another shot since the last time I was here, the falls was bone dry. It was definitely too late to attempt to reach Steavenson Falls nor Snobs Creek Falls before returning to Melbourne.
So it wouldn't be until 5pm when we finally made it to the Strath Creek Falls. We didn't see any falls signage until we were on the Murchison Spur Road, which was reached after taking Short St from Broadford for about 11km or so. We then took the 8km gravel road to the aforementioned signed turnoff for the falls in Mt Disappointment State Forest, and we'd eventually reach that familiar one-way loop.
We actually had to keep right on this loop drive since we knew that the descent was very steep. Last time, we thought it was too steep to bring a 2wd vehicle on. But this time around, the descent didn't seem all that bad.
Once we got to the bottom of the drive, I parked the car next to the trailhead, where a sign said it was 500m or 30 minutes return walk to get to the falls. Somehow I felt like this excursion was supposed to be much shorter than that.
Well, once I got down the trail (Julie stayed in the car), I found a lookout for the Strath Creek Falls along the way. From this vantage point, I could see that the falls was actually flowing although it was flowing thin. At least this meant that the scenic rating for this falls was not a 0.5 anymore, but it was still weak and I'd probably give it a 1.
The trail actually kept going down, which I took, and it eventually stopped at the very top of the Strath Creek Falls.
The long shadows were bad for looking downstream from the falls from its top. But regardless, after having my fill briefly of this spot, I headed back up towards the main lookout, and then I eventually rejoined Julie in the car at 5:20pm.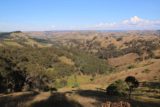 Next, we made the long drive back to Melbourne CBD, where the GPS said we should be back by about 6:30pm or so, but in reality, we wound up making it back to the Grand Hyatt in Melbourne CBD at 7:10pm. Along the way, we did make one quick stop at some overlook showing the brown pastures beneath the Mt Disappointment Forest Reserve. With such arid scenery, it was probably little wonder that Strath Creek Falls was as light as it was. Then again, it was actually flowing and not totally dry like it was when we were here back in November 2006!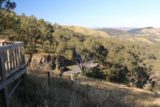 As we got closer to the city centre, we probably spent the last 30+ minutes were at one traffic light after the next along with slow driving in the CBD.
After changing into street clothes, we'd head back down for dinner at 7:45pm. We didn't have any idea where we should go for dinner, but Julie hastily did some research and thought we should do some French Restaurant or this spot called Coda, which was right at the far western end of Flinders Lane.
Upon seeing the favorable reviews of Coda, we went right into that restaurant and sat at the bar.
We'd eventually get dishes like a pork shoulder, a duck larb, a Beijing roast chicken, and side of veggies with pear as well as other greens.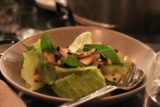 It turned out that each of the dishes we had were extraordinarily good (even though we didn't consume any alcohol to complement the food). Everything was spot on and it was clear that the chef her really knew what he was doing.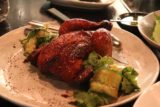 Eventually by 9:30pm, we returned to our room after making an after-dinner stop at the IGA again. This time, we picked up some kefir and some smoked salmon as well as Australian beef prosciutto that would serve as my power breaky for tomorrow morning.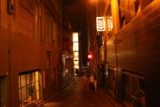 Once we were back in our room, we called it a day. With our late arrival at our room, the concern was that we'd be sleeping late again, which was not good as we were now both trying to get over a cold or something.
I guess we'll just have to play it by ear and see what's going to happen tomorrow, especially now that I'll be on my own…
Visitor Comments:
Got something you'd like to share or say to keep the conversation going? Feel free to leave a comment below...
No users have replied to the content on this page