Day 14 (November 22, 2017 – Melbourne, Victoria, Australia): "Bodies"
It was about 7am when I awoke, which was like sleeping in for me. Julie was still sleeping in so it wouldn't be until about 9:50am when we finally left the room after having our own quick breaky inside our room. Julie was hoping to have a breaky at the Queen Victoria Market, which was the first sightseeing thing she wanted to do today.
Along the way, we made a call to the Digicel on Elizabeth Street (per the recommendation by the Asians we spoke to at Trentham Falls), and we learned that they had one more of the Canon 18-200mm EF-S lens
in stock. It also only costed $650 AUS, which was cheaper than I expected (I expected to pay at least $699 USD per B and H as well as Amazon prices), and we should be able to get back GST when at the airport.
So they held that lens for me (which would replace my faulty one which wouldn't auto-focus when zoomed in), and then we were out the door of our Hyatt and promptly caught the tram in the direction of both the Digicel and the Queen Victoria Market.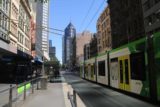 It turned out that the trams were free within the CBD so there was no reason not to take it. It was also already pretty hot as Melbourne was to get up to 31C today (said to be the 7th straight day of being 28C and above in November, which apparently set some record for warmest November in Melbourne).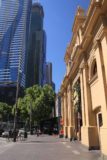 By about 10am, we picked up the replacement lens successfully, and then caught the next tram up to the Queen Victoria Market, which also happened to be within the free zone.
However, when we got out and got up to the market, it looked empty and the doors to the interior were closed. Someone guarding over the area said that the market was closed on Mondays and Wednesdays. So I guess we were screwed with this.
I wasn't sure if we'd ever get to experience the Queen Victoria Market since tomorrow I was going to drive out to Gippsland for pretty much the whole day, and the following day was a fly day, where we had to catch an early morning flight to Launceston, Tasmania.
So after fruitlessly walking around the closed Queen Victoria Market (which was kind of interesting in that the outdoor sheltered area looked quite extensive so this would be quite a large market), we took the tram back towards Flinders Street and Elizabeth Street.
Whilst there, Julie decided that she wanted to have an early lunch and she saw a Nando's Chicken.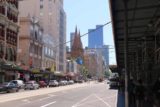 By 11am, we came in just when they opened, waited for Julie to get the food as a takeaway, and then we walked down Flinders Lane towards the Roule Galette, which Julie was raving about yesterday.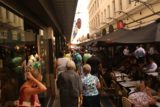 While I had associated Flinders Lane with the row of fancy fusion restaurants near our accommodation in the block between Russell St and Exhibition St, Flinders Lane actually kept stretching more westerly and we had started our walk from Elizabeth St.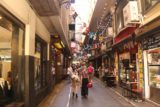 So along the way, we discovered some other interesting alleyways where some of them had outdoor seating cramped in tight side alleyways that very much reminded us of how some places in Europe were. It was a nice ambience that we didn't expect in Australia, but I guess it showed that perhaps in the past, we didn't really give Melbourne a good look and experience as we had been far more focused on natural attractions as opposed to city attractions.
We've learned over the years we had to mix things up between city and non-city things (not just amongst waterfalls and non-waterfall natural attractions), and I guess that was certainly one thing we've noticed that was different about our experiences from our early days of international waterfalling.
By 11:25am, we found the quaint eatery on a side laneway with astroturf. There were other interesting laneways along the way as we walked here.
Since Julie already had Nando's as a takeaway, I bought the chicken and avocado galette as well as the Amoniere dessert (which was supposed to be chocolate, vanilla ice cream, and whipped cream, but I substituted nutella for the chocolate).
The food was very authentic and delicious. Both the workers and the family running the place were from Brittany, and when we told one of the workers that we visited Normandie (mainly Etretat and Mont-St-Michel), she also said that she's a "blue blood" as well.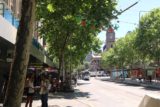 No wonder why the galette and sweet crepes were so good. It brought me back to that time we had a really good crepe and galette place in Etretat, and it was easily the best since we had really great crepes in Madrid, Spain as the French proprietor there made his dishes.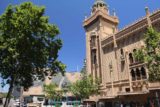 At 12:20pm, we were done with the lunch and went back up to the room so Julie could make both a potty break as well as drop off some of the excess stuff like the broken camera lens I was carrying around.
Ten minutes later, we headed back down where we then walked towards Federation Square whilst taking photos along the way.
Eventually at 12:30pm, Julie spotted a couple of red hop-on-hop-off (I'll just call them HOHO from now on) buses parked on the side dropping off passengers. She thought that we should just go up to the driver and pay for our tickets.
The first bus driver we spoke to said that the bus driver behind him was heading to St Kilda, which was where we were headed. Once we spoke to that guy, we paid $70 AUD (these HOHO buses are quite pricey but nowhere as pricey as the one in Vancouver), and then hopped onto a lower deck seat as the entire upper deck was filled up.
The bus then proceeded to head out and by 12:55pm, we got off at the first stop which was the Shrine of Rememberance. This war memorial was something that I knew Julie and I had gone to before, but this time, the facility was open so we were able to go up to the balcony as well as the steps to take photos.
It was such a beautiful clear (albeit hot) day so the nice colors in the sky contrasted with the views towards the skyline of the Melbourne CBD as well as towards the Royal Botanical Gardens, and towards the beaches way off in the distance between some other high-rise apartments.
For some reason, our last visit here didn't seem as fulfilling, and I attributed that to the hazy gray skies as well as the facility being shut for the day (or maybe it was shut because we showed up too late in the day?). But this time around, it seemed so much more fulfilling and interesting.
After having our fill of the Shrine of Rememberance, we then went back across the street towards the HOHO bus stop. We weren't quite sure when the next bus would show up until we saw on our map that the next one at this stop wasn't for another 20 minutes or so. Apparently the buses typically show up once every hour.
At 1:50pm, we were finally picked up by the bus and headed towards St Kilda. Again, the upper deck of the bus didn't have any available seats so we were sitting on the lower deck where it was quite stuffy. It caused both of us to want to doze off though I managed to keep myself awake checking out where the driver was going as well as trying to pay attention to the PA recording and the sights along the way.
Eventually, we got off at the Luna Park stop at 2:40pm (it had been a nearly 40-minute bus ride to get here), where we made a mental note of where we got off at because we weren't quite sure where we could find the other bus stops that served the HOHO St Kilda route.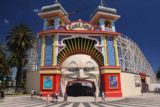 Anyways, Luna Park and the neighboring Palais Theatre were places that cousin Nicole and Max took us to 11 years ago when they were studying at Monash Uni. I remembered the big mouth at the entrance of Luna Park, and I also remembered that this place was really bustling during that day. But for today, Luna Park was closed and so was the Palais Theatre so it was pretty much dead over here.
After taking our obligatory photos before the Coney Island-inspired park, we then walked towards the St Kilda Beach, where it was very crowded and humming with activity. There were also wannabe rappers and people playing boom boxes very loudly, which kind of gave this place a little bit of a ghetto feel even though it was just a handful of people doing the ghetto thing.
All the energy and young sunbathers made for the kind of atmosphere that made us want to find a place to just sit down and relax. At 3:05pm, we'd eventually find a place called Republica, which had patio seating facing the beach though all the seats there were taken up. So we sat indoors by a window so we could both stare out.
We picked up some very light late lunches even though we both had eaten earlier. She picked up some kind of octopus salad while I got a swordfish ceviche. Both dishes were light and quite good.
After finishing our food some 30 minutes later, we then walked towards the St Kilda Pier. Once we were on the pier, we saw that it was quite a walk to get all the way to the end of the pier and we didn't wind up going all the way. It was also a little dead on this pier though there was signage saying that penguins would visit the pier in the mornings.
We also looked further to the west where we saw an even longer and more extensive beach (I thnk it's called the Middle Beach) that had far fewer people than the limited real-estate of the St Kilda Beach. We couldn't see much of a discernable difference between the two beaches besides their sizes. So I concluded that the St Kilda Beach had that lemmings effect where most young people had the urge to either see or be seen in a very narcissistic way, and thus create that Miami Beach-like feel.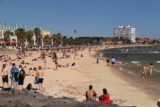 The other longer beach seemed to offer the same beach type experience without the crowds and the potential to see bodies.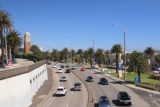 Anyways, it was getting to the time of the next expected arrival/departure time of the HOHO buses, but instead of trying to figure out where stop 7 would be (which was supposed to be St Kilda Beach), we walked across a bridge and all the way back to stop 5, which was at the Luna Park stop that we knew we had gotten off on earlier.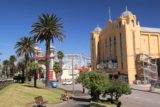 By 4:05pm, we were waiting for the HOHO bus to show up, and eventually at 4:30pm (ten minutes behind schedule), we boarded the next bus and Julie promptly went up to the upper deck to score one of the few remaining seats left.
For the remainder of the ride back, we were feeling the nice breeze caused by the moving bus. We were also passively checking out the remaining stops from the St Kilda Marina to the wharf where we saw the Spirit of Tasmania ferry docked and ready to leave as well as a massive cruise ship (Julie said it was a Carnival Cruise) docked on the other side of the wharf.
Eventually at 5:10pm, we were told by the bus driver that we were at the last stop even though we were only in front of the ACMI Museum or Art Gallery or something like that. It was still quite a walk from here to Federation Square, which was where we expected to be dropped off since that was where we began the tour.
That surprised everyone, and well, we just hoofed it to get back to the free zone for the city trams back across the Yarra River.
Next, we caught a tram towards Elizabeth Street (though truthfully, we could have walked it), and then we walked from Flinders and Elizabeth towards Colins St, where we then entered the Block Arcade.
The TripAdvisor reviews made this place sound like a must do experience, but after having passed through its short arcade (with lots of staff dressed in black for some reason; were they getting ready for some function?), we then left the place quite underwhelmed.
Next, we caught the tram towards the Russell and Colins stop, where we then got off and walked through the Grand Hyatt building and back down into the Flinders Lane, where we then went to the Oter Restaurant, which was right across a laneway from Coda.
We got to the restaurant at 5:55pm, where the interior of the underground restaurant was quite dead as we were but one of a couple of parties here. Regardless, we wound up getting 4 pieces of the sea urchin over Kolarabi noodles, a foie gras terrine, and a confit of duck as well as a lettuce salad with real Dijon mustard dressing.
The meal was simple albeit pricey. But since we came early, we were also able to get out early. And by 6:50pm, we were done with dinner and headed over to the IGA Express so we could pick up a few more breaky items to eat in the room as well as some fruits to take with us on the road tomorrow.
I think Julie was still on the fence about going with me to Gippsland or not. We'll have to play that by ear.
At 7:15pm, we were back in our room to drop off the groceries in the fridge. We also dilly dallied in the room until about 7:40pm when we saw that the sun had started to sink behind some of the high rise buildings as we looked out our window.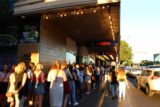 So back down to the streets we went, and as we started to walk back in the direction of Federation Square (where we were expecting to watch the sunset over the Yarra River next to the railway station), we saw that there was a huge line wrapped around the Forum.
When we walked by the Forum entrance, we saw that Vance Joy was performing there. No wonder why this place was so busy!?!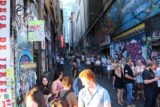 Julie actually forgot who Vance Joy was, but when I reminded her that he was the artist behind the big Top 40 hit Riptide
and seeing it on YouTube on our iPhone
, then she understood the fuss. Besides, I knew that the only way she'd come across any songs was if it was played on her My FM station back at home, and that's not saying much since they only play a handful of songs every hour on high rotation (so it's easy to get sick of every song), and Riptide was one such song.
Our crappy commercial stations back at home were nothing compared to Triple J's variety and lack of commercials, and getting people oversaturated with very specific songs was one terrible consequence of commercial radio.
When we made it to the bridge over the Yarra River near the train station, we looked west towards the setting sun though the lighting was quite harsh so all the buildings looked dark. So we actually didn't linger for too long there.
We then decided to walk across the busy street towards the Alexandra Garden. Down there, we then walked up to the banks of the Yarra, where we could see the Melbourne CBD skyline reflected in the seemingly still and polluted river.
Once we had our fill of these spots (especially since it seemed like there were some biting insects by the river), we then walked up to the Yarra River Bridge on Swanston Street, and then just before returning to Federation Square, we decided to walk in the direction of all the commotion that was going on in the opposite side of the Yarra to the Alexandra Garden.
It seemed like some kind of festival or something was concluding because heaps of people were walking in the opposite direction that we were going.
Eventually, we'd made it to a queue that was trying to enter through security at one of the entrances to the Noodle Night Market. Some girls told some people standing before us that there was another way in and we didn't have to stand in the long line that we were in.
So we promptly ditched the line, went through a different security entrance point that went up a grassy hilled lawn backed by the Melbourne Skyline, and ultimately walked our way along the hill towards a bridge and another lawn area with food stalls.
By the time we got onto the bridge, the sun had already set and twilight had set in.
There were heaps of people sitting on the lawns as well as a handful of plastic picnic tables. There was a thick aroma of barbeques and other foodstuffs on offer in this Australian take on the Asian Night Market.
It kind of brought me back to the time when Julie and I checked out the Mindil Beach Night Market in Darwin, except this really buzzing night market was going on for only a few weeks from November 9th to the 26th, and we just happened to be in it on the 22nd.
So we spent a pretty good deal of time trying to soak in the ambience of all the people, the twilight settings, the skyline buildings starting to light up, and the artificial neon lights shining brightly within the Noodle Night Market itself.
In addition, we also tried some of the night market food from garlic prawn skewers on one stand to some scallop skewer and fries (they had run out of baby octopus) at another. Most of the other stalls either had long lines or they didn't have gluten free options for Julie. Still, of the two places we did buy something, we were glad to know that this market was cashless.
After having our fill of the Noodle Night Market (just as twilight was over and total night time had taken over), we then walked our way through the Atrium of the ACMI, then walked back towards Russell Street where we could hear through the Forum Entrance part of the Vance Joy performance.
We then walked back to the Grand Hyatt Hotel, where by 9:30pm, we were back in our room to finally call it a day. It was yet another long day of touring that started off balky with the Queen Victoria Market not being open, but then it ended up with the really happening Noodle Night Market.
Indeed, these types of experiences could only be had while traveling, and although we weren't as youthful as most of the travelers these days carrying around and buried in their phones
, we were still reminded of the kinds of experiences that made us feel more alive and part of something that you simply can't get in our daily 9 to 5 lives.
Well, tomorrow, we've got one more full day of touring, and whether I'm going solo in Gippsland or Julie's going to join me remains to be seen…
Visitor Comments:
Got something you'd like to share or say to keep the conversation going? Feel free to leave a comment below...
No users have replied to the content on this page