Day 0-2 (November 8-10, 2017 – Adelaide, South Australia, Australia): "Qantas Quandary"
The night started after having a 6pm dinner where we would eat with Tahia, Julie's Mom, and ourselves for the last time for about a month. While we knew that we'd be missing our little girl as we wouldn't be taking her on this latest Australia trip (designed to make up for the drought-stricken trip that took place back in November 2006), I had a feeling that Tahia wouldn't be missing us very much for she'd no longer be subjected to the discipline that we'd impose on her to ensure she stayed caught up on her schooling and her homeworks.
I guess we'll just have to trust that she and the grandparents would do the right thing in bringing her along and not spoiling her to the point of her detriment.
It wouldn't be until almost 7pm when Julie and I were finally on the road. Since there was still traffic as we were headed west to the airport, we were a little worried about having difficulty checking in before the check in cutoff time of a little over an hour before our departure time at 10:05pm.
We were supposed to be flying into Melbourne Airport before catching a connecting flight to the Adelaide Airport. It would be a long night and subsequent day of traveling for sure.
We'd eventually get to the usual Auto Airport Parking shuttle at around 7:30pm but we wouldn't be boarding the shuttle to LAX until another 15-20 minutes later. With the shuttle now going towards some newly built accommodations in addition to the parking structure we were at, I guess that was the primary cause of the longer wait times. And it got Julie and I really thinking about giving Uber a shot next time (though it was too late for this go as we had already paid the $30 for the round-trip shuttle).
When we were dropped off at LAX, we were actually deposited at the arrivals level since the departures level was heavy with traffic. So that meant we had to go upstairs to check in.
After finding the Qantas counter, we were in a long line, where it took about an hour before we were finally at the desk. They were about to put the Melbourne-bound passengers in a different line just as we were at the front, but we didn't have to move over there since we were up next. I guess we were all getting up to the one-hour check-in cutoff thanks to this queue.
It wouldn't be until about 9:10pm when we were finally through the TSA security checkpoint, where we didn't have to take off our shoes and they didn't even have trays.
We still had a bit of a hike before finally getting all the way to Gate 156 where we were then about to board our Qantas flight to Melbourne. Aside from a spill on the bridge to the plane, the boarding was pretty straightforward.
By about the scheduled departure time of 10:05pm, the plane was leaving the gate and headed towards the runway. During this time, I was chatting with a Vietnamese-Chinese lady who was a resident of Melbourne who happened to be seated next to me on the plane. We pretty much did all sorts of small talk and we were kind of oblivious to the bad news that the plane had some technical issues and that they had to go back to the gate, refuel, and troubleshoot what appeared to be some kind of computer glitch.
We were still chatting away doing small talk though it seemed like this lady had quite a few bad experiences with Qantas. She was changing our perception that Qantas was pretty good (at least as of the last times we flew with them back in 2006 and 2008), but it sounded as if they were starting to go the way of our US-based carriers.
By about 12:45am, we were told that the plane was finally starting to leave again. So far, it had been a 2 hour and 40-minute delay and we were really worried about missing our connecting flight from Melbourne to Adelaide, where we had a 3.5-hour layover that was now already getting chewed into.
When we were back on the runway, I heard the captain apologizing again saying that the technical issues popped up again, and that we had to go back to the gate again. With all the groans from other passengers, I had a feeling things would get tense. But we tried to keep our spirits up and we were also trying to go to sleep.
We had heard all sorts of announcements about what they were going to do with us from having us de-plane while they were powering down the plane to recommending that we stay put in our seats. Well, we were still trying to get caught up on sleep so we had no problems if things would get dark on the plane as they were power cycling.
I also heard in the background some knocking and banging sounds so it seemed like some work was being done beneath the plane. One of the announcements said something about the backup brake system had some issues. So I figured the work had something to do with that. But whatever. First and foremost on both Julie's mind and my mind was that we tried to get some rest whenever we can, because an already long travel day was being made even longer!
Who knows if we'll ever get to our destination at this rate!
It wouldn't be until about 3:40am when I heard some announcement about the problem being solved, and after another 30 minutes after that, that was when everyone was finally boarded on the plane again and we were finally off the ground.
The Vietnamese-Chinese lady sitting next to me was saying that there were four police watching over the gate probably in anticipation of some passengers getting really pissed off. She was also saying that the Qantas folks there were saying that people were going to have to spend the night in LA. It was strange how the crew weren't communicating with each other as we had heard nothing of the sort.
Regardless, we were finally on our way.
The flight started off as a bit of a blur as both Julie and I had dozed off. But at around 5:30am (PST), we were woken up by the crew serving up salmon dinner. I also learned from Julie that there was an announcement in there somewhere that we were being diverted to Brisbane instead of Melbourne because the flight crew had been working for over 20 hours. I guess that was the cutoff or the limit before the crew would have to change.
So it sounded like the plan was to land in Brissie, have an alternate crew show up and take over for the rest of the leg going to Melbourne. The whole time I was thinking that this was just adding to the already long delays, and of course Julie and I were really worried about getting to Adelaide even in time to check in as well as to collect our rental car before they would close for the night.
After the dinner, I think I dozed off once again before about 6 hours had passed since the flight took off. At that point, I had probably slept about as much as I possibly could but couldn't fall back asleep again.
So at that point, I had turned my attention to the in-flight entertainment as there were still another 7-8 hours to go.
So I wound up watching in succession – An Inconvenient Sequel: Truth to Power
(the sequel to Al Gore's Inconvenient Truth documentary), A Cure for Wellness
, and Black Swan
. These works kept me engaged (though the Al Gore one was frightening because it seems like we're doomed to suffer the fate of what happens when we screw with Mother Nature with impugnity), and it helped pass the time for the remainder of the flight.
I even heard the Preatures song "Yanada
", which was on the in-flight entertainment rotation, which was probably also a fitting song for this trip. As I had read that Yanada was an aboriginal (Dharug peoples) word meaning "moon". It was a song that I had considered getting ever since I first heard it on Triple J at work one day, and now I was determined to get it when we get home to remember this trip by, even with the massive false start that we were currently dealing with.
It seemed like trip dramas were par for the course as far as Julie and I were concerned. So what's another trip without dramas like this one?
As we were about to land at the Brisbane Airport, we heard from the announcement that we would be catching a direct connecting flight from Brisbane to Adelaide. So that would at least buy us some time back as we wouldn't have to be going all the way to Melbourne and then catch another connecting flight to Adelaide over there.
So that was one situation where if this had been a US-based carrier putting us in this situation, we probably would have been deposited into Melbourne Airport then figure out how to get to Adelaide on our own. But at least with Qantas (as much of a bad experience this flight had been to this point), we at least could look forward to that direct flight to get to Adelaide.
Of course, the announcement was then followed up with something about the plane being overloaded with too much weight so they had to leave some of the luggage behind at LAX! Now, just about everyone aboard was anxious about what they were going to do without their luggage if they were the unlucky ones. In our case, we were worried about not being with our luggage while moving from place to place.
Funny how they broke this news at the very end of the flight.
Anyways, after landing at around 10:50am Brisbane time, we then went from one queue to the next as we got through passport control, then anxiously waited at carousel 4 for our luggage. Luckily, we recovered both of our luggage pieces and got through customs no problem.
So with that bit of drama out of the way, we next picked up a sim card for my smart phone before we had to wait in another queue to get re-ticketed for our direct flight to Brisbane. After that was done (it took nearly another hour for this to occur), we then squeezed our way onto a bus that shuttled us from the international terminal to the domestic terminal getting there at about 12:15pm.
At the domestic terminal, we managed to call Avis at the Adelaide Airport to let them know that we were on a different flight to get there after a 6-hour delay. That way they wouldn't abandon or cancel our booking where we were supposed to pick up at 1:30pm.
Then, we went through another security queue before we had some Vietnamese food at the food court. We had some lemongrass beef spring rolls and salads as well as a barramundi spring roll (though that was breaded and more like fish sticks).
By about 2:55pm, we sat at the gate assigned for our flight to Adelaide, but I could see that the plane was still not at the gate. That was not a good sign since boarding was supposed to be at 3:20pm and the flight was supposed to be at 3:40pm. So it was looking like we were about to face yet another delay!
Indeed, the drama from this trip wouldn't let us go…
Well, at least the plane showed up a little before 4pm and we boarded the plane at 4:20pm. So the delay would only be an hour though that all but ensured that we wouldn't get to see much of Adelaide on the first day and evening.
The plane eventually landed at the Adelaide Airport at 7:25pm, and by 7:45pm, we had collected our bags and headed over to the Avis.
Unfortuately for us, our company rates and insurance inclusions was exempted in Australia so we pretty much had to deal with a $4000 excess as we declined everything else. So I definitely had to be careful with kangaroos and fender benders.
Eventually we drove into the Adelaide CBD and we parked in front of the historic-looking Adina Apartments Treasury, which was an old treasury building converted into an accommodation. By 8:35pm, we were finally in our spacious apartment, where we were pleasantly greeted with a card reminding us of our wedding anniversary. With such an unpleasant travel ordeal we had to face to even get here, this was a very welcome gesture.
We also had to park the car before really getting settled and then going for dinner.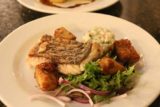 At 9:15pm, we showed up to the dinner spot within the courtyard at this place called the Treasury 1860 or something like that. We got here after parking the car at $18 per night at a more secure spot than an opposing car park a bit further away at a flat $8 rate.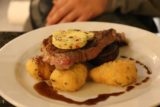 We wound up having sirloin for one main and barramundi with ceviche for another. Julie also got a side of salad. The dinner was about $70 AUD, but at least no tip was expected.
The beef was a little on the chewy side though it tasted good. Perhaps everything tasted good after the awful airplane food we had been subjected to. However, the barramundi was very soft and fresh. With my unsettled stomach, it might not have been a good idea to eat the ceviche, but I chanced it anyways and that too was good.
The whole time we were powering our way through dinner while trying to stave off travel fatigue, we were also lamenting how Qantas and the delays they caused really screwed up over in terms of getting to experience Adelaide. Now, we had to cram as much sightseeing as we could tomorrow (which also included two waterfalling excursions and a Mt Lofty Summit experience) before returning to the city for the Adelaide Central Market, the Rundle Street Mall, and the River Torrens walking area.
Oh, and we also had to have an anniversary dinner.
I had my doubts about fitting all of this into one Saturday, but we sure had to try.
After the dinner, we walked towards some of the convenience stores because the supermarkets were already closed since 9pm. We eventually walked past the Adelaide Town Hall north towards the third or fourth convenience store that we spotted because the previous one had run out of eggs. That was our brekkie for tomorrow since we couldn't afford to wait until 8am for the one that the apartment had.
Indeed, an early brekkie and early start was imperative.
We eventually returned to our room at 10:35pm. Too exhausted from the traveling and needing to catch up on sleep, we had to punt the anticipated checking out of the apartment cellar for tomorrow as well. Indeed, we were really squeezing everything into that one day…
Visitor Comments:
Got something you'd like to share or say to keep the conversation going? Feel free to leave a comment below...
No users have replied to the content on this page