Day 4 (November 12, 2017 – Kingscote, South Australia, Australia): "Not Feeling It"
It was about 4:15am when I awoke. I didn't need an alarm clock to get up this early as I suspected that jetlag had something to do with this. Nonetheless, I welcomed the early wakeup so I could get caught up on some blogging before wrapping up the packing, checking out, and retrieving the rental car from the car park.
We knew that we had a bit of a drive ahead of us so we were busy getting things all ready for our drive to catch the ferry to Kangaroo Island at Cape Jervis. I eventually managed to recover the car at 6am and by 6:25am, we were finally all checked out and ready to leave the Adelaide CBD.
The driving on Sunday morning was relatively light. I was back to listening to weekend arvos and Triple J and it was bringing back memories of how self-driving in Australia was like in all the previous times we've done extended visits to the country.
The drive going south on the M2 even involved a brief stretch of high-speed highway, but by the time we got well into the suburbs and bushlands of the Fleurieu Peninsula, it was back to the conventional two-lane (one in each direction) country road.
The further south we went, the more the road followed the coastline. With the weather revealing some blue skies, it was a pretty scenic scene. I really wished we could have stopped and taken photos at some of the spots like some kind of Buddhist temple overlooking the ocean as well as some kind of Hobart Memorial Lookout.
I even saw the turnoff leading to the Ingalalla Waterfall, which was what we were going to target on the return from Kangaroo Island but not today.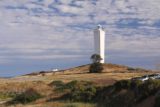 Eventually at 7:55am, we arrived at the Sea Link Terminal, where the office hadn't quite opened up yet. It wouldn't be until 10 minutes later when the lines started to accumulate and more cars started to pull up onto the ferry terminal waiting area.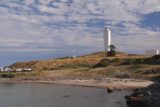 By around 8:30am, the cars started moving in. They asked the drivers only to be in the vehicle while all other passengers were to board the ramp and enter the ferry boat through the side. It turned out to be a reasonable request and method because once I pulled into the tight quarters of the car park within the Sea Link, I could see that it was real tight and difficult to open the doors.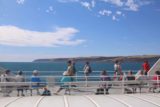 I wondered to myself how we were going to get out when we'd reach Kangaroo Island. But I'm sure they've done this many times and have a method to their madness.
Inside the Sea Link boat, I rejoined Julie where a long line was queueing up to get brekkie and coffee. They didn't have any healthy options for Julie so all she got was some hot water and got me some a lamb meat pie.
I'd eventually recover the car at 9:55am, which was after all the rest of the cars left because I was parked in such a tight spot on the side. And then I picked up Julie at the curb as she was waiting for me. And then we were off, finally on our own to tour Kangaroo Island.
Well, first up, we had to get to Kingscote to check into our accommodation, which appeared to be a home all to ourselves. We wouldn't get there until about 10:40am. Luckily, Kylie who was tending to the 9A unit (we were in the 9) unit was there, and we got ahold of Glyn who was overseas.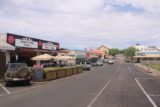 With that, we were able to check in early and get settled before we pulled into Kingscote centre for a lunch. The town itself was small and there didn't seem to be many eating options. So we settled on this place called Roger's Deli and Cafe at 11:30am.
We got ourselves some kind of Beef Korma (Indian dish even though no one there was Indian) and chicken soup for Julie's congestion. When we got the food, it turned out that it was surprisingly good. We were also entertained by people leaving heaps of leftovers and watching the sea gulls get at them.
It was amazing how much food was being wasted by the patrons. Well, at least we enjoyed our food and didn't leave anything to waste except for most of the baguette, which Julie couldn't have anyways due to her gluten intolerance.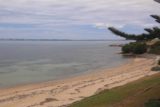 After the lunch, we briefly checked out the waterfront at Kingscote before we then did a grocery run at the Foodland. Surprisingly, then had some kefir though it probably wasn't as healthy or as rich as the self-made ones we'd do with raw milk. But we took what we could since we knew it wasn't realistic to ferment our own while out touring.
It wouldn't be until about 1pm when we were finally done with the grocery run.
After putting the foodstuffs away in the apartment, we then headed south towards either the Seal Bay colony or the Kelly Hill Cave. We couldn't decide which one to do, and Julie had it in her mind that she wasn't into paying money to see the Sea Lions so we went for the Kelly Hill Caves. Little did I realize how much of a drive it would take to get there, and in hindsight, we probably should have done the Seal Bay colony instead.
Oh well.
Eventually, we'd get to our cave at 2:15pm. The timing was bad as the next cave tour wouldn't be until 3pm. The sea lion colony tour on the other hand was at 2:30pm. Yet another indication that we screwed up.
Well, at least it was a good thing the driving was done because I was starting to get drowsy. And with all the kangaroo roadkill we had seen on the 80km drive to get here, that was not a good thing. Triple J reception from Adelaide's station was also not very good this deep into KI.
I managed to kill some of the time by going on the short walks to check out the old cave entrance before completing the loop seeing the entrance to the Show Cave in the process. The whole time, I was looking up at the gum trees hoping to see a koala, but no dice.
Anyways, eventually at 3pm, the tour guide showed up, collected the tour fees, and then we walked back up to the Show Caves entrance, where he met up with our group.
The cave tour was actually a little on the disappointing side as it was a very small cave, and we spent the better part of 45 minutes mostly listening to the tour guide talk. Now we did learn some fascinating things about this cave like how it was young, it was formed in process backwards from most caves, and it was also a very dry cave as it had been about 50 years since a bushfire above ground had come through here to loosen the stranglehold that the trees here on the soil and the moisture.
So the cave lacked any wildlife and lacked any of that signature drip you'd hear from most caves. However, the stalactites were very concentrated.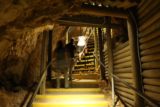 There were probably about 3 or 4 tiny rooms. It seemed like the current tour was nowhere near as extensive as the old tour, which involved a bit more crawling.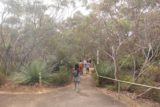 Regardless, we recovered the car at 4:10pm, which by now was a bit too late to be doing anything else. We were ready to head back to Kingscote for dinner.
With 80km to return to Kingscote and half-that distance that would have been driven had we gone to Seal Bay, I kept thinking to myself that we should have done the Seal Bay thing today since it was the #2 activity on TripAdvisor.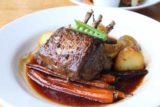 Oh well, we'll have to see tomorrow how much we can cover after seeing the obligatory Admiral's Arch and Remarkable Rocks before seeing any of the bays and any of the seal colonies that might be free compared to the famous one on the south of Kangaroo Island.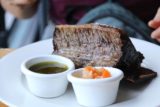 By 5:05pm, we made it back to Kingscote. It was a little early for the 5:30pm dinner so we spent some of that time scoping out the other eating spots in time.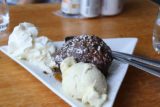 Eventually as 5:30pm rolled around, we got seated, ate short ribs, rack of lamb, and sticky date pudding. The best thing about our dinner was the sticky date dessert. But the short ribs was not fall off the bone as stated by the cashier. It was actually quite chewy and tough. My lamb rack was ok.
Regardless, by 6:55pm, we were back in our room to call it a day. Julie couldn't wait to take her shower and recover with extra sleep. Unfortunately, there was no hair dryer, which was a big pet peeve of hers.
I'd eventually join her in bed at around 10:30pm just after watching parts of the Star Wars Force Awakens on ABC 7 in Australia. Thus ending a fairly ho hum day that we hope to rectify tomorrow though Julie had already expressed interest in sleeping in…
Visitor Comments:
Got something you'd like to share or say to keep the conversation going? Feel free to leave a comment below...
No users have replied to the content on this page