Day 5 (November 13, 2017 – Kingscote, South Australia, Australia): "Wild Timing"
It was about 5:50am when I awoke. It wouldn't be until 7:20am when Julie was up and started to make brekkie. I figured that since today was to be focused on the Flinders Chase National Park on the far southwestern side of Kangaroo Island, that we weren't in much of a hurry so we allowed ourselves to sleep in (and hopefully help Julie get over her flu or cold).
It was very overcast outside, and we were worried that the weather would be a bit gray and muggy as it had been during our whole time in Adelaide earlier on in this trip.
So after having a pretty full brekkie of eggs, avocado, bacon, and kefir with bananas, it wouldn't be until 8:35am when I was waiting for Julie to wrap up her errands. So in the mean time, I went into town to pick up some groceries for her since Julie said we were short on water and on getting tomatos.
By about 9am, I returned to the Home on Torrens and dropped off the groceries. Julie was also requesting the owner to contact the person cleaning the units to bring a hair dryer since one wasn't in the house. Hopefully, they would heed her request as I know how particular she was when it came to blow drying her wet hair after taking a shower in which she'd wash her hair. She didn't do it last night for the reason that we didn't have a hair dryer.
Anyways, we were finally out the door shortly thereafter. The drive back the way we visited yesterday (to the Kelly Hill Caves) was seemingly quite long. It really made me appreciate what a miscalculation we made by going out that far only to have a ho hum experience (instead of doing the sea lions at Seal Bay). Even the Triple J reception was fading, and I knew that we were getting a slow start when Ben and Liam were already done with their shift and Zan Rowe was taking over the moment we were leaving Kingscote.
During the drive, I was contemplating whether we should stop along the way for things like Hansen Bay, Hansen Bay Koala Walk, Seal Bay, or even the Platypus Water Hole. But we stuck to the plan (for the Remarkable Rocks and Admirals Arch) because we knew our late start meant we couldn't linger too long or else risk missing out on the things we really wanted to see and do before running out of daylight and time.
It wouldn't be until about 10:05am when we arrived at the Flinders Chase Visitor Centre. We had to stop by there to pick up a permit to pay and display. Ten minutes later, we were back in the car and headed south towards the Remarkable Rocks, which was the first attraction we were targeting at Flinders Chase National Park.
By about 10:35am, we finally arrived at the car park for the Remarkable Rocks. It was surprisingly subdued as there were plenty of empty parking spots when we pulled up. We then had to go on a short loop walk where it was mostly boardwalk on the way there.
We were able to see psychedelic shapes of the Remarkable Rocks in the distance, which hastened our pace to get there and really get up close and personal with them. Once we got there, we were struck by the orange lichen staining the rocks and providing vivid colors compared against the blue waters of the churning Southern Ocean as well as the shadows of the cave-like depressions and openings that were on the rocks themselves.
Some of the funky shapes of the rocks reminded us of a bird's beak while others looked more like pac-mans and still others were also pseudo arches.
We spent a good deal of time trying to stay cool in the shady side of the Remarkable Rocks, but the urge to keep taking pictures kept us from staying still for too long. The weather turned out to be just right for the time we were there because the sun really brought out the colors of the Southern Ocean as well as amplifying the orange lichen stains on the Remarkable Rocks themselves.
After having our fill of the rocks (when we were nearly by ourselves), we completed the flatter part of the loop hike, and ultimately regained the car at 11:35am.
Next, we drove back towards the west to the Cape du Couetic Road before heading south towards the Cape du Couedic Lighthouse and the Admirals Arch. When we got towards the end of the road, we descended beyond the lighthouse and ultimately got down to the Admirals Arch Car Park at 11:45am.
Right when we showed up, a tour bus also showed up. So I knew that it would be crowded at the arch. So we headed towards the Fur Seals Lookout instead, which led us to an overlook on a bluff looking right down at some New Zealand Fur Seals in the tide pools and rocks down below.
Also from the lookout, we were able to look across the cove towards the Admirals Arch, where we could see a busy boardwalk crossing over the opening where the arch was supposed to be before it descended into that opening. We couldn't see the span of the arch from where we were at, but we already had a sense of what it would be like from this vantage point.
So after having our fill of the Fur Seal Lookout, we then took the more main path that zig-zagged down a couple of switchbacks before descending right down to the boardwalk leading to the Admirals Arch. But along the way, we saw lots of people checking out even closer looks at the New Zealand Fur Seals doing their thing on the neighboring rocks as large waves and swells were crashing around them down below the boardwalk.
When we got towards the end of the boardwalk, there were crusted wooden steps descending to the lowermost level of platform, where we could clearly see through the dark Admirals Arch. Inside the arch's shadowy span, we saw a handful of fur seals moving about.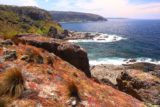 It was a shame that there was so much lighting contrast (i.e. it was too dark in the shadows and too blown out outside the shadows). Otherwise, we could've gotten these pretty cool shots of the fur seals beneath the span of Admirals Arch.
Oh well.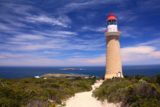 In any case, Julie and I took a few selfies before the span of the arch, and then we took a few more shots of the arch itself before heading back up towards where the fur seals could easily be spotted again. After a few more minutes of trying to get more photos of the New Zealand Fur Seals, we then retreated back up the steps.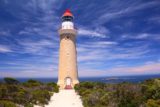 Regardless, we proceeded further back up the boardwalk before returning to the rental car that was baking in the sun at 12:30pm.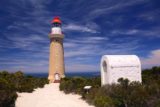 Throughout the walk back up, I couldn't help but notice how high the splashes from the crashing waves and swells of the Southern Ocean were when they met the rocks. That kind of attested to how strong and violent the Southern Ocean could be.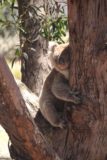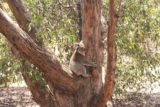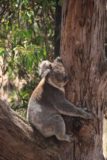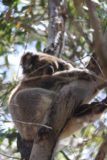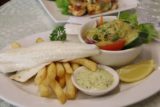 Instead, this one was easily seen and it was lying quite low. One guy tried to get closer to the koala before some other tourist told him that he wasn't supposed to get off the path. Minutes later, there was someone from the park staff bringing a sign over there that said to respect the distance and not move any closer to disturb it.
As we were done trying to compose as many photos of this pretty big sleeping koala, we then started to head closer to the visitor centre building before we noticed yet another koala sleeping higher up on a different tree. This one was harder to photograph because of the presence of more branches getting in the way. Still, it was a pretty cool sight nonetheless.
Once we were inside the visitor centre building, we promptly get one of the inside tables near the cafe so we wouldn't have to contend with the annoying black flies at one of the patio tables. The black flies had been a nuissance ever since we arrived in Adelaide, but they seemed to be next level here on Kangaroo Island.
Anyways, we got ourselves a humble lunch of some KI whiting that were prepared pan fried with chips (fries), and Julie got some kind of Haloumi Chicken Salad, which was also basic but satisfying except she forgot to ask for the dressing to be put on the side.
The meal was still satisfying, and eventually by 2:05pm, we left the cafe and headed back to the rental car.
On the way back, there were many people hanging out beneath that hanging koala that I knew hadn't moved since we had seen it earlier just before we went for lunch. When I rocked up to join them, I was surprised to see that there was a second koala that appeared to be a baby koala. I didn't know where that one was earlier on, but now it was understandable why so many people (more so than earlier) were gathered here.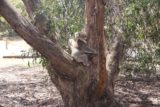 Meanwhile, the larger koala sitting on a lower nook of a bulkier tree was also still there. Some idiots from a Spanish tour group thought it was a good idea to go past the signage and get right up to that koala. One lady even tried to pet it when even some members of their group said to her, "No toques" (Don't touch). Still, this sense of "the rules don't apply to me" mentality was disturbing, and thankfully, they dispersed as it appeared some other Aussie tourists straight up told them to get away from the koala.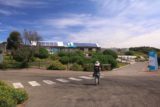 With food in our stomachs, I managed to get a second wind as I was now driving out of Flinders Chase National Park and headed east towards Seal Bay. Julie was conked out as she was having her afternoon siesta.
The drive was pretty uneventful as I eventually made my way towards Seal Bay. After getting to the visitor center parking area at 2:50pm, Julie and I promptly walked to the building, paid some $70 for both of us to do the guided tour, and then killed some time checking out a little bit of the boardwalk as well as the lookout before our 3:15pm tour.
When 3:15pm rolled around, we joined our guide Ashlee (sp?) who guided a group of four that included Julie and I as well as a pair of older Spanish guys.
It was very hot as we made our way down an alternate boardwalk and onto the white-sand beach. As we were on the beach, we could see very clearly many sea lions either resting or moving around. Actually, it was mostly the larger males that were moving around and posturing or threatening to fight since it was now the breeding season, according to our guide.
The guide was actually pretty excited about what we were seeing because she said that this was the first time since she started working on KI about 8-10 months ago that these sea lions were actually moving and posturing in response to breeding season. She said that at other times of the year, the sea lions would pretty much just lay flat and not move like a starfish.
So as we were busy taking photos while also listening to our guide explain some key things about the Australia Sea Lions, we were all sweating bullets as the sun was beating down hard on us while the incident light from the blindingly white sand also conspired to make us uncomfortably hot.
There was another larger tour that was also running a similar type of tour so there were probably on the order of a dozen tourists or so in total enjoying the beach and the sea lion residents.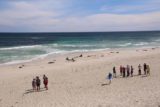 By about 4pm, I returned to the car, and when Julie rejoined me after her potty break, we headed back to Kingscote. The hope was to find some good food (like the Roger's Deli), but that place had closed their kitchen when we rocked up to town at 4:40pm.
We also saw that the Cactus Cafe was also closed, and that was one place that our tour guide said she had liked a lot.
And we most certainly weren't going back to the Aurora Restaurant that we had dined at last night.
So in the end, we settled for grocery shopping at Foodlands, where we picked up some chicken, celery, tomatos, onions, and some pepper. And thus, we'd have the ingredients for self-cooking chicken and vegetable soup as well as a garden salad with apple cider vinegar as the dressing.
Julie also picked up a collapsable cooler container as well as a large block of ice. We figured that that would at least help us stave off food spoiling inside the greenhouse of a hot car with a black interior under the over 30C temps that we had been experiencing to this point.
By about 5:45pm, we were back in the room. Julie was very disappointed that she still didn't get the hair dryer like she had requested. Nonetheless, Julie got busy making our humble but much healthier and less expensive chicken soup and salad dinner, and I was busy getting cleaned up while also blogging until it was time for us to eat together as a couple abroad for the first time in quite a while.
And so ended this rather wild day, where we got to see koalas after all and didn't even need to do the Koala Walk at the Hanson Bay Wildlife Sanctuary. And even the NZ Fur Seals and AUS Sea Lions were quite a treat for us as well.
After the dinner, Julie quickly conked out. And I would follow suit not long thereafter…
Visitor Comments:
Got something you'd like to share or say to keep the conversation going? Feel free to leave a comment below...
No users have replied to the content on this page