Day 7 (November 15, 2017 – Halls Gap, Victoria, Australia): "Hits, Misses, and Roos"
It was about 5:35am when I awoke to the alarm. It was still dark outside, but I could see that it was getting brighter pretty quickly. Julie was going to use this morning to sleep in a bit then take her time making brekkie. So in the mean time, I was planning on visiting some of the other waterfalls in the Grampians National Park that we didn't get a chance to see the last time we were here.
By about 6:45am, I was in the car and headed out. I didn't have breakfast as I figured that this would be a relatively quick excursion. And based on yesterday's last-minute research, I saw Instagram photos that supposedly showed Beehive Falls in decent shape as of 3 or 4 days ago. So that was the target waterfall for this solo morning mission.
I followed the GPS
as it took me onto the Mt Zero Road, which was a gravel road that went on for some 20km or so. That alone limited the speed of my driving to around 50-60 km/h, and that was a good thing since I saw kangaroos on several occasions going across the road.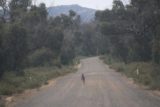 I even managed to capture on camera one kangaroo that was hopping on the road going the same direction that I was.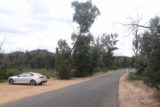 Eventually at about 7:10am, I made it to the Beehive Falls Trailhead, which was a short distance on the Rose Gap Road, which was sealed. That gave me the idea that perhaps on the return drive to Halls Gap that I should follow the sealed road back to the Western Highway then return to Halls Gap the way I came last night.
In any case, I quickly geared up and promptly got onto the quiet trail, where the silence was only broken by birdsongs in the distance. The skies were lightly overcast and so far it didn't look like it was going to rain during my hike. Even the morning sun appeared to want to break through the clouds at one point.
The hike was very slightly uphill flanked by yellow flowers and having hints of cliffs that could very well be harboring the Beehive Falls. I went at a pretty quick pace, and eventually by 7:40am, I crossed a bridge and saw right away that the falls was nowhere near the shape that I thought I had seen on Instagram. Instead, I could hear the falls trickling and the wet cliffs with stagnant pools below. But it was pretty much disappointing (I'd give it a 0.5 for scenic rating and making it a 1 would be stretching it).
So I took photos and videos of the trickling waterfall while noticing some fish in the stagnant ponds just downstream of the falls. When I had my fill of the falls and started heading back, I saw that there was a little cave to the right that I hadn't noticed earlier.
The cave was shallow, but it was dark enough to be kind of spooky.
But aside from that and a surprise kangaroo encounter where it hopped away just as I was approaching, I was back at the trailhead at 8:15am.
As I had expected to do earlier, I decided to follow the paved Rose Gap Road towards the Western Highway. Along the way, I managed to surprise an emu and two younglings. And so they ran away before I could try to photograph them from the car.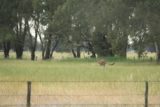 There was also a deer that dashed across the road as well as a kangaroo that hopped onto a field near a four-way intersection.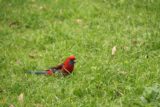 Eventually at 8:50am, I made it back to the Kiramli Villas Cottage. So it turned out that the all paved route was not only longer, but it also took around 5-10 minutes longer than the unsealed route.
For the next hour and 40 minutes, Julie and I had breakfast, and Julie spent a lot of time getting ready for the day. We spent so much time dilly dallying that we even witnessed the Same-Sex Marriage Yes Vote announcement, which took place at 10am.
Finally at 10:30am, we got into the car and started the day together.
The first order of business was to visit MacKenzie Falls for the first time in 11 years. I knew it would have reliable flow, and really it was more of a question of how crowded will this place be, and whether we'd beat the incoming rain storms that was being predicted for this part of Victoria.
Eventually at 10:55am, we showed up at the MacKenzie Falls car park, and it was definitely busier than we remembered it from our first visit. We knew that word had gotten out about this falls when we saw a large group of Chinese visitors, which meant the potential for inconsiderate behavior and hijacking of the choice spots to photo or enjoy at the expense of everyone else.
So Julie and I decided to head to Broken Falls first, which was closed the last time we were here. As we went the 150m off the main MacKenzie Falls track towards the lookout for Broken Falls, we could see that this was indeed a pretty impressive waterfall on its own. When added to the MacKenzie Falls experience, I knew that making it a 4 rating was justified, and Broken Falls further added to the experience.
After having our fill of the impressively wide and segmented Broken Falls, we then headed down the remaining 600m or so down a combination of ramps and steps eventually reaching the very bottom. That was where the Chinese group that we had seen earlier started to hijack the area by the familiar rock fronting the falls (that was there 11 years ago), and so we had to get a little creative in capturing photos and videos without them ruining it.
Other visitors were also a little annoyed with them as some of the people in the group thought it was a good idea to hang on the rock and take those cheesy selfie group photos doing silly things.
Eventually, some light rain started to fall and that drove the Chinese visitors (as well as other visitors) away. So there was a brief moment where Julie and I were somewhat alone at the falls. And we seized the opportunity to take some couple shots using the tripod that I had brought.
Unfortunately in one moment, one of the bags strapped around me caught the tripod and the it tipped over and fall taken the camera with it. At first, I thought I dodged a bullet as the camera still took photos and we were able to take couple shots still. However, I then tried the auto zoom when the zoom lens was zoomed in, and that was when I saw that the camera refused to auto-focus.
Damn!
So now I was kicking myself for not being more careful with the camera and especially with that tripod. This wasn't the first time that I damaged the camera when doing couple shots with it. And now, I was left wondering if I should take some time when we get to Melbourne to try to buy a replacement lens even though we were already low on money going into this trip and expensive replacements like this wasn't helping our cause.
Eventually, we had our fill of the falls and Julie started heading up the seemingly long and steep ascent. In the mean time, I went a short distance further downstream in the direction of the Fish Falls (though I didn't go the full 1.4km to get there), and I was content to capture the lower parts of the MacKenzie Falls encompassing a lower tier with hints of the main tier further upstream.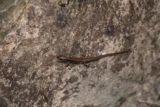 Then, I climbed up the stairs and ramps, and eventually caught up to Julie around the half-way point of the ascent. I was already a bit of a sweaty mess on the ascent, and it seemed to take a bit more out of both of us than I recalled on our first visit here. Maybe we're just getting old now.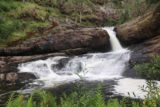 At 12:40pm, we were back in the car. I was still mad at myself for now messing up the camera's usual capability and I could already see that whenever I'd have to take zoomed shots, I'd have to fight the camera's malfunctioning autofocus or just use manual focus and hope that I made the adjustments properly in real time.
Julie wasn't happy about her burning lungs after that steep ascent. So we decided to head back into town in search of lunch and some supplies as we were already getting low on water.
Along the way, we made a stop at Reid's Lookout, but unlike what I remembered before, we didn't get to see the Balconies since that involved another 1km of hiking in each direction. So we just got a load of the panoramic views where it was clear that pockets of rain were falling in the distance in several patches.
Looking in the other direction, we could see Lake Wartook, which remained the sizable lake that fed the creek responsible for the Broken and MacKenzie Falls among others.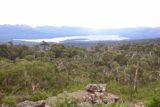 By 1:05pm, we were back in the car and headed into Halls Gap just as the rain started to come down pretty hard as we had apparently entered some squall. By about 1:30pm, we parked the car across the street from all the restaurants and shops in the town centre. The brief downpour had let up by this time so it was easier to just get out of the car and go find lunch.
We wound up settling at this place called the Lifestyle Cafe, where they served up a delicious rosemary burger while Julie got some kind of chicken salad made clean (i.e. no dressings). It was actually something that wasn't even on their menu, but Julie was glad that they honored her diet restrictions.
After the fairly satisfying lunch, we then went to the general market where we picked up some pretty cheap yet creatively-packed water that was essentially in a bag constrained by a cube-like box. We went with these because all the plastic bottled waters were all bought out. But one of the workers said that the waters that were left in those bags and boxes were actually a far better buy.
After all, it was like around $5 for 5L of water. The bottled waters of 1.5L refrigerated was $3.5 AUD.
Anyways, by 2:35pm, we were back in the car, then went back to the room to put the products away. We then drove south towards the Silverband Falls Trailhead via the southern approach. As much as I wanted to take the northern approach (which was closed the last time we were here), it seemed to be much easier to get to the falls from the south.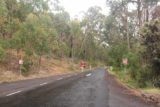 And at 3:15pm, we arrived at the Silverband Falls car park. So my hunch that the way we went was actually the faster and easier way was correct. It also happened to be the very end of where the Silverband Road was two-way as any further progress to the north was prohibited as it would be against the one-way traffic.
During the drive, it seemed like we went through another patch of heavy rain. But the weather calmed down a bit when we were at the car park.
So we promptly headed onto the trail, where a sign said that it was 0.8km to get to the Silverband Falls.
The hike was pretty gentle in terms of elevation change as well as pretty wide. We passed by a very large group of adolescents led by a handful of adults. Then, we eventually reached the familiar Silverband Falls at the end of the trail, where Julie and I briefly had the falls to ourselves.
It didn't take long before another couple showed up, and they asked Julie to take a picture for them in front of the falls. Meanwhile, I was busy documenting the falls.
Somehow, the fellow made small talk with Julie concerning things like the differences between Australia and America (upon learning that we were from the States), and we learned a few things about Victoria since that couple hailed from Melbourne.
We wound up walking and talking with this couple on the return hike, and eventually by around 4pm, we were back at the Silverband Falls car park where the conversation continued as the topic shifted over to political systems.
We pretty much talked about the dysfunctions of Trump, gun control (especially since Australia put a stop to gun violence after the Port Arthur incident), and the whole two-party system that we had compared to the multi-party choices and tiered voting that took place in Australia. The fellow (which we later learned was named Andrew and his girlfriend was named Fiona) was a Green Party supporter, which was amazing considering how much of a stranglehold Dems and Reps have in our government.
Anyways, we parted ways and started to drive out by about 4:10pm. Ten minutes later, we were back at our cottage at Kiramli Villas.
As Julie was getting started with making dinner, I took the opportunity to do the Clematis Falls hike. Even though I kind of suspected that the falls would be trickling (especially given the Beehive Falls experience), I wanted to at least get some exercise and see if I might get lucky with the waterflow since it seemed like Halls Gap got a disproportionate amount of intermittent squalls so far today.
Just as I was about to get going on the trail, Julie noticed a large group of kangaroos on the oval of the Halls Gap Recreation Centre. A couple of the kangaroos were even boxing each other, which was something we had never seen live before.
I tried to take what photos I could with my semi-functioning zoom lens, which was a real bummer. Plus, I couldn't help but notice some idiots getting real close to the roos so they could take that narcissistic and vain selfie next to it.
I secretly hoped that the roos would attack those folks, but the roos just moved and stayed pretty chill about the whole thing. I couldn't imagine what would happen if they were to pull the same stunt on a grizzly bear or something.
Regardless, I promptly got onto the trail at about 4:40pm. The path went uphill before reaching a signed fork, where I had to keep left to continue the ascent up towards Clematis Falls.
By about 5pm, I made it to the base of the Clematis Falls, and not surprisingly, it was trickling. So I took some time to document the trickle and the wet walls. And it was too bad that the falls was in this state because the cliffs were tall and I'm sure a healthy flowing waterfall here would be a sight to behold.
Nevertheless, I quickly got my fill and headed back down towards our cottage. Along the way, I managed to surprise a dark kangaroo (not amongst the group we saw earlier at the rugby oval), and when I returned to the rec centre area, I saw on the far side was a group of three kangaroos just as the rain started to fall again.
I managed to capture a few more candid photos of these roos before returning to the house at 5:35pm. That pretty much concluded my day of waterfalling and sightseeing, and eventually when it was dinner time, Julie and I shared a clean salad as well as some kind of beef stew.
Indeed by eating in, we saved at least a couple of hours and some money as well as knowing what was being put in the food. I also managed to get some time to write up this blog entry while also transferring photos from my camera's memory to the computer.
At some point, Julie noticed that the same three roos that I had seen just before returning to the villa was now in our backyard!
They seemed oblivious to us looking out our window, and they seemed to be more wary of some dude staying next door looking right at them. It was fun watching the roos in their element, and I was even amused watching the mum scratching her belly as well as the dad doing the same thing.
Anyways, when those roos left the backyard after what seemed like another hour or so, that pretty much concluded all the picture-taking that I'd do on this day. The weather was also such that it was dumping fairly heavy rain and this time it was persisting!
Given this development, I now had it in my mind to try Clematis Falls once again first thing in the morning tomorrow. And given how that falls might turn out tomorrow, I might give Beehive Falls another go before driving south to Hamilton as well as Wannon and Nigretta Falls (both of which could use the extra help from the rain to keep flowing).
And with that, I now mentally had that plan ready to execute first thing tomorrow…
Visitor Comments:
Got something you'd like to share or say to keep the conversation going? Feel free to leave a comment below...
No users have replied to the content on this page