Day 8 (November 16, 2017 – Hamilton, Victoria, Australia): "24 Hours"
It was about 5:45am when I awoke to my alarm. It appeared that it had rained all last night so it was a little on the chilly side this morning. Apparently, the rain had let up as I didn't hear the sounds of water droplets hitting the roof as of this time so any hiking I'd be doing under such conditions wouldn't be as dangerous.
And with Julie still trying to shake off her cough and whatever flu she had contracted that seemed to refuse to go away, she slept in a bit.
We just had to be out of the unit by 10am so time was on her side to recover, pack, and have brekkie.
In the mean time, I was determined to hike to Clematis Falls and see if last night's rain made any difference as far as waterflow was concerned. Based on this morning's observations, that would also mean that I could even fit in a visit back at the Beehive Falls again as well.
Anyways, by about 6:15am, I had already put on my waterproof pants (just in case another downpour would happen) as well as carried my rain poncho in my pocket while also changing into my hiking boots. And so I was ready to go and out the door just as daylight was rapidly taking over from the darkness.
As I was walking towards the end of Warren Street towards the recreation centre oval, I saw the familiar herd of kangaroos grazing out there. They were already sensing my presence well before I even got towards the far end of the fence of the oval. So I quietly tried to walk towards the Clematis Falls Trail while most of the roos were on their hind legs watching my every move.
Once I was on the trail, I could see straight away that the path had a lot of mud flows on them from all the storm runoff. Other than that, the somewhat uphill hike continued just like it had yesterday afternoon except now there was only the silence of the morning broken by birdsongs and the odd kangaroo that I scampered away upon my approach.
Eventually, as I approached the familiar cove containing the waterfall, I could hear the unmistakable splashing sounds of falling water. And when I rocked up to the slippery rocky area at the apex of the hike, I could see the Clematis Falls making its presence known to me!
I promptly took photos in the somewhat low lighting as well as a video or two. However, it was then that I realized that I haf forgotten to bring my iPhone so there'd be no sharing of this waterfall in real time.
Nonetheless, I tried to capture this falls and examine it from as many different angles as I could before I had my fill and headed back down the trail back to our cottage. As I was making my descent, I heard a loud crack and rumble in the distance, and I concluded that it had to have been a rockfall or something, but I knew not where it was. I certainly didn't think it was the rubbish truck or something though I could be mistaken.
When I got back to the recreational centre oval, the group of kangaroos were now on the side of the field nearest to me. Again, they were watching my every move as I was slowly and quietly trying to get around the field while respecting their space. Some of them were still close enough to me that I could clearly see that quite a few of these roos had pouches with little joeys in them.
By about 7:20am, I returned to the cottage where Julie was already awake and in the process of both packing and preparing breakfast. At that time, I asked if she was close enough to being done to come do Beehive Falls with me, but she said that I ought to go out there alone.
So I grabbed my iPhone
, got the car keys, and promptly got into the rental car at 7:25am. And then I headed out towards the familiar Beehive Falls though given yesterday's experience, I was only going to take the unsealed Mt Zero Road back and forth since the Roses Gap Road and Western Highway approach wasn't any faster and was definitely longer in distance.
Eventually at 7:45am, I was back at the familiar Beehive Falls car park. There were a couple of kangaroos on the road near the car park and they hopped away the moment I got near the parking spots on the left.
The clouds in the sky were definitely obscuring the mountains that I knew contained the Beehive Falls, and with not much time to waste, I promptly walked with both the rain poncho and waterproof pants again onto the trail.
Aside from startling another pair of kangaroos right off the trail (which I didn't see until they hopped away), I was making quick progress. As the trail followed along the creek, I was encouraged by the sounds of rushing water. Boy, what a difference 24 hours made!
Indeed, I was able to see the Beehive Falls in the distance as well as an upper tier. This hastened my steps as I was quickly getting towards the bridge then right up to the near side of the base of Beehive Falls making its impressive drop.
I then took the next few minutes trying to capture as much of this Beehive Falls experience as I could, and I also made sure that the iPhone footage was being captured so it was ready to share when we were idling or something.
I saw that there were rock steps leading past the falls and further up the cliff away from the falls. I briefly followed this path until it reached a bit of a mini-switchback. That was my stopping point as it appeared that the trail kept going on, and it probably would make it up to the Briggs Bluff, which the signs had indicated was another 4km or so beyond the Beehive Falls.
After capturing more of the falls from this vantage point and back down near the cave again, I then quickly made my way back to the parked car. By about 8:45am, I was finally back in the car and started driving back to the cottage via the Mt Zero Road.
As I was driving on the fairly long unpaved road, there were at least 4 or 5 cars going north as I was going south. One of the vehicles was even a police car going really really slow. Even though I was going about 50-60km/h on the unsealed road, it wasn't clear to me if I was speeding or not.
Well, he didn't turn around or anything though I also wondered if he does one of the speed camera things and then inform the rental car company upon arrival of an infraction that would be imposed on me after the fact. Let's hope that wasn't the case.
Eventually at 9:10am, I made it back to the cottage. Now, there were a few kangaroos grazing in the yards of some neighboring properties on Warren Rd.
Regardless, I ate whatever was left of Julie's brekkie, and then promptly loaded up the car. And by about 9:30am, we were all loaded up and ready to leave the cottage.
Since we were headed to Hamilton while also targeting Nigretta and Wannon Falls, I figured that we had a choice of visiting Turret Falls or Kalymna Falls given all the rain we had gotten last night. I had originally planned to do both but with the redo of Clematis and Beehive Falls, I concluded that we probably only had time to do just one of the lesser Grampians Waterfalls (at least lesser in the sense that they weren't as reliable as neither MacKenzie Falls nor Silverband Falls).
So Julie suggested that we go back to the town centre and pick up a few more supplies, fill up on gas, and talk to the visitor centre.
And we did promptly that at 9:45am. Julie was busy doing the groceries, while I filled up gas on then stopped by the visitor centre. Inside the visitor centre, I came after a German couple who were asking about waterfalls. So when it came my turn, I asked the receptionist whether I should do Turret Falls or Kalymna Falls if given a choice.
Well, she assumed that I was after waterfalls in general and she pretty much gave me info I had already known about MacKenzie Falls and the attractions along the way. With a queue building up behind me, I didn't want to belabor the point that I had already been there yesterday and had no interest in going back there today.
So I politely thanked her for the info and the free map (though I didn't buy any of the more detailed brochures and pamphlets), and then rejoined Julie to pick up a few more of those Pureau containers at 5L a pop for nearly $6 AUD each.
When that was done, we got back in the car at 9:50am, and ultimately decided that we were going to do the Kalymna Falls since we missed it last time (due to the total fire ban closure). Besides, it was on my original plan whereas Turret Falls wasn't really. I wasn't sure if I'd regret my decision not to do both, but in any case, I didn't think Julie would be up for doing both.
So Kalymna Falls it was, and it was kind of on the way to Hamilton anyways (in a rather roundabout manner as it was closer to Moyston than Halls Gap).
As I drove out of Halls Gap to the east towards Ararat, the GPS then took me on some side roads that looked pretty sketchy. It eventually led me onto some closed off road, and I knew at that point that we were taken on another one of those GPS joyrides to who knows where.
After seeing on the map printout (which I should have consulted before listening to the GPS), I saw that we were supposed to get to Spears Rd from where we were at. And as we pursued that road, it turned out to have some rough spots where rocks were put in to prevent the road from getting too muddy where creeks or temporary streams could cross the road.
In hindsight, I should have stayed on the C222 towards Ararat before heading to the town of Moyston. Then from Moyston, follow the Moyston-Dunkeld Road before seeing the Kalymna Falls sign pointing west for 6km.
Anyways, we'd eventually make it the familiar road that would lead west towards the Kalymna Campground. The last time we were here, there was a gate blocking further progress due to the fire ban at the time (especially since the Grampians had a big fire there as well as the drought not helping matters).
Now, there was no such gate, and we proceeded west along more unsealed roads before reaching the dead-end where there were about 3 or 4 other cars there already. It appeared that there were campsites there, too.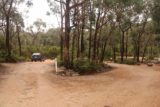 Anyways, we mercifully got there at around 10:35am, which was a bit later than I had hoped since I wanted to be done with the Kalymna Falls hike just in time to listen to Dr Karl. But now it seemed like we'd be lucky to catch any of Dr Karl by the end of this hike.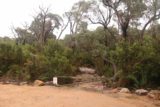 There was already the sound of rushing water as this campsite was near some kind of creek. I wasn't sure if it was the same creek that was responsible for the Kalymna Falls. For if it was, then that waterfall would be in great shape (I didn't remember what the falls looked like in my research).
After crossing some rocky ford (which was a fairly trivial crossing), we pretty much followed along a rough 4wd track. A gate saying something about a seasonal closure ensured no vehicles would be on this road anyways. But the wide track made it easy to follow. The only thing that I was a little worried about was the lack of signs indicating anything that had to do with the Kalymna Falls.
Well after around 100-200m or so, I finally saw a sign saying Kalymna Falls was another 750m further. It was just as the road was starting to go uphill. And as the differing paces of Julie and I were more amplified on the hills, we wound up getting really separated by the time I made it up past the next 4 or 5 sections of uphill along the way.
Given all the uphill hiking, I had a feeling that Julie's lungs would be burning her though I was wondering if the fresh air out in the bush was helping her rather than hurting her (as much as she wanted not to do any physical exertion in her state).
Eventually, I got to a signed spur saying that the falls was about 0.1km away. And sure enough, I walked through the narrower bush path that was a branch off the 4wd road. When I got to the falls, I could see that it had a fairly healthy flow as the falls had split into a pair of segments towards the bottom.
What this falls had going for it, however, was the reddish color of the underlying cliffs. That kind of made this falls stand out against Clematis and Beehive Falls. But I also knew that if not for last night's prolonged rain, there'd be no way that the Kalymna Falls would be flowing.
As Julie joined me in taking pictures and videos some 5-10 minutes after I had first arrived, we took the new few minutes documenting the experience before heading back to the car.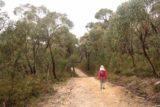 Again, on the return hike, Julie went at a slower pace while I let the downhill momentum from the now-mostly-downhill hike do more of the work for me. So that helped to speed things up on the return hike, and even during this time, there was a bit of sun peeking through the clouds.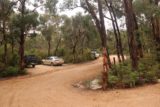 After startling another kangaroo by the trail as we were getting back to the car park, we'd finally recover the car by 11:50am. It was just in time to listen to the last 10 minutes of Dr Karl, and I resigned myself to listen to the podcast at first chance when I get back home.
So we drove off by heading east towards the Moyston-Dunkeld Road. Once we got there, we saw a brown sign pointing the way we came saying that the Kalymna Falls was 6km back the way we came. It was further evidence that we should have driven to Moyston first then took this road. Anyways, we headed south in the direction of Moyston on the still gravel road, but at least it was wider and smoother.
The road became paved once we got to an intersection with Yarram Gap Road. Then, we cut back west between some cow pastures before re-entering the Grampians and the Grampians Road. Then, we continued south along the Grampians Road as we entered the town of Dunkeld.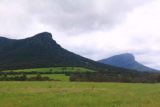 As we were leaving Dunkeld and heading towards Hamilton, I couldn't help but notice some interesting mountains. There was a scenic lookout that we took advantage of, where signs pointed towards Mt Sturgeon and Mt Abrupt. So I made a brief stop there before continuing towards Hamilton. There happened to be a lot of big ants where we stopped the car though and that kept Julie inside the car.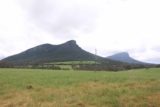 Eventually at 1:15pm, we made it to the Lake Hamilton Village Motor Inn and Caravan Park. We promptly checked in to a pretty humble accommodation that was tiny but self-contained. Even though we were only here for the night, it had a kitchen, and we were intending to eat in again by self-cooking soups to help with Julie's persistent cough.
Upon checking in, the proprietor suggested to Julie that we stock up on supplies in town since everything was much cheaper here than the Great Ocean Road. It was sound advice that we would capitalize on once we dropped off our belongings in our room.
By about 1:40pm, we were back in the car, and 15 minutes later, after wavering between a couple of restaurants, we finally settled in on this spot called Tosca Browns. That was where we had ourselves some kind of pulled pork brisket tacos and a duck salad.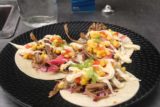 Everything was wet in town, which suggested that this area also got a pretty decent dose of rain like we did back at Halls Gap. There were still clouds around us with some sun trying to break through.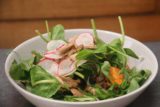 The lunch was pretty decent and simple, and by 2:30pm, we recovered the car, then went to a nearby Coles for the grocery run.
At the Coles, we stocked up on a lot of stuff from kefir to bacon to chicken drums to fruits and more. At the end of the run, we wound up spending over $80 AUD on groceries, but Julie said that we were buying food for multiple meals so it was still far cheaper than eating out which can easily match or exceed this amount on just one meal for two.
We also considered picking up more of the Pureau water, where they were selling 10L packages at around $9 AUD, which in hindsight, we should've waited to buy here instead of Halls Gap, where they were selling 5L packages for about $6 AUD.
I started to worry that we might not run through all of these things by the time we'd get to Melbourne, where we wouldn't have a kitchen as we were staying there on points. So that meant we'd only have tonight, Port Campbell, and Apollo Bay as the only remaining opportunities to finish consuming our groceries, but tomorrow was Julie's birthday so we'd likely be going out to eat something fancy.
By about 3:15pm, we were back in the car. Then, we briefly stopped at Harvey Norman's to see if they carried any Cannon lenses to replace my somewhat malfunctioning one. But it turned out that they didn't have my general purpose 18-200mm lens. They only had limited zoom ones of 55-250mm and 18-55mm.
So I resigned myself to sticking with what I had until we could find a camera shop in Melbourne since we'd have four nights over there.
By about 3:30pm, we were done dropping off our groceries in the fridge of our unit, and then we headed west towards the Nigretta and Wannon Falls, which were two casualties of the drought-plagued trip 11 years ago. I was anxiously wondering if all the rains that we had experienced in the last 24 hours would have revived the Wannon River and hence these waterfalls.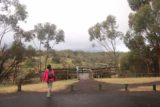 So as we took the Glenelg Highway west, it didn't take long before we saw a sign pointing the way to Nigretta Falls. So we went there first, and eventually pulled up to the large parking circle and observation deck area at 3:55pm. There was one other van here and a lady already staring at the falls on the observation deck.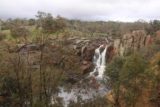 When Julie and I joined her on the lookout deck, we could clearly see that the Nigretta Falls was flowing nicely. Sure there were a lot of bare rocks flanking the falls, suggesting that in even higher flows, the falls could be wider. But after the trickling experience from 11 years ago, I was glad to finally see this falls the way it was supposed to be seen.
Now, it was worth going down the steps closer to its base, where we saw another couple down there. However, we also noticed that there were dark menacing clouds appearing to head our way so we had to make haste to experience this falls (as well as the Wannon Falls later on) before we'd get dumped on.
So after experiencing the observation deck, we went back to the car to pick up rain ponchos. But the sun was still out so after donning it just as it was starting to sprinkle, it was also getting a little hot in there.
Next, we went down the steps and experienced the bottom of the falls. There was a bit of that familiar foul smell to the water, and we suspected that it must be agricultural runoff. Even the water itself had a bit of a brownish look to it, and the giant plunge pool had a bit of that brownish foam as well. Julie said it reminded her of the smelly water back at Paradise Falls and I could see where she was coming from. In fact, it was similar to our Ingalalla Falls experience just a few days ago, where we also suspected agricultural runoff pollution.
I think you'd have to be nuts to even consider going in the water even if it was hot. And that was a shame.
So we documented the falls, then promptly went back up the steps to the car park. I made one last look from the observation deck where the dark clouds were now seemingly right above the falls through my view finder.
We were back in the car at 4:20pm, and it seemed like the dark clouds didn't quite dump their load on us during our visit to Nigretta Falls. But now we had to drive a little further west towards Wannon Falls and deeper into the apparent mean-looking squalls.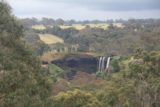 By about 4:30pm, we stopped by the alternate view of Wannon Falls (there was a sign saying something about the Thomas Clark View Park), and from there, I could see in the distance that the falls definitely had a healthy flow on this day.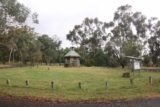 So we hastily made our way over to the main picnic area and wound up at the Wannon Falls Picnic Area at 4:40pm. At first, we were the only people here. And so we made our way down the twisty gravel path before reaching the observation deck with an angled look right down at the gorge and the angled view of the multi-segmented Wannon Falls.
This falls was also trickling and disappointing the last time we were here, but now it really looked like it had a healthy flow. So clearly the rain helped. Like the other Grampians waterfalls, I wondered if this falls would have been disappointing or dry had it not been for the rains. But whatever. We took what we could get.
There was a sign saying there was no access from this area, which I supposed they meant there was no way to the base of the falls from here. I wondered where it would be possible to get down to the bottom or even to the apparent lookout on the other side of the river.
And since it was starting to rain again just as we were taking pictures and videos, we had to cut our visit short as we didn't come as prepared with rain ponchos on this visit as we did for Nigretta Falls. We did manage to fit in one selfie of the two of us as the rain was coming down.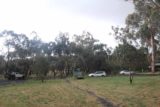 Thus, we wound up only spending around 15 minutes away from the car, and by 4:55pm, we were back in it just as the rain really started coming down. It was especially the case when I drove across the Wannon River back on the Glenelg Highway and tried to see if it was possible to drive towards the other lookout across the river.
But seeing that there was no signage and there were lots of signs saying there was no thru road, I turned around and headed back towards Hamilton through the squalls and then through the momentarily calmer weather when we made it back into town.
By about 5:30pm, we made it back to the cabin, where Julie went in first just as the rain started to fall again. Since I had to bring stuff like my camera and notepad and stuff, I decided to wait it out a little bit while listening to Hack (about speaking with an arsonist) as the rain was coming down harder and harder. In fact, this squall seemed persistent and it wouldn't be until 20 minutes later when I'd finally rejoin Julie in the room.
The rest of the evening was spent cooking, watching cooking shows, and blogging. This was amongst the advantages of eating in, where we not only saved time by doing stuff we had to do every evening in terms of blogging and getting settled (as we wouldn't be losing 1-2 hours sitting and waiting for service at a sit down restaurant), but Julie could also control the meal as she knew what she was putting into the food (which was going to be chicken soup with lots of veggies).
It was simple yet it was also satisfying in its own little way. Not every night had to be an eating out night (like how we used to do it), and I guess over the years as we became more aware of the crap we were putting in our bodies (especially when eating out), we didn't mind not having to spend lots of money and time eating out all the time.
As we were doing this, there were more moments where the skies really dumped its load, and we could hear the thuds of water raining down on our unit (and other units). Boy were we glad we were out of the these elements, but tomorrow we were heading to the Great Ocean Road, where we were concerned about rain in the forecast for the next few days.
We'll just have to play it be ear as usual and see what Nature throws at us…
Visitor Comments:
Got something you'd like to share or say to keep the conversation going? Feel free to leave a comment below...
No users have replied to the content on this page