Day 9 (November 17, 2017 – Port Campbell, Victoria, Australia): "Squall Factors"
It was about 5:45am when we awoke. When I looked out the window, I thought I saw a big patch of blue skies. Julie was still hacking, which was not good considering it was her birthday (and considering that she has had this thing since Halloween).
So we spent the next 2.5 hours or so preparing breakfast while also loading up the car. With all the groceries that we had bought yesterday, this morning's brekkie was another opportunity to consume the bacons, fruits, and kefirs that we had bought at Coles yesterday.
After the very filling breakfast, we also had to clean the dishes (there was no dishwasher so we had to do it the old fashioned way – by hand) then take out the trash.
So it wasn't until about 8:15am when we finally left the Lake Hamilton Village Motor Inn and then headed towards Warrnambool (a town I'd always associate with Tom and Alex from Triple J). However, in this instance, we wouldn't be lingering in the town. Instead, we'd be using that town as a launching point to get to Hopkins Falls again.
The last time we went there, the falls was flowing, but it wasn't flowing well. This time, however, figured to do a bit better given all the rain that we had received the last couple of days.
As we were driving south from Hamilton, we could see that we were in a big patch of blue skies, but we were headed towards sections where the clouds looked menacingly dark. I had a feeling that we might have to contend with foul weather once we got to the Great Ocean Road, which was non-ideal.
We had to stop on one occasion where we pulled off the side of the road and let Julie go pee since there were no restroom facilities and she had to go really bad.
Once we got to the A1 and followed it into Warrnambool, we then continued on that highway (aka the Princes Highway) and eventually turned left when we spotted Hopkins Falls signs indicating that it was 11km inland. We then followed that path towards the Hopkins Falls Road, and followed that road for a few more minutes before reaching the familiar car park for the Hopkins Falls.
We got there at about 9:50am, where there were a handful of cars parked here though it wasn't at all busy.
It was actually a bit on the bright a sunny side here, even though this was one place where I didn't mind the clouds blocking the sun. It was the Great Ocean Road where we wanted it to be sunny. But alas, Nature often doesn't work based on our desires. We take our opportunities where we can and play the hand that we're dealt the best way we can.
Anyways, we wound up experiencing the falls from three different viewing areas. The one nearest to the car park was actually above the Hopkins Falls. The next viewing deck gave us a top down profile view of the falls. The last viewing deck was near the base of the falls. Two of the three viewing decks had these interesting Fotopols, which were basically poles built as part of the infrastructure here to act as tripods for those selfies or long exposure photos using cameras that could take advantage of it like DSLRs.
As for the falls itself, it definitely had more satisfying flow than the low segmented flows that we had seen 11 years ago. It had enough flow that I would consider giving it a 2 or 2.5. It was also a lot warmer on this day than it was 11 years ago when it was very cold and windy.
By about 10:35am, we were back in the car. We indulged a little bit for a fruit break of some ripe nectarines and cherries that we had bought on separate grocery runs up until this point. Though with the warmer day, we were concerned about the heat causing the food to spoil sooner and the plastic to leach into the water.
Anyways, at 10:40am, we headed out towards Port Campbell while looking for Great Ocean Road stops along the way.
The first stop was at The Grotto, which was a signposted turnoff. We got to the car park at 11:30am, and then proceeded to walk on the trail and boardwalk that led down some steps towards an impressive arch with nice blue green water in the ocean when the sun was out.
The last time Julie and I were here, it was bitterly cold and windy, and the arch area was being blasted by sea spray so it was hard to take photos from down there. This time around though, the weather was a lot calmer even though storm clouds were threatening.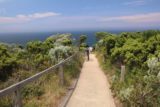 There were quite a few people on this excursion, and it had that feel that all along the Great Ocean Road, it was going to be like this or worse. Still, we got our shots when we did, and then returned to the car at 12pm.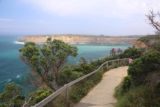 Next, we drove to the next stop which was The Arch. At first, I didn't remember whether we did this one before, but when we walked down the ramping trail and boardwalk to the overlook, we saw the namesake arch, and it looked like something we definitely did before.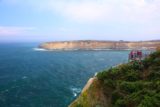 This time around, however, the sun was hidden behind the clouds and there were too many people at the viewing deck to seize the opportunity when the sun did make its brief appearance.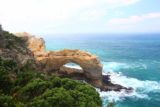 So by 12:15pm, we were back at the car, and then proceeded to drive into Port Campbell where we were hoping to get an early check-in as well as an early lunch.
Julie was also hoping that she could pick up some manuka honey to help fend off this persistent cough and flu. Unfortunately, this was something we could have nipped in the bud back at home when Julie first came down with the symptoms.
But it was only during this drive along the Great Ocean Road that she realized that she should have taken some manuka honey at the outset.
Well, when we found the centrally-located Sea Foam Villas, the proprietor said that checkin wasn't until 2pm. However, he did mention that it was possible to buy the manuka honey in Timboon, where there was a pharmacy as well as a supermarket.
So since we couldn't check in, we first checked out Port Campbell's Foreshore area and then found this place called Forage for lunch. It had a nice view towards the Foreshore, and we also ordered some fresh grilled local fish (skate) as well as an abalone salad.
It was a simple brekkie though we did spend around $50 AUD for the meal.
When we were done at 1:20pm, we then drove north towards Timboon. It turned out that we went into the dark clouds and it was raining somewhat in the Timboon area.
At 1:40pm, Julie went into the IGA over there and picked up the manuka honey. With the mission accomplished, we then promptly drove back to Port Campbell five minutes later. As much as I wanted to have the Timbook Ice Cream, I refrained and didn't want to torture Julie on her birthday like that since she couldn't have anything with sugar, which would feed both the virus as well as her SIBO.
Eventually at 2pm, we finally made it back to the Sea Foam Villas, and we then promptly checked in and put our stuff in the room. Twenty minutes later, we were all settled.
The unit was long and spacious. The entrance door was actually facing the hidden car park area while the sliding door faced the inlet or "Foreshore" for Port Campbell. We knew that this unit wasn't cheap, but the upstairs ones were probably even more expensive as they probably had more elevated views of the inlet as well as parts of the town.
By about 2:20pm, we were back in the car ready to go do some touring of both the Twelve Apostles and the Loch Ard Gorge. Unfortunately, the skies looked menacingly dark as we were continuing east. The rain didn't seem to fall just yet but the further we went, the deeper into the darkness we were going.
At 2:35pm, we entered the very busy car park for the Twelve Apostles. We had skipped the Loch Ard Gorge thinking that we'd come back there later. And just as we started to get out of the car, we could see in the distance flashes of lightning and the roar of thunder.
Luckily for us, the gap between the lightning and the thunder meant that the strikes weren't close to us. Still, the moody and ominous clouds didn't help our piece of mind. And even more amazing, the crowd at the visitor centre and car park weren't deterred by the threat of the weather.
As we walked around the visitor centre and onto the paved walkway leading towards the Twelve Apostle lookouts, there were still more people. It got even crazier when we got to the first of the lookouts along a boardwalk that showed that classic view of the sea stacks. Even with the cloudy skies, the moody and threatening weather still didn't take from the beauty of this place.
Of course, trying to get the shots where you can even though there were lots of space along the boardwalk was difficult in itself. There were several busloads of Chinese tour groups as well as lots of individual parties. It certainly wasn't a relaxing and peaceful experience at this time. And we could see large cloudbursts not far from away that threatened to dump onto us as well.
Once we had our fill of the initial views, we then followed the boardwalk towards the most distant one atop the so-called Castle Rock. The rain was starting to fall in large droplets, and it was enough for Julie and I to bring out the rain ponchos, but just as soon as we were in the unflattering rain gear, the rain appeared to let up.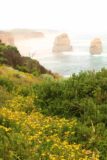 Anyways, like with the initial views, the views at Castle Rock looked just as crowded. Even the whole walkway had lots of people. Indeed, the tourist crush was on, and perhaps we were reminded of just how chaotic and tense the experience had to have been last time except now was even more amped up and crowded than before.
And what was even more annoying was the behavior for the sake of social media as now you had lots of people hijacking the choicest spots so they could try to make that perfect shot to share or whatever in that vain act of narcissism and self-absorption. Sure, we got in the act when we tried to take our awkward couple shots, and I guess that temptation of showing off to friends and family was ever more prevalent now than we had recalled in when we were last here 11 years ago, which was before Facebook was even popular in the public.
In fact, the more Julie and I thought about it, most of our heavy traveling occurred in the time period between 2006 and 2010 (basically before Tahia was born), and most of that time was before Facebook. So even though the popular spots like this one were crowded and busy with tour buses, it didn't seem as amped up as post social media onset.
Regardless, when we rocked up to the Castle Rock, we basically had to squeeze our way onto the limited circular real-estate. Along the way, we took a few more views in both directions of the peninsula where a couple more sea stacks could be seen looking east as well as a few more awkward views of a large sea stack fronting the rest of the familiar "apostles" could be seen looking west.
Eventually, with a little patience, we managed to get our awkward selfie shots and even perused the platform given how high the wooden fencing was at this spot.
After having our fill of this spot, we then made our way back to the car park and recovered the car at 3:30pm. Amazingly, the bad-looking storm cell happened to go around us and it appeared like it was starting to break up (though you never really know what was happen next). I had a gut feeling that perhaps this spot might be worth coming back to at sunset for an amazing money shot experience.
About 10 minutes later, we then showed up to the busy Loch Ard Gorge car park. Like with the Twelve Apostles, there were tour bus crowds here. But unlike the Twelve Apostles, the crowd seemed to be a little more dispersed as there were more places to walk.
Given that our focus now was on rekindling the experiences from before (Julie didn't remember much of the first visit) before going back to Port Campbell for an early dinner, we decided to visit the walkways to the left instead of going to the Thunder Cave section to see what was going on over there.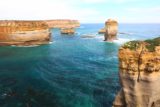 In my memory, that Thunder Cave area had a narrow sea channel as well as some more hard-to-photo arches and interior caves, so perhaps that could be skipped.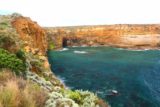 Regardless, we did the lollipop loop walk in an anticlockwise direction. The first lookout on the stem was towards a pair of sea stacks in a larger inlet. It turned out (after looking at the post cards later in the afternoon) that those sea stacks were what was left of the so-called Island Arch. In fact, I swore that in the past, we managed to take photos of that arch before its apparent collapse.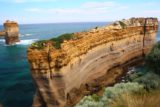 Indeed, we were seeing the processes that formed the sea stacks over the years and that would continue to make the sea stacks disappear. Who knows how much longer the rest of the sea arches in this area will last?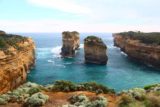 We'd eventually get to a couple more lookouts looking east towards the so-called Razorback, which was an elongated sea stack with mini arches or peep holes up top and an imposing sea wall down below. Then, we got to a busier spot with a view to the left of the Razorback where there was a large calmer body of water and a cave beneath the cliffs.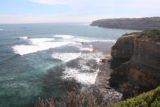 Eventually by about 4:05pm, we were back in the car just as the weather appeared to have broken up even more. In fact, as we were headed back to town, we made a brief stop at an unsigned scenic lookout near the outskirts of Port Campbell at 4:15pm. We were kind of looking against the sun and it was along the coastline (instead of looking down at the town itself, which was disappointing), but it wasn't what we thought it would be so we didn't linger for long.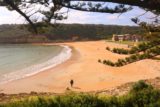 At 4:20pm, we were back at the room to get dressed in more city attire, and then go dinner at the 12 Rocks Restaurant, which was on the opposite corner of the roundabout where the Sea Foam was.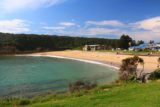 It turned out that the restaurant didn't open for dinner until 5:30pm (we had rocked up at 4:35pm) so we killed some time by buying a few more things at the grocery store next door (mainly strawberries and snacks for Julie) before returning to our room just to chill out some more.
By around 5:25pm, we went back to the restaurant to claim one of the unreserved window seats, and pretty much be one of the first (if not the first) people to place our order at the counter.
We wound up getting some kind of eye fillet with chips and steamed veggies as well as a lamb cutlet (basically a rack of lamb) over Greek salad. When the food showed up, we had a much better experience as well as taste in this spot than at Aurora restaurant at Kingscote in Kangaroo Island. That kind of restored our faith in choice dining spots (not that there was that much of a choice in town to begin with), and gave us the confidence that the sticky date dessert was worth it.
Well, after the dinner was over at 6:55pm, Julie went back in the room while I was racing the next dark ominous storm cell that was headed over town. I was a little disappointed that none of the cheaper options of trying to score some Timboon Ice Cream was available, and I couldn't justify spending another $12 on 3 scoops of ice cream at the 12 Rocks restaurant for essentially a second dessert.
Anyways, I was headed towards the jetty where the bright afternoon sun was out in full force, but the dark clouds were closing in rapidly. Just as I made it to the jetty, I could already feel some droplets falling around me as well as the roar of thunder.
But that didn't stop me from taking scenic shots of the waves on one side and the scenic foreshore inlet looking back towards town with the dark clouds brooding overhead. As the rain was starting to fall a little harder, the folks that were fishing here started to move from their spots. One dude thought it was amusing to try to scare me just as I was busy taking photos much to the amusement of his friends.
I smiled along and just let it roll off me as it was an obvious dickhead move, but I wasn't interested in being an equal smart ass nor in a violent mood either (not that that would have been a smart move as it would have been a dozen or so blokes to just my lone self).
As the rain was coming down a bit more, a rainbow was arcing over Port Campbell and I tried to stick around as long as I could before my street clothes were starting to get a little wet from the rain. So I hastily made my way back up to our room just as the downpour was about to happen, but when I got back to the room at 6:55pm, the downpour wasn't as bad nor as long as I had anticipated.
So with Julie trying to rest on the couch and conk out, we then spent the next hour or so chilling out in our room some more. Eventually by about 8:30pm, Julie noticed when we came around that there were nice sunset colors as the clouds were now exhibiting purples and pinks.
When I noticed what she was noticing, I sensed that the opportunity to really capitalize on the colorful scene had mostly passed, but that didn't stop us from walking out to the jetty anyways. It was a little on the chilly side when I came out there unprepared, but we at least shared a few more moments of the much quieter and more romantic scene making us glad that we chose to stay at Port Campbell for the night and not try to push it by staying at say Apollo Bay for two nights.
The only regret I had upon seeing the beauty of the moment was that we weren't back at the Twelve Apostles at this time, where the sunset would have been real magical there (assuming there wasn't some other storm cell in that direction though I didn't see clouds that way from what I could tell). In my younger days, I'm sure I would have found a way to get out there (and Julie would have come along), but in her condition, she wasn't feeling up to it. So that kind of made it harder to be in the moment.
Regardless, when we returned to our room, we were channel surfing a bit as we watched Passengers on TV and just enjoyed each others' company, and I guess it was a relaxing and low-key way to spending Julie's b-day together. It was too bad she was still struggling with the cough, and sure hoped that her body could fight off this bug as she was now going on almost three weeks since she first had symptoms on the day after Halloween.
And with that, we wound down the night and slept a little bit late. Tomorrow, we would go back to waterfalling in the Otways. So hopefully, we could still have a decent brekkie, but we'd have to get up and out of here to ensure we wouldn't be missing out on the planned excursions. We'll just have to see based on Julie's mood and condition though…
Visitor Comments:
Got something you'd like to share or say to keep the conversation going? Feel free to leave a comment below...
No users have replied to the content on this page