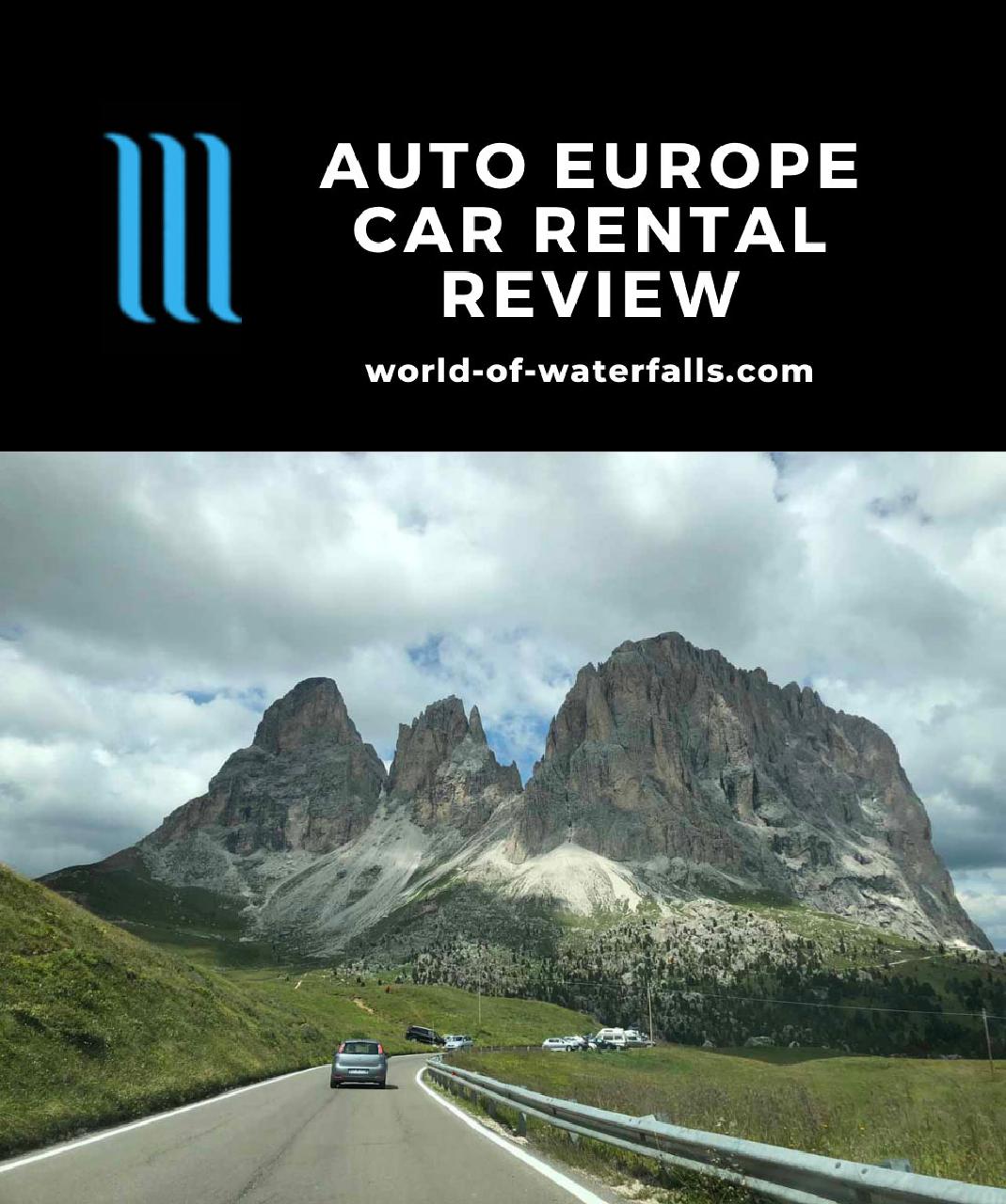 Generally, we're taught that it's better to do business directly with the person you're dealing with and cut out the middleman. However, in the case of international car rentals in Europe, we typically make an exception to this rule. More specifically, we would typically book our rental cars through Auto Europe, and in this in-depth Auto Europe Car Rental Review, we will explain our reasons for doing this.
We've had several experiences with Auto Europe. For example, between 2011 and 2022, we have rented a car through Auto Europe on five of our seven trips to Europe. This included long-term rentals in Italy/Switzerland in 2013, Spain in 2015, Germany/Austria in 2018, Sweden/Norway in 2019, and Iceland in 2021 (the latter of which was a makeup for the cancelled 2020 trip due to the coronavirus pandemic outbreak).
As a result, we will share details from our lived experiences in renting a car through Auto Europe. Through these experiences, perhaps you'll see why we tend to trust Auto Europe for any of our waterfall-themed trips in Europe.
What Is Auto Europe?
Auto Europe is a rental car consolidator operating in Europe.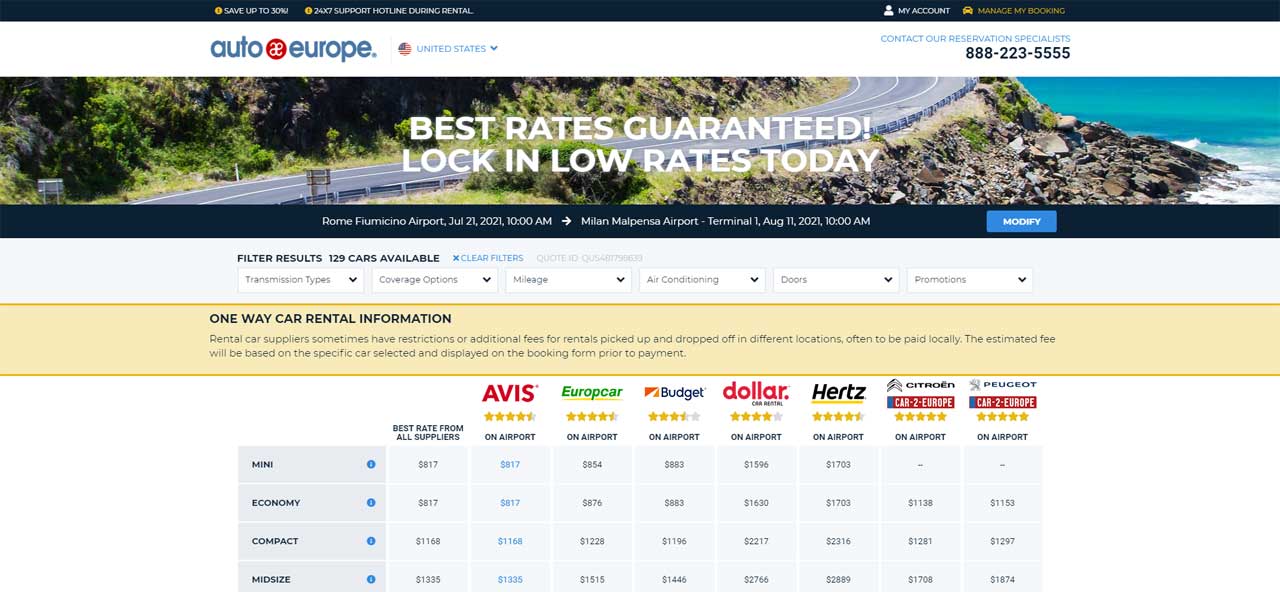 This means that they act as a middle-man for booking rental cars as they "consolidate" or pool the inventory of rental cars all over Europe typically at a pre-negotiated or bulk rate.
By doing this, Auto Europe gives the buyer or renter a larger selection of rental cars to pick from at the lowest prices possible.
On the flip side, rental car agencies have some degree of guaranteed business while buffering themselves from the individual headaches that each prospective buyer or renter can present to the rental agency itself before even making the booking.
That said, this middle-man role assumes a certain volume of bookings will be made so it does come with a degree of risk on their end should their procurement decisions not reflect the reality of actual demand for bookings.
Nevertheless, you can see that Auto Europe does more than just be an online booking search engine where they merely present booking options and nothing more.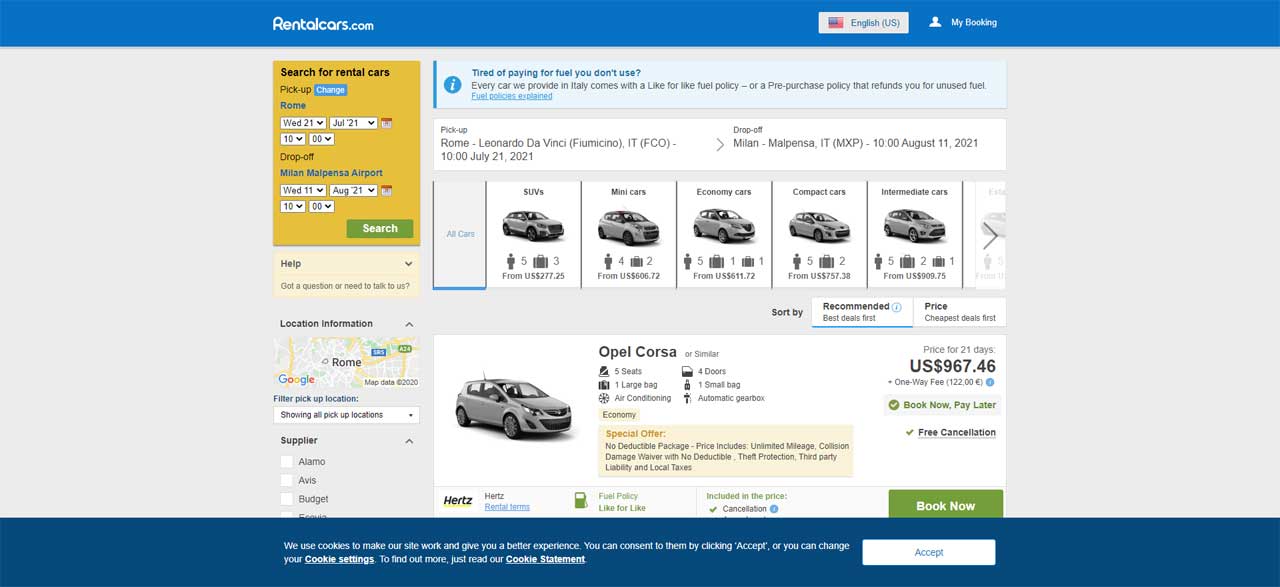 Examples of online booking search engine-only companies include rentalcars.com, expedia.com, or AAA.
Why Book A Rental Car (Or Care Hire) Through Auto Europe?
It's natural to ask why would we want to book a rental car with a rental car agency consolidator instead of booking directly with the rental car agency of choice.
So we've highlighted our top four reasons below.
1. Auto Europe Lets Us Book Rental Car Insurance Without Deductibles
Generally in the USA, if we purchase the collision damage waiver (CDW) through the rental car agency, this would absolve us of any financial responsibilities (provided the damage to the rental car isn't caused by violating the terms of the rental).
We delve into what the CDW is and why we consider paying more for it in this article so we won't go deep into this topic here.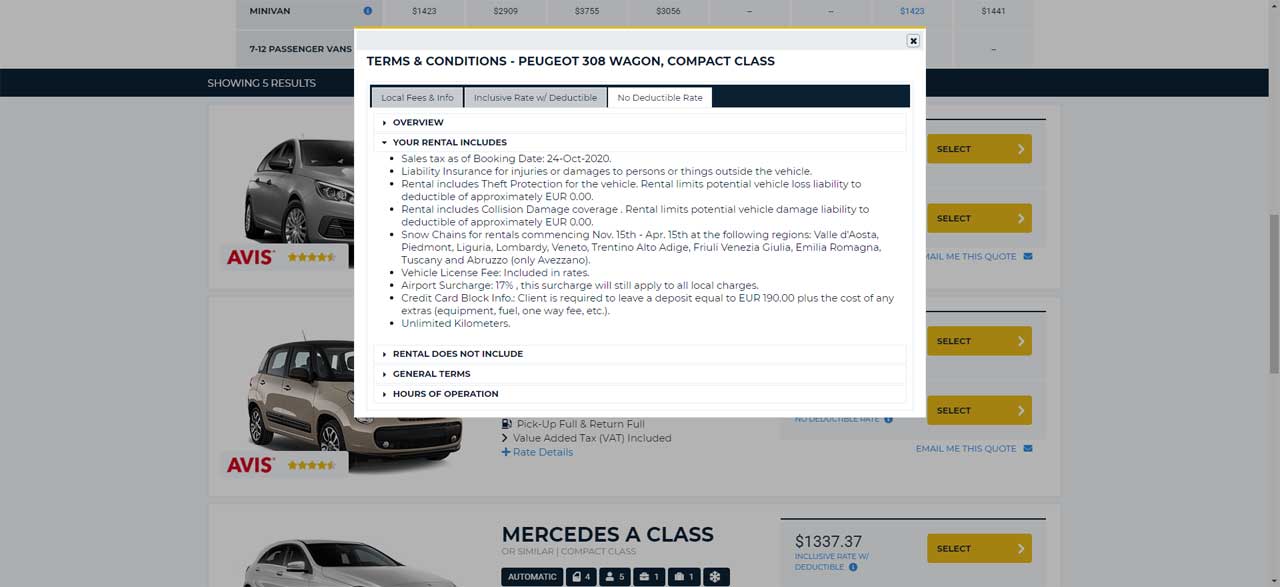 In any case, in Europe, the availability of the deductible-free CDW has been hit-or-miss if purchased directly through the rental car agency, and our experience has been that it typically involves some form of deductible.
In other words, we'd have some out-of-pocket financial responsibility for a portion of the damage to the rental car through this deductible.
However, when we book through Auto Europe, we always look for the all-inclusive, zero-deductible plan where it's available (some places like Iceland may not have this option).
We do this primarily because it saves us the hassle of trying to submit a claim and collect reimbursements through the credit card company's insurance.
By the way, our primary auto insurance policy won't cover overseas rentals anyways, which is why I don't bother to go any further into this option.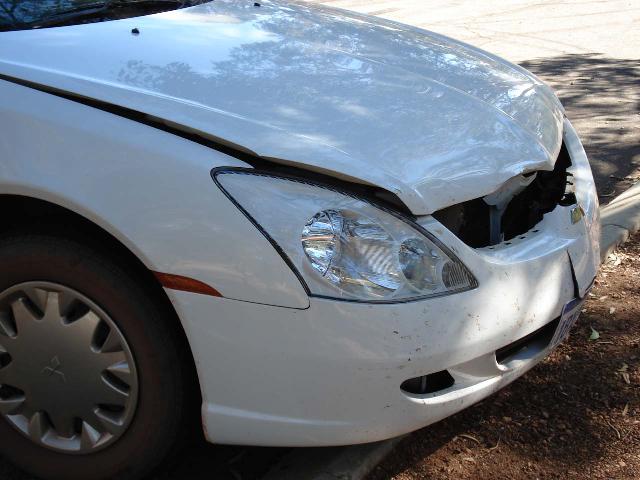 In the past, we've had a two-month ordeal to resolve such a rental car insurance claim issue over a kangaroo-collision incident in Australia in 2006, which involved many international calls.
We've also had to spend two months to resolve a different claim concerning windshield and bumper damage from road debris on the US Highways on our Rocky Mountains Summer Road Trip in 2020.
So if we've had this much difficulty dealing with rental car insurance and agencies where English is the main language, can you imagine how difficult it would be to resolve such claims on overseas calls (especially if there's a language barrier)?
Indeed, we've been saved on several occasions where we purchased the all-inclusive CDW through Auto Europe.
That said, the one instance where having the CDW included on our Auto Europe voucher saved us was on our four-week road trip throughout Spain in 2015.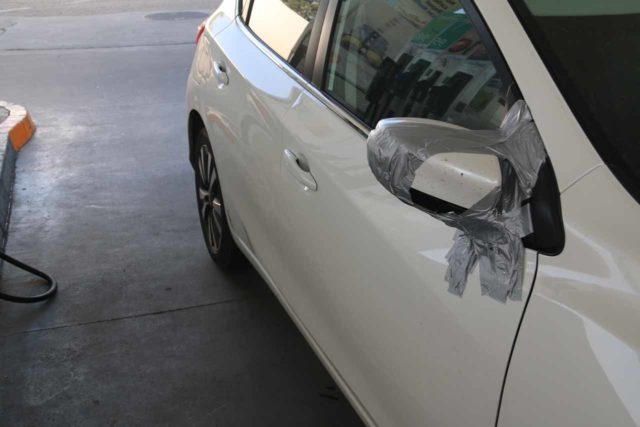 On that trip, we broke a passenger-side mirror in a tight parking lot in Cazorla and got a replacement rental car when we finally got a chance to visit a large city like Cordoba.
Later on in that trip, we got proactive when we saw that the tires were so bald that we didn't feel safe driving into the Pyrenees with them.
Thus, we worked with the rental car agency with respect to replacing those tires before we were back on the road again.
And after we returned the rental car in Barcelona, we were never charged more for any of these services done.
Conversely, on a separate rental in the UK in 2014, we booked directly with Europcar (not through Auto Europe) and wound up having to pay out-of-pocket on a tire repair incident when the tires were flat in North Wales.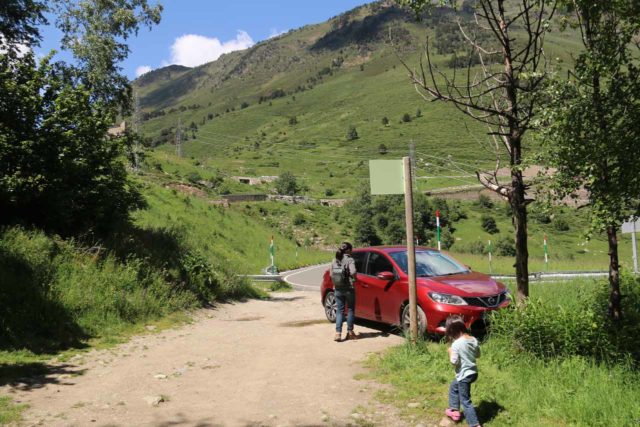 We also nearly got nickel-and-dimed when the rental agency wanted to charge us for picking us up and dropping us off at the Bath Train Station (which was several miles from their garage).
Fortunately, they decided not to spring this unexpected charge on us, but that taught us that we really needed an ally when it came to rental car issues like this, and dealing with the agencies directly might not be to our advantage.
2. Auto Europe Has An Agent/Operator Available By Phone In The USA 24/7
When dealing directly with the rental car agency, there's not always a fluent English-speaker immediately available so it can be difficult to communicate nuances that result in miscommunications and misunderstandings.
Moreover, local rental agencies may have erratic hours so making calls to them would involve listening to answering machines in a foreign language.
This was exactly what happened to us on our Spain 2015 trip when a ferry from Morocco to Algeciras, Spain was delayed by at least an hour.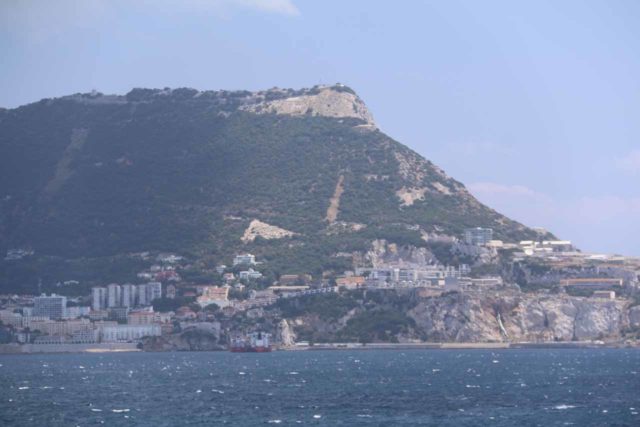 So when we finally made it to the Europcar Rental Car Agency near the ferry terminal, they were closed for siesta on Saturday afternoon and wouldn't re-open again until Monday morning.
Since we had accommodations and itineraries pre-booked, we couldn't afford these two days of unexpected losses and disruptions.
After futile phone calls to Europcar's answering machines in Spanish, we finally remembered to call Auto Europe since we had booked this rental through them.
Keep in mind that I took four years of Spanish in High School and it still wasn't good enough to fully comprehend the recordings that we had to listen to over the phone.
Anyways, after getting in touch with Auto Europe where we spoke with someone in Texas, he then eventually went behind-the-scenes to book us a replacement rental at an airport in Malaga, Spain (which was still open on Saturday afternoon).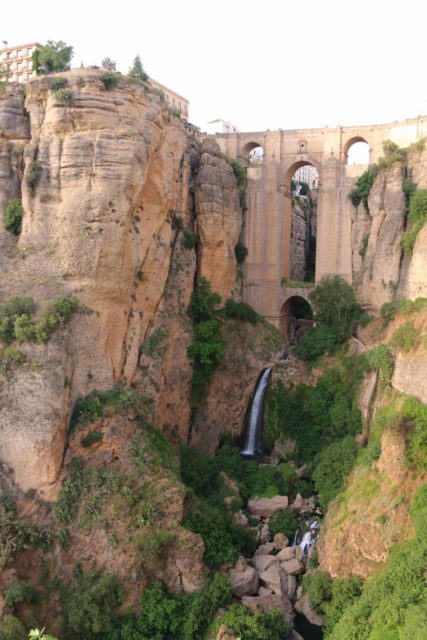 With this information, we then booked a long-distance taxi (an out-of-pocket but reimbursable expense through Travel Insurance) to collect the rental car at that airport office in Malaga.
And from that point forward, our month-long self-driving trip throughout Spain was salvaged.
This would not have been available to us had we booked directly through Europcar.
In fact, without Auto Europe's assistance in this case, we likely would have had to book two nights stay in Algeciras as well as eating the no-show costs of our accommodations and plans from the two days lost while waiting to pick up our rental car.
3. Auto Europe Can Act As An Ally In Disputes
Even if we think we're covered with CDW and booked through Auto Europe, sometimes there are disputes that arise that could never be anticipated.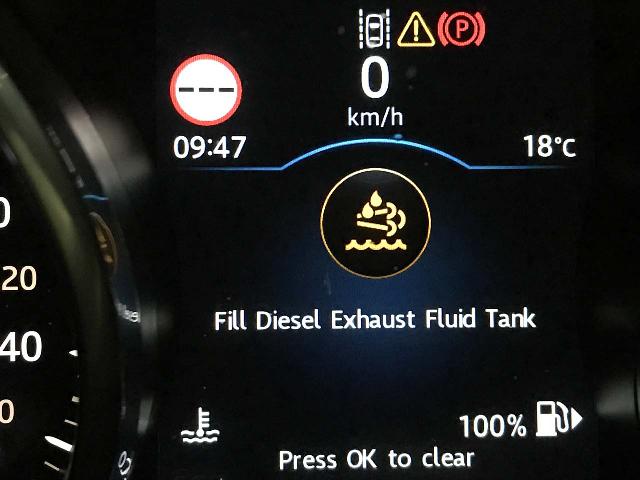 Case in point, on a five-week rental in Germany and Austria in 2018, we actually had to perform car maintenance on a diesel-fueled vehicle that was assigned to us.
It started with a warning sign about the diesel exhaust fluid needing to be filled or else the car wouldn't start, and this was not even two weeks into this rental!
You can imagine our confusion considering we weren't familiar with the maintenance of diesel vehicles, and we even got bad advice from the local rental agency in Salzburg suggesting that we can ignore this message and keep driving.
However, we eventually acted on our instincts to address the warning message and take the rental car to the Jaguar dealership in Salzburg (we were assigned a Jaguar).
After finally getting the issue properly addressed, we paid about 125 Euro (about $150 USD at the time) out-of-pocket for the service, and we were told by the rental car agency that we'd be reimbursed upon returning the car.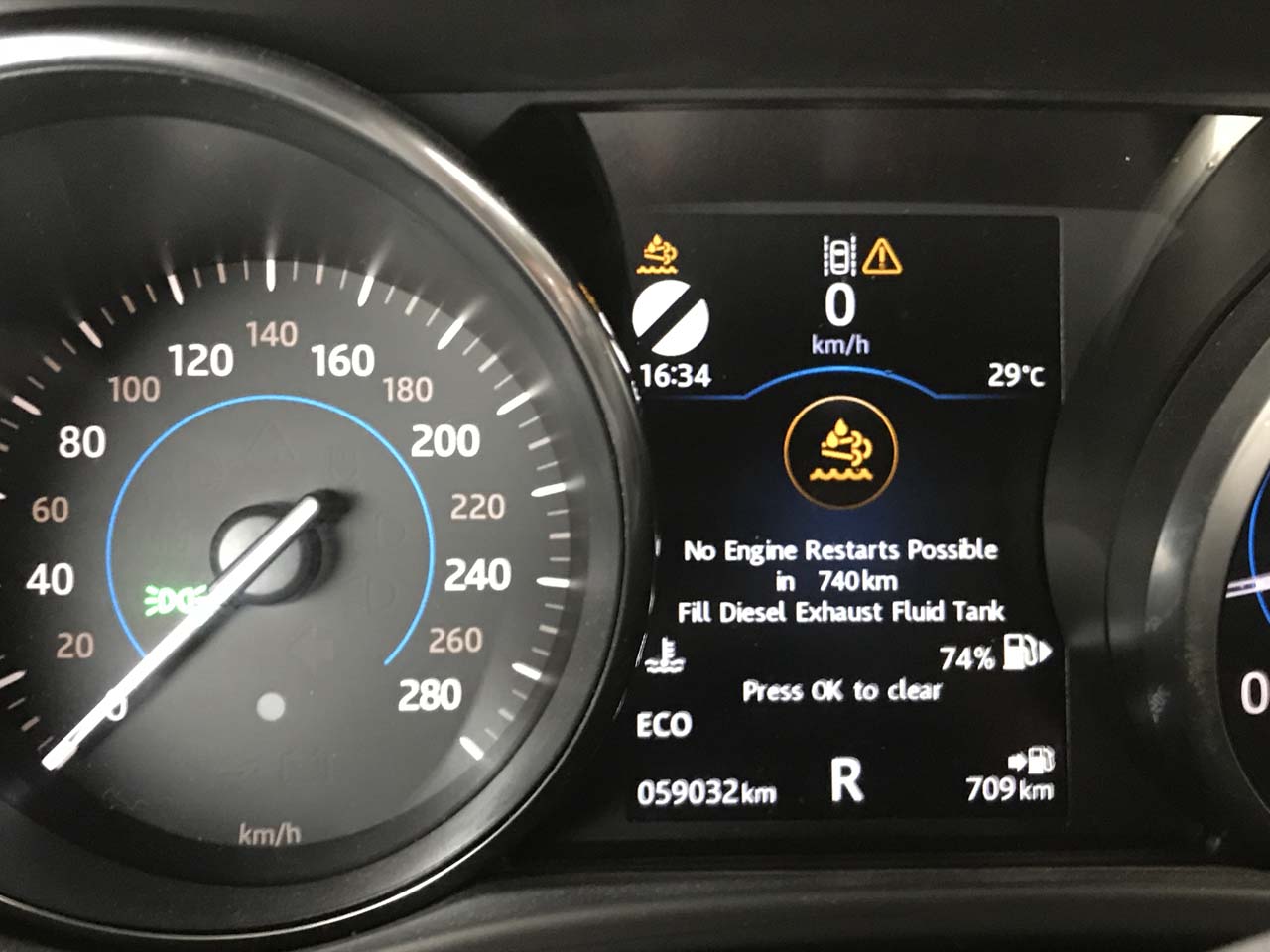 Well, to make a long story short, when we returned the car, the agency manager or owner refused to reimburse us.
After we got home, we then got Auto Europe involved, explained the situation, and eventually they convinced the owner that we did preventative maintenance on the rental agency's behalf (let alone avoided a roadside situation if the car wouldn't start anymore).
It took about a month for us to get reimbursed for this expense, but this was an example where Auto Europe leveraged their relationship with the rental car agencies throughout Europe and acted on our behalf.
4. Auto Europe Saved Us Time And Money
Because Auto Europe consolidates and blocks out a pool of rental cars across different rental agencies in Europe, they can pass the savings from the bulk or pre-negotiated contractual rental rates back to us.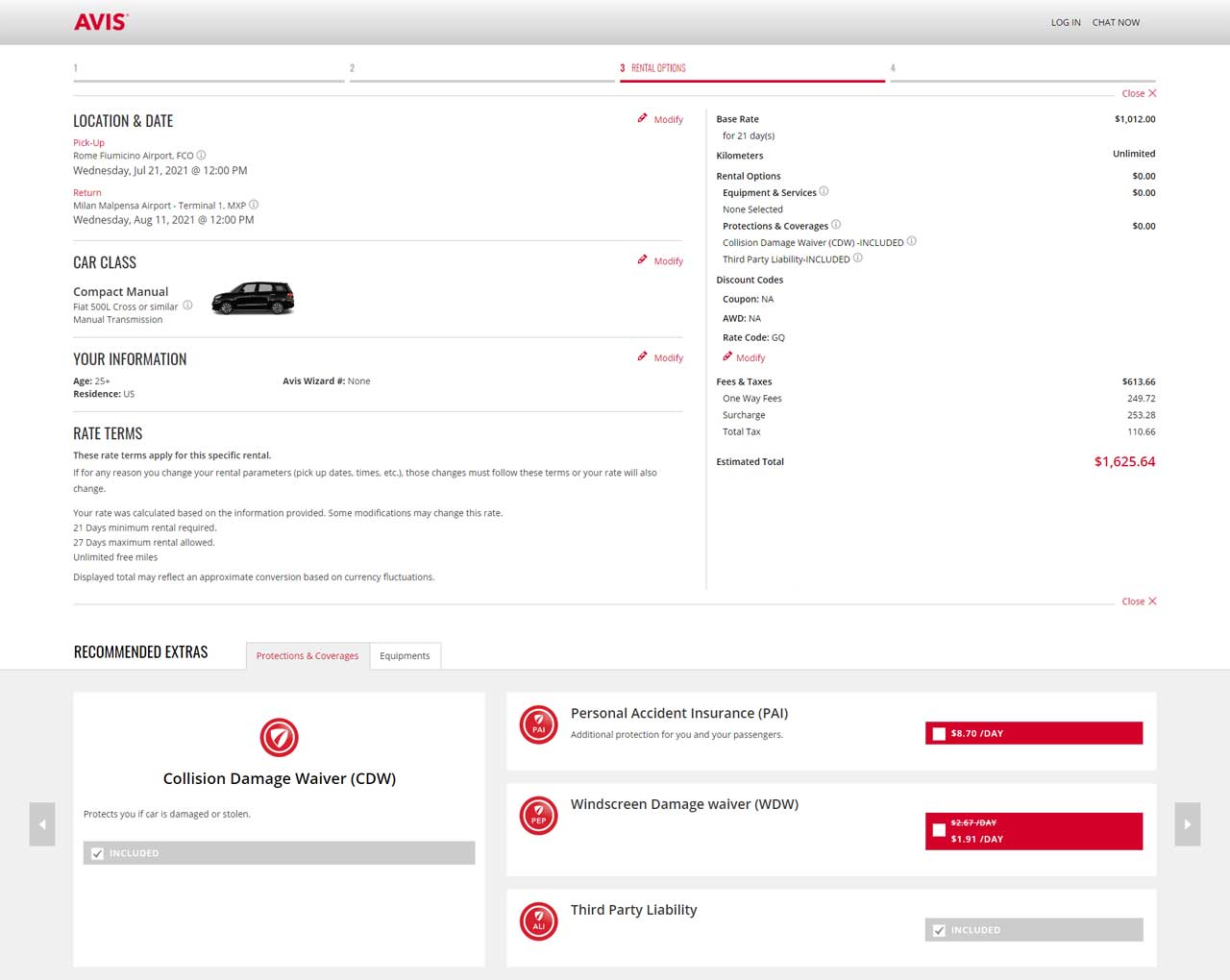 In fact, this blocking of rental cars may cause some agencies to sell out whereas they might still be available on Auto Europe.
I experienced this recently when I tried to book a potential rental car on a one-way Italian trip that started in Rome's Airport and ended in Milan's Airport.
During that attempt, I learned that I had a lot of options with say Avis on Auto Europe's booking engine (including the zero-deductible options), but when I tried to make the same booking direct with Avis on their website, it was sold out! However, I tried again later in the day, and I noticed that this rental charged quite a bit more than the quote that Auto Europe provided, including the charge on the one-way dropoff fee.
I can imagine that trying to go through this exercise with each rental car company in Europe can be both time-consuming and frustrating.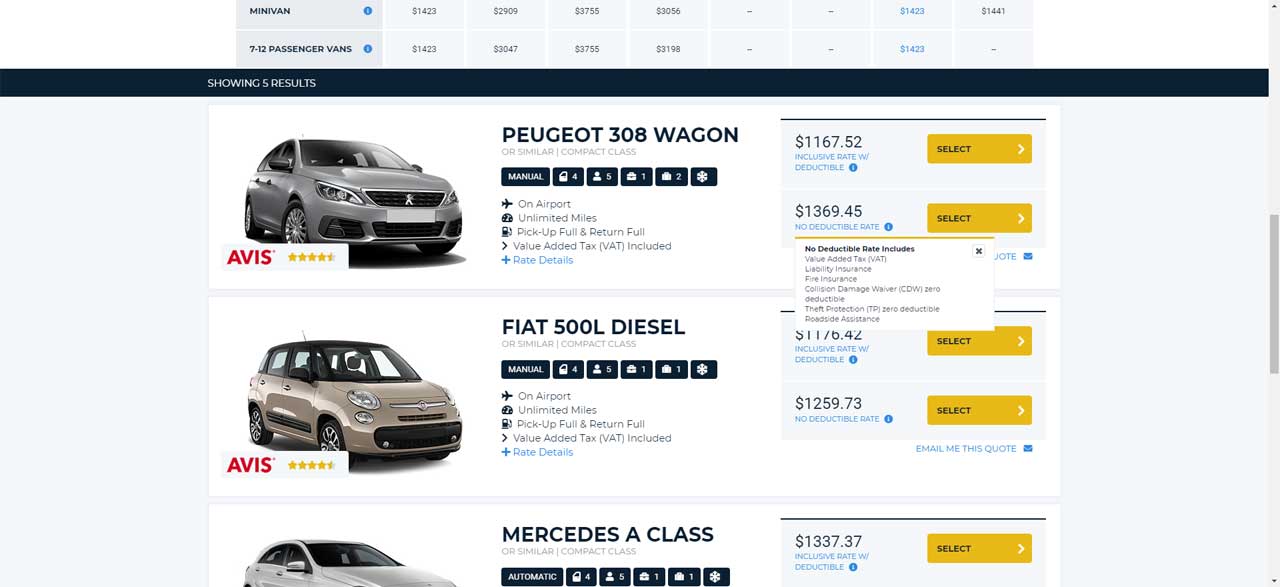 Therefore, booking through Auto Europe and letting them provide us with our rental options has saved us time as well as money.
And even if there was no price advantage in renting directly through the car rental agency versus renting through Auto Europe, we'd still book through Auto Europe because of the benefits like having 24/7 phone assistance as well as a dispute resolution ally.
How Does Booking Through Auto Europe Work?
The procedure to make a booking with Auto Europe is pretty much like making reservations through any other booking engine whether it's through an online search website or direct through the rental car company.
Like with any booking engine, we basically answer the questions about when and where we're planning to go, the type of car we want, and all the additional rental car coverages we want (we typically look to purchase CDW on all our overseas rentals).
Then, when we're ready to commit, we pre-pay online and receive an email confirming our booking as well as our voucher that we'd present to the rental car agency upon pick-up.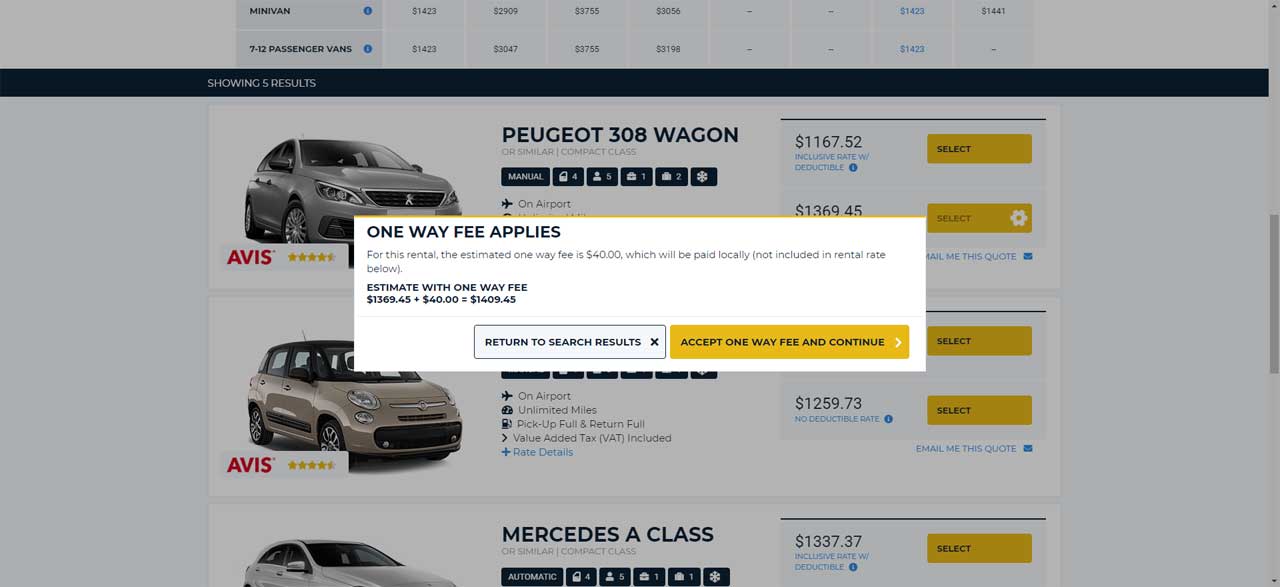 As always, we then immediately look carefully at the terms of the rental to ensure that we know what we paid for.
We especially look to see if the CDW has been purchased, if there's any one-way dropoff fees that we have to pay, etc.
The bottom line is that we want to minimize any unpleasant surprises once we finally do make it overseas to pick up the rental car.
If something is not right, we have the ability to cancel the booking and try again provided this is done at least 48 hours before the time of pick-up.
Speaking of unpleasant surprises, it's also a good idea to reconfirm our booking with the actual rental car agency (even though Auto Europe booked on our behalf) just to ensure that our reservation is ready at the time of pick up.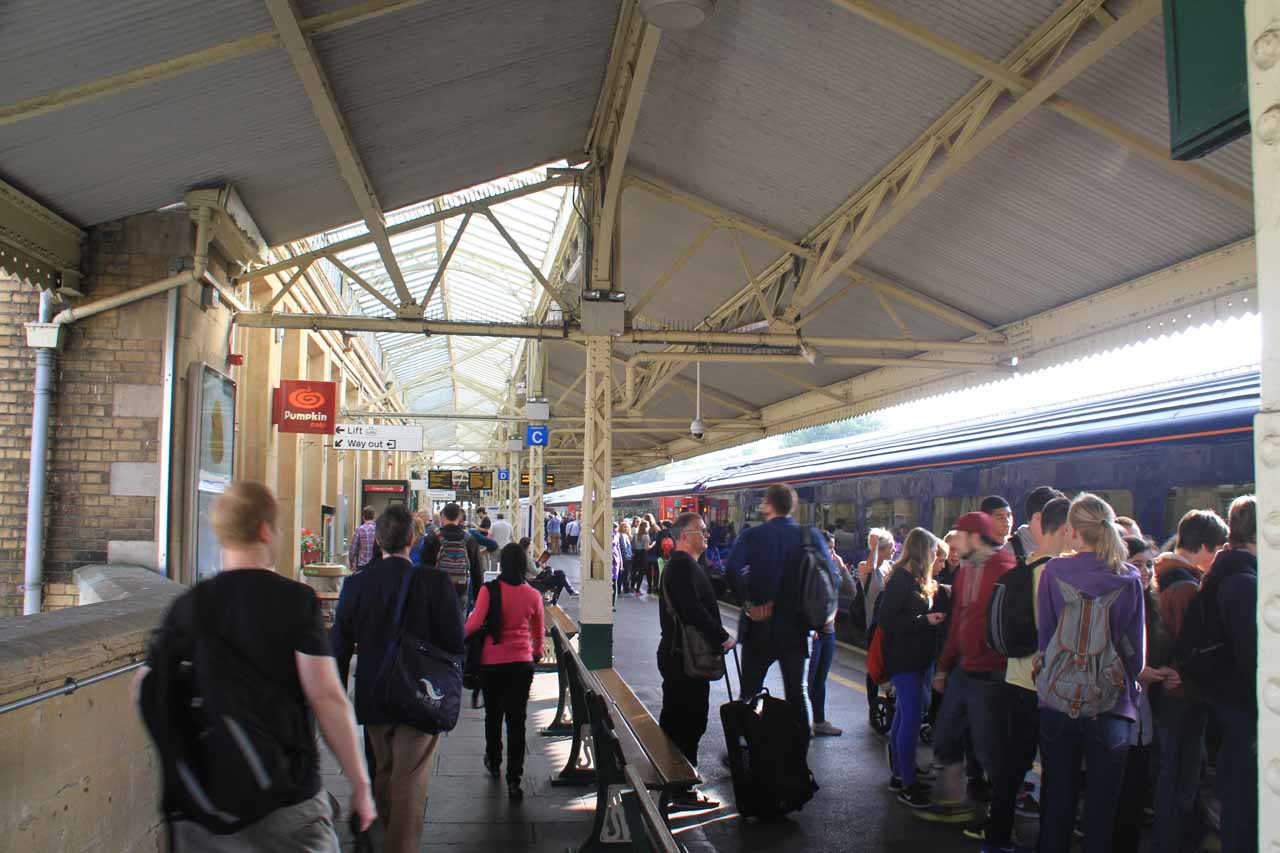 Mistakes can and do happen, and the overseas rental car office would not be a good time to find out that our reservation wasn't ready or we showed up at the wrong location (regardless of who's at fault)!
Vacation time is precious, and wasting it on misunderstandings or clerical mistakes is a poor way of spending it.
Things To Be Aware Of Regarding Auto Europe
As much as we've touted the benefits of booking a rental car through Auto Europe, there are a few things that you have to keep in mind.
1. You Must Pay For Your Car Rental Up Front
The first thing to be aware of with Auto Europe is that you must pre-pay for your car rental.
This can be a bit inconvenient because if something happens like a trip cancellation or a change in the reservation, then the onus is on you to get your money back or to ensure you're getting what you paid for.
Now Auto Europe has explicitly disclosed the rental terms both before the booking as well as after you've made the booking, and they typically include something like a 48-hour cancellation policy.
It was something that we managed to do successfully when we had to cancel our 2020 Iceland Trip due to the outbreak of COVID-19.
2. Auto Europe Customer Service Limited To Non-Roadside Issues & Emergencies
The second thing to be aware of when renting with Auto Europe is that customer service calls are primarily for non-roadside-related emergencies or issues.
What I mean by this is that Auto Europe helps connect you with the actual rental car agency you're hiring from.
They don't get involved with roadside issues like a flat tire or an accident as those types of issues you'd deal directly with the rental agency.
That said, Auto Europe has helped us with the language barrier when a rental car office was closed for the weekend or something, and we needed them to rearrange our booking so we wouldn't be stranded.
This is especially helpful since they can make the international calls on our behalf, where there could be a language barrier.
I think of this as sort of a safety net of sorts if you can't resolve issues directly with the rental car company, but Auto Europe can certainly act as an ally to help facilitate issues.
3. Rental Agency Loyalty Programs Not Honored
Finally, if you do book through Auto Europe, you may not be able to score loyalty points nor rewards.
So things like the Avis Preferred program wouldn't be honored since Auto Europe would be booking for us and using whatever contracted or negotiated rates they've employed for our booking.
That said, I kind of view these loyalty programs as a nice-to-have and not really a deal-breaker.
After all, Auto Europe has already saved us money on our rental plus they have a 24/7 customer service hotline support in English.
Therefore, I'd argue that having these things far outweigh whatever loyalty program perks we'd be missing out on by going through Auto Europe.
Final Thoughts / Conclusion
So far, we've had pretty positive experiences with Auto Europe spanning the last decade or so.
They saved us time and money when we were ready to book our rental car and pre-pay for it.
They helped resolve an emergency situation where the local rental car agency was closed when we showed up to pick up the car in a country where we didn't speak the local language.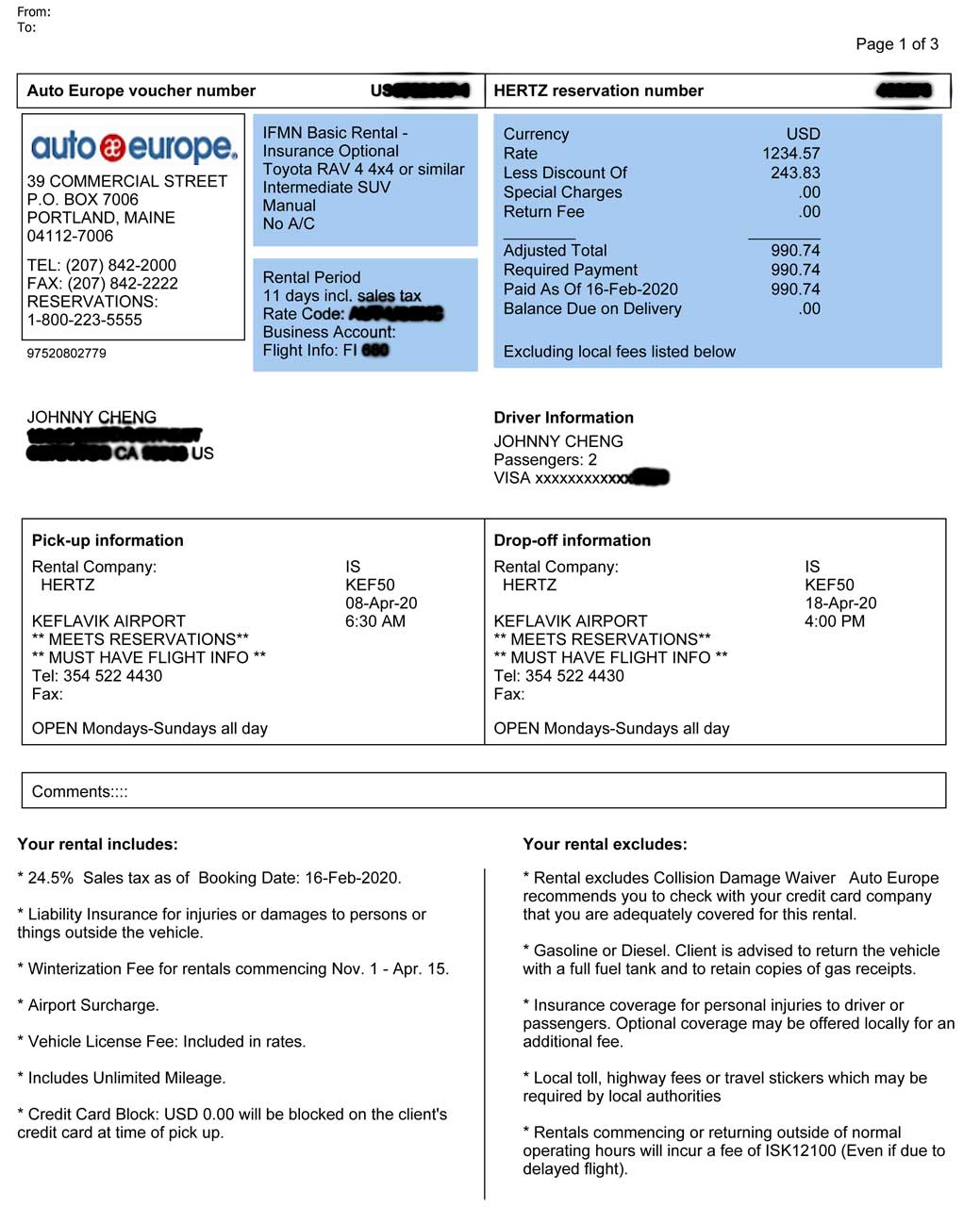 They also helped us resolve a dispute when we had to perform preventative maintenance on our rental car to avoid an emergency roadside situation, but the agency manager or owner refused to reimburse us.
Heck, they were even the first of our vendors to refund our money when we learned that our upcoming Iceland Trip had to be cancelled as a result of the uncertainties concerning the coronavirus pandemic.
Indeed, Auto Europe is our primary de facto option whenever it comes to renting cars in Europe.
Even if there's no price difference between booking direct with the rental car agency or an online booking engine versus Auto Europe, we always err on the side of booking with Auto Europe.
Overall, renting a car in Europe can be tricky, but it really felt like we had an ally with Auto Europe, and we continue to book with them any chance we get…
Please note that this is not a sponsored post. However, there are affiliate links that help pay for this site. You can read more about these in our affiliate disclosure in the footer at the bottom of this post. If you have questions or comments, please use the comment box below.
Auto Europe
Pros
Easy to Use
Full CDW Coverage Usually Available
Access to US-based Agent or Operator 24/7
Has Relationship with Wide Network of Rental Agencies
Free Cancellation 48 hours or earlier before Rental Pick-up
Cons
Must Pre-Pay for Rental
Service Limited to Non-Roadside Issues or Emergencies
Visitor Comments:
Got something you'd like to share or say to keep the conversation going? Feel free to leave a comment below...
No users have replied to the content on this page