This Bali Itinerary comprised the second part of a four-part trip that included the Northern Territory, Bali, Queensland, and New South Wales.
We arranged our trip into these four sections because each of them could be its own shorter itinerary, and we did this for greater flexibility as well as to try to focus our sightseeing on one region at a time.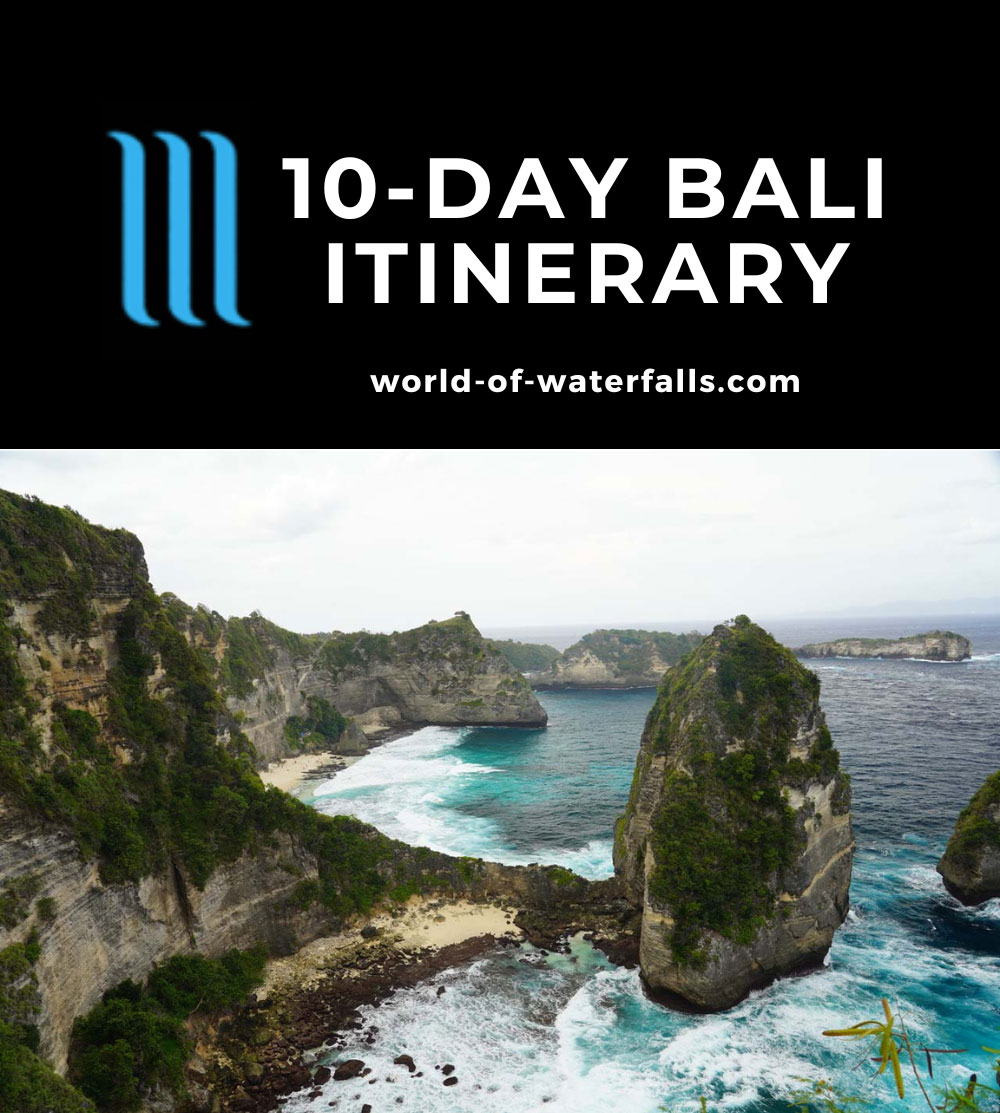 Anyways, due to the size of our party (we had four people – my Mom, Julie, Tahia, and myself), it made the most sense to hire a car and driver who stayed with us for almost our entire time we were in Bali.
And since Julie and I took care of most of the logistics in terms of what sights we targeted as well as where we were staying and when, the actual execution was pretty much left to our driver and our willingness to stay on schedule while sticking to our plan (while still leaving room for new discoveries that were unplanned for).
Long story short, we managed to fit in quite a bit of stuff to do in our 10 days in Bali, and this write-up contains a visual summary of what we did…
Trip Map
This map and its markings were produced by this app.
Trip Highlights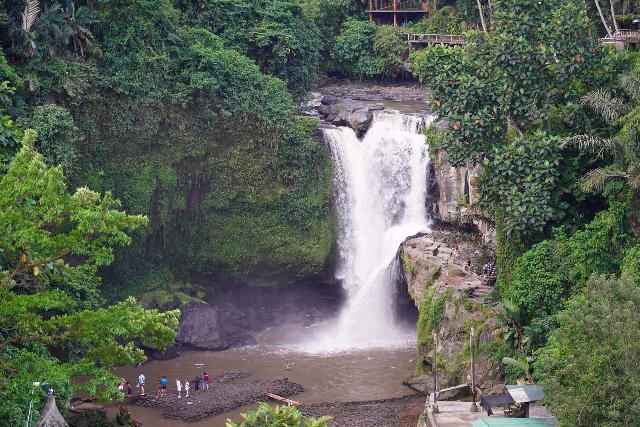 Tegenungan Waterfall – this waterfall near Ubud was our introduction to waterfalling in Bali, and it was quite the popular attraction due to its location. Of course, as you can see from the photo, it was also a gusher that dwarfs its visitors, and thus it left quite an impression on us as well as gave us a taste of what was to come for the rest of our time in Bali.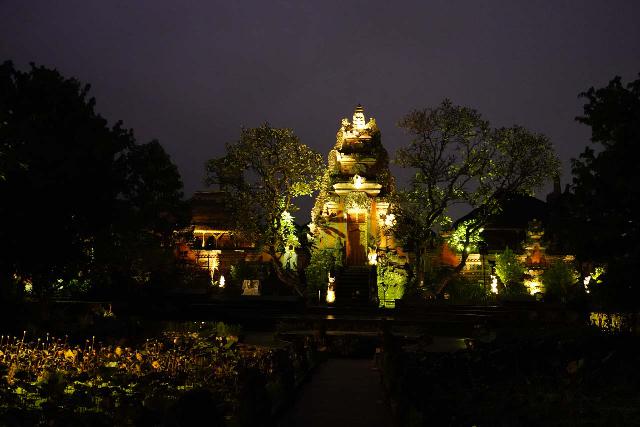 Ubud – there is a reason why this city has become one of the de facto places to stay while in Bali, and it was definitely the numerous temples here. Although most of our visits were on the uncomfortable side due to a combination of humidity and tropical downpours, they were all within walking distance of each other, which made for an atmospheric holy crawl, if you will.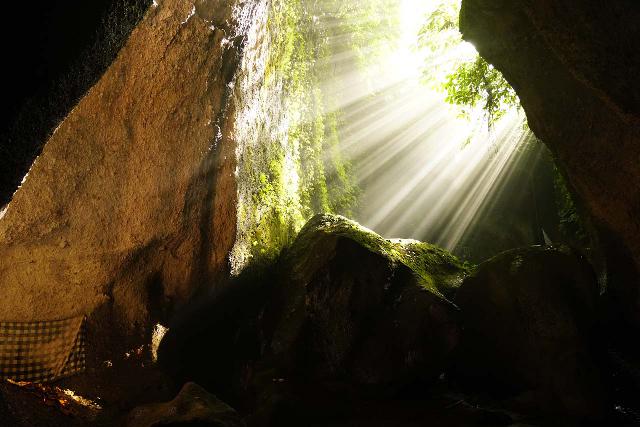 Tukad Cepung Waterfall – this has become quite the Instafamous waterfall with its radiant morning god beams that can be seen around the waterfall (or at least in the gorge itself). This was actually two waterfalls in one though we definitely got ourselves an early start to experience the place before it became a tourist lemming spectacle.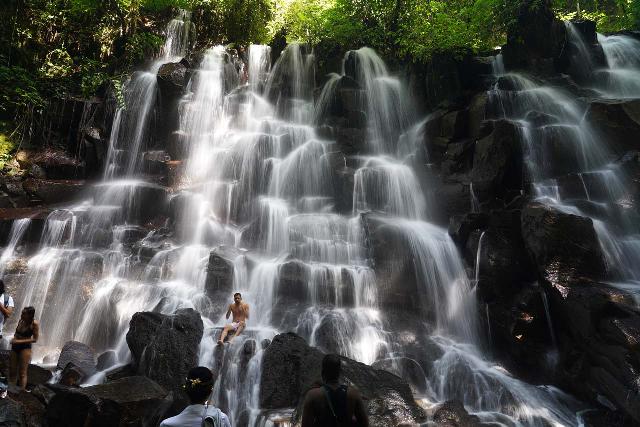 Kanto Lampo Waterfall – this was another waterfall in close proximity to the popular city of Ubud, which made this place also quite popular, but it was a pleasantly wide waterfall with "character", which made it more unusual among the Balinese Waterfalls that we'd come to know over this trip. Thus, it made for a memoral experience, especially since we came at a time when local Balinese were celebrating the last day of a religious holy week.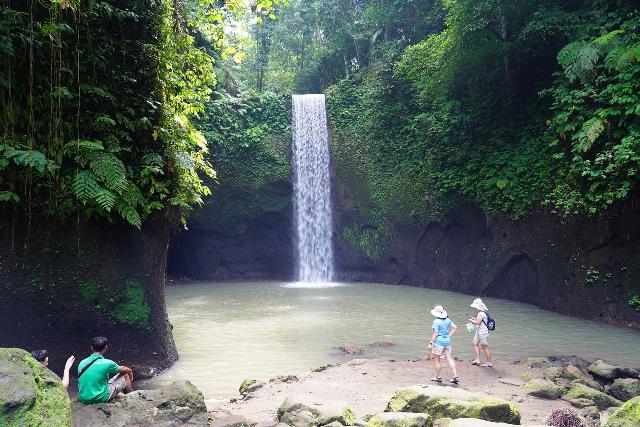 Tibumana Waterfall – this was a classic rectangular-shaped plunging waterfall that was also quite easy to visit as well as quite close to Ubud (further adding to its popularity). Like other Balinese Waterfalls, the short walk to reach it also featured an elaborate praying area as well as some intermediate waterfalls to further keep us basking in the lush scenery.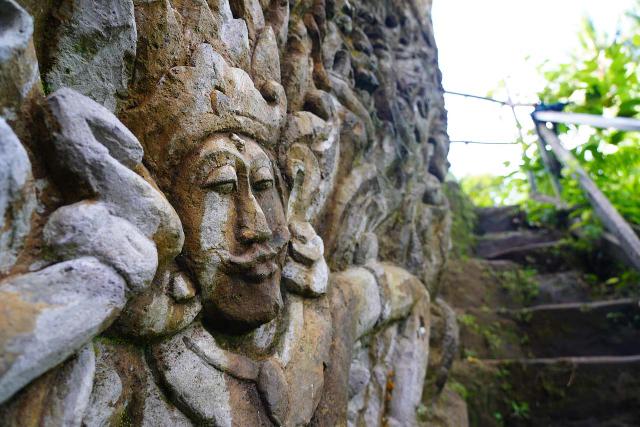 Sumampan Waterfall – this was a little more off-the-beaten path among the waterfalls near Ubud though its popularity was noticeably picking up during our visit. Indeed, the walking path wasn't as paved as most other walking paths you'll see throughout Bali, but this might change with its growing popularity. What really stood out to us was the presence of so many rock engravings both my the steep and narrow steps as well as on the rocks in the river.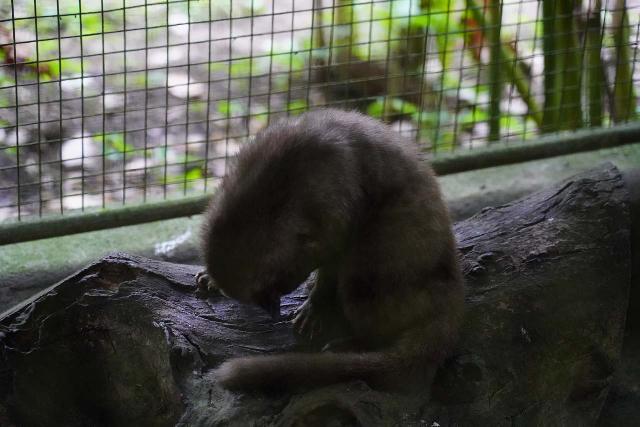 Luwak Coffee – this was really more of a novelty because it's one of the few places in the world where the coffee beans come pre-digested from the gut of a luwak cat (if you know what I mean). While there's some questionable ethics regarding the forcing of such wildlife into captive coffee making "factories", I guess as long the economics favor this type of cultivation, you can't really stop this practice and you're not likely going to forego the novelty of experiencing one of the world's most expensive coffee.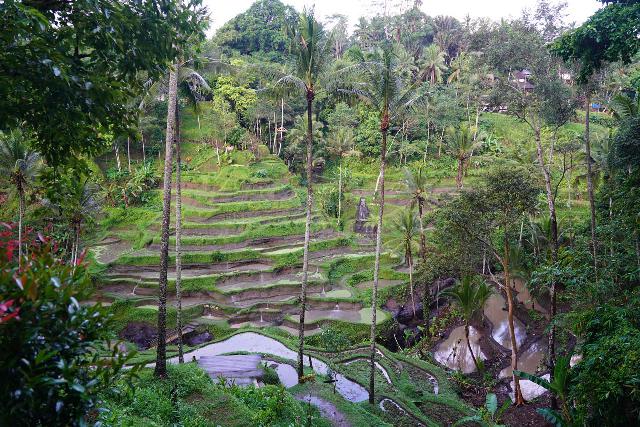 Tegallalang Rice Terrace – quite possibly the most famous of all the rice terraces in Bali (due to some movie), there was no denying its striking appearance (though it would have been better if the rice hadn't been harvested yet). Of course, aside from an incoming downpour, we did manage to fit in a Balinese swing experience (at least Julie and Tahia got to do it), which was quite the bucket list thrill for them.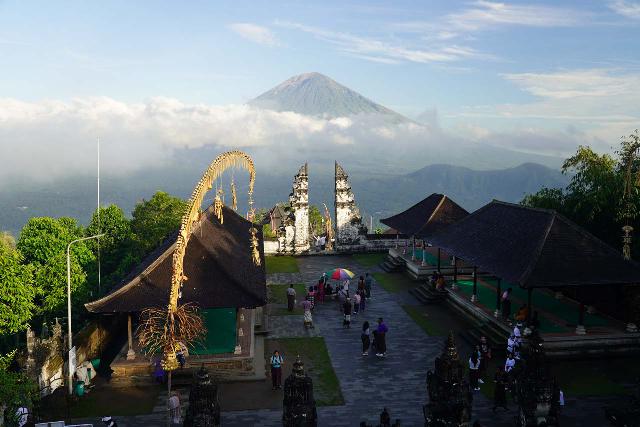 Lempuyang Temple – perhaps with COVID-19 still being a thing, we were fortunate to have a combination of improving weather as well as not too many tourists (so the wait times weren't as bad as reported by prior dissatisfied visitors). The result was one of the most memorable experiences as we got to look through one of the ubiquitous Balinese gates backed by Mt Agung. While you do have to go out of the way to experience this place, it became an excuse to explore the otherwise less-visited East Bali.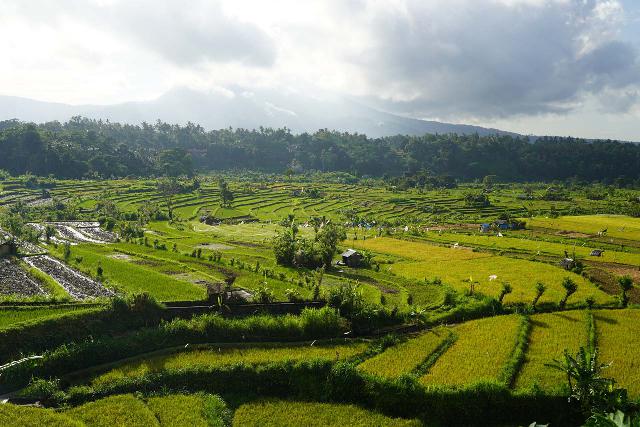 Rice Fields before Mt Agung – this was kind of an ad hoc surprise as we were making our way from the Lempuyang Temple to the Tirta Gangga Water Palace, where we spontaneously pulled over to witness sprawling fields of rice backed by the impressive Mt Agung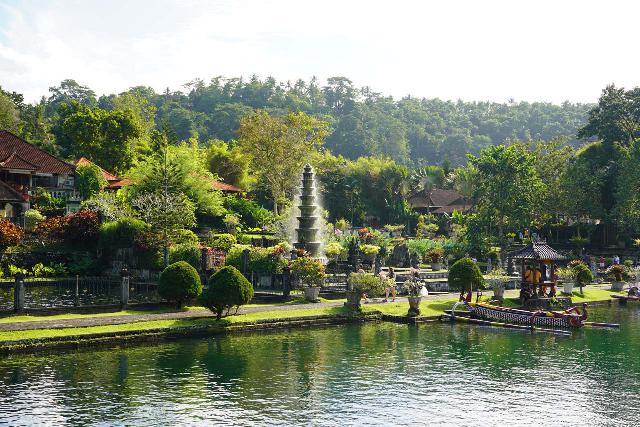 Tirta Gangga – this was a water palace that was essentially a companion attraction to the Instagram viral Lempuyang Temple, but it too was attractive and made for a pleasant and atmospheric visit. In fact we even had one of our best Balinese lunching experiences here, and it made the visit even that much more memorable and pleasant.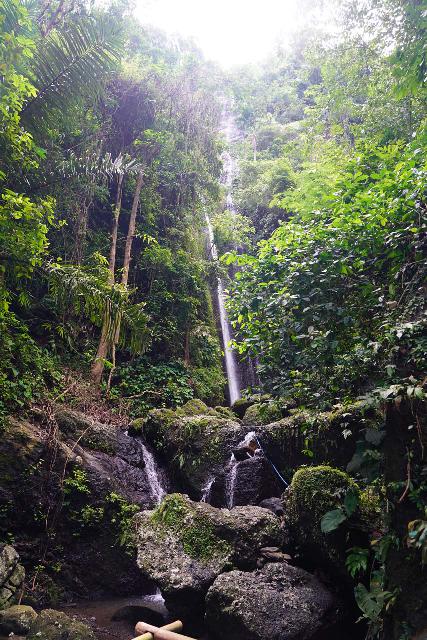 Yeh Labuh Waterfall – this waterfall was really off-the-beaten-path, but it really was our waterfalling excuse to explore East Bali, especially if we were already going out of the way to visit Lempuyang Temple and Tirta Gangga. While its flow was thin, there was no denying its height, and it really seemed like the locals are trying to develop this spot a bit more for swimming just to make it even more attractive to people not in the know yet.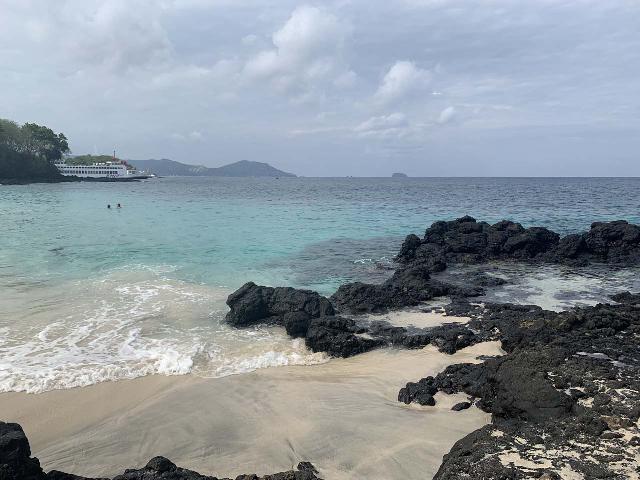 Bias Tugal Beach (or Bias Tugel Beach) – this was actually an unplanned attraction as we had visited Candidasa Beach and realized that that was a more "locals" hangout and not really a beach. So Julie randomly found out that this place was nearby and we just went for it. That's when we stumbled upon a secluded beach with nice color in the water, and it lacked the crowds that you'd get from the beaches around Kuta. Indeed, we could have chilled out here longer, but at least we were glad to have found this place though I'm sure its popularity will increase over time.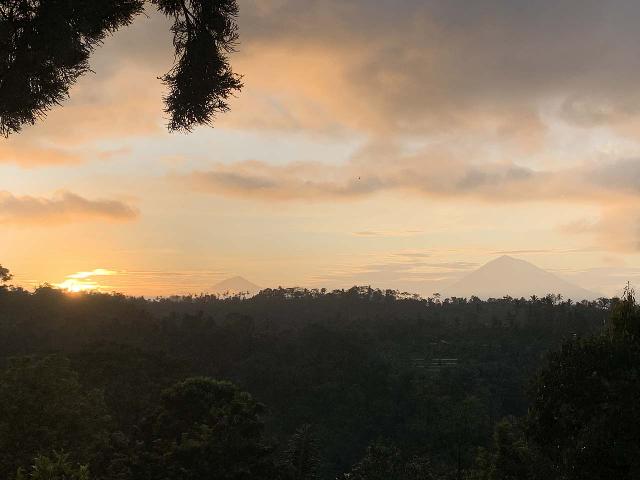 Nungnung Waterfall – this was a tall and gushing waterfall that we really had to work for because it involved some 428 steps (and some sketchy slippery slopes on the concreted rock surface). But it started with a gorgeous sunrise over Mt Batur and Mt Agung during our visit, and so it was one of those risk versus reward deals where it really worked out in our favor.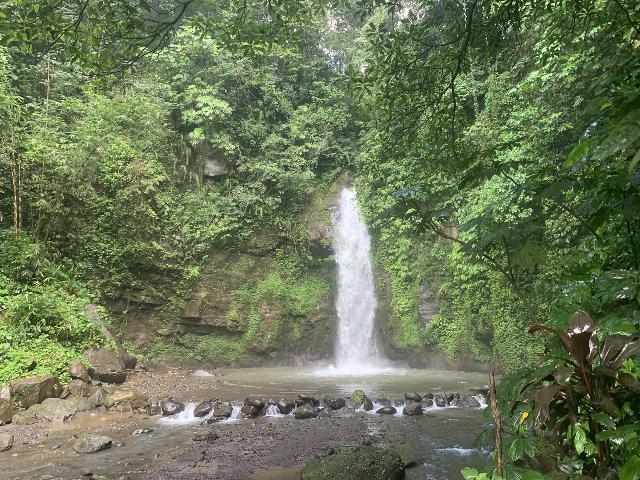 Batu Lantang Waterfall – this was kind of an off-the-beaten-path waterfall that allowed us to experience the Pelaga Eco Park, which was an unexpected benefit of our waterfall-intentioned visit. It goes to show you that sometimes it's the less-anticipated visit that yields some of the most memorable moments and experiences, and such was the case here.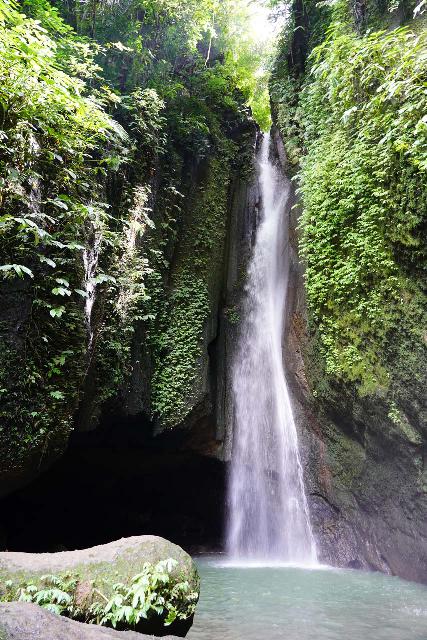 Leke Leke Waterfall – on a day full of visiting waterfalls, this was another impressively tall one with a deep cave-like recession at its base. Visiting this falls was another journey into a lush jungle with a sprinkling of local farms and warungs, but it would turn out to be the last of the naturesque experiences for the day as the rest of what we visited were all developed and popular.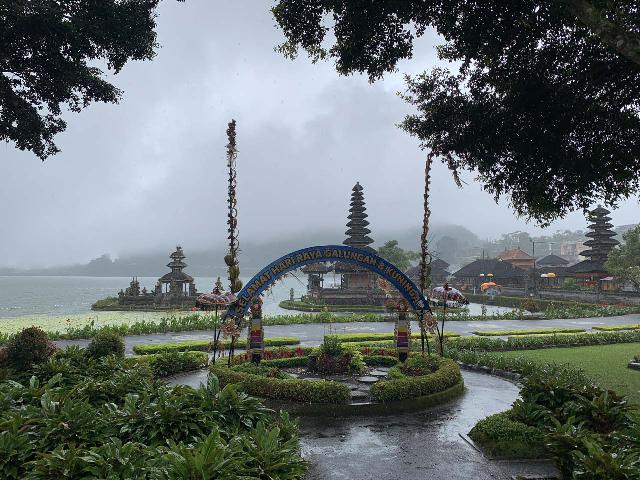 Ulun Danu Beratan Temple – this was a scenic lakeside temple on the shores of the Danau Beratan Lake in the mountainous heart of Bali. While our visit happened during a rather sudden incoming rain squall, but that didn't take away from this place's popularity and scenery (though I'm sure the views would have been more colorful and expansive under better weather). Regardless, this was one of the mandatory stops on any Bali Itinerary, especially since we were headed to the north on the day of our visit to this temple.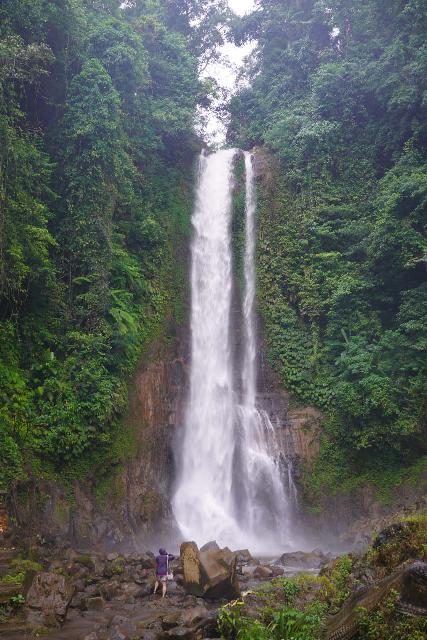 Gitgit Waterfall – there are actually a handful of waterfalls on the Gitgit Stream that bears this name, but the one I'm talking about happens to be the tallest and most impressive of the bunch. During our visit, we had to take advantage of the many warungs along its walking path to shelter from the heavy downpour, but when the weather finally calmed down, we were treated to quite the towering display of plunging water surrounded by fallen rocks and fronted by a shelter and a shrine for a bit of Balinese atmosphere.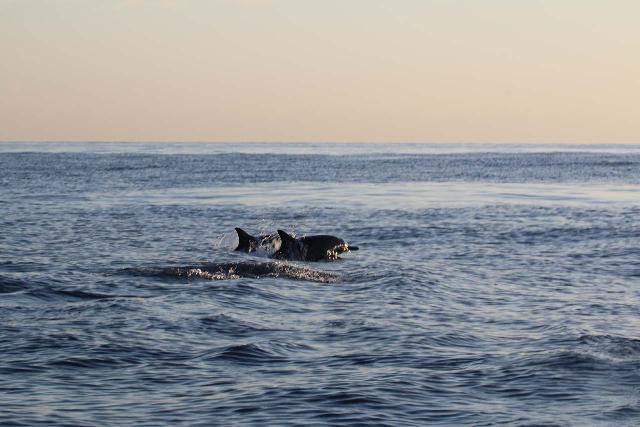 Lovina Dolphins – this was another activity that we hadn't planned on doing, but our driver convinced us to give it a go since this was THE thing to do while staying in Lovina. At the expense of spending more time waterfalling (and getting a late start at it), I went with the suggestion, and it turned out to be one of the most exciting highlights of our trip. That said, it was kind of comical (and perhaps disturbing) to see so many motorized boats essentially stalking the dolphins in an effort to witness them.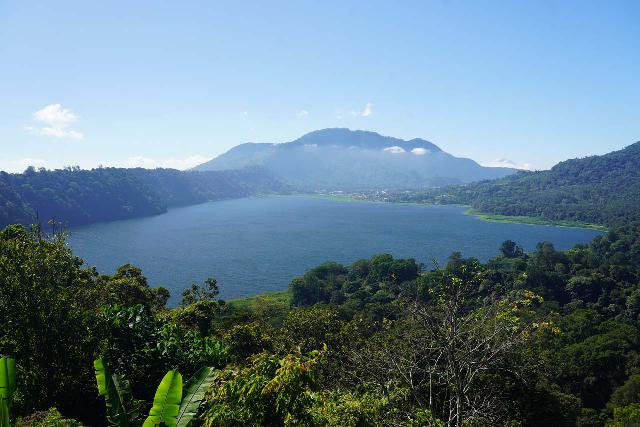 Twin Lakes of Danau Buyan and Lake Tamblingan – this was really more of a roadside stop, but the lakes within the hart of Bali's mountains were quite impressive, especially on the beautiful morning of our visit. They were essentially stopovers for our tour of waterfalls nearby (see next 3 entries below)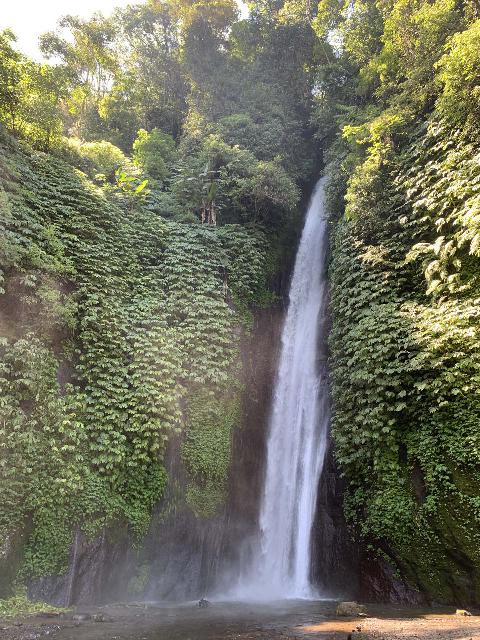 Munduk Waterfalls – there are actually 4 main waterfalls making up this quartet though we only had time to visit 2 of the 4. Yet even that was pretty satisfying as we did it on a one-way downhill shuttle hike taking in the Golden Valley Waterfall and the Red Coral Waterfall (the one you see above).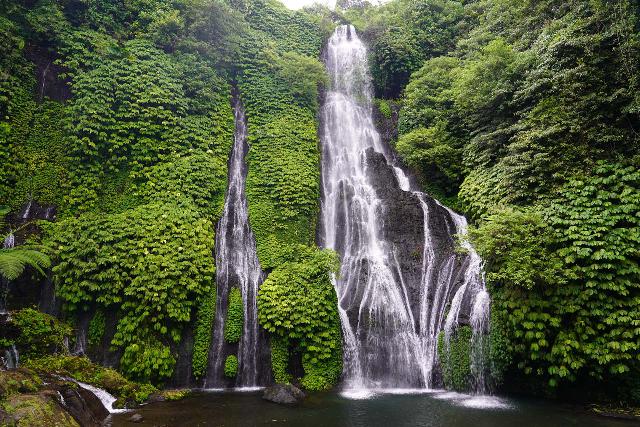 Banyumala Twin Waterfalls – although the name suggests that there were only 2 waterfalls, there were actually numerous springs all converging in on the plunge pool that this waterfall feeds. Thus, it make for a pleasant surprise as well as quite the atmospheric spot for a swim as well as for the scenery.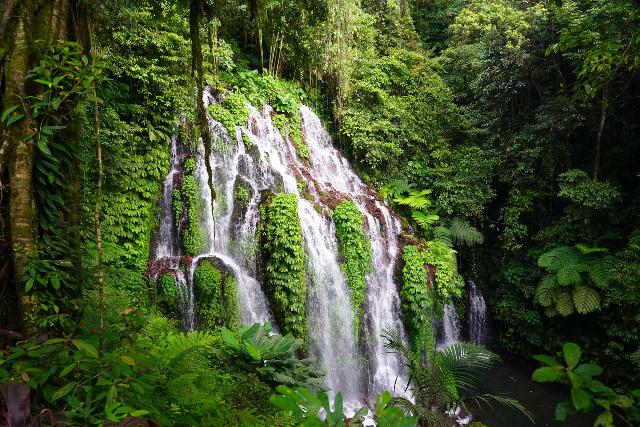 Banyu Wana Amertha Waterfalls – like with Munduk, this was another quartet of impressive waterfalls, but with this one, we didn't have to spend at least a half-day to experience them all. Indeed, we got to see in one tight excursion waterfalls of different characteristics from a tall plunger that you can go behind to a graceful wide one to a four-segment one to the giant you see above. Indeed, quite the satisfying visit, and we even caught a scooter ride on the way back up!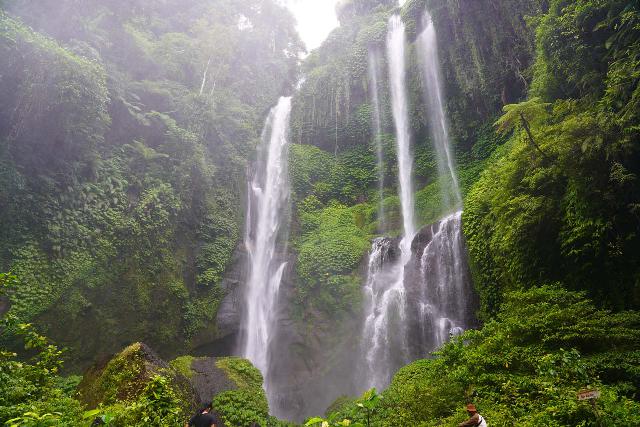 Sekumpul Waterfall – this is quite possibly the best waterfall experience in Bali, and it's not just because this is also one of the tallest and biggest waterfalls on the island. Actually, we did a long trekking tour that also included the impressive Hidden Waterfall as well as the surprising Fiji Waterfall to really put this excursion over the top. Definitely well-worth the half-day we spent for this waterfall, and its notoriety is certainly well-deserved.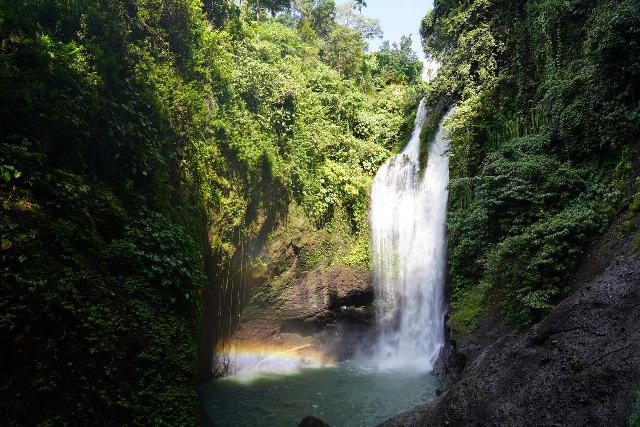 Aling Aling Waterfall – like with other waterfalls that we've visited in North Bali, it turned out that they all seem to share this common theme of allowing you to experience multiple waterfalls in a single go. In the case of this big waterfall (which also yielded a rainbow on our visit), there were three other waterfalls further downstream that acted more like swimming holes – Kroya, Kembar, and Pucuk. Indeed, this was another big waterfall highlight of our trip even as we were getting pretty saturated with waterfalls by this point of our trip!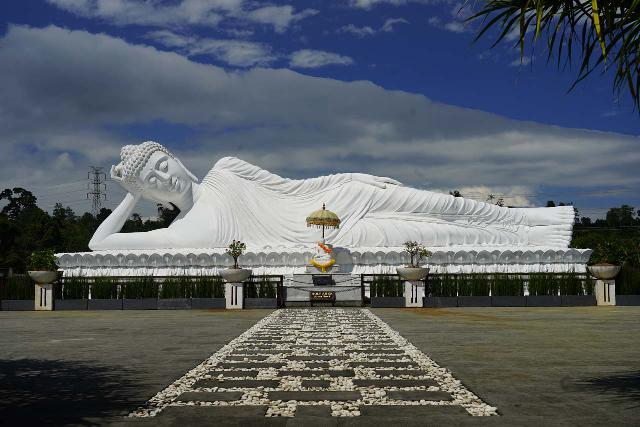 Vihara Dharma Giri – this was an unexpected and unplanned for visit going into our Bali Trip, but it was on the way as we took a less beaten road down from North Bali back to South Bali. What we wound up with was a quiet reclining Buddha experience where our driver revealed a little more of the local culture on offer here that most tourists don't normal include in their itinerary.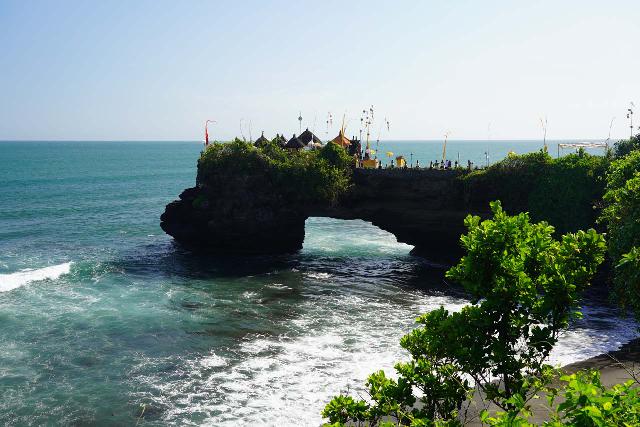 Tanah Lot Temple – this had to have been one of the most scenic and atmospheric coastal temple visits that we've done in Bali, where we not only got to witness locals parading to a temple on a rock outcrop battered by waves, but we also got to witness a sea arch (pictured above) as well as other interesting buildings throughout. Oh by the way, there was some kind of holy week processions still going on during our visit, which further added to the ambience.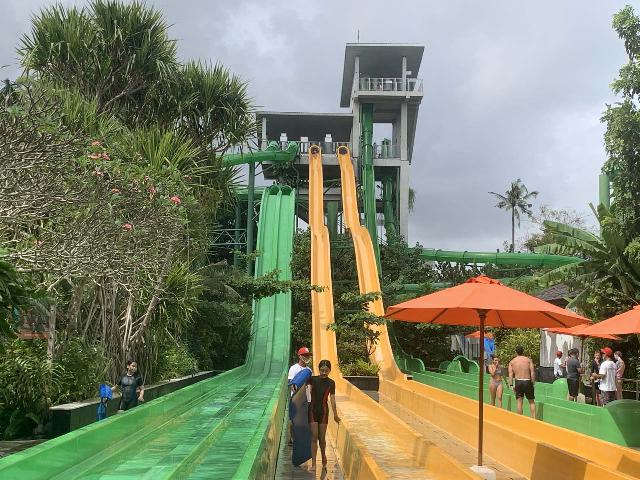 Waterbom – for Tahia, this was the Bali highlight of the trip as we got to do all the main water slides and rafts within a span of a half-day. Indeed, after having gone to Six Flags Hurricane Harbor earlier in the year, I feel like I don't need to go back to Valencia since it pales in comparison to what we experienced in Kuta, Bali! The only catch is that you can't GoPro or film some of the more extreme water slides for safety reasons.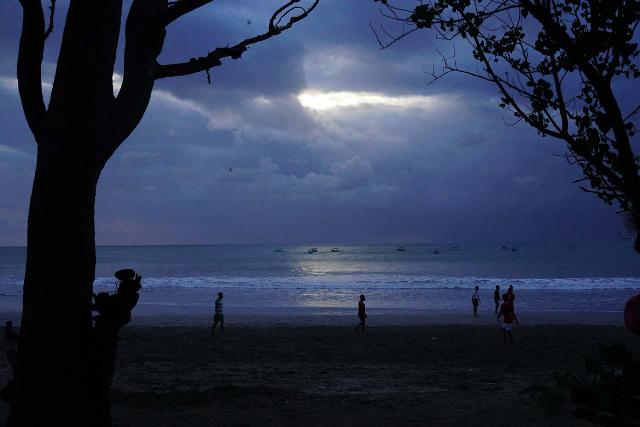 Kuta Beach – even though we were denied sunsets for each day we were staying in the very busy Kuta, it still didn't take away from the atmosphere of sharing the experience with thousands of people while also witnessing some of the more daring surfers brave the heavy surf and hang 10 in a scene reminiscent of what you might find in O'ahu's north shore. There was also something for the ladies to do as well as they had fun shopping at the Beach Walk Mall.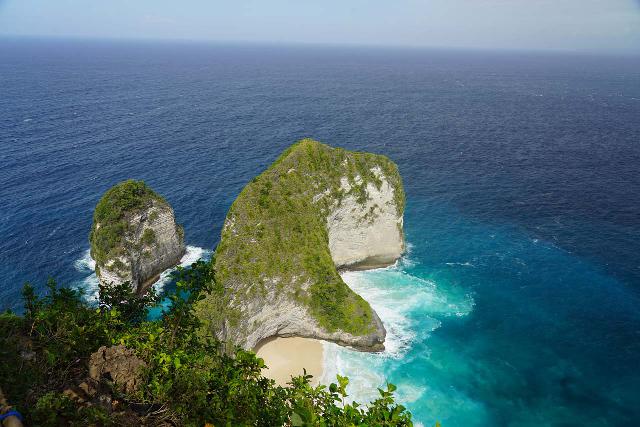 Kelingking Beach – this was called "pinky" beach by the locals due to the rock outcrop jutting out from the seas within the offshore island of Nusa Penida. It was a very popular spot that had gained in notoriety on the socials, but that doesn't take away from the reason for its popularity – the scenery! And so we took the good with the bad and soaked in the experience without regrets.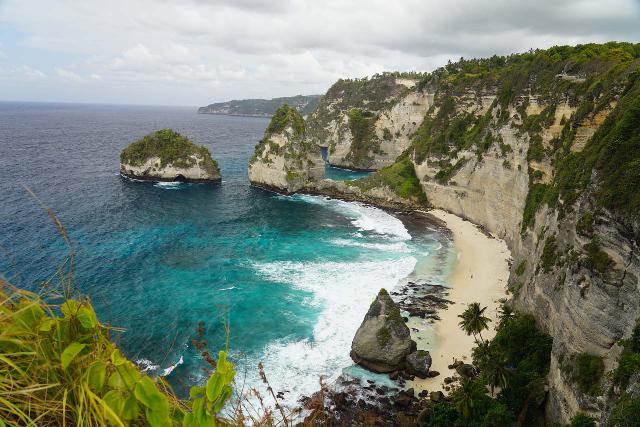 Diamond Beach – this was another one of the Nusa Penida main sights though it was on the far side of the island. Nevertheless, we got to experience the beautiful beach (so named because of the sharp rock outcrop jutting up like a diamond) while also checking out some treehouses on the opposite side. Indeed, this was the main highlight of Nusa Penida, and it was no wonder that we had to share this spot with so many other tourists as it, too, blew up on the socials.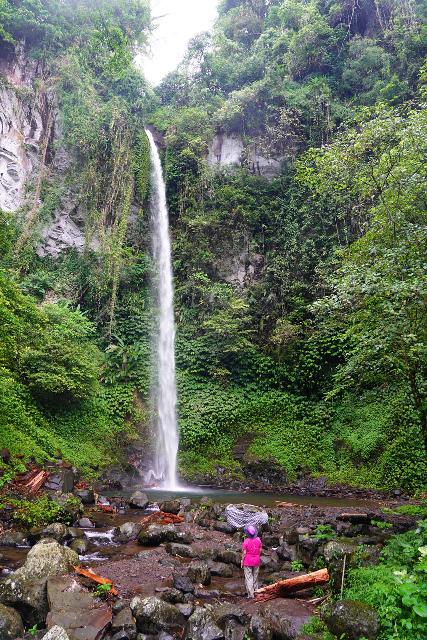 Blahmantung Waterfall – this was one of the tallest waterfalls on Bali (whether it's THE tallest depends on who you talk to), but it was actually the last waterfall of our Bali trip, where we had to come back to Northern Bali in an effort to make amends for mistaken identity a few days prior. We were glad we did make the effort to come back as we also visited a pair of other waterfalls on the same excursion in Rajapala and Bidadari as well as contending with some rain.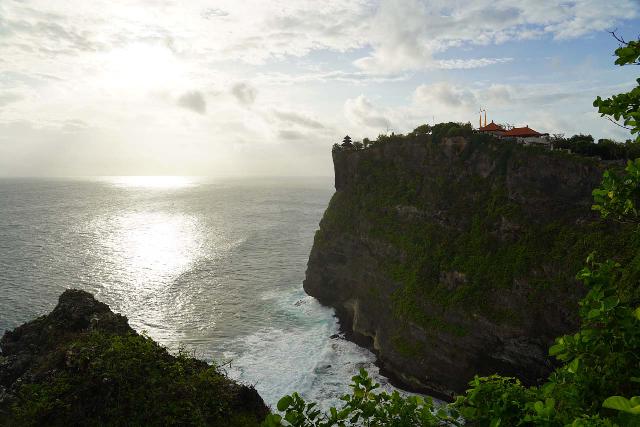 Uluwatu Temple – this was a scenic temple perched high atop a sea cliff on the southwestern tip of Bali, and it was also quite the popular spot given its close proximity to where most people lived and toured on the island. However, it's also a place where the monkeys are really mischievous, and one even stole my daughter's glasses (and she wasn't the only person who lost a loose item or two here).
Trip Advice
During our 10 days in Bali, we pretty much "stuck to the script" for the most part, which was honored by the tour company that we went with that yielded us our driver. That said, there were "off-script" stuff that went down which tends to happen on our trips because not everything goes according to plan – that's life. So here are some lessons learned on this trip that we wanted to share with you.
The Scooter Risk Versus Reward Factor: Our tour of Bali was faced with a choice of whether to try to go it on our own using scooters or hire a driver. Well, that decision was kind of made for us since we were bringing my daughter and my Mom so we had to go with the less riskier option. And we didn't regret doing it. That said, we saw numerous Aussie tourists (mostly younger) give it a go for the ultimate freedom, but it didn't come without risks, which was something our driver highlighted when he noted how they were adopting some of the unpredictably dangerous habits that locals have adopted, which makes them even greater road hazards. That's something to keep in mind when it comes to that tradeoff between freedom and risk when planning out your Bali trip.
Drive Times: I don't care what Google Maps says, it takes way longer to do get from place to place, especially if you're riding in a car. Sure scooters can weave between traffic, but there's definitely a risk of getting injured or killed given the unpredictability of how scooter riders go (especially if they have to be aggressive or else risk not going anywhere). So that was something that experience from other developing countries had taught me, and I was glad I incorporated margin to ensure we weren't overly ambitious with our Bali plans.
Hiking Times: Locals tend to underestimate how long it takes to walk to a waterfall or some other place. Keep in mind that most excursions are upside down (i.e. you go down and have to go back up to regain the car park). So this underestimation seemed to be consistently 2x or 3x shorter than what it wound up being, and after getting wise to this, we just doubled or tripled whatever quoted time the locals would say to better temper our expectations on whether we'd have time to fulfill the rest of our plans for the day.
Wet Season vs Dry Season: It was Wet Season in the southern slopes like at Ubud, but it was Dry Seaon towards Lovina (though it can still rain buckets on the northern slopes closer to the peaks). So don't believe the generalized seasonal predictions about when's the best time to visit from blogs or other sources that try to paint a broad brush on such things. Island dwellers and those who have visited islands extensively (including Hawaii) know that there are regional variations, and this is no different in Bali.
Counting Money: With Indonesian Currency, it's easier to think in terms of 15k or 15,000 per $1 USD (at least as of our visit in June 2022). That will help eliminate the 0s in Indonesian prices, which can be overwhelming, but if you can take away 3 zeros (i.e. the "k") and divide by 15, then you'll get the US dollars equivalent more or less. That's when you realize the income and cost disparities between local Balinese people and their visiting guests. So spare a thought next time you whinge over 10k or 20k or even 40k rupiah ($0.67, $1.33, and $2.66 USD).
Travel Itinerary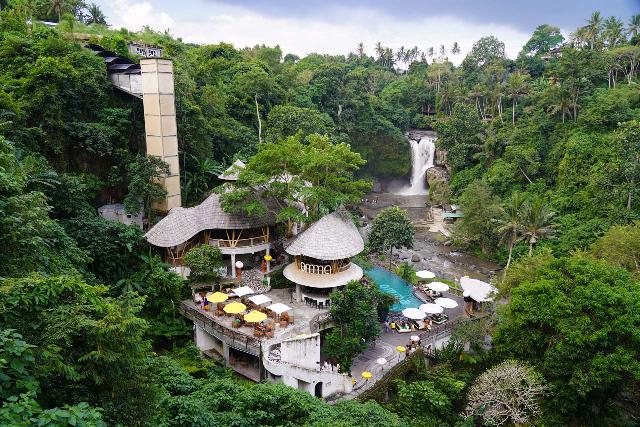 Day 1: Flight from Darwin to Denpasar and then meeting up with the driver going to Ubud
Overnight: Suweta Homestay (Ubud, Bali, Indonesia)
The second leg of our 2022 home run trip started with an early flight from Darwin to Denpasar, Bali. We got there early enough to enable us taking care of logistical things like exhanging money, getting working sim cards, finding and checking into our Ubud accommodation, and then finally visiting the Tegenungan Waterfall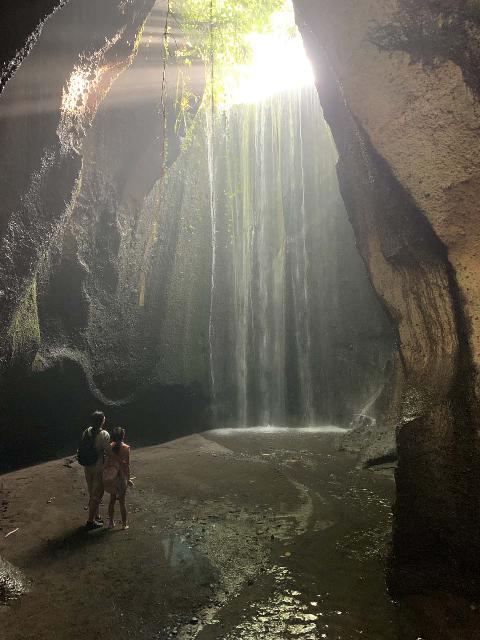 Day 2: Waterfall Touring around Ubud
Overnight: Suweta Homestay (Ubud, Bali, Indonesia)
This was a very busy day where we targeted 4 waterfalls (we had to punt the Sumampan Waterfall for the end of today instead of the end of yesterday), and this also included Tukad Cepung Waterfall, Kanto Lampo Waterfall, Tibumana Waterfall among others.
Day 3: East Bali Day Tour
Overnight: Suweta Homestay (Ubud, Bali, Indonesia)
This was another busy day of touring that involved an early start to beat the peak of the rush at Lembuyang Temple. Then, we followed up by visiting the Tirta Gangga Water Palace before stopping over at Candidasa Beach, the Yeh Labuh Waterfall, and Bias Tugel Beach.
In the evening, we tried to visit temples in Ubud, but a heavy downpour with shin-deep street flooding cut our aspirations to do that a bit short.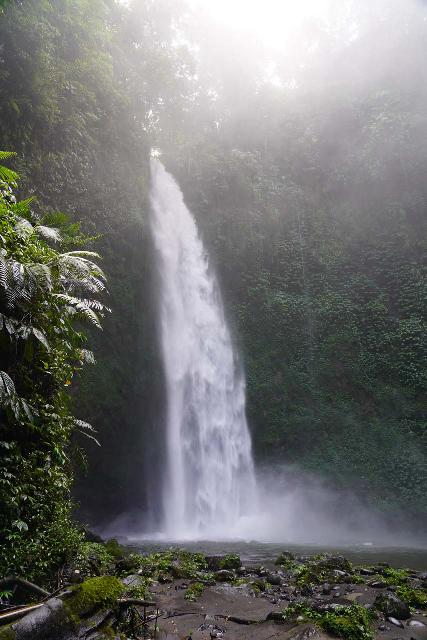 Day 4: Drive from Ubud to Lovina
Overnight: The Lovina (Lovina, Bali, Indonesia)
This was a travel day though it was stacked full of sights throughout the drive from the south of Bali to the north of Bali. So this day included the Nungnung Waterfall, Batu Lantang Waterfall, Ulun Danu Beratang Temple, and Gitgit Waterfall.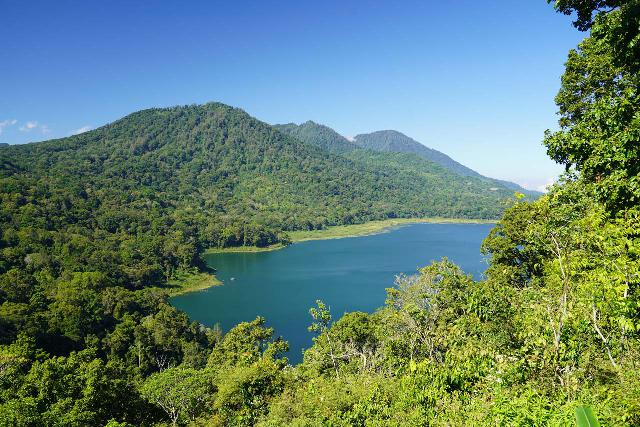 Day 5: Dolphins and Waterfall Day Trip in North Bali
Overnight: The Lovina (Lovina, Bali, Indonesia)
On this day, we did an unplanned dolphin viewing tour starting in the pre-dawn before dividing and conquering leaving Julie and Tahia at The Lovina while Mom and I went chasing waterfalls for the rest of the day. The waterfalls we targeted was an abridged hike taking in 2 of 4 Munduk Waterfalls, Banyumala Twin Waterfalls, and the Banyu Wana Amertha Waterfalls. Then, we reconvened for dinner at a local joint that our driver took us to.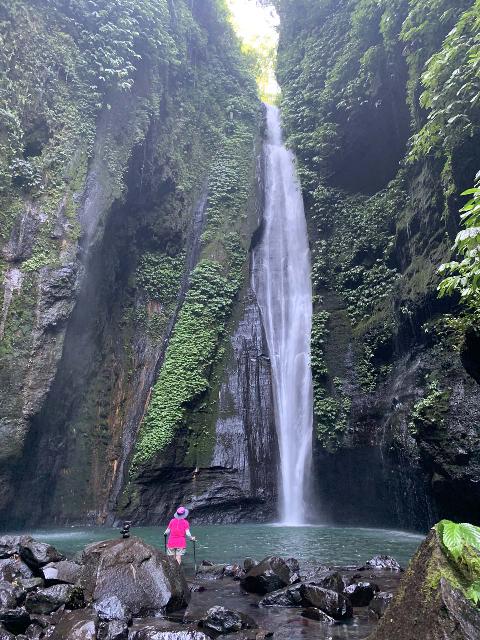 Day 6: Divide-and-Conquer Day Tour of North Bali Waterfalls
Overnight: The Lovina (Lovina, Bali, Indonesia)
On this day, Julie and Tahia chilled out at The Lovina again while Mom and I went waterfall chasing. We particularly targeted the Sekumpul Waterfall, which also included the Hidden Waterfall (shown above) and the Fiji Waterfall, and that took about a half-day. We then spent an afternoon visiting Aling Aling Waterfall along with the Kroya, Kembar, and Pucuk Waterfalls.
Finally, we reconvened at another local joint that our driver took us to while also booking a massage for the ladies (Julie and Mom).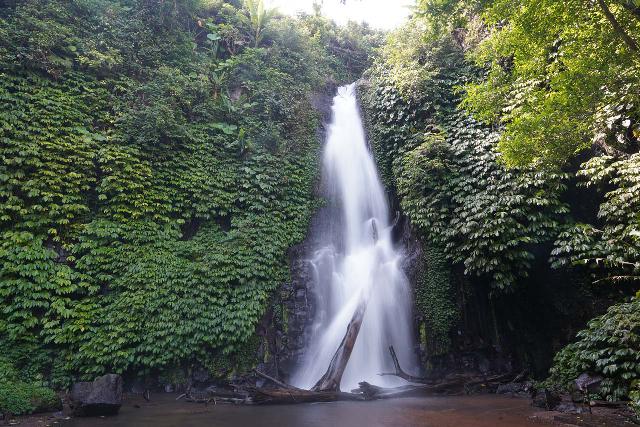 Day 7: Drive from Lovina to Kuta
This was basically a driving day, where the target was to visit the Blahmantung Waterfall, but we ended up unknowingly visiting the Blahmaning Waterfall (shown above). We ultimately tried to get to Kuta, and along the way, we also visited the Vihara Dharma Giri Reclining Buddha as well as the famous Tanah Lot Temple.
Our driver also took us to a local joint called Karya Rebo known for pork prepared as babi guling. I really enjoyed it though the ladies probably thought it was a bit too much on the spicy side.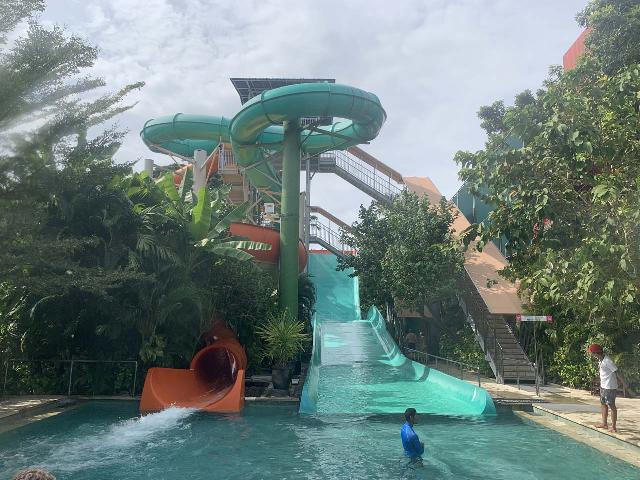 Day 8: Waterbom and Kuta
This was a free day to explore Kuta as well as spend the better part of the day fulfilling Tahia's desire to have fun at the Waterbom Water Park. We spent the better part of the afternoon at the Beach Walk Mall before having a post-dinner beach walk on Kuta Beach under some cloudy skies (so no sunset).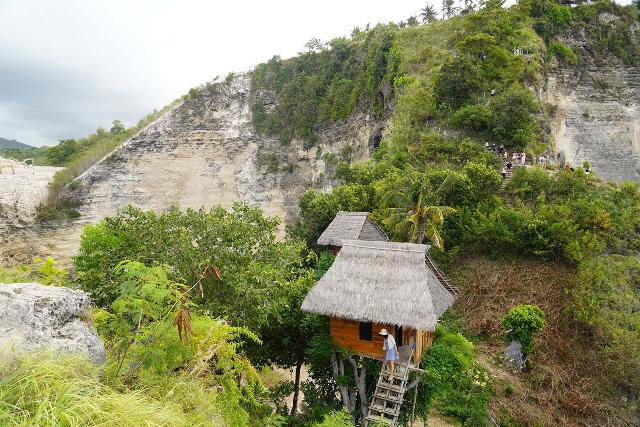 Day 9: Day Tour to Nusa Penida
This was a day dedicated to fitting in a day tour onto the offshore island known as Nusa Penida, which was a rather bumpy ride from southeast Bali. We hit up a couple of main sites on the island in Kelingking Beach and Diamond Beach (as well as some treehouses on the other side of the latter beach), which lived up to the Instagram hype though the weather wasn't the greatest as it muted the colors.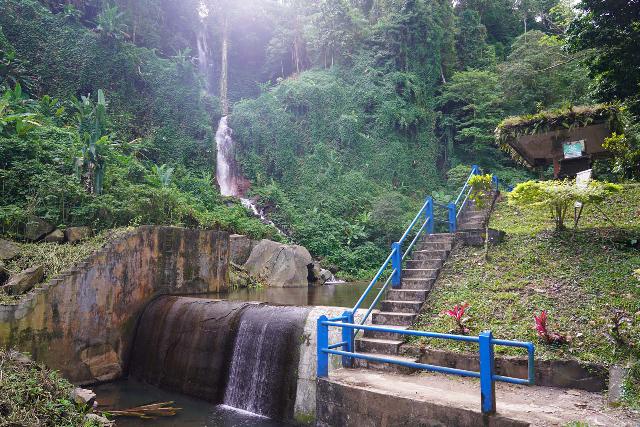 Day 10: Day Tour before flying to Cairns, Australia
Overnight: Hilton Cairns (Cairns, Queensland, Australia)
On this day, we had a lot of time throughout the day to fit in some last minute touring before catching a late night flight back to Australia.
So we spent this time dividing and conquering where Julie and Tahia chilled out around the resort and going back to the Beach Walk Mall while Mom and I went back to North Bali to pursue the Blahmantung Waterfall. We had to navigate around a marathon that was taking place, but at least we were successful at this pursuit thereby completing our waterfall survey that we had planned for.
At the end of the day, we reconvened, checked out, and visited the Uluwatu Temple before having a celebratory dinner with our driver at the Ganesha Cafe. Finally, we caught a red-eye flight to Cairns, which actually was a brutal stretch where we'd go do another day of touring without having a proper accommodation, sleep, and/or shower to kick off our third leg of our 2022 Summer home run trip.
Best Places We've Stayed At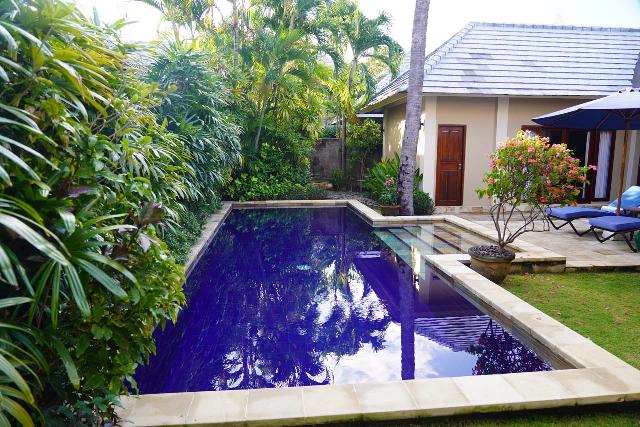 The Lovina – We stayed at three different accommodations in Bali, but this was heads and shoulders above the rest in terms of the overall experience, the spaciousness, the location, you name it! It had its own pool, it had a huge public pool, it was right on the beach, it had a buffet breakfast that was pretty good, etc.
But most of all, it was reasonably priced for something that really reminded Julie and I of staying in a Garden Bungalow in Moorea or Bora Bora, especially that outdoor shower and bathroom.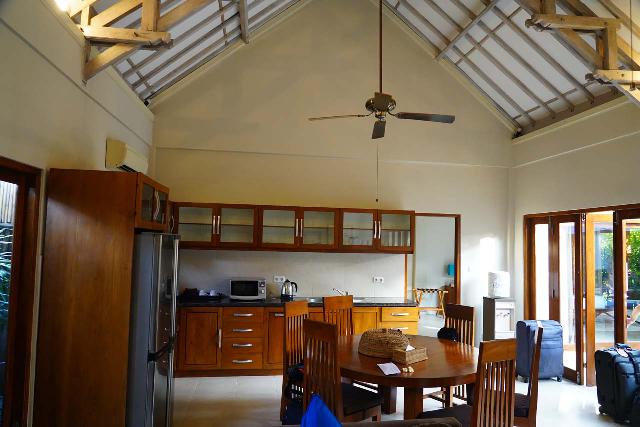 Heck, we loved our visit here so much that we really mourned having to leave it when our three nights were up. And it was essentially how we compared all the rest of the accommodations against for the remainder of this trip (let alone Bali itself).
Poor Kuta, which had to follow this up, but that goes to show you that sometimes you don't have to put yourself where the crowd is to get the best accommodation experience on Bali.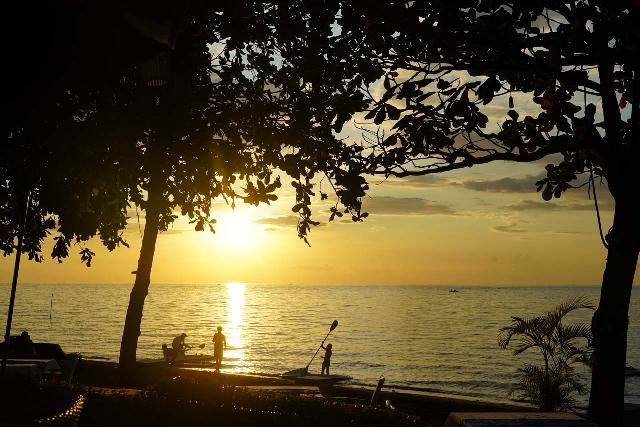 Perhaps the only knocks on this place would be the touts on the beach and dealing with mosquitoes (always an ever-present issue in tropical places) as well as the food (normally resort food almost always is on the disappointing side).
But even still, this place always felt like the more relaxed Bali accommodation that we envisioned going into our trip…
Trip Reports
Waterfalls included in this itinerary
Visitor Comments:
Got something you'd like to share or say to keep the conversation going? Feel free to leave a comment below...
No users have replied to the content on this page