This guide to the best waterfalls you can swim in the Big Island of Hawaii showcases our favorite swimming hole waterfalls in the largest of the Hawaiian Islands.
We've compiled this page as a result of a few trips spanning a couple of years, where we've experienced different conditions in that time. Thus, we can inform you of changes that we've noticed as well as suggest which of these waterfalls you can swim in provided you are fully aware of the risks (e.g. leptospirosis, flash flooding, etc.).
By the way, in addition to the swimming hole waterfalls on this page, we also have a list of the Top 10 Best Hawaii Waterfalls where we showcase our favorites throughout all of the Hawaiian Islands as well as a larger compilation of Big Island Waterfalls. We even have a broader page of all the Hawaii Waterfalls that we've been to and made write-ups about. All of these lists include waterfalls that did not appear on this post.
In any case, for each of our write-ups, we show you how to visit the waterfall swimming hole being discussed should it interest you in trip planning for your own waterfall chasing.
The Best Waterfalls You Can Swim In The Big Island Of Hawai'i
Let's just cut right to the chase and show you what the best waterfalls you can swim in the Big Island are and how to access them.
So without further ado, here are the best of the Big Island Waterfalls that we've personally swam in or at least see ourselves swimming in…
PEEPEE FALLS (PE'EPE'E FALLS & BOILING POTS)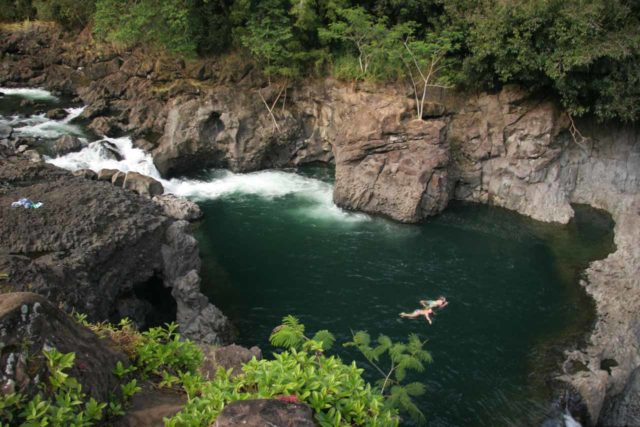 I thought I'd start off this list by showcasing one of the few waterfalls on the Big Island that you can actually swim at legally. Indeed, it features a roughly 50ft waterfall that requires a bit of a crossing of the Wailuku River and then a bank scramble to its fairly hidden and secluded swimming hole with also a couple of hidden companion waterfalls to boot! On top of that, there was also the menacing-sounding Boiling Pots further downstream, where it doesn't seem to be a sanctioned series of swimming hole between cascades, but I did witness one couple more familiar with the area and had no qualms about doing it. Just make sure there's absolutely no flash flooding risk when partaking in either of these swimming hole waterfalls.
Visit the Pe'epe'e Falls.
RAINBOW FALLS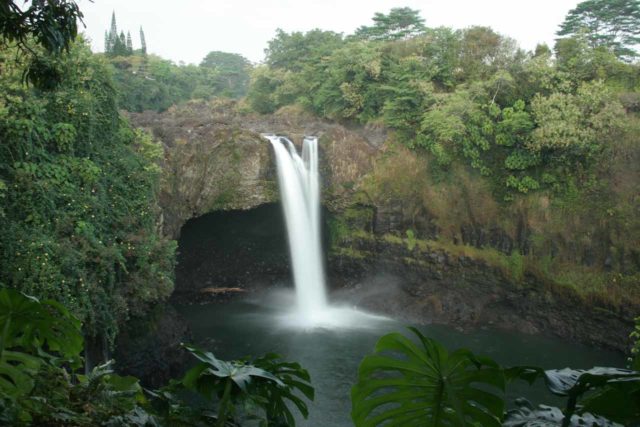 This may be one of the easiest and most photographed waterfalls to visit on the Big Island, but as far as swimming under it goes, it's considered unsafe and there's infrastructure set up prohibiting you to do that. So why am I including it on this list? That's because there's a trail that goes past the brink of the falls and towards the banks of the Wailuku River, where apparently it's possible to find a swimming hole to dip in provided the Wailuku River is not in flood. The one time I did do this trail past the brink of the falls, there was intense flooding so it was next to impossible to even see where the swimming holes would have been under such conditions.
Visit Rainbow Falls.
"KOLEKOLE FALLS"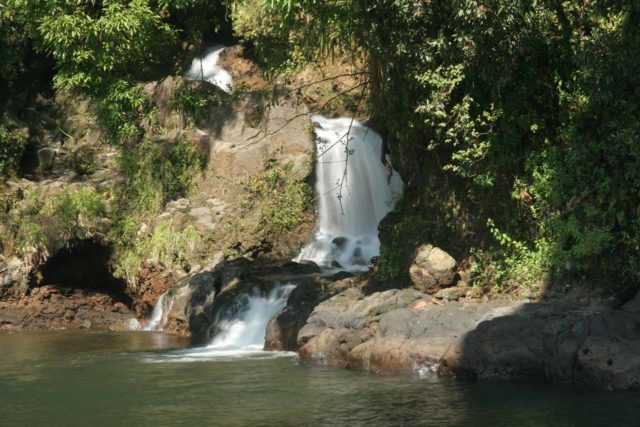 This small waterfall was actually a side attraction at the confluence of the Ka'ahakini Stream with the Kolekole Stream near the rocky beach to the ocean. This park was actually more of a picnic spot underneath the Hwy 19 road bridge, but provided the stream is not in flood, it's possible to use it as a swimming hole in front of this falls. That said, you really have to watch out for the weather because just on the other side of the road bridge is the turbulent ocean with rocky shores.
Visit "Kolekole Falls".
KULANIAPIA FALLS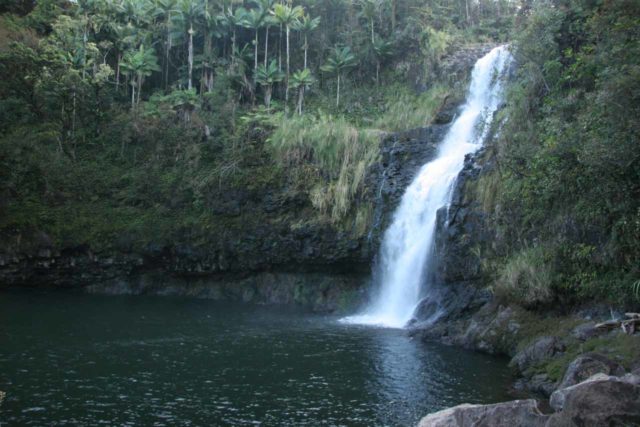 Kulaniapia Falls was a private waterfall that we've stayed at and visited on multiple occasions. Since it's set back upslope from Hilo Town, it feels like a world away in a much quieter part of windward Hawai'i Island, and because it's exclusively for the use of guests, it can be one of the more pleasant swimming holes beneath an attractive waterfall without the crowds! Therefore, it's one of those waterfall swimming holes that's all too rare on the Big Island of Hawai'i.
Visit Kulaniapia Falls.
NANUE FALLS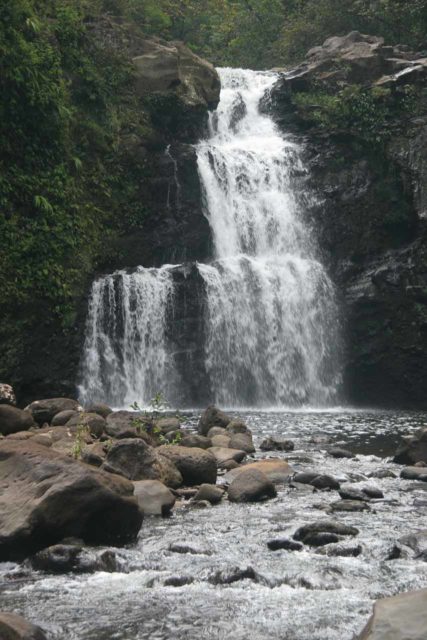 Nanue Falls is really a non-touristy waterfall that requires a bit of an awkward and slippery stream scramble to reach. There's no signs giving this place away and there's no landowner cutting off access either (at least when I did this scramble). Putting those factors together and you have a swimming hole waterfall that you're likely going to have to yourself, and that's something that's extremely rare in an island that doesn't even have that many publicly-available waterfalls to begin with!
Visit Nanue Falls.
KAMAEE FALLS (KAMA'E'E FALLS)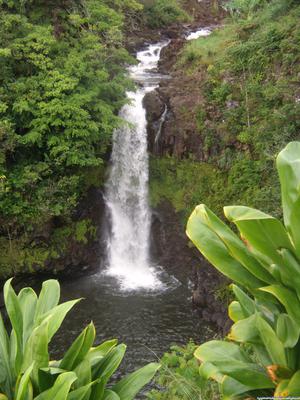 Kama'e'e Falls is actually a private waterfall that was submitted to our website by someone who is affiliated with the World Tropical Botanical Gardens, which is also the same property providing access to the lookout of Umauma Falls. In fact, this particular waterfall wasn't open to the public until March 2009 when the property owners started offering zip line tours. One thing I do know, however, is that this waterfall is a legitimate swimming hole, and I have to believe it's available to paying guests who need to get wet and cool off after the thrill ride of flying over the property's waterfalls!
Read More About Kama'e'e Falls.
What About The Rest Of The Big Island Waterfalls? Aren't There More?
You'd think that with an island as big as the Big Island of Hawai'i, there ought to be way more swimming hole waterfalls than what we've listed on this page. Unfortunately, most of the ones we can't in good conscience say are publicly accessible are kapu as a result of private property, earthquake damage, terrain that's too dangerous, or a combination of all of these things.
If you care to see some of the other ones I've had write-ups about, we have a page dedicated to our entire survey of the Big Island Waterfalls.
In any case, here are the waterfall swimming holes that I'm aware of that can't be considered legal swimming holes for one reason or another…
WAIALE FALLS (WAI'ALE FALLS) & THE NARNIA WATERFALLS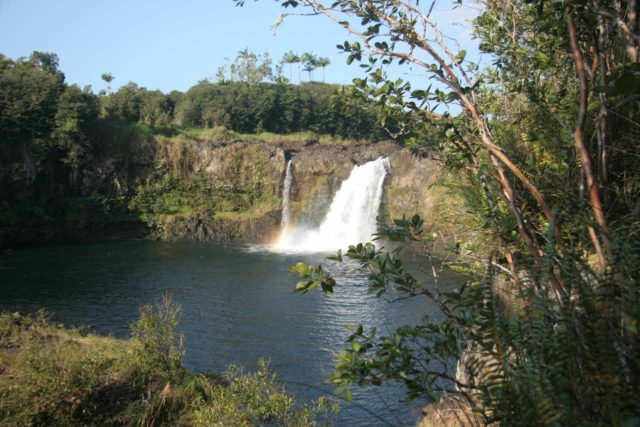 Although we could see this waterfall, which actually has two tiers (the lower one being man-modified), from a road bridge just upstream from the Pe'epe'e Falls, I couldn't help but notice there was an overgrown use-trail that accessed the top of the upper drop of Wai'ale Falls. Given the amount of use that I noticed with this trail when I first explored it back in March 2007, it seemed like quite a few people have used it for what I'd imagine was swimming access. That said, it's not clear to me whether this practice is sanctioned or not. Similarly, further upstream on the Wailuku River was a confluence of at least three waterfalls (each from different streams), which was locally known as Narnia Waterfalls. I haven't done that, but I'm pretty sure accessing those falls involves trespassing.
Read More About Wai'ale Falls.
HIILAWE FALLS (HI'ILAWE FALLS)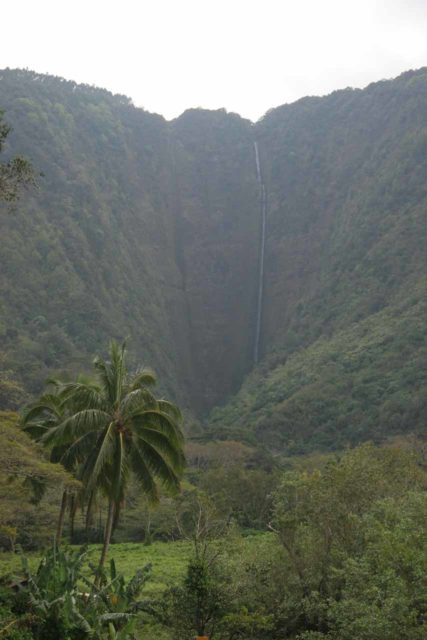 There's quite a bit of literature and even myths concerning Hi'ilawe Falls, especially regarding it as the highest waterfall in all the Hawaiian Islands. However, the reality is that the Kohala Ditch has tapped its natural sourcing streams, which in turn made this (and especially the companion Hakalaoa Falls) very temporary. Nevertheless, I'm aware of a fairly large plunge pool at the base of these waterfalls, but accessing them requires crossing through private property that I believe is owned by the Waipi'o Stables. And even when we went on a tour with them, there's no option to get down there as part of the tour. As a result, this place is definitely kapu as far as a swimming hole is concerned.
Read More About Hi'ilawe Falls.
KAWAINUI FALLS & WAIKAMA FALLS
Finally, these waterfalls are to my knowledge private waterfalls that have swimming holes based on historical blog accounts or photos from people who either trespassed and didn't get caught or managed to do it before trespassing rules were enforced. Kawainui Falls is actually by a property that ran as an inn (similar to how Kulaniapia Falls was used), but this particular property may have gone into disrepair in recent years. Time will tell whether this place might be re-open to the public or will remain private and available to the next highest bidder if this place is for sale.
As far as Waikama Falls was concerned, it was on private property near Pololu Valley on the northern end of the Big Island of Hawai'i. I saw it mentioned on a map in my Big Island Revealed 4th edition book, but there's not much else about it other than an old photo here and there. I happened to notice the map because I was looking for information about the whereabouts of Kapoloa Falls (i.e. the "Samantha Brown waterfall" when she was with the Travel Channel), whose access was cut off when the Kona Earthquake in October 2006 destroyed it.
I'm sure there are more waterfalls that we missed (especially the hard-to-access remote ones between the Kohala edge valleys of Pololu and Waipi'o), but unlike the other islands, the list of kapu waterfalls on the Big Island of Hawai'i seems to be somewhat stable. I suspect that is largely due to the island's size making a good deal of the falls much harder to access for the casual visitor.
Where Are The Big Island Waterfalls?
Besides the detailed descriptions and directions to each of the waterfalls listed above, I thought I'd show you this map of the locations of the Big Island Waterfalls.
As you can see, they are pretty much concentrated on the northeastern side of the island from Hilo and throughout the coast north of town. This pretty much coincides with the Hamakua Coast along the east-northeastern slope of Mauna Kea as well as the Kohala Mountains further to the north. There's a surprising lack of known waterfalls (let alone accessible ones) on the eastern slope of the Mauna Loa volcano, which makes me wonder whether Mauna Kea's slopes have caused a bit of a rainshadow on its neighbor's slopes.
In any case, the concentration of waterfalls on the Big Island are largely due to the fact that the Hawaiian Islands experience trade winds that scoop up moisture from Alaska's Aleutian Islands and blow into the islands as northeasterly winds.
These moisture-laden winds ultimately hit mountains (especially those as large as both Mauna Kea and Mauna Loa as well as the Kohala Mountains), which then causes the vapors to rise and condense into rain clouds over these mountains.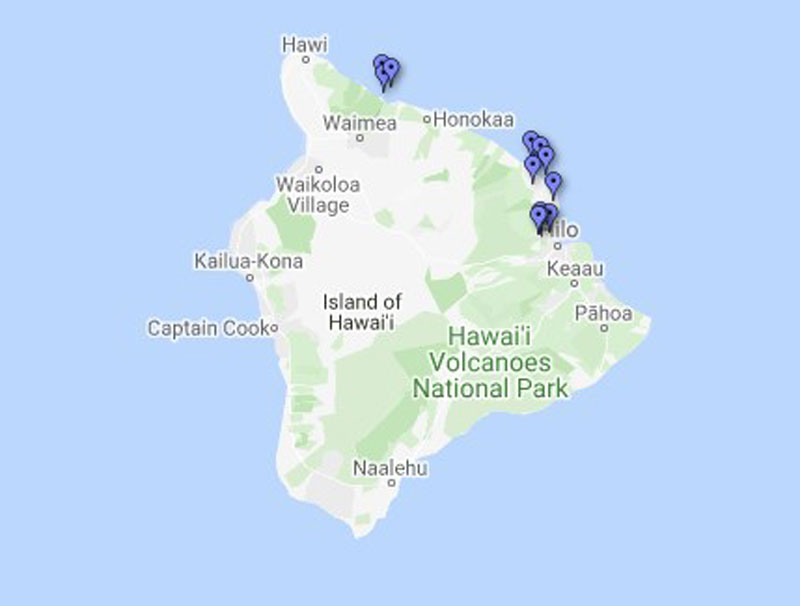 As a result, it's why the wetter east-northeast side of the island is considered the windward side while the drier west-southwest side of the island is considered the leeward side.
And as far as renting a car to enable exploring the Big Island on your own, there is a road that goes completely around the island, but you'll want to budget at least a half-day to do this with minimal stops.
There's also a "shortcut" road between the wetter Hilo Town and the drier, more touristy Kailua-Kona Town, which is known as Saddle Road (probably so named because it traverses the "saddle" between the twin volcanoes of Mauna Kea and Mauna Loa.
One time we actually were forced to drive this road to escape the wet side of the island when flooding took out bridges on the Hamakua Coast as well as further to the south of Hilo during an unusual downpour on Super Bowl weekend in early February 2008. So that ought to give you an idea of the size of the island and your options on getting around it.
When To See The Big Island Waterfalls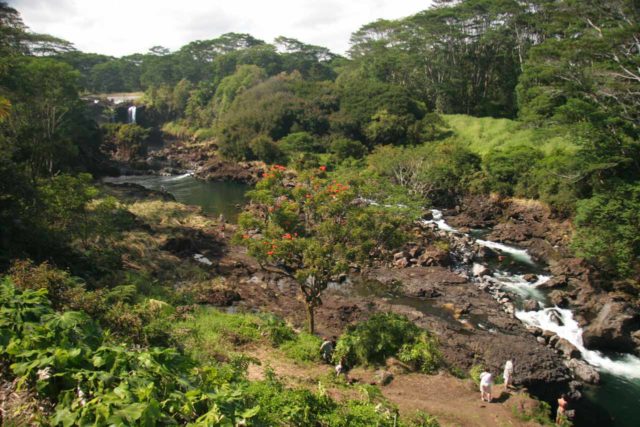 The Hawaiian Islands tend to experience a "Wet Season" and a "Dry Season". The Wet Season tends to occur between October through April while the Dry Season tends to occur between May through September.
Of course, Nature is a chaotic system so things work in terms of likelihoods (or probabilities) of things happening and not in absolute terms. Therefore, these Wet Season and Dry Season variations are merely guidelines based on statistical data along with some anecdotal observations.
Moreover, with Global Warming and Climate Change, these seasonal patterns are prone to changing, and the severity of the rains (and conversely the droughts) are intensifying. Heck, we were caught in one of these massive rain storms in February 2008 during a Wet Season where we (and some locals I spoke to) already speculated about the influence of Global Warming being the driver of it.
Besides, you can still have good weather during the Wet Season and you can have wet weather during the Dry Season.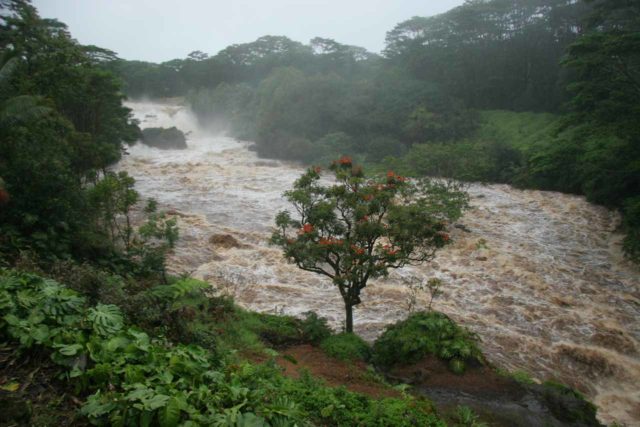 Nevertheless, when there is wet weather, the differences in the watercourses (and thus the waterfalls) can be dramatic. It's the main reason why you need to be cognizant of the flash flooding risk whenever you choose to be near or in the streams and rivers. And as you can see in the photo above, you definitely don't want to be anywhere near the rivers and streams under such conditions!
In any case, I go into far more detail about Hawaii's seasonal variations in this write-up.
Seasonal variations aside, some of the major waterfalls has also a bit of a history of water diversion, and this included Hi'ilawe Falls, which is supposed to have a companion called Hakalaoa Falls. Another one is the Kaluahine Falls.
Anyways, if you'd like to delve deeper into Hawaii's history of sugar and water diversion, I highly recommend reading "Sugar Water: Hawaii's Plantation Ditches" by Carol Wilcox.
Where To Stay In The Big Island
In my mind, you essentially have two main options and a couple of other alternatives in terms of places to stay on the Big Island of Hawai'i.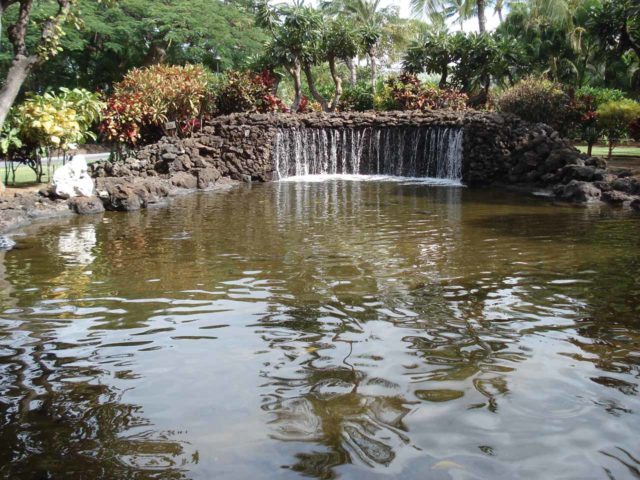 That said, given that island time (i.e. a mentality about the slow pace at which things can move) tends to conflict with a limited-time itinerary where we wish to fit in as much as we can before going home, there are definitely advantages and disadvantages to specific accommodation locations. This is especially the case when you consider the size of the island and the long driving distances compared to the rest of the Hawaiian Islands.
The bottom line is that if you wish to stay in the drier and more touristy side, you'll want to stay in Kailua-Kona, and if you want to stay in the more expensive exclusive resorts, you may want to consider Waikoloa further to the north.
On the other hand, if you want to immerse yourself in waterfalls (and get closer to the Hawaii Volcanoes National Park), it's more advantageous to stay in Hilo.
Finally, if you want something in between, it's possible to stay in the Paniolo (basically Hawaiian vaqueros or cowboys) town of Waimea, which sits in the smaller "saddle" between the Kohala Mountains and the northern slope of Mauna Kea.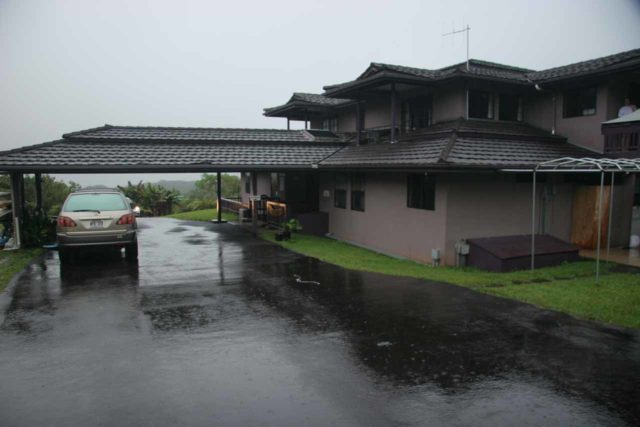 Again, I want to reiterate the driving distances involved between these towns just to drive home the point about the island's size. For example, it takes over 2 hours (94 miles) to go between Hilo and Kona via Waimea on the Hawaii Belt Road or nearly 3 hours (124 miles) to go between the towns via the southern route. Waimea is about an hour drive (40 miles) from Kona and over an hour drive (55 miles) from Hilo. Finally, the Saddle Road between Kona and Hilo was about 78 miles taking a little over 90 minutes.
Final Thoughts / Conclusion
I hope you enjoyed reading and seeing what we had to say about the best waterfalls you can swim in the Big Island of Hawai'i (legally).
More importantly, I hope you've been able to use this resource for your own trip planning needs so you can go out there and experience them for yourself!
If you have questions or comments, feel free to use the form below and tell us what's on your mind!
Visitor Comments:
Got something you'd like to share or say to keep the conversation going? Feel free to leave a comment below...
No users have replied to the content on this page