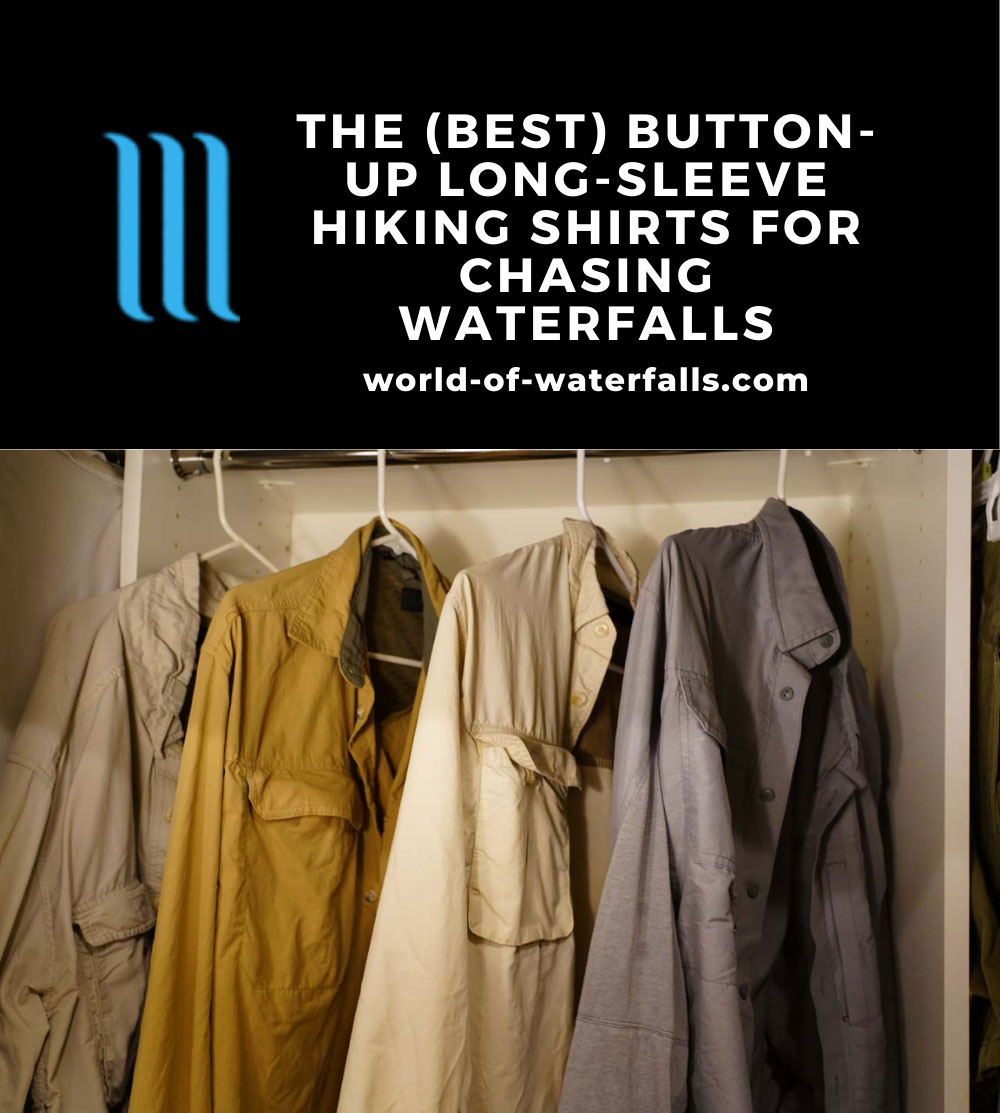 Determining the best button up long-sleeve hiking shirts for chasing waterfalls can be highly personal. What may work for one individual may not for another. Nevertheless, it's an important piece of gear that is often overlooked, but it can literally be the difference between having a fun and fulfilling time versus getting stuck in a survival situation or worse!
So, in this buying guide, I will focus on this category of button up long-sleeve (LS) shirts because I tend to prefer them on not only my hikes to waterfalls but also for traveling the world to chase them.
While there's a large pool of brands and styles that address both the hiking and travel activities that also come and go with time, I am focusing this review on only the shirts that I've personally used. That way, I can talk about my actual experiences for each shirt being evaluated.
I will also point you to the latest version of the shirt (that I'm aware of) for the individual brand and style that I've used. After all, it seems like such shirts become "obsolete" very quickly or they can evolve over time so there may be improvements or steps backwards from the versions that I'm evaluating below. That said, you'll have what you need to continue researching for your next buying decision…
The (Best) Button Up Long-Sleeve Hiking Shirts That I've Used
Why You Should Get Button-Up Long-Sleeve Hiking Shirts
I tend to favor button-up long-sleeve hiking shirts on my waterfall chasing pursuits because I find them to be versatile enough to handle a variety of conditions.
After all, when you're hiking, you're in Nature where she can throw all sorts of things at you. For example, it can rain or snow on you, but will the shirt dry quickly so you don't become hypothermic? Or it can be intensely sunny so can the shirt protect you from the harmful ultraviolet rays without constantly needing to apply (and sweat off) sunscreen?
Or can this shirt also help me ward off disease-carrying mosquitoes, especially in an environment that's humid or full of freshwater lakes and rivers?
I also need this shirt to be "smart" enough to pass as streetwise clothing in the cities or in places like the airports. In the interest of keeping my travel carrying weight light, I don't want to have to bring too many clothes with me.
And does the shirt have pockets or other thoughtful features so I can carry important tools or nick nacks while at the same time accessing them quickly without fumbling through a pack or stuffing pant pockets more than they need to?
Indeed, I think of serious hiking shirts like the button-up long-sleeve types to meet all of these situations, especially since you need to be able to handle unexpected situations.
What to Look for When Buying Button-Up Long-Sleeve Hiking Shirts
Everyone has different preferences on what is important or not when deciding to buy a button up long-sleeve hiking or travel shirt. So I want to offer my opinions on the most important things that I look for in them.
Attention to Detail (e.g. Pockets – Both Quick Access & Secure)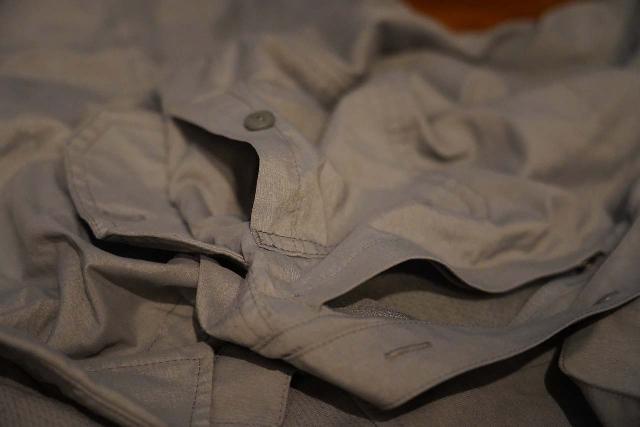 By attention to detail, I mean how well thought out is the design of the shirt? Does the shirt have pockets? If so, what kind and how big?
Do the pockets have quick-access velcro or snap-button fasteners?
Or do the pockets have more secure zippers so I can store more critical items that I don't want to fall out yet at the same time be easily accessible?
What about other useful things like a wipe for sunglasses? Or what about a rod holder?
Indeed, a shirt designed with attention to details like these can enhance the overall hiking or travel experience.
Material & Workmanship (Quality / Durability)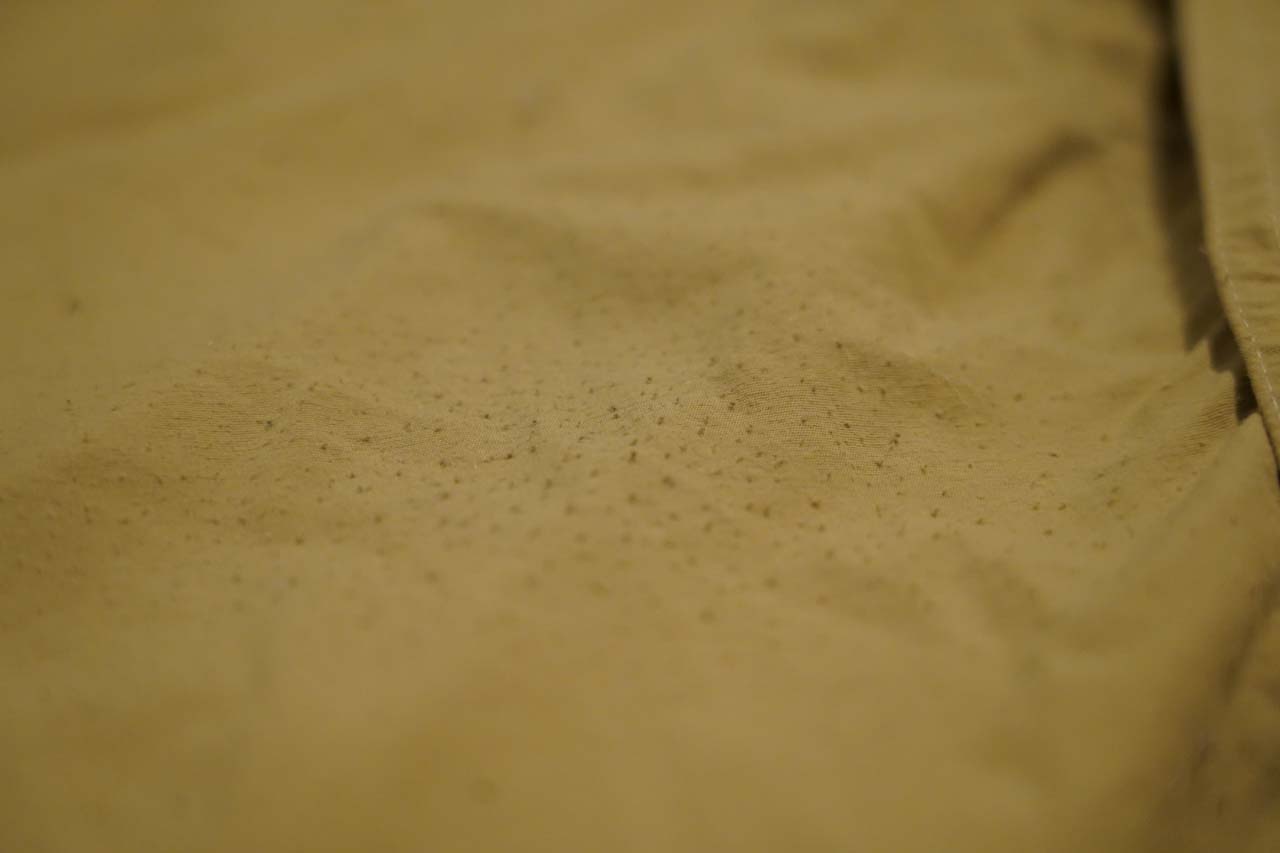 When it comes to the serious shirts that I'm evaluating in this buying guide, I care about the quality of the material as well as the quality of the workmanship.
After all, if I'm going to pay money on a major upgrade from your typical athletic or street shirts, I want to make sure they're well-made and that they're going to last.
So I look for things like how sturdy the stitchings are, how long the buttons will last before they start to fall off, how long the zippers and/or velcro are going to last, and whether the fabrics are cheap and prone to tearing, pilling, or whether they're light yet tough.
Comfort & Versatility (e.g. Vents or Roll-up Sleeves)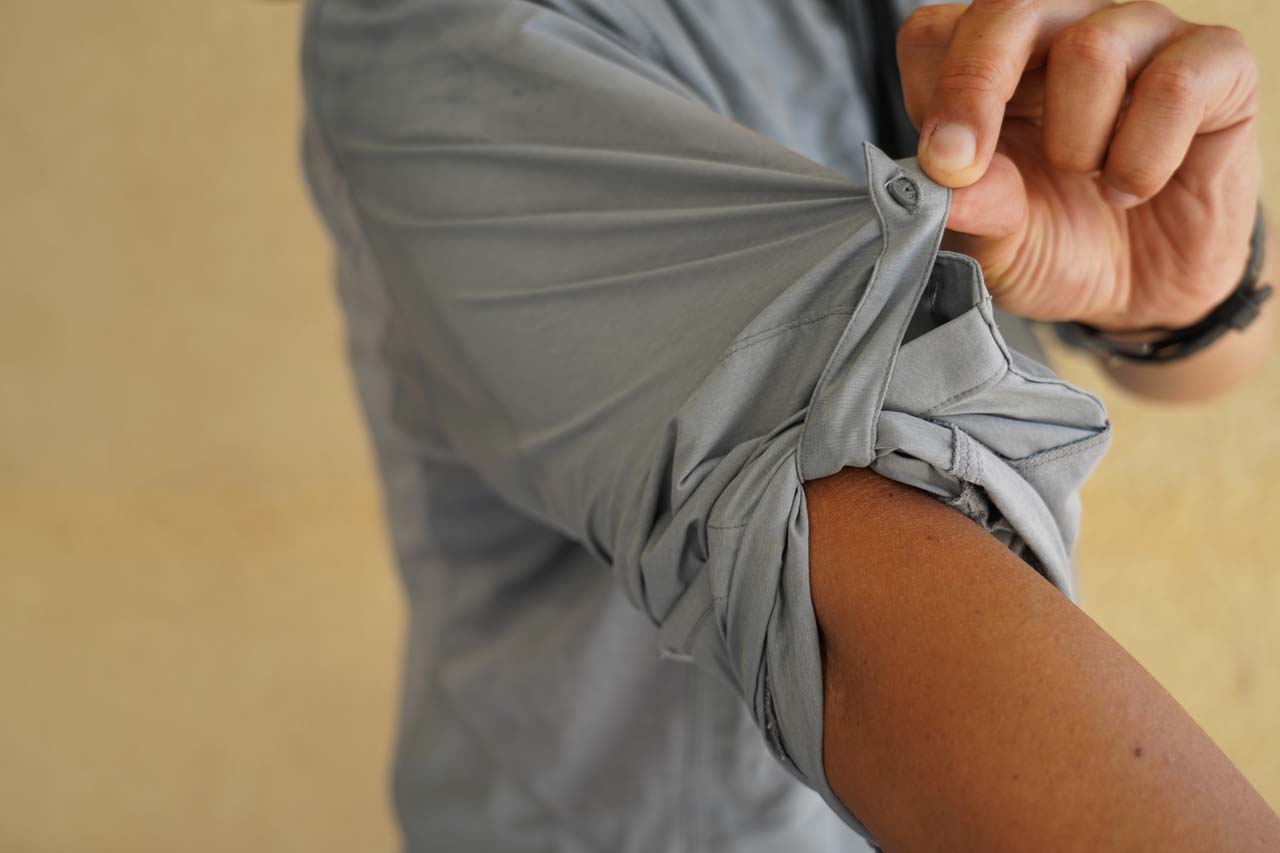 Obviously when you're out-and-about, comfort is a major consideration when it comes to those excursions.
After all, if you're going to sweat, get a bit dirty, and generally stay active in all sorts of environments, then you definitely don't want the shirt you're wearing to add to your misery!
So I'd then look for things like can the shirt roll up its sleeves and become mid-sleeve or short-sleeve on the go? Does the shirt have vents in the back and underarm to control the amount of sweating there?
Moreover, can the shirt stretch so my movements aren't restricted, especially if I find myself in situations where a false move can lead to serious injury, a survival situation, or even death.
Button Up Long-Sleeve Hiking / Travel Shirt Reviews
Here are the reviews of the button-up long-sleeve hiking / travel shirts that I've used in chronological order.
---
REI Co-op Sahara Solid Hiking / Travel Shirt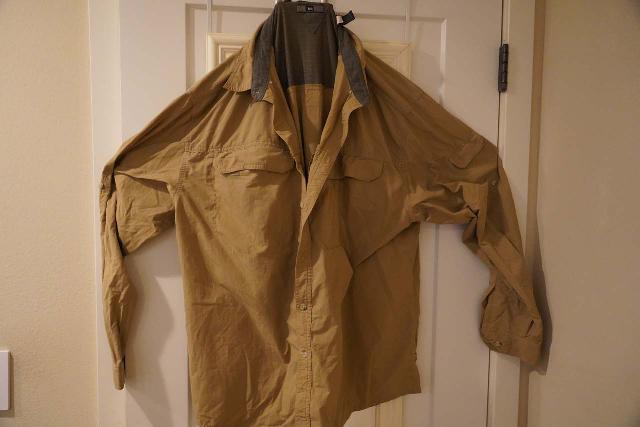 Of all the hiking shirts that I have bought over the years, this was the first that I've bought, and I still have and use it over 15 years later!
In my mind, this shirt represents hiking and travel functionality at an affordable price so when it comes to features and comfort, there's a bit to be desired.
For example, it does have both quick-access velcro pockets as well as one secure zippered compartment in one of the pockets, which I use heavily. It also has sleeves that roll-up and can be secured to become a mid- or short-sleeve shirt.
That said, my shirt has an easily-overlooked sleeve pocket for something small and thin, though I haven't figured out how best to take advantage of that compartment after all these years.
However, this shirt tends not to dry very quickly while also being a bit on the heavy and thick side so I tend to use this shirt more in cold weather situations and in situations where I know they're going to get trashed (like a very rugged hike or I have to wade in deep water). I've noticed that there's a lot of pilling all over the shirt, which I'm not sure if this is more attributable to the shirt's age or the quality of the fabric.
Pros
Thicker material for staying warmer
Reasonably-priced
Has 1 quick-access/secured combo pocket + 1 quick-access only pocket
Cons
Doesn't breathe well
Doesn't dry very quickly (always gets soaked from sweat)
Heavy and sticky (especially when wet)
Scores
Attention to Detail: 3/5
Material Durability: 3/5
Workmanship: 2/5
Comfort: 2/5
Versatility: 2/5
---
ExOfficio Air Strip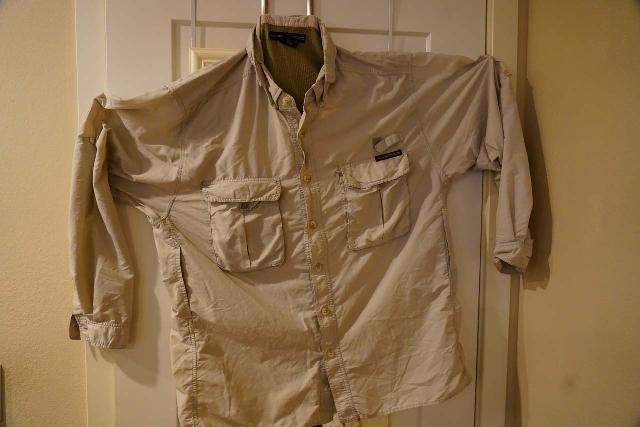 I generally hang onto my hiking shirts that I've bought over the years, especially if they're durable and useful. And to that end, perhaps the one shirt that I have the most of in my hiking gear wardrobe is the ExOfficio Air Strip.
I tend to think of this shirt as a bit of an upgrade to the REI Co-op Sahara Solid shirt even though they have very similar features and functions.
For example, there's also two velcro-secured quick-access chest pockets with where one of them having a secured zippered compartment. And I can also roll up its sleeves and secure them to make them mid- or short-sleeve shirts (though sometimes those sleeves can sag and became an awkward hybrid between long-sleeve and mid-sleeve)
However, what makes this shirt more of an upgrade is the lightweight, quick-drying 80% nylon, 20% polyester material along with a plethora of velcro-secured vent in the back as well as a mesh opening under the arm. There's also a rod holder
Granted, sometimes the material is so thin that persistent mosquitos can bite through the shirt and get me, and the material doesn't stretch so it can be restrictive on my movements when I'm really sweaty and sticky. But by and large, this has been my go to hiking and travel over the years, and I still continue to use them to this day (over 15 years since I first started using them)!
Pros
Lightweight and Breathable
Durable and quick-drying
Has 1 quick-access/secured combo pocket + 1 quick-access only pocket
Cons
Fabric doesn't stretch nor does it give
Roll-up sleeve tends to sag
Mosquitoes can still bite through the fabric
Scores
Attention to Detail: 3/5
Material Durability: 4/5
Workmanship: 4/5
Comfort: 3/5
Versatility: 3/5
---
KUHL Airspeed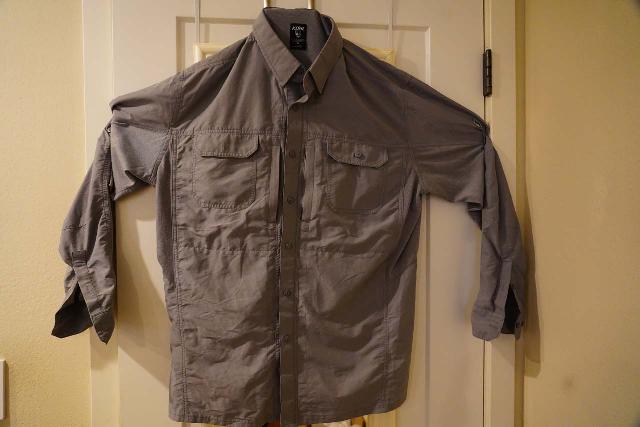 In my mind, the KUHL Airspeed LS shirt is an upgrade to the ExOfficio Air Strip LS shirts that I've been using most of the time. KUHL actually reached out to me to try out this shirt, which opened my eyes to how far hiking/travel shirts have come over all these years.
For example, in addition to two chest pockets fastened by buttons (though I wish they were velcro for quick access), they also have two zippered pockets that are big enough to hold my iPhone (as well as my pad and pen since the buttoned pockets were too cumbersome for quick access).
The shirt also feels stretchier and softer than my ExOfficio shirts, which further made this shirt stand out (though it did feel a bit of a tighter fit for me). Plus, it even had a nifty and handy little sunglass wipe at the bottom of the shirt so I don't have to fumble for a wipe. Heck, I could even leverage that feature to wipe the filters and lenses of my camera!
Now the jury is still out regarding its durability one of the buttons on the sleeve already came off after a couple of uses, and my wife also noticed some pilling in the fabric on the back of the shirt. But other than that, I'm pretty impressed with this shirt and I'm definitely open to considering more high-end shirts like this going forward.
Pros
Forgiving Somewhat Stretchy Materials
2x Secure Zippered Pockets + 2 Single-Button Pockets
Well-thought-out Sunglasses/Lens Wipe
Cons
May not be as durable as I'm accustomed to
No true quick access pockets due to using button instead of velcro or snap-button fastener
Has a tighter fit
Scores
Attention to Detail: 4/5
Material Durability: 2/5
Workmanship: 3/5
Comfort: 4/5
Versatility: 4/5
---
FAQs
Here are some commonly asked questions about button-up long-sleeve hiking shirts that you might find useful.
What Do You Use The Chest Pockets For?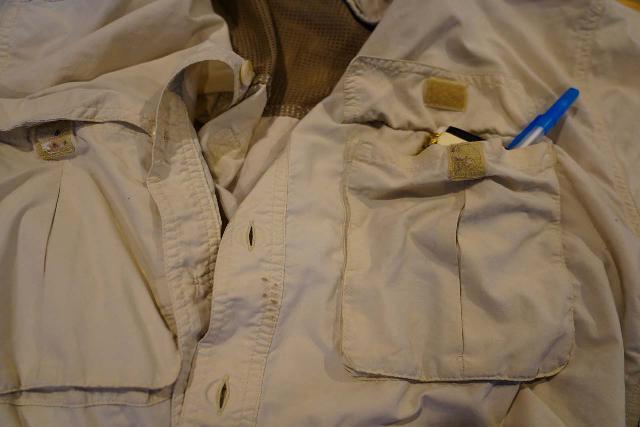 It depends on the pocket type.
If it's a pocket secured with velcro, then I'd put something that I need to access quickly like a pen and handheld notepad. That's because I take lots of notes in the moment on my hikes and travels in general. I've also put my iPhone in there if it's big enough during those times I'm crossing a stream or river and don't want to risk dunking it.
If it's a pocket secured with a zipper, then I'd put small items that I can't lose like a room keycard, maybe a parking ticket (if I need it to pay on the way out), or even my iPhone if it's big enough and I'm doing something where I don't want it to fall out. In one case, I actually used it for a pen and pad because that shirt didn't have a quick-access chest pocket as it required buttoning it.
Don't These Shirts Get Hot?
While it's true that long-sleeved shirts might be the last thing you think about in a hot and humid environment, it's a trade-off between sweating off insect repellent and sunscreen versus getting natural protection simply by covering up. It's really weighing the risk of temporary discomfort versus the possibility of disease like from an unlucky mosquito bite or unchecked sun exposure.
That said, good button up long-sleeve hiking shirts should also have the ability to roll up sleeves and secure them so they don't fall back down. This makes them virtually mid-sleeve (maybe not quite short-sleeve) shirts, if you really do need the lower arms to breathe.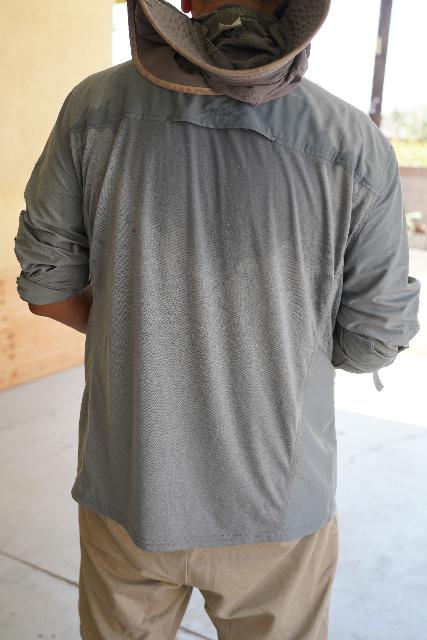 Moreover, if the shirt is well-made, there should be vents to at least help move the accumulated heat as you're moving about in the field.
What Size Do You Get?
For me personally, I tend to wear size XL (as these shirts tend to come in sizes from small (S) to extra large (XL), but some do come in extra small sizes like (XS) as well as extra-extra large sizes like (2XL, 3XL, etc.).
But in general, I try to wear the shirts to be more loose fitting because I don't want the shirt to restrict my movement while at the same time also facilitating air to move between my skin and the fabric (even with the vents the good shirts typically come with).
Now if the size is too big (or too small) or the particular shirt just didn't work out, then if I bought from a reputable outfitter like REI, I know they have a pretty generous return policy so I could exchange or return for something that suits me better. While you might be able to pull this off on Amazon, it's a bit more hassle since you're dealing with an impersonal system so they necessarily have to be more stringent.
Final Thoughts / Conclusion
So that concludes my list of the best button up long-sleeve hiking shirts that I've used to chase waterfalls around the world.
I hope you've found this roundup review useful as I tried to expose you to the types of button up long-sleeve hiking shirts that are out there as well as their capabilities.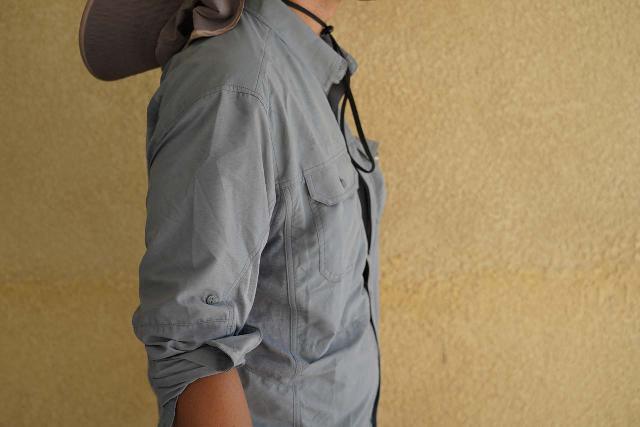 As you can see, buying clothing in general is a highly personal choice.
So what worked for me may not work for you.
However, at least you can see what I'm thinking when I prepare for a hike or a trip, which you may find useful for your own endeavors.
Finally, if you wish to learn more about choosing hiking clothes, then this article might educate you further (as well as validate my mindset that I've outlined above)!
Please note that this is not a sponsored post. However, there are affiliate links that help pay for this site. You can read more about these in our affiliate disclosure in the footer at the bottom of this post. If you have questions or comments, please use the comment box below.
Visitor Comments:
Got something you'd like to share or say to keep the conversation going? Feel free to leave a comment below...
No users have replied to the content on this page