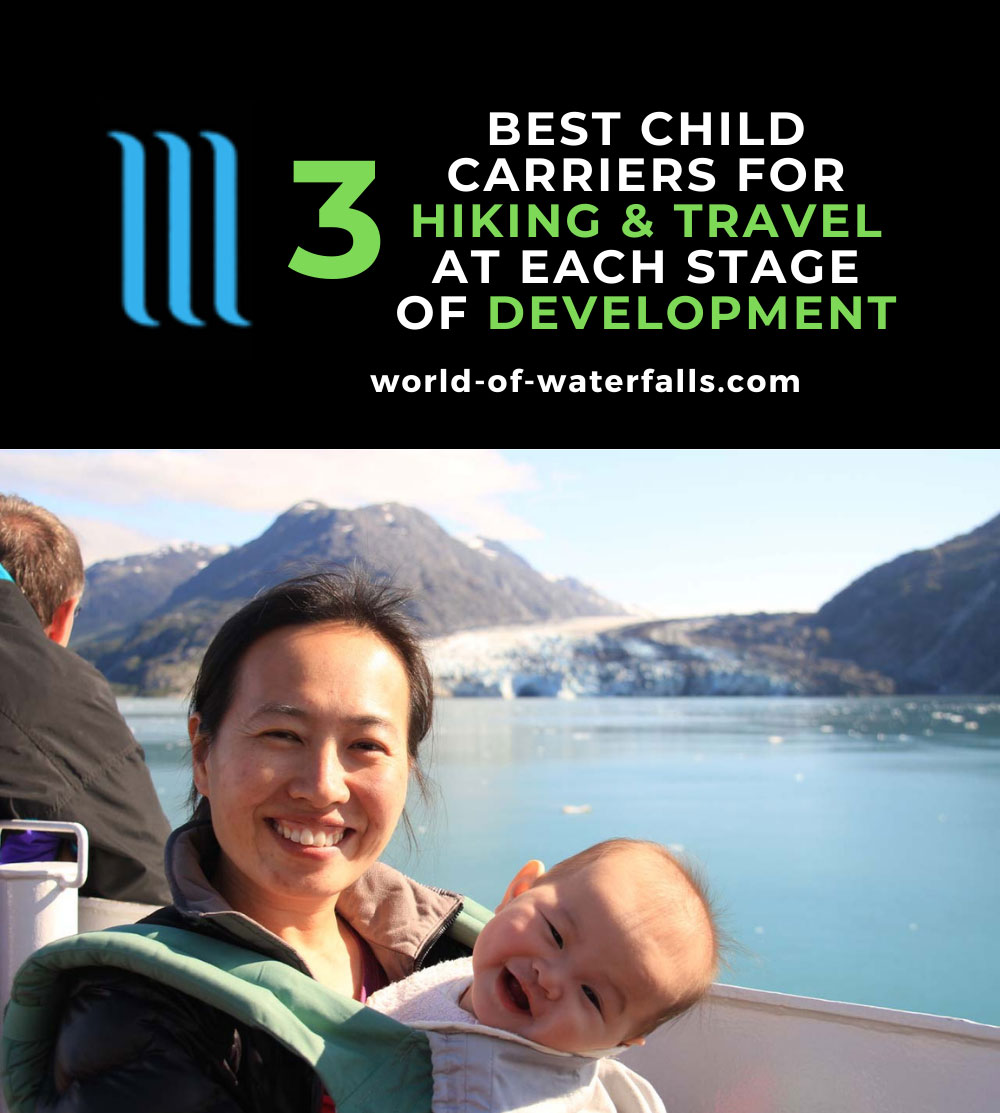 The answer to what is the best child carrier for hiking as well as travel really depends on what stage of development your child is in (whether the child is a newborn, infant / baby, toddler, or later). It also depends on where you're bringing your child and what you're trying to do. So in this article, we share our own personal experiences with which child carriers worked best in allowing us to keep chasing waterfalls around the world as our child grew and developed.
Since it can be confusing to figure out how not to give up on our passion for chasing waterfalls (which involves lots of hiking and travel), hopefully through the lens of our personal experiences, you have a reference point to make adjustments for your particular situation.
Indeed, you shouldn't have to give up on exploring the outdoors and the world due to a child, and you shouldn't even have to suspend engaging in these personally fulfilling activities! And the child carrier played a major role in enabling our pursuits!
So let's get right into the particular child carriers that we've used, which are summarized in the following table…

Baby Bjorn (Best For Newborns; Less Than 3 Months)
Why Did We Choose The Baby Bjorn?
We used the original Baby Bjorn carrier when our daughter was less than 3 months as well as another month or two afterward.
This was mostly due to the carrier's ability to stabilize baby's neck and head since she couldn't hold it up at that stage of her development.
One major benefit of using the Baby Bjorn at this time was that it was snug so baby was always close to the wearer's body.
At the same time, there was a neck support to prevent baby's head from toppling backwards (the head can only go forwards, which was up against the wearer's body if worn such that baby faces the wearer).
As for the wearer, the main benefit of having the carrier is to free up your hands to tend to other tasks instead of occupying one or both of your hands and arms with holding the baby.
What Was It Like Using The Baby Bjorn?
Using the Baby Bjorn certainly helped us through the many adjustments that we had to make in baby's first 3 months or so.
In fact, for both the wearer and our daughter, the snugness of the Baby Bjorn seemed to work quite well because baby always felt the wearer's warmth (mostly from Mommy though I've worn the bjorn myself from time to time).
I suspect this snug fit kind of emulated how our daughter responded well to swaddling (and shushing) since it's theorized that the newborn phase is really a "fourth trimester" where the baby feels "at home" in the noisy and tight confines of the uterus.
That said, the issue with wearing the Baby Bjorn was primarily the lack of weight distribution to the wearer's hips and legs as a result of the lack of a hip belt.
Therefore, we definitely felt it on our shoulders and especially our backs when worn for an extended period of time (say greater than a half-hour or so).
As far as other things we had to do when the Baby Bjorn was in use, the carrier lacked pockets and compartments.
So if we had to go out or go somewhere, we would pretty much tag team and divide up the burdens.
That meant, one person primarily carried baby while the partner carried all the other stuff (i.e. diapers, changing station, wipes, formula, breast pump, coolers, etc.).
We actually had a separate specialized Baby Diaper Backpack (i.e. an ergonomic alternative to carrying a big diaper bag) to carry all these other things.
However, in the worst-case scenario, it was possible to wear both the backpack and the Baby Bjorn since the carrier is worn in the front of the torso.
Over the years, the Baby Bjorn design has been improved so I'm sure some of our issues may have been solved or at least made better, which you can see for yourself by checking out the latest Baby Bjorn models.
Lessons Learned From Taking Our Newborn Around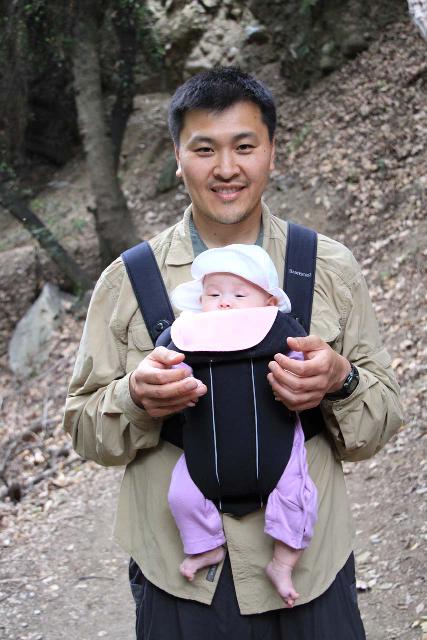 During our daughter's newborn phase, we definitely had to tone down our usual hiking and traveling activities, especially since we were still learning the ropes of parenthood at this time.
Just to give you an idea of what this entailed, my wife spent a lot of time trying to give our daughter as much of her milk as possible, which occupied most of her time pumping and storing the "liquid gold".
We also didn't travel during this time due to the hassle involved in bringing the breast pump, trying to store and cool the breast milk, letting baby have the space and time to do "tummy time" (to strengthen her neck), etc.
Nevertheless, we did do a test hike (when our daughter was about 10-11 weeks old) to Solstice Canyon Falls, which I thought was the flattest and easiest waterfall hike that I could think of in the Greater Los Angeles area.
During this hike, we actually brought a stroller since we weren't really keen on wearing the Baby Bjorn for the entire two miles of the hike, and we could store stuff in the stroller's various compartments.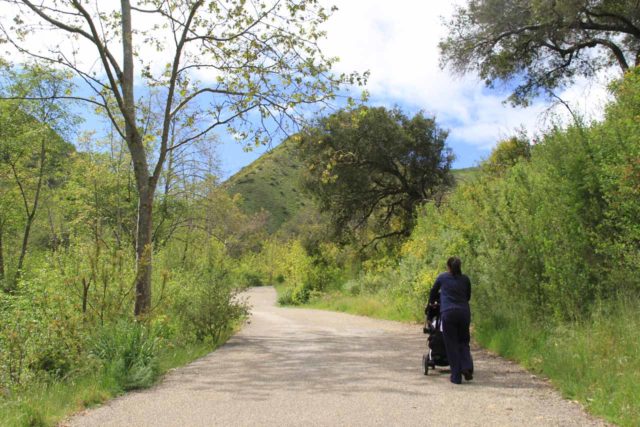 What we learned from this experience was that even for a flat (even semi-paved) hike like this, the stroller was still bumpy due to the odd mud and puddles on the trail, and it probably felt more like an off-roading experience to our baby.
While I'm sure it was fun for the baby (who seemed to enjoy it when she wasn't asleep), it probably jacked the stroller, which was really meant more for cities and suburbia.
When we got towards the waterfall itself, we had to leave the stroller (and most of the baby-related belongings) behind while using the Baby Bjorn to get us the rest of the way, which involved some mild boulder or rock obstacles.
Keep in mind that there was no sanctioned "parking" for strollers, so we just left it some place and had faith that no one would try to rip it off nor anything it was carrying.
I'm aware that there are also more rugged strollers with wheels more like what you see on mountain bikes, but we weren't sure if such a purchase was justified, especially considering how few places we could actually take the stroller in general.
As a result of this experience, we learned the following:
So given these takeaways, we actually applied these lessons to another hike a little over a month later to Monrovia Canyon Falls.
On that hike, we ditched the stroller, exclusively used the Baby Bjorn, and we shared the burden (Julie carried baby up to the falls while I carried baby back to the car).
The end result of that was we had a much more pleasant experience, which more importantly gave us a sense of what else we could push the next time we'd go on a waterfall hike or elsewhere.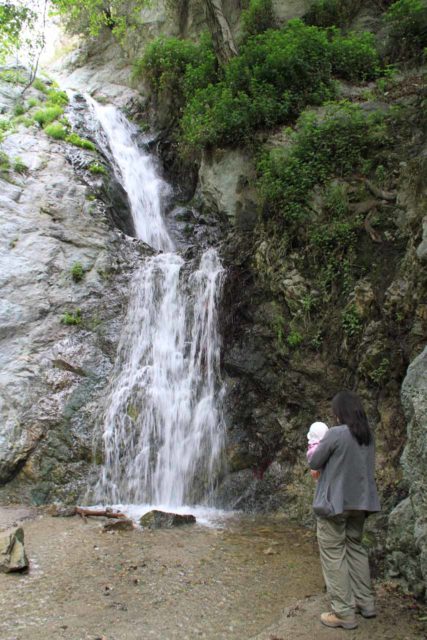 That said, if we wanted to do a more ambitious hike, we were fortunate enough to have grandparents totally willing to care for baby while Julie and I did the excursions without baby.
This included what I called "divide-and-conquer" excursions to Tahquitz Falls, an alternate trail to see Millard Falls (due to Station Fire damage), and Bonita Falls (when Lytle Creek was running high).
Ergobaby (Best For Infants & Small Toddlers; 3 Months to 2 Years)
Why Did We Use The Ergobaby?
We started to use the Ergobaby after our daughter was around 4 months old, which coincided with when she could hold up her head.
We pretty much ditched the Baby Bjorn immediately when this happened primarily because it had a hip belt for a little better weight distribution onto the strongest parts of our body (i.e. the legs and hips).
The Ergobaby was also compact and soft so we could take it everywhere with us, especially on travel let alone hikes.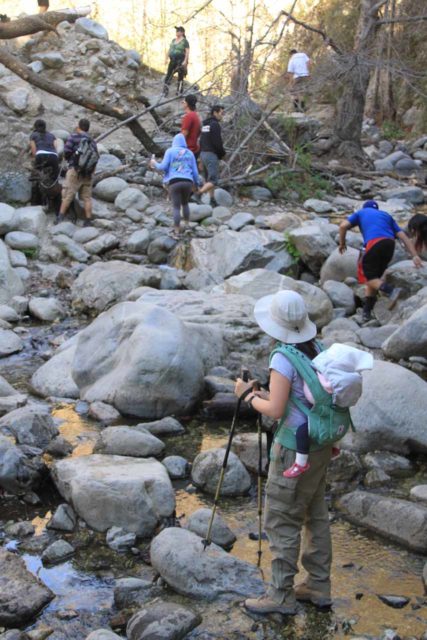 In fact, when we realized this benefit, we started making plans to do a trip involving a plane ride that summer, which ended up being a trip to Washington State and Alaska when our daughter was around 6-7 months old.
As our daughter was becoming more coordinated, we let her walk (or stumble) on her own, but we had the Ergobaby carrier with us just in case she needed to be carried (whether by her getting tired from that effort or her needing to nap).
In addition to its portability, we also appreciated that it did have a small pocket for putting things like keys or plastic nipples (for breast pumping).
What Was It Like Using The Ergobaby?
Like the Baby Bjorn, the Ergobaby also kept the infant somewhat snug to us, but there was a bit more wiggle room for her as well as less restrictions around the head area so she could look around a bit more.
In hindsight, there was an attachment for the Ergobaby to stabilize a newborn's head like the Baby Bjorn did, but Julie found that attachment to be cumbersome for that particular purpose.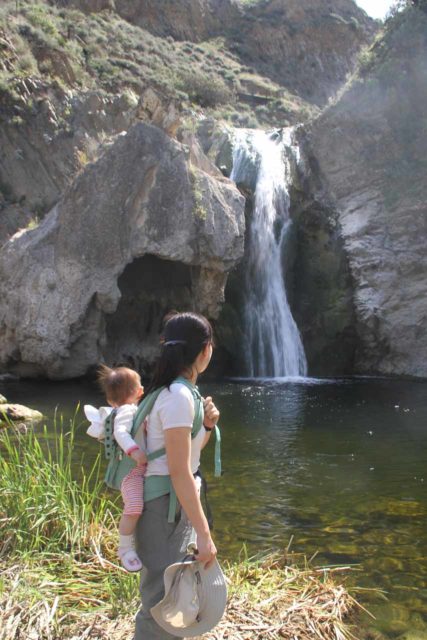 As far as us wearing the Ergobaby was concerned, we at first carried the infant in our front just to make sure her she was secure and not too fussy.
However, on some of the hikes we've done, we wore the Ergobaby on our back for a little less discomfort on our shoulders and back.
Even though our daughter was a little less maintenance as an infant as compared to her newborn phase, we still had to employ some tag teaming as far as burdens were concerned.
Therefore, we still had one parent carry our child in the Ergobaby while the other parent carried the baby backpack whenever we were on a hike or going out.
Julie was still pumping through our daughter's first 12 months so we did have to carry around the pump when convenient.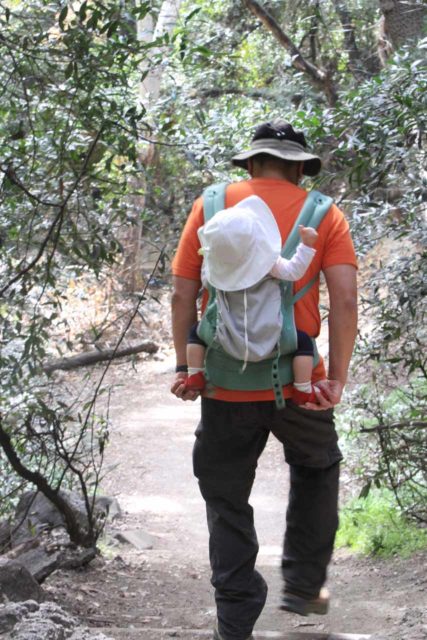 Otherwise, we had to leave the pump in the car while bringing a small cooler with already pumped breast milk when needed.
After 12 months, we continued to use the Ergobaby for at least another year, especially since we were getting away with it considering our daughter was a bit on the petite side.
Anyways, the Ergobaby also went through a bunch of design changes and improvements over the years since we've used it, and you can check out the latest Ergobaby models and prices currently on the market.
Lessons Learned From Taking Our Infant Hiking and Traveling
Having been through a handful of more hikes on top of the few we did when our daughter was less than 3-4 months, we had gotten pretty used to the idea of doing hikes with a baby.
Case in point, we took her along on local hikes to Paradise Falls, Monrovia Canyon Falls (again), and did some divide-and-conquer (with the help of the grandparents) to places like Escondido Falls and Eaton Canyon Falls (twice).
So we were pretty confident in our abilities to handle whatever situations came up as far as doing local waterfall hikes.
However, we still experimented with what worked and didn't work as far as opening our minds to the idea of road trips and plane travel, and that was essentially the next step in terms of maintaining our passions even with a baby in tow.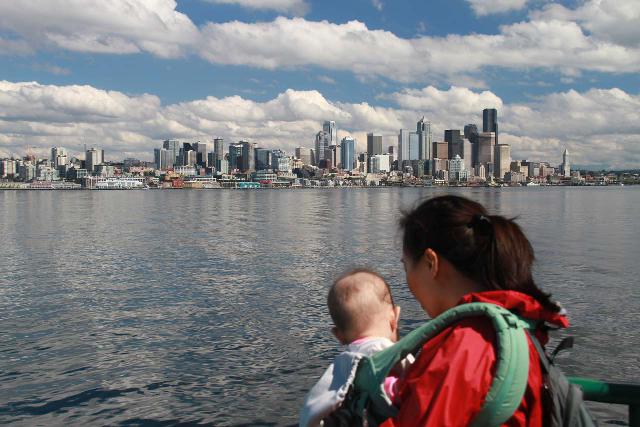 In fact, we did a weekend road trip to Yosemite as well as a trip to Washington State coupled with an Alaskan Cruise when our daughter was around 6-7 months old.
On the plane trip, we brought a more compact and collapsible travel stroller (than our city one), a lightweight travel car seat with 5-point harness and car seat backpack, and the usual pumping equipment as well as other baby necessities to keep nurturing along our baby through her first year.
As a result of this experience, we learned that…
After the trip was over, I don't think we used the compact stroller anymore (in fact, I think we stopped using strollers altogether) as our daughter was coordinated enough to start walking by the end of 12 months.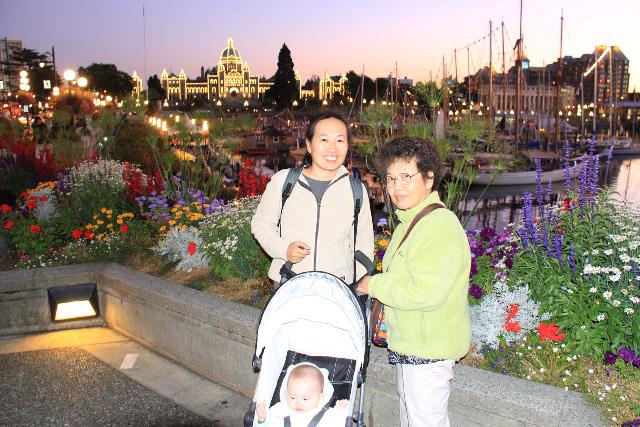 However, we did bring the Ergobaby and our daughter on an off-season trip to Tahiti just before our daughter turned 2 years of age, and the lessons we learned from that were…
So you see, the experimenting and exploration of what we could and couldn't do continued during our daughter's infant and pre-toddler phase.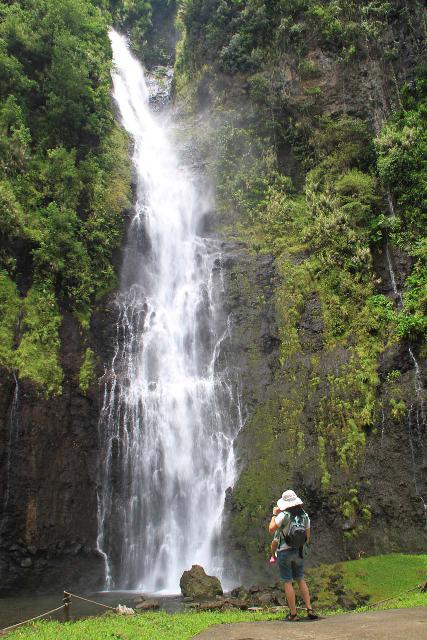 And with each time we were doing and figuring things out, we were learning (and re-learning) more about how to travel with a child so we wouldn't have to give up on our passions.
Osprey Poco Plus (Best For Toddlers; 2 Years to 4 Years Plus)
Why Did We Use The Osprey Poco Plus?
The most important consideration for using the Osprey Poco Plus child carrier backpack was that I knew it was safe for the child while at the same time maximizing the comfort level for the wearer.
Perhaps just as important, the framed child carrier enabled us to take on even more ambitious and longer hikes regardless of whether we were home or overseas.
In fact, this carrier was typically considered like a "stroller" but it could go to so many more places than a stroller can.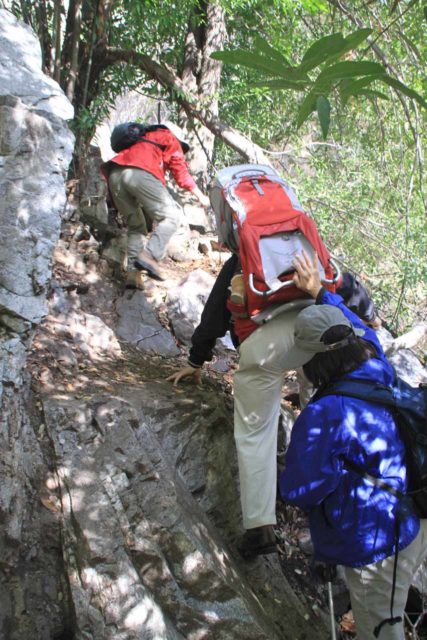 As long as our bodies (i.e. more like mine since I was the primary mule) could physically handle the rigors of carrying all that weight, this was pretty much the de facto "stroller" until our child was fully capable of walking unassisted indefinitely.
Anyways, having had experience with overnight backpacking treks, I knew that the weight should be redistributed to my hips and legs so they wouldn't tax the shoulders and back the way that the Ergobaby and the Baby Bjorn did.
Moreover, I knew these framed packs were well-built so they'd last long, the child won't break it, and there was a lot of attention to detail.
Case in point, the framed pack was self-standing so if the child needed to nap, she could do so while seated in the carrier.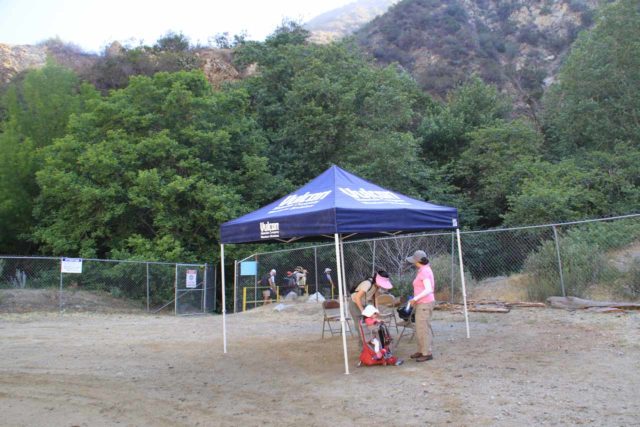 That allowed Julie and I to still have tea time together or we could even still engage in sightseeing abroad without the child fussing or needing to be carried by hand!
Our Osprey Poco Plus also had a retractable shade to keep her comfortable and less prone to sun damage while seated.
Further, our child carrier also had a lot of compartments so this pack pretty much literally was the stroller replacement as it carried not just precious cargo but also other things pertinent to taking care of the toddler (just like how we had used a stroller).
I'd have to say that of all the child carrying solutions we've used, the framed child carrier backpack was by far the most vital gear we needed to get through our child's toddler years.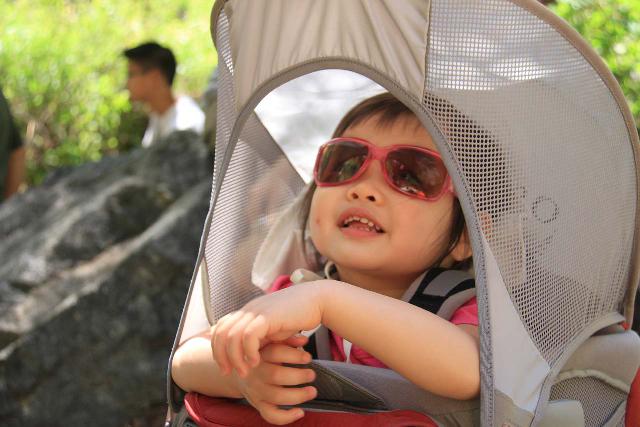 Heck, it empowered us to take on even more ambitious and longer hikes, and we managed to get use out of our child carrier for at least 2.5 years (which involved at least 3 different long trips involving plane rides and a few road trips)!
So I'd like to think that this investment certainly paid off!
Indeed, it really didn't feel like we had to give up travel and hiking because of our daughter thanks to this child carrier backpack.
That's not to say that we didn't have to do quite a few things differently than what we were used to, but the fact that we could still travel as well as hike said a lot about what a game changer our framed child carrier really was!
What Was It Like Using The Osprey Poco Plus?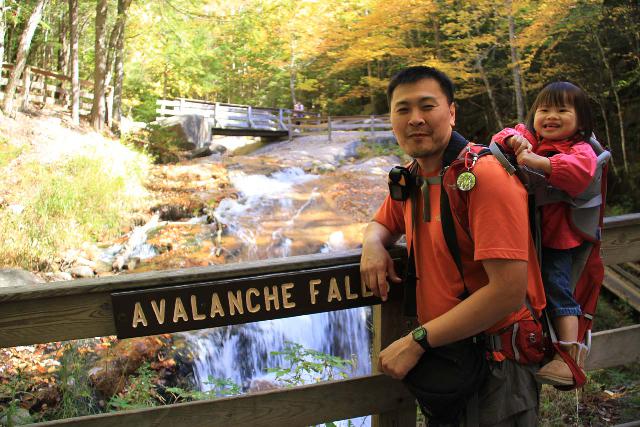 The Osprey Poco Plus was a departure from both the Baby Bjorn and the Ergobaby because our daughter wasn't snug against the wearer anymore.
So that meant we didn't have to share body heat anymore even though we were sweating up a storm hiking or just walking around in general.
Instead, the child sat in a seat that was structurally held by the frames of the child carrier backpack, which in my mind was basically a repurposed internal or external frame backpack for child carrying instead of gear carrying on overnight treks.
The Osprey Poco Plus was merely just one of many brands and models of framed child carrier backpacks.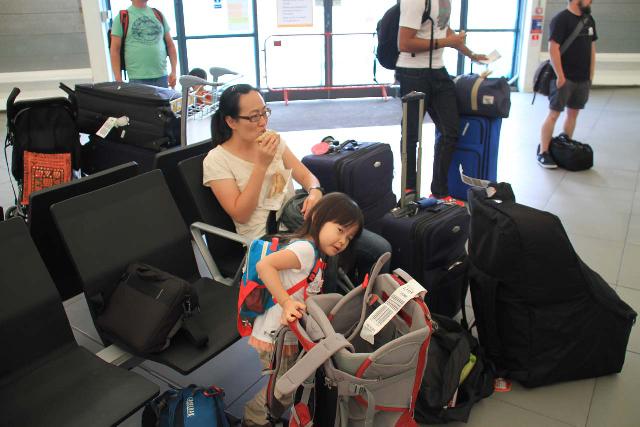 We stuck with Osprey because we've had positive experiences with other products made by them (namely their day packs or travel backpacks).
Indeed, having done overnight backpacks myself prior to our daughter's birth, I knew what to expect as far as carrying an additional 20-40 pounds or more.
That said, I also knew that if fitted and worn properly, the majority of that weight (if not all of it) rested on the strongest parts of my body – i.e. the legs and the hips.
So even though it wasn't terribly comfortable wearing the Osprey Poco Plus occupied with a child, it was probably about as good as it was going to get considering the circumstances.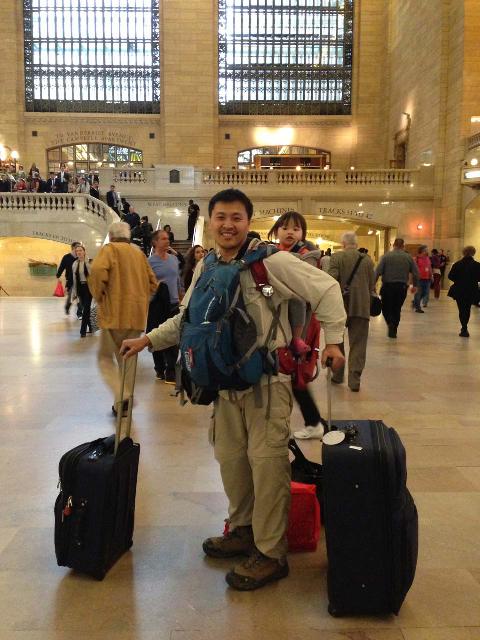 As far as some of the logistics of wearing the pack, I did have to kneel or sit down so my partner or some other helper could insert our daughter into the child carrier while I had the carrier worn on my back.
It was certainly not a one-person job though I suppose I if that situation arose, I could have put the child into the carrier and then then I'd have to be ultra careful slinging the pack onto my shoulders.
However, trying to load the child and sling it onto one's back without help is a very risky thing to do, and I personally wouldn't recommend it!
Anyways, we pretty much heavily used the Osprey Poco Plus from around the time our daughter was 2 years old until she was about 4.5 years old.
The stopping point happened when we were traveling in Southern Spain (in Sevilla, if I recall correctly), and I started experiencing persistent knee pain.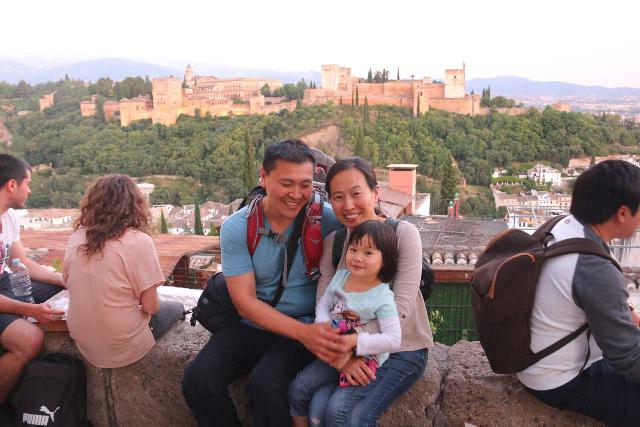 As much as our daughter enjoyed being carried around, that was literally "the straw that broke the camel's back".
So she had to walk on her own from that point forward, and the Osprey Poco Plus pretty much acted as a normal backpack carrying almost everything but the precious cargo.
Ever since we've gotten good use out of our Osprey Poco Plus child carrier, there had been more design tweaks and improvements made to the already award-winning design we got to benefit from. So you can see what Osprey Poco Plus design is currently on the market as well as how much it costs.
Lessons Learned From Taking Our Toddler Hiking & Traveling
Having learned a lot from hiking and traveling with our daughter from the time she was a newborn through her infancy, our confidence grew in terms of pushing the boundaries of what we thought we couldn't do.
Indeed, between the ages of 2 to 4.5, we've done increasingly ambitious hikes (e.g. Sturtevant Falls, Fish Canyon Falls), did a road trip (to Yosemite), and gone on three different trips involving plane rides (e.g. New England & Canada, the UK, and Morocco & Spain)!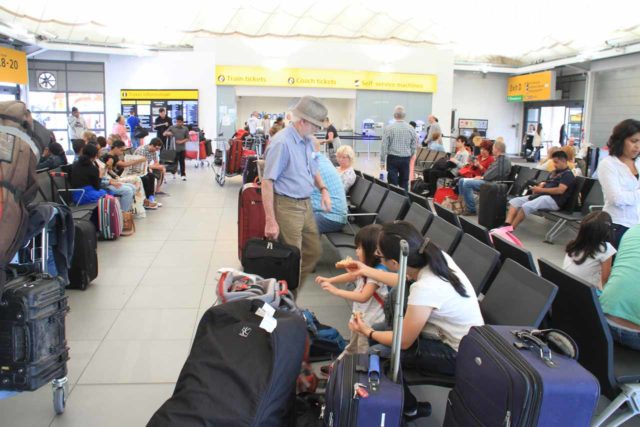 So having done all these things, here were the lessons learned from these excursions:
After our daughter was past 4.5 years old, she was on her own as my knees could no longer handle carrying her around everywhere in the Osprey Poco Plus.
Perhaps we might have gotten away with using the child carrier for as long as we did since our daughter was on the petite side.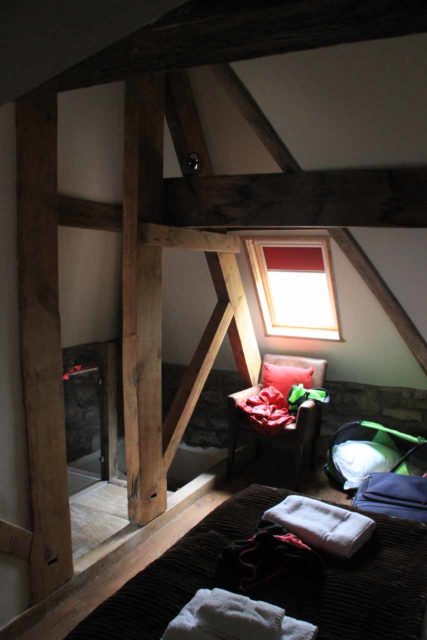 Nevertheless, just when you thought you were getting into a rhythm and you were getting the routine down, the child goes through another growth spurt and you have to learn a totally new routine.
Indeed, I guess that comes with the territory when you're a parent, and you're constantly adapting and making it work.
It's the main reason why you're never really prepared to be a parent until you've actually gone through it yourself.
I guess it's also why parents relate to other parents more easily while adults who don't have children tend to relate better to others without kids.
Final Thoughts / Conclusion
As you can see, the choice of which child carrier to use for hiking as well as for travel really depends on a lot of factors.
Your child grows quickly, and the best equipment for an infant won't work for a toddler.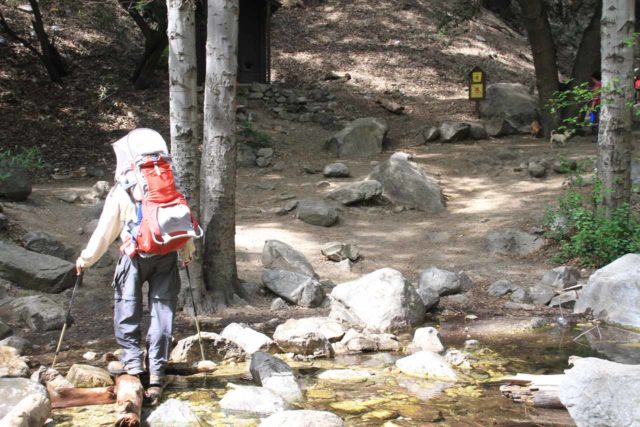 Nevertheless, the baby carrier or child carrier is only one part of the equation when you're trying to introduce your new family member to your love of the outdoors as well as the world.
Indeed, we've learned that while your child is learning how to do basic things, us as parents also had to learn what we can and can't do while trying to keep our love of chasing waterfalls around the world going.
Like there is no single answer on how to raise a child, there is also no single answer on how to assimilate your child into your love of the outdoors both local and abroad.
So we had to learn by doing and figure it out as we go, and this article showed you one example of how we've managed to do it.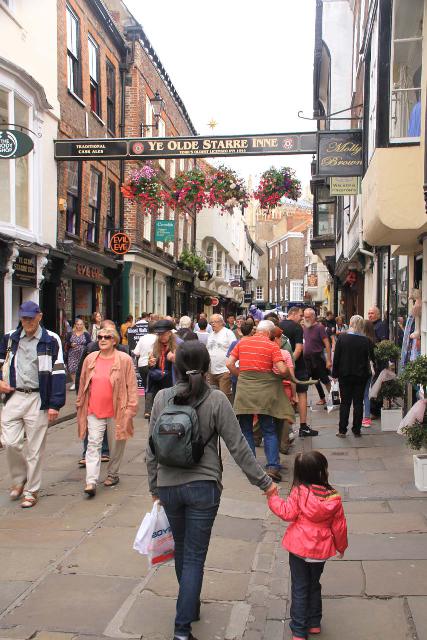 The fact that we're still chasing waterfalls (now as a family instead of a duo) demonstrates that we must have done something right in our situation.
That said, our daughter is more into playing Roblox than chasing waterfalls these days.
Hey, you can't win them all!
Anyways, if you'd like to learn more about choosing a child carrier backpack (assuming you've gotten past the delicate newborn and infant stages), you can continue your research by reading this pretty good guide.
Visitor Comments:
Got something you'd like to share or say to keep the conversation going? Feel free to leave a comment below...
No users have replied to the content on this page