This guide to the best waterfalls you can swim in Maui (or Mau'i) and Molokai (or Moloka'i) showcases our favorites in Hawaii's so-called Valley Isle and Friendly Isle, respectively. Note that we're including the island of Moloka'i on this page, because it's technically part of Maui County, and you can ferry to the island from West Maui.
We've compiled this page as a result of a few trips to both of these islands so we have a handle on the waterfalls that you can legally visit let alone swim in. That said, if you are going to go spend any amount of time in any of Maui or Molokai's swimming holes, you definitely need to be fully aware of the risks (e.g. leptospirosis, flash flooding, etc.).
By the way, in addition to the swimming hole waterfalls on this page, we also have a list of the Top 10 Best Hawaii Waterfalls where we showcase our favorites throughout all of the Hawaiian Islands as well as a larger compilation of Maui Waterfalls and Molokai Waterfalls. We even have a broader page of all the Hawaii Waterfalls that we've been to and made write-ups about. All of these lists include waterfalls that did not appear on this post.
In any case, for each of our write-ups, we show you how to visit the waterfall being discussed should it interest you in trip planning for your own waterfall chasing throughout the state let alone these particular islands we're focusing on here.
The Best Waterfalls You Can Swim In Maui & Molokai
Let's just cut right to the chase and show you what the best swimming hole waterfalls in Mau'i and Moloka'i are and how to access them.
I'm a visual guy, and it's better to just show you the beauty of this island. Besides, pictures are worth thousands of words, right?
So without further ado, here are the best of the Maui and Molokai Waterfalls that we've either personally swam in or that we can see ourselves swimming in…
POOLS OF OHEO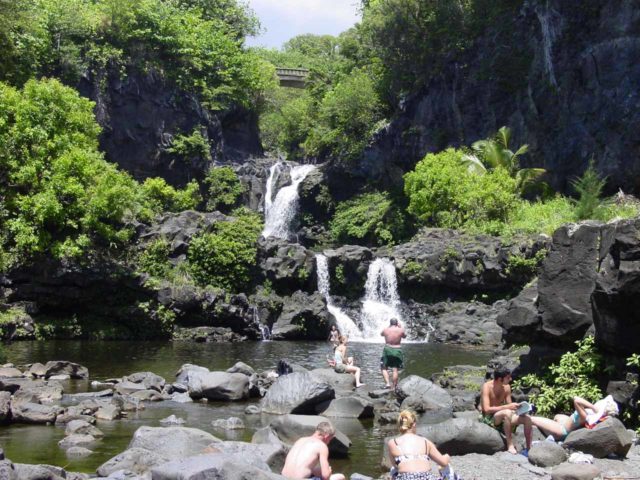 Let's first start with the most obvious place for a swim (assuming the conditions are right for it). When we first came to this area that was informally dubbed the "Seven Sacred Pools", it was on a beautiful sunny day that was perfect for people swimming near the upper two waterfalls while also bathing in the sun. However, when we came back some 4 years later in the Wet Season, the Pipiwai Stream was in flood where the access path to the plunge pools was closed off. Indeed, with these waterfalls and pools practically next door to the wild and scenic East Maui coastline, you definitely have to pay attention to the weather, which is not a guaranteed thing in the island's rainier side.
Visit the Pools of 'Ohe'o.
MOAULA FALLS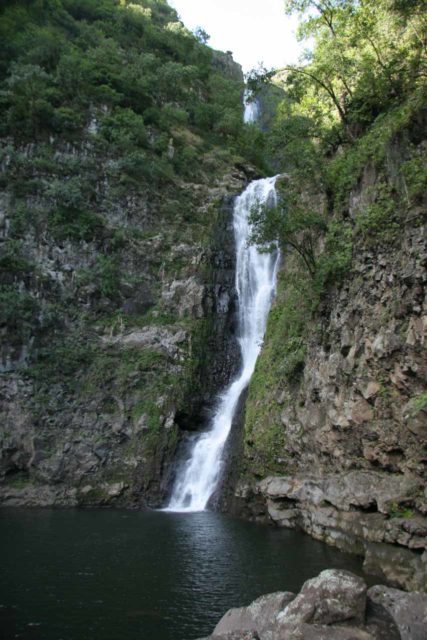 This is the only swimming hole that we're aware of in Moloka'i, and I think it's the most gratifying. We had to partake in a Halawa Valley Cultural Tour to access the falls, which taught us about taro growing, some of the cultural issues going on in the most Hawaiian of the Hawaiian Islands (i.e. Molokai), and give us teasing glimpses of Hipuapua Falls. But once we got to the large plunge pool at the base of this waterfall, we also had a chance to have a swim without dealing with crowds. Heck, our guide even did a really high cliff dive into the plunge pool, which goes to show you just how deep it was!
Visit Moa'ula Falls (or Mo'oula Falls).
TWIN FALLS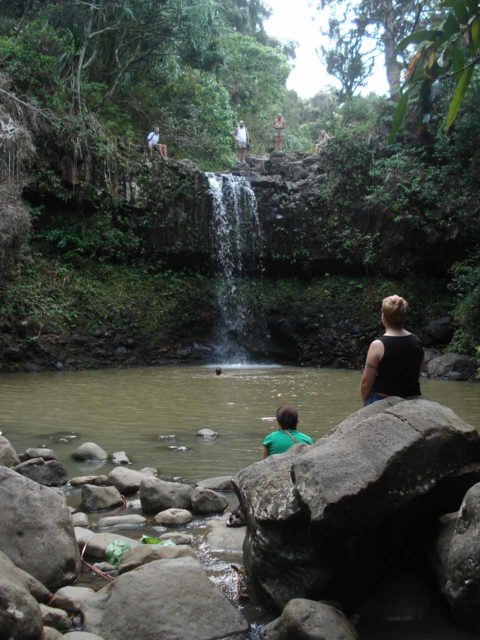 I'll close off this section by going through what I believe are the not-so-sketchy spots you can swim at on the Road to Hana. With Twin Falls being the first of the "legal" waterfalls that you can stop for on the Road to Hana, we would often bypass this spot (usually because it's not open yet when we'd get an early start to a very busy day). However, the October 2006 Kona Earthquake on the Big Island effectively closed the road going around East Maui for several years, and that was when we finally got a chance to experience the private Twin Falls on the way back out. Indeed, this place remains one of the few private waterfalls with the aloha to let the public enjoy themselves at its swimming holes (I counted three of them during our visit), and I really felt like we had missed out on a really fun place all those times we had passed by without stopping!
Check out Twin Falls in the Complete Road to Hana Waterfalls Guide.
WATERFALL ON THE WAIKAMOI STREAM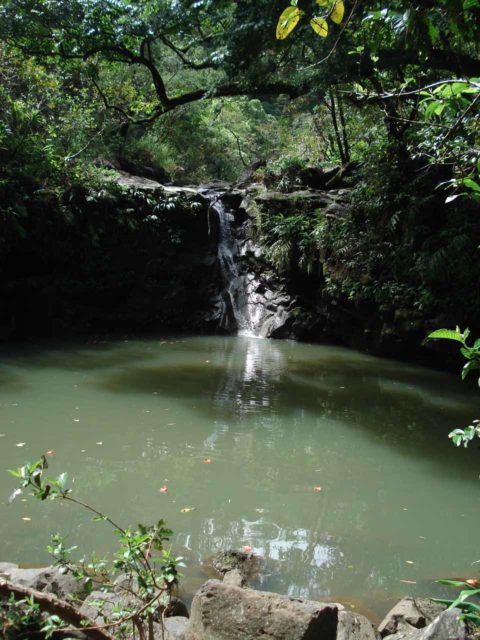 We first became aware of this waterfall on a rainy day along the Road to Hana, where it seemed to consist of several drops partially visible from the road. Needless to say, under those conditions, it would not be wise to try to swim in the falls. However, we did make a stop for it one fine day after a rainy day, and it seemed like a decent and secluded spot for a swim though the falls had already struggled to flow. Indeed, timing is everything with a minor waterfall like this, and I get more into why that is later in this post.
Check out the Waterfall on Waikamoi Stream in the Complete Road to Hana Waterfalls Guide.
HAIPUAENA FALLS (HAIPUA'ENA FALLS)
This was another one of the minor waterfalls that's easy to drive past. However, one day when we came back to drive the Road to Hana again two days after a rain storm on our first trip to Maui, I couldn't help but notice an unmarked trail on the far side of a bridge over the Haipua'ena Stream, and it led me to this small and intimate waterfall. And as you can see from the size of the pool in the photo above, you could very well have a private swim considering the conditions are right (as it's another one of those feast and famine waterfalls affected by EMI diversion ditches).
Check out the Waterfall on Waikamoi Stream in the Complete Road to Hana Waterfalls Guide.
PUAA KAA FALLS (PUA'A KA'A FALLS)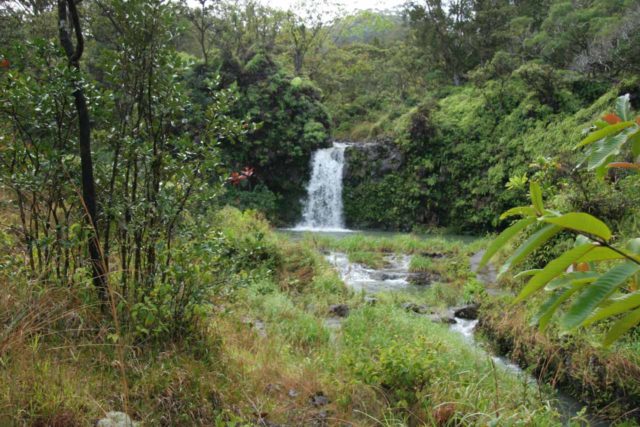 This is one of the few officially sanctioned waterfalls that you can stop for and linger around on the Road to Hana. There's a fairly sizable pool beneath the first of the waterfalls at this picnic area and roadside stop, but over the years, there have been signs put up indirectly discouraging swimming here (due to how far set back the "don't go past this point" signs are from the plunge pools). In any case, I included this falls as a swimming hole because it's unlikely someone is going to call you out for trespassing unless you're trying to scramble further upstream past the diversion ditches.
Visit Pua'a Ka'a Falls.
NAHIKU POND & NAHIKU LANDING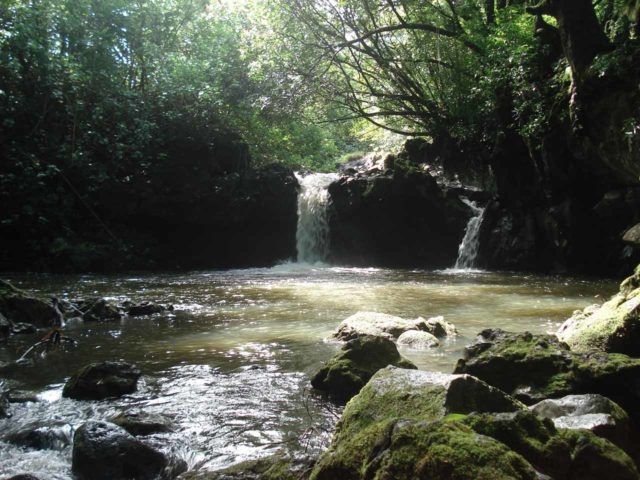 The settlement of Nahiku is actually an offshoot from the Road to Hana, and as such, is often overlooked or driven past. Granted, the settlement is typically low-key and quiet, but under the right conditions as shown above, the Nahiku Pond can be a viable swimming hole with enough water if it's not in flood. Moreover, there's also an ocean-facing "pool" closer to the Nahiku Landing that we noticed might be another chill-out spot provided the mosquitoes don't get to you (they were pretty aggressive when we were there).
Check out the Nahiku Pond & Nahiku Landing in the Complete Road to Hana Waterfalls Guide.
WATERFALL IN HAHALAWE GULCH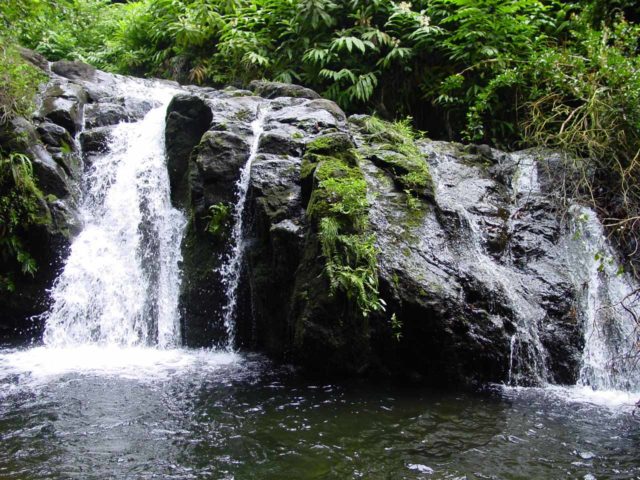 This was another one of the miscellaneous waterfalls by the Road to Hana involving a short (but steep) scramble to access, and as you can see in the photo above, it has an appreciably-sized plunge pool for a minor swim or at least a deep wade. Given the unsigned nature of this waterfall, you really have to seek it out to even notice and stop for it (unless there's a lemmings FOMO effect stemming from someone who stopped already for it). In fact, it's really easy to miss because it's quite close to the popular Wailua Falls, which tends to draw attention away from this so-called "Photo-sized" Waterfall.
Check out the Waterfall on Hahalawe Gulch in the Complete Road to Hana Waterfalls Guide.
ALELELE FALLS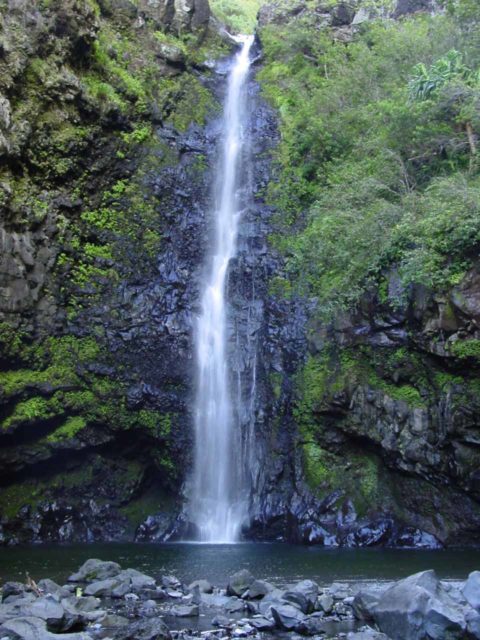 Usually people driving all the way around East Maui on a long Road to Hana excursion tend to get waterfall fatigue by the time they get to the Alelele Stream.
That said, if this seasonal waterfall is flowing and not flooding (typically a day or two after the passing of a rain storm), you could be having this waterfall with its plunge pool (maybe with enough depth for some deep wading) to yourself. In my mind, this is the last of the waterfalls in East Maui if you're going clockwise around the Haleakala Volcano, so it can be kind of that last hurrah before returning to "civilization" in South Central Maui and beyond.
Visit Alelele Falls.
What About The Rest Of Maui's Waterfalls? Aren't There More?
There are indeed many more waterfalls in Mau'i and Moloka'i than what I've put on this guide. If you care to see some of the other ones I've had write-ups about, we have a page dedicated to our entire survey of Maui Waterfalls and Molokai Waterfalls.
That said, a good deal of waterfalls that we have visited are no longer "legally" or even "safely" accessible due to a rather confusing situation concerning private property rights. Some are in direct conflict with shoreline access laws while others have seen increased vigilance on the part of locals at preventing access. Then, there are others concerning water rights (whether agreeable or not) that prevent public access to waterfalls as well. Finally, there are still those where owners who once generously allowed access to waterfalls on their land had to give that up due to perverse liability precedents and rulings that put the responsibility of mishaps on landowners instead of on an individual's personal responsibility.
ALIELE FALLS (ALI'ELE FALLS OR SWINGING BRIDGES)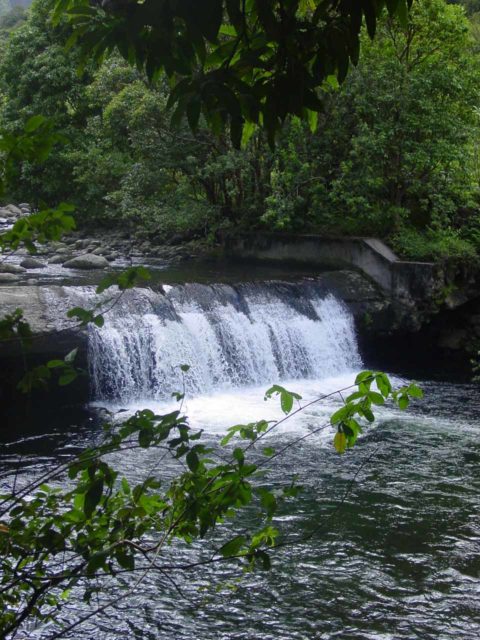 As you can see in the September 2003 photo above, Aliele Falls was the man-modified waterfall at the end of the Swinging Bridges Trail through Waihe'e Valley in West Maui. Even though there was a bit of a tolerance policy on the part of the various landowner interests of Waihe'e Valley as well as one paid hiking tour group that used to exclusively run tours here, in recent years, access to the valley has been closed to the public completely. This article written by the independent MauiTime publication discusses this particular situation in depth, which I think really captures the complexities of landowner rights in Hawaii in general.
Read More About Ali'ele Falls.
MAKAMAKAOLE FALLS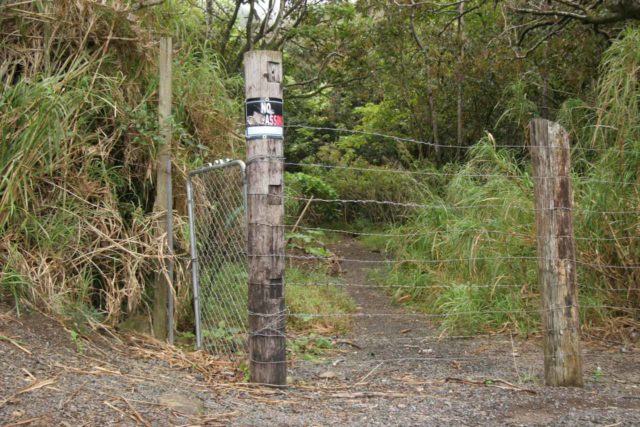 On our visits to West Maui, we've only been able to get distant views of the Makamaka'ole Falls from the Waihe'e Ridge Trail. I have wondered about getting closer to this waterfall, which involved doing the so-called 13 Crossings Trail. Unfortunately, as you can see in the photo above, it involves trespassing despite trip reports and blogs on the interwebs leaving out this detail. So I can't in my conscience say this would be a legitimately legal swimming hole that you can access on Maui, but it certainly hasn't stopped some people from doing it anyways.
Read More About Makamaka'ole Falls.
LOWER MAKAMAKAOLE FALLS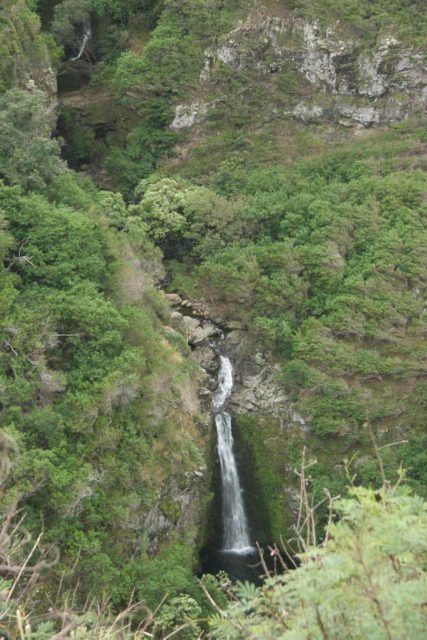 Like with the "upper" Makamaka'ole Falls, on the other side of the Kahekili "Highway" in West Maui, I only managed to get distant views of this Lower Makamaka'ole Falls. However, I did notice a steep trail descending from the road that apparently went closer to the stream, but it's unclear to me whether it's a legitimate trail or not. In the past, I recalled a trip report saying there was a rope swing near one of these West Maui waterfalls, and I suspected that this was the waterfall they were talking about. But without knowing the actual trespassing situation and without actually doing it myself, I have to put this waterfall in this list of those swimming holes with uncertain accessibility.
Read More About Lower Makamaka'ole Falls.
UPPER PUOHOKAMOA FALLS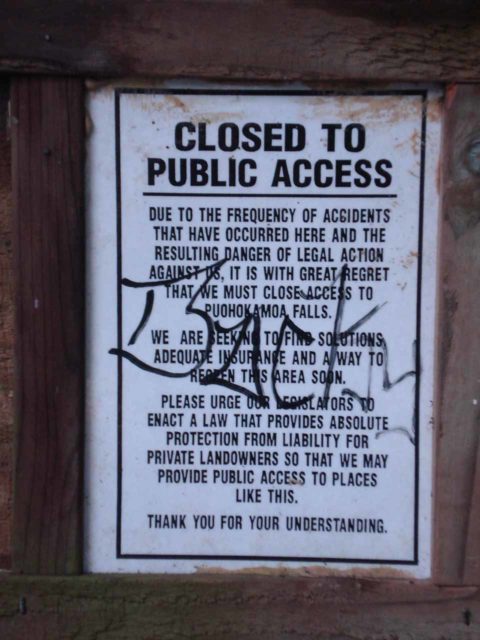 When we first went to the plunge pool at the Upper Puohokamoa Falls in September 2003, it was during a rain storm so it wasn't safe to swim. Two days later, we passed by it as we sought out waterfalls we didn't get to stop for the first time around. Then, when we came back in February 2007, we were met by a sign (pictured above) explaining how the landowners had to close it off due to twisted liability rulings and the threat of further litigation should someone choose to file a slip-and-fall lawsuit. So to make a long story short, we were never able to swim at the large plunge pool of this waterfall, and it seems like all we can do now to experience it would be from an overlook within a botanical garden further upslope.
Read More About Upper Puohokamoa Falls.
CHING'S POND (SAPPHIRE POOL)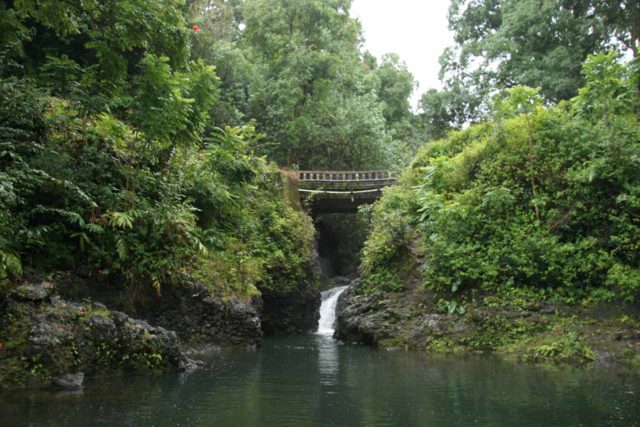 As you can see from the photo above, it's real easy to miss this waterfall swimming hole, especially since the Road to Hana passes over it. However, I included this waterfall in the uncertain access category because we noticed a no trespassing no swimming sign set up by the Ke'anae Taro Farmers, who I'm guessing would use these waters for their crops and would want to maintain good water quality. So even though there seems to be pretty good depth in the so-called "Sapphire Pool", there are definitely locals who want to make this place kapu.
Read more about Ching's Pond in the Complete Road to Hana Waterfalls Guide.
HELELEIKEOHA FALLS (HELELE'IKE'OHA FALLS OR BLUE POOL)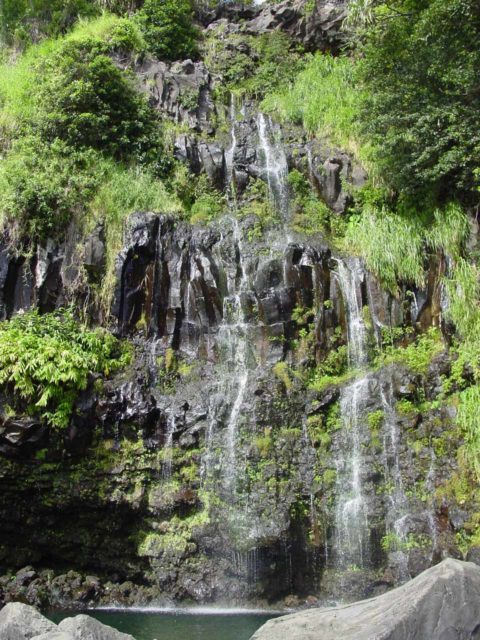 Of all the waterfalls accessible from the Road to Hana, perhaps none sparks greater controversy and local vigilance than the Helele'ike'oha Falls (also known as the Blue Pool). While a lot of blame has gone around concerning its mention in the 2nd edition of the so-called Blue Bible, it definitely exposed an issue when authorities refuse to mediate or enforce PASH laws that even they themselves might be confused about. And thus, it leaves landowners and visitors alike to figure it out themselves (often with potentially dire consequences). There might even be underlying racial tensions when it comes to how Hawaiians have been treated and economically ostracized over generations since annexation, which further exacerbated the loss of once "secret" spots that they (or other locals in the know) knew about. The bottom line is that this ocean-facing swimming hole has become a flash point for the trespassing issue plaguing all the Hawaiian Islands, which seems to persist given the popularity of crowdsourced sites like AllTrails, TripAdvisor, YouTube, and more.
Read More About Helele'ike'oha Falls.
WAIMOKU FALLS & THE OHEO GULCH WATERFALLS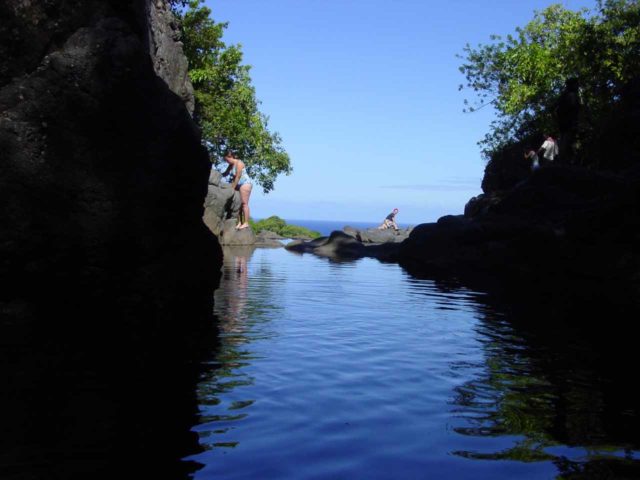 Waimoku Falls is my favorite of the waterfalls on Maui, especially since it's publicly accessible as part of the Kipahulu District of Haleakala National Park. However, signs and infrastructure have been erected to keep people away from the waterfall's plunge pool over the years because of the rockfall danger as a result of the vertical walls over which the waterfall plunges. While there are other unsanctioned swimming holes along the Pipiwai Trail, where it was possible to go for a refreshing dip (including one at the top of the 200ft Makahiku Falls), I suspect the National Park Service doesn't condone such uses and probably put up more prohibiting infrastructure as a result.
Read More About Waimoku Falls, Makahiku Falls, and Other 'Ohe'o Gulch Waterfalls.
FALLS OF NA'ILI'ILI'HAELE, WAIOHIWI FALLS, & LOWER HANAWI FALLS
These waterfalls may be swimming holes that others in the past have accessed, but they would be doing so against the trespassing boundaries of EMI (East Maui Irrigation). EMI is the entity entrusted by the powers that be with the majority of the water diversion for the sugar growing fields in Central Maui. Whether such uses are ethical or not, it's besides the point given perverse financial incentives perpetuated by politicians or regulators in charge at the time and profiteers who benefit as a result of them. In any case, we have yet to experience any of these waterfalls, and I doubt we'd be able to do so for the foreseeable future. Thus, we can consider them to be kapu despite what people might be posting or publishing in the literature.
I'm sure there are more waterfall swimming holes that fall under this category, and the list of kapu waterfalls seems to be ever growing.
Where Are The Waterfalls In Maui and Molokai?
Besides the detailed descriptions and directions to each of the waterfalls listed above, I thought I'd show you this map of the locations of Maui Waterfalls as well as the Molokai Waterfalls.
As you can see, they are pretty much concentrated on the east-northeastern side of Maui Island, which pretty much coincides with the eastern slopes of the Haleakala Volcano. There are also a few on the northeastern slopes of the West Maui Mountains as well as the east side of the North Shore of Molokai Island.
That's because Hawaii experiences trade winds that scoop up moisture from Alaska's Aleutian Islands and blow into the islands as northeasterly winds.
These moisture-laden winds ultimately hit mountains, which then causes the vapors to rise and condense into rain clouds over these mountains.
As a result, it's why the wetter east-northeast side of the island is considered the windward side while the drier west-southwest side of the island is considered the leeward side.
And as far as renting a car to enable exploring Mau'i (or even Moloka'i) on your own, we were able to drive completely around both the West Maui Mountains as well as around the whole of East Maui. That said, they come with caveats.
The West Maui Mountains have a scary, unguarded, single-lane cliff-hugging road around Kahakuloa Bay (around the northern tip of West Maui). Things get really tricky (and dangerous) if there happens to be opposing traffic in this stretch of road.
Going around East Maui pretty much means going around the Haleakala Volcano, where the road becomes narrow and unpaved in one stretch shortly after leaving the southern boundaries of Haleakala National Park. But after that, the drive remains unpaved but more benign before rejoining "civilization" along the Pi'ilani Highway and South Maui.
When To See The Waterfalls In Maui
The waterfalls in Maui (especially in the east along the famed Road to Hana) have had a bit of a history of water diversion as a result of a lucrative sugar industry between the Civil War and World War II.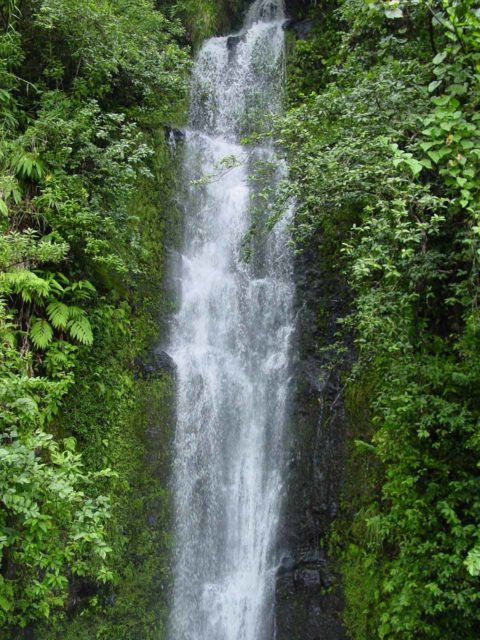 This resulted in many ditches robbing the drainages that would have produced countless reliable waterfalls, but they're now pretty much ephemeral waterfalls that only flow during a significant-enough rain event.
So as far as waterfall swimming holes are concerned, you end up with a total feast or famine situation where you really have to time your visit.
On the one hand, you could be dealing with dangerously too much water whether it be flash flooding or fast-moving water with very strong currents and undertows.
On the other hand, you could be dealing with insufficient water to pass as a legitimate swimming hole, where the water that's left tends to be stagnant, shallow, and/or disease-ridden.
The two photos I have of Paihi Falls in this section (where the latter was taken just two days after the first) pretty much illustrate this point.
So indeed, there really should be many more waterfalls (especially along the Road to Hana) that ought to be legitimate swimming holes, but perverse financial incentives often trumps the natural order of things, and this is what we end up with.
If you'd like to delve deeper into Hawaii's history of sugar and water diversion, I highly recommend reading "Sugar Water: Hawaii's Plantation Ditches" by Carol Wilcox.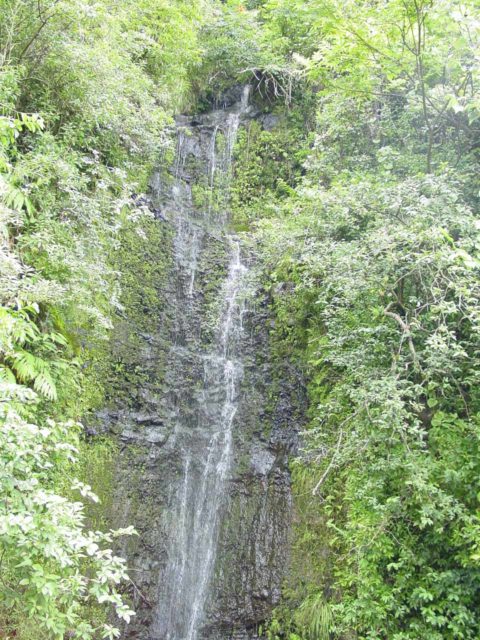 Anyways, on top of the adverse changes to the natural behavior of the Maui Waterfalls, there are some seasonal and regional variations you should be aware of, especially if you intend to use the waterfalls as swimming holes.
The Hawaiian Islands tend to experience a "Wet Season" and a "Dry Season". The Wet Season tends to occur between October through April while the Dry Season tends to occur between May through September.
Of course, Nature is a chaotic system so things work in terms of likelihoods (or probabilities) of things happening and not in absolute terms. Therefore, these Wet Season and Dry Season variations are merely guidelines based on statistical data along with some anecdotal observations.
Moreover, with Global Warming and Climate Change, these seasonal patterns are prone to changing, and the severity of the rains (and conversely the droughts) are intensifying.
Besides, you can still have good weather during the Wet Season and you can have wet weather during the Dry Season (even though statistically that's less often the case).
Nevertheless, when there is wet weather, the differences in the watercourses (and thus the waterfalls) can be dramatic. It's the main reason why you need to be cognizant of the flash flooding risk whenever you choose to be near or in the streams and rivers.
In any case, I go into far more detail about Hawaii's seasonal variations in this write-up.
Where To Stay In Maui
You have quite a few options in terms of places to stay on the island of Mau'i.
However, given that island time (i.e. a mentality about the slow pace at which things can move) tends to conflict with a limited-time itinerary where we wish to fit in as much as we can before going home, there are advantages and disadvantages to specific accommodation locations.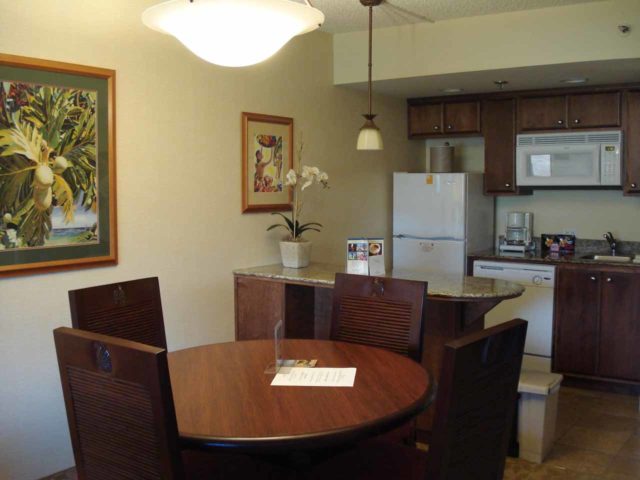 On our first two times that we've visited Maui, we stayed on the western side – the first time in Lahaina, the second time in Ka'anapali.
I'm under the impression that this drier part of Maui has more of the night life and charming walking areas (especially Lahaina), but it also means that we had to drive further to reach the waterfalls along the Road to Hana on the far opposite side of the island. You definitely need an earlier start if you're intending to get to the Haleakala Sunrise from here.
There are also more accommodation options in South Maui such as Kihei and Wailea.
The nice thing about this location is that you're much closer to the Road to Hana as well as Haleakala Crater so you don't have to spend as much time on the road for these things. Moreover, if you wish to spend time in Lahaina or West Maui, it's also not a stretch to do those as well.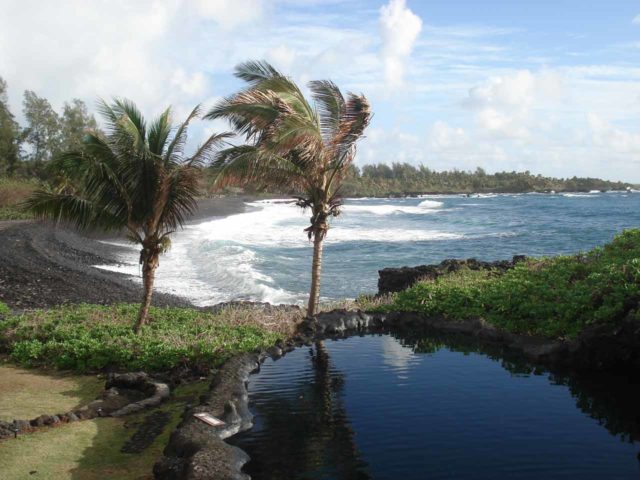 Finally, while the vast majority of people visiting Maui are likely to be driving at least part of the Road to Hana, I found that it was very beneficial to stay in Hana Town for a night to not have to rush that drive and really explore some of its less-obvious (i.e. not-so-crowded) parts.
While the town was by no means a luxury or resort area, I found it had a more truly Hawaiian feel all its own in addition to its logistical advantages.
Final Thoughts / Conclusion
I hope you enjoyed reading and seeing what we had to say about the best swimming hole waterfalls in Mau'i and Moloka'i (that you can legally visit).
More importantly, I hope you've been able to use this resource for your own trip planning needs so you can go out there and experience them for yourself!
If you have questions or comments, feel free to use the form below and tell us what's on your mind!
Visitor Comments:
Got something you'd like to share or say to keep the conversation going? Feel free to leave a comment below...
No users have replied to the content on this page