This guide to the best waterfalls in Kauai (or Kaua'i) showcases our favorites in the Garden Isle of Hawaii. And true to the word, it also shows you how to reach these Kauai Waterfalls.
We've compiled this page as a result of a few trips spanning two decades so we can also tell you what has changed over the years, and we can even suggest which of these waterfalls you can swim in provided you are fully aware of the risks (e.g. leptospirosis, flash flooding, etc.).
As for the waterfalls themselves, we have a list of the Top 10 Best Hawaii Waterfalls where we showcase our favorites throughout all of the Hawaiian Islands. And if you check out that list, I think you'll notice that the Kauai Waterfalls are well-represented, which goes to show you the quality of the waterfalls to be found on this island.
We also have a larger compilation of Kaua'i Waterfalls (including those that did not appear on this post) as well as a broader page of all the Hawaii Waterfalls that we've been to and made write-ups about.
By the way, in each of these write-ups, we show you how to visit each one of these waterfalls should you be interested in trip planning for your own waterfall chasing throughout the state let alone the Garden Isle.
The Best Waterfalls We've Seen In Kauai
Let's just cut right to the chase and show you what the best waterfalls in Kaua'i are and how to access them.
I'm a visual guy, and it's better to just show you the beauty of this island. Besides, pictures are worth thousands of words, right?
So without further ado, here are the best of the Kauai Waterfalls that we've personally seen and shared with our write-ups…
WAILUA FALLS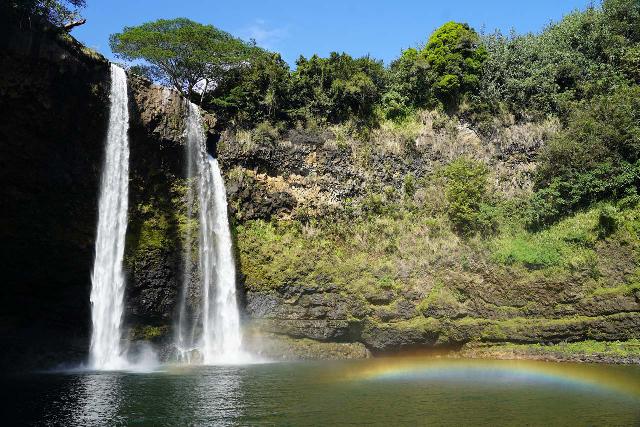 I figured I'd start off this guide with perhaps the easiest waterfall to visit (with the exception of the parking situation at the end of its road). Heck, it's probably one of the closest waterfalls to the Lihue Airport so it was natural for us to make it our very first stop when we came back to the Garden Isle for the first time in almost 15 years (we first came here in December 2006). You may notice that the view from the end of the road near the top of the falls left a lot to be desired, but realize that the state has erected fencing and lots of signage prohibiting you from going to the bottom of the falls. While it hasn't stopped the more intrepid visitors from finding a way around (and even through) the barricades, they're taking chances with their own safety.
Visit Wailua Falls.
ULUWEHI FALLS (SECRET FALLS)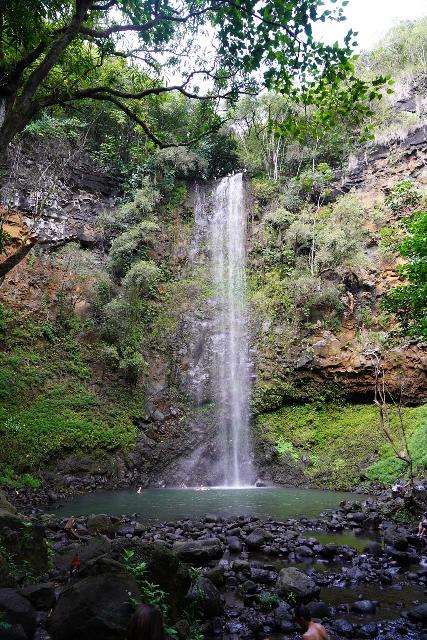 This waterfall isn't really secret because it's the destination of the very popular Wailua River kayak tours where you get to kayak for a few miles before going on a mile-long jungle hike (about 2 miles both ways). We visited Secret Falls a couple of times (once as a canoe ride from the Kamokila Hawaiian Village and another from a kayak tour from the Wailua River Marina). I'd have to say that there's good reason for the popularity of this falls since you do get wet (both on the kayak as well as swimming at the falls) as you can see in the photo above.
Visit Secret Falls.
OPAEKAA FALLS ('OPAEKA'A FALLS)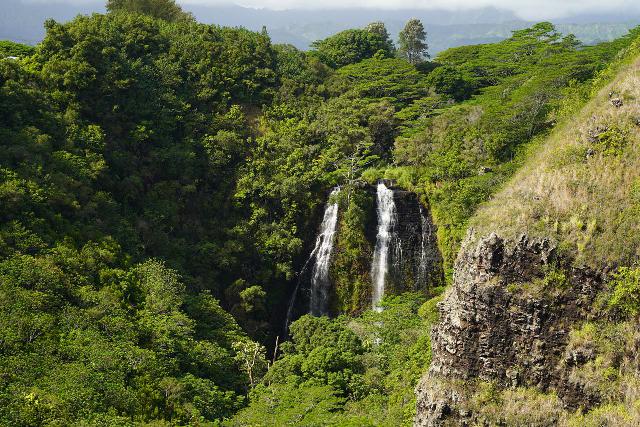 This is one of the easier waterfalls to visit because it has a sanctioned-but-distant lookout that's roadside with a walkway leading across the busy Kuamo'o Road towards another lookout over the Wailua River. Its name 'Opaeka'a means "rolling shrimp" which harkens back to the days when native freshwater shrimp would climb waterfalls like these.
This falls was the subject of controversy before our first visit to Kaua'i back in December 2006 when a pair of women died here trying to find a way to its bottom just a few days before our arrival (you can see the discussion about this topic here and here). Needless to say, it's better to stick to the sanctioned lookout with this one.
Visit 'Opaeka'a Falls.
WAIPOO FALLS (WAIPO'O FALLS)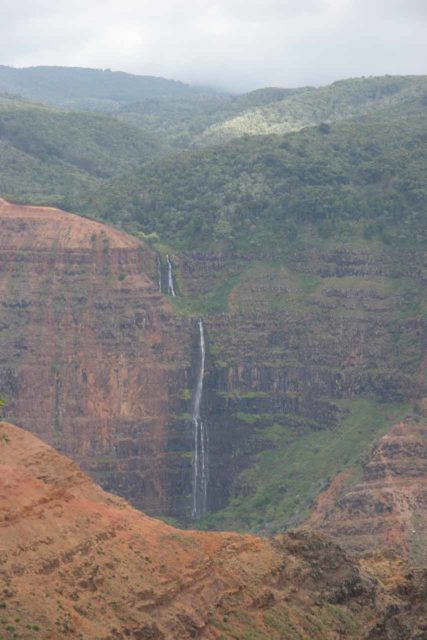 We visited this tall waterfall in the heart of Waimea Canyon (also called the Grand Canyon of the Pacific) in a couple of different ways. The first way involved roadside lookouts like you see pictured above. The other way involves hiking to the top of the falls where you don't get to actually see the main falls, but you do get to experience two small ones on the same stream, where you can swim in one of them. Heck, there's even more unusual views of the canyon including an intriguing natural arch to boot!
Visit Waipo'o Falls.
HANAKAPIAI FALLS (HANAKAPI'AI FALLS)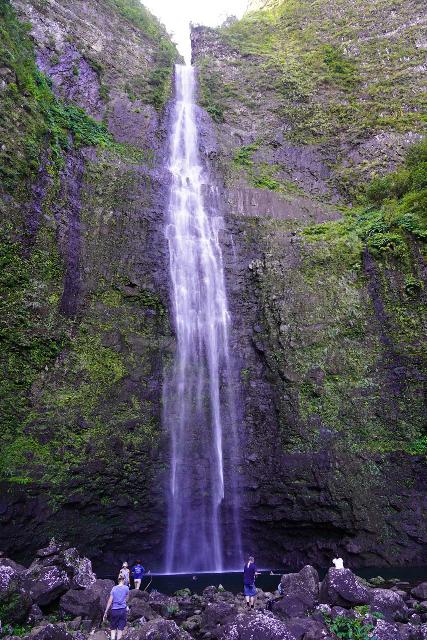 Of the Kauai Waterfalls that we're featuring in this guide, Hanakapi'ai Falls probably involves the most amount of effort. The hike covers the first 2 miles of the famed 11-mile (in each direction) Kalalau Trail giving you a taste of the Na Pali Coast Wilderness before crossing Hanakapi'ai Stream and veering inland to this 200-300ft waterfall. There are more stream crossings and muddy stretches making this hike only for those prepared and fit enough to minimize the chances of getting hurt, but that well-deserved swim in its huge plunge pool certainly makes the effort worthwhile.
If you're really adventurous, you may consider doing a grueling out-and-back hike to Hanakoa Falls, but you'll need a permit if you continue on the Kalalau Trail beyond Hanakapi'ai Beach due to how narrow the trail becomes (so overcrowding could be very hazardous).
Anyways, things have also changed concerning access to Hanakapi'ai Beach and Falls over the years as it has gotten popular. Case in point, I had to book and take a shuttle to get to the Kalalau Trailhead on my second time here. On my first time nearly 15 years prior, we used to be able to just drive to and park at Ke'e Beach and the Kalalau Trailhead. Plan to make this at least a half-day to full-day affair if you partake on this excursion.
Visit Hanakapi'ai Falls.
MANAWAIOPUNA FALLS, KAHILI FALLS, MT WAIALEALE WATERFALLS, AND KAUAI'S WATERFALLS ACCESSIBLE BY HELICOPTER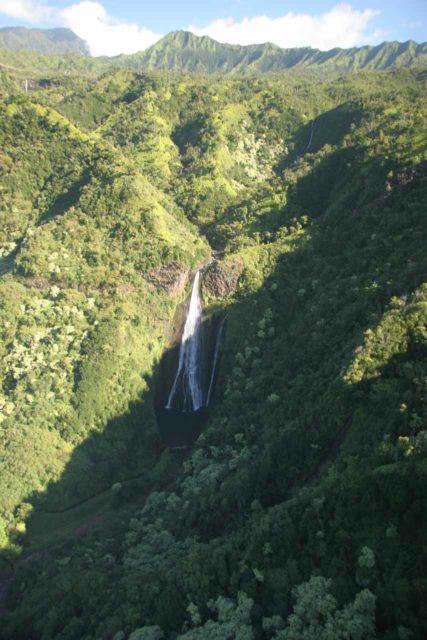 Manawaiopuna Falls may look familiar to you if you've watched the first Jurassic Park movie. In reality, it's private property deep in the Hanapepe Valley and it's only publicly seen from a helicopter tour. Speaking of helicopter tours, there are also views of other inaccessible waterfalls, which includes the crater beneath Mt Wai'ale'ale as well as others along the Hanalei River Valley. Indeed, these waterfalls are the main reasons why we've gone on these pricey aerial tours for a chance to see parts of Kaua'i that most people don't get to see.
Visit Manawaiopuna Falls and the other Kaua'i Waterfalls by helicopter.
WAIAHUAKUA FALLS, HOOLEA FALLS, AND THE NA PALI COAST WATERFALLS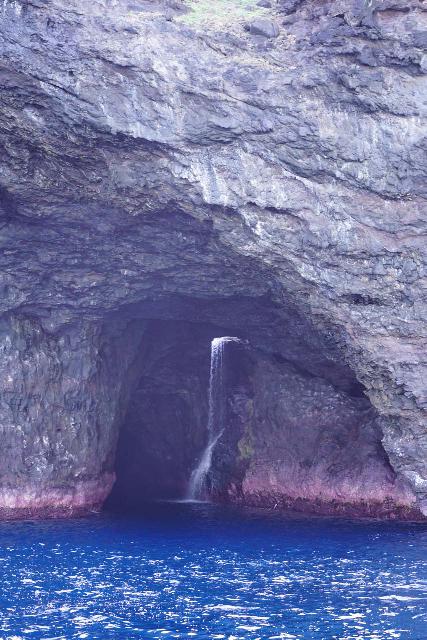 This had been on my wife's bucket list ever since we had a taste of the Na Pali Coast through the aforementioned Hanakapi'ai Falls hike and the helicopter rides. And after finally getting a chance to do this nearly 15 years after that first visit, it was definitely worth the wait. After all, we were treated to beautiful otherwise inaccessible waterfalls like Waiahuakua Falls (tumbling inside a sea cave) while also getting to see Ho'olea Falls backing Kalalau Beach and its fluted pali without having to go on the Kalalau Trail. The only catch with this tour involves the sea conditions, which can get quite bumpy in the Wet Season.
Visit the Na Pali Coast Waterfalls.
HOOPII FALLS (HO'OPI'I FALLS)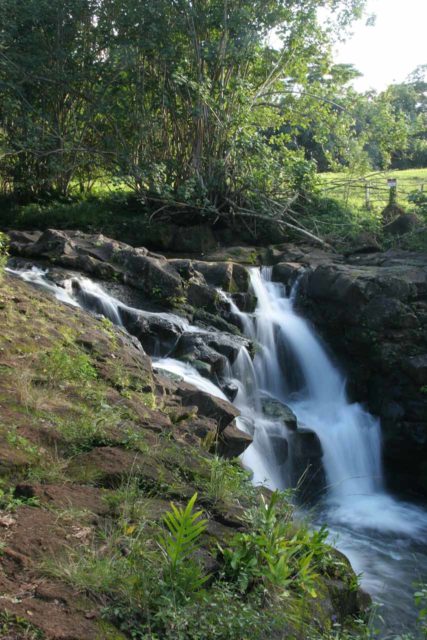 Hoopii Falls is actually a pair of waterfalls tucked away behind residences within the Wailua Homesteads community. For that reason, it's one of the few waterfall spots left that remain uncommercialized though I'm sure it probably creates tension with the homeowners near its hidden trailhead. The first of the waterfalls is possible to swim in provided you find the spur trail leading safely to its bottom. The second waterfall is more of a look-but-don't-touch type that requires a bit more jungle hiking while trying to avoid trespassing.
Visit Ho'opi'i Falls.
What About The Rest Of Kauai's Waterfalls? Aren't There More?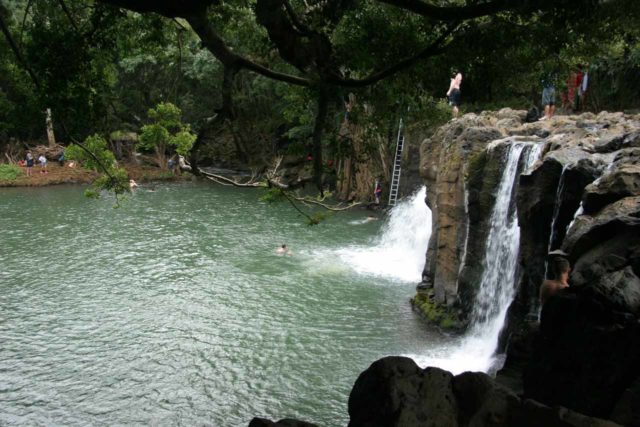 The short answer to these questions is yes, indeed Kaua'i has numerous waterfalls that I didn't single out by name above, and some of them would have even been on this list had they not been closed due to liability concerns, private property, and more.
Among the waterfalls that fell into the once-accessible category were Kipu Falls, Kalihiwai Falls, Queen's Bath Waterfalls, and Kilauea Falls.
Regarding Kipu Falls, we actually had the ability to visit it on our first trip to Kaua'i in December 2006. However, as it was gaining in popularity (since it was more of a swimming hole) and more injuries were occurring as a result, the landowners cut off access to it over the years.
As for Kalihiwai Falls, it was also once a waterfall that the public were able to access until Princeville Ranch enforced their private property boundaries and only allowed visits to the falls by a guided tour. The only public way to see the falls back when we visited in December 2006 was to walk onto the bridge and take in a distant view from there (kind of dicey when you consider how fast people drive on the bridge). At least there was a bonus waterfall on the way to the bridge by the road. When we tried to book a tour for our November 2021 visit, Princeville Ranch told us that they no longer offered tours to that waterfall.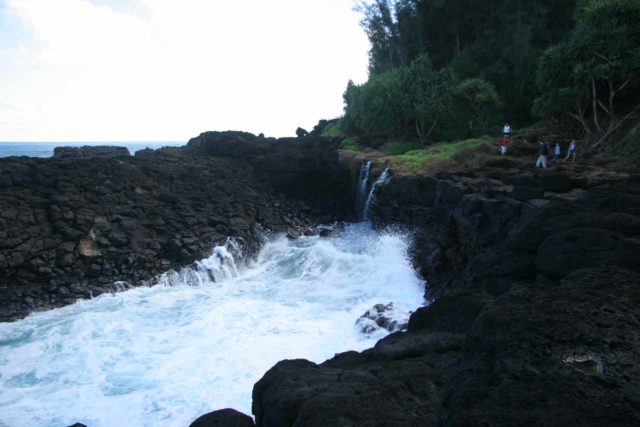 The Queen's Bath Waterfalls were actually a pair of small waterfalls draining from a residential area in Princeville into the turbulent North Shore of Kaua'i. When we first went there in December 2006, it was a totally sanctioned trail (though parking was limited), but when we came back in November 2021, fencing was erected to block the trail. Like with many other hikes and trails throughout the Hawaiian Islands, sanctioned trails are becoming scarce and the rest become more like covert operations to sneak past the barricades to regain access without getting caught.
Finally with Kilauea Falls, we never had the opportunity to witness this wide waterfall as housing developments and private property encroaching on the once publicly-accessible road pretty much made it kapu before our December 2006 visit.
Indeed, the liability concerns of landowners (especially in light of some perverse precedents and rulings against personal responsibility) seemed to have created a rather complicated and ambiguous situation concerning what places can be visited versus what places are forbidden. I suspect this situation will continue to persist for as long as the legal posturing remain status quo.
Where Are The Waterfalls In Kauai?
Besides the detailed descriptions and directions to each of the waterfalls listed above, I thought I'd show you this map of the locations of Kauai Waterfalls.
As you can see, they are pretty much spread out throughout the island, but only a few of them dot the drier western side while the majority of them are found more towards the interior and the northeast side of the island.
That's because Hawaii experiences trade winds that scoop up moisture from Alaska's Aleutian Islands and blow into the islands as northeasterly winds.
These moisture-laden winds ultimately hit mountains, which then causes the vapors to rise and condense into rain clouds in the center of the island.
It's what makes Mt Wai'ale'ale one of the wettest spots on earth, and it's also why the wetter northeast side of the island is considered the windward side while the drier southwest side of the island is considered the leeward side.
And as far as renting a car to enable exploring Kaua'i on your own, there is no road that allows you to go completely around the island thanks to the presence of the Na Pali Coast and the Alaka'i Swamp.
Thus, the road system has more of a crescent shape, where it can get quite busy in the middle between Lihu'e and Kapa'a. I'd count on at least 2 hours of driving to get from Waimea in the southwest to Princeville in the north.
When To See The Waterfalls In Kauai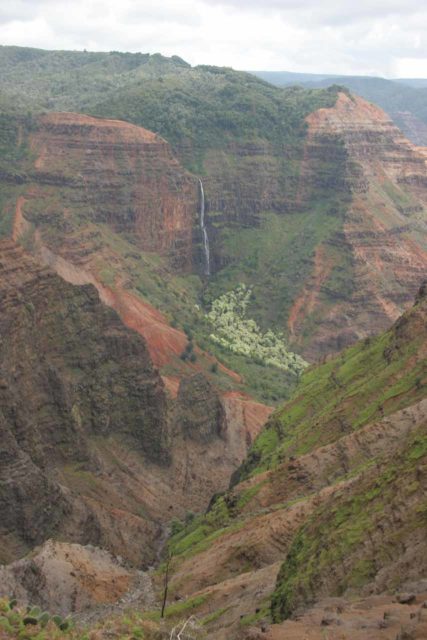 The Hawaiian Islands tend to experience a "Wet Season" and a "Dry Season". The Wet Season tends to occur between October through April while the Dry Season tends to occur between May through September.
Of course, Nature is a chaotic system so things work in terms of likelihoods (or probabilities) of things happening and not in absolute terms. Therefore, these Wet Season and Dry Season variations are merely guidelines based on statistical data along with some anecdotal observations.
Moreover, with Global Warming and Climate Change, these seasonal patterns are prone to changing, and the severity of the rains (and conversely the droughts) are intensifying.
Besides, you can still have good weather during the Wet Season and you can have wet weather during the Dry Season.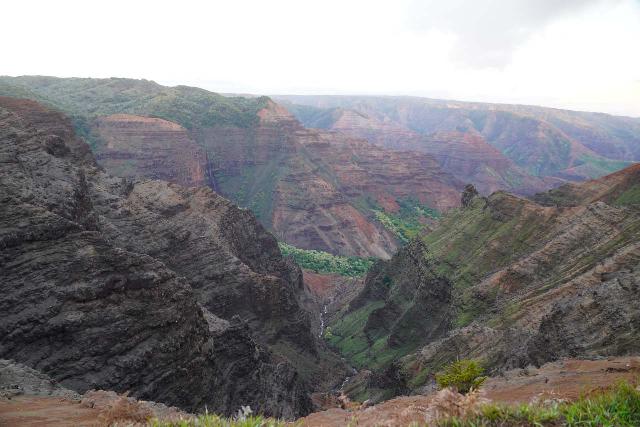 Nevertheless, when there is wet weather, the differences in the watercourses (and thus the waterfalls) can be dramatic. It's the main reason why you need to be cognizant of the flash flooding risk whenever you choose to be near or in the streams and rivers.
In any case, I go into far more detail about Hawaii's seasonal variations in this write-up.
Where To Stay In Kauai
There's actually no shortage of places to stay on the island of Kaua'i.
However, given that island time (i.e. a mentality about the slow pace at which things can move) tends to conflict with a limited-time itinerary where we wish to fit in as much as we can before going home, there are advantages and disadvantages to specific accommodation locations.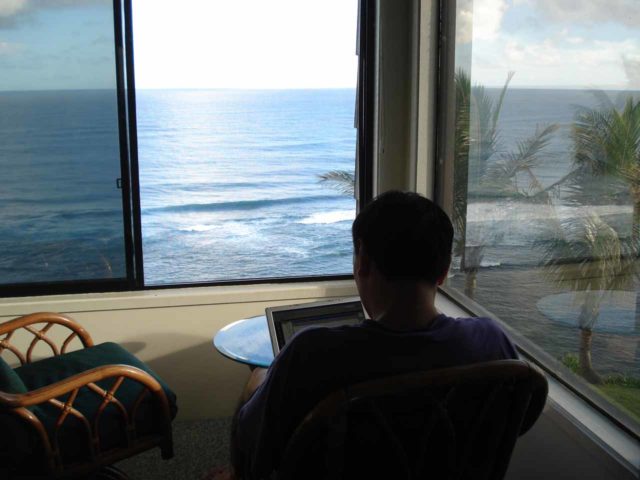 So I tend to think of the logistics of Kaua'i's accommodations in the following manner.
If you intend to spend more time in the North Shore of the island, Princeville seems to be the best spot to minimize the amount of driving, especially if you intend to spend time hiking the Na Pali Coast as well as boating there.
If you intend to do more activities on the East Shore of the island like the Wailua River kayak, more of the towns and businesses, Wailua Falls, and more, then it might be more advantageous to stay in Kapa'a, Wailua, or even around Lihu'e, which is where the airport is at.
Then, if you're up for more of the resorts and beaches on the South Shore, there are quite a few of them in the Koloa / Po'ipu area. I know when we've chosen to stay there, we had to factor in additional drive times to get to the activities on the rest of the island because they were set back from the main road by at least 15 minutes.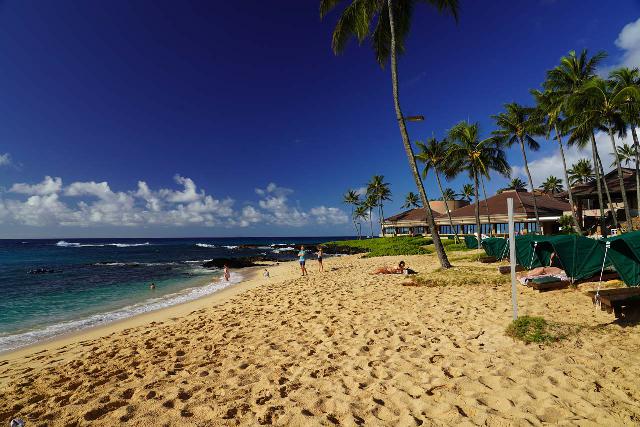 Finally, if you intend to focus your activities more on the quieter West Shore, which is near Waimea Canyon as well as the tours leaving out of Port Allen or Hanapepe, then you might consider staying in Waimea.
This is the main reason why it might be difficult to do everything you want to do in a single trip unless you allow yourself at least about a week. Otherwise, you might be better off concentrating in a particular spot for a few days and leave the other things for a future trip.
Final Thoughts / Conclusion
I hope you enjoyed reading and seeing what we had to say about the best waterfalls in Kaua'i (that you can legally visit).
More importantly, I hope you've been able to use this resource for your own trip planning needs so you can go out there and experience them for yourself!
If you have questions or comments, feel free to use the form below and tell us what's on your mind!
Visitor Comments:
Got something you'd like to share or say to keep the conversation going? Feel free to leave a comment below...
No users have replied to the content on this page