This guide to the best waterfalls in Oahu (or O'ahu) showcases our favorites in the most developed island of Hawaii. And true to the word, it also shows you how to reach these Oahu Waterfalls.
We've compiled this page as a result of a few trips spanning two decades so we can also tell you what has changed over the years, and we can even suggest which of these waterfalls you can swim in provided you are fully aware of the risks (e.g. leptospirosis, flash flooding, etc.).
As for the waterfalls themselves, we have a list of the Top 10 Best Hawaii Waterfalls where we showcase our favorites throughout all of the Hawaiian Islands. And if you check out that list, I think you might be surprised to find that even a waterfall from this island was represented there. That said, there weren't many legally accessible waterfalls left on this island, but we still point out the ones worth going to in this page.
If you want to see our full survey of O'ahu Waterfalls, we also have a larger compilation that you can check out on this page (including those that did not appear on the post that you're reading right now). Moreover, if you plan on island hopping or are considering other islands to visit, we also have a broader page of all the Hawaii Waterfalls that we've been to and made write-ups about.
By the way, in these focused write-ups, we show you how to visit each one of these waterfalls should you be interested in trip planning for your own waterfall chasing throughout the state let alone on O'ahu.
The Best Waterfalls We've Seen In Oahu
Let's just cut right to the chase and show you what the best waterfalls in O'ahu are and how to access them.
I'm a visual guy, and it's better to just show you the beauty of this island. Besides, pictures are worth thousands of words, right?
So without further ado, here are the best of the Oahu Waterfalls that we've personally seen and shared with our write-ups…
LULUMAHU FALLS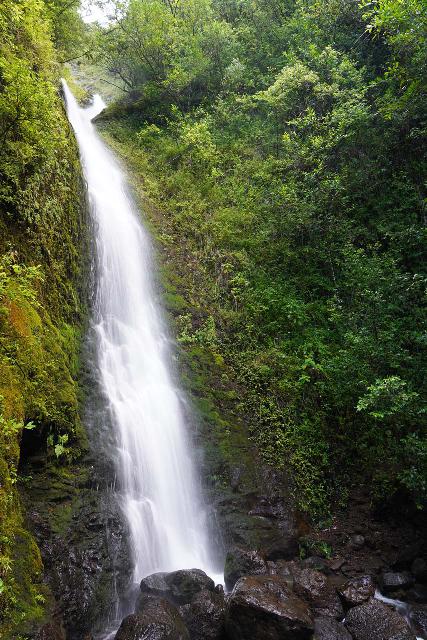 I wanted to start off this guide with this waterfall because it was once kapu when I first desired to visit it on my first trip to O'ahu back in January 2007. However, when I came back nearly 15 years later, I was quite surprised that the Honolulu Board of Water Supply issued permits to do this hike! So naturally, I went ahead and paid the fee, printed out the permits, and finally got to see it in person. Maybe it's that shiny-new-object syndrome that made my memory of this falls so fresh in my mind.
In any case, it's one of the healthier-flowing waterfalls I've seen on the island, but the catch is that it's still a bit of a rough hike requiring some degree of scrambling and stream walking. This is especially the case in the beginning where conflicting and misleading info on the web can easily lead you astray or could get you into trouble. Hopefully, with my field observations given in the link to its write-up below, you'll be less likely to get into such trouble.
Visit Lulumahu Falls.
MANOA FALLS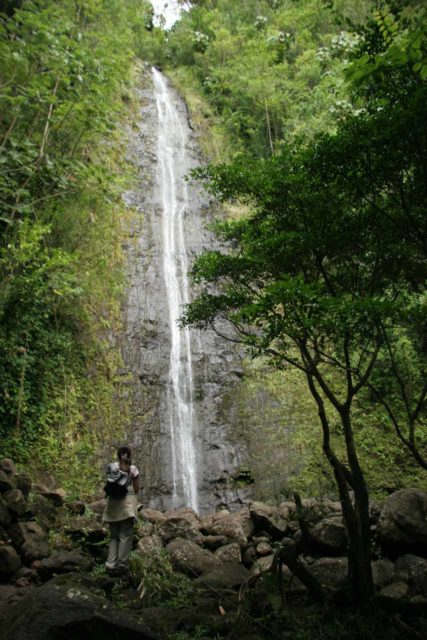 In my mind, this waterfall is perhaps the most public of the waterfalls on O'ahu, and it almost feels like it's old news or something. That still doesn't detract from the fact that it features a mild, short hike through some groves of bamboo along the way. And at the end was a lookout area to experience this 55ft beauty. The only catch is that you can't swim in this pool and the falls may have disappointing flow in drier times.
Visit Manoa Falls.
MAUNAWILI FALLS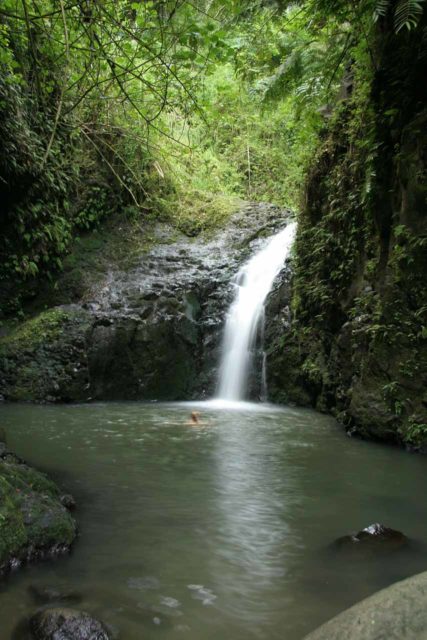 So far, the waterfalls mentioned aren't true swimming holes, but this one is definitely one. Sitting on the windward side of the Ko'olau Range, we had to go on a bit of a hike that involved starting at a residential neighborhood (so tread lightly), then crossing the stream a handful of times, getting some nice views of the wrinkled pali of the Ko'olaus, before finally getting through a couple of unsigned trail junctions or decisions points where it was easy to head the wrong way. Given its close proximity to residences at the trailhead, I am a bit concerned about its continued access so hopefully it's not another one of those cases where a few irresponsibly-behaving people ruin it for everyone else.
Visit Maunawili Falls.
WAIMANO FALLS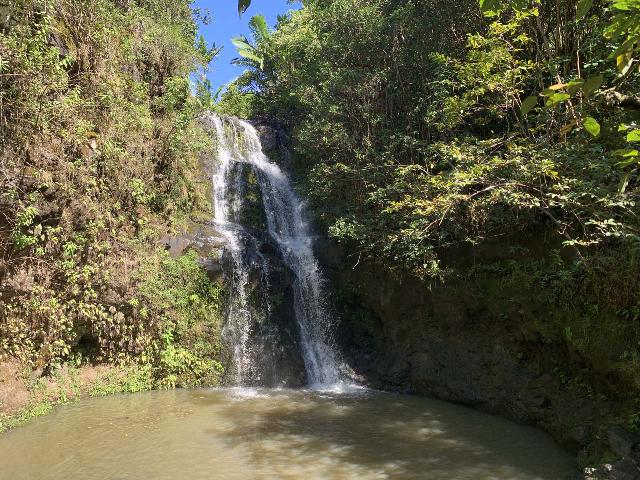 While we're on the topic of swimming holes, this is another one that I only got to visit on a return trip to O'ahu nearly 15 years after my first time in January 2007. Perhaps this sanctioned waterfall was more elusive (despite being part of the 'Ewa Forest Reserve) because it's not easy to reach, especially with an infamously steep and slippery slope that locals have dubbed "Cardiac Hill". But upon persevering, I saw that there was a rope swing that others loved to use at a lower cascade, and as you can see above, the main waterfall wasn't so bad either.
Visit Waimano Falls.
WAIMEA FALLS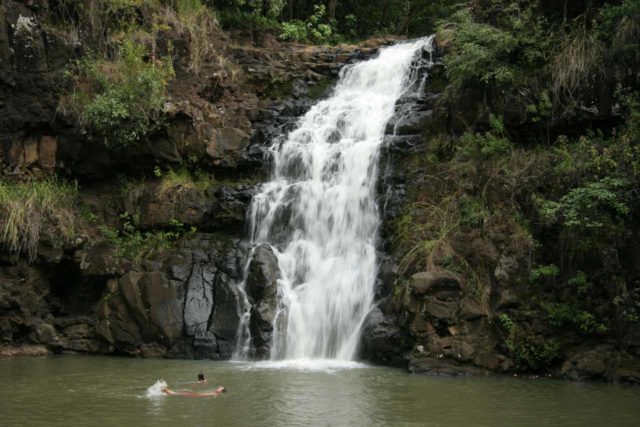 This maybe the North Shore's only publicly-accessible waterfall as it sits in the back of a botanical garden within Waimea Valley. The nice thing about this spot is that the swimming hole has changing rooms as well as an on-duty life guard, which is practically unheard of when it comes to natural waterfalls in the entire state of Hawai'i. Thus, I'd have to say this has to be one of the most family-friendly excursions you can do on O'ahu, especially with this waterfall being our main motivation for experiencing this place.
Visit Waimea Falls.
LIKEKE FALLS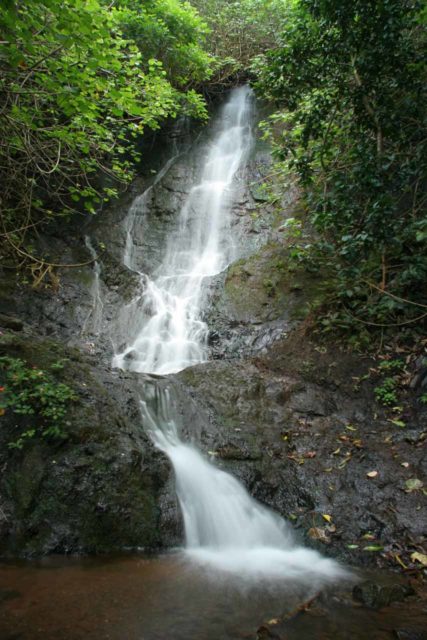 When Julie and I first went to this waterfall in late January 2007, we took an adventurous route that started from the Nu'uanu Pali Lookout, went under the Pali Highway, briefly followed an abandoned road, and then finally snuck through a bit of jungle before reaching the falls. On a second visit, I learned of and took advantage of a much easier route from the Ko'olau Golf Club property that offered me a much different experience with teasing views of the Ko'olau Range (including a hole-in-the-mountain type natural arch) as well as a shorter (albeit muddier) path. Therefore, this place seemed to get a lot more notoriety in recent years.
Visit Likeke Falls.
KALIUWA'A FALLS (SACRED FALLS)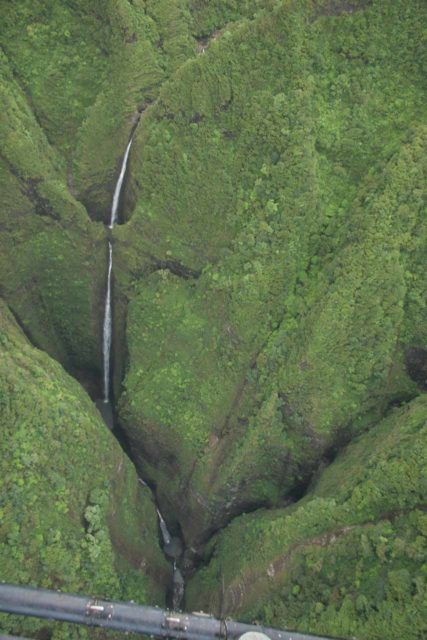 I figure I'll end off this guide with my favorite of all the waterfalls in O'ahu. As you can see from the aerial photo above, it's truly a beast as it dropped some 1100ft in total. There used to be a trail leading to the base of the 80ft last tier of Sacred Falls, which was also a very popular swimming hole. Unfortunately, a landslide that happened on Mother's Day in 1999 and the ensuing lawsuits pretty much shut down this place indefinitely, which was why the only way to see this sacred place is now by helicopter. As I'll note in the next section, it seems like access to Hawaii Waterfalls are getting fewer and fewer as time goes on, and this waterfall was exhibit A when it came to justifying the nanny state approach to prohibiting access to once public places.
Visit Sacred Falls.
What About The Rest Of O'ahu's Waterfalls? Aren't There More?
There are indeed more waterfalls in O'ahu than what I've put on this guide. If you care to see some of the other ones I've had write-ups about, we have a page dedicated to our entire survey of Oahu Waterfalls.
That said, there are still other waterfalls not even on our survey that have become prohibited for one reason or another. Either that, or it's very difficult to access for whatever reason (maybe vigilant residents, high degree of danger, etc.).
Among the waterfalls that have fallen under the closed category (that I'm aware of) include Hamama Falls (even though it was technically in the Waihe'e Forest Reserve) and Wailele Falls.
The falls that I'd argue would involve greater effort for the risk and effort involved (especially if access is ambiguous) included Kalauao Falls, Waiomao Falls, Makaua Falls, and Malaekahana Falls.
I'm sure there's more to this list, but I know personally it gets to that point where I'd really have to ask myself, is the risk really worth the reward?
Where Are The Waterfalls In Oahu?
Besides the detailed descriptions and directions to each of the waterfalls listed above, I thought I'd show you this map of the locations of Oahu Waterfalls.
As you can see, they are pretty much concentrated on the eastern side of the island, which pretty much coincides with the eastern slopes of the Ko'olau Range, which essentially acts as the eastern spine of O'ahu.
That's because Hawaii experiences trade winds that scoop up moisture from Alaska's Aleutian Islands and blow into the islands as northeasterly winds.
These moisture-laden winds ultimately hit mountains, which then causes the vapors to rise and condense into rain clouds over these mountains.
As a result, it's why the wetter east-northeast side of the island is considered the windward side while the drier west-southwest side of the island is considered the leeward side.
And as far as renting a car to enable exploring O'ahu on your own, we were able to drive completely around the Ko'olau Range via the East Shore, North Shore, and Central Valley. However, there's no road going around the Wai'anae Range, which represents the drier western spine of the island of O'ahu.
When To See The Waterfalls In Oahu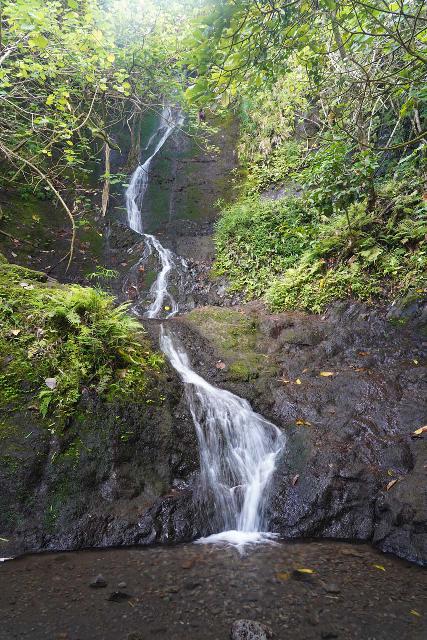 The Hawaiian Islands tend to experience a "Wet Season" and a "Dry Season". The Wet Season tends to occur between October through April while the Dry Season tends to occur between May through September.
Of course, Nature is a chaotic system so things work in terms of likelihoods (or probabilities) of things happening and not in absolute terms. Therefore, these Wet Season and Dry Season variations are merely guidelines based on statistical data along with some anecdotal observations.
Moreover, with Global Warming and Climate Change, these seasonal patterns are prone to changing, and the severity of the rains (and conversely the droughts) are intensifying.
Besides, you can still have good weather during the Wet Season and you can have wet weather during the Dry Season.
Nevertheless, when there is wet weather, the differences in the watercourses (and thus the waterfalls) can be dramatic. It's the main reason why you need to be cognizant of the flash flooding risk whenever you choose to be near or in the streams and rivers.
In any case, I go into far more detail about Hawaii's seasonal variations in this write-up.
Where To Stay In Oahu
There's actually no shortage of places to stay on the island of O'ahu.
However, given that island time (i.e. a mentality about the slow pace at which things can move) tends to conflict with a limited-time itinerary where we wish to fit in as much as we can before going home, there are advantages and disadvantages to specific accommodation locations.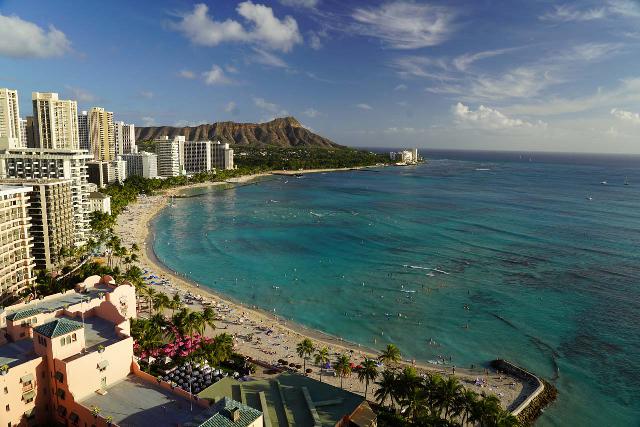 The vast majority of people visiting O'ahu stay in or near Waikiki Beach as well as Honolulu in general, and it's for good reason.
That's because the area between the Ala Wai Canal and Waikiki Beach is bustling with shops, resorts, and easy access to the famous beach itself.
Aside from the fact that parking can be expensive (or very difficult if trying to cheap out), and there's a bit of a maze of one-way streets to navigate to get out of there, it's actually within proximity of most of the interesting waterfalls on the island (especially those mentioned above).
Other than that, there are lesser known alternatives on the East Shore like Kailua, Kane'ohe, and La'ie among others.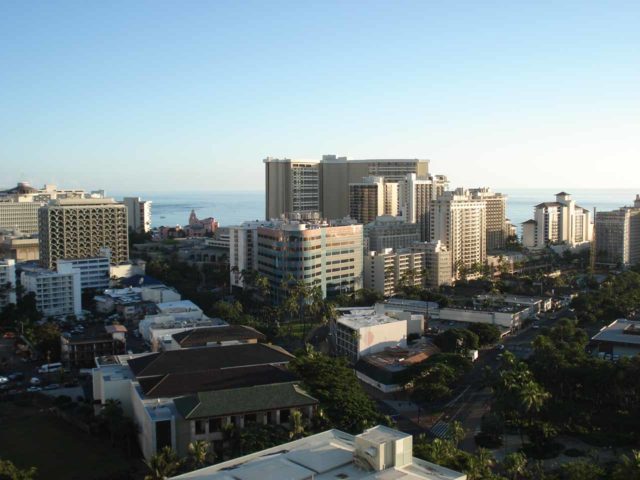 The North Shore like Hale'iwa is really more for surfing buffs as it's a bit further away from the developments of the south side of the island (as well as the majority of O'ahu's waterfalls).
Final Thoughts / Conclusion
I hope you enjoyed reading and seeing what we had to say about the best waterfalls in O'ahu (that you can legally visit).
More importantly, I hope you've been able to use this resource for your own trip planning needs so you can go out there and experience them for yourself!
If you have questions or comments, feel free to use the form below and tell us what's on your mind!
Visitor Comments:
Got something you'd like to share or say to keep the conversation going? Feel free to leave a comment below...
No users have replied to the content on this page