This guide to the best waterfalls in the Big Island of Hawaii showcases our favorites in the largest of the Hawaiian Islands. And true to the word, it also shows you how to reach these Big Island Waterfalls.
We've compiled this page as a result of a few trips spanning a couple of years, where we've experienced different conditions in that time. Thus, we can inform you of changes that we've noticed as well as suggest which of these waterfalls you can swim in provided you are fully aware of the risks (e.g. leptospirosis, flash flooding, etc.).
As for the waterfalls themselves, we have a list of the Top 10 Best Hawaii Waterfalls where we showcase our favorites throughout all of the Hawaiian Islands. And if you check out that list, I think you might be surprised to find that some of the Big Island Waterfalls are represented there.
If you want to see our full survey of the Big Island Waterfalls, we also have a larger compilation that you can check out on this page (including those that did not appear on the post that you're reading right now). Moreover, if you plan on island hopping or are considering other islands to visit, we also have a broader page of all the Hawaii Waterfalls that we've been to and made write-ups about.
By the way, in these focused write-ups, we show you how to visit each one of these waterfalls should you be interested in trip planning for your own waterfall chasing throughout the state let alone on the Big Island of Hawai'i.
The Best Waterfalls We've Seen On The Big Island Of Hawai'i
Let's just cut right to the chase and show you what the best waterfalls in the Big Island are and how to access them.
I'm a visual guy, and it's better to just show you the beauty of this island. Besides, pictures are worth thousands of words, right?
So without further ado, here are the best of the Big Island Waterfalls that we've personally seen and shared with our write-ups…
RAINBOW FALLS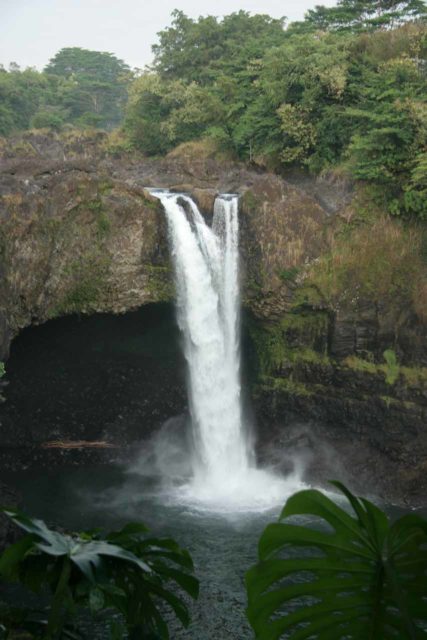 Let's start with perhaps the easiest and most-visited of the waterfalls on the Big Island. After all, it's a drive-to waterfall pretty much within the town of Hilo, which is the main town on the island's windward east side. It couldn't be any easier to witness an attractive 80ft waterfall like this, and it's practically obligatory if you intend to chase waterfalls on this island.
Visit Rainbow Falls.
PEEPEE FALLS (PE'EPE'E FALLS)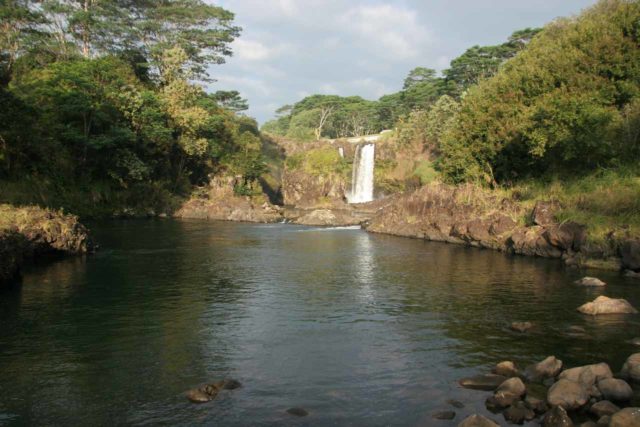 Further upstream from the famous Rainbow Falls, there's then the more menacing-named Boiling Pots, where just a short distance further upstream from that series of pools and cascades resides the Pe'epe'e Falls. This one requires a bit of a stream scramble and crossing to reach, but it's one that's popular with people wishing to swim in the Wailuku River as well as to go behind the falls! That said, we've seen this part of the river in an angrier mood, and it's definitely not wise to be anywhere near the river should it be flood (which can happen even if it's not raining in Hilo but can be raining further upslope).
Visit the Pe'epe'e Falls.
AKAKA FALLS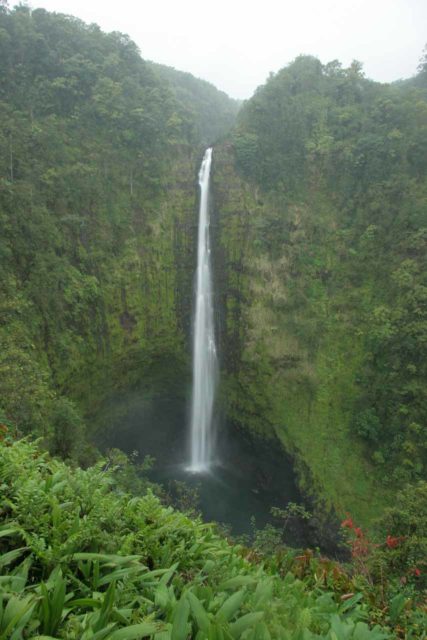 Of all the waterfalls on the Big Island, this one is my favorite because it's not only the tallest publicly-accessible one at over 420ft, but there's also a neighboring waterfall called Kahuna Falls that's similarly as big and tall (albeit harder to see). This ease-of-access is quite unusual for a waterfall with characteristics more typical of remote waterfalls at the heads of inaccessible valleys typically reachable by helicopter. So in addition to Rainbow Falls, I'd view this waterfall as also obligatory viewing.
Visit Akaka Falls.
UMAUMA FALLS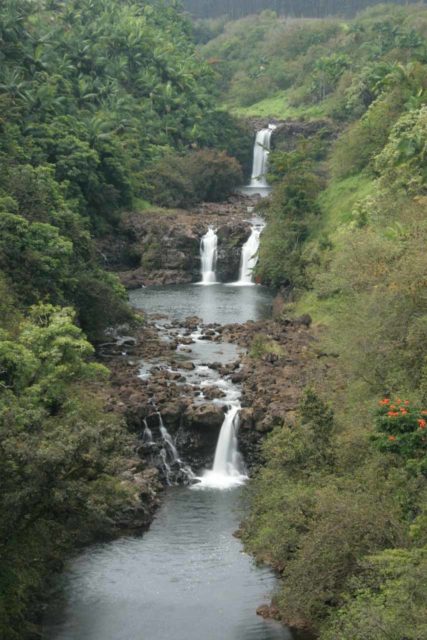 When we visited this private waterfall, we took a driving tour of the World Botanical Gardens, where the far end of the loop route featured a lookout peering right at this attractive multi-tiered waterfall. I regret not taking the time to do the rainforest walk shortly after the lookout, but there is another (more public) pair of waterfalls closer to the highway bridge further downstream if this waterfall experience wasn't enough.
Visit Umauma Falls.
KULANIAPIA FALLS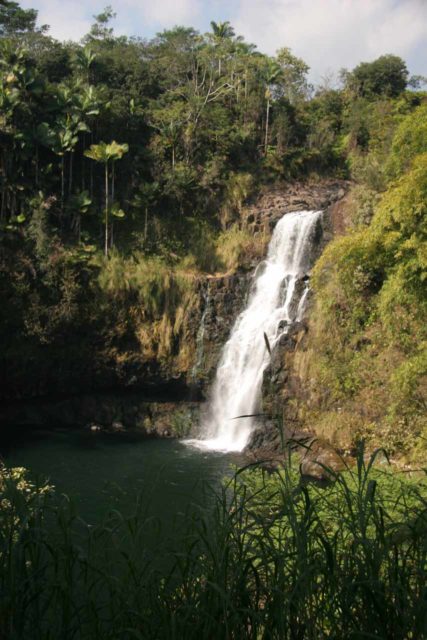 While on the topic of private waterfalls, this one sits on a side stream that feeds the larger Wailuku River further upslope from Hilo Town. It's a nice backdrop to a peaceful Asian-themed bed-and-breakfast where guests actually get to chill out around this "backyard falls" as well as having a swim in its plunge pool – something that is quite rare for a waterfall of this size on the Big Island.
Visit Kulaniapia Falls.
What About The Rest Of The Big Island Waterfalls? Aren't There More?
You'd think that with an island as big as the Big Island of Hawai'i, there ought to be way more waterfalls than what we've listed on this page. And after doing a helicopter ride that skimmed along the Hamakua Coast and some of the Kohala Valleys, this was indeed the case (and by the way, there were still major waterfalls on that flight that we missed).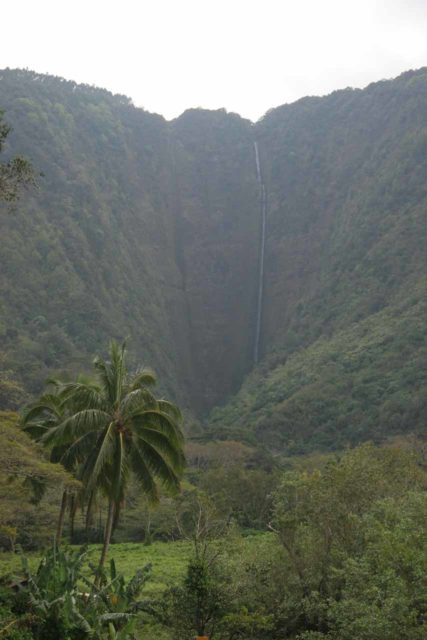 If you care to see some of the other ones I've had write-ups about, we have a page dedicated to our entire survey of the Big Island Waterfalls.
That said, a good deal of waterfalls have succumbed to the usual private property/trespassing issue with a few others where access is ambiguous or not actively enforced for long periods of time. One that is on my bucket list had succumbed to trail damage from the Kona Earthquake in October 2006.
Anyways, among the waterfalls that have fallen under the closed-by-private-property category (that I'm aware of) include Kawainui Falls and Waikama Falls.
Then, there are waterfalls where the access is rather ambiguous (to my knowledge), and these include Hi'ilawe Falls, Nanue Falls, and the so-called Narnia Waterfalls (which are actually a convergence of three named waterfalls).
Finally, the one waterfall that was reclaimed by Nature was the Kapoloa Falls, which was featured on an episode of a Samantha Brown episode of Girl Meets Hawaii.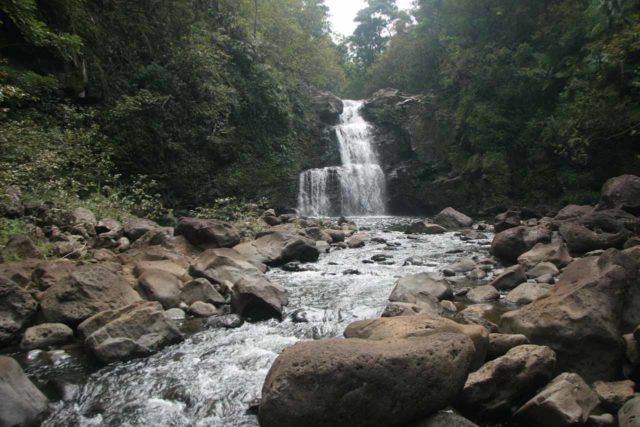 I'm sure there are more waterfalls that we missed (especially the hard-to-access remote ones between the Kohala edge valleys of Pololu and Waipi'o), but unlike the other islands, the list of kapu waterfalls on the Big Island of Hawai'i seems to be somewhat stable. I suspect that is largely due to the island's size making a good deal of the falls much harder to access.
Where Are The Big Island Waterfalls?
Besides the detailed descriptions and directions to each of the waterfalls listed above, I thought I'd show you this map of the locations of the Big Island Waterfalls.
As you can see, they are pretty much concentrated on the northeastern side of the island from Hilo and throughout the coast north of town. This pretty much coincides with the Hamakua Coast along the east-northeastern slope of Mauna Kea as well as the Kohala Mountains further to the north. There's a surprising lack of known waterfalls (let alone accessible ones) on the eastern slope of the Mauna Loa volcano, which makes me wonder whether Mauna Kea's slopes have caused a bit of a rainshadow on its neighbor's slopes.
In any case, the concentration of waterfalls on the Big Island are largely due to the fact that the Hawaiian Islands experience trade winds that scoop up moisture from Alaska's Aleutian Islands and blow into the islands as northeasterly winds.
These moisture-laden winds ultimately hit mountains (especially those as large as both Mauna Kea and Mauna Loa as well as the Kohala Mountains), which then causes the vapors to rise and condense into rain clouds over these mountains.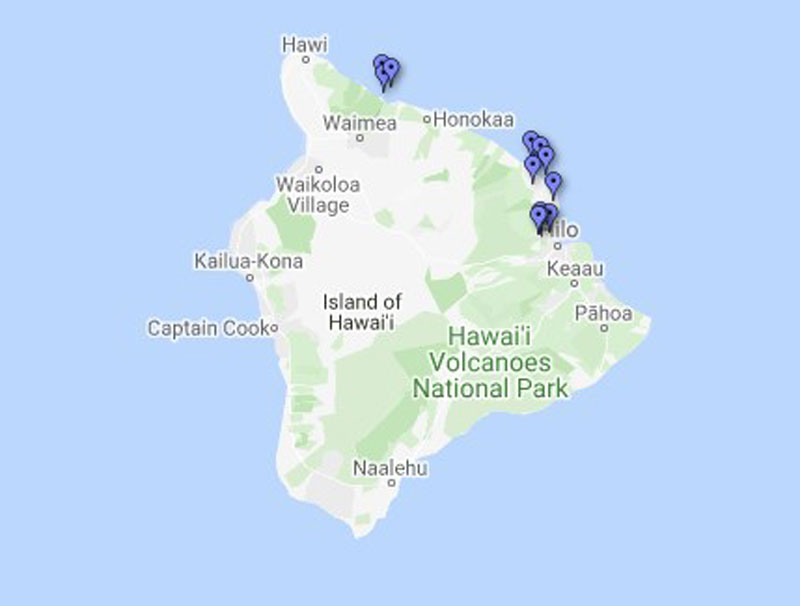 As a result, it's why the wetter east-northeast side of the island is considered the windward side while the drier west-southwest side of the island is considered the leeward side.
And as far as renting a car to enable exploring the Big Island on your own, there is a road that goes completely around the island, but you'll want to budget at least a half-day to do this with minimal stops.
There's also a "shortcut" road between the wetter Hilo Town and the drier, more touristy Kailua-Kona Town, which is known as Saddle Road (probably so named because it traverses the "saddle" between the twin volcanoes of Mauna Kea and Mauna Loa.
One time we actually were forced to drive this road to escape the wet side of the island when flooding took out bridges on the Hamakua Coast as well as further to the south of Hilo during an unusual downpour on Super Bowl weekend in early February 2008. So that ought to give you an idea of the size of the island and your options on getting around it.
When To See The Big Island Waterfalls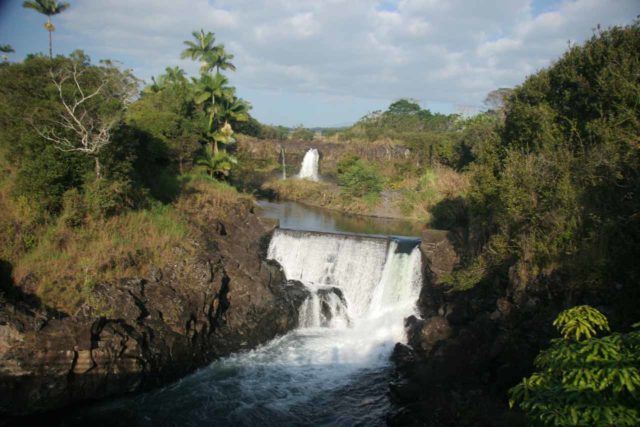 The Hawaiian Islands tend to experience a "Wet Season" and a "Dry Season". The Wet Season tends to occur between October through April while the Dry Season tends to occur between May through September.
Of course, Nature is a chaotic system so things work in terms of likelihoods (or probabilities) of things happening and not in absolute terms. Therefore, these Wet Season and Dry Season variations are merely guidelines based on statistical data along with some anecdotal observations.
Moreover, with Global Warming and Climate Change, these seasonal patterns are prone to changing, and the severity of the rains (and conversely the droughts) are intensifying. Heck, we were caught in one of these massive rain storms in February 2008 during a Wet Season where we (and some locals I spoke to) already speculated about the influence of Global Warming being the driver of it.
Besides, you can still have good weather during the Wet Season and you can have wet weather during the Dry Season.
Nevertheless, when there is wet weather, the differences in the watercourses (and thus the waterfalls) can be dramatic. It's the main reason why you need to be cognizant of the flash flooding risk whenever you choose to be near or in the streams and rivers. And as you can see in the photo above, you definitely don't want to be anywhere near the rivers and streams under such conditions!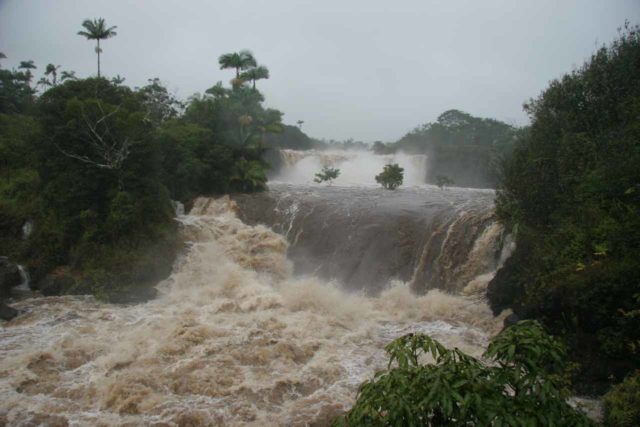 In any case, I go into far more detail about Hawaii's seasonal variations in this write-up.
Seasonal variations aside, some of the major waterfalls has also a bit of a history of water diversion, and this included Hi'ilawe Falls, which is supposed to have a companion called Hakalaoa Falls. Another one is the Kaluahine Falls.
Anyways, if you'd like to delve deeper into Hawaii's history of sugar and water diversion, I highly recommend reading "Sugar Water: Hawaii's Plantation Ditches" by Carol Wilcox.
Where To Stay In The Big Island
In my mind, you essentially have two main options and a couple of other alternatives in terms of places to stay on the Big Island of Hawai'i.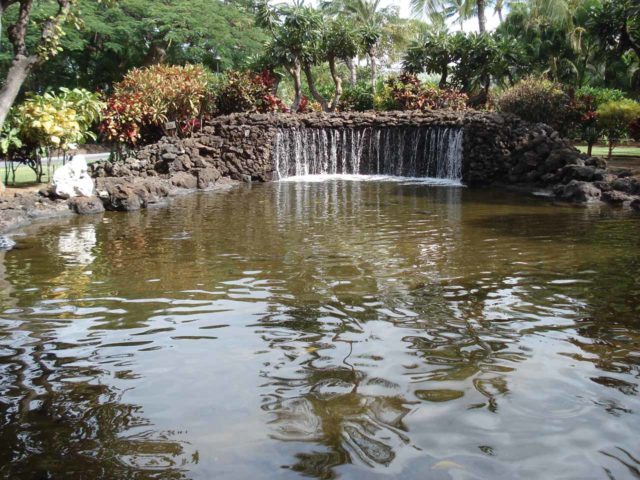 That said, given that island time (i.e. a mentality about the slow pace at which things can move) tends to conflict with a limited-time itinerary where we wish to fit in as much as we can before going home, there are definitely advantages and disadvantages to specific accommodation locations. This is especially the case when you consider the size of the island and the long driving distances compared to the rest of the Hawaiian Islands.
The bottom line is that if you wish to stay in the drier and more touristy side, you'll want to stay in Kailua-Kona, and if you want to stay in the more expensive exclusive resorts, you may want to consider Waikoloa further to the north.
On the other hand, if you want to immerse yourself in waterfalls (and get closer to the Hawaii Volcanoes National Park), it's more advantageous to stay in Hilo.
Finally, if you want something in between, it's possible to stay in the Paniolo (basically Hawaiian vaqueros or cowboys) town of Waimea, which sits in the smaller "saddle" between the Kohala Mountains and the northern slope of Mauna Kea.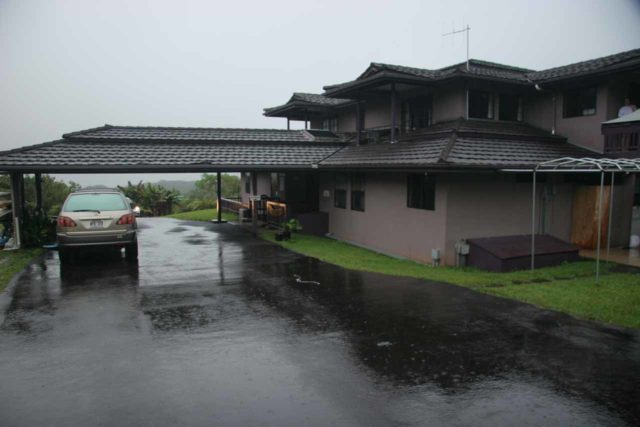 Again, I want to reiterate the driving distances involved between these towns just to drive home the point about the island's size. For example, it takes over 2 hours (94 miles) to go between Hilo and Kona via Waimea on the Hawaii Belt Road or nearly 3 hours (124 miles) to go between the towns via the southern route. Waimea is about an hour drive (40 miles) from Kona and over an hour drive (55 miles) from Hilo. Finally, the Saddle Road between Kona and Hilo was about 78 miles taking a little over 90 minutes.
Final Thoughts / Conclusion
I hope you enjoyed reading and seeing what we had to say about the best waterfalls in the Big Island of Hawai'i (that you can legally visit).
More importantly, I hope you've been able to use this resource for your own trip planning needs so you can go out there and experience them for yourself!
If you have questions or comments, feel free to use the form below and tell us what's on your mind!
Visitor Comments:
Got something you'd like to share or say to keep the conversation going? Feel free to leave a comment below...
No users have replied to the content on this page