In this guide to the best waterfalls near Los Angeles that you can swim in, we want to showcase the top local swimming holes (we are from LA after all) as well as how to find them. Indeed, we've received numerous requests to showcase such waterfalls that allow you to really experience the place besides just taking pictures, and we finally have enough of a survey to really give you the low down on the best spots that we've personally experienced to cool off from the typically hot and sunny weather of Southern California.
By the way, we're no strangers to waterfalls in or near Los Angeles, and this includes the neighboring counties of Orange County, Riverside County, San Bernardino County, Ventura County, and San Diego County. Indeed, all of the waterfalls we're including on this page are pretty much throughout Southern California, which are all within a day trip of the Greater Los Angeles Area.
Of course, even as we put a guide like this together and share it with the world, swimming holes in general tend to come with caveats. I'll get into what these conditions are later in this article. In fact, almost any waterfall can be one that you can swim at, but only under the right conditions. So to narrow this list down a bit more, I've added the condition that each featured waterfall's plunge pool or feeder pool must have a (reliable amount of) depth to allow for swimming (and maybe wading to a lesser extent).
By the way, if you're interested in seeing an expanded survey of all the local waterfalls or those within the state of California, we do have other pages covering all of Southern California, the whole state of California, our top 10 favorite waterfalls throughout Southern California, and even 19 of the best waterfalls specifically in both LA and the OC.
So without further ado, let's first cut right to the chase and show you the best waterfall swimming holes that we've experienced. By the way, if you'd like more specific information about how to reach each of the waterfalls we're naming below, they all have individual write-ups providing even more details including maps, driving directions, trail descriptions, and more photos…
What Are The Best Waterfalls Near Los Angeles You Can Swim In?
HERMIT FALLS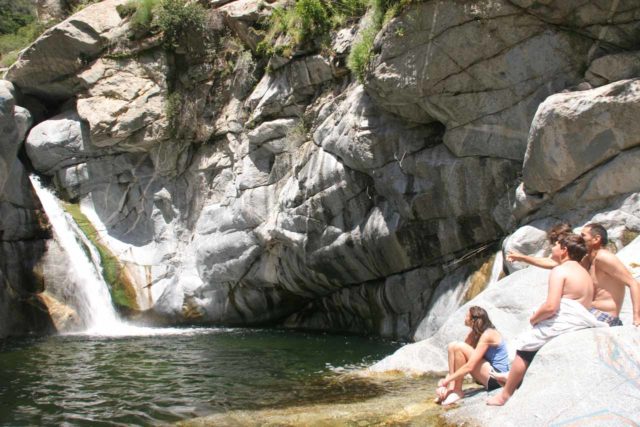 Even though Hermit Falls is the far less popular (and harder to get to) waterfall downstream of the wildly popular Sturtevant Falls, the one thing this falls has going for it is that its plunge pool is almost like its own punch bowl. In fact, some people have even done cliff dives into its plunge pool though I personally wouldn't recommend doing that. Nevertheless, it goes to show you how deep its plunge pool typically is on a normal Spring and early Summer season when Southern California is not mired in a drought.
Visit Hermit Falls.
FISH CANYON FALLS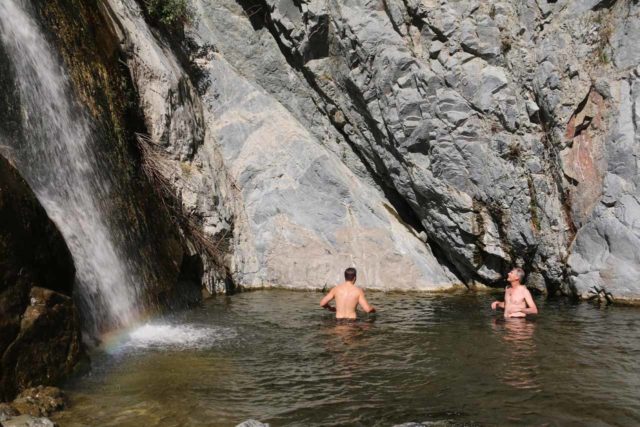 Fish Canyon Falls is actually our favorite waterfall of all the ones we've been to in Los Angeles County so far. However, under "normal" rainfall years and given access restrictions are lifted (as a quarry and fire damage historically tends to limit access), it can also pass as a suitable swimming hole (or at least one for deep wading as shown in the photo above). On one visit, we even saw groups of younger people do cliff dives to the plunge pool at the very bottom of this four-tiered waterfall. That said, if you are going to do this, you'd better make sure that pool is deep enough before you make the attempt.
Visit Fish Canyon Falls.

BLACK STAR CANYON FALLS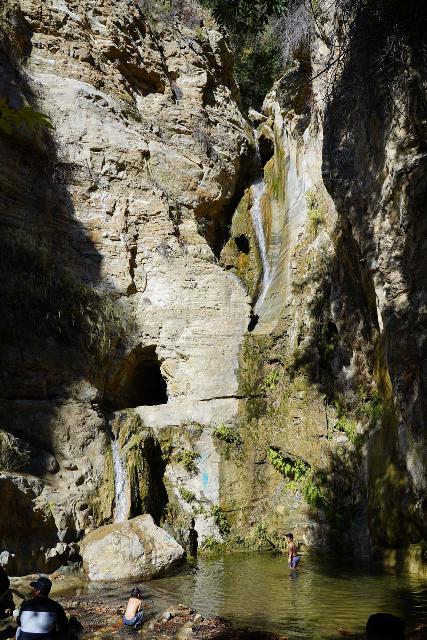 I almost didn't put Black Star Canyon Falls on this list because its plunge pool wasn't that deep and it has a very seasonal flow (especially considering how typically dry the OC and its foothills are). That said, it's the only waterfall we're including in the OC on this page, and there's a good chance you're going to get wet if you're willing to climb the lower waterfall to get up to the tunnel between the waterfall's two tiers. In any case, you're definitely going to have to earn your visit to this waterfall, and you'll definitely need to time it as well!
Visit Black Star Canyon Falls.
SANTA PAULA CANYON FALLS (SANTA PAULA CANYON PUNCH BOWLS)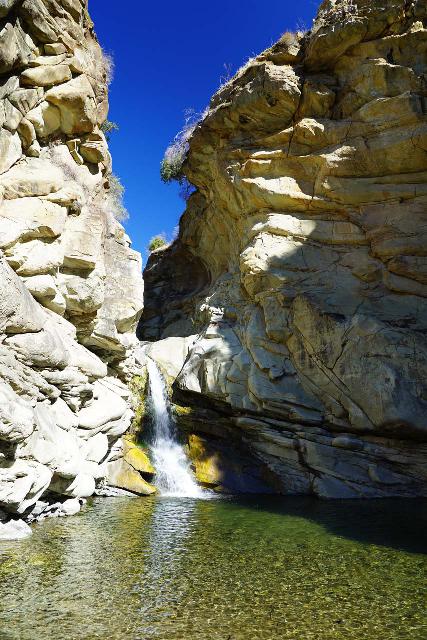 Of all the waterfalls on this page, the waterfalls and punch bowls of Santa Paula Canyon are perhaps the true embodiment of Southern California's swimming holes. In fact, I intentionally mentioned the waterfalls in their plural form because there are a handful of them. The picture above only shows the first one, but there are more swimming holes and "water slides" further upstream. Heck, there's even a hidden one with a large "water slide" in an even deeper swimming hole that I didn't find until my second visit.
The only catch with this excursion (besides being a bit out of the way in Santa Paula west of Fillmore) is that you have to go on a bit of a hot hike, and there's some degree of risk involved. After all, each of the punch bowls involves a steep scramble (often times rope-assisted) to access, and thus bad accidents can and do occur here. So make sure you know what you're getting yourself into.
Visit Santa Paula Canyon Falls.
TAHQUITZ FALLS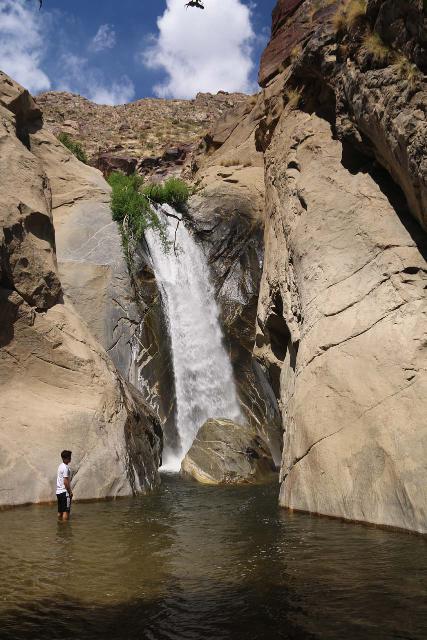 Timing is everything if you're chasing waterfalls in the Palm Springs area. That said, chances are that you've likely heard about Tahquitz Falls because the Agua Caliente Band of Native Americans evicted squatters, restored the trail, and made it accessible to the public once again. As far as swimming is concerned, the deepest part of the plunge pool is the notch right at the foot of the waterfall. The rest of the plunge pool is for wading, especially if you wish to cool off from the desert heat (provided there's enough snowmelt from the San Jacinto Mountains).
Visit Tahquitz Falls.
TENAJA FALLS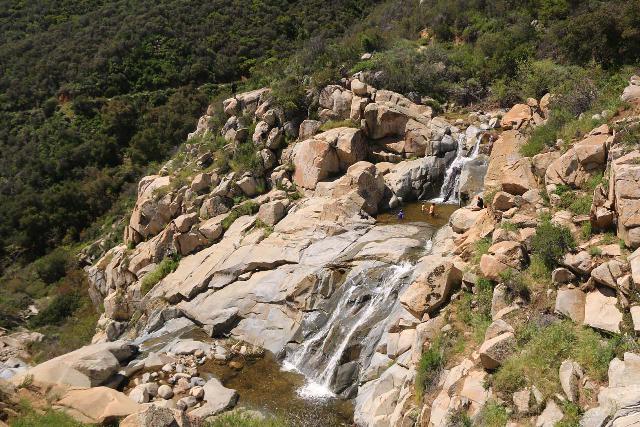 Like with Tahquitz Falls, including Tenaja Falls in the category of swimming holes might be a stretch due to the lack of depth of its plunge pools and feeder pools. Nevertheless, when it comes to the deserts of the Inland Empire, you'll take what you can get, especially if there's enough water for the kids to do a deep wade. Speaking of wading, the main drop of this 150ft waterfall isn't safely accessible, but it's definitely worth going to the top of the falls where there are a series of pools to wade in.
Visit Tenaja Falls.
BONITA FALLS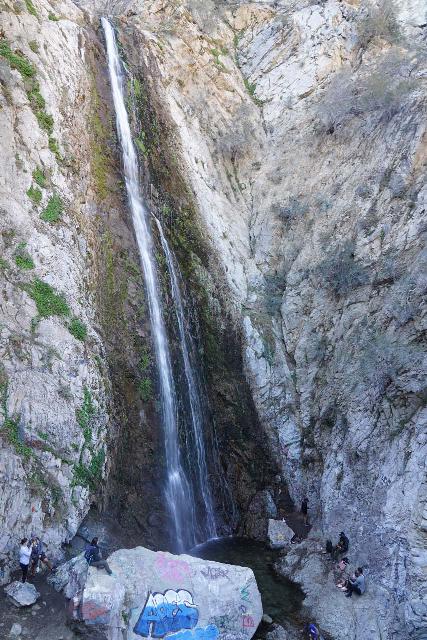 It's definitely a stretch to consider Bonita Falls a swimming hole because its plunge pool is shallow and small. However, if you're going to visit this waterfall at the peak of the snowmelt (typically early Summer), then there are swimming (or at least deep wading) opportunities in Lytle Creek, which is the major watercourse that you have to cross to even get into the wash and hidden trail leading to the falls. So you mind as well make a water play day out of it if you're going to do this hike, especially to make it as a reward on a hot day. We saw numerous families doing this, and it makes perfect sense!
Visit Bonita Falls.
CEDAR CREEK FALLS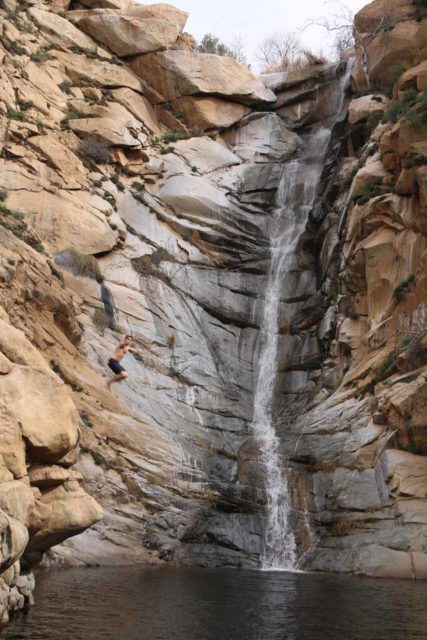 Last but not least, Cedar Creek Falls could very well be San Diego County's most popular (and most photographed) waterfall. As you can see from the photo above of the cliff jumper before the falls, the plunge pool is big enough and deep enough to allow for a plunge let alone a swim. That said, climbing the cliffs here is technically not allowed and you now need a permit to access the waterfall. In fact, even when this waterfall is not flowing (as it didn't for Julie when she first came here in May 2001), the plunge pool was still deep enough for a swim. So indeed, this is a true swimming hole, which is surprisingly rare for the waterfalls throughout Southern California.
Visit Cedar Creek Falls.
Aren't There More Swimming Hole Waterfalls In Southern California?
In the right conditions, this list can expand to include even more waterfalls that I've left off this list. However, I filtered this list with the primary criteria being that the plunge pools or feeder pools have to be deep enough to allow for swimming or at least deep wading to cool off from the Southern California heat.
That said, here are some more waterfalls that could have made this list but didn't for one reason or another.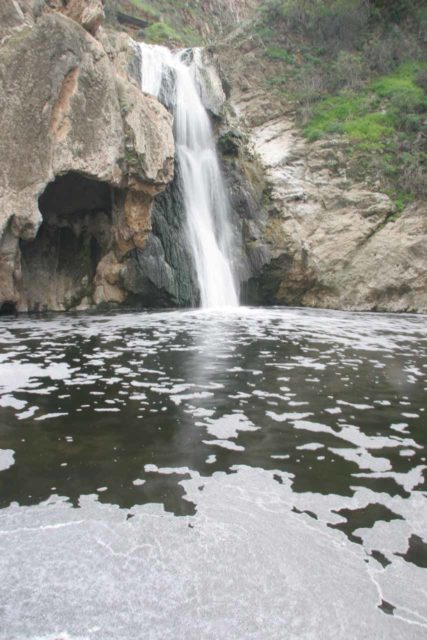 Paradise Falls (Wildwood Falls) in Thousand Oaks had a large plunge pool with depth so it very easily could have qualified for our list of best Los Angeles Swimming Hole Waterfalls. However, Wildwood Creek is continually polluted by suburban runoff from the homes and businesses further upstream. Even on one of our visits, the water had a bit of a smell to it, which suggested to us that perhaps it's not a good idea to swim in or play. That's why I disqualified it as a swimming hole though it easily could have been one under different circumstances.
Aztec Falls and Deep Creek Falls were described in Ann Marie Brown's book, but we've never had a chance to visit it all these years. The situation is now further complicated by a forest service closure due to overcrowding and emergency vehicles unable to access the forest roads due to the parking and traffic situation, especially near Splinter's Cabin. We're on the lookout for whether the forest service finally figures something out, and I'm sure this would be an entry on this page if it's finally re-open to the public again.
Sapphire Falls was a swimming hole in Rancho Cucamonga that used to be publicly-accessible. Unfortunately, the lure of auctioning off land to profit for developers and real-estate prospectors along with complicit politicians proved too great. Thus, the expanding private property ultimately closed off legal access to this waterfall. It's not unlike what happened with Fish Canyon Falls when access was closed off to allow a lucrative quarrying operation to take place until recent years when a compromise was struck to have the quarrying company operate a weekend shuttle through the work zone to the trailhead. And then, the winding down of the quarrying operation ultimately re-opened access (fire and landslide damage notwithstanding). Time will tell whether Sapphire Falls will ever be open to the public once again, but you can consider this an instance of where the interests of a few people trumped that of the public in the name of perverse financial incentives.
What Are The Caveats Behind The Waterfall Swimming Holes In Southern California?
I mentioned at the start of this page that there are caveats when it comes to visiting waterfalls, especially those that double as swimming holes. Here are those caveats.
URBAN BLIGHT & LACK OF WILDERNESS ETHICS
First, if waterfalls are easy to visit, it's going to get overcrowded – not just with Nature lovers, but also with city folk perhaps ignorant about wilderness principles.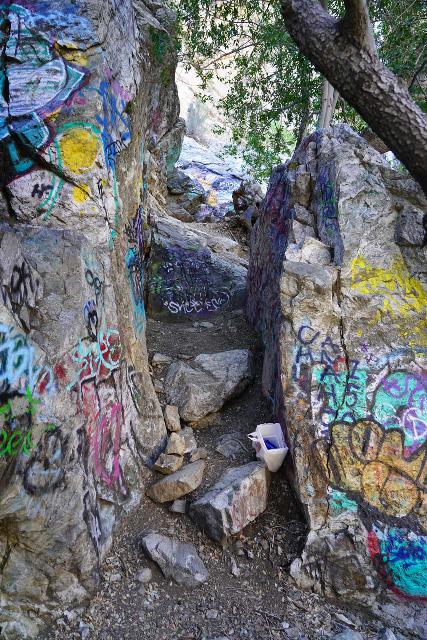 This is further exacerbated by the information age, where crowdsourced information from apps and websites like AllTrails, Yelp, and TripAdvisor among others attract even more people tending to lack the respect and awareness of leave-no-trace ethics.
The end result is graffiti, litter, erosion, tense parking situations, and noise pollution (think people playing loud music); all of which detract from the back-to-Nature experience that we all want when we seek out Nature let alone waterfalls.
It almost seems as if there's a general lack of education (or blatant disregard) concerning leave-no-trace ethics (i.e. you pack out what you bring in; don't expect there to be someone else picking up after your own mess), and all it takes is a few bad actors to ruin it for everyone else.
Even chasing social media currency on platforms like TikTok, Instagram, Facebook, YouTube, or whatever else that's the fad of the day seems to attract an unprepared crowd of people that further exacerbate urban blight and even get themselves severely injured or killed.
This has the follow-on effect that eventually access to these places becomes uncertain, and often times the only recourse left is to charge (more) money or at least regulate visitation to give these places a chance to recover from being loved (or disrepected) to death.
It's sad to see, but the majority of the waterfalls listed on this page all suffer from at least some form of urban blight, and the only ones left that have escaped urban blight so far require some degree of technical hiking, climbing, or scrambling, which further increases the risk of injury or death.
SAFETY & RISKS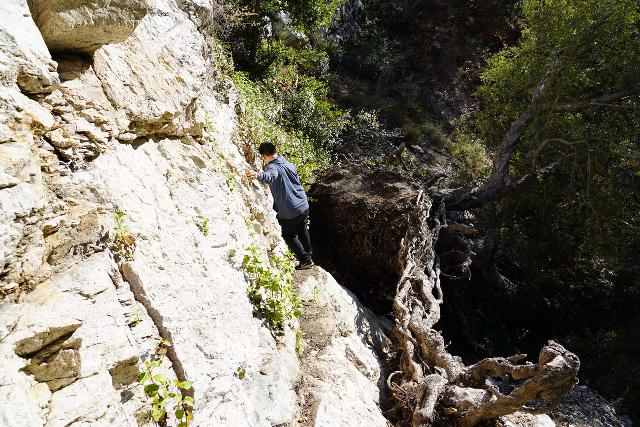 Speaking of risk, Nature in general (let alone waterfall swimming holes) are inherently dangerous places. In fact, we've had a death in the family from an excursion in Nature to further drive home this point.
Especially with waterfalls, by their very existence, you're dealing with cliff exposure, slippery surfaces (thanks to water), or a combination of both.
Even the trails to get to such spots can be sketchy. It's why you really need to be cognizant of trail conditions and to be prepared before even seeking out these waterfalls.
I try to describe such conditions in the detailed write-ups for each of the waterfalls we've done, and I urge you to use such field observations to anticipate the hazards you might encounter.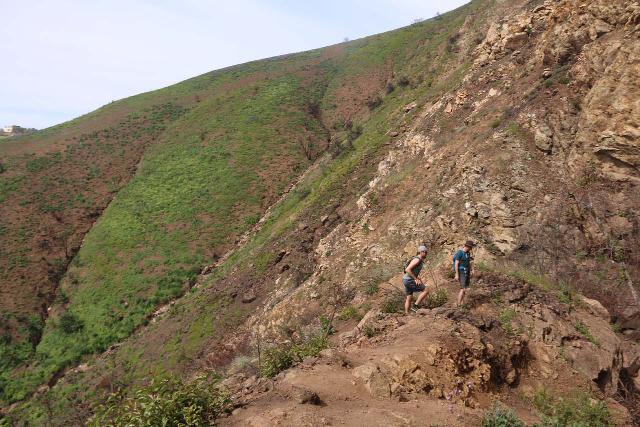 Even if in hindsight you think the hazards aren't as bad during your visit, it's definitely better to come overprepared than underprepared as this can mean the difference between life and death if you do encounter a dicey situation!
Indeed, the risks need not be life threatening if you're prepared going in and are cognizant and have a healthy respect and fear of Nature. More importantly, you have to exercise good judgment and properly assess the risk versus reward. It even means you might have to have the humility to turn back if you reach an obstacle that can take your life away without knowing the best ways to get through safely (or even have the appropriate gear to better handle such predicaments).
The bottom line is that visiting waterfalls that you can swim in all carry risks, and you are responsible for your own safety as well as those of your group if you're the excursion leader.
TIMING
Finally, Southern California has a Mediterranean Climate, which means it's typically dry. Therefore, in order for the swimming holes to behave like swimming holes, timing is everything.
Come when we've had a drought or it's too late in the season and the waterfalls could be dry or trickling, which in turn could mean the plunge pools become stagnant and disease-ridden (e.g. brain-eating amoebas that may be resident in some stagnant or polluted bodies of water).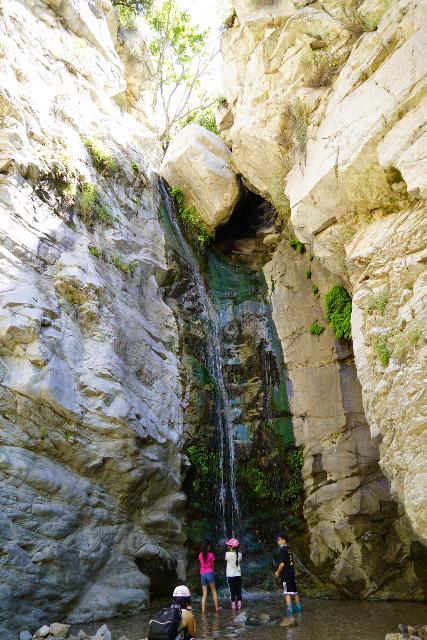 In fact, the pollution situation has been worsening over time given a general disregard for the environment in our laws and our economic signals (which govern our behavior at a macro level). So if it's cheaper to buy products packaged in polluting single-use packaging instead of reusable packaging, then society as a whole will continue to pollute as a result.
Speaking of timing, it can also govern safety for things like heat stroke and/or fires can become a problem as Global Warming continues to exacerbate droughts as well as flash flooding (in the extreme opposite situation).
The bottom line is that you really need to pay attention to the conditions and be situationally aware of your surroundings. Nature isn't Disneyland (nor should it be).
However, we're all looking for a good time in Nature, but safety and ethics are an important aspect of the overall experience so that you can come back (maybe with other members of your family and friends, including children and the children's children)!
When Is The Best Time To Go Swimming In Southern California's Waterfalls?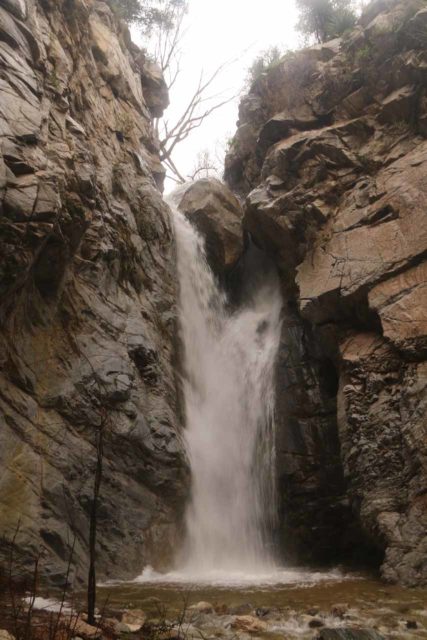 The short answer is that there are at least two factors you'll need to pay attention to with respect to timing a visit to go swimming in Southern California's waterfalls.
The first factor is the waterflow. This means we need to have a year with some appreciable precipitation during our Wet Season, which typically would be from October through May, but Global Warming has reduced that season (some years we hardly get any rain at all for the year!).
If the waterfall is fed by snowmelt in the San Gabriel Mountains or San Bernardino Mountains, then you can time your visit for the early Summer (maybe later into the Summer for high precipitation years).
If the waterfall is completely reliant on rain, then you'll have to time your visit for the early to late Spring (typically March through May or early June). Naturally, the greater the precipitation totals in the Winter Season, the longer the waterfall swimming hole might last into late Spring or early Summer.
The second consideration is the climate. In other words, would it be too cold for a swim? Or would there be a high risk of thunderstorms and flash flooding? Or would it be too hot to do the hike for a waterfall swimming hole that has already become stagnant or dry? What about fires (especially with Global Warming and Climate Change)?
Finally, there's also the crowd factor, which can dictate when you should make a visit. After all, if it's impossible to find parking, or it becomes too difficult to socially distance with herd immunity still not happening with COVID and its variants (yet), then that can further constrain your ability to visit the waterfall swimming holes on this page.
I've written a more detailed treatise on when is the best time to experience Southern California's Waterfalls, which you can read here.
Where To Stay Around The Greater Los Angeles Area
This section is really for the out-of-towners who are looking to experience the waterfall swimming holes in the Greater Los Angeles Area.
The people who live in any of the Southern California counties like Los Angeles, Orange County, Riverside, San Bernardino, San Diego, and Ventura are probably well aware of the infamous traffic that clogs our freeways.
Therefore, it makes sense to strategize where you want to stay particularly if you're targeting some of these swimming holes on a visit.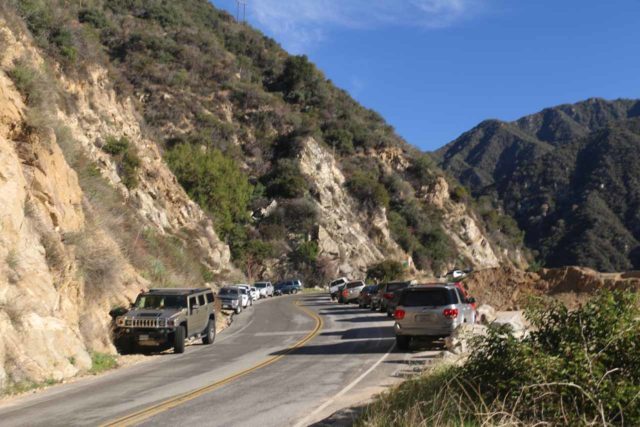 Anyways, just to give you a sense of the driving times to help plan out your trip (especially given that there's likely to be traffic no matter where you're going), here are some examples.
If you're driving northwest from say downtown Los Angeles to Santa Barbara, you're looking at about a 96-mile drive that will take about 2 hours (though it's not unusual for this drive to take over 2 hours due to traffic).
If you're driving south from say downtown Los Angeles to San Diego, then you're looking at a 121-mile drive that will take at least 2 hours (though it can easily consume upwards of 3 hours or more with traffic).
If you're driving east from downtown Los Angeles to Palm Springs, then you're looking at about a 110-mile drive that will likely take at least 2 hours, but can easily be longer with traffic.
Final Thoughts / Conclusion
I hope you enjoyed reading and seeing what we had to say about the best swimming hole waterfalls in the Greater Los Angeles Area and Southern California as a whole.
More importantly, I hope you've been able to use this resource for your own trip planning needs so you can go out there and experience them for yourself!
If you have questions or comments, feel free to use the form below and tell us what's on your mind!
Visitor Comments:
Got something you'd like to share or say to keep the conversation going? Feel free to leave a comment below...
No users have replied to the content on this page