This itinerary summaries the familiar Big Sur Coast as well as Monterey.
But what made this trip different from our prior ones was that we brought our daughter along.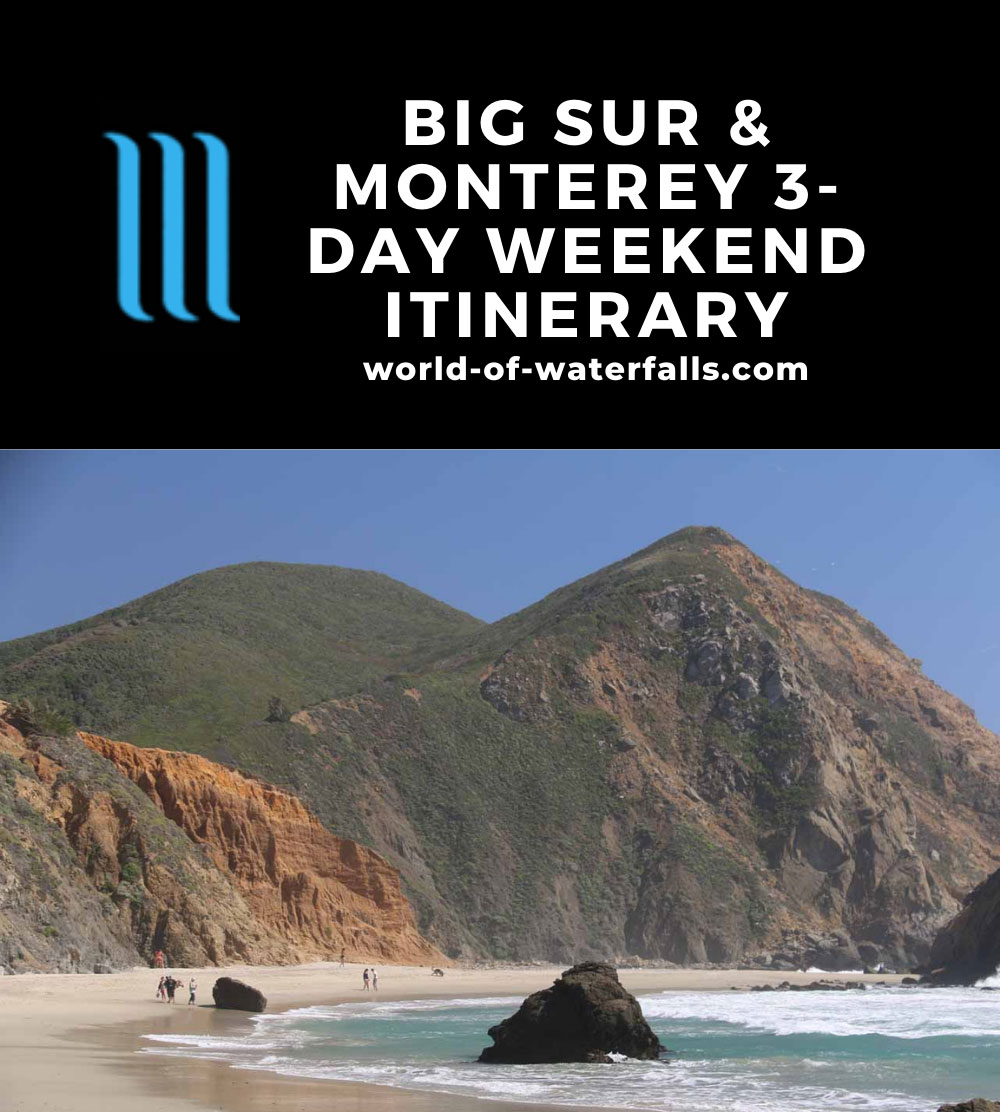 Thus, we got a different experience as it now mattered more to us how she would respond to the scenery in California's Central Coast.
While we were still in the grips of a severe drought, we only managed to visit (or re-visit) familiar waterfall haunts where we knew the flow would be reliable. Somehow, I had the feeling that this was less of a factor as far as our daughter was concerned.
In any case, here are the trip logistics and impressions of what we managed to do on this trip…
Trip Map
This map and its markings were produced by this app.
Trip Highlights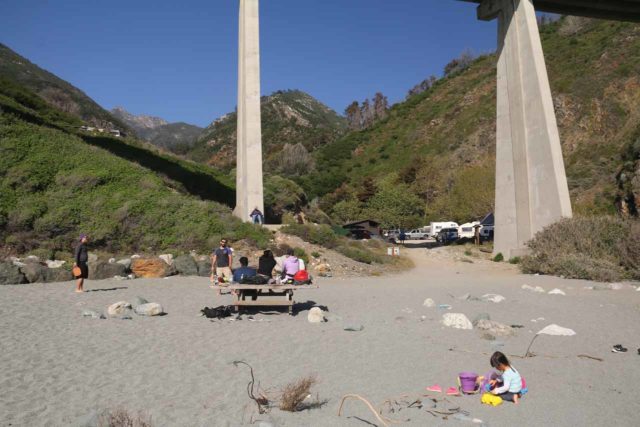 Limekiln State Park – the primary reason for us to stop here was to re-visit Limekiln Falls for the first time in over 12 years. However, we also spent time at the beach here, which our daughter enjoyed very much as she got to play in the sand.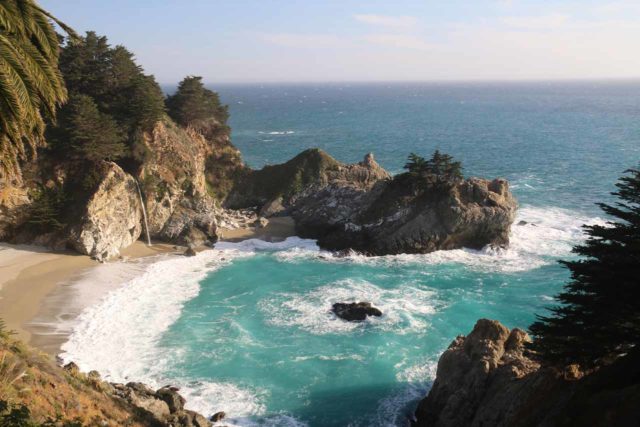 McWay Falls – this was one of those places we never really get tired of seeing. And in this instance, the afternoon sun and nearly perfect weather accentuated the colors of the water. We even noticed surprising sea otters swimming in the cove! Heck, I also squeezed in a short excursion out back to Canyon Falls for a bit of a quieter experience before joining the crowds at the main overlook.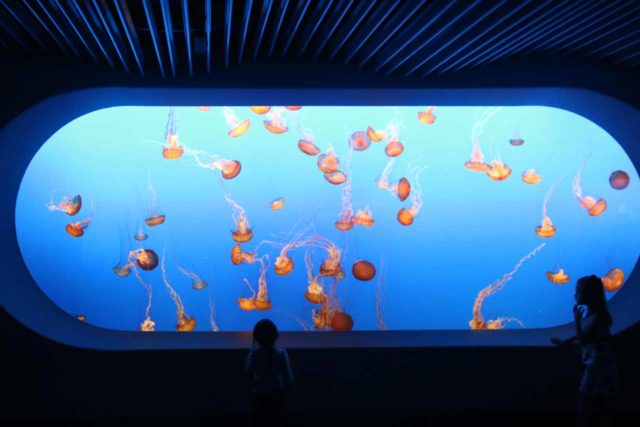 Monterey Bay Aquarium – ever since Julie and I first went to this aquarium back in 2010, we always thought what a great place to bring a kid. Well, that finally happened on this trip, and our little girl was definitely digging the jellyfish and other deep sea denizens that she doesn't ordinarily get to see.
She also enjoyed some of the petting stations where touching some of the marine life was allowed.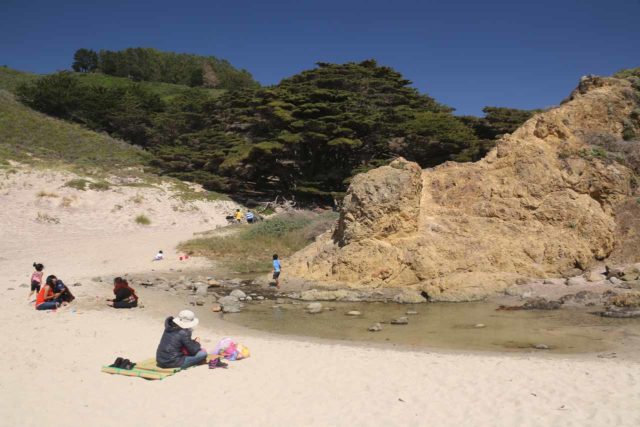 Pfeiffer Beach – this secluded beach was one of those places we never had a chance to visit until this trip. And it turned out that it was every bit as advertised as far as the scenery was concerned (i.e. the sea arches, the fine purple sand, lots of space, etc.). The only thing that kept us from staying here even longer was the high winds that caused the sand to sting us. So we remained in the more wind-sheltered parts of the beach. Hopefully, next time we're here, the conditions are more benign for our daughter.
Trip Advice
This trip apparently coincided with Easter or Spring Break. I don't think we had planned it this way, but either way, we'll list out some of the lessons learned from this trip.
Beautiful Weather: For the entire weekend, we had nearly cloudless skies. Whether this was a function of the drought we were experiencing or if this was an anomalous weather event (i.e. we didn't contend with fog), we certainly weren't complaining. But the water shortages meant some of the lesser crowded and lesser known waterfalls wouldn't be flowing.
Sea Life: Something we didn't expect was the abundance of wild sea life visible from the overlooks. There was one really crowded one south of Ragged Point where elephant seals liked to hang out. And as mentioned earlier, we saw sea otters swimming about in McWay Cove! Again, it was hard to tell whether this was something unusual or if this was the right season to see such abundance of sea life. If it's the latter, then this is definitely a pro for coming at this time of year!
Crowds: It seemed like all parking lots and restaurants were full of cars so parking was difficult. For example, when we got to Pfeiffer Beach, we had to wait at the entrance for people to leave before we could get in. As for restaurants, most of them were booked solid or required long waits. Whether this was a Spring Break or Eastern phenomenon or if it was because we were here on a weekend, or a combination of both, there was no denying that despite the long drive to get here, it was definitely very busy! I'm not sure how to defend against this other than to try to get an early start on the day (good luck with a child) or just avoid the weekends and holiday periods (again, good luck if you're bringing a child).
Travel Itinerary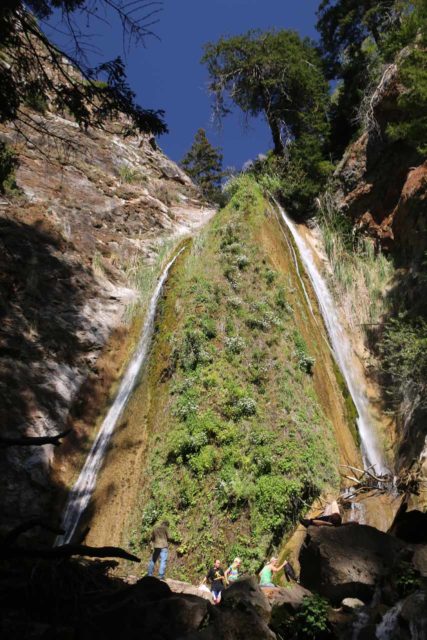 Day 1: Drive from Los Angeles to Seaside
This was a full driving day where we started our drive early in the morning, fought through Friday traffic, and then went up the Big Sur Coast starting in the mid-afternoon. Along the way, we visited Limekiln State Park and Julia Pfeiffer Burns State Park (including Canyon Falls) before settling in at the town of Seaside (which is next door to Monterey).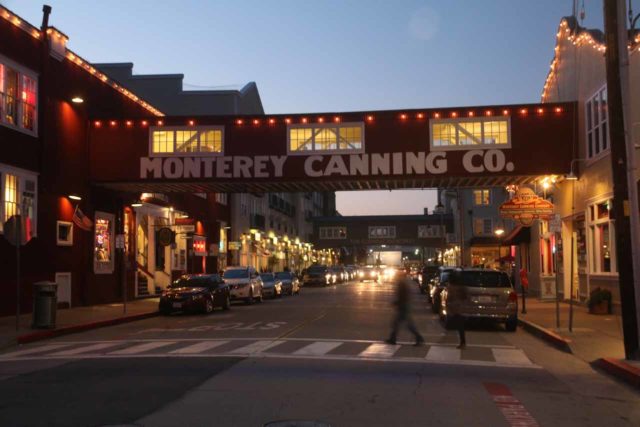 Day 2: Monterey and Pfeiffer Beach
On this day, we spent the better part of the morning at the Monterey Bay Aquarium. Then, after a lunch at the nearby Cannery Row, we then went back into Big Sur to experience Pfeiffer Beach. After Pfeiffer Beach, we then had an early dinner before returning to Cannery Row for some strolling around.
Day 3: Drive back to Los Angeles
This was just a long driving day back to home. We didn't make any more stops along the way.
Trip Reports
Waterfalls included in this itinerary
Visitor Comments:
Got something you'd like to share or say to keep the conversation going? Feel free to leave a comment below...
No users have replied to the content on this page