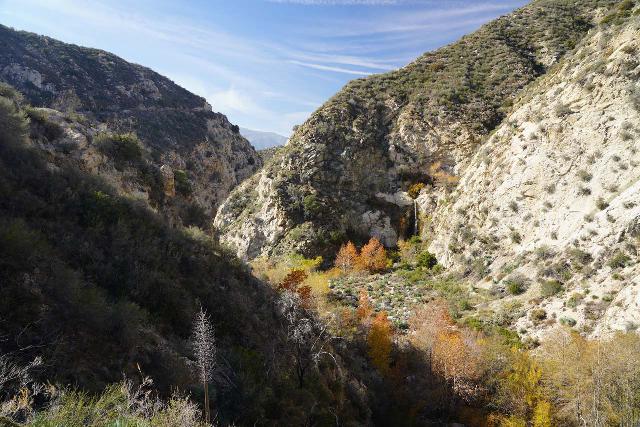 8-January 2022:
…we ultimately got a part where we had no choice but to get wet.
It took some time for everyone to take their shoes and socks off, and in my case, I brought Chacos so I quickly took off my boots and wool socks and then wore my Chacos.
None of the women, however, brought a change of shoes so they were crossing the cold water of the stream barefoot.
Given the amount of overgrowth, all this barefoot walking (especially since I was wearing Chacos) made me very wary of poison oak exposure.
Unfortunately on the other side, it didn't look like we could bypass any more stream crossings as both Jay and I were bushwhacking our way to scout out where to go next…
It was about 6:40am when we woke up, but none of us had really good sleep because we didn't get to sleep until pretty late (some time between 1am and 2am).
So these early wakeups that we've been having over each of the past two weekends were the result of trying to seize the waterfalling season opportunities in the Southland because we had gotten good rain (or snow) locally in late December.
And we wanted to make sure to capitalize on such events because we really don't know if we're going to have another dry January and/or beyond. In fact, there was no forecast for rain for the next couple of weeks…
You just never know if waterfalling season is already over these days as Global Warming has pretty much messed up everyone's climate around the world though ours has been in the form of persistent droughts.
So it took some time to get ready as usual, but since this has been the third time we've been going through this routine in a week, we kind of knew the drill even if Tahia was always reluctant to get up.
By about 8:10am, we left the house to a chilly morning though the forecast already called for a fairly warm day.
The plan on this go around was to head over to my parents' place to pick up my Mom, who is always game to join us on our waterfalling excursions.
By about 8:35am, we made good time and got to my parents' place, but when we got to the door to ring the doorbell, nobody answered.
We started to wonder if Mom had gone golfing or briefly went for a breakfast, but she confirmed that she was coming earlier in the week.
When Julie called Mom on her cell, that was when Mom told us that she thought today was Friday (it was Saturday).
I guess you can lose track of time when you're retired.
In any case, I was planning on visiting Fall Creek Falls, which was another waterfall in Big Tujunga Canyon that I was aware of that was near Josephine Creek Falls, which we did last week.
The intent was also to visit Josephine Creek Falls after Fall Creek Falls because Julie didn't want to do it last week (and now wants to do it this week).
But since Mom needed a half-hour to get ready, I wasn't sure if we might be able to fit a second waterfall in even though they were pretty close to each other.
During the time Mom was getting ready, we moved stuff from our car to Mom's car since it had more space.
It was eventually 9:15am when we finally started to leave.
The drive up the 605 and 210 was pretty uneventful though there was some traffic on the I-210 West because of a lane closure.
Aside from that, we also learned that Mom forgot to bring her Golden Eagle Pass while we left our pass in Julie's car.
Fortunately, we knew that there was a 7-11 on Oro Vista that we could buy a pass from since we've been up that way before.
Eventually at about 10:05am, we showed up to the Oro Vista 7-11, which looked kind of sketchy as always, but we got in, paid our $5, got our pass, and got out.
Then, we proceeded up the familiar Big Tujunga Canyon Road, where we drove past the even-busier gated turnoff for Trail Canyon Falls (we thought New Year's Day was busy!), and then past the familiar unsigned start to Josephine Creek Falls.
There were indeed a surprising number of cars in all sorts of pullouts on this day though it was clear that all the good, accessible waterfalls were crowded as Trail Canyon demonstrated.
I still remember the times when we'd be only one of a handful of people at this waterfall, and I even remembered when I had this place all to myself when I first visited this falls back around 2002.
Only the hard ones were left, and that's what I imaged that Fall Creek Falls might be though it was possible to see the waterfall from across the canyon.
Ultimately by about 10:30am, we arrived at the trailhead for Fall Creek Falls, where I knew that it was fronted by a gate to a fire road (which GaiaGPS called Fall Creek Road) that ultimately led down to the Tom Lucas Camp.
When we showed up, we were surprised to see that we were already a half-dozen cars here though there was one that was pulling out.
So we claimed the space once occupied by that person pulling out as it didn't seem like there was any more parking availability (there was verbiage saying not to block the gate).
It was also not a good sign that we parked next to a spot where there was broken glass, which was a sure sign that such things can and do happen in placees like this.
Hopefully, the fact that today was Saturday and that there were all sorts of people on this road might keep the visibility high here to make it less attractive for would-be people to break in.
Anyways, once again it took some time for the ladies to get ready, but when we did, it promptly walked past the gate and down the fire road.
It was chilly when we got started because this area was under shade thanks to the imposing Josephine Peak combined with the low-angle sun (since we are smack in the heart of winter in Southern California).
So far, the trail was wide and pretty easy to follow even if there were some sections of rockiness as well as some prickly desert vegetation growing out of it.
That said, there seemed to be a good deal of use on this road even where it was about to be overgrown, and I even saw and heard hikers further down the canyon that had gotten an earlier start we did perhaps by a few minutes.
I was straddling in the back as I was trying to take in the scenery around us while the ladies were up ahead having a chat but not really noticing what was around them.
I guess that was the tradeoff between hiking with company versus being alone and paying attention to everything around you.
In my case, I looked more westwards from the Fall Creek Road towards where the Josephine Creek Falls hike was, and I could definitely see the lines that comprised the trail that I took last week.
However, I couldn't see any evidence of Josephine Creek Falls because of how tucked into its ravine it was, nor could I see any of the dam waters of Big Tujunga Reservoir.
I guess it was good to note that there was no way to get to Josephine Creek Falls safely from the Fall Creek Road.
After a fairly uneventful start to the hike, we eventually caught up with a family that was chilling out by the side waterfall at around 11:10am.
They were actually carrying an Osprey Poco Plus carrier, which made me wonder if they were going all the way to the bottom of the waterfall or not, which I knew would involve stream crossings and perhaps some rough scrambling.
Meanwhile, I checked out that side waterfall since I could already hear water in the stream down below, but it was mostly overgrown.
I figured I might come back to this spot later to check it out, but it was nothing worth delaying myself over when there was the Fall Creek Falls still ahead.
After this crossing, the trail continued its descent until at around 11:20am I finally started to see the upper tiers of Fall Creek Falls.
It was definitely a twisting waterfall that seemed to have fairly appreciable flow, but I was surprised that the ladies weren't here to enjoy it.
I heard Tahia's voice in the distance but I just kept taking pictures not wanting to miss out on viewpoints that they might have missed.
As I continued to slowly make my way down the canyon while trying to document Fall Creek Falls getting the benefit of morning light, I was eventually joined by a red-shirted hiker who was taking pictures with his DSLR camera.
We were briefly chatting about the state of the falls, and pretty soon, he volunteered himself to help guide us to the bottom of this waterfall when he realized that there were three generations of women up ahead.
When we got down to join them, we saw that the view of Fall Creek Falls was a bit different as we could only get the last tier with good context of the base of the canyon and the colorful trees growing before them.
It was actually quite the attractive waterfall from here, and I bet if it wasn't for the red-shirted hiker (who called himself Jay [sp?]), we probably would have been content with this view of the falls and turned around.
But instead, we made it all the way to the bottom of Big Tujunga Canyon where we saw the flowing Big Tujunga Creek.
Julie, Tahia, and Mom were conversing with Jay, but when I finally caught up after having finished taking my videos and photos, Jay then led us along the stream as it was pretty much skirting it through some small boulders and overgrowth.
By the way, when Jay told us his name, I shared with him that everyone else's name started with a "j" except our daughter – Julie, Jenny, Johnny, Jay, … and then Tahia.
Anyways, along the way, Jay was kind of doing the scouting for the easiest routes to take to make it less painful for the women (and especially Tahia), and he also pointed out a grove of what he said were wild bamboo.
He said they were native to this area, which I found hard to believe. Who knew that bamboo grew in Southern California? But were they introduced? Or were they truly natural in this environment?
Anyways, at 12pm, we ultimately got a part where we had no choice but to get wet.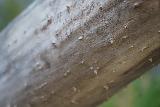 It took some time for everyone to take their shoes and socks off, and in my case, I brought Chacos so I quickly took off my boots and wool socks and then wore my Chacos.
None of the women, however, brought a change of shoes so they were crossing the cold water of the stream barefoot.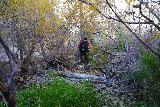 Given the amount of overgrowth, all this barefoot walking (especially since I was wearing Chacos) made me very wary of poison oak exposure.
Unfortunately on the other side, it didn't look like we could bypass any more stream crossings as both Jay and I were bushwhacking our way to scout out where to go next.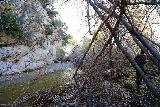 Again, it took more time for the women to dry up their feet and then put on their shoes again for the next bushwhack, but it was already not looking like it was obvious where to go at this point.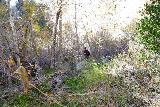 Eventually, resistance was futile and Jay and I decided we should go cross the creek again to get to the "narrows" part that he talked about earlier, which was the way he knew how to do this hike.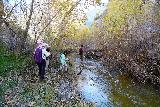 We were worried that the water there would be deep, but after getting back across the creek and then looking into that "narrows" part, it actually was only knee-deep and wasn't that bad at all.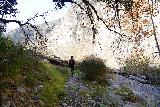 Progress was slow because once we got back to the other side of the creek and beyond that narrows part, the women had to dry off again and put their shoes and socks back on as we were now about to go through a "yucca patch".
By this point, the pricks from the sharp end of the leaves were a painful reminder that they're there.
And I was worried about whether they leave some kind of mild allergic reaction because I remembered last week how my right hand was a bit sore for a few days where there was a puncture point.
Tahia was already complaining about doing this and insisting that we owe her more Roblox time for doing this scramble.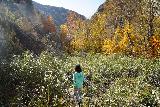 Anyways, after they got their shoes on, we then had to get over a fallen log and then through a use-trail that eventually got to a third crossing of the creek.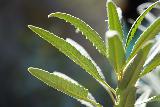 At least this time, we knew that this would be the last crossing because Jay said we were pretty much home free once we got to the boulders and another yucca patch on the other side.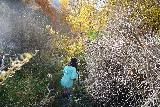 So once again, it took time for the ladies to take off their shoes, wade across the knee-deep creek barefeet, and then put their shoes and socks back on to get past the prickly yucca patch once again.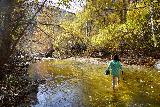 Since I was in Chacos, I also had to be reminded of the poison oak exposure since they were pretty much all over the place around the freshwater streams.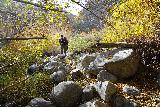 In fact, Jay said he still has wounds or sores from poison oak exposure from a week ago that he's still dealing with on this day.
So he was especially sensitive to their impacts and watching out for them, given that Tahia probably underestimated the risks of that plant.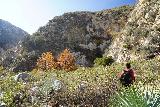 As we were waiting for the ladies to catch up, Jay and I were chatting about our respective online presences (he now knows we have World of Waterfalls while we also learned about his @monkeyfight handle on Instagram).
He also told me that I must have met Carlos last week on the way down to Josephine Creek Falls.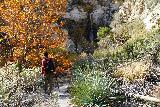 I thought that was pretty interesting what a small world it was to have met a couple of the Big Tujunga Canyon adventurers these past couple of weeks and how they know each other.
Anyways, after getting past a few more poison oak spots, we finally made it right up to the base of the bottommost drop of Fall Creek Falls at 12:50pm.
It wasn't exactly the most comfortable spot to check out the falls since it was a bit overgrown and confined here, and the waterfall was tall enough to not really be able to capture the whole thing without a pano mode or something.
But we nevertheless spent a few minutes to savor the fruits of the hard work it took to get here.
Eventually, three young boys showed up and looked like they were ready for mischief.
Jay and the women wore their masks given the tight spaces here, but I actually didn't have mine with me so I kind of felt like the a**hole at the time along with the three boys that didn't even bother.
So we retreated towards a slightly more distant view of the falls fronted by some nice orange-leafed tree and some yucca, and that was where we took a few more shots (including family ones) while also noticing a man with his Poco Plus and child here.
I thought it was pretty nuts that they made it down there, especially given all the poison oak and yucca exposure on the way.
Regardless, he didn't spent that much time there and then when he was done as we were done taking pictures, we followed him most of the way back to the Big Tujunga Creek as we were heading back at 1:10pm.
After getting past the first of the crossings, Jay caught up with us, and then he let me do the leading on the way back through this overgrown and wet part of the adventure.
While we were waiting for the women to finish taking off their shoes and putting it back on, we spent some more time noticing that there were marks on a tree trunk that looked like scratches.
We were familiar with bear scratches on trees in Yellowstone, and I wondered if the scratches that we saw came from mountain lions or something.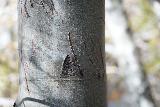 Jay doubted it because the trees didn't seem thick enough to handle their weight so it left us wondering what else could have produced those scratches down here.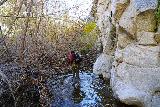 Next, we got back through the yucca patch, and then we got back to the "narrows" part where instead of bushwhacking like we did earlier, we just decided to wade in the narrows and then headed back up to the original stream crossing.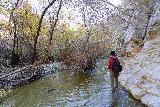 Jay saw that there was poison oak along a wall where we might have a brief respite from the water, but he opted to stay in the stream to avoid touching them.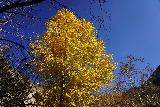 He did notice there was one wrapper by the narrows, which he picked up, and told me that it was definitely not there on the way in.
He speculated that it was those three young boys that must have left it, and he also told me that they're the kind of people that would also spraypaint the rocks and deface the area.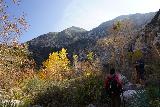 I wondered just how much longer it would be before the tagging would start up even in harder-to-reach places like this one, especially since he told me that this place started becoming somewhat popular last year.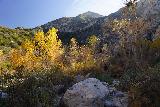 It definitely got me thinking about how wilderness and environmental ethics are not taught in schools so we keep running into this situation, especially since the outbreak of the pandemic.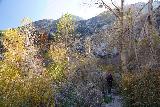 Indeed, people just treat the Nature like trash, especially as AllTrails and the socials make info so readily available to these people who lack respect for their environment.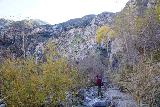 And I guess there was never that sense of personal responsibility nor truly understanding how the natural world works that kind of proves to me that the education system as it is now really is inadequate (and continues to erode given political agendas).
Anways, we then continued wading in the stream until we finally got to the original stream crossing, where we could put our shoes and socks back on as the wet part of the adventure was finally over.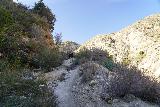 It only took us around 25 minutes to make it back to this point (whereas it took us nearly an hour on the way there), and it was mostly because we didn't have to keep changing shoes as much.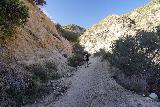 Julie was thinking that in hindsight, she should have brought gum boots, but that might have made for uncomfortable dry hiking on the Fall Creek Road.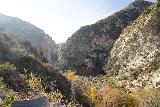 I was thinking in hindsight that we should have just stuck with Jay's original route to the base of Fall Creek Falls and avoided all that bushwhacking and unnecessary extra pair of stream crossings that we did on the way in.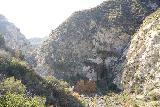 After getting our shoes back on (never completely drying because our feet were still wet as we put on our wool socks), we were captivated by the continual array of colors exhibited by the trees within Big Tujunga Canyon.
Indeed, it seemed eerily like we were still in Autumn within Big Tujunga Canyon, and in fact, Jay suggested that perhaps Fall Creek got its name because of this strange phenomenon where it always seem to be autumn here even though we're in January!
When we finally made it back to the trail at 1:50pm, Jay said that he was going to continue scrambling within Big Tujunga Canyon and so we thanked him for being our "tour guide" as we went our separate ways.
The rest of the hike then went by pretty uneventfully as we were essentially all alone for almost the entire way back up.
I did see and hear those three guys (now fully clothed) still down in the canyon, but aside from that, it was pretty quiet save for our walking and our voices.
It was amazing how quickly the shadows grew as we were headed back up because the lighting was practically perfect earlier on when we saw Fall Creek Falls, but now it was pretty much almost in complete shadow.
By around 2:20pm, I made it back to the side waterfall that we saw on the way in, but at least now I wasn't looking against the sun.
The women were pretty much far ahead at this point as I was taking my time exploring around this little waterfall with all the overgrowth.
There was an overgrown path to the left of the little dam above a little "tunnel" letting the water spill further downstream (and perhaps keeping this fire road intact).
But it just seemed like more trouble than it was worth trying to see the higher tiers of the falls.
Eventually at around 2:55pm, we finally made it back to the Big Tujunga Canyon Road, where there were still the same handful of cars parked here (maybe one or two left at this point).
Since we were heading uphill to even get to this point, we couldn't help but notice how much litter there was down the canyon, which we must have not noticed on the way down.
Again, it went back to that lack of environmental ethics that plagues society in every sense of the word (not just in messing up our waterfalls but also as macro as Global Warming), where we really need such values taught in our schools.
My thoughts went immediately to those boys that were still back in the canyon, where Jay and I speculated that they were the kind of people who would not only litter but spray graffiti though I'm pretty sure there could be a wider pool of perpetrators.
Daylight was fading fast, but none of the ladies were interesting in doing another waterfall hike to Josephine Creek Falls by now.
So I guess Julie still never got to experience that falls, and her decision not to do it last week still haunts her.
At least it felt good to get out of our damp wool socks and boots though my Chacos were still damp, which I had to wear barefoot now, but by 3:05pm, we finally headed out.
Like last week, we drove more directly south through the winding roads to La Canada-Flintridge, where we then called Din Tai Fung to see how long the wait was – it was 2.5-3 hours just like last week.
So much to Tahia's disappointment again, we decided to skip on stopping in Arcadia and go all the way to Fullerton to have ourselves a healthier and more hit-the-spot lunner at Cluck 2 Go (formerly Manchan).
We got there at about 4:05pm, and we enjoyed their Hainan chicken rice along with some garlic bok choy, string beans, and Tahia's honey-glazed chicken.
By 5pm, we got back in the car, and then made our way back to my parents' place with a stop at some supermarket so Mom could pick something up that she had them save something for her.
While we waited, I realized that I could use my iPhone to watch a Wealthy Affiliate class where one of their long time members was holding a hot seat class where he evaluated various websites where authors submitted for consideration.
Funny his name was also Jay, which kind of reinforced how today was pretty much a J day.
Regardless, when we were finally started to leave the supermarket and head back to my parents' house, when we got there at 5:40pm, we were listening to Jay get around to evaluating my homeownerheadaches.com site.
It was hard to really process all the info attending this class virtually over the phone, but I finally got to see the last few minutes of his breakdown on a computer at my parents' place.
I guess I'll have to watch a replay to really digest all the helpful feedback that he provided.
By about 6:15pm, we got our stuff out of Mom's car and then loaded up our car and headed home, which we got to at 6:50pm.
Indeed, that was the end of today's adventure, and we're already looking forward to next week's waterfalling adventure where we're shooting for more new waterfalls while we still can.
Once again, it's looking like it's going to be yet another dry January…
Visitor Comments:
Got something you'd like to share or say to keep the conversation going? Feel free to leave a comment below...
No users have replied to the content on this page