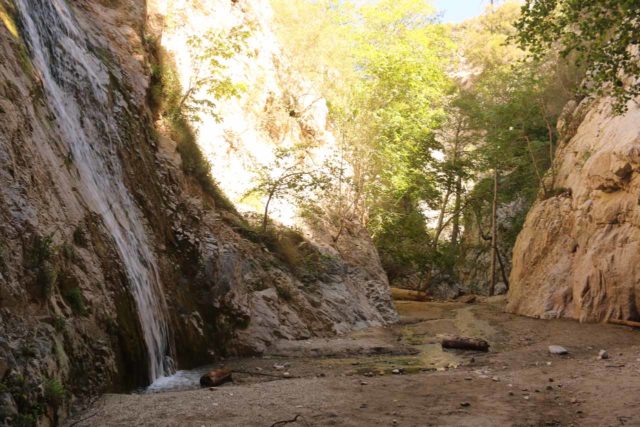 23-April 2016 to 24-April 2016:
As I was making the steep scramble up, I had to go up some exposed tree roots before I was on a narrow rock ledge leading to a narrow section where the rock ledge was kind of aided by the way the trees were growing providing a slight extension to the narrow ledge. The narrowness of this ledge reminded me of the one that kept killing people at Kaaterskill Falls in New York.
Once I got past the initial narrow ledge (which yielded an interesting view of both of the tiers of the Lower Switzer Falls as well as the dead-end to the main trail down below), I then got to an even hairier section where there rocks were sloping down to the bottom of the falls while someone tied a rope next to an adjacent tree branch here. The rope was positioned, where it didn't seem to be of much help. So I had to be very careful about where I was placing my foot.
Given the slipperiness and slope of this section, a misstep would most certainly lead to a slip and fall. So I made sure I put my toes on the parts of the rocks that I knew (or tested out) would have enough grip to put my weight on and continue onto the next step…
[Show Trip Report As Single Page]