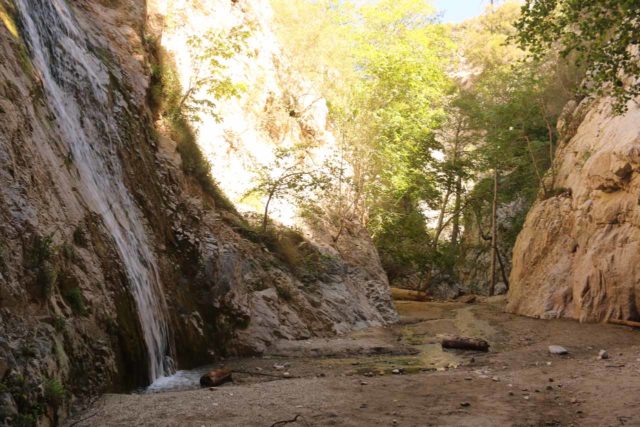 23-April 2016 to 24-April 2016:
As I was making the steep scramble up, I had to go up some exposed tree roots before I was on a narrow rock ledge leading to a narrow section where the rock ledge was kind of aided by the way the trees were growing providing a slight extension to the narrow ledge. The narrowness of this ledge reminded me of the one that kept killing people at Kaaterskill Falls in New York.
Once I got past the initial narrow ledge (which yielded an interesting view of both of the tiers of the Lower Switzer Falls as well as the dead-end to the main trail down below), I then got to an even hairier section where there rocks were sloping down to the bottom of the falls while someone tied a rope next to an adjacent tree branch here. The rope was positioned, where it didn't seem to be of much help. So I had to be very careful about where I was placing my foot.
Given the slipperiness and slope of this section, a misstep would most certainly lead to a slip and fall. So I made sure I put my toes on the parts of the rocks that I knew (or tested out) would have enough grip to put my weight on and continue onto the next step…
Day 1: THE COMPLETE EXPERIENCE
On yet another warm day this week, where it felt more like June than April, we decided at the last minute to go on a hike as Tahia had yet another Saturday without Chinese school. But given that Julie was now a very controlled diet, she had to make breakfast that excluded a myriad of things for herself while Tahia and I had poached eggs and toast. And so it wasn't until around 10:25am when we finally left the house. This was quite a late start for us, but experience had now told us that sometimes it was better not to compete on the morning rush for trailhead parking unless we were going to show up at the trailhead before 9am. Clearly, that wasn't going to happen today.
As we were driving out towards La Canada Flintridge, we were vacillating between hiking to Switzer Falls and Cooper Canyon Falls. Both of them had unresolved things to check out that we hadn't done before even though we had hiked to both waterfalls multiple times before. Yet, for both these falls, it would be Tahia's first time making the visit, which also meant that we had to be especially cognizant of things like trail length as well as any hazards we might encounter.
Speaking of those unresolved things for each waterfall, that would mean that I'd probably have to leave Julie and Tahia somewhere convenient while I'd try to risk it looking to complete the experiences regardless of which waterfall we'd do today.
For Switzer Falls, that meant scrambling past the Lower Falls that we'd keep stopping at in an effort to reach the base of the main waterfall. We'd always had tantalizingly distant views of the main Switzer Falls, which became more overgrown and obstructed over the years, and we knew that other people had done it before. We just weren't sure how much we'd be risking it to go that far, and we definitely knew that scrambling down the vertical cliffs where the fences were would pretty much be a death wish.
As for Cooper Canyon Falls, the uncompleted experience was finding this elusive Buckhorn Falls. Julie had been following (and in contact with) this couple on Instagram who were younger and seemed pretty hard-core when it came to finding new waterfalls in the Southern California area. And when she saw about a month ago that they showed this waterfall that we hadn't seen before, that was when I started to do the research (which was very scarce in the literature) before finally identifying it on a map as well as finding a blog that revealed what we'd be signing up for.
The other thing about Cooper Canyon was that there was a pretty long drive to get all the way to its trailhead, and there was also the dicey steep scramble to get to the base of that waterfall, which involved a flimsy rope to assist with the steepest part towards the bottom of that scramble. We weren't sure how Tahia would handle that, even though we had seen Boy Scouts do it the last time we were here. But with a five-year-old girl, we knew we were taking a chance if we were to do this with her.
Anyways, we were keeping our options open since both waterfalls were essentially in the same direction. And with our late start, we decided that maybe we could first go to the REI in Monrovia to pick up a National Forest Service Annual Pass before getting a quick lunch before finally going for the hike (again, a little unusual in terms of our typical mentality of early bird gets the worm).
So we did our very familiar drive up the 605 then to the 210, where we promptly made it to the REI in Monrovia at 11am. But just as we arrived, we saw that there were a lot of people waiting in line (as well as browsing) outside in the parking lot. We knew it was the REI Used Gear Sale. And watching this spectacle reminded us of the couple of times we participated in one of these things nearly 15 years ago at the REI in Manhattan Beach (back then, it was the only one locally so we had to drive all the way out there in an effort to save money). It wasn't nearly as crazy crowded as it was now, but those visits did benefit us from the standpoint that we had used gear that was still in use today.
In those times, we managed to score (and still use today) a Gregory Palisade internal frame pack
and a Sierra Designs Womens Mummy Synthetic Fill Sleeping Bag
among others. And while things may be lighter and more sleek these days, I'd bet that things were better made (to last longer) back then than the typically planned obsolescence that we're seeing more and more of today.
Anyways, we picked quite a day to show up at REI to pick up a Forest Service Annual Pass because the line inside the store almost wrapped around the entire main aisle of the store! WTF?!?! This line had to have been at least an hour long, and there was no way we were going to wait that long just for a $30 annual pass. So we decided to bounce from this place and look to pick it up at one of the forest service stations along the way (which may not take credit card) as well as grabbing a bite to go nearby.
So at 11:10am, we left, and ten minutes later (after filling up on gas and finding out there were no Adventure Passes sold at this gas station while the USFS headquarters here were closed on the weekend), we showed up at this place across the street called Natural Selection. We figured we could at least pick up some wraps to go, but when we saw that they were making the healthy stuff ready to order, we ultimately decided to eat at the restaurant (so we could eat it fresh) before we took off.
After Tahia and I shared our pretty healthy and pretty good pesto wrap and Julie had her tasty Chinese chicken salad (trying to go very gluten free as part of her restricted diet), we were back in the car at 12pm. Then, we finally continued our drive up into the Angeles National Forest, but seeing that the Cooper Canyon Hike with the Buckhorn Falls add-on would be a bit much for such a late start, we ultimately decided right then and there to settle for the Switzer Falls complete experience.
It wasn't until 12:50pm when we finally got to the very busy car park for Switzer Falls Trailhead. As expected, parking was extremely scarce, but it just turned out that someone was leaving just as we showed up! We knew we were very lucky given how many cars were parked in the upper lots (that would've forced us to hike even further in the exposure to heat as we would walk the road downhill to the trailhead). And not only that, we managed to find a shady spot not that far from the trailhead itself!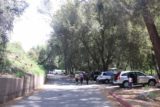 It was noticeably cooler up here at the Switzer Picnic Area than it was down at Monrovia. So that was good. We didn't want to bake in the heat while exerting ourselves on this hike.
Along the drive, we tried to get our National Forest Annual Pass at the first station that we saw near the start of the Hwy 2 drive past La Canada Flintridge, but we saw that that was more of a working administrative area and signs were posted there that there were no restrooms and no forest passes being sold there (just as I was approaching their door).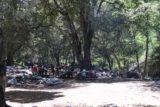 So we actually went up to the Clear Creek Station, which was very close to the Switzer Falls area, and that was where I waited for my turn to buy the pass in cash only. The Armenian guy in front of me tried to buy a $5 day pass with a $100 bill, but the lady manning the station didn't have the chance for it (and neither did I) so he was SOL. Still, it was kind of painful to buy the annual pass with cash so I was a bit lighter on the cash (which I hardly carry), and we had the pass with April punched in even though it was towards the end of April (I was hoping we could've punched in May instead so it'd be good until the end of May next year). Bah!
Given how close Switzer Falls was to the nearest forest service station as well as its popularity, I knew they'd enforce the pass display rule on all parked cars. So we promptly displayed our pass, got geared up while also soaking in on the picnic atmosphere as there were many families and kids out and about in the shade of the picnic area here. There was even some Mexican guy blaring Mariachi music as he was waiting for the rest of his party to show up (or come back from the hike, I'd imagine).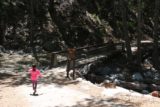 And roughly 10-15 minutes later, we finally started the Switzer Falls hike. And right off the bat, Tahia's imagination kicked into full gear as we were about to cross the initial footbridge at the trailhead, which prompted her to warn me about a troll living under this bridge. She even shooshed me so we wouldn't arouse the troll…
Well, all three of us passed by the bridge without incident (except we took photos of Tahia on the bridge), and then we promptly continued on the well-developed trail as it meandered alongside another picnic area as well as the peaceful yet definitely flowing creek that we knew would ultimately go over all the tiers of Switzer Falls.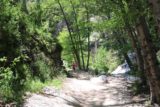 The trail was mostly shady and so was the initial picnic area, which prompted Julie to imagine that we ought to come back here just to enjoy picnicking and let Tahia play by the creek given how peaceful and relaxing it was here. Anyways, the hike continued as the trail meandered alongside the stream before it'd eventually cross this stream several times (just like we remembered last time in 2010 when there was actually a lot more water in the stream back then).
It turned out that our pace on this hike was very slow as we didn't really feel like we were in much of a hurry at this time. But Julie and I did scheme that we should chill out in Pasadena after this hike before going home. So in the mean time, we were letting Tahia figure out how to hike the trail and solve the problems on her (with my supervision of course) in terms of finding the easiest steps to take on each of the numerous stream crossings we had encountered. Tahia did pretty well on most of these though she tended to get distracted by the "marble" rocks she was collecting in her hands as well as a little twig that she thought could be her hiking stick.
I was also trying to engage her in her math skills since I saw in her homework that they were doing what they called "static additions", but it was clear to me that she might have been just memorizing the mechanics of adding each digit in multi-digit numbers without any carry-overs. So I tried to personalize the experience for her by trying to imagine her collecting money and figuring out how much money she would have collected given specific quantities of pennies, nickels, dimes, and quarters.
Given that she was way more into the arts than the maths, it was our jobs as parents to make sure it was fun and not some arbitrary mechanical chore to memorize.
Anyways, with all the time we were passing doing this, we then encountered the trail junction near the so-called "stoves", which seemed like old school forest service stoves that now seemed to be historical relics. At this point, we crossed the stream one more time, then made the ascent as the trail narrowed and was exposed to drop offs.
At the hairiest points of the trail, there were fences erected to keep people from being tempted to scramble down the vertical cliffs below. Julie and I were also looking down the cliffs to see if there was a view of the main Switzer Falls down below. But it seemed like in this case, that view was even more obstructed than ever before, which indicated that the foliage and trees were getting taller and making that more distant view ever more elusive.
Fortunately for us, the trail was shady for the most part as we were climbing higher, but eventually we got to the sun-exposed part near the apex of the climb, where there was another trail junction with very scenic views towards the mountains surrounding Bear Canyon as well as the gorge containing Switzer Falls.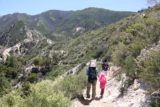 Then, we went left and descended down towards the gorge alongside the narrow trail (now more exposed to drop offs) while also being exposed to the sun. With Tahia accompanying us, we had to keep a close eye on her. Still, she did quite well, and she seemed to have a pretty healthy fear of heights as she tended to keep away from the drop offs and hug the cliff wall to her right.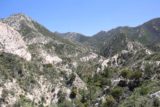 We also heard quite a bit of buzzing sounds as apparently there were lots of bee hives hidden in the foliages around us. I'm sure there were nests in there we wouldn't want to perturb given the chorus of buzzing we heard along the way.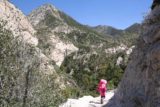 There were also a few sections of some overgrowth of what appeared to be poison oak. Tahia was now pretty familiar with hiking on such trails, and she had gotten in the habit of raising her arms to try to make herself as narrow as possible to let the poison oak touch her clothes as opposed to her skin.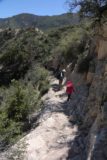 Towards the bottom of the descent, there were a few switchbacks as the trail got a little steeper and a little more slippery (due to the pebbles on the hard and worn parts of the trail). She managed to slip and fall once (getting her sweat pants dirty), but other than that, she was fine and before we knew it, we were back down at the base of the gorge where we then hiked upstream to get to the base of the Lower Switzer Falls.
Eventually after a few more minutes of stream hiking amidst the shade, we then made it to the Lower Switzer Falls at 2:20pm. It turned out that at this time in the afternoon, the lighting was bad for taking photographs as half the waterfall was in shadow while the rest of it was washed out in the brightness of the bright rocks baking in the hot sun.
Just as we arrived, I saw that there were some folks who were already above the Lower Falls so I knew it was possible to make it up there. So I studied carefully how they were making their way back down, and that pretty much was my blueprint for getting up past this waterfall to reach the base of the main Switzer Falls further upstream.
And seeing how these folks were carefully scrambling around the exposed rocks near the top of the Lower Switzer Falls, I knew that this was definitely one of those things where Tahia and Julie would get to play at the base of the Lower Falls while I'd solo my way up to the main Switzer Falls. I knew it would suck that we couldn't bring them along, but the risk here was certainly a bit too much for our little girl, and I was a little worried that Julie might also have trouble there, too.
So after a few minutes of taking whatever photos I could of Switzer Falls with the bad lighting, I then promptly went up the path that I saw those folks coming back from. I guess after all these years, I hadn't known that this was the way to do it. I had always thought that we had to go up some fallen tree to get up beyond this lower waterfall. But now I know, and it was time to try to complete the experience.
As I was making the steep scramble up, I had to go up some exposed tree roots before I was on a narrow rock ledge leading to a narrow section where the rock ledge was kind of aided by the way the trees were growing providing a slight extension to the narrow ledge. The narrowness of this ledge reminded me of the one that kept killing people at Kaaterskill Falls in New York.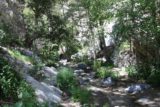 Once I got past the initial narrow ledge (which yielded an interesting view of both of the tiers of the Lower Switzer Falls as well as the dead-end to the main trail down below), I then got to an even hairier section where there rocks were sloping down to the bottom of the falls while someone tied a rope next to an adjacent tree branch here. The rope was positioned, where it didn't seem to be of much help. So I had to be very careful about where I was placing my foot.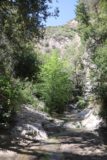 Given the slipperiness and slope of this section, a misstep would most certainly lead to a slip and fall. So I made sure I put my toes on the parts of the rocks that I knew (or tested out) would have enough grip to put my weight on and continue onto the next step. Eventually, I'd get onto a slanted part near the upper tier of this lower waterfall, where I then leaned and scooted my way above. And once I was finally above the uppermost tier of that lower waterfall, I knew I was in business.
After passing some guy who was sun bathing at this very top of the falls alone, I then continued the scramble further upstream. Now, it was mostly flat and fairly straightforward. Hiking in this section reminded me of hiking in the Zion Narrows somewhat as I was flanked by nearly vertical cliffs on both sides of me. There was definitely evidence of landslides here from fallen trees to piles of rocks. So I knew that this was definitely an area I wouldn't want to linger for long.
After a few minutes on this scramble, I encountered some guy going back. I asked how it was, and he told me that it was dry. I thought that was a strange reply given that I knew there was water in the stream. Maybe he turned around too soon or something? I don't know. But I made it this far and there was no way I was turning back now. So I told him something like, "Oh, that sucks!" and then we went our separate ways.
This scramble was refreshingly wild and quiet. It felt as if I was in some new unexplored territory (even though I knew people had been up here many times before). It definitely had this feeling of discovery that I hadn't felt in many years, and the rush was very satisfying.
Finally after around 10-15 minutes of the scramble above the Lower Falls, I went around a log jam and eventually got to the dead-end where around the corner was the base of the main Switzer Falls! Finally! After 15 years since our first visit here, I finally got to the holy grail of the Switzer Falls experience!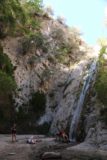 So I spent a good deal of time taking photos and movies of the quiet solitude of this place as it was just me and the waterfall. But sobering my excitement and elation of being here were a few pebbles tumbling down to the ground from time to time. That made me keenly aware of the landslide and rock fall danger here, especially as I was literally surrounded on three sides by tall vertical cliffs (which also gave this spot a bit of a cathedral-like quality to it).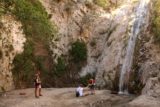 The lighting was still suboptimal here, especially towards the very top of the main drop (though there appeared to be an additional cascade right above this main drop), but for the most part, it was mostly shaded so the photos I took were pretty good. It wasn't ideal, but it wasn't as bad as the Lower Falls lighting conditions either. And so I'd have this waterfall alone for around 10 minutes before a group of four or five hikers would join me at around 2:45pm.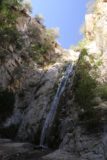 I congratulated them as they promptly got right up to the main Switzer Falls, and I seized this opportunity to take context shots of people at the base of this waterfall. For sure, I was going to bump up the score given this experience, and perhaps I might put it on our top 10 list of Southern California waterfalls. Whether this would supplant the other ones I've put on there would remain to be seen.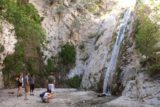 At the top of the main Switzer Falls, there was some Asian lady who was asking us how we managed to get here. I yelled to her that she had to go all the way around. Somehow I wondered if she took that to mean she had to find a different scrambling path as I could read the reaction on her face that "going all the way around" didn't entail another hour or so of hiking on an established trail before scrambling upstream. Perhaps in hindsight, I should've been more specific.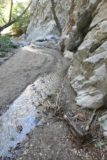 Five minutes later, the rest of their crew (of the folks that joined me at the base of this falls) showed up, which consisted of another 2-3 people or so, and that was when I eventually headed back down to rejoin Julie and Tahia at the Lower Falls. The scramble back was pretty uneventful, but the scramble back across the top of the Lower Switzer Falls was foremost on my mind. And when I got back there, I was now scooting my way slowly across the sloping rocks above the Lower Falls in much the same manner as those younger folks I saw earlier on.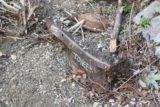 I then went back towards that rope (without using it) as I traversed perhaps the diciest part of the scramble, and then I was on the narrow ledge aided by some thick branches where Julie wanted to take a picture of me in action (though the shadows kind of made her iPhone photo not turn out, I'm sure).
Finally at 3pm, I returned to the base of the Lower Falls. But at least the lighting was now better so I took a few more photos of the Lower Switzer Falls. Finally at around 3:10pm, we had our fill of this place just as the base of the falls got even more crowded as the folks I saw at the main falls had now returned while another group of people had just arrived from the main trail.
Julie and I knew that the most strenuous part of the hike was coming up as we now had to climb all the way back up to the trail junction before headed back down to the main trail alongside the stream on the way back to the car park and picnic area. So we made good time stream hiking on the way back to the switchbacks, and then we made our way up, where Tahia seemed to possess sufficient energy to do this section on her own though she tended to stop for no reason (as she was picking up pebbles from the ground).
It was late in the afternoon so I knew that Tahia's post-lunch nap was being skipped and I'm sure she'd be out pretty soon (especially on the drive back to Pasadena). Anyways, the walk back up went deliberately, and eventually at around 3:40pm (30 minutes after we had started heading back), we finally made it to the familiar scenic trail junction at the apex of this hike. There were still people heading in the opposite direction, which attested to this trail's popularity. It seemed to me that these folks were getting quite a late jump on this hike, but perhaps they were here to avoid the heat of the day.
As we eventually got back to the so-called stoves trail junction, the curiosity got the better of me and I told Julie and Tahia and I'd quickly scout out the trail to the right to check out top of the Switzer Falls (seeing that I knew some less-prepared hikers managed to get up there, so why can't I?).
After some established trail hiking (going past some sign with graffiti on it), I then stream scrambled as I caught up to a couple who happened to be carrying a baby. When they got to the top of the falls, I saw that going further required a bit of a slippery and steep rock scramble, but at least the drop offs weren't as severe here (initially). After evaluating the scramble and seeing where I had to go, the couple asked me if this was the way to the falls, and I told them that they had to go back towards the stoves then hike all the way around to get to the bottom, which would take nearly another hour. So they headed back though I wasn't sure if they were pushing forward with trying to get to the bottom of the falls or if they were just going back to the picnic area.
As I continued my scramble, I saw how puny the Upper Switzer Falls was, and I could totally see why people would be tempted to find a way to the bottom from here. As I got to where the lady I had seen earlier was, it was clear to me that there would be absolutely no further progress scrambling downstream from here as the drop offs were sheer. Plus, only part of the main falls could be seen as the shadows were getting longer.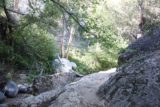 So this was my turnaround point, and my curiosity was piqued as I considered this Switzer Falls experience to now be fully complete. And as I took my shots and scrambled back up to flatter grounds, I then saw the same Asian lady who asked how to get to the bottom off-trail scrambling. So now I knew she mistook what I told her about going all the way around.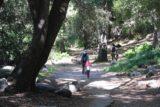 Anyways, I quickly hiked along the main trail as I was making good time, and I'd eventually pass quite a few people (including the couple with the baby). And then, I'd eventually catch up to Julie and Tahia as we were approaching the serene picnic area.
By the time we were at the picnic area, we noticed there was some kind of photo shoot or movie shoot going on. I didn't bother to stop and take a closer look to find out what was going on there. The couple with the baby also noticed this and just kept going.
Then, as we got closer to the car park, we noticed that the picnic areas were now well shaded as the afternoon sun sunk lower on the horizon and longer shadows were cast. Since we were itching to go to Pasadena at this point, we didn't linger around to let Tahia play by the stream while relaxing at the picnic tables. Besides, other large groups were occupying the handful of picnic tables that were here anyways.
After getting out of our hiking boots and into more comfortable shoes, we finally took off at 4:40pm, and now we could finally head into Pasadena in search of an early dinner. We'd ultimately find parking off El Molino Ave in Pasadena, where they were charging $1 per hour here. During the drive against the sun, we noticed there was the interesting-looking city hall building, which I took note and wanted to check out once we were done having our early dinner.
Anyways, after displaying the paid ticket on the dash, we then locked up and walked to this place called Tender Greens. As we were crossing the road, we had to be really careful at the intersections because it appeared that a lot of the drivers here didn't yield to pedestrians regardless of the traffic signals. Having noticed this, we had to look twice and make ourselves seen as we took the crosswalks.
Tahia was really antsy having just been interrupted from her nap, and we were rushing to get to this place called Tender Greens, Tahia complained that she badly had to pee. Once we finally got past the Roy's Hawaiian and into the Tender Greens, I waited in line while Tahia and Julie were in the restroom. Apparently Tahia pooped in her pants again (not pee'd) and so it took a bit longer for them to join me in the line for our early dinner.
After letting three people pass me so Julie and Tahia could join me, that was when we finally got ourselves some steak with salad, seared albacore with herb crusted outside, and Tahia (after a lot of lobbying) got her grilled cheese sandwich.
Well, the dinner turned out to be surprisingly good as we finished our raw greens as well as our cooked greens (the broccolini and bok choy were quite tasty). The dinner was healthy, and at around $30 in total was quite reasonably priced for a dinner feeding three people. Plus, we beat the rush as now this place was really busy with the line growing all the way out to the door just as we were concluding our meal. Plus, the service from the bus boys seemed unusually friendly and attentive.
We'd probably come back here again given the opportunity.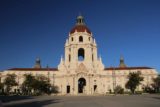 At 6:25pm, we were back to the car. We were in the mindset to reward Tahia for finishing her healthy dinner with a gelato fix, but that meant we had to drive back to Old Town Pasadena. And along the way, we satisfied my urge to want to check out the City Hall bathed in the afternoon glow. So we briefly did that (parked illegally momentarily in the process since spots were so hard to find there despite how quiet it was), and then we drove into the very busy and heavily-trafficked Old Town Pasadena.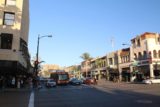 We actually noticed that making a left turn without a dedicated left turn signal onto Raymond from Colorado Blvd was futile. So we went right, right, right to get onto Raymond, and then we got into the familiar Raymond Parking Structure, which offered 90 minutes free. Of course, we knew that other folks knew about this quirk of this parking structure so there were bound to be other folks competing for limited parking spots.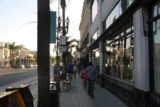 But by around 6:40pm, we finally lucked out and managed to find underground parking (as most folks were going up several levels). Julie commented that sometimes you have to go against the grain to get lucky, and it sure seemed like it paid off in this instance. Indeed, once again, we lucked out on finding scarce parking, and an already good day that was bringing all of us joy was also becoming quite the lucky day as well.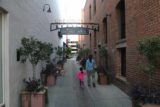 When we went to Old Town Pasadena, we were joining the hordes of people walking within Old Town. All of the restaurant joints seemed full so it was a good call to go have our early dinner. Now, we were just looking for a good gelato place, and we first went to this place by One Colorado Plaza, where there was a movie theater. That place didn't have a very good selection, so we ultimately bounced and went back towards this spot called Hello Gelato, which had more flavors to choose from.
After paying around $12 for all three of us, we also realized that upon tasting our tasty treats, the gelato was also unusually thick for a non-European experience. So we sat at a bus stop while gladly enjoying our gelato, then we headed back up to the car and proceeded to head back home at 7:20pm. By 7:55pm, we were finally back home, and all of us were pretty tired from such a long day of activities.
During our drive home, Julie was texted by some good friends about whether we wanted to go on a hike tomorrow. We ultimately decided that we should do it so Tahia could hang out with their kids again while we could spend time with them in an outdoor setting. We'd eventually choose some trail called the Portugese Bend in Palos Verdes, and so we figured we'd have a little bit of a change of pace from the mountains to the oceans now…
Day 2: BEND IT LIKE THE PORTUGESE
It was about 9am when Cindy and Ed along with their kids picked us up from our home (as agreed to from last night). Having spent a good day hiking yesterday, we were already ready to go for this hike. So we were promptly whisked away from home and headed towards Palos Verdes.
The drive was pretty uneventful as we were catching up and discussing all sorts of things. We'd ultimately arrive at the end of Crenshaw Blvd, which was where the Portugese Bend hike would begin. However, it already appeared that parking was quite full. It was about 9:45am or so. When we thought we could park somewhere close to the gate, we were warned by some hikers here that the spot we were about to park in was designated for specific permits only. The signage wasn't very obvious about it, but we were quite glad about the warning we got, especially when the folks pointed behind us where there was a car that got a ticket.
So we drove back down the road and found parking in an adjacent block at 9:50am, which probably added another 1/4-mile to our walking. But we didn't mind. That said, we would only have about 2 hours to do this hike before it was time to get back to the car.
It was pretty cool in the morning when we first got out of the car, but we promptly warmed up after crossing Crenshaw and walking towards the end of the road. Along the way, we noticed a regal panorama towards the Pacific Ocean with some gully called El Cerro or something like that. There were some very expensive homes perched atop these seemingly unstable cliffs, and we also looked in the direction of where Abalone Cove tide pools were.
As we walked further up the road, we finally saw a gate that marked the start of the preserve. The homes we were passing by along the way were definitely in the category of "not in this life."
The trail was really more like a fire road, so we knew it was probably going to be a pretty hot hike. Just as we were gaining momentum as we were passing by more homes with regal views, we then saw this offshoot trail called Burma Road. So we went up this mini-ridge, which ultimately led to this lookout area allowing us to look towards the Trump Golf Course to the south and towards some other resort (Terrania or something like that) to the north. In the middle looking straight down was probably where the Abalone Cove was.
The kids were enjoying themselves collecting little rocks as well as messing with rollie pollies as well as ladybugs and wildflowers. But we kept a close eye on them in case they might encounter a rattlesnake.
After having our fill of this regal view (thinking this was already the highlight of the experience), we then continued on the main fire road as we descended even more. When we got to the water tank and port-a-potty, we saw we had some options in terms of making this as short of a hike as possible or a much longer one to complete the entire loop. But given that we were on a time limit, we opted to continue hiking on the fire road, which eventually got us down to another overlook that was a bit lower than the first one we were at, but was no less commanding.
We took some time here to take some family shots as well as letting the kids show off their little collection of leaves, flowers, rollie pollies, and ladybugs. And eventually after having our fill of this spot, we then headed back up the same way we came down (seeing that taking the "shortcut" entailed descending more before switchbacking our way up).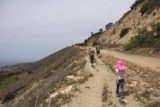 We were deliberate in our pace as we headed back up towards the top of the trail, where the trailhead was. And in doing so, we saw that Tahia was really slowing everyone down as she'd frequently stop to pick up a rollie pollie or some rock or wildflowers. She was clearly very easily distracted. And Kai was indulging her from time to time.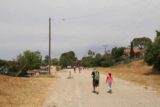 Eventually at 11:55am, we were back at the car. Along the walk back, we saw a bunch of cars in a row getting ticketed, and we saw the guy issuing the tickets. So Cindy innocently asked how would one procure the permits here, and the cop said they were only available to residents. I guess that explained a lot.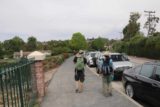 He also explained that without the permit system, people would start parking in the residential areas, which would cause public safety problems if a home was on fire or something as the fire trucks wouldn't be able to get through. We nodded to his explanation though Ed wondered why the signs didn't make it more obvious about the parking restrictions past this red curb (so it really only pertained to a handful of spots closest to the park). In a way, it was kind of misleading, and it was probably a revenue generator for the area, so perhaps there was necessarily that best effort to inform would be visitors of the restrictions adequately.
Anyways, once we were all buckled up, we then went down towards the Rolling Hills shopping area, where we had lunch at Veggie Grill. With Julie's flaring up of allergies, she limited herself to a cooked salad bowl while Tahia loved her new BTLA sandwich and I had my usual Portobello Mushroom sandwich. We all enjoyed our foods and company, and then by around 1:30pm, it was time to get back in the car and head home.
We'd finally be home at 1:55pm, and with everyone starting to feel the effects of food coma, it was time for a long overdue afternoon nap. I'm sure Cindy and Ed's family would do the same.
In any case, this was the conclusion of a weekend that brought us a lot of joy as well as quite a bit of luck (from yesterday). If only we could have more weekends like this. But anyways, it was now time to prepare ourselves for the rat race once again as we'd be looking forward to the next weekend once we get over the workweek…
Visitor Comments:
Got something you'd like to share or say to keep the conversation going? Feel free to leave a comment below...
No users have replied to the content on this page