Day 2: BEND IT LIKE THE PORTUGESE
It was about 9am when Cindy and Ed along with their kids picked us up from our home (as agreed to from last night). Having spent a good day hiking yesterday, we were already ready to go for this hike. So we were promptly whisked away from home and headed towards Palos Verdes.
The drive was pretty uneventful as we were catching up and discussing all sorts of things. We'd ultimately arrive at the end of Crenshaw Blvd, which was where the Portugese Bend hike would begin. However, it already appeared that parking was quite full. It was about 9:45am or so. When we thought we could park somewhere close to the gate, we were warned by some hikers here that the spot we were about to park in was designated for specific permits only. The signage wasn't very obvious about it, but we were quite glad about the warning we got, especially when the folks pointed behind us where there was a car that got a ticket.
So we drove back down the road and found parking in an adjacent block at 9:50am, which probably added another 1/4-mile to our walking. But we didn't mind. That said, we would only have about 2 hours to do this hike before it was time to get back to the car.
It was pretty cool in the morning when we first got out of the car, but we promptly warmed up after crossing Crenshaw and walking towards the end of the road. Along the way, we noticed a regal panorama towards the Pacific Ocean with some gully called El Cerro or something like that. There were some very expensive homes perched atop these seemingly unstable cliffs, and we also looked in the direction of where Abalone Cove tide pools were.
As we walked further up the road, we finally saw a gate that marked the start of the preserve. The homes we were passing by along the way were definitely in the category of "not in this life."
The trail was really more like a fire road, so we knew it was probably going to be a pretty hot hike. Just as we were gaining momentum as we were passing by more homes with regal views, we then saw this offshoot trail called Burma Road. So we went up this mini-ridge, which ultimately led to this lookout area allowing us to look towards the Trump Golf Course to the south and towards some other resort (Terrania or something like that) to the north. In the middle looking straight down was probably where the Abalone Cove was.
The kids were enjoying themselves collecting little rocks as well as messing with rollie pollies as well as ladybugs and wildflowers. But we kept a close eye on them in case they might encounter a rattlesnake.
After having our fill of this regal view (thinking this was already the highlight of the experience), we then continued on the main fire road as we descended even more. When we got to the water tank and port-a-potty, we saw we had some options in terms of making this as short of a hike as possible or a much longer one to complete the entire loop. But given that we were on a time limit, we opted to continue hiking on the fire road, which eventually got us down to another overlook that was a bit lower than the first one we were at, but was no less commanding.
We took some time here to take some family shots as well as letting the kids show off their little collection of leaves, flowers, rollie pollies, and ladybugs. And eventually after having our fill of this spot, we then headed back up the same way we came down (seeing that taking the "shortcut" entailed descending more before switchbacking our way up).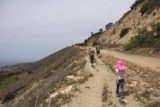 We were deliberate in our pace as we headed back up towards the top of the trail, where the trailhead was. And in doing so, we saw that Tahia was really slowing everyone down as she'd frequently stop to pick up a rollie pollie or some rock or wildflowers. She was clearly very easily distracted. And Kai was indulging her from time to time.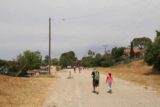 Eventually at 11:55am, we were back at the car. Along the walk back, we saw a bunch of cars in a row getting ticketed, and we saw the guy issuing the tickets. So Cindy innocently asked how would one procure the permits here, and the cop said they were only available to residents. I guess that explained a lot.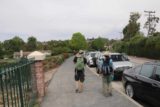 He also explained that without the permit system, people would start parking in the residential areas, which would cause public safety problems if a home was on fire or something as the fire trucks wouldn't be able to get through. We nodded to his explanation though Ed wondered why the signs didn't make it more obvious about the parking restrictions past this red curb (so it really only pertained to a handful of spots closest to the park). In a way, it was kind of misleading, and it was probably a revenue generator for the area, so perhaps there was necessarily that best effort to inform would be visitors of the restrictions adequately.
Anyways, once we were all buckled up, we then went down towards the Rolling Hills shopping area, where we had lunch at Veggie Grill. With Julie's flaring up of allergies, she limited herself to a cooked salad bowl while Tahia loved her new BTLA sandwich and I had my usual Portobello Mushroom sandwich. We all enjoyed our foods and company, and then by around 1:30pm, it was time to get back in the car and head home.
We'd finally be home at 1:55pm, and with everyone starting to feel the effects of food coma, it was time for a long overdue afternoon nap. I'm sure Cindy and Ed's family would do the same.
In any case, this was the conclusion of a weekend that brought us a lot of joy as well as quite a bit of luck (from yesterday). If only we could have more weekends like this. But anyways, it was now time to prepare ourselves for the rat race once again as we'd be looking forward to the next weekend once we get over the workweek…
Visitor Comments:
Got something you'd like to share or say to keep the conversation going? Feel free to leave a comment below...
No users have replied to the content on this page