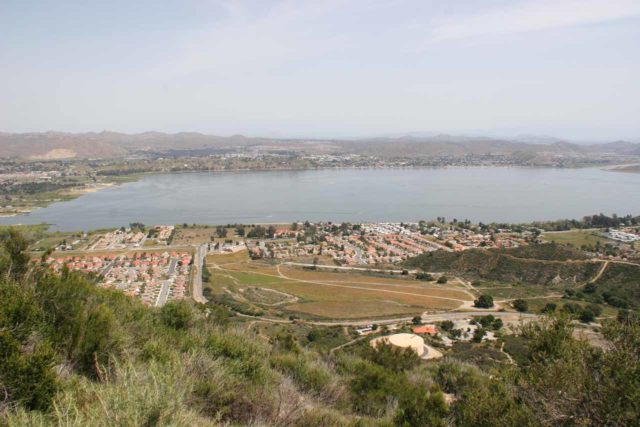 3-April 2010 to 4-April 2010:
As we parked the car and got out, we could tell right away that we were in the mountains for the air was frigidly cold and there was a breeze that sent the temperature plunging even more with the wind chill.
It didn't matter that all of us had windbreakers. The wind seemed to have knifed through their protective shells and straight onto the underlying skin…
Day 1: IN A WHATEVER MOOD
It was about 7:30am when we awoke, which was a little later than normal. But considering that it had been awhile since I felt like we had at least 7 full hours of sleep, I figured we were due.
Last week, we were supposed to have some April showers, but the storm that was supposed to hit us last Thursday was nothing more than an April Fool's joke. Nonetheless, we wanted to do something today, but the hikes we wanted to do – Trail Canyon Falls, Millard Falls, Cooper Canyon Falls, and Soldier Creek Falls – were all closed thanks to either damage from the Station Fire last Summer or from access road repairs that have yet to be completed.
Plus, I had learned that I didn't have to come in this weekend on the night shift for work, which gave me even more reason to try to make something of this weekend before my anticipated third shift when the week starts.
On top of that, we had finally received the long awaited Canon 18-200mm Zoom Lens
, which probably came a few years too late considering we had some missed opportunities out in the field during our world travels. But I guess that's life sometimes. I chose Canon instead of Nikon, and got burned, but at least now I can finally say I've gotten the all-in-one lens
I needed, and now it was time to try it out.
So this set of circumstances kind of put me in a whatever mood, and so we ultimately decided at the last minute to repeat a pair of waterfalls done around this time last year – Tenaja Falls and Ortega Falls. Sure, repeats this close together weren't high on the priority list for us, but at the very least, we could probably get a little more info about how temporary the waterfalls are or how well they're performing considering the El Nino rains we've been getting this Winter. But even with all that said, it had been at least a month since we had gotten any appreciable amount of rain as March turned out to be pretty dry.
So by 8:40am, we finally left the home. It was cloudy and looked like a change in the weather was in store for us, but we knew the forecast had called for partly cloudy conditions under fair skies today. So we weren't worried.
The drive out east towards the Lake Elsinore area felt like a long drive. But then again, we had done this one not long ago, and I guess we must've forgotten that it was at least an hour or more of driving to even get this far south on the I-15.
When we reached the familiar Clinton-Keith Road exit, we followed the familiar road towards some rural ranches as the road eventually became Tenaja Road around a sharp curve. We continued on Tenaja Road, which made another sharp turn (could be confusing since going straight ahead here meant going onto Via Volcano), and followed this winding passage towards its end.
We must've forgotten how easy the drive was because as Julie and I were having a heated political discussion about how complicated our tax laws were and how the mortgage interest deduction had a big part in that, our Nüvi
was tripping out, and my memory was failing me as I didn't recall some of the things seen during our drive versus what was playing in my mind's eye from last year. Plus, Ann Marie Brown
's directions indicated that we should look out for Rancho California Road, which was nowhere to be found. I recalled this was supposed to be a pretty straightforward drive, but somehow I wasn't getting that vibe this time around.
In any case, we missed a turnoff for the Cleveland Forest Road, which I somehow suspected was the one we were supposed to take but Julie talked me out of it, and ended up at the end of Tenaja Road. Fortunately for us, there was a handwritten sign that said, "Looking for the waterfall? Go back 1 mile to Forest Service Road."
And so we obliged and were back on the Forest Service Road that we should've taken. But even then, we were wondering whether there was a closer access because my memory was failing me. So we proceeded on the paved but rougher Forest Service Road getting to an overlook and still having doubts about whether we were going the right way. So we turned around and went backwards towards the Tenaja Trailhead where we saw a map sign. And it was there that we saw definitively that we were going the right way after all!
Indeed, it's a good thing they have these map signs for times like this where you aren't quite sure you're going the right way.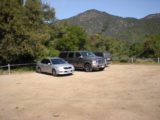 Finally at 10:30am, we made it to the familiar car park for the Tenaja Falls. This time, there were fewer cars parked at the unpaved lot than last time. Plus, the cloudy skies seemed to have cleared up big time way out here in the desert-like scene.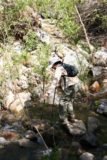 Knowing that last time there was a stream crossing, we came prepared with hiking sticks while wearing our Gore-tex boots. And we also learned about that false Fisherman's Camp path so we were certain to take less time on this hike than last time.
As we were crossing the stream, we couldn't help but notice lots of stalks of poison oak all over the place. It's funny how we never really paid any attention to these things until there was a sign at McWay Falls in Big Sur that finally broke it all down and showed us exactly what they looked like! Now, it seems like these things are everywhere!
As we were re-joining the main trail, we heard some low buzzing sounds somewhere nearby. We suspected there was a big swarm of bees nearby, which made us tread even more carefully so as to not disturb them or else become pin-cushions. We're not sure if bees (wondered if they were Africanized bees) typically stalked these parts or not.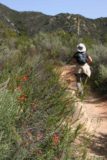 We then went on the sun-exposed trail that passed by some native shrubbery as well as some blooming wildflowers. The wildflowers always seem to add color to the scene and put us in a good mood. I didn't recall seeing as many flowers last time (as patchy as the scene was on this go-around), but I guess that's what makes Spring hiking typically a special event here in the Southland.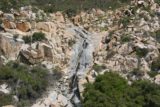 Eventually, we got to a familiar bend in the trail where wer could see the entirety of the Tenaja Falls. It seemed to have a little more water volume than last year, which was saying something about how much rain we got this year considering that it hadn't rained for over a month, and last year followed some three or four straight days of rain, which we timed our visit.
So Julie and I were content to take photos and movies from here. Sure, we could've spent more time (like last time) hiking all the way to the top of the falls, but we already knew what that was like, and we weren't all that stoked about doing it this time around, knowing we wanted to get home sooner rather than later today with still Ortega Falls to go.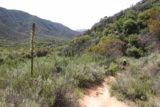 So we went back to the car park. Quite a few people were going the other way so I guess it was starting to get busier like it was the last time. Obviously, lots of locals know about places like this.
We did meet an elderly couple who brought water shoes and waded through the concrete ford at the start of the hike. They seemed to have enjoyed it, and asked us if we did likewise. We told them we found a drier scramble (which strangely seemed easier than the last time, but maybe it was hiking sticks we brought).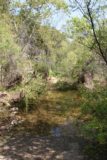 Anyways, when we returned to the concrete ford's front side (having crossed the way we originally came), we couldn't help but notice that there was a manageable rock-hopping/log-walking path to the left of the flooded part. I guess this must've meant that the creek was lower than last time, considering you couldn't even entertain getting your feet dry across this ford – until now!
Oh well, it didn't matter to us anyways as we were back at the car by 11:30am. The car park was pretty much full as it was this time last year.
On the way out of the Forest Service Road, there were a few more cars headed the other way. Some of them were moving real fast and could easily cause an accident around some of the blind turns, which prompted Julie to remark, "Some people drive too fast!"
As we returned to the Tenaja Road and then the Clinton-Keith Road, the GPS
told us to take Grand Ave towards the Ortega Highway. At first, we ignored it thinking the GPS
was taking us on silly side streets again, but the more we thought about it, the more it seemed to make more sense to take the shortcut instead of going all the way back to the I-15 and then back around to Grand Ave and the Ortega Hwy.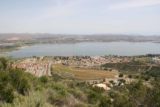 And as usual, there was lots of traffic going on Hwy 74 shared with tons of motorcycles. We eventually made it to a large pullout where I stole a few glimpses of Lake Elsinore against the bright and hazy sun.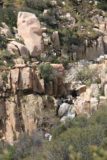 By 12:30pm, we made it to the familiar pullout just El Cariso Village. A bar or some kind of establishment always has some colorful things to say on its sign out front. This time, it said, "If you believe in political correctness your a pussy!" Yep, grammar wasn't exactly their strong suit I'm sure.
The pullout had quite a few more cars than the last time we were here. But it was also right at the height of high noon so the sun was beating down pretty hard as loud bikes were zooming past.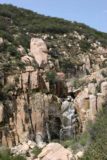 And right off the bat, I could see in the distance that the falls were definitely flowing, but we also saw some brightly colored shirted people hanging on to harnesses while suspended on some vertical rock faces. Indeed, there were some abseilers here this time.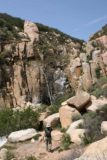 Learning from the lessons of last time, we knew exactly where to scramble in order to get right up to the falls this time around. And in no time, we made it right to the base of the waterfall where there were a few people around, but it was by-and-large pretty quiet.
We took the photos of the falls in the brightness of the scene as well as getting a kick out of seeing the rock climbers making the ascent and descent down the vertical rock face just to the left of the falls.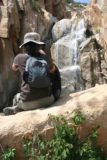 We also paid attention to the fact that were were more stalks of poison oak. It seemed like this place more than the other places we'd been to in recent memory that it was real easy to rub skin with the poisonous oils of poison oak.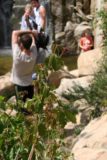 When Julie and I had our fill of the falls, it was just in time as large groups of people started to descend upon the scene. So we got in our peace, and these folks were about to indulge in a little fun, I'm sure.
And by 1:15pm, we were back in our car. And at this time, both of us were quite hungry and were ready to go for a late Shin-sen-gumi lunch in Fountain Valley.
We decided to head south on the Ortega Highway where we joined the caravan of cars following the slow-poke who refused to use any of the many pullouts available to them on this route (this occurred twice, with a real annoying RV causing the most traffic for the longest time).
I don't know if this is characteristic of the stubborness of city driving or what that causes people to ignore the pullouts in winding mountainous roads, but it's certainly causes potentially dangerous situations when those directly behind the inconsiderate slow-poke are forced to pass onto oncoming traffic complete with plenty of blind turns (especially given the high speeds of Hwy 74).
At 2:05pm, we made a brief stop at the Samy's Camera in Irvine to pick up a polarizer for our new lens
. And only thereafter did we finally have our ramen lunch at 2:30pm.
By 3:20pm, we were finally heading home where I at least got to see some March Madness Final Four action just to unwind from this pretty busy day.
Day 2: THE HEART OF EASTER
Knowing that we had to be at the parents' by 7:30am, we woke up an hour earlier, and met up with the prepared parents just a little after 7:30am, and we left their place at 7:45am under a cloudy and cool morning.
Today, we intended to visit Heart Rock Falls near Crestline in the San Bernardino Mountains. Julie and I did this hike five years ago, but this is the first time the parents would see it.
The clouds looked a little ominous, dark, and low, but the forecast said the rain wasn't supposed to come until tonight. So we were banking on this forecast as reasons to keep pushing forward without fear of getting caught in a snowstorm or something like that. And that wouldn't be something unique as Julie and I got caught in one near San Diego two years ago!
So the drive went by pretty uneventfully as the freeways seemed to be real light. We suspected it was because today was Eastern Sunday. Whatever the case was, the driving went pretty smooth.
When we finally got to the Hwy 138 heading north towards Crestline, the road climbed pretty steeply through switchbacks with a 55mph speed limit. What was unusual about this road was that it was two lanes in both directions (4 lanes total)! Dad was saying that this highway can see Big Bear traffic, and that brought back discussions from the parents about how they used to take us to Big Bear with other family friends over Christmas.
What was striking about those memories was that we usually had snow during those trips. But these days (with the exception of this year), I wondered how often Big Bear sees snow by Christmas Day!
As we got higher up on Hwy 138 and well above 2000ft then 3000ft, we were entering the dark overhanging clouds that threatened some bad weather (though the forecast said that would happen later). Eventually, we were driving through some pretty thick fog, and that caused Dad to slow down the vehicle and stay in the slow lane, which was a good thing anyways since we were trying to follow directions to get back to the Heart Rock Falls.
Eventually, Hwy 138 and Hwy 18 branched in the fog (and our Nüvi
helped all of us anticipate the upcoming off ramp), and we continued northwards on narrower roads through the outskirts of Crestline before passing through the alpine village of Valley of Enchantment.
While passing through the village, it seemed the fog started clearing up a bit, which was good news for our hike. After all, what good is a hike if you can't see anything through the fog?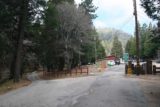 Eventually at 9am, we saw the large Camp Seeley sign and knew that was where we were to make the left turn. And once we got in, we could see the concrete ford (avoiding the private car park) we had to take before finding the informal car park and trailhead area for the falls.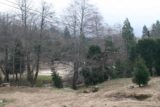 As we parked the car and got out, we could tell right away that we were in the mountains for the air was frigidly cold and there was a breeze that sent the temperature plunging even more with the wind chill.
It didn't matter that all of us had windbreakers. The wind seemed to have knifed through their protective shells and straight onto the underlying skin.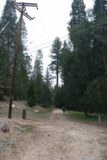 So we wasted no time getting started with the hike so we could warm ourselves up. The clouds remained hovering over the scene, but at least it wasn't foggy.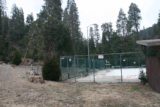 Within a few minutes, we went past the outer limits of Camp Seeley (including an empty swimming pool), and onto the pine tree lined trail as it went downstream following Seeley Creek.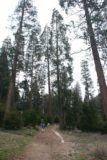 We did notice some graffiti on the sewer lines and cut-up tree stumps along the trail. I wasn't sure if that was a sign of some gangster activity in the area. After seeing plenty of examples of urban vandalism near some of our most beloved waterfalls both locally and even in places like Yosemite, nothing surprises me anymore.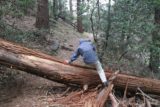 Since Julie and Mom zoomed way ahead of Dad and I, it was mostly Dad and I that were hiking together in search of the overlook of the falls. When I had heard the sounds of Seeley Creek rushing loudly near a large jumble of rocks and granite cliff faces, I knew we were near the destination. However, with Julie and Mom still nowhere to be seen, we began to wonder if they had gotten lost somehow.
So as Dad and I were searching for the unsigned overlook of the falls, I did stumble upon a smaller cascade that was seemingly upstream from the falls. But it wasn't much longer that I had finally found the desired viewpoint for the Heart Rock Falls. And like I had remembered it, nothing seemed to have changed regarding its appearance.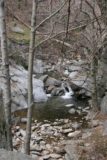 As I was busy taking photos and Dad was busy practicing his golf swing, we were eventually joined by Julie and Mom. They later divulged that they had missed this viewpoint and hiked all the way to where the trail joined up with some road.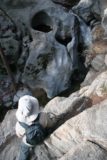 And so we would spent lots of time taking photos of the falls both from this overlook, and from the base of the falls. The parents had noticed there was a pretty easy trail going down to the base, and that was something we hadn't done on our last trip.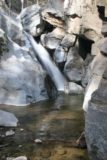 Even from the base, the falls looked very attractive and the scenery looked idyllic. Sure the heart-shaped depression couldn't be seen from down here, but we spent just as much time taking photos down here as we did up at the precarious overlook.
And as we were busy taking photos and just enjoying the falls, we could see that the sun started breaking through the clouds, and there were even blue skies sweeping in to replace the grey that had engulfed the scene earlier this morning.
But as it is with life, all good things must come to an end. And so we had our fill of the falls, and we knew we wanted to get back to town in time for a Dim Sum lunch with the family before the crowds really started showing up.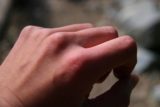 So we headed back and made the uphill hike back to the car. My left hand was itching and irritated, and I began to wonder if it was somehow affected by the poison oak encountered yesterday in both of the hikes we did. If it was poison oak, I guess that would make my first known contact with the toxic stuff, and if a trace amount could cause that much discomfort to just one knuckle, I shuddered to think how bad it could be if it was all over my exposed skin or had gotten into my eyes from rubbing or something like that.
Eventually by 10:30am, we were back at the car. And we wasted no time leaving Camp Seeley, getting back on the Hwy 138, and returning to civilization where the once ominous skies turned into partly cloudy skies with the warm glow of the mid-morning sun coloring the cityscape and south-facing mountains.
By 11:30am, we had made it to Dim Sum. Unfortunately for us, we still had to wait an hour as it wasn't early enough to beat the rush. At least that gave us a little more time to spend with each other as a family, and it also gave my brother and his wife more time to eventually join us in a family dinner that we hadn't had for over a month now.
And so ended this Easter Weekend where I was just in a whatever mood. But the strange happenings didn't end right there. For at around 4:10pm (as I was composing this travel diary), we were experiencing a pretty long and rolling earthquake. I swore the rolling motion lasted well over a minute or two, and it never seemed to end.
I thought the earthquake wasn't severe enough so I thought it was like whatever and continued working. But it was only when Julie arrived home and heard from the news that preliminary reports said it was a 6.9 magnitude earthquake centered around Mexicali, Mexico.
Strange, indeed…
Visitor Comments:
Got something you'd like to share or say to keep the conversation going? Feel free to leave a comment below...
No users have replied to the content on this page