Day 2: THE HEART OF EASTER
Knowing that we had to be at the parents' by 7:30am, we woke up an hour earlier, and met up with the prepared parents just a little after 7:30am, and we left their place at 7:45am under a cloudy and cool morning.
Today, we intended to visit Heart Rock Falls near Crestline in the San Bernardino Mountains. Julie and I did this hike five years ago, but this is the first time the parents would see it.
The clouds looked a little ominous, dark, and low, but the forecast said the rain wasn't supposed to come until tonight. So we were banking on this forecast as reasons to keep pushing forward without fear of getting caught in a snowstorm or something like that. And that wouldn't be something unique as Julie and I got caught in one near San Diego two years ago!
So the drive went by pretty uneventfully as the freeways seemed to be real light. We suspected it was because today was Eastern Sunday. Whatever the case was, the driving went pretty smooth.
When we finally got to the Hwy 138 heading north towards Crestline, the road climbed pretty steeply through switchbacks with a 55mph speed limit. What was unusual about this road was that it was two lanes in both directions (4 lanes total)! Dad was saying that this highway can see Big Bear traffic, and that brought back discussions from the parents about how they used to take us to Big Bear with other family friends over Christmas.
What was striking about those memories was that we usually had snow during those trips. But these days (with the exception of this year), I wondered how often Big Bear sees snow by Christmas Day!
As we got higher up on Hwy 138 and well above 2000ft then 3000ft, we were entering the dark overhanging clouds that threatened some bad weather (though the forecast said that would happen later). Eventually, we were driving through some pretty thick fog, and that caused Dad to slow down the vehicle and stay in the slow lane, which was a good thing anyways since we were trying to follow directions to get back to the Heart Rock Falls.
Eventually, Hwy 138 and Hwy 18 branched in the fog (and our Nüvi
helped all of us anticipate the upcoming off ramp), and we continued northwards on narrower roads through the outskirts of Crestline before passing through the alpine village of Valley of Enchantment.
While passing through the village, it seemed the fog started clearing up a bit, which was good news for our hike. After all, what good is a hike if you can't see anything through the fog?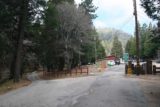 Eventually at 9am, we saw the large Camp Seeley sign and knew that was where we were to make the left turn. And once we got in, we could see the concrete ford (avoiding the private car park) we had to take before finding the informal car park and trailhead area for the falls.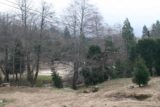 As we parked the car and got out, we could tell right away that we were in the mountains for the air was frigidly cold and there was a breeze that sent the temperature plunging even more with the wind chill.
It didn't matter that all of us had windbreakers. The wind seemed to have knifed through their protective shells and straight onto the underlying skin.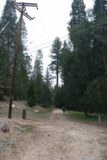 So we wasted no time getting started with the hike so we could warm ourselves up. The clouds remained hovering over the scene, but at least it wasn't foggy.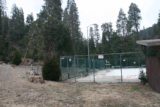 Within a few minutes, we went past the outer limits of Camp Seeley (including an empty swimming pool), and onto the pine tree lined trail as it went downstream following Seeley Creek.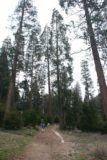 We did notice some graffiti on the sewer lines and cut-up tree stumps along the trail. I wasn't sure if that was a sign of some gangster activity in the area. After seeing plenty of examples of urban vandalism near some of our most beloved waterfalls both locally and even in places like Yosemite, nothing surprises me anymore.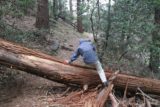 Since Julie and Mom zoomed way ahead of Dad and I, it was mostly Dad and I that were hiking together in search of the overlook of the falls. When I had heard the sounds of Seeley Creek rushing loudly near a large jumble of rocks and granite cliff faces, I knew we were near the destination. However, with Julie and Mom still nowhere to be seen, we began to wonder if they had gotten lost somehow.
So as Dad and I were searching for the unsigned overlook of the falls, I did stumble upon a smaller cascade that was seemingly upstream from the falls. But it wasn't much longer that I had finally found the desired viewpoint for the Heart Rock Falls. And like I had remembered it, nothing seemed to have changed regarding its appearance.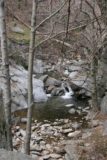 As I was busy taking photos and Dad was busy practicing his golf swing, we were eventually joined by Julie and Mom. They later divulged that they had missed this viewpoint and hiked all the way to where the trail joined up with some road.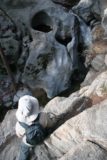 And so we would spent lots of time taking photos of the falls both from this overlook, and from the base of the falls. The parents had noticed there was a pretty easy trail going down to the base, and that was something we hadn't done on our last trip.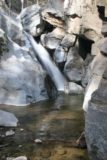 Even from the base, the falls looked very attractive and the scenery looked idyllic. Sure the heart-shaped depression couldn't be seen from down here, but we spent just as much time taking photos down here as we did up at the precarious overlook.
And as we were busy taking photos and just enjoying the falls, we could see that the sun started breaking through the clouds, and there were even blue skies sweeping in to replace the grey that had engulfed the scene earlier this morning.
But as it is with life, all good things must come to an end. And so we had our fill of the falls, and we knew we wanted to get back to town in time for a Dim Sum lunch with the family before the crowds really started showing up.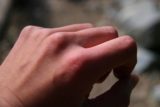 So we headed back and made the uphill hike back to the car. My left hand was itching and irritated, and I began to wonder if it was somehow affected by the poison oak encountered yesterday in both of the hikes we did. If it was poison oak, I guess that would make my first known contact with the toxic stuff, and if a trace amount could cause that much discomfort to just one knuckle, I shuddered to think how bad it could be if it was all over my exposed skin or had gotten into my eyes from rubbing or something like that.
Eventually by 10:30am, we were back at the car. And we wasted no time leaving Camp Seeley, getting back on the Hwy 138, and returning to civilization where the once ominous skies turned into partly cloudy skies with the warm glow of the mid-morning sun coloring the cityscape and south-facing mountains.
By 11:30am, we had made it to Dim Sum. Unfortunately for us, we still had to wait an hour as it wasn't early enough to beat the rush. At least that gave us a little more time to spend with each other as a family, and it also gave my brother and his wife more time to eventually join us in a family dinner that we hadn't had for over a month now.
And so ended this Easter Weekend where I was just in a whatever mood. But the strange happenings didn't end right there. For at around 4:10pm (as I was composing this travel diary), we were experiencing a pretty long and rolling earthquake. I swore the rolling motion lasted well over a minute or two, and it never seemed to end.
I thought the earthquake wasn't severe enough so I thought it was like whatever and continued working. But it was only when Julie arrived home and heard from the news that preliminary reports said it was a 6.9 magnitude earthquake centered around Mexicali, Mexico.
Strange, indeed…
Visitor Comments:
Got something you'd like to share or say to keep the conversation going? Feel free to leave a comment below...
No users have replied to the content on this page