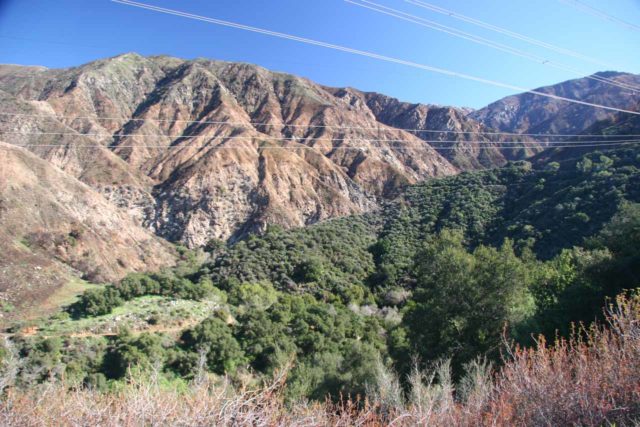 28-February 2010:
Today was supposed to be a quickie waterfall trip just to squeeze one in before Julie wanted to meet up with friends for one of their birthday before noon. We didn't expect to take more than an hour or so, and it was a total last-minute decision. But that was when some unexpected things happened, and well, it just seems that adventure always finds us whenever we're alone…
Julie and I awoke at 7am. As much as we wanted to stay in bed and sleep comfortably, we had decided last night to squeeze in a waterfall excursion to take advantage of yesterday's rains.
My original plan was to spend the whole day to the Ojai area to see Rose Valley Falls, have another go at Newton Canyon Falls (which we missed last week), and maybe squeeze in a visit to Portrero John Falls, which was something that wasn't in our Ann Marie Brown book
.
But when Julie told me that she was planning on spending time with her friends Dana and Mai for a birthday, that pretty much scrapped any plans for driving over an hour to reach a waterfall.
So instead, we made a last-minute change of plans and decided on Millard Falls since it was right in Pasadena's backyard, and we figured it wouldn't take more an a couple hours or so. That would totally buy us time to get home and let Julie join the girls to have their get-together.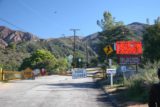 We left home at 8am to a clear but chilly morning. It didn't take long to get into the Pasadena area, and by the time we reached the Chanel Flat Road (and the accompanying flashing yellow light on Loma Alta Drive), our intentions of making a quickie waterfall trip was all of the sudden dashed when we were confronted with a closure gate and sign.
Signs indicated that the Station Fire from last Summer destroyed much of the vegetation in the neighboring mountains and thus destabilized the moisture retentive soil. The result was that there were mudslides and uprooted trees washing into the Millard Canyon drainage area.
Still, having come all the way this way only to be turned back at 8:45am didn't sit well with us. So we evaluated our options and decided to walk on the Chanel Flat Road just to see if it was still possible to see the falls or not. That would turn a normally 1-mile round trip hike into something more like 4 miles round trip thanks to the 1.5-mile stretch of Chaney Trail Road that we now had to walk.
I know it probably wasn't the most prudent thing to do, but we were curious to see how bad the damage was. And if it wasn't all that bad, perhaps we might sneak in a look at the Millard Falls when it finally has healthy flow.
There was what seemed to be a pullout next to an entryway into what appeared to be some quarry, but the no parking signs pointed towards the gate. Plus there was already another car parked here so we parked alongside it.
Just as we were putting on our boots, an elderly Korean couple showed up. At first they said something to us in Korean, which we didn't understand. They seemed discouraged by the closure sign, but then one of them showed a printout of a map to us. Apparently, they were also headed where we were headed, and they wondered if we were going there.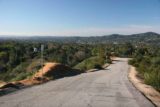 When we indicated that we were going to walk past the gate, they briefly followed us. But the walk was going to be about 1.5 miles on pavement. And eventually they turned back as their voices grew fainter as we proceeded ahead up the hill.
We noticed some horse scat on the road so perhaps that might give us some hope that maybe this falls was accessible after all for only those willing to reach the car park by non-automotive means.
As we walked further up the road, we were enjoying the crisp cool air and nice panoramas back towards Altadena and Pasadena. As we looked up ahead, we started to notice that the hills immediately before us were vegetated, but the mountains directly behind them were bare. That kind of gave us an indication of just how close the Station Fire got to the foothill communities down here.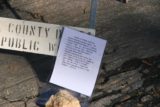 The walk up Chaney Trail Road was mostly uphill and exposed to the sun with some partial relief from the sun, which was starting to become more unrelenting (but still nothing like it'd be in Summer).
Roughy over half-hour from the gate, we reached an intersection where the path to the left was fronted by a cone and some signage indicating more language that the area was closed. Additional signs there indicated there were uprooted trees and unstable land. Still, having made it this far, we were curious about what the damage area looked like despite our conscience telling us to turn back.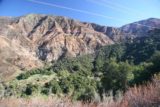 As Julie and I walked down the road, we could see the bare burn area right on the opposite side of the Millard Canyon. The power lines above us looked either rusted or some discoloration from the heat of the Station Fire. We couldn't tell either way.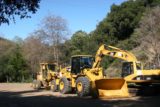 When we made it to the bottom, we noticed one woman in a jacket checking out the stream. She didn't look like a worker, but the presence of heavy-duty Caterpillar bulldozers and dump trucks was an indication that perhaps this was now a work zone.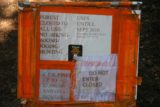 Part of me thought there probably wasn't any work going on considering it was Sunday today. But as we proceeded onto the path next to the car park, we passed what looked like some residences before we were confronted with more closure signs as well as warning signs indicating we could get fined $5000 or get jailed for 6 months.
Up ahead further, we saw a few more vehicles as well as a trailor. Additional signs indicated the area was under surveillance, which really put some doubt in our minds as to whether we should proceed.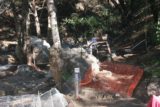 So we ended up content to look at the trail and brownish muddy stream from the closure fence. I'm sure we could've utilized our gore-tex boots and go into the canyon for under a half-mile more, but we just didn't want to risk getting fined or get caught in an embarrassing search-and-rescue situation where there were plenty of signs discouraging us from being here anyways.
Sure the creek was flowing well, and we were sure the falls would flow much better than we had been seeing in the past, but it just wasn't meant to be today.
So we headed back up the road and started to plot how we should spend the rest of the afternoon. I was toying with the idea of having a King Taco before heading home while Julie would be off seeing her friends. Of course, it was still barely 10am at the time.
As we were about half-way up the hill, we heard an approaching vehicle coming down. As it got closer, we could see it was a green-striped Rescue Sheriff vehicle with a pair of guys inside. They didn't give us a very friendly look, and it seemed they were out to inspect the area ready to fine trespassers.
They didn't stop for us, but we also knew that we didn't go beyond the last closure area, and we were glad that we decided not to. We could only imagine how much trouble we'd be in had we still been in the canyon with those guys showing up.
"Why do we always have adventures when we're alone?" Julie asked.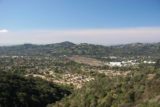 I thought the same thing. I mean, when Mom comes along with us, we never seemed to have this kind of drama. But when we're alone, it seems like all bets are off and anything goes. After all, we were caught in a snowstorm a couple of February's ago and we even had to do some scrambling to find an elusive waterfall last February in Santa Barbara.
Anyways, as we got up to the intersection, we noticed some people walking dogs. We figured they must be residents, and they were headed to the overlook as opposed to the closed-off Millard Canyon.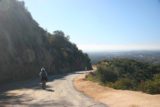 Finally, we got back to the car, and it was still barely 10:40am. A group of elderly walkers were behind us as well, and it seemed like this place was still somewhat popular despite the closure gate.
Once inside the car, Julie called up her friend Dana, and learned that her other friend Mai was about to give birth so she couldn't make their planned get-together. Thus, we just hung out with Dana who was near this area in Old Town Pasadena before heading home after lunch.
But that wasn't before we learned that Mai had finally given birth to a girl. I guess when life happens, the inability to see Millard Falls in a better state just didn't seem to matter anymore.
Still, there's always next time…
Visitor Comments:
Got something you'd like to share or say to keep the conversation going? Feel free to leave a comment below...
No users have replied to the content on this page