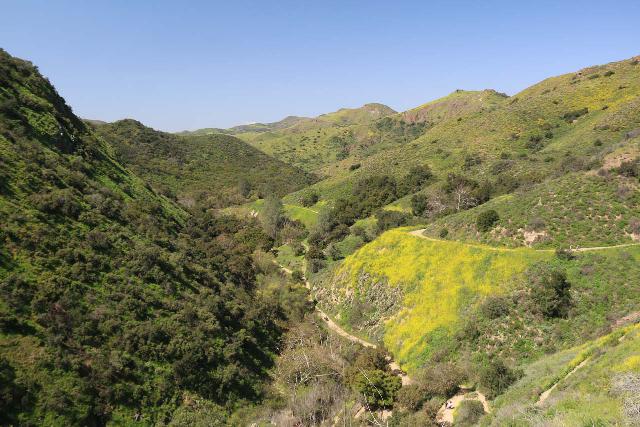 24-March 2019:
During the drive, Tahia was complaining that her tummy hurt. We weren't sure if she was car sick from reading in the car (something she was capable of doing in the past) or if it was something she ate that made everything she digested seemingly a foreign object that the body would reject.
Julie quickly handed Tahia a spare plastic bag, and roughly a few minutes later, she hurled into the bag. The foul smell of bile and other stomach acids or other nasty things definitely didn't make the interior of the car a very fragrant place…
…
The original plan for today was to drive back to the Lake Elsinore area and try to beat out the traffic that we knew would inundate the vicinity of Walker Canyon due to the California Poppies Superbloom that apparently was still going on over there.
We were actually targeting Tenaja Falls which we hadn't seen in about a decade.
But Julie had other plans. She had arranged to buy some kind of heavy-duty blender that apparently costed some $400 retail but she bought it used for $75 in cash.
We were supposed to meet up with someone at Toluca Lake somewhere not far off the 101 Freeway. And since we were targeting a visit to Paradise Falls instead of Tenaja Falls, we figured why not?
After all, Toluca Lake was along the way. Plus, we were looking for a lunch spot after the hike that would serve up paleo or keto fare to help with Julie's ongoing gut situation.
We definitely changed up our eating habits over the years, and I was pretty sure that it was a lifelong condition that she had to contend with. And due to her condition, Tahia and I wound up eating better as well.
In the end, we had a brief brekkie of compliant waffles with some blueberries and raspberries. Then, we left the house at 8:30am, which was a bit later than in my comfort zone.
But then again, with the LA Marathon that was supposedly taking place today, we had entertained thoughts of taking the 605 North then the 210 west towards the 101. We weren't sure if that was wise, but along the way on the 605 North, we just took a punt and took the I-5 through the city towards the 101.
It turned out to not be a bad move because the traffic was relatively light even though we knew these freeways would not be a fun drive later in the day.
Ultimately, we got to a liquor store parking lot at a little after 9am where we met up with the person selling Julie the heavy duty blender. And once that was out of the way, we then continued west on the 101 Freeway.
During the drive through the valley and further west towards Calabasas and Thousand Oaks, we could definitely see evidence of the Woolsey Fire that had ripped through this area last Autumn. We could see where there were green grass with some yellow wildflowers blooming, but then on the ridges in the Santa Monica Mountains to our left, we could see bare brown areas where clearly the vegetation had been stripped.
On the right side of the freeway, it looked like some of the hillsides didn't appear to be touched by the fires, but we also saw trees with black bark. Clearly, those had to have been affected by the high temperatures from such infernos.
We could clearly see that fires were a natural part of this area, but we wondered how much longer would it be before Global Warming and Climate Change would cause yet the next inferno to rip through this area as our Summers continue to get hotter and drier, and our Winters continue to get shorter.
During the drive, Tahia was complaining that her tummy hurt. We weren't sure if she was car sick from reading in the car (something she was capable of doing in the past) or if it was something she ate that made everything she digested seemingly a foreign object that the body would reject.
Julie quickly handed Tahia a spare plastic bag, and roughly a few minutes later, she hurled into the bag. The foul smell of bile and other stomach acids or other nasty things definitely didn't make the interior of the car a very fragrant place.
But we certainly hoped that little girl got whatever was out of her system and could resume the day. In any case, she lost her breakfast and whatever liquids came from that. So I'm sure she'll be very hungry by the end of the anticipated hike.
Eventually, we'd get off at the familiar Lynn Rd, then drive north towards Avenida de los Arboles before getting all the way to the familiar trailhead parking for Wildwood Park.
We finally got there a little after 9:35am but we could see that the first lot was totally full. And with no hope of waiting around and finding parking in that first lot, we noticed that a gate was open with signage suggesting that there was additional parking.
So for perhaps the first time in long while (if ever), we followed this road and eventually drove on the unpaved fire road perhaps another 3/4- to 1 mile or so before making it to the spillover parking lot.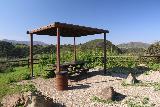 All the spots to the right were taken up, but there were plenty of spots on the left side, and there looked like a little "island" in the middle that could also harbor more cars.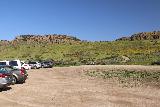 By now, it was about 9:45am when we finally parked the car. With nary a cloud in the sky, we knew that it was probably going to be pretty hot by the time we'd return to the car after this hike.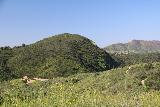 After taking another 10-15 minutes to get geared up (I forgot to bring my handheld GPS unit again), we then decided to hike down the nearest trail that twisted its way downhill. We saw in the distance the familiar teepee with picnic tables that we knew we had to get to eventually on the way back up (that was where the old or shortest trail was).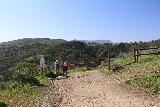 However, we also knew that there was an Indian Cave further down and away from that teepee area to our left as we continued our descent.
When we made it to the bottom of the descent, we then saw a sign for "Indian Cave" and followed that spur trail ultimately to a pretty overgrown set of steps leading up to the familiar Indian Cave itself.
The first time Julie, Mom, and I were here was on an overcast day in March back in 2010 I believe. It was before Tahia was born. Now, little girl was eight years old and well aware of her surroundings and what she's doing on this day.
We arrived at the Indian Cave at about 10:15am, and we spent some time checking it out. It turned out that it was basically a bit of a natural shelter that might have been augmented by Native Americans looking for any survival advantage in these parts by getting out of the sun.
There was also a smaller opening on the far left side of the cave, which was easier for kids to get through. However, it required a bit of a crawl for adults to get through.
Up on top of that opening was another trail that went past some wildflowers and who knows where beyond that. I knew it wasn't going to the Paradise Falls so I didn't pursue it. Instead, after another daughter and father checked out this spot, Tahia and I followed them back down where Julie was below the mouth of the cave waiting for us.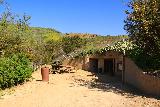 Then, we went back to the main trail, where we crossed a footbridge and rounded a corner past a couple of park ranger trucks. Then, we went towards what appeared to be the Meadows Center (or what I thought was the Los Arboles Nature Center), but it was really nothing more than a shelter with flush toilets and an amphitheater setting that was good for ranger programs and campfire over a pit.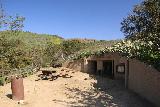 One of the rangers was friendly with us and had a chat with Tahia. She was talking about how there was a 4th grader program here in April. She also handed us a paper map where she pointed out that there was another waterfall further upstream from where we were at.
She said it was her favorite trail but it would probably had another 3 miles in a loop to our overall excursion. Still, we noted it in case we needed to do something different.
In any case, she went on with whatever duties she needed to do with the other rangers, and Julie, Tahia, and I resumed the Wildwood Canyon Trail alongside Indian Creek at 10:45am.
After passing by a junction with one of the trails leading up to the Teepee, we then passed by a shady picnic area alongside Indian Creek.
I was looking for the so-called Little Falls, but we weren't sure if we were here or not at the picnic area or if we had to go further ahead.
Eventually, we'd continue forward to the familiar Wildwood Canyon section where the trail hugged a particularly steep part of the canyon while flanked with some cacti.
This was the spot where Julie and I first saw a rattlesnake basking in the sun near the top of Paradise Falls. But now, it looked like that spur trail was closed for good.
In any case, we followed along the ledge trail and saw ahead of us was an impressive bloom of mostly yellow wildflowers with a few purples ones in between. While it had nothing on the Lake Elsinore bloom that we witnessed last week, the wildflower display on this day was pretty good in its own right.
Next, we made it to the familiar final descent down to the base of Paradise Falls, where there were already dozens upon dozens of people checking out the falls. While this place was always pretty popular over the years, it seems like in recent years that every waterfall in the southland were pretty much overrun by people.
At least this one wasn't quite the Eaton Canyon crush or even Ortega Falls crush like last week. Yet still, Paradise Falls seemed to be getting up to that status as well.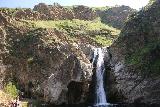 We got to the waterfall at around 11:15am, and we could already see that the plunge pool was half in shadow. We knew that mid afternoon was probably best from a lighting standpoint, but at least it was a good exercise and another chance for us to get out of the house.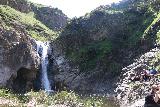 We also noticed signage suggesting that Indian Creek was partially fed by suburban runoff, which meant no swimming or diving. We knew it would be wise to let Tahia play in the water here, which was a pity, but it was what it was. I guess housing developments around Nature like this tended to not be a good idea or at least it would have impacts that would kind of ruin it for some activities like playing in the water.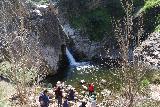 We spent some time on the other side of Indian Creek, and then we took our shots while watching Tahia test Julie's patience with trying to see if she could rock hop then get onto the reeds in the middle of the creek.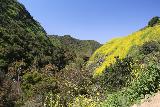 After having our fill of this spot (which didn't take too long because it was quite busy and the blaring music here was rather ghetto), we then let Tahia do her thing from the other side of the creek. There were also a couple of ducks swimming about in the dark pool next to the alcove.
So all in all, it was still another rejuvenating excursion. But now it was about 11:40am and everyone was getting hungry for a late lunch.
So we went back up the steps to the main trail, then we continued going up the narrow connector trail (amongst lots of wildflowers) towards the Teepee Trail. Then, we continued uphill on the Teepee Trail for the next quarter-mile before getting back to the familiar Teepee.
Along the way, we caught attractive views down Wildwood Canyon where yellow mats of wildflowers were off to the right while blue skies and rolling hills were in the distance.
No one wanted to linger around the Teepee so we then headed uphill on the North Teepee Trail before taking the Moon Ridge Trail across towards the spillover parking lot.
In all the years we had done the Paradise Falls excursion, I don't think we had ever hiked the Moon Ridge Trail. And given how many people were here, we figured it might be a welcome detour (though it brought us directly to our car park anyways).
Sure enough, the narrower trail was quieter and it yielded some surprisingly good views towards the mesas and wildflowers to our north. There was also strong scents of desert wildflowers and stems, and it got us wondering if any of them were sage or rosemary.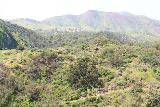 We also spotted many more cacti with some of them having a spiky flower growing at its top.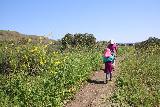 This trail definitely undulated a bit more than the other trails we had done. Still, none of the climbs and dips were too severe, and eventually by about 12:15pm, we made it back to the overflow parking lot and our familiar parked car.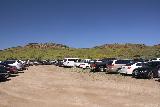 Now, that parking lot was quite full as people made an island in the middle and all of the perimeter were all used up.
After taking off the hiking boots, we got back in the car, then followed a couple of trucks back out on the public access road towards the primary parking lot at Avenida de los Arboles. Then, we followed that street back to Lynn Rd and then back to the 101 Freeway.
At this point, Julie was looking on her phone for compliant places to have lunch that was along the way. I really didn't want to backtrack so the longer she was looking the more options became eliminated that were behind us.
The first choice was unfortunately out of the question. It was called Primal Cafe in West Hollywood, but apparently it was closed for good. We were last there after cousin Diana and Zach were celebrating their baby's first birthday seemingly over a year ago or so.
However, Julie couldn't eat any of the party food so we had to go to this place so she could have something without her body reacting negatively to it.
That said, I guess paleo places like that were difficult to survive in the Southland since most people still don't perceive the need for such places. And if you have to be gluten free and sugar free, that made it even harder to make the foodstuffs taste well enough to warrant people coming back.
Therein lies the oxymoron of eating out at a healthy place. The truly healthy spots don't survive. Everyone has to put in some flavor in order to keep their business solvent. It's just like the analogy that fast food and healthy food are mutually exclusive. Indeed, LA was definitely no Portland.
Obviously Julie was bummed about it because she enjoyed their bone broth though I didn't recall what other dishes they offered up. I did recall it wasn't cheap there either.
Instead, we settled for this place in Studio City called Granville. It seemed like a popular spot and we were wondering if we had to wait for a half hour or so. Even the parking situation seemed like it might not be good though fortunately, they had a parking structure that required validation or else a $40 fee to get out. There was also valet parking though we didn't want to entertain that option.
By about 1:10pm, we parked in the structure about a block or so behind Granville, then we walked along Ventura Blvd to get to the restaurant. There were some interesting triangles or "Walk of Fame"-like plaques on the ground showing some familiar shows like Alfred Hitchcock Presents and Leave It To Beaver.
They also showed some weird shows like some kind of Pepsi Cola thing or some other product placement shows. I'm guessing these plaques had something to do with works that were done in the area.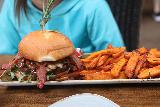 Regardless, we only had to wait another five minutes or so before we got seated. Then, we ordered a burger with gluten free bun for Tahia (seeing the kid's menu was no good). Julie got a paleo plate with steak. Meanwhile, I got a Branzino, which was flaky sea bass with a lemongrass sauce on the side.
Of all the dishes we got, it looked like my Branzino was the hit. Nonetheless, we all ate pretty well, and we left the place pretty sated. That said, it wasn't cheap as I would up spending over $80 for our lunch once tax and tip was included.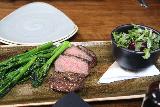 We left the restaurant at around 2:45pm. Then, we walked back along Ventura Blvd before getting back into the parking structure where our validation ticket would work.
Next, we headed east towards South Pasadena where Julie wanted to stop at this place called Natural Market and Kitchen. Once again, it was on the way home.
Julie had her heart set on picking up some compliant ice cream there from the Rebel's brand. Unfortunately, the ran out of strawberry and vanilla.
The drive east was for the most part free of drama, but Tahia once again threw up. At least she acted quickly and grabbed bag to hurl into. But I'm sure her lunch was lost on that vomit.
Julie and I weren't sure what was up with her gut but we couldn't blame it on car sickness this time. It must have been something she ate last night or this morning. At least after Tahia hurled, she seemed all good again, but it was definitely concerning that she couldn't hold anything down.
When we got to the Natural Market and Kitchen in South Pas. at around 3:15pm, we spent over $40 worth of frozen goods there, and we ultimately picked up more than one of the pint of Rebel's ice cream while we also picked up compliant pizza dough for Tahia.
Julie and I split one of the Rebel's pint of ice cream and she loved it. She had forgotten what ice cream was like, and I guess this brand was pretty good and compliant for her. Julie didn't seem to react negatively to her indulgence.
At 4pm, we finally left the mini grocer and drove back home. This time, we took the I-210 east then took the I-605 south. With the radio talking about Gronk's retirement and a near-upset of Duke in March Madness, I guess any little thing to keep our mind off the somewhat heavy traffic was welcome.
Eventually at about 5pm, we got home. The ice cream seemed to have gotten mushy, but at least they could regain their form in the full freezer at this point.
And so the remainder of our weekend could come to a close as we had yet another workweek to look forward to…
Visitor Comments:
Got something you'd like to share or say to keep the conversation going? Feel free to leave a comment below...
No users have replied to the content on this page