SLOW START
Tahia woke up hungry at around 5am. As Julie and I were busy tending to her needs, I wondered aloud whether this wake-up call was the early start we needed to take our daughter on her first waterfalling excursion.
But being sleep-deprived as we were, Julie was having none of it. And when we were done, all three of us were back in bed some time after 6am and didn't wake up until about 9am.
Knowing how vital it was to get an early start, I was itching to get going, but we still had to finish feeding Tahia, then change her diaper, then get her milk-on-the-go prepared as well as other travel necessities. After all, today was also a test to see how well Tahia could go on a mini-road trip for we were trying to ease her into some of the travelling to more distant places that Julie and I craved.
But such was the nature of trying to bring a child along with us. It was almost like we had to get back to basics. We had to find the easiest waterfall trails we knew of, allocate more time, and bring her along slowly. Those desires of even going to places like Canada or classical Europe seemed so painfully distant. We even had to nix a trip to the Dominican Republic this Summer when we weighed the practicalities and risks (especially with malaria and cholera present).
Anyways, it wasn't until about 11:30am when we finally loaded up the car and left the house.
The drive to the trailhead did seem like it took longer than expected. There was traffic on PCH due to an apparent mudslide that blocked one of the lanes near the erosion-prone cliffs between Santa Monica and Malibu. At least listening to the elite 8 (NCAA Tournament Basketball) kind of kept my mind off the road inconveniences for a bit.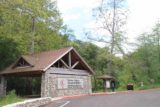 Eventually by 12:45pm, we were finally at the trailhead. There was plenty of parking this time (maybe the rain from last night and the threatening clouds this morning might have kept people away) though the sun and blue skies was just breaking through.
I was quick to put Tahia in the stroller while bringing some of the basic necessities with us. But Julie had to take some time to pump, and while Tahia and I were waiting, Tahia started to get fussy. Apparently, she was hungry so I had to return to the car, join Julie, and try to feed her to put her in a better mood for the hike.
Even though Tahia was hungry, she was a very slow milk drinker and spilled quite a bit out of her mouth. It wasn't until 2:15pm when we had finally left for the trail…