19-January 2013:
Somehow the topic of conversation switched over to hiking blogs, and he told me that he consulted s couple of blogs, which he named to me (both of which I had heard). I was a little disappointed that he didn't mention our website, and the thought did occur to me whether I should tell him about our website. But I wanted to ensure we stayed anonymous so I didn't say anything about it…
It was about 7am when I awoke. Tahia was already awake and so was Julie's Mom. So I knew it was time to tend to the normal morning duties before starting the day. Julie eventually got up out of bed 15 minutes later.
I knew that today was going to be a warm and sunny day, which seemed to start becoming a January pattern in Southern California these past few Winters. Even though the preceding four weeks or so had been bitterly cold and dry, the last couple of days got right up into the high 70s and low 80s. Indeed, it was the old Santa Anas again, and it was like Summer in the middle of Winter.
Anyways, on the agenda for today was Trail Canyon Falls, which was a waterfall that we hadn't visited in over 10 years. For one reason or another, it was either overlooked or closed (from the Station Fire). So it was about time to see this little beauty and it had that feeling like we were about to test how good our memories are.
At 8:20am, we left home and left Tahia with Julie's Mom. We knew this wasn't going to be an easy hike to do with her, especially with the anticipated scramble to get to the base of the falls. So we decided to play it safe and leave our little girl at home.
First up, we had to get to my Mom's place to pick her up. Since she was taking a break from taking care of my brother's kids this month, she had the opportunity to rejoin us again for some waterfall hiking, which was something she didn't do as often these past few years. Soldier Creek Falls two weeks ago was a start. But this time, we knew this was going to be a bit more challenging.
We arrived at my Mom's place at around 8:55am. It turned out that we had to change cars and use Mom's car because ours appeared to be getting a flat tire. Apparently some nail punctured one of the rear tires, and we didn't want to chance it today.
So at 9:05am, we left in my Mom's SUV and proceeded to drive towards our hike of the day.
The freeway driving was pretty light to moderate given that it was still fairly early in the morning. The 210 freeway was light enough for us to make it to Sunland by around 9:50am.
Instead of taking the Mt Gleason Ave route to Big Tujunga Canyon Rd (per Ann Marie Brown's way in our book, which we did last time), this time we took Oro Vista Rd, which seemed to be a slightly more straightforward way of getting to the trailhead according to the GPS maps we were looking at on both Julie's iPhone and on our good old Garmin Nuvi.
Just as we turned onto Oro Vista, we then quickly pulled into the 7-11 at the corner here to buy ourselves a National Forest Adventure Pass. We thought we were going to do this enough times to warrant the annual pass.
At $30 for the annual pass, we had to go on these excursions at least 6 times since they were usually $5 per day.
Anyways, we'd eventually get to the Trail Canyon Falls trailhead at 10:25am. But this wasn't before we overshot the unsigned turnoff on our left as we were heading east in Big Tujunga Canyon Rd. When we realized our error, we saw there was a sign that indicated the turnoff we were seeking as we were headed downhill (west).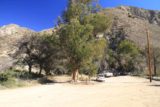 The unpaved road to the trailhead was narrow and slightly rutted as expected. The road didn't seem nearly as rutted or as scary as the last time we recalled doing it, but perhaps it was because we were driving in low clearance passenger sedans in the past. This time, we had Mom's SUV, which was high clearance enough for us to not even sweat some of the ruts and rock protrusions.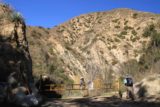 At the trailhead, we saw there were already at least some 10 vehicles here. I remembered the last time I did this hike in 2002, I was the only one on the trail.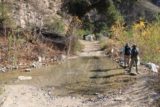 There also seemed to be some cabins here that were actively being used. I wasn't sure if they were for the caretakers or rangers here, but they looked private.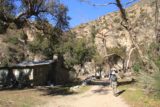 Anyways, after finding a spot that seemed to be shady (knowing that it might be a few hours before we return), we then followed the "trail" signs and quickly got onto the hike.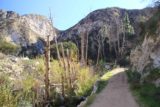 At first, we were walking on what appeared to be an unpaved access road. After passing through a gate, we then crossed a ford between a pair of cabins, and then after passing yet another cabin, we were in the shade continuing on the access road. I didn't recall hiking on roads before, so that led me to believe that these cabins might have been built after my visit in 2002. It was either that or my memory failed me.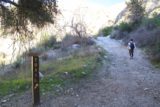 Eventually, we got past the foundations of what might have been the last cabin. There was a four-way junction though the "waterfall trail" sign helped us stay the course.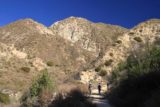 After the sign, there was another sign saying that we were entering an "unmaintained area". And it was here that the path got a little narrower though it still looked like a vehicle could've driven through. But at least it felt more like a hiking trail as we were gradually climbing at this point.
The climb would persist before descending briefly past some old vehicles that looked to be either abandoned or just left there for some reason. The trail then got even more narrower as we got into the next drainage which seemed to have significantly more water than the one we started in. So that was a good sign as I was starting to get worried about the state of the waterfall.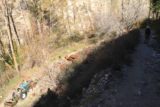 The trail crossed this fairly healthy flowing stream several times. There had to be at least four to six of them though we lost count.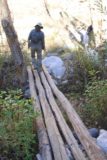 It was very evident in this section of trail that the fire must've gone through here. There was a mix of black barked trees as well as some taller trees that seemed to have their tops cut off or something. We weren't sure they were bareness from natural Winter conditions, but a lot of these trees definitely looked like they had lost a significant chunk of their tops due to the absence of branches and the sudden abruptness of their growth.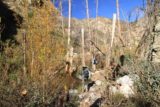 Although this part of the trail felt somewhat flat, the overall hike definitely felt longer than most of the hikes we had been doing locally up to this point. Perhaps the lack of shade and the sun bearing down on us didn't help matters in terms of our comfort level.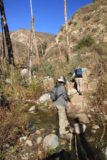 By about 11:10am, Julie almost missed a creek crossing that would've led us up a long climb up a wall of Trail Canyon. I had read about people bushwhacking along the stream to get to the base of the falls, but I thought we would be better off taking the official trail.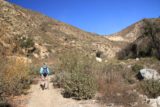 So we proceeded to cross the creek and then go up the long climb, which was completely exposed to the sun as I had remembered it 10 years ago. However this time around, the terrain was almost most desertlike as there were hardly any trees around us. We knew it was not going to be an easy climb.
As we were going up this long ascent, we had noticed some parts of the trail that seemed to be washed away. We suspected that the fires must've killed a lot of the vegetation that would've held onto the soil and stabilize the slopes.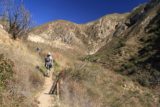 I thought about other examples where haphazard urban development (or overdevelopment) did the same thing in our travels. Clearly, Nature had her way of doing things, and this just demonstrated to us that if you listen to her, there was a lot to learn to live by her rules. But to ignore her would be foolhardly.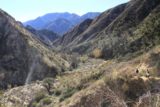 Mom was struggling as she went up this hill as she was quite hot. She was wearing long sleeves and that probably didn't help her on this stretch of the sun drenched trail. Fortunately, this wasn't a terribly long uphill climb in the grand scheme of things so she was able to persevere and reach the apex of the climb.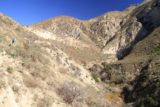 At about 11:35am, the climbing flattened out and we rounded a long bend where the shade that was here felt quite good. Within a couple of minutes as the bend concluded, we saw the faimiliar Trail Canyon Falls in the distance. This time, there was a tree that was blocking most of our view though that tree was also a bit bare.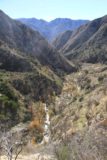 As we proceeded along the trail, I was looking for that guardrail that preceded the steep descent to the base of the falls. However, that guardrail was nowhere to be found.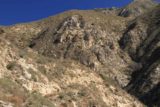 Instead, we saw there was a steeply descending downhill use trail that seemed to be more obvious that I had recalled before. I had read in a prior trip report that there were cairns put here to mark the path down, but I didn't see such a marker.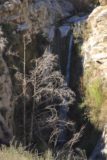 So at 11:40am, we committed ourselves to this path.
The descent was a little slippery due to the loose soil, but it wasn't anything we couldn't handle. Eventually, the trail turned to the right before reaching the edge of the dropoff into the depths of the canyon. And a few more paces in the downstream direction and past some overgrowth got us right to a very steep gully.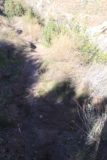 There was another guy who went down before us so we knew that this was the way to go. I didn't recall from the past that the scramble was this long and involved, but perhaps it was because the fire changed the route as the trees and roots I was able to hold onto were no longer there. So now, it was this steep gully where loose pebbles conspired to make us slip and fall.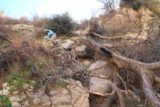 Meanwhile, there were some parts that were steep enough to compel us to do the sit and scoot maneuver. And as I finally made it to the bottom of this descent, I was conversing with the guy who made it down and back way before we did, while Julie and my Mom were cautiously making the steep descent.
The guy I was talking to said he was from the Studio City area. Apparently, this was his first time back here since the Station Fire closure in 2009. He did manage to make it here before the Station Fire occurred, and he said he usually would come here at least once a year.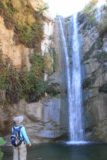 Somehow the topic of conversation switched over to hiking blogs, and he told me that he consulted blogs like ModernHiker and Nobody Hikes in LA (an interesting play on the Missing Persons song "Nobody Walks in LA"). I was a little disappointed that he didn't mention our website, and the thought did occur to me whether I should tell him about our website. But I wanted to ensure we stayed anonymous so I didn't say anything about it.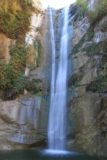 When Julie and Mom finally made it down to where we were at, that was the guy's cue to make his ascent and head back. And after a couple more minutes of walking towards the falls that was now in front of us, we made it to our stopping point right at the plunge pool at 12pm.
Now that we had a fresh look at Trail Canyon Falls, it was definitely not the 50ft that Ann Marie Brown said. It was probably more like 30-40ft and was probably on par with Eaton Canyon Falls in terms of size.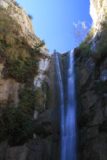 The Y-shape of this waterfall was a bit more pronounced this time around as the flow seemed to be a little lower than my visit back in 2002. Despite the high rainfall and snow in December, I guess the dry January kind of took a bit of the umpf out of this falls though it still had a healthy and satisfying flow.
The guy that I had spoken to earlier mentioned that he never saw this waterfall go dry and he had been coming here from Winter into mid-Summer over the years. So that was saying something. But I wondered at this rate whether this waterfall would survive into late Spring or Summer assuming no more rain would fall for the rest of the Winter (not an impossibility given there was no longer a notion of "normal" thanks to Climate Change).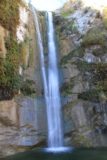 Now that we had better camera, we all took our photos, movies, and even paused for people shots. It was a far cry from me trying to photograph myself while making clumsy videos. There was an empty glass bottle of what appeared to be tequila, which was not good, but other than that, we didn't notice any graffiti or other litter. We certainly hoped it would stay that way, but we wonder how much longer it would be before urban blight would rear its ugly head here.
After we had ourselves a quick snack of sweet tasting pears, we left the falls at 12:20pm. Usually when the descents are steep like this, the climb back up typically weren't nearly as bad. And so it was in this case, though it was still tricky due to the potential for a slip and a bad fall.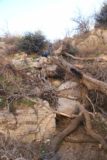 On our way up back to the main trail, there was a husband-and-wife team where the husband was carrying their son on his back in a frame pack. I instantly thought about whether we should've risked it by bringing Tahia here, but perhaps it was better that we didn't bring her. That would be a pretty big risk, and one we weren't very comfortable doing.
Anyways, it seemed like they managed to do it successfully. More power to them.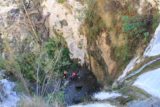 When we made it back to the main trail, Mom and Julie got a head start going back down towards the trailhead. Meanwhile, I continued back up towards the top of the falls just to see how much things have changed over the years.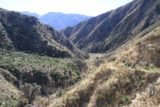 As I got past the top of the falls, it appeared that the trail kept going, but I didn't see any obvious trail that swung around and ended at the top of Trail Canyon Falls. Instead, the "path" on the other side of the creek was overgrown with prickly vegetation and whatever path that was there before was now undefined.
So I quickly took my photos and movies from up there before I left. Though I did notice that family with the kid down at the base.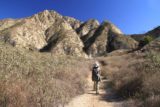 At about 12:40pm, we were back at the bottom of the long uphill part that taxed us on the way to the falls. We continued meandering about as the trail was now under some early afternoon shadows. So that was a little bit of a relief from the sun exposure we were getting for most of this hike.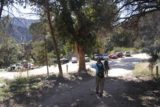 At about 1:30pm we finally made it back to the car park. We saw that Mom's SUV was still in shade so clearly we picked a pretty good parking spot. Nice!
After getting into more comfortable footwear while loading up Mom's car, we proceeded to drive off and back into the city. On the way out, we noticed some numbered signs in red and white around the turnoff we were about to leave. On the near side to our left was a red and white sign labeled "2.05" while the one further down the road on our right was labeled "2.01". Perhaps those were mile markers to the nearest hundredth of a mile.
Anyways, we proceeded to leave Big Tujunga Canyon and made our way towards the Pasadena area. We were going to spoil ourselves with a late lunch at Din Tai Fung. We figured we deserved it after this pretty long, hot, and somewhat tiring 4-mile return hike.
So at 2:20pm, we finally got to Din Tai Fung. We didn't mind sharing a table so we didn't have to wait so long to be seated. We don't often go this far for pricey soup dumplings, but these hikes definitely give us good excuses to come here.
After the late lunch (amazing that Din Tai Fung would still be so busy despite this being siesta time), we'd eventually be back at the parents' place at 3:50pm. And after getting back into our car and saying hi/good-bye to Dad and a good-bye to Mom, Julie and I would eventually be back at our place at 4:25pm.
My day wouldn't end as I also had to run an errand to bring Julie's Mom back to her apartment while Julie watched Tahia. It was only after doing this errand of more driving was I finally able to relax and chill out at 6:15pm. With all that driving and listening to sports radio, I learned that there was UFC on Fox so I ended up watching some of that before Tahia got mischievous and scribbled all over my notes that I had taken today.
Ah, home sweet home!
Visitor Comments:
Got something you'd like to share or say to keep the conversation going? Feel free to leave a comment below...
No users have replied to the content on this page