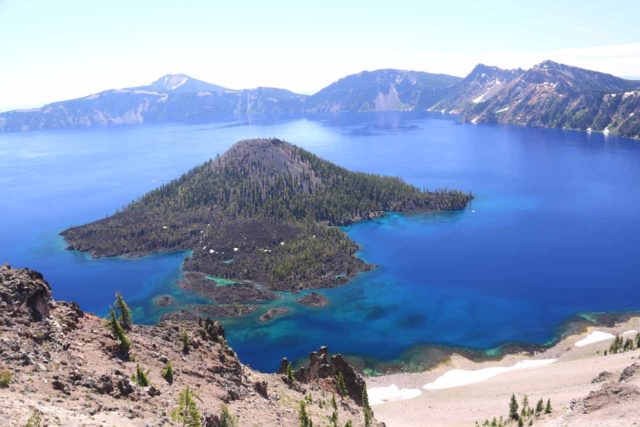 10-July 2016 to 16-July 2016:
After having our fill of this lake, we ultimately went back to the Bumpass Hell Parking Lot and decided to gear up and cross the police tape. I figured that it couldn't be as bad as the "extremely hazardous" conditions that the park was advertising (or at least I thought it was perhaps a little too conservative given how lots of people tend to show up to these kinds of hikes unprepared) and so I was pushing to do the hike.
Of course, when Mom saw the closure sign, she called out to me and wondered if it was wise to do this, which further raised some doubts as to whether my confidence in the park being overconservative was unfounded or not. In any case, I convinced them that we could go on this hike and then be open to turning back when (if) we'd get to parts where it might be too dangerous to proceed. And so we continued on with this doubt in our minds…
Day 1 (July 10, 2016 – Oakhurst, California): "Beetle Mania"
It was 4:15am when we awoke. Since I had spent the night at the parents' place (Tahia and Julie didn't go on this trip so it was going to be my parents and myself this time around), it was pretty much a full house as my brother's family was there as well as Mom and Dad. Anyways, I knew for sure that Mom and I didn't go to sleep until after 1am earlier in the morning, and with my nephew Joshua having nightmares or something, he kept waking us up through the night. So needless to say, we were quite sleepy on the wakeup at 4am.
When Mom came downstairs she told me that Dad slept really well so we both decided that perhaps Dad should have the first shift of driving. So it wasn't until about 5:15am when we started to leave the house. It was a good thing that we rented a pretty large SUV on this trip because having three people along with corresponding luggages and food meant that the car was pretty much full. Of course the main motivation for hiring the SUV was the high clearance capability for those times that we'd have to be driving on unpaved roads.
When I picked up the car yesterday at noon from the Avis in Cypress, they wanted to "upgrade" me to a larger car that was more of a city car gas guzzler. And it was a good thing that someone had returned a Ford Explorer just as I was being helped by a clerk. Needless to say, even though the Ford Explorer wasn't clean and had only a half-tank of gas, it was far more important for us to have this car than the city-only tank they wanted to give me.
Anyways, the next few hours was kind of a blur as Mom and I were getting caught up on sleep while Dad seemed to be doing pretty well on the mostly empty I-5 then the Hwy 99. When Mom and I finally came around to wake up at around 8am, we started to make the drive a little more interesting by having a group conversation chatting about career, relatives, friends, and other things.
Before we knew it, we had passed through Fresno by about 9am, and then we were headed northeast along the Hwy 168 passing through the town of Clovis before the highway pretty much narrowed and became mountain road. The drive was a bit twisty, and I guess I didn't appreciate the fact that it was over 50 miles from Clovis to Huntington Lake, which was where we were targeting Rancheria Falls – a waterfall we hadn't visited since early June 2002.
As we were passing by some interesting lakes like Shaver Lake and eventually onto Huntington Lake, I couldn't help but wonder what was the draw card for the area around Rancheria Falls. As we passed through one town after another, it was becoming clear that this area was surprisingly popular. I guess it was full of weekenders wanting to play on the lake or by the shores. There seemed to be boating as well as fishing activities going on here.
We didn't stop for Shaver Lake, which seemed to be an attractive lake surrounded by granite and with some domes in the background (though in hindsight, I kind of wished that we did stop for it). We were also noticing that there were quite a few brown pine trees on the hillsides, and we suspected that they were dead (probably due to the drought though we weren't certain).
Eventually at 10:10am, we finally reached the trailhead parking for Rancheria Falls. We actually missed the Bear Butte Road (at least that was what the GPS had called it) and we had to backtrack. Then, we drove on a pretty bumpy mile-long road that switchbacked a couple of times before finally reaching a paved area at the trailhead parking. I didn't remember this trailhead being paved 14 years ago, but perhaps things have changed over the years. Anyways, there were only a handful of cars at the time and plenty of parking spaces.
Once we finally parked the car and got geared up for the short hike, we promptly walked onto the well-established trail that seemed quite familiar from the time we last did this hike. Mom and Dad were saying that they had no memory of this place (though I knew I had the photos to prove it). In any case, the air felt a little thin given all the climbing that we had been doing on the drive to get here, but it didn't seem too bad. Actually, Dad seemed to be on a mission as he raced ahead of Mom and I while we were busy checking out the dead trees juxtaposed with some wildflowers in bloom.
Given that the trail was pretty straightforward with the climbing being quite mild, it didn't take long before we started to see Rancheria Falls. Dad actually stopped when he first sighted it so at least I was able to catch up. Mom was still behind just enjoying herself while snapping at wildflowers.
As Dad headed towards the official end of the trail, I noticed a narrow trail of use leading down to a bluff. This particular bluff provided me with a pretty contextual view of Rancheria Falls where not only was I able to observe the main plunge at its top, but I was also able to check out the many cascading tiers further downstream. If it weren't for a few trees in the way, it actually would have been a pretty ideal view.
A few minutes later, I regained the main trail and joined Mom and Dad at the trail's end. There, we were able to check out the tallest drop of Rancheria Falls, but all of our photos kind of suffered due to the position of the late morning sun, which was pretty much against us while creating shadows in the waterfall itself. Indeed, it wasn't ideal photography conditions, but we captured what we could. I kind of recalled that 14 years ago, we also showed up here at around the same time, but we also knew that we weren't going to linger here into the afternoon, which would have been a better time to photograph the falls, I'd bet.
Meanwhile, it seemed like this falls didn't really have a plunge pool that was readily accessible nor did it have a different fully comprehensive view that was official as well. So even though we could witness most of the falls from the official trail, it left a lot to be desired in terms of the lighting conditions and how hard it was to see it in one go since we were brought up so close to it.
So it didn't take long to get our fill of the Rancheria Falls. I recalled that last time, lots of people climbed up to the top of the falls, but this time around, we only saw three people doing this. Anyways, we promptly headed back to the car where we encountered many more people heading to the falls while we were heading back. One person noticed I was carrying a handheld GPS and asked if I was geocaching. I said I wasn't looking for one, but he told me that there was one nearby this waterfall. Intersting!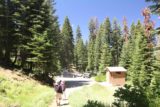 Anyways, we presumed that most of the people we saw must be camping in the area or lodging here for it was still surprising to us that this place was that popular.
Indeed, after saying "Good morning" or "Hi" to at least a dozen different hiking parties going the other way, we finally got back to our car at 11:30am. Sure enough, this time, the parking lot was definitely full and even some folks parked further up the road along the shoulder. That just further reinforced the popularity of this place.
So instead of Dad driving to the next place (Whiskey Falls), I took over the driving duties so Dad could relax. However, I had some doubts about the GPS wanting me to continue on the Hwy 168 then taking some dodgy back roads to Whiskey Falls. In fact, it was claimed that the falls was merely 16 miles or so away, but that it would take 90 minutes. That sounded way too dodgy to me.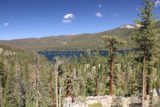 While we were making up our minds about the driving route, we headed back southwest along Hwy 168 with the intent of checking out Huntington Lake from one of the main roadside pullouts. While there, we could see that there were many sailboats moving back and forth on the lake. It definitely seemed like one of the fun recreational activities on offer here, and perhaps this area was a favorite hangout for those hailing from the Central Valley and thus its popularity probably should've been more apparent to us than what we had given it credit for (we thought no one would come out here given how out-of-the-way it was from Fresno and nowhere near Yosemite).
A little further down the road, we made some brief stop near Shaver Lake though I think we wound up stopping at a well-boated part of the lake instead of the more scenic part where parking was harder to find and people were chilling out by the lakeshore.
So I trusted GoogleMaps, which wanted us to go backwards on the Hwy 168 back down the mountain (so we made the right decision in going back), then cutting across on a road (I think it was Road 222) following the San Joaquin River Gorge before getting to the town of Auberry and then North Fork. Once past North Fork, we then started to see brown signs for Whiskey Falls, and we followed it onto a mostly unpaved road (Autumn Ridge Way, I think) as we learned that we would have to drive this progressively bumpy road for the next 8 miles (which we knew would take a bit of time given how slow and carefully we had to take this kind of road).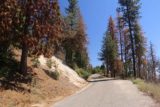 So it wouldn't be until about 1:55pm when we finally made it to the Whiskey Falls Campground. During the road there, we had to cross a dry (but rocky) creek then pass through an area that was not only decimated by fire but also decimated by drought and the associated effects it carried like the bark beetles eating away at the sick trees until they eventually died and became fire hazards.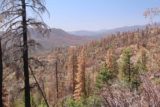 Just witnessing entire hillsides going completely brown was a sad sight, and we wondered whether such developments was going to be irreversible, especially given that we can't seem to head off Global Warming, which was the pink elephant in the room when it came to the root causes of all the ills we've been seeing in the forest. In fact, to get at the true root cause, we'd have to transform the economy to stop rewarding people for doing unsustainable things and rewarding people for doing things that ensure our future. Until that happens, I really don't see any reason why the environment won't continue to deteriorate while the earth overpopulates.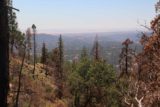 It's a tall order to fix something like this, and you obviously have people profitting from the existing scheme trying to now rig the system to ensure they still have their cake and eat it too, so to speak. That's what happens when you have people making money doing the wrong things – you empower them instead of the proponents of responsibility and sustainability. Anyways, I don't expect the Global Warming-related issues to be resolved anytime soon (even continue to accelerate getting worse), and I wonder what will be the straw that will break the camel's back.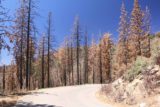 Once we were past the campground, we drove past a bridge that turned out to span Whiskey Creek. Looking upstream, we could see an impressive little waterfall tumbling over some rounded granite. It really seemed like the car got more of a workout for this waterfall than we would since it was only a few paces to scramble right up to the base of the falls.
Another couple made it up here right in front of us and they were keeping cool in the shade and the light spray of the falls. Mom noticed what she called huge mosquitos, but when I looked closer at the standing water, they really seemed more to me like water bugs or something that just so happened to have long legs. I had seen something like this before at Buckhorn Falls.
When it came our turn to enjoy the falls, I did a little scrambling to get as close to its backside as I could given that there was a little alcove behind the base of the falls. Some other folks also showed up but they didn't linger here for long.
At 2:20pm, we were back in the car. It seemed like we were a little ahead of schedule compared to what I had planned before the trip, but since we all were getting a bit fatigued, we figured we mind as well head right to Oakhurst via Bass Lake, and just check in and get settled. After all, if we get settled and checked in earlier, then we can have an early dinner, which meant we could sleep earlier. And an earlier sleep means an earlier start for tomorrow, where we might want to squeeze in Webber Falls before continuing to Lassen Volcanic on the following day (now that I had read that Bumpass Hell Trail was finally open for this season).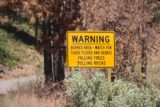 On the drive back out along some bumpy forest service roads, we got another look at how extensive the damage from the bark beetles was. It was sad to see, and we recognized that this place seemed like one huge tinder bundle.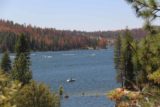 After passing by some limited views of Bass Lake from the road skirting its north side, we'd eventually arrive at our accommodation (Yosemite Southgate Hotel and Suites) in Oakhurst at 3:25pm, and we didn't get settled in our pretty standard room until about 3:45pm.
So we chilled out in the room (even catching a few zzz's from napping) until around 4:55pm when we finally decided to head back to the car in search of a dinner. We had seen enough reviews about this place called the Southgate Brewery so we figured that was where we were going to go. We'd eventually get there at 5:10pm, where it was quite busy inside. But at least we could order up front then worry about finding seating while waiting for the food. No need to rely on being waited for things like the bill and stuff like that. It was just straight no nonsense eating. Luckily for us, a group was vacating shortly after we had ordered at the counter and so we were pretty set.
Our dinner consisted of the Southgate Burger as well as some hot wing appetizers and a trio of grilled cod fish tacos. Mom was telling me that the tacos had nothing on the Tioga Gas Mart, and it got us looking forward to it once again, which we anticipated on having tomorrow for lunch.
Meanwhile, we were munching on the sweet potato fries as well as the garlic fries (even better) and the mains that we had ordered. When all was said and done we were back in the accommodation at 6:10pm totally stuffed. I'm sure my paleo diet once again went to hell, but it was a lot harder to pull that off when we're out traveling like this, and it was the main reason why Julie didn't feel like doing any one of these trips until she could get her SIBO under control.
And so ended this first day of this trip. We were looking forward to tomorrow as we were intending to criss cross through the Sierras and to the Hwy 395 by passing through Yosemite earlier on. Since we weren't going to linger for much at Yosemite National Park, we figured that this would be a quick pass through as Lundy Canyon, Reno, and Webber Falls were our targets on this trip…
Day 2 (July 11, 2016 – Reno, Nevada): "Forcing Functions"
We awoke at 4:30am where we could clearly see that it was still dark outside. But knowing that we had a long drive as well as a long hike ahead of us, the early start was a must. So after getting our stuff together and freshening up for the day, then having the basic continental breakfast (basically boiled eggs and cereal with some fruits while avoiding the pastries), we checked out and started to leave the Yosemite Southgate Hotel & Suites at 5:30am.
Of course when we're leaving this early in the morning, I was concerned about deer dashing out onto the road. That said, I was surprised by the number of cars already out on the road. Heck, even when I was loading up the car at around 5am, there were trucks already out on the road. Man, are there some serious early birds!
Instead of taking the usual Hwy 41 in through the south entrance of Yosemite, I decided to give the Hwy 49 a try. Even though the GPS
claimed that this was going to be an additional 11-20 minutes of driving, I wanted to see what driving this way was like since we had been used to Hwy 41 all this time.
It turned out that the Hwy 49 followed along the foothills and didn't really go deep into the mountains. We remained on the Hwy 49 which was fairly high speed, and then we entered the town of Mariposa, which seemed to be a fairly big tourist town. Beyond Mariposa, Hwy 49 and Hwy 140 split off and we then followed the Hwy 140, which was a little twistier but still a bit more tame and level than the Hwy 41 we had been used to taking.
That said, as far as the scenery was concerned, Hwy 41 was still better as it had the Wawona Tunnel presenting Yosemite Valley. With Hwy 140, it followed along the Merced River where the steep gorge scenery eventually started to give way to steep granite scenery. We passed by the town of El Portal (where we saw large accommodations with lots of people in them) then went past the Arch Rock Entrance, which was closed when we passed through before 7am.
We could now appreciate why they called this the Arch Rock Entrance because the park road then promptly went beneath some wedged rocks arching over Hwy 140. We were in a caravan of cars as there was a surprising number of people driving into the park this early in the morning. We'd eventually get past Cascade Falls, which had pretty low flow. I guess that observation led me to believe that it was probably going to go dry by the end of this month much like Yosemite Falls.
The drive up to Big Oak Flat was pretty uneventful. Then, we crossed over onto Hwy 120 towards Tioga Pass. This drive felt quite a bit longer than I remembered, and I guess I could see why GoogleMaps said it would be a three hour drive from Oakhurst out to Lee Vining. Indeed, the driving through Yosemite was a bit slow due to slower drivers in front of us, but for the most part, it was uneventful except for one moment where we let a deer cross the road in front of us.
There was also an interesting roadside waterfall that I didn't recall seeing before as it was on the south-side of the Hwy 120. Plus, I didn't see the Quaking Aspen waterfall. Anyways, we were driving with the sun against our eyes, but at the same time, we were also surprised by how many parked cars were already at the trailheads, including the Porcupine Flat Trailhead (the one we took to North Dome back in 2002) as well as Olmstead Point and Tuolumne Meadows (including the trailhead for Cathedral Lake).
I guess Summer in Yosemite indeed meant crowds and diminishing waterfalls, and I guess I still contend that our favorite National Park was probably best avoided in the Summer unless you're doing something in the High Country or something like Half Dome.
We'd eventually get to the familiar Tioga Pass station, but now it was manned on both sides. So we stopped at the exit side, told the worker upon his inquiry that we didn't have a pass, and ultimately decided to buy a National Parks pass, which now costed $80. I guess with this little development, that meant that for the next year, we're gonna have to plan with Julie and Tahia a bunch of National Park visits. In my mind, I'm thinking the Mighty 5 in Utah for Spring Break and a late July trip to Yellowstone. Mom also wants to go to the Grand Canyon, but I'll have to see if we can make it happen (especially for a rafting trip on the Colorado River) in late September or something.
We arrived at the familiar Tioga Gas Mart at 8:25am, but we weren't here for the food at this hour. Instead, we took a much needed restroom break before continuing on the road towards Lundy Canyon, which was the focus for today. Three weeks ago, Mom and I had planned to do this hike on the way home, but the Marina Fire had just started that morning and we didn't want to chance it. So today was the day we were going to finally get a chance to re-visit this place for the first time in 14 years.
On the drive back through Lee Vining, we could now see the charred landscape resulting from the Marina Fire that had started three weeks ago. Perhaps what was amazing was that the Tioga Lodge sat by itself a little north of the main part of Lee Vining, but that the lodge itself was spared while the rest of the area around it was charred black. I'm guessing firefighters made sure to put flame retardant on it or something because it was simply amazing to see that building unscathed and still open for business despite everything around it being burned.
After taking the familiar turnoff for Lundy Lake, we got past the man-made lake while marveling at the morning light on the picturesque peaks in the background, and then got onto the bumpy road right after the resort by Lundy Lake. I think it was for the last 1.2 miles or so, and then we ultimately got back to the familiar trailhead at 8:55am. We found a parking spot on a bit of a steep decline between trees and rocks, but it was in shade and it looked like it just might remain under shade for however long we were going to spend on this Lundy Canyon hike.
After the familiar turnoff where I swore there used to be a sign saying "Lundy Pass", we kept forward intentionally and went to the shores of some kind of shallow lake or pond with a nice view towards the head of Lundy Canyon as well as the three-segmented waterfall on Mill Creek, which was the first major waterfall encountered on Lundy Canyon (though we had already started to see two or three other cascades around us even on the drive up to the trailhead).
There were swarms of baby mosquitos or something around the area, and even though we had DEET on while wearing long-sleeved shirts and long-legged pants, it was unnerving knowing that amongst this swarm were some adult mosquitos also looking for a way to get at our blood. The morning light (it was 9:20am) was perfect for this view, and we very easily could have lingered here longer. Even the two ladies with the three dogs stopped by here, where the dogs really seemed to enjoy bathing in the shallow waters.
Next, we promptly went up the familiar trail. This time, we went past some interpretive sign that I guess took the place of the old "Lundy Pass" sign. And like we remembered, the trail climbed for a bit until we reached a bluff at about 9:45am. This bluff had a fairly ok angled view of that first waterfall on Mill Creek that we saw earlier. It was a good thing that it was cool this morning, which made the climb up more bearable, but it was getting warmer rapidly.
The trail then briefly descended before meandering alongside another swamp or pond while presenting us with more views of other cascades tumbling down the high cliff walls to our north. At 10:10am, we got to where there was a harder-to-see cascade on Mill Creek, which I dubbed the Lundy Canyon Falls 2. But I swore on the last visit here that there was a bridge traversing Mill Creek. This time however, there was no bridge and we had to get across some fallen logs. At least the log crossings weren't as scary as I thought I had recalled from the last time.
Then, the trail went through a mix of forested area with some sun-exposed climbs. We made another log crossing before getting into a more lush area where it was probably muddier earlier in the year. In this somewhat overgrown section, there was some partially-built or broken-down log cabin remnants as well as lots of wildflowers exhibiting purple, orange, red, and yellow colors.
When the vegetation was opening up a bit, we could see a couple of thin cascades to our south. At least this part of the trail was relatively flat so progress was fairly quick. However, it did take a bit longer than I had anticipated so it wasn't until around 11am when we finally started to see the third main waterfall of Mill Creek at 11am. This was the waterfall that we turned around at back in July 2002. And Mom and Dad kept pushing forward towards the brink of the lowermost tier of the falls for a little well-deserved picnic of fruits and jerkies.
Mom took off her shoes to feel the cold water of Mill Creek while Dad was looking on and munching on fruits. When I rocked up, I took a few movies and photos while also munching on some really sweet strawberries. Then, at 11:25am, I decided to see if there was a lake beyond this waterfall that was reasonably within reach.
Mom and Dad followed me after they packed up and put on shoes again. It turned out that the trail started climbing a bit more steeply beyond this waterfall though there were plenty of other spur trails edging over for a closer look. Beyond the initial climb, there was yet a fourth waterfall on Mill Creek, which looked attractive and quite similar to the third one, but it wasn't obvious to me where there was a spur path leading to a better and lesser overgrown view of it.
At about 11:40am, I got to a part where the trail starting turning left towards the steep slopes as well as some overgrowth. I came to the realization that there probably wasn't a lake at the cirque or head of Lundy Canyon up ahead seeing that it was all talus or scree and bush up ahead. I had a moment of indecision here thinking perhaps this should be the turnaround point so we could try to pursue Webber Falls on this day to free up some three hours tomorrow (in my reckoning).
However, when Mom and Dad caught up, we had this discussion, and it turned out that it might be a bit too ambitious to try to tackle Webber Falls on this day knowing that it was two hours drive in each direction from Reno to there. It was on the way to Lassen tomorrow so we decided to punt that for tomorrow. However, if Lundy Canyon was all we were doing today, the thought crossed my mind that perhaps we should explore a bit more of Lundy Canyon before heading back.
Mom was game and Dad was thinking in the back of his mind that we should be heading back down. But he didn't resist too much and so we turned around and kept going up. Eventually as the cirque was getting closer and so were the last couple of cascades, we started to get to an extensive scree section. It wasn't easy hiking on loose rocks (more like flakes coming off the cliffs above us) and we'd eventually get to a part where the trail started to become ill-defined at around 12pm.
So I took the initiative to follow what I thought was the trail up some really steep loose talus slopes. Mom and Dad stayed behind while I went up to scout. I'd eventually get up to a part where there was still some snow, but the slope just seemed way too dangerously steep to continue as I was starting to get worried about how to get back down.
As I was a little dumbfounded about where the trail should have been, I did notice a couple of backpackers making their way towards Mom and Dad. So I observed where they were going, but it looked like they were content to momentarily rest at some shade on the other side of the tree that Mom and Dad were waiting for me at.
When I finally made it back down at a little after 12:20pm, I asked them if they were going to the 20 lakes basin, and they confirmed it. However, when I told them that I had lost the trail thinking the steep scree wasn't the way, they seemed content to let me scout out what I had thought was a false trail continuing past and below the scree part. The trail was quite narrow and still ill-defined, but there was definitely a trail.
At about 12:40pm, I had finally made it to a much better view of what I was calling the "Last Falls" since it only revealed parts of itself from way down at the floor of Lundy Canyon. But now, I could see that there was an angled view of the taller upper tier then some lower cascades continuing to tumble and meet up with Mill Creek further downslope. I had to be real careful here because there were sheer dropoffs. And as tempting as it was to try to improve the view, I was pretty content with what I got.
Minutes later, the backpackers joined me though they evaluated the steep slope around this area, and they pursued it. I couldn't believe they were going up slopes this steep with a heavy backpack, but they seemed pretty experienced at this. Still, the climb that they made beyond the viewing spot for the "Last Falls" was beyond my comfort zone. And when Mom showed up, she took her photos, and witnessed the backpackers' climb. But this was our turnaround point and now we could finally head back to the trailhead while looking forward to a very late lunch at the Tioga Gas Mart.
The hike back was mostly uneventful though I kept stopping to take photos of the trail and the U-shaped Lundy Canyon. We also noticed there were many more people including backpackers making their way in the other direction. Back at the third falls on Mill Creek, we saw a family there picnicking where we were at earlier in the morning.
As we continued further down the trail, we saw a half-dozen or so more hiking parties going the other way. Our progress was a little sluggish because Dad was worried about re-aggravating some pain in his knees, especially given the hard pounding on the rocks as well as the steep climb and descent near the head of Lundy Canyon.
It wasn't until about 2:30pm when we finally returned to the car. And as hoped, the car was still in shade, which was quite nice! I swore that we had to have hiked over 6 miles or so since we wound up being on the trail for nearly 5.5 hours! Dad seemed to struggle walking near the trailhead, but that was when Mom showed me that the sole on dad's left shoe was almost completely gone. He said the shoes were 10 years old, and I guess we now know that the adhesives don't last for that long for this wasn't the first instance of this occuring in recent memory (Julie's spider rubber shoes
and my Keens
died in Vanuatu, Mom's hiking boots
were giving out on the last California trip, etc.).
We figured that when we get to Reno later today, we might have an opportunity to help Dad pick up a replacement pair.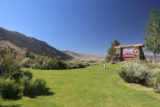 After loading up the car and changing into more comfortable shoes or sandals, we then drove off and headed back south towards the Tioga Gas Mart for our well-deserved lunch. We'd eventually get back there at about 3pm. Thinking that late lunches like this would mean a quiet experience at the Whoa Nellie Deli, we were surprised to see that there was quite the line waiting to place orders at the cashier.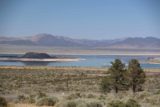 Anyways, like last time Mom and I were here, we ordered fish tacos with both of them being mango. I also got Dad the standard fish tacos with one being mango and the other being some kind of ginger mayo or something like that. We also got really fresh shrimp ceviche. Admittedly, we might have over-ordered, but by the end of the meal, there was nothing left. We pretty much devoured our food, and now we were thinking that perhaps this should be a lunner since it was too close to dinner to have yet another meal.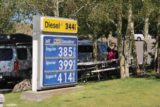 So at 3:50pm, we were back in the car fully sated. Now, Dad took over the driving duties as it was going to be a straightforward drive north on the 395 towards Reno. That gave me and Mom a chance to doze off from the food coma for a bit.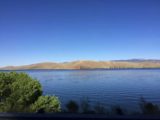 The drive itself was uneventful (aside from wondering whether Topaz Lake on the California/Nevada border along the Hwy 395 was a man-made or genuine lake), and we'd eventually arrive at the Nugget Casino in Sparks, Nevada (just east of downtown Reno) at about 6:20pm. When I noticed that the gas stations in Reno were pretty comparable to California prices, I knew that we had miscalculated by not filling up gas in Minden, which seemed to have the cheapest at around $2.36 or something like that. Meanwhile, I saw a Chevron here in Sparks charging on the order of $2.92 or $3.02.
Anyways, when I got to the front desk at the Nugget, I couldn't believe that there was quite a line waiting to check in. I was wondering if these other folks got the same deal that I got where the room rate was $39 but if you add the resort fee and taxes and stuff, it was more like $52 a night. I guess I can't complain if we're getting such cheap rooms, especially since the Yosemite Southgate one in Oakhurst almost costed us 4x the amount here.
So it wasn't until about 6:45pm when I finally got the keys to the room in the West Tower. I wasn't sure which side was the more upgraded and modern side, but regardless, we went back in the car and then promptly headed back out to fill up some much-needed gas as well as show up to the REI for Dad's replacement boots.
We'd eventually get to the REI in town at 7pm, where we spent some time helping Dad out. Eventually he'd get his replacement shoes where he seemed to have some affinity for Timberlands
. This time, he didn't get high tops, but he did get leather low tops that seemed to be waterproof as well. That was good since I anticipated hiking in some patches of snow at Bumpass Hell tomorrow in Lassen Volcanic National Park.
At 7:45pm, we then rocked up to the adjacent Costco, where Mom bought some delicious Korean-Taiwanese pork jerkies that we really enjoyed on the last trip.
It wasn't until about 8:15pm when we finally settled in on our room at the Nugget. And for $52 for the night, it turned out to be pretty spacious. That said, there was no refrigerator, which was pretty obvious to us that they really wanted us to go downstairs and part with our money through gambling. But with this eventful day drawing to a close, we'd get some much needed zzz's knowing that tomorrow's another early wakeup day as we were going to have a trio of activities for the day along with yet another long drive back towards Redding via Lassen.
Day 3 (July 12, 2016 – Red Bluff, California): "Stuck on 89 part 2"
It was 4:15am when we awoke. It was dark outside and the thought did cross my mind that perhaps we might be visiting Webber Falls before sunrise if we were too efficient about unpacking and checking out of the Nugget in Sparks.
Well, without an included breakfast and our desire to leave the Reno area as soon as possible, we were out the door by 5:40am. During the checkout, I was worried that I was being double-charged for the resort fee (that turned out to be some 33% of the room rate of $38 per night for a total of around $52), but in the end, the total was indeed $52 and so I did get the cheap room after all. And at least I didn't have to wait in a line to check out (unlike the half-hour wait yesterday just to check-in).
The drive out west along the I-80 was uneventful though we were hoping to grab a breakfast on the way in Truckee. But when Hwy 89 showed up before we were to continue west to the main part of Truckee, we just decided to not backtrack and head north on the 89 right off the bat.
With the sun just barely breaching the horizon, I was concerned about deer dashing across the road so I was on the lookout during the drive. I was also limiting my speed so I'd have a few more split seconds to react in time if they did happen to dash out onto the highways.
Eventually, the GPS directed us to leave Hwy 89 for Bear Valley Rd before hanging a quick left onto Jackson Meadow Rd. We then followed this paved road for a few more miles while following Ann Marie Brown's directions in her book
. And in doing so, we were on the lookout for a sign saying something about Lake of the Woods. When we saw the turnoff with a sign indicating Lake of the Woods, we then continued on the main road shortly thereafter and found a pullout that also seemed to be the continuation of a road blocked off by boulders.
We knew we were in the right place so we turned around and parked the car at around 6:20am. And as we did this, we saw a deer slowly making its way across the road. We didn't get a chance to take a photo of it since it was easily startled and ran off the moment we opened the door.
It was a very cold morning as the temperature gauge of the car (measuring outside air temps) indicated that it was around 31 degrees F. So we all donned jackets as we started to make our way down the boulder-blocked road. We actually had to follow Ann Marie's driving directions as we walked since these boulders apparently weren't there when she did this excursion. So after getting to the bottom of the initial descent, we then walked to the left before promptly going into the parking area to our right.
Aside from a huge crater that we walked around, we noticed that there was also a car already parked in this particular lot, and this made us wonder whether we could have driven here. So Mom and Dad left me to explore the Webber Falls vicinity while they want back up the hill to regain the car and to see if they could drive an alternate road to get into this lot, especially since the pullout that we stopped at made our car conspicuously visible to whoever was driving the Jackson Meadow road.
So while I was left to my own devices, I continued to follow some faint "trail" that eventually took me to some fairly steep slope that became even steeper the further down I descended. Right off the bat, I could see the upper tier of Webber Falls, but it was clear that there was a much taller lower tier that was harder to see. So I first checked out the upper tier before I was evaluating where I should walk to in order to get a more all-encompassing view of the falls.
The first instinct was to follow some worn section where it was getting quite slippery as it steeply descended towards a dropoff right down below me. I wasn't comfortable descending this part since the steep slope right down to the dropoff seemed a bit dodgy. So I looked for trails that went a little further downstream and that was where I kind of noticed an outcrop or bluff somewhat protruding into the gorge that promised to yield a better view of the falls.
As I was making my way along a particular trail that skirted the gorge rim, I saw Mom and Dad show up but they opted to scramble towards the top of the upper tier of Webber Falls. In the mean time, I continued following the trail where it eventually got me down to the edge of the rock outcrop and that was where I was able to get a somewhat more satisfying direct view of the entirety of Webber Falls. Unfortunately, there was a tall tree right in the line of sight that conspired to make the view of the falls less than optimal, but for the time being, I decided that this was perhaps the spot I should be viewing the falls.
And so I took photos as well as some panoramic movies showing the deep gorge right below me and behind me as the morning sun was continuing to rise and shine on the opposite side of the gorge (still leaving the falls and the rest of the gorge down below mostly in shadow). After having my fill, I scrambled back up to the "trail" then headed back in the direction of Mom and Dad. While doing that, I once again pursued some faint "trails" going towards the edge of the dropoffs but they all included uncomfortably steep descents towards the dropoffs and I ultimately decided against risking it for that better photo that I saw in Ann Marie's writeup for Webber Falls.
So I eventually rejoined Mom and Dad, where they pointed me to a path that eventually led me right down (still steeply) to the brink of the upper drop of Webber Falls. Dad was suggesting that it might be possible to cross the creek over the brink and view the falls from the other side of the gorge, but the problem was that there were still trees on the other side as well conpsiring to block the view.
No matter how we tried to slice and dice the ways to improve the view of the falls, the more we kept running into issues either because it was too dangerous or because the trees were in the way. So we didn't linger here for long and by 7:25am, we were back at the car. The temperature gauge still read 39 degrees F so indeed, it was quite bitterly cold.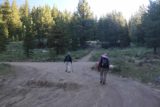 It turned out that we returned to the car, which was parked at the same pullout we originally stopped at. Mom and Dad said they went looking for the alternate road access to this very spot, but they gave up their search when it was apparent that the access road was a lot further than they anticipated. So I guess Ann Marie's directions were once again pretty spot on for this falls despite the alternate access, which seemed to involve a bit more of a trivial drive on unpaved road to get here.
Anyways, the drive back to Hwy 89 was pretty much against the sun. Once again, I had to watch out for deer on this part of the drive, but then once we got onto the Hwy 89, I was still on guard for deer even though we headed in a northwesterly direction (so now at least the sun was behind us).
We'd eventually show up to the town of Quincy, which was a pretty big town for something along this part of the Scenic Byway of Hwy 89. We decided that we should stop here for a breakfast, and we eventually found some place called Patt's Thunder Cafe or something like that, which was right on the main one-way street we were on, but we had to make a few circles as we somehow kept missing it. There was even one moment where I apparently cut off someone on the one-way street in front of the cafe as I was making a left turn from the far right lane forgetting that the lane on the left was going in the same direction as opposed to the opposite direction like on a typical two-way two-lane street. Good thing the speed limit here was 25mph otherwise that could have been disastrous!
Anyways, we parked in what appeared to be the downtown lot and walked to the front of the cafe once we finally identified it. There were a lot of motorcycles parked right in the front so it wasn't like we could just park right in front of the restaurant. In any case, it was 8:45am when we were finally in the pretty busy cafe. I knew that this would take quite a bit of time on what promised to be a pretty busy day but we also recognized that we probably weren't going to be eating until dinner time (skipping a full lunch) given our spate of activities.
We ultimately stuffed ourselves with Dad getting a breakfast burrito, me getting a Mexican omelette along with French Toast, and Mom getting chicken fried steak and potatos. The portions of this place was quite huge, and thus we started to understand why this place was as popular and as highly rated on Yelp as it was – they served up hearty proportions and thus it was perceived to be a good value.
Well, the food itself was nothing special except for the portions. And we'd eventually leave the place fully stuffed but at least we wouldn't be going hungry probably for the majority of this day. We left Quincy at 9:45am, where Dad took over the driving duties while I had a chance to rest.
The drive was for the most part uneventful as we were passing through the familiar parts of the road that Mom and I did three weeks ago but in the opposite direction. So we went past the trailhead for Indian Falls, which I decided to skip, and then we passed by the huge Lake Almador where we weren't sure if this was an artificially caused lake or of it was natural (we suspected the former though we couldn't see the tell-tale dam).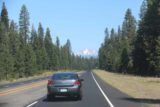 We then got to a part where we could see the impressive Lassen Peak way in the distance as we continued north on Hwy 89. Ultimately, we got into Lassen Volcanic National Park after showing our newly-bought National Parks pass, which saved us $20. We'd eventually make our way up to the Bumpass Hell Trailhead and Parking Lot, but we saw that contrary to what I had read on the NPS website last weekend, apparently, the Bumpass Hell Trail was still closed!
So we decided to drive around a little to see if there was an alternate way to access the park's signature trail since I was incredulous that the park website said it was recently open last weekend, but then it was closed today?!?
The first stop was Emerald Lake, which showed up to at 11:25am. Unlike three weeks ago when this lake was still frozen, it was now a legitimate lake with the namesake emerald green color. We captured this experience this time so we could contrast it with the last time we were here. Anyways, after experiencing this spot, we then drove up to Lake Helen to see where it would have been possible to access the Bumpass Hell Trail without having to cross the police tape at the official trailhead (as apparently they re-closed the trail after being briefly open the prior weekend).
But when we got to Lake Helen at 11:35am, we could see that this lake was still frozen though it did have significant parts showing off a deep sapphire blue color with Lassen Peak and some other peak next to it backing the lake. We could also see that there was a lot of snow blocking off the little parking area for Lake Helen as well as a big snow bank on the opposite side of the road conspiring to prevent us from accessing the Bumpass Hell Trail from this spot as well.
After having our fill of this lake, we ultimately went back to the Bumpass Hell Parking Lot and decided to gear up and cross the police tape. I figured that it couldn't be as bad as the "extremely hazardous" conditions that the park was advertising (or at least I thought it was perhaps a little too conservative given how lots of people tend to show up to these kinds of hikes unprepared) and so I was pushing to do the hike.
Of course, when Mom saw the closure sign, she called out to me and wondered if it was wise to do this, which further raised some doubts as to whether my confidence in the park being overconservative was unfounded or not. In any case, I convinced them that we could go on this hike and then be open to turning back when (if) we'd get to parts where it might be too dangerous to proceed. And so we continued on with this doubt in our minds.
Aside from the initial snow patch visible from right behind the police tape, the trail started off quite tame and easy-to-follow as it passed by a higher vantage point of Lake Helen before following swinging around to our right and providing us with different contextual views of Brokeoff Mountain fronted by the parking area.
As we continued along the trail, we crossed more snow patches with some red flags (most of them fallen) indicating where the trails were supposed to continue. Whenever we saw snow patches, we pretty much followed the dirty parts of the snow (knowing that we weren't the only ones who probably did this trail in the recent past) as well as the red flags.
After making a brief stop at an interpretive sign looking back at Brokeoff Mountain, which showed off what the original Mt Tehama would have looked like while also identifying the peaks left behind when this mountain must have blown its top or had a Mt St Helens-like landslide, we continued on the hike where we started to get the whiff of the rotten egg sulphur smell at about 12:40pm.
A few minutes later, we caught our first glimpse of the colorful thermal pools and boiling mud pots of Bumpass Hell down below, and so we promptly followed along the descending trail where we encountered quite a bit more of the snow patches that seemed even more extensive than what was done before. I guess if this was the reason why the trail was closed, we could see why, but we also spotted more of those fallen red flags as well as dirty parts of the snow that we could obvious follow to stay on the trail and not risk suffering the fate of Mr Bumpass (who the place was named after) where he stepped onto thin crust, fell in, and pretty much burned off his leg in the boiling geothermal waters below.
It was a good thing we rocked up in sturdy high-top hiking boots with Gore-tex so the snow didn't really bother us a whole lot other than making us slip and slide a bit. Some parts of the trail looked like it had gotten fresh powder and perhaps that was why they re-closed the trail.
Anyways, by 1:05pm, we finally got down to the boardwalks of Bumpass Hell. And we eagerly went to lookout after lookout experiencing the bright and colorful scene, which turned out to be quite difficult to photograph given the brightness. So while here we saw some interesting tiny thermal cascade as well as a real colorful pool, some really hot boiling section that was said to be the hottest fumarole in the US (which sounded like a pretty lofty claim), and even some kind of "Fools Gold" section where there was another pool that was somewhat colorful looking towards the far end of the mini-Yellowstone here at Bumpass Hell.
We also walked up to the connecting trail that would ultimately lead to Kings Creek, but we decided to just climb up to the part where we could look back at Bumpass Hell without as many trees in the way as the initial approach. We'd eventually have our fill of this spot while enjoying some pork jerkies and oranges as our little picnic lunch, and then we walked back up the way we came quite happy that we got to experience Bumpass Hell without anyone else on the trail!
We eventually made it back to the parking lot at 3:15pm where we noticed a lot more cars parked at the Bumpass Hell Trailhead. There were quite a few people seemingly disappointed at not being able to do this hike after seeing the closure sign. We were going to tell them that we ended up doing it, but we didn't want to get them in trouble (or be liable for it) by divulging that information; instead letting them do their risk assessment on their own. And it turned out that no one did what we were able to do, which we'd imagine must've been real disappointing especially if you've come all the way out here only to not be able to do the park's signature trail.
Five minutes later, we left and continued driving the park road which got us up past the trailhead parking for Lassen Peak (which looked quite busy) before the road descended along a bunch of curves and switchbacks down towards an attractive meadow and then ultimately the trailhead parking for Kings Creek Falls. Unlike Bumpass Hell, this trailhead was very busy, but with our late start at around 3:35pm, we managed to claim a spot quite close to the trailhead where someone had just left.
As we hiked the trail, the first thing we noticed was that Kings Creek was flowing downstream of us as the trail followed it more or less. I had read from Ann Marie Brown's book
that this place was like the Mist Trail in Yosemite. So I was expecting to go up instead of down this trail.
Anyways, we meandered about and around an attractive meadow area before the trail then went past some trail junction for a lake before continuing on to another trail junction later on where there was the advertised closure. Indeed, the cascades trail couldn't be done and it was the shorter trail by a reported 0.3 miles in each direction (or 0.6 miles round trip).
Fortunately, they let us hike on a trail leading to bluffs overlooking the scenic cascades part of Kings Creek as well as the trail down below. And when we showed up to the view at about 4:05pm, we could see whole teams of hard-hat-wearing trail workers making their way up the forbidden part of the trail, where they must've called it a day at this time. They were wielding shovels and picks, which made us realize that they couldn't be using explosives if they were doing "demolition" work that was the main motivation for closing off this trail, we reckoned.
After having our fill of the Upper Cascades viewing area, we then rejoined the main horse trail, which descended with views of attractive mountains way in the distance along with parts of Lake Almador as well. We'd eventually descend down to the lower trail junction with the cascades trail, and with all the descending, we knew that it was going to be a long climb back up as indeed this was an upside-down hike.
I briefly walked up the cascades trail just up to the orange closure part, where I could still see a couple of the attractive cascades along the way. I just couldn't go up into the rocky part and I don't think many others did that either. Too bad we were looking against the sun at this time of day as clearly Kings Creek Falls and its cascades was facing east so it was really more of a morning hike than the late afternoon hike that we did.
Eventually at 4:45pm, we finally made it down to the Kings Creek Falls overlook, which had a newly renovated lookout. Unfortunately, the view left a lot to be desired as it was a top down view plus it was against the sun. There were people down at the base of the falls, which made it apparent that it was indeed possible to get down there, but I got the sense that the park service didn't want people doing that as there was no sanctioned trails allowing this as it was more trail-of-use.
Still, I got the sense that the park service was being conservative and this overlook being kind of subpar reinforced that notion. So I rebelled and did what quite a few other folks did and made the scramble going down to the base of the falls. During that descent, the path was quite steep towards the bottom as the flakes of rocks were slippery and warranted a lot of caution. Still, it was difficult to photo the falls (as satisfying as it was) at the bottom thanks to the late afternoon sun pretty much looking right against me.
At 5:05pm, we had our fill of the falls, which was a bit on the disappointingly small side (probably around 30-40ft tall but would score a 2 at most, which felt generous). As we hiked back up towards the trail junction with the cascades section, we weighed whether we should gamble doing the shorter trail up the closed cascades part or go back up the Horse Trail.
When we got back to the junction at 5:20pm, we ultimately decided not to make the gamble, especially since this could've resulted in even more hiking in going backwards if our fears were to be realized and the trail was not safely passable from the bottom up at the rocky sections.
Anyways, we climbed back up the Horse Trail and eventually made it back to the trailhead at 6:10pm. There were lots of mosquitos along the way as it was indeed late afternoon and the hungry female mozzies must've been out en mass. So we re-applied DEET just to make sure we wouldn't contract whatever they were carrying like West Nile or other possible diseases.
We continued driving the road around the rest of Lassen Volcanic National Park, where we made a brief stop at some other car park where a couple of deer were busy licking the pavement. We suspected someone must have spilled coke or something and the deer sought out the high energy contents of human foodstuffs. That was too bad, but it didn't stop us from taking deer photos from our car.
At 6:40pm, we made a stop at Manzanita Lake, where we figured out that we could stop the car at a pullout near the park entrance, then Mom and I walked around the part of the lake where we could look over the reflective parts of the lake back towards Lassen Peak. It was probably our most compelling spot to take photos of Lassen Peak over Manzanita Lake, and we braved the mozzies for it.
At 7:05pm, Mom and I returned to the car ready to call it a day of sightseeing. Dad took over the driving duties at this point, and we headed west (against the sun) towards Redding, where we knew there was the Thai/Lao place called Champa Garden. We eventually got there at 8pm and ordered lots of food as Mom got a Champa Sampler while we got a Pad Thai, Tom Yum soup, and a green curry.
It wasn't until 8:45pm that we were done with dinner (where Julie and Tahia Face-Timed us during the meal), and then we made the drive further south to Red Bluff to spend the night. We'd finally check in at 9:40pm where we could finally get settled and get cleaned up before sleeping. Tomorrow promised to be yet another long day and we probably weren't going to get a whole lot of sleep…
Day 4 (July 13, 2016 – Medford, Oregon): "Longer Than Hoped"
It was 4:30am when we awoke. We wanted to get the early start on this day because we knew we were in for a long drive to a pretty out-of-the-way waterfall and then capping off the day with a long drive across the border into Oregon, where we'd be spending the last three nights of this trip. I know that was a part of the trip that Mom definitely looked forward to since she hadn't been to the state.
It 5:40am when I was loading the car. That was when I learned that the lady working the third shift reception was already setting up breakfast nearly an hour early from the scheduled 6:30am start. That was good news for us since we didn't want to wait all the way until that time just for brekkie. And so after I got the car loaded up and ready to go, I indulged in the included brekkie that had the usual Holiday Inn Express fare of sausages, scrambled eggs, and a hot cinnamon roll (that I knew would kill my paleo diet that Julie had me go on for the past couple of months).
So given the earlier than expected breakfast, we were checked out and left Red Bluff at 6:10am. It was forecast to be a hot day today and so the early start was supposed to bode well for us in terms of avoiding as much of the heat wave as possible, especially when out and about hiking.
As we drove south along the I-5 and we were approaching Willow, I was having regrets about not doing this hike to Stony Creek Falls on a previous trip while we were staying in Oroville. Admittedly, it might have been a bit tight to do both Feather Falls and Stony Creek Falls on the same day, but that would have saved us time on this trip. Not only that, but had I known better, we could have stayed at the Holiday Inn Express in Willows instead of Red Bluff to at least save this morning an additional hour of driving.
Well, it was what it was so after reaching Willows, we then took the 162 west towards Elk Creek, which seemed to be a rather sleepy town catering to the ranches and farms in this part of the region. Shortly after Elk Creek, we then took the paved Road 308, which was a little bumpy in that potholes were filled in, but it was still smooth going.
Eventually, the road became unpaved, and that was when we really had to pay attention to Ann Marie's directions. At first we were tempted to stay on the 308 Road, but we then realized that perhaps we should follow Ann Marie's directions better and take the forest road NF20N01, which was a surprisingly graded and smooth dirt road.
We took this road for around 5 miles as it climbed and provided us partial views way down towards the brown pastures of the Central Valley. We were also surprisingly getting good reception of some sports talk radio from the Bay Area (KNBR). So that kept things a bit entertaining for the long drive in the wilderness.
This part of the drive already started to feel long as we weren't that accustomed to driving this extensively on dirt roads, and so it wasn't surprising either to see deer dashing across the road as I'm sure wildlife sightings were more the norm rather than the exception in a place this seemingly seldomly visited. We even saw some fairly big jack rabbits with long ears, which seemed much bigger than the smaller rabbits we had been used to seeing in the suburbs or in the more visited forests.
Next, we encountered a junction where we hung a left at a fork (rebelling against our GPS), which was signposted for Saddle Ridge or something like that. This road then connected with the M3 Road at a very large intersection that kind of reminded me of some of the arena-like intersections you'd more typically see in a third world country. Anyways, we hung a left to go onto the M3 road, then we followed this road for the next 16 miles or so.
Luckily for us, this road remained in good shape until we went past some bulldozer (which we suspected was the main reason why the graded roads were surprisingly smooth for a wilderness road). Beyond the bulldozer, there were some rocks on the road as well as some minor water gullies, but we had seen way worse roads than this.
Eventually at 8:35am, we finally arrived at the West Crockett Trailhead. There was a toilet facility here as well as some chopped wood. After putting on our boots and getting our supplies at the ready, we found the trailhead register, signed in, and then promptly started our anticipated five-mile hike.
At first, the trail was pretty flat as it meandered through a fairly cool forest that felt like it was starting to heat up. When Mom went back to the car to get the guide book just in case, apparently she tripped and fell and got a little puncture wound on her wrist so that resulted in a little bit of a delay we tended to that wound (and learned that the bandages that she brought were a bit on the aged side and they wouldn't hold together).
Anyways, we used Salonpas for her wound and some other adhesives for the time being. Next, we resumed the hike, which then took us through a burn area before the trail then gently descended. We knew we'd have to get back this elevation on the way out so that was something we mentally noted that we'd have to ration water and energy for.
But it turned out that that wasn't anything yet. Soon after a small crossing of a little creek, the trail then descended some more as it ultimately dropped down to cross the Middle Fork of Stony Creek. This crossing was a little bit long in that we had to get our boots a little wet, but we managed to get through with some rock hopping (my parents had hiking sticks to help stay dry and balanced).
Then, beyond the creek crossing, the trail steeply ascended over several switchbacks. It was as if all that elevation gain we had just lost to get down to the creek was now regained in a shorter distance. So this part of the hike was slow going.
Once we got up to the apex of this climb, we encountered a signed junction. Ann Marie Brown's book
said this junction was unsigned, but apparently, someone must have put a sign there later (perhaps in response to her writeup?) and so we followed the branch that said something about Crooked Tree Trail to the right. We didn't go left, which was for Milk Ranch.
Then, we followed this trail for a bit as we were hoping to find the described hairpin right turn leading down to the desired waterfall. However, we would eventually get to a point on the trail where it was a bit overgrown and apparently we had lost the trail. That was kind of the red flag that got me to realize that perhaps we had missed the part of the trail we needed to take.
Dad was a bit stubborn in that he wanted to scramble all the way to the creek and explore there for the falls, but the shape of the traces on my handheld GPS suggested that we had overshot the part of the trail we should have taken. And so after a little bit of talking Dad out of scrambling, we eventually backtracked on the trail.
Sure enough, I first encountered the signposted junction leading down to the falls, and it got me wondering how all three of us missed this sign. Anyways, we would eventually take this trail which dropped back down to the creek level, then we had to get across some fairly dicey parts of the hike that had some severe slope and was a bit on the slippery side.
Eventually at about 11:30am, we finally arrived at Stony Creek Falls, which was a little on the smaller than side than we had hoped for. Still, the seclusion here allowed us to savor this minor victory as we had ourselves a picnic lunch while basking in the scenery. There was an emerald plunge pool at the base of the falls that looked real inviting for a swim, but we didn't have a change of clothes for that.
So after about a half-hour of chillaxing at the 50ft falls or so, we then hiked back up to the main trail. Then, we descended back down to the creek, where we crossed it once again (though I somehow managed to miss a step and get my right foot in a bit of water). Then, we made the long uphill climb back up towards the burn area before eventually returning to the West Crockett Trailhead at 1:30pm.
I guess without stopping, the hike didn't take as long on the way out, but I'd bet that mistaken detour we took probably had cost us at least a half-hour or so.
Now with this waterfall bagged, it was now time to drive back along the same dirt roads we took to get here, then head back up the I-5 towards Mt Shasta for an anticipated lunch. We left at 1:40pm, and it wouldn't be until about 4:30pm when we filled up for some cheap gas in Redding. Along the way, there was a fire on the outskirts of town though it wasn't a forest fire, but it seemed like more of an industrial fire that set some trees alight.
Anyways, it was over 100 degrees F in Redding. Next, Dad took over the driving and we went through the familiar curvaceous part of the I-5 taking us past Shasta Lake, then Castle Crags, and ultimately with views of Mt Shasta before we would finally arrive in the town of Mt Shasta at 5:40pm, where we ate at the familiar Bistro 107.
It wasn't that busy when we showed up but the service was extraordinarily slow because Mom wanted hot wings for an appetizer. And like last time, the appetizers were what took forever (coconut shrimp took forever last time). And so we ultimately found ourselves sitting there for over an hour before we even started to eat our mains.
Still, my Billy's Best burger was reliable, but Mom's salmon sandwich special was very good. Dad got some fish and chips. Anyways, when all was said and done, we were finally back in the car at 7pm, and now it was time to continue the drive north on the I-5 towards Medford.
During the drive north, Mom and I were busy taking road shots of Mt Shasta as it would show different faces of itself as we passed Weed, then got more views of both Shasta and Shastina the further north we went. The drive at first was uneventful until we found ourselves stuck in a traffic jam at around 8:15pm.
The traffic was pretty much at a standstill with some brief moments of inching along. Big rigs were occupying both lanes and the progress was excruciatingly slow. Well, it turned out that it wouldn't be until about 9:10pm when we finally were driving single-file and were moving along slowly. Five minutes later, we saw the root cause of the problem, which was a trailer that managed to catch on fire and was pretty much a charred mess.
Dad suspected that the trailer might have been a runaway one given that we were stuck for nearly an hour on a downhill stretch of the I-5. Anyways, this drive took a lot longer than expected, and it wouldn't be until about 9:55pm when we finally arrived at the Candlewood Suites, where we'd be spending the next three nights.
It turned out that Medford was indeed a pretty big city though the Candlewood Suites was kind of in the boonies of the city as it was closer to the airport. In any case, this was to serve as our base for Crater Lake and our other Oregon waterfalling excursions, and so we'd spend the remainder of the evening getting set up, cleaned up, and finally rested up for another early start tomorrow…
Day 5 (July 14, 2016 – Medford, Oregon): "Success After Failure"
It was 4:15am when we awoke to my alarm. Thinking that today was going to be a pretty easy day, I had my alarm set to 5am to sleep in a little bit but I guess I had forgotten to turn off the earlier alarms on my watch. So needless to say, with last night's late check-in, we all awoke pretty sleepy on this morning.
It wasn't until about 6:20am when we loaded up the car despite the early wake-up. I guess it took some time before all of us came around to finally getting started on this day. Anyways, five minutes later, without needing to pack up our stuff into the car bringing only day use gear and supplies today, we drove off.
As we were finding our way towards the Hwy 62 leading to Crater Lake, we stopped by a Shell station which only charged us $2.59 per gallon (easily cheaper than anything we'd have to pay for in California). Then, we went across the street to the Lil' Pantry for a trio of breakfast burritos. And then at 6:40am, we were finally off for good as we headed north towards Toketee Falls.
The original plan was to drive to Toketee Falls and get this off of my bucket list, but when we realized how long of a drive it was to even get all the way out here, Mom suggested that we not only visit Toketee Falls and Watson Falls while driving along the Umpqua River, but we should also visit Salt Creek Falls and Diamond Creek Falls today instead of punting them for tomorrow so we wouldn't have to drive all the way back there. That would mean we were making tomorrow an all Crater Lake day, which actually might work out better for us.
Anyways, as we went past the turnoff for Hwy 62 going to Crater Lake, we kept north on the Hwy 230. Along the way, I saw signs for things like National Creek Falls as well as Natural Bridge, and they piqued my curiosity. Earlier on, we had passed by Mill Creek Falls near Prospect, which was something I kept in the back pocket for Saturday if we would run out of time today and tomorrow, but that would mean we'd show up at home very late Saturday night.
Regardless, we did make a stop for Mt Thielsen at 8:05am, which was a very jagged shaped mountain, but it was against the sun. We saw there was also a vista point for Mt Mazama, but there were too many trees in the way so we opted to not stop for that one. However, at 8:15am, we did stop for the Diamond Lake Viewpoint, which turned out to be a pretty nice stop – not only for restrooms, but it also had a nice view over part of Diamond Lake with Mt Bailey backing it. Looking further to the east, we got another view of Mt Thielsen's jagged shape.
At 8:25am, we went back into the car, and continued driving west as we were losing elevation before finally reaching the familiar turnoff for Toketee Falls. Recalling that the trailhead was closed off seven years ago, I was happy to see it wide open for us to drive past the bridge then hanging a left where we could park the car near some giant water pipes where some pinhole leaks were spraying out like sprinklers or something.
It was 8:50am when we reached the parking lot. And thinking that this walk was going to be pretty short and trivial, we just put on hiking boots hastily and then walked through the forest before the trail meandered besides the North Umpqua River. Mom noticed one section that had a couple of whirlpool-induced heart-shaped openings of the gorge walls.
The trail kind of undulated up and down steps before going down the last series of steps as it curled around until it eventually stopped atop some rocky bluff that was somewhat concealed by the density of the forest. From the viewing platform here, we got the familiar angled views of Toketee Falls that we had always seen in calendars. But in person, it pretty much looked like what we had seen in the calendars.
Mom likened this falls to some kind of jewel. I thought this falls was special because of the pronounced basalt columns as well as the seemingly pristine scene below as there was a dark plunge pool into which the falls plunged. So we spent quite a bit of time taking photos here, but before we knew it, there were other people who showed up and crowded into the viewing platform.
One of the groups that rocked up to this viewing deck was a trio of younger people (one of them wore the familiar Oregon Ducks logo with that golden O). Two of those young folks actually hopped the railings and started to scramble down to I guess access the base of Toketee Falls. The terrain was quite steep and very dangerous, but I guess when you're that young, you tend to think you're indestructible. I wonder what their parents would think if they saw this…
Regardless, I struggled in my mind on how to rate this falls. Should it be a 3 and be put on equal footing with Mossbrae Falls? Or should it be a 3.5 putting it on equal footing with say Middle McCloud Falls. Despite this minutia, there was no denying that Toketee Falls definitely had an impact on our impressions and our overall experience.
We were in such a good mood due to this experience that we decided we mind as well go to the nearby Watson Falls so Mom and Dad could experience this place for their first time. This particular one was like a repeat to me, but I guess it never hurt to see what new ways I could experience this falls.
So after leaving Toketee Falls at 10am (seeing quite a few more people coming to the falls as we were leaving), we'd arrive at the parking lot for Watson Falls at 10:05am. There were already a handful of cars here, but we managed to find parking space and then promptly started the hike to get a closer look for this falls. I pointed out to Mom and Dad that the falls could be seen high up above the parking lot and that kind of upped the anticipation factor on their part to see what this falls had to offer.
The hike up was for the most part uneventful though Mom pointed out to me the series of mossy rocks that managed to find their way down to the flanks of the trail. We knew that these rocks and boulders flaked off the vertical cliffs surrounding the falls, but Mom did observe that these mossy rocks could have been stand-ins for the real trolls and goblins like in Disney's Frozen. I told Mom that we had seen this kind of thing before where Julie and I went to Iceland and noticed mossy rocks as well that could also double as trolls. Maybe it's no coincidence given the northern lattitudes and wetter climates.
Like before, we managed to get teasing glimpses of Watson Falls as we hiked up as well as from the footbridge over its creek. However, the last couple of switchbacks were a bit on the steep and slow side despite it being established trail, but judging how the sun might actually adversely impact the viewing experience with this falls, I hastily made my move first to capture the falls before the sun would breach the cliff and otherwise make this place quite difficult to photograph and/or enjoy as a result.
So after getting our fill of Watson Falls at 11:05am, it was now time to drive further to the east then to the north to re-visit (at least as far as I was concerned) Salt Creek Falls and Diamond Creek Falls. Diamond Creek Falls (like Toketee Falls) would be new for me since seven years ago, this trail was also closed due to storm damage from earlier in the year.
The drive was mostly uneventful though it was remarkable how straight shot the road was as we headed east (more like northeast) from Crater Lake, and then we went north before swinging to the northwest as we pursued Salt Creek Falls as well as Diamond Creek Falls.
It turned out to be quite the drive just to even go from Watson Falls to Salt Creek Falls. But eventually by 12:40pm, we finally rocked up to the Salt Creek Falls parking lot, but with our National Forest Pass, it should be good for this spot as well.
First up, we walked over to a somewhat unsatisfactory top down view of Salt Creek Falls. It was quite the busy place when we showed up, but Mom and I also noticed that the high noon sun was actually behind the waterfall meaning we were for the most part looking against the sun's intense rays. So we made an executive decision to just hike to Diamond Creek Falls in a loop before coming back to Salt Creek Falls where hopefully the lighting situation might improve (though that wasn't a sure thing either).
At 1:10pm, we started the walk to Diamond Creek Falls. This time, I noticed that there were no remnants of a trail closure here unlike seven years ago. So now we crossed the bridge traversing Salt Creek, and then on the other side, we found ourselves in a forested area where we were greeted by some pretty persistent and seemingly aggressive mosquitos. Despite the DEET being applied, they seemed to still go after us, and I started to wonder if my Jungle Juice had lost its potency due to the age of the chemical or if these particular mozzies just happened to be more persistent and aggressive and it wouldn't have mattered regardless of the DEET being applied.
When we reached the next trail junction, we ultimatley decided to do this looping trail in a counter clockwise direction thinking that it would allow us to be face-to-face with both of the named waterfalls on the North Umpqua River.
Initially, the trail passed by some interesting lava terrain providing views of the highway as well as the gorge below. Then, it skirted by what appeared to be a lake. The trail undulated with some climbing stretches, but it was really the constant presence of hungry mosquitos looking to get pot shots on us that weighed on our minds throughout this hike.
At 1:40pm, we reached a view point that peered across a gorge towards a very obstructed and hidden waterfall. I could hear the sounds coming from that falls, but it was really hard to see let alone photograph. I guess this must be the so-called "Lower Diamond Creek Falls" that people said was difficult to view.
This was one of those situations where I wondered why even bother if you can't see a waterfall like this one. And it was a shame because I could clearly see that it was indeed an impressively tall falls that was worthy of a better view than this.
Next, we continued the hike where the trail skirted the rim of this gorge providing other obstructed semi-views of this obscured waterfall, but it was clear by 1:50pm when the trail was veering away from this falls that there would be no way to better experience this. And so onwards we went on the looping trail.
A few minutes later, we'd encounter another sign at a junction saying that the Lower Diamond Creek Falls was beyond. Could this be going to that waterfall that was obstructed?
I somehow doubted that since we had now walked quite a distance away from that obstructed falls. So we followed this spur path which steeply descended on a fallen log with steps carved into it before skirting a narrow and slippery wet section that ultimately dropped us down to the level of Diamond Creek where there was a log crossing. Beyond that crossing, we followed the trail, which eventually led us right to the base of the impressive Diamond Creek Falls at 2:10pm.
I don't know why the sign called this the "Lower Diamond Creek Falls" if there already seemed to be a lower one further downstream, but regardless, we thoroughly enjoyed checking out this falls and it seemed like the mozzies weren't as bothersome at this falls given that it was cool enough to create a breeze and keep them at bay.
Meanwhile, it looked like the early afternoon sun was starting to create shadows on the right hand side of the wide fan-shaped falls, which kind of conspired to make our photos a bit washed out or too dark given these extremes in contrast. Still, we worked so hard to get down here so we mind as well enjoy it.
Mom and I were busy evaluating this falls while documenting it. I had wavered on making this falls a 2.5 or a 3 and it was kind of reminiscent of Rocky Brook Falls on the Olympic Peninsula but wider. Since the situation with the shadows wasn't going to improve, we had our fill of this falls and promptly headed back up to the main loop.
At 2:40pm, we made it to another lookout of the Diamond Creek Falls. The view from here was something more familiar to me as I had seen photos from this angle in some books and in other literature. I wondered if the trail to the base of the falls was something recent or not. Anyways, it was a nice comprehensive view from here and the shadows afflicting the right hand side of the falls didn't seem to be as bad in this position.
Five minutes later, we reached another trail junction. Upon consulting the Plumb book, we saw that the spur path to the right was following Falls Creek, where there were three more waterfalls, but the nearest one was at least 0.8 miles one-way. We saw that we wouldn't have the time to do these plus they didn't seem to rate well so we continued to the left on the loop path, which would ultimately take us back to the original footbridge upstream from Salt Creek Falls in another mile.
At 3:15pm, we made it back to the top of Salt Creek Falls. Unfortunately, our fears were founded when we saw that the afternoon sun didn't exactly improve the lighting conditions on Salt Creek Falls. In fact, the falls was still in shadow and the only lit up part was the basalt cliffs adjacent to the falls right below us.
Mom and I decided to spend the rest of our time hiking down towards the bottom of Salt Creek Falls. We steeply descended the familiar trail leading down to a rock slide area that essentially killed the last 100 yards of the trail to the base. So we were content with the view from this position not really seeing a need to scramble all the way down to the bottom. Plus, a handful of other folks felt the same way and stayed up here as well even though I did recall earlier on that one couple did make it to the bottom.
So we took our time documenting the falls from this position before heading back up. By 3:55pm, we finally returned to the parked car where Dad was chilling out the whole time Mom and I were re-visiting Salt Creek Falls.
As we drove off shortly thereafter, we made a couple of stops to view Diamond Peak as well as Odell Lake. But besides that, we made on gas stop in Chemult before Dad took over the driving duties and headed all the way back to Medford. I had originally intended to check out the Natural Bridge Campground just to see if that place was worth checking out, but since I dozed off while Dad was driving, I figured that he wanted to get back to town for dinner, and that was pretty much what we did.
We settled on this spot called Elemental Tapas Bar and Restaurant in downtown Medford at 6:55pm. This downtown area seemed kind of dead, but the tapas bar was fairly busy. We were seated right away and we wound up ordering things like a Moroccan Lamb, Ceviche, Papa de Toro, Duck Salad, and their House Paella. They didn't have the Pata Brava (which featured Iberico Ham) nor did they have Sangria. So our experience was a bit of a mixed bag though the food was quite good.
Still, they were pretty short staffed so we skipped on the flan and ice cream dessert, and we'd eventually leave the restaurant at 8:50pm, and then we'd be back at the Candlewood Suites at 9:05pm. It was yet another late end to an otherwise successful day, and Mom certainly felt like today was a big success given that yesterday felt more like an anticlimax.
I told her that sometimes you gotta taste the lows or the failures before you can have success. For that's what makes the highs so much sweeter, and this was certainly the case today. Hopefully, we can keep the momentum going tomorrow as we'll focus more exclusively on Crater Lake while hopefully fitting in the stuff we missed like Natural Bridge as well as Mill Creek Falls and Barr Creek Falls among others…
Day 6 (July 15, 2016 – Medford, Oregon): "Sapphire Blue"
It was 5am when we awoke. This time, I had set the alarm for this time while turning off any of the earlier alarms. The intent was that today was supposed to be a pretty easy day as we were going to concentrate our morning on Crater Lake, and then spend most of the afternoon wrapping up our waterfalling efforts on this trip.
It took us some time to leave the Candlewood Suites for the day as I had to contend with a clogged toilet from last night. But after tending to this issue (I didn't realize how DIY the Candlewood Suites was), we finally loaded up the car with day use stuff and supplies, and we were off at 5:55am.
During the drive out of Medford along the now-familiar Hwy 62, we ended up getting breakfast on the go at this place called Lil' Pantry again. I think Mom preferred Mickie D's brekkie but the restaurant was on the other side of the road. We even thought we could get something from Jack in the Box to go, but I somehow managed to miss the entrance for that fast food joint.
The drive further north along Hwy 62 went pretty uneventfully though I was always on the lookout for deer on the road. The road made me nervous because it was pretty much flanked by forest where deer could suddenly dash out onto the road out of nowhere without ever seeing it coming until it's too late.
During the drive up, I was also paying attention to where the Natural Bridge turnoff and viewpoint area was, which hapened to be just south of the Hwy 62 turnoff for Crater Lake. By the time we reached the eastbound lane for getting to Crater Lake, there was a pretty lengthy delay due to road construction that was going on. So we got into the jam at 7:15am and it wouldn't be until another 5-10 minutes later that we would finally be moving at full speed again.
Not long thereafter, we managed to make a stop at the familiar Vidae Falls at 7:50am. Even though the morning sun was shining on parts of the waterfall in the right way, there were also morning shadows from the neighboring trees cast upon the falls.
Even though this waterfall was roadside, we didn't linger for long (only spending 10 minutes here) because there were a lot of mosquitos at the falls which made it a bit difficult to try to enjoy the place by taking photos and movies in the different lighting than before when Julie and I were last here some seven years ago in the afternoon.
Next, we continued driving towards the East Rim of Crater Lake. Somehow we missed the trailhead for the view of Phantom Ship (which I thought might have been a good place to view it) and we wound up at one of the more open overlooks that afforded us a look back towards the Phantom Ship from the roadside. With the morning light (we were there at 8:10am) the sun was behind us and it seemed like a pretty good idea to go with this strategy of enjoying Crater Lake's east side in the morning.
For the next three hours, we'd get into this pattern of stopping of each of the roadside overlooks which afforded us different perspectives of the massive Crater Lake. Yet it seemed like something was missing with the views of the lake from this side, and I guess it was that Wizard Island was more towards the western side of the lake.
That said, we did notice other things like Crater Lake fronting peaks such as Mt Thielsen as well as Mt Bailey, and we were also near Mt Scott, which also seemed to be its own little volcanic peak. We also encountered strange formations like Pumice Castle while also noticing a snowy peak way in the distance that we speculated might be Mt Shasta and Shastina.
By about 10:05am, we stopped at a pretty popular overlook which was near the junction of the Hwy 138 (which contained the North Entrance Road) and the Rim Drive that we were on. When we went up the sandy slope up to the wooden railings, it became apparent why it was so popular – we were essentially looking down at Wizard Island which was now close as we were pretty much on the northwestern side of Crater Lake.
Even though we were kind of looking against the sun if we looked to the east, the sun's position actually wasn't that bad and the sapphire blue color of the deep lake seemed to come out more, especially with polarizers on.
After having our fill of this overlook, we next went to a section where there was some road work going on. Shortly after this somewhat lengthy delay, we saw another popular overlook at 10:25am, where this time we were essentially looking straight down at Wizard Island with the rest of Crater Lake beyond it. This overlook also happened to be the start of a trail that led up to some kind of observation tower way at the top of an adjacent conical mountain, but that trail was closed due to snow (not that we were going to do it anyways).
With each of the overlooks being so attractive here (and popular for good reason), it made me wonder whether we spent too much time around the eastern overlooks because at this point, we were kind of Crater Lake fatigued and so the best overlooks had kind of lost their luster at this point. But I guess at least Julie and I had done all of these views on our first trip here some seven years ago so even though Mom had run out of space on her iPhone while encouraging me to keep skipping past some of the overlooks on this side (in an effort to beat the rush and get to Crater Lake Lodge as soon as possible), I at least already had an idea of what these overlooks were about and wouldn't have regrets about not stopping for some of them.
Anywyays, we were done with the lookout with the trail to the observation tower at 10:50am, which was perfect timing as the traffic jam building up due to the road construction backing up the traffic going the other way and kind of blocked us from being able to move out and further to the south part of Crater Lake. And when we got back into the car, that jam was loosening up as they finally let people through that construction area which opened the door for us to continue on.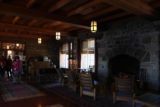 At 11am, we finally arrived at the Rim Village. At first, we had stopped at some cafe and gift shop, which was where I'd imagine Julie and I stopped at the last time we were here. But Mom had Yelped that there was better food at the Crater Lake Lodge, and when it became apparent that this little spot didn't have much in the way of good food, we got back in the car and parked closer to the Visitor Center and hence the Crater Lake Lodge.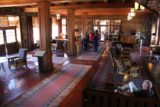 While Mom and Dad made a beeline for the lodge to try to get lunch early before the rush, I walked to the Visitor Center (trying to dodge big bee swarms in the process) to pick up an official park map and then make the scenic walk from the Visitor Center to the lodge with more views of the sapphire blue Crater Lake. Apparently, the blues were so pronounced here because the lake lacked runoff and sediment combined with the depth of the lake making other colors absorbed out.
When I got to the Crater Lake Lodge closer to 11:30am, we happened to line up just as they were about to open in less than 5 minutes, which was perfect timing. So we were promptly seated shortly after they were open for business at 11:30am sharp, and we wound up pretty soon ordering things like the Lodge Burger, Rainbow Trout, and Fish and Chips.
We didn't get a window seat, but it really didn't matter a whole lot here. So we left the restaurant pretty satisfied, and then we slowly walked our way back towards the Visitor Center. Mom took the lead enjoying the views, and we ultimately spent some time at a pseudo-outdoor-but-sheltered observation area where there was a relief model of Crater Lake as well as a nice panoramic view from the south side of Crater Lake.
Inside an adjacent room, a video was playing simulating the specific chain of events that gave rise to Crater Lake, which I kept reminding Mom and Dad that it was similar to Changbaishan on the North Korean-Chinese border. The difference was that we had to be content with limited views since we couldn't get into the North Korea side of that lake, plus we happened to be there when the lake was still frozen so it didn't quite have the impact that Crater Lake had.
At 12:55pm, we made it back to the car. By this time, the Crater Lake Rim Village was crazy busy and it was a good thing that we had gotten our early start. Now, we started to drive out though we were curious about Plaikni Falls and Duwee Falls since they were mentioned in the park map.
After determining that Plaikni Falls was going to be too much trouble for us to do (said to be 2 miles round trip plus we had to go all the way back to the Phantom Ship Overlook area), we decided to do Duwee Falls since it was on the way.
So at 1:10pm, we decided to stop at the trailhead for Godfrey Glen. There were a handful of cars here so that kind of gave us hope that perhaps we happened to be at the right place for the falls. After all, we saw mention of Duwee Falls in the literature during our pre-trip research, but we noticed a lack of follow up literature describing any trail leading us to the closest and most satisfying view of it. So we took a punt and just went for it under the guise of post-lunch exercise.
And so we took the loop trail in the clockwise direction (to our left), which promptly skirted Munson Creek. It didn't take long before we started to see interesting wrinkled ash cliffs where the breeze kind of scattered the ash this way and that. Anyways, we could hear the creek making noise and we suspected that the waterfall must be close by, but at first, we couldn't spot the falls.
It wasn't until it was apparent that the trail was veering away from the creek and the falls that we turned back and backtracked. Along the way, we noticed some cars parked alongside a road way downstream, and we decided that we had to be at that pullout in order to view the falls because it was apparent that this trail really wasn't it.
Just as we were going to give up on it, I finally managed to spot just a glimpse of the top of the falls though it was too dangerous to even try to scramble to improve the view. So we were content with whatever unsatisfying partial views we could get before returning to the car knowing that there was a more distant roadside view to try later.
So at 1:55pm, we were back at the car. I guess that explained why that the signage for the Godfrey Glen Trail lacked any mention of Duwee Falls even though the maps made it seem like it was the closest trail to the falls. These are the kinds of things you can only find out when out in the field.
At 2:05pm, we eventually made it to the roadside view of Duwee Falls. It was actually along Hwy 62 bound for Klamath Falls as opposed to Medford, which was just outside the park entrance. They didn't stop us on the way out like they did at Tioga Pass in Yosemite, though we saw that going the other way, there was a huge line waiting to get into the park. Again, it was a good thing we beat the rush.
Anyways, at this overlook, we could definitely see the front of Duwee Falls and it was clear that this waterfall was quite tall even though some trees were in the way. It was actually a bit more satisfying than I anticipated though it would have been nice to get closer to this falls if it was possible. Regardless, the pyroclastic flow cliffs were attractive, and there even appeared to be some kind of meadow way down below in the gorge.
After having our fill of this spot, we then drove off some five minutes later. Next, as we were driving the Hwy 62 towards Medford, we had a bit of another lengthy stop for road work again. This time, the line was longer and there was a slow bus leading the caravan of cars so we were actually going quite slow before making it back to the junction that would ultimately lead us south towards Medford.
At 2:50pm, after turning off for the signposted Natural Bridge Viewpoint, we'd ultimately rock up to the car park there, which was quite big but also quite empty. We promptly got out of the car and did the paved walk towards the Rogue River where there paved path went over a footbridge, then alongside the Rogue River offering up different viewpoints of the river re-emerging and disappearing into lava tubes (and hence the Natural Bridge name).
This really was the kind of place to be experienced as opposed to taking photos as the photos didn't do this place justice. But regardless, we lingered around for a bit noticing things like a blowhole as well as the hidden river as a large chunk of what appeared to be the bedrock of the Rogue River was exposed before it was filled in with rushing water further downstream.
This strange phenomenon was hard to capture in photos, but I think the videos might have done a better job of capturing and communicating this to whoever we'd show it off to.
At 3:30pm, we got back to the car. The whole time, I was debating whether to treat this place like a waterfall (so it would get its own writeup) and we ultimately decided that it should though it would probably be rated a 1.
Next, as it was getting late in the afternoon, we could finally drive towards the Mill Creek Falls Scenic Area. This was something that we thought we might run out of time and do first thing Saturday morning, but it was nice that we could finally do this set of waterfalls before ending the trip for our last night in Medford.
So we followed the brown signs (not going into the town of Prospect as the GPS
tried to get us to do), which had us turn left a little further down the road before making a couple of left turns, then backtracking towards the parking area for the Mill Creek Falls trailhead. We got there at 3:50pm.
There was a huge sign showing a map of the area, and from this map, it was clear that we should visit Mill Creek Falls and Barrs Creek Falls on the same excursion, which we were about to do. However, it also appeared that we should check out Pearsony Falls since it looked like it was very close to the parking lot over there. So that was the plan.
The hike down towards Mill Creek Falls was pretty straightforward as we followed a wide gently descending trail amongst some tall trees. At each junction, there were these pi-shaped log arrangements with writings on them telling us which way the branching trails would go. There'd be one near the Mill Creek Falls and Barrs Creek Falls junction where the same pi-formation told us that Mill Creek Falls was 173 ft tall and Barrs Creek Falls was some 232ft (???) tall. We got to Mill Creek Falls at 4:10pm.
There were lots of false trails going this way and that to try to get a view of Mill Creek Falls through the obstructing foliage, but the sanctioned view was easily the best one and those other trails weren't necessary. Anyways, this falls was gushing and it had a classically tall drop. The afternoon light seemed just right for this west-facing falls though the trees were conspiring to obscure parts of the falls from the bottom.
After having our fill of this look-but-don't-touch falls, we then continued towards Barrs Creek Falls where ten minutes later, we climbed up onto a jumble of rocks which had a different direct top down view of Barrs Creek Falls which was much thinner than the gushing Mill Creek Falls, but it had a different character to it.
We could also get a glimpse downstream at the context of the gorge as well as looking upstream through the foliage towards partial views of Mill Creek Falls, which was also somewhat visible from Barrs Creek Falls. So it didn't take long to get our fill of this spot though once again, the mosquitos were a bit bothersome and kept us from totally wanting to linger here for longer.
Eventually at 4:40pm, we took a brief shortcut that went up a steeper but just-as-easy trail of use to the parking lot. Thus, we were done walking uphill on the upside-down hike. But as we approached the trailhead, all of the sudden, the car park was a lot more full than earlier on when we were only one of four cars here. That was a bit unusual as we would have thought this place would get less and less busier the later in the afternoon it became.
Seeing how the sign at this car park suggested that Pearsony Falls was very close to the parking lot, we decided that since we're here, we mind as well go for it before heading back to Medford. Dad was hoping we'd get back to town sooner as I think he had gotten waterfall-saturated.
So we drove further along the Mill Creek Rd until we eventually got past a bridge over the Rogue River, and then turned right into a spacious parking lot though we weren't sure if we were in the right spot or not since we didn't see any big signage suggesting this was the trailhead for Pearsony Falls.
It wasn't until we stopped the car at 4:45pm and walked towards the bathroom there that we finally saw a small trail sign pointing the way to Pearsony Falls. The trail was a bit longer than I had anticipated as the sign at Mill Creek Falls trailhead made it seem like this one was roadside. Still, we walked quickly and eventually got to the shady confines of Mill Creek and Pearsony Falls, which was a short but wide cascading falls that was probably conducive to long exposure photographs.
While Mom and I were busy taking photos of this cool spot (where it was noticeably cooler than the trail itself), apparently Dad was nowhere to be found. We surmised that he must have not noticed Pearsony Falls nor us taking photos of it and he kept going. So we ultimately went further down the trail (further encouraged when a couple going the other way confirmed that Dad went down there), and we eventually caught up to Dad as well as checked out an overlook of some cascades on the Rogue River revealing parts of itself amongst a huge jumble of boulders.
At first, I wasn't sure what this place was, but then it became apparent to me that this must be the so-called Avenue of the Giant Boulders. There were some people on the other side of this Giant Boulders area looking for a play spot, but there was no way we'd be going there. Mom and I were content with the view while Dad was already headed back up to the trailhead.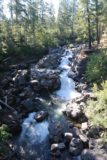 By 5:30pm, we were back at the car. I guess this excursion took a little longer than expected due to Dad overshooting Pearsony Falls, but in the end, I was glad we did it and now pretty much fully experienced this trail. Technically, we could have made this a longer hike and linked everything together (i.e. hiking up from Mill Creek Falls Trail), but in the grand scheme of things, we felt we did this place right either way.
On the way out, Dad stopped the car at 5:40pm right by the Rogue River bridge. There, I got out of the car and walked to the bridge (where there was no pedestrian shoulder or walkway) and hastily took my photos and movies of more attractive cascades spilling towards the bridge then continuing further downstream at the Giant Boulders. In the distance, there was some conical snow-capped mountain though I wasn't sure which mountain that was. Regardless, I didn't quite get the view that Gregory Plumb
(whom I'd imagine also informally named this waterfall as "Rogue Falls") got which was showing both the bridge and part of the waterfall, but I thought it was probably better from the brige anyways (even though it wasn't sanctioned and I was trusting that a passing car wouldn't run me over).
So it didn't take long to get my fill before the next car would come along to this bridge, and then we drove off back to Medford, finally. We'd eventually decide on having a filling meal and a splurge at this place called Porter's, and we'd ultimately get there at 6:45pm.
This restaurant was actually an old train station and the whole train theme was quite apparent. We'd eventually order a special tomato heirloom salad, some prime rib, halibut, and some kind of Cordon Bleu chicken all topped off with a sweet dessert of a Jack Daniel's bread pudding and ice cream sundae. I guess we pretty much went all out with this dinner since it was the last one of this trip, but I somehow wondered if all that weight I had lost in the last two months was probably gained right back on this one meal.
Regardless, despite the very slow arrival of the food, we enjoyed ourselves and basked in our accomplishments of this trip. And by 8:35pm, we were back in the car just as the moon was rising above the Porter's restaurant and bar while the skies were turning orange with the setting sun.
At 8:45pm, we were back at the Candlewood Suites where we could finally call it a night. Indeed, it was yet another exhausting and surprisingly full day, and we were pretty much crashed for the rest of the night for an early wake-up the next morning for the long marathon drive back home…
Day 7 (July 16, 2016 – Los Angeles, California): "The Long Marathon Drive"
It was 4am when we awoke to my alarm. Given the groans that we all collectively had, we probably could have used the added sleep, but we verbally committed to an early start last night so we could be home at a reasonable hour this evening. Indeed, ahead of us was a marathon 12-hour drive, and it was now time to make good on our verbal commitments.
It was 5:10am when I started to load up the car. I actually used some of the time to get caught up on my blogging while Mom was preparing some hot water for tea as well as coffee. Then, by 5:20am, we were finally leaving Medford, which was a little later than I had anticipated, but with the additional daylight, that would make it a little easier to spot deer that might dash out on the I-5 thereby lessening the probability of striking and damaging the rental car with one.
I took the first shift of the drive due to the deer concerns, and so the drive south on the I-5 was pretty smooth going though we did make one quick stop at a Burger King at 6:35am near Weed, CA (with Mt Shasta views going against the rising sun). That was for a quick brekkie since we kind of skipped out on it back at Medford. Fifteen minutes later, we continued the drive.
After getting through the familiar curvy part of the I-5 between Shasta and Redding, it was then very smooth going on the I-5 due south. We'd eventually fill up at some really cheap gas place a short distance north of Willows, CA, and that was where we switched driving duties so Dad took over while I was controlling the radio for some sports talk (680 KNBR, which was a good sports station in the Bay Area was getting good reception for much of this drive).
The drive would continue as we'd eventually pull up into Santa Nella (just north of the Los Banos junction) for an In N Out lunch at 11:50am. It was quite busy here, but we managed to get our food quickly, and by 12:15pm, we were back in the car again. While in Santa Nella, we also filled up for some more reasonably priced gas at the Valero compared to the usual Shell or Chevron or 76 and it would turn out to be the very last fill-up for the remainder of the drive.
By 4:50pm, we were finally back in the Rowland Heights area for some Chinese food at the Earthen Restaurant. This was always one of those comfort food places that we'd frequent whenever we'd hang out with the parents. And since we hadn't been here in a while (especially since Julie had me on a pretty much no-carb diet), I guess I mind as well splurge here before resuming the Paleo diet once again.
Eventually at 5:50pm, we were chilling out at the parents place. A couple of hours later, Julie and Tahia finally showed up, and that pretty much allowed the kids to play with each other again (as Joshua and Sophia were there) while Julie and I were catching up along with the parents. Eventually by about 9:30pm, we were finally back at home, and our tired bodies could finally get some rest and relaxation, especially since I had been going on some pretty minimal sleep (roughly 4 hours per night on average) throughout the week. So I'm sure it was much needed on my part.
And now it was time to get back to life, back to reality…
Visitor Comments:
Got something you'd like to share or say to keep the conversation going? Feel free to leave a comment below...
Nevada gas prices
April 28, 2021 1:32 pm
-
Yes, western Nevada gets California refinery formulations, so gas is expensive. And Washoe County (Reno metropolitan area) has higher gas taxes! Renoites make a point of filling in Carson City or Douglas County if they're down there. And, of course, next time you're thru Reno you can check out Hunter Creek Falls! ...Read More