Day 1 (July 10, 2016 – Oakhurst, California): "Beetle Mania"
It was 4:15am when we awoke. Since I had spent the night at the parents' place (Tahia and Julie didn't go on this trip so it was going to be my parents and myself this time around), it was pretty much a full house as my brother's family was there as well as Mom and Dad. Anyways, I knew for sure that Mom and I didn't go to sleep until after 1am earlier in the morning, and with my nephew Joshua having nightmares or something, he kept waking us up through the night. So needless to say, we were quite sleepy on the wakeup at 4am.
When Mom came downstairs she told me that Dad slept really well so we both decided that perhaps Dad should have the first shift of driving. So it wasn't until about 5:15am when we started to leave the house. It was a good thing that we rented a pretty large SUV on this trip because having three people along with corresponding luggages and food meant that the car was pretty much full. Of course the main motivation for hiring the SUV was the high clearance capability for those times that we'd have to be driving on unpaved roads.
When I picked up the car yesterday at noon from the Avis in Cypress, they wanted to "upgrade" me to a larger car that was more of a city car gas guzzler. And it was a good thing that someone had returned a Ford Explorer just as I was being helped by a clerk. Needless to say, even though the Ford Explorer wasn't clean and had only a half-tank of gas, it was far more important for us to have this car than the city-only tank they wanted to give me.
Anyways, the next few hours was kind of a blur as Mom and I were getting caught up on sleep while Dad seemed to be doing pretty well on the mostly empty I-5 then the Hwy 99. When Mom and I finally came around to wake up at around 8am, we started to make the drive a little more interesting by having a group conversation chatting about career, relatives, friends, and other things.
Before we knew it, we had passed through Fresno by about 9am, and then we were headed northeast along the Hwy 168 passing through the town of Clovis before the highway pretty much narrowed and became mountain road. The drive was a bit twisty, and I guess I didn't appreciate the fact that it was over 50 miles from Clovis to Huntington Lake, which was where we were targeting Rancheria Falls – a waterfall we hadn't visited since early June 2002.
As we were passing by some interesting lakes like Shaver Lake and eventually onto Huntington Lake, I couldn't help but wonder what was the draw card for the area around Rancheria Falls. As we passed through one town after another, it was becoming clear that this area was surprisingly popular. I guess it was full of weekenders wanting to play on the lake or by the shores. There seemed to be boating as well as fishing activities going on here.
We didn't stop for Shaver Lake, which seemed to be an attractive lake surrounded by granite and with some domes in the background (though in hindsight, I kind of wished that we did stop for it). We were also noticing that there were quite a few brown pine trees on the hillsides, and we suspected that they were dead (probably due to the drought though we weren't certain).
Eventually at 10:10am, we finally reached the trailhead parking for Rancheria Falls. We actually missed the Bear Butte Road (at least that was what the GPS had called it) and we had to backtrack. Then, we drove on a pretty bumpy mile-long road that switchbacked a couple of times before finally reaching a paved area at the trailhead parking. I didn't remember this trailhead being paved 14 years ago, but perhaps things have changed over the years. Anyways, there were only a handful of cars at the time and plenty of parking spaces.
Once we finally parked the car and got geared up for the short hike, we promptly walked onto the well-established trail that seemed quite familiar from the time we last did this hike. Mom and Dad were saying that they had no memory of this place (though I knew I had the photos to prove it). In any case, the air felt a little thin given all the climbing that we had been doing on the drive to get here, but it didn't seem too bad. Actually, Dad seemed to be on a mission as he raced ahead of Mom and I while we were busy checking out the dead trees juxtaposed with some wildflowers in bloom.
Given that the trail was pretty straightforward with the climbing being quite mild, it didn't take long before we started to see Rancheria Falls. Dad actually stopped when he first sighted it so at least I was able to catch up. Mom was still behind just enjoying herself while snapping at wildflowers.
As Dad headed towards the official end of the trail, I noticed a narrow trail of use leading down to a bluff. This particular bluff provided me with a pretty contextual view of Rancheria Falls where not only was I able to observe the main plunge at its top, but I was also able to check out the many cascading tiers further downstream. If it weren't for a few trees in the way, it actually would have been a pretty ideal view.
A few minutes later, I regained the main trail and joined Mom and Dad at the trail's end. There, we were able to check out the tallest drop of Rancheria Falls, but all of our photos kind of suffered due to the position of the late morning sun, which was pretty much against us while creating shadows in the waterfall itself. Indeed, it wasn't ideal photography conditions, but we captured what we could. I kind of recalled that 14 years ago, we also showed up here at around the same time, but we also knew that we weren't going to linger here into the afternoon, which would have been a better time to photograph the falls, I'd bet.
Meanwhile, it seemed like this falls didn't really have a plunge pool that was readily accessible nor did it have a different fully comprehensive view that was official as well. So even though we could witness most of the falls from the official trail, it left a lot to be desired in terms of the lighting conditions and how hard it was to see it in one go since we were brought up so close to it.
So it didn't take long to get our fill of the Rancheria Falls. I recalled that last time, lots of people climbed up to the top of the falls, but this time around, we only saw three people doing this. Anyways, we promptly headed back to the car where we encountered many more people heading to the falls while we were heading back. One person noticed I was carrying a handheld GPS and asked if I was geocaching. I said I wasn't looking for one, but he told me that there was one nearby this waterfall. Intersting!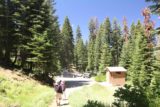 Anyways, we presumed that most of the people we saw must be camping in the area or lodging here for it was still surprising to us that this place was that popular.
Indeed, after saying "Good morning" or "Hi" to at least a dozen different hiking parties going the other way, we finally got back to our car at 11:30am. Sure enough, this time, the parking lot was definitely full and even some folks parked further up the road along the shoulder. That just further reinforced the popularity of this place.
So instead of Dad driving to the next place (Whiskey Falls), I took over the driving duties so Dad could relax. However, I had some doubts about the GPS wanting me to continue on the Hwy 168 then taking some dodgy back roads to Whiskey Falls. In fact, it was claimed that the falls was merely 16 miles or so away, but that it would take 90 minutes. That sounded way too dodgy to me.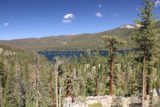 While we were making up our minds about the driving route, we headed back southwest along Hwy 168 with the intent of checking out Huntington Lake from one of the main roadside pullouts. While there, we could see that there were many sailboats moving back and forth on the lake. It definitely seemed like one of the fun recreational activities on offer here, and perhaps this area was a favorite hangout for those hailing from the Central Valley and thus its popularity probably should've been more apparent to us than what we had given it credit for (we thought no one would come out here given how out-of-the-way it was from Fresno and nowhere near Yosemite).
A little further down the road, we made some brief stop near Shaver Lake though I think we wound up stopping at a well-boated part of the lake instead of the more scenic part where parking was harder to find and people were chilling out by the lakeshore.
So I trusted GoogleMaps, which wanted us to go backwards on the Hwy 168 back down the mountain (so we made the right decision in going back), then cutting across on a road (I think it was Road 222) following the San Joaquin River Gorge before getting to the town of Auberry and then North Fork. Once past North Fork, we then started to see brown signs for Whiskey Falls, and we followed it onto a mostly unpaved road (Autumn Ridge Way, I think) as we learned that we would have to drive this progressively bumpy road for the next 8 miles (which we knew would take a bit of time given how slow and carefully we had to take this kind of road).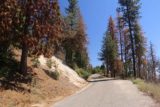 So it wouldn't be until about 1:55pm when we finally made it to the Whiskey Falls Campground. During the road there, we had to cross a dry (but rocky) creek then pass through an area that was not only decimated by fire but also decimated by drought and the associated effects it carried like the bark beetles eating away at the sick trees until they eventually died and became fire hazards.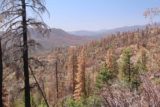 Just witnessing entire hillsides going completely brown was a sad sight, and we wondered whether such developments was going to be irreversible, especially given that we can't seem to head off Global Warming, which was the pink elephant in the room when it came to the root causes of all the ills we've been seeing in the forest. In fact, to get at the true root cause, we'd have to transform the economy to stop rewarding people for doing unsustainable things and rewarding people for doing things that ensure our future. Until that happens, I really don't see any reason why the environment won't continue to deteriorate while the earth overpopulates.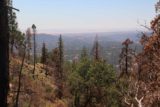 It's a tall order to fix something like this, and you obviously have people profitting from the existing scheme trying to now rig the system to ensure they still have their cake and eat it too, so to speak. That's what happens when you have people making money doing the wrong things – you empower them instead of the proponents of responsibility and sustainability. Anyways, I don't expect the Global Warming-related issues to be resolved anytime soon (even continue to accelerate getting worse), and I wonder what will be the straw that will break the camel's back.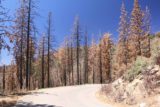 Once we were past the campground, we drove past a bridge that turned out to span Whiskey Creek. Looking upstream, we could see an impressive little waterfall tumbling over some rounded granite. It really seemed like the car got more of a workout for this waterfall than we would since it was only a few paces to scramble right up to the base of the falls.
Another couple made it up here right in front of us and they were keeping cool in the shade and the light spray of the falls. Mom noticed what she called huge mosquitos, but when I looked closer at the standing water, they really seemed more to me like water bugs or something that just so happened to have long legs. I had seen something like this before at Buckhorn Falls.
When it came our turn to enjoy the falls, I did a little scrambling to get as close to its backside as I could given that there was a little alcove behind the base of the falls. Some other folks also showed up but they didn't linger here for long.
At 2:20pm, we were back in the car. It seemed like we were a little ahead of schedule compared to what I had planned before the trip, but since we all were getting a bit fatigued, we figured we mind as well head right to Oakhurst via Bass Lake, and just check in and get settled. After all, if we get settled and checked in earlier, then we can have an early dinner, which meant we could sleep earlier. And an earlier sleep means an earlier start for tomorrow, where we might want to squeeze in Webber Falls before continuing to Lassen Volcanic on the following day (now that I had read that Bumpass Hell Trail was finally open for this season).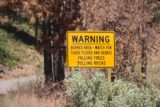 On the drive back out along some bumpy forest service roads, we got another look at how extensive the damage from the bark beetles was. It was sad to see, and we recognized that this place seemed like one huge tinder bundle.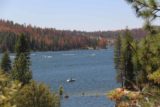 After passing by some limited views of Bass Lake from the road skirting its north side, we'd eventually arrive at our accommodation (Yosemite Southgate Hotel and Suites) in Oakhurst at 3:25pm, and we didn't get settled in our pretty standard room until about 3:45pm.
So we chilled out in the room (even catching a few zzz's from napping) until around 4:55pm when we finally decided to head back to the car in search of a dinner. We had seen enough reviews about this place called the Southgate Brewery so we figured that was where we were going to go. We'd eventually get there at 5:10pm, where it was quite busy inside. But at least we could order up front then worry about finding seating while waiting for the food. No need to rely on being waited for things like the bill and stuff like that. It was just straight no nonsense eating. Luckily for us, a group was vacating shortly after we had ordered at the counter and so we were pretty set.
Our dinner consisted of the Southgate Burger as well as some hot wing appetizers and a trio of grilled cod fish tacos. Mom was telling me that the tacos had nothing on the Tioga Gas Mart, and it got us looking forward to it once again, which we anticipated on having tomorrow for lunch.
Meanwhile, we were munching on the sweet potato fries as well as the garlic fries (even better) and the mains that we had ordered. When all was said and done we were back in the accommodation at 6:10pm totally stuffed. I'm sure my paleo diet once again went to hell, but it was a lot harder to pull that off when we're out traveling like this, and it was the main reason why Julie didn't feel like doing any one of these trips until she could get her SIBO under control.
And so ended this first day of this trip. We were looking forward to tomorrow as we were intending to criss cross through the Sierras and to the Hwy 395 by passing through Yosemite earlier on. Since we weren't going to linger for much at Yosemite National Park, we figured that this would be a quick pass through as Lundy Canyon, Reno, and Webber Falls were our targets on this trip…