Day 2 (July 11, 2016 – Reno, Nevada): "Forcing Functions"
We awoke at 4:30am where we could clearly see that it was still dark outside. But knowing that we had a long drive as well as a long hike ahead of us, the early start was a must. So after getting our stuff together and freshening up for the day, then having the basic continental breakfast (basically boiled eggs and cereal with some fruits while avoiding the pastries), we checked out and started to leave the Yosemite Southgate Hotel & Suites at 5:30am.
Of course when we're leaving this early in the morning, I was concerned about deer dashing out onto the road. That said, I was surprised by the number of cars already out on the road. Heck, even when I was loading up the car at around 5am, there were trucks already out on the road. Man, are there some serious early birds!
Instead of taking the usual Hwy 41 in through the south entrance of Yosemite, I decided to give the Hwy 49 a try. Even though the GPS
claimed that this was going to be an additional 11-20 minutes of driving, I wanted to see what driving this way was like since we had been used to Hwy 41 all this time.
It turned out that the Hwy 49 followed along the foothills and didn't really go deep into the mountains. We remained on the Hwy 49 which was fairly high speed, and then we entered the town of Mariposa, which seemed to be a fairly big tourist town. Beyond Mariposa, Hwy 49 and Hwy 140 split off and we then followed the Hwy 140, which was a little twistier but still a bit more tame and level than the Hwy 41 we had been used to taking.
That said, as far as the scenery was concerned, Hwy 41 was still better as it had the Wawona Tunnel presenting Yosemite Valley. With Hwy 140, it followed along the Merced River where the steep gorge scenery eventually started to give way to steep granite scenery. We passed by the town of El Portal (where we saw large accommodations with lots of people in them) then went past the Arch Rock Entrance, which was closed when we passed through before 7am.
We could now appreciate why they called this the Arch Rock Entrance because the park road then promptly went beneath some wedged rocks arching over Hwy 140. We were in a caravan of cars as there was a surprising number of people driving into the park this early in the morning. We'd eventually get past Cascade Falls, which had pretty low flow. I guess that observation led me to believe that it was probably going to go dry by the end of this month much like Yosemite Falls.
The drive up to Big Oak Flat was pretty uneventful. Then, we crossed over onto Hwy 120 towards Tioga Pass. This drive felt quite a bit longer than I remembered, and I guess I could see why GoogleMaps said it would be a three hour drive from Oakhurst out to Lee Vining. Indeed, the driving through Yosemite was a bit slow due to slower drivers in front of us, but for the most part, it was uneventful except for one moment where we let a deer cross the road in front of us.
There was also an interesting roadside waterfall that I didn't recall seeing before as it was on the south-side of the Hwy 120. Plus, I didn't see the Quaking Aspen waterfall. Anyways, we were driving with the sun against our eyes, but at the same time, we were also surprised by how many parked cars were already at the trailheads, including the Porcupine Flat Trailhead (the one we took to North Dome back in 2002) as well as Olmstead Point and Tuolumne Meadows (including the trailhead for Cathedral Lake).
I guess Summer in Yosemite indeed meant crowds and diminishing waterfalls, and I guess I still contend that our favorite National Park was probably best avoided in the Summer unless you're doing something in the High Country or something like Half Dome.
We'd eventually get to the familiar Tioga Pass station, but now it was manned on both sides. So we stopped at the exit side, told the worker upon his inquiry that we didn't have a pass, and ultimately decided to buy a National Parks pass, which now costed $80. I guess with this little development, that meant that for the next year, we're gonna have to plan with Julie and Tahia a bunch of National Park visits. In my mind, I'm thinking the Mighty 5 in Utah for Spring Break and a late July trip to Yellowstone. Mom also wants to go to the Grand Canyon, but I'll have to see if we can make it happen (especially for a rafting trip on the Colorado River) in late September or something.
We arrived at the familiar Tioga Gas Mart at 8:25am, but we weren't here for the food at this hour. Instead, we took a much needed restroom break before continuing on the road towards Lundy Canyon, which was the focus for today. Three weeks ago, Mom and I had planned to do this hike on the way home, but the Marina Fire had just started that morning and we didn't want to chance it. So today was the day we were going to finally get a chance to re-visit this place for the first time in 14 years.
On the drive back through Lee Vining, we could now see the charred landscape resulting from the Marina Fire that had started three weeks ago. Perhaps what was amazing was that the Tioga Lodge sat by itself a little north of the main part of Lee Vining, but that the lodge itself was spared while the rest of the area around it was charred black. I'm guessing firefighters made sure to put flame retardant on it or something because it was simply amazing to see that building unscathed and still open for business despite everything around it being burned.
After taking the familiar turnoff for Lundy Lake, we got past the man-made lake while marveling at the morning light on the picturesque peaks in the background, and then got onto the bumpy road right after the resort by Lundy Lake. I think it was for the last 1.2 miles or so, and then we ultimately got back to the familiar trailhead at 8:55am. We found a parking spot on a bit of a steep decline between trees and rocks, but it was in shade and it looked like it just might remain under shade for however long we were going to spend on this Lundy Canyon hike.
After the familiar turnoff where I swore there used to be a sign saying "Lundy Pass", we kept forward intentionally and went to the shores of some kind of shallow lake or pond with a nice view towards the head of Lundy Canyon as well as the three-segmented waterfall on Mill Creek, which was the first major waterfall encountered on Lundy Canyon (though we had already started to see two or three other cascades around us even on the drive up to the trailhead).
There were swarms of baby mosquitos or something around the area, and even though we had DEET on while wearing long-sleeved shirts and long-legged pants, it was unnerving knowing that amongst this swarm were some adult mosquitos also looking for a way to get at our blood. The morning light (it was 9:20am) was perfect for this view, and we very easily could have lingered here longer. Even the two ladies with the three dogs stopped by here, where the dogs really seemed to enjoy bathing in the shallow waters.
Next, we promptly went up the familiar trail. This time, we went past some interpretive sign that I guess took the place of the old "Lundy Pass" sign. And like we remembered, the trail climbed for a bit until we reached a bluff at about 9:45am. This bluff had a fairly ok angled view of that first waterfall on Mill Creek that we saw earlier. It was a good thing that it was cool this morning, which made the climb up more bearable, but it was getting warmer rapidly.
The trail then briefly descended before meandering alongside another swamp or pond while presenting us with more views of other cascades tumbling down the high cliff walls to our north. At 10:10am, we got to where there was a harder-to-see cascade on Mill Creek, which I dubbed the Lundy Canyon Falls 2. But I swore on the last visit here that there was a bridge traversing Mill Creek. This time however, there was no bridge and we had to get across some fallen logs. At least the log crossings weren't as scary as I thought I had recalled from the last time.
Then, the trail went through a mix of forested area with some sun-exposed climbs. We made another log crossing before getting into a more lush area where it was probably muddier earlier in the year. In this somewhat overgrown section, there was some partially-built or broken-down log cabin remnants as well as lots of wildflowers exhibiting purple, orange, red, and yellow colors.
When the vegetation was opening up a bit, we could see a couple of thin cascades to our south. At least this part of the trail was relatively flat so progress was fairly quick. However, it did take a bit longer than I had anticipated so it wasn't until around 11am when we finally started to see the third main waterfall of Mill Creek at 11am. This was the waterfall that we turned around at back in July 2002. And Mom and Dad kept pushing forward towards the brink of the lowermost tier of the falls for a little well-deserved picnic of fruits and jerkies.
Mom took off her shoes to feel the cold water of Mill Creek while Dad was looking on and munching on fruits. When I rocked up, I took a few movies and photos while also munching on some really sweet strawberries. Then, at 11:25am, I decided to see if there was a lake beyond this waterfall that was reasonably within reach.
Mom and Dad followed me after they packed up and put on shoes again. It turned out that the trail started climbing a bit more steeply beyond this waterfall though there were plenty of other spur trails edging over for a closer look. Beyond the initial climb, there was yet a fourth waterfall on Mill Creek, which looked attractive and quite similar to the third one, but it wasn't obvious to me where there was a spur path leading to a better and lesser overgrown view of it.
At about 11:40am, I got to a part where the trail starting turning left towards the steep slopes as well as some overgrowth. I came to the realization that there probably wasn't a lake at the cirque or head of Lundy Canyon up ahead seeing that it was all talus or scree and bush up ahead. I had a moment of indecision here thinking perhaps this should be the turnaround point so we could try to pursue Webber Falls on this day to free up some three hours tomorrow (in my reckoning).
However, when Mom and Dad caught up, we had this discussion, and it turned out that it might be a bit too ambitious to try to tackle Webber Falls on this day knowing that it was two hours drive in each direction from Reno to there. It was on the way to Lassen tomorrow so we decided to punt that for tomorrow. However, if Lundy Canyon was all we were doing today, the thought crossed my mind that perhaps we should explore a bit more of Lundy Canyon before heading back.
Mom was game and Dad was thinking in the back of his mind that we should be heading back down. But he didn't resist too much and so we turned around and kept going up. Eventually as the cirque was getting closer and so were the last couple of cascades, we started to get to an extensive scree section. It wasn't easy hiking on loose rocks (more like flakes coming off the cliffs above us) and we'd eventually get to a part where the trail started to become ill-defined at around 12pm.
So I took the initiative to follow what I thought was the trail up some really steep loose talus slopes. Mom and Dad stayed behind while I went up to scout. I'd eventually get up to a part where there was still some snow, but the slope just seemed way too dangerously steep to continue as I was starting to get worried about how to get back down.
As I was a little dumbfounded about where the trail should have been, I did notice a couple of backpackers making their way towards Mom and Dad. So I observed where they were going, but it looked like they were content to momentarily rest at some shade on the other side of the tree that Mom and Dad were waiting for me at.
When I finally made it back down at a little after 12:20pm, I asked them if they were going to the 20 lakes basin, and they confirmed it. However, when I told them that I had lost the trail thinking the steep scree wasn't the way, they seemed content to let me scout out what I had thought was a false trail continuing past and below the scree part. The trail was quite narrow and still ill-defined, but there was definitely a trail.
At about 12:40pm, I had finally made it to a much better view of what I was calling the "Last Falls" since it only revealed parts of itself from way down at the floor of Lundy Canyon. But now, I could see that there was an angled view of the taller upper tier then some lower cascades continuing to tumble and meet up with Mill Creek further downslope. I had to be real careful here because there were sheer dropoffs. And as tempting as it was to try to improve the view, I was pretty content with what I got.
Minutes later, the backpackers joined me though they evaluated the steep slope around this area, and they pursued it. I couldn't believe they were going up slopes this steep with a heavy backpack, but they seemed pretty experienced at this. Still, the climb that they made beyond the viewing spot for the "Last Falls" was beyond my comfort zone. And when Mom showed up, she took her photos, and witnessed the backpackers' climb. But this was our turnaround point and now we could finally head back to the trailhead while looking forward to a very late lunch at the Tioga Gas Mart.
The hike back was mostly uneventful though I kept stopping to take photos of the trail and the U-shaped Lundy Canyon. We also noticed there were many more people including backpackers making their way in the other direction. Back at the third falls on Mill Creek, we saw a family there picnicking where we were at earlier in the morning.
As we continued further down the trail, we saw a half-dozen or so more hiking parties going the other way. Our progress was a little sluggish because Dad was worried about re-aggravating some pain in his knees, especially given the hard pounding on the rocks as well as the steep climb and descent near the head of Lundy Canyon.
It wasn't until about 2:30pm when we finally returned to the car. And as hoped, the car was still in shade, which was quite nice! I swore that we had to have hiked over 6 miles or so since we wound up being on the trail for nearly 5.5 hours! Dad seemed to struggle walking near the trailhead, but that was when Mom showed me that the sole on dad's left shoe was almost completely gone. He said the shoes were 10 years old, and I guess we now know that the adhesives don't last for that long for this wasn't the first instance of this occuring in recent memory (Julie's spider rubber shoes
and my Keens
died in Vanuatu, Mom's hiking boots
were giving out on the last California trip, etc.).
We figured that when we get to Reno later today, we might have an opportunity to help Dad pick up a replacement pair.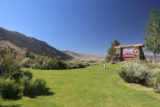 After loading up the car and changing into more comfortable shoes or sandals, we then drove off and headed back south towards the Tioga Gas Mart for our well-deserved lunch. We'd eventually get back there at about 3pm. Thinking that late lunches like this would mean a quiet experience at the Whoa Nellie Deli, we were surprised to see that there was quite the line waiting to place orders at the cashier.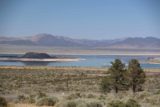 Anyways, like last time Mom and I were here, we ordered fish tacos with both of them being mango. I also got Dad the standard fish tacos with one being mango and the other being some kind of ginger mayo or something like that. We also got really fresh shrimp ceviche. Admittedly, we might have over-ordered, but by the end of the meal, there was nothing left. We pretty much devoured our food, and now we were thinking that perhaps this should be a lunner since it was too close to dinner to have yet another meal.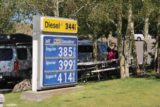 So at 3:50pm, we were back in the car fully sated. Now, Dad took over the driving duties as it was going to be a straightforward drive north on the 395 towards Reno. That gave me and Mom a chance to doze off from the food coma for a bit.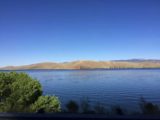 The drive itself was uneventful (aside from wondering whether Topaz Lake on the California/Nevada border along the Hwy 395 was a man-made or genuine lake), and we'd eventually arrive at the Nugget Casino in Sparks, Nevada (just east of downtown Reno) at about 6:20pm. When I noticed that the gas stations in Reno were pretty comparable to California prices, I knew that we had miscalculated by not filling up gas in Minden, which seemed to have the cheapest at around $2.36 or something like that. Meanwhile, I saw a Chevron here in Sparks charging on the order of $2.92 or $3.02.
Anyways, when I got to the front desk at the Nugget, I couldn't believe that there was quite a line waiting to check in. I was wondering if these other folks got the same deal that I got where the room rate was $39 but if you add the resort fee and taxes and stuff, it was more like $52 a night. I guess I can't complain if we're getting such cheap rooms, especially since the Yosemite Southgate one in Oakhurst almost costed us 4x the amount here.
So it wasn't until about 6:45pm when I finally got the keys to the room in the West Tower. I wasn't sure which side was the more upgraded and modern side, but regardless, we went back in the car and then promptly headed back out to fill up some much-needed gas as well as show up to the REI for Dad's replacement boots.
We'd eventually get to the REI in town at 7pm, where we spent some time helping Dad out. Eventually he'd get his replacement shoes where he seemed to have some affinity for Timberlands
. This time, he didn't get high tops, but he did get leather low tops that seemed to be waterproof as well. That was good since I anticipated hiking in some patches of snow at Bumpass Hell tomorrow in Lassen Volcanic National Park.
At 7:45pm, we then rocked up to the adjacent Costco, where Mom bought some delicious Korean-Taiwanese pork jerkies that we really enjoyed on the last trip.
It wasn't until about 8:15pm when we finally settled in on our room at the Nugget. And for $52 for the night, it turned out to be pretty spacious. That said, there was no refrigerator, which was pretty obvious to us that they really wanted us to go downstairs and part with our money through gambling. But with this eventful day drawing to a close, we'd get some much needed zzz's knowing that tomorrow's another early wakeup day as we were going to have a trio of activities for the day along with yet another long drive back towards Redding via Lassen.