Day 3 (July 12, 2016 – Red Bluff, California): "Stuck on 89 part 2"
It was 4:15am when we awoke. It was dark outside and the thought did cross my mind that perhaps we might be visiting Webber Falls before sunrise if we were too efficient about unpacking and checking out of the Nugget in Sparks.
Well, without an included breakfast and our desire to leave the Reno area as soon as possible, we were out the door by 5:40am. During the checkout, I was worried that I was being double-charged for the resort fee (that turned out to be some 33% of the room rate of $38 per night for a total of around $52), but in the end, the total was indeed $52 and so I did get the cheap room after all. And at least I didn't have to wait in a line to check out (unlike the half-hour wait yesterday just to check-in).
The drive out west along the I-80 was uneventful though we were hoping to grab a breakfast on the way in Truckee. But when Hwy 89 showed up before we were to continue west to the main part of Truckee, we just decided to not backtrack and head north on the 89 right off the bat.
With the sun just barely breaching the horizon, I was concerned about deer dashing across the road so I was on the lookout during the drive. I was also limiting my speed so I'd have a few more split seconds to react in time if they did happen to dash out onto the highways.
Eventually, the GPS directed us to leave Hwy 89 for Bear Valley Rd before hanging a quick left onto Jackson Meadow Rd. We then followed this paved road for a few more miles while following Ann Marie Brown's directions in her book
. And in doing so, we were on the lookout for a sign saying something about Lake of the Woods. When we saw the turnoff with a sign indicating Lake of the Woods, we then continued on the main road shortly thereafter and found a pullout that also seemed to be the continuation of a road blocked off by boulders.
We knew we were in the right place so we turned around and parked the car at around 6:20am. And as we did this, we saw a deer slowly making its way across the road. We didn't get a chance to take a photo of it since it was easily startled and ran off the moment we opened the door.
It was a very cold morning as the temperature gauge of the car (measuring outside air temps) indicated that it was around 31 degrees F. So we all donned jackets as we started to make our way down the boulder-blocked road. We actually had to follow Ann Marie's driving directions as we walked since these boulders apparently weren't there when she did this excursion. So after getting to the bottom of the initial descent, we then walked to the left before promptly going into the parking area to our right.
Aside from a huge crater that we walked around, we noticed that there was also a car already parked in this particular lot, and this made us wonder whether we could have driven here. So Mom and Dad left me to explore the Webber Falls vicinity while they want back up the hill to regain the car and to see if they could drive an alternate road to get into this lot, especially since the pullout that we stopped at made our car conspicuously visible to whoever was driving the Jackson Meadow road.
So while I was left to my own devices, I continued to follow some faint "trail" that eventually took me to some fairly steep slope that became even steeper the further down I descended. Right off the bat, I could see the upper tier of Webber Falls, but it was clear that there was a much taller lower tier that was harder to see. So I first checked out the upper tier before I was evaluating where I should walk to in order to get a more all-encompassing view of the falls.
The first instinct was to follow some worn section where it was getting quite slippery as it steeply descended towards a dropoff right down below me. I wasn't comfortable descending this part since the steep slope right down to the dropoff seemed a bit dodgy. So I looked for trails that went a little further downstream and that was where I kind of noticed an outcrop or bluff somewhat protruding into the gorge that promised to yield a better view of the falls.
As I was making my way along a particular trail that skirted the gorge rim, I saw Mom and Dad show up but they opted to scramble towards the top of the upper tier of Webber Falls. In the mean time, I continued following the trail where it eventually got me down to the edge of the rock outcrop and that was where I was able to get a somewhat more satisfying direct view of the entirety of Webber Falls. Unfortunately, there was a tall tree right in the line of sight that conspired to make the view of the falls less than optimal, but for the time being, I decided that this was perhaps the spot I should be viewing the falls.
And so I took photos as well as some panoramic movies showing the deep gorge right below me and behind me as the morning sun was continuing to rise and shine on the opposite side of the gorge (still leaving the falls and the rest of the gorge down below mostly in shadow). After having my fill, I scrambled back up to the "trail" then headed back in the direction of Mom and Dad. While doing that, I once again pursued some faint "trails" going towards the edge of the dropoffs but they all included uncomfortably steep descents towards the dropoffs and I ultimately decided against risking it for that better photo that I saw in Ann Marie's writeup for Webber Falls.
So I eventually rejoined Mom and Dad, where they pointed me to a path that eventually led me right down (still steeply) to the brink of the upper drop of Webber Falls. Dad was suggesting that it might be possible to cross the creek over the brink and view the falls from the other side of the gorge, but the problem was that there were still trees on the other side as well conpsiring to block the view.
No matter how we tried to slice and dice the ways to improve the view of the falls, the more we kept running into issues either because it was too dangerous or because the trees were in the way. So we didn't linger here for long and by 7:25am, we were back at the car. The temperature gauge still read 39 degrees F so indeed, it was quite bitterly cold.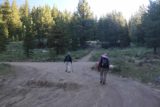 It turned out that we returned to the car, which was parked at the same pullout we originally stopped at. Mom and Dad said they went looking for the alternate road access to this very spot, but they gave up their search when it was apparent that the access road was a lot further than they anticipated. So I guess Ann Marie's directions were once again pretty spot on for this falls despite the alternate access, which seemed to involve a bit more of a trivial drive on unpaved road to get here.
Anyways, the drive back to Hwy 89 was pretty much against the sun. Once again, I had to watch out for deer on this part of the drive, but then once we got onto the Hwy 89, I was still on guard for deer even though we headed in a northwesterly direction (so now at least the sun was behind us).
We'd eventually show up to the town of Quincy, which was a pretty big town for something along this part of the Scenic Byway of Hwy 89. We decided that we should stop here for a breakfast, and we eventually found some place called Patt's Thunder Cafe or something like that, which was right on the main one-way street we were on, but we had to make a few circles as we somehow kept missing it. There was even one moment where I apparently cut off someone on the one-way street in front of the cafe as I was making a left turn from the far right lane forgetting that the lane on the left was going in the same direction as opposed to the opposite direction like on a typical two-way two-lane street. Good thing the speed limit here was 25mph otherwise that could have been disastrous!
Anyways, we parked in what appeared to be the downtown lot and walked to the front of the cafe once we finally identified it. There were a lot of motorcycles parked right in the front so it wasn't like we could just park right in front of the restaurant. In any case, it was 8:45am when we were finally in the pretty busy cafe. I knew that this would take quite a bit of time on what promised to be a pretty busy day but we also recognized that we probably weren't going to be eating until dinner time (skipping a full lunch) given our spate of activities.
We ultimately stuffed ourselves with Dad getting a breakfast burrito, me getting a Mexican omelette along with French Toast, and Mom getting chicken fried steak and potatos. The portions of this place was quite huge, and thus we started to understand why this place was as popular and as highly rated on Yelp as it was – they served up hearty proportions and thus it was perceived to be a good value.
Well, the food itself was nothing special except for the portions. And we'd eventually leave the place fully stuffed but at least we wouldn't be going hungry probably for the majority of this day. We left Quincy at 9:45am, where Dad took over the driving duties while I had a chance to rest.
The drive was for the most part uneventful as we were passing through the familiar parts of the road that Mom and I did three weeks ago but in the opposite direction. So we went past the trailhead for Indian Falls, which I decided to skip, and then we passed by the huge Lake Almador where we weren't sure if this was an artificially caused lake or of it was natural (we suspected the former though we couldn't see the tell-tale dam).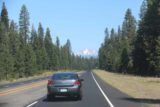 We then got to a part where we could see the impressive Lassen Peak way in the distance as we continued north on Hwy 89. Ultimately, we got into Lassen Volcanic National Park after showing our newly-bought National Parks pass, which saved us $20. We'd eventually make our way up to the Bumpass Hell Trailhead and Parking Lot, but we saw that contrary to what I had read on the NPS website last weekend, apparently, the Bumpass Hell Trail was still closed!
So we decided to drive around a little to see if there was an alternate way to access the park's signature trail since I was incredulous that the park website said it was recently open last weekend, but then it was closed today?!?
The first stop was Emerald Lake, which showed up to at 11:25am. Unlike three weeks ago when this lake was still frozen, it was now a legitimate lake with the namesake emerald green color. We captured this experience this time so we could contrast it with the last time we were here. Anyways, after experiencing this spot, we then drove up to Lake Helen to see where it would have been possible to access the Bumpass Hell Trail without having to cross the police tape at the official trailhead (as apparently they re-closed the trail after being briefly open the prior weekend).
But when we got to Lake Helen at 11:35am, we could see that this lake was still frozen though it did have significant parts showing off a deep sapphire blue color with Lassen Peak and some other peak next to it backing the lake. We could also see that there was a lot of snow blocking off the little parking area for Lake Helen as well as a big snow bank on the opposite side of the road conspiring to prevent us from accessing the Bumpass Hell Trail from this spot as well.
After having our fill of this lake, we ultimately went back to the Bumpass Hell Parking Lot and decided to gear up and cross the police tape. I figured that it couldn't be as bad as the "extremely hazardous" conditions that the park was advertising (or at least I thought it was perhaps a little too conservative given how lots of people tend to show up to these kinds of hikes unprepared) and so I was pushing to do the hike.
Of course, when Mom saw the closure sign, she called out to me and wondered if it was wise to do this, which further raised some doubts as to whether my confidence in the park being overconservative was unfounded or not. In any case, I convinced them that we could go on this hike and then be open to turning back when (if) we'd get to parts where it might be too dangerous to proceed. And so we continued on with this doubt in our minds.
Aside from the initial snow patch visible from right behind the police tape, the trail started off quite tame and easy-to-follow as it passed by a higher vantage point of Lake Helen before following swinging around to our right and providing us with different contextual views of Brokeoff Mountain fronted by the parking area.
As we continued along the trail, we crossed more snow patches with some red flags (most of them fallen) indicating where the trails were supposed to continue. Whenever we saw snow patches, we pretty much followed the dirty parts of the snow (knowing that we weren't the only ones who probably did this trail in the recent past) as well as the red flags.
After making a brief stop at an interpretive sign looking back at Brokeoff Mountain, which showed off what the original Mt Tehama would have looked like while also identifying the peaks left behind when this mountain must have blown its top or had a Mt St Helens-like landslide, we continued on the hike where we started to get the whiff of the rotten egg sulphur smell at about 12:40pm.
A few minutes later, we caught our first glimpse of the colorful thermal pools and boiling mud pots of Bumpass Hell down below, and so we promptly followed along the descending trail where we encountered quite a bit more of the snow patches that seemed even more extensive than what was done before. I guess if this was the reason why the trail was closed, we could see why, but we also spotted more of those fallen red flags as well as dirty parts of the snow that we could obvious follow to stay on the trail and not risk suffering the fate of Mr Bumpass (who the place was named after) where he stepped onto thin crust, fell in, and pretty much burned off his leg in the boiling geothermal waters below.
It was a good thing we rocked up in sturdy high-top hiking boots with Gore-tex so the snow didn't really bother us a whole lot other than making us slip and slide a bit. Some parts of the trail looked like it had gotten fresh powder and perhaps that was why they re-closed the trail.
Anyways, by 1:05pm, we finally got down to the boardwalks of Bumpass Hell. And we eagerly went to lookout after lookout experiencing the bright and colorful scene, which turned out to be quite difficult to photograph given the brightness. So while here we saw some interesting tiny thermal cascade as well as a real colorful pool, some really hot boiling section that was said to be the hottest fumarole in the US (which sounded like a pretty lofty claim), and even some kind of "Fools Gold" section where there was another pool that was somewhat colorful looking towards the far end of the mini-Yellowstone here at Bumpass Hell.
We also walked up to the connecting trail that would ultimately lead to Kings Creek, but we decided to just climb up to the part where we could look back at Bumpass Hell without as many trees in the way as the initial approach. We'd eventually have our fill of this spot while enjoying some pork jerkies and oranges as our little picnic lunch, and then we walked back up the way we came quite happy that we got to experience Bumpass Hell without anyone else on the trail!
We eventually made it back to the parking lot at 3:15pm where we noticed a lot more cars parked at the Bumpass Hell Trailhead. There were quite a few people seemingly disappointed at not being able to do this hike after seeing the closure sign. We were going to tell them that we ended up doing it, but we didn't want to get them in trouble (or be liable for it) by divulging that information; instead letting them do their risk assessment on their own. And it turned out that no one did what we were able to do, which we'd imagine must've been real disappointing especially if you've come all the way out here only to not be able to do the park's signature trail.
Five minutes later, we left and continued driving the park road which got us up past the trailhead parking for Lassen Peak (which looked quite busy) before the road descended along a bunch of curves and switchbacks down towards an attractive meadow and then ultimately the trailhead parking for Kings Creek Falls. Unlike Bumpass Hell, this trailhead was very busy, but with our late start at around 3:35pm, we managed to claim a spot quite close to the trailhead where someone had just left.
As we hiked the trail, the first thing we noticed was that Kings Creek was flowing downstream of us as the trail followed it more or less. I had read from Ann Marie Brown's book
that this place was like the Mist Trail in Yosemite. So I was expecting to go up instead of down this trail.
Anyways, we meandered about and around an attractive meadow area before the trail then went past some trail junction for a lake before continuing on to another trail junction later on where there was the advertised closure. Indeed, the cascades trail couldn't be done and it was the shorter trail by a reported 0.3 miles in each direction (or 0.6 miles round trip).
Fortunately, they let us hike on a trail leading to bluffs overlooking the scenic cascades part of Kings Creek as well as the trail down below. And when we showed up to the view at about 4:05pm, we could see whole teams of hard-hat-wearing trail workers making their way up the forbidden part of the trail, where they must've called it a day at this time. They were wielding shovels and picks, which made us realize that they couldn't be using explosives if they were doing "demolition" work that was the main motivation for closing off this trail, we reckoned.
After having our fill of the Upper Cascades viewing area, we then rejoined the main horse trail, which descended with views of attractive mountains way in the distance along with parts of Lake Almador as well. We'd eventually descend down to the lower trail junction with the cascades trail, and with all the descending, we knew that it was going to be a long climb back up as indeed this was an upside-down hike.
I briefly walked up the cascades trail just up to the orange closure part, where I could still see a couple of the attractive cascades along the way. I just couldn't go up into the rocky part and I don't think many others did that either. Too bad we were looking against the sun at this time of day as clearly Kings Creek Falls and its cascades was facing east so it was really more of a morning hike than the late afternoon hike that we did.
Eventually at 4:45pm, we finally made it down to the Kings Creek Falls overlook, which had a newly renovated lookout. Unfortunately, the view left a lot to be desired as it was a top down view plus it was against the sun. There were people down at the base of the falls, which made it apparent that it was indeed possible to get down there, but I got the sense that the park service didn't want people doing that as there was no sanctioned trails allowing this as it was more trail-of-use.
Still, I got the sense that the park service was being conservative and this overlook being kind of subpar reinforced that notion. So I rebelled and did what quite a few other folks did and made the scramble going down to the base of the falls. During that descent, the path was quite steep towards the bottom as the flakes of rocks were slippery and warranted a lot of caution. Still, it was difficult to photo the falls (as satisfying as it was) at the bottom thanks to the late afternoon sun pretty much looking right against me.
At 5:05pm, we had our fill of the falls, which was a bit on the disappointingly small side (probably around 30-40ft tall but would score a 2 at most, which felt generous). As we hiked back up towards the trail junction with the cascades section, we weighed whether we should gamble doing the shorter trail up the closed cascades part or go back up the Horse Trail.
When we got back to the junction at 5:20pm, we ultimately decided not to make the gamble, especially since this could've resulted in even more hiking in going backwards if our fears were to be realized and the trail was not safely passable from the bottom up at the rocky sections.
Anyways, we climbed back up the Horse Trail and eventually made it back to the trailhead at 6:10pm. There were lots of mosquitos along the way as it was indeed late afternoon and the hungry female mozzies must've been out en mass. So we re-applied DEET just to make sure we wouldn't contract whatever they were carrying like West Nile or other possible diseases.
We continued driving the road around the rest of Lassen Volcanic National Park, where we made a brief stop at some other car park where a couple of deer were busy licking the pavement. We suspected someone must have spilled coke or something and the deer sought out the high energy contents of human foodstuffs. That was too bad, but it didn't stop us from taking deer photos from our car.
At 6:40pm, we made a stop at Manzanita Lake, where we figured out that we could stop the car at a pullout near the park entrance, then Mom and I walked around the part of the lake where we could look over the reflective parts of the lake back towards Lassen Peak. It was probably our most compelling spot to take photos of Lassen Peak over Manzanita Lake, and we braved the mozzies for it.
At 7:05pm, Mom and I returned to the car ready to call it a day of sightseeing. Dad took over the driving duties at this point, and we headed west (against the sun) towards Redding, where we knew there was the Thai/Lao place called Champa Garden. We eventually got there at 8pm and ordered lots of food as Mom got a Champa Sampler while we got a Pad Thai, Tom Yum soup, and a green curry.
It wasn't until 8:45pm that we were done with dinner (where Julie and Tahia Face-Timed us during the meal), and then we made the drive further south to Red Bluff to spend the night. We'd finally check in at 9:40pm where we could finally get settled and get cleaned up before sleeping. Tomorrow promised to be yet another long day and we probably weren't going to get a whole lot of sleep…
Visitor Comments:
Nevada gas prices
April 28, 2021 1:32 pm
-
Yes, western Nevada gets California refinery formulations, so gas is expensive. And Washoe County (Reno metropolitan area) has higher gas taxes! Renoites make a point of filling in Carson City or Douglas County if they're down there. And, of course, next time you're thru Reno you can check out Hunter Creek Falls! ...Read More