Day 6 (July 15, 2016 – Medford, Oregon): "Sapphire Blue"
It was 5am when we awoke. This time, I had set the alarm for this time while turning off any of the earlier alarms. The intent was that today was supposed to be a pretty easy day as we were going to concentrate our morning on Crater Lake, and then spend most of the afternoon wrapping up our waterfalling efforts on this trip.
It took us some time to leave the Candlewood Suites for the day as I had to contend with a clogged toilet from last night. But after tending to this issue (I didn't realize how DIY the Candlewood Suites was), we finally loaded up the car with day use stuff and supplies, and we were off at 5:55am.
During the drive out of Medford along the now-familiar Hwy 62, we ended up getting breakfast on the go at this place called Lil' Pantry again. I think Mom preferred Mickie D's brekkie but the restaurant was on the other side of the road. We even thought we could get something from Jack in the Box to go, but I somehow managed to miss the entrance for that fast food joint.
The drive further north along Hwy 62 went pretty uneventfully though I was always on the lookout for deer on the road. The road made me nervous because it was pretty much flanked by forest where deer could suddenly dash out onto the road out of nowhere without ever seeing it coming until it's too late.
During the drive up, I was also paying attention to where the Natural Bridge turnoff and viewpoint area was, which hapened to be just south of the Hwy 62 turnoff for Crater Lake. By the time we reached the eastbound lane for getting to Crater Lake, there was a pretty lengthy delay due to road construction that was going on. So we got into the jam at 7:15am and it wouldn't be until another 5-10 minutes later that we would finally be moving at full speed again.
Not long thereafter, we managed to make a stop at the familiar Vidae Falls at 7:50am. Even though the morning sun was shining on parts of the waterfall in the right way, there were also morning shadows from the neighboring trees cast upon the falls.
Even though this waterfall was roadside, we didn't linger for long (only spending 10 minutes here) because there were a lot of mosquitos at the falls which made it a bit difficult to try to enjoy the place by taking photos and movies in the different lighting than before when Julie and I were last here some seven years ago in the afternoon.
Next, we continued driving towards the East Rim of Crater Lake. Somehow we missed the trailhead for the view of Phantom Ship (which I thought might have been a good place to view it) and we wound up at one of the more open overlooks that afforded us a look back towards the Phantom Ship from the roadside. With the morning light (we were there at 8:10am) the sun was behind us and it seemed like a pretty good idea to go with this strategy of enjoying Crater Lake's east side in the morning.
For the next three hours, we'd get into this pattern of stopping of each of the roadside overlooks which afforded us different perspectives of the massive Crater Lake. Yet it seemed like something was missing with the views of the lake from this side, and I guess it was that Wizard Island was more towards the western side of the lake.
That said, we did notice other things like Crater Lake fronting peaks such as Mt Thielsen as well as Mt Bailey, and we were also near Mt Scott, which also seemed to be its own little volcanic peak. We also encountered strange formations like Pumice Castle while also noticing a snowy peak way in the distance that we speculated might be Mt Shasta and Shastina.
By about 10:05am, we stopped at a pretty popular overlook which was near the junction of the Hwy 138 (which contained the North Entrance Road) and the Rim Drive that we were on. When we went up the sandy slope up to the wooden railings, it became apparent why it was so popular – we were essentially looking down at Wizard Island which was now close as we were pretty much on the northwestern side of Crater Lake.
Even though we were kind of looking against the sun if we looked to the east, the sun's position actually wasn't that bad and the sapphire blue color of the deep lake seemed to come out more, especially with polarizers on.
After having our fill of this overlook, we next went to a section where there was some road work going on. Shortly after this somewhat lengthy delay, we saw another popular overlook at 10:25am, where this time we were essentially looking straight down at Wizard Island with the rest of Crater Lake beyond it. This overlook also happened to be the start of a trail that led up to some kind of observation tower way at the top of an adjacent conical mountain, but that trail was closed due to snow (not that we were going to do it anyways).
With each of the overlooks being so attractive here (and popular for good reason), it made me wonder whether we spent too much time around the eastern overlooks because at this point, we were kind of Crater Lake fatigued and so the best overlooks had kind of lost their luster at this point. But I guess at least Julie and I had done all of these views on our first trip here some seven years ago so even though Mom had run out of space on her iPhone while encouraging me to keep skipping past some of the overlooks on this side (in an effort to beat the rush and get to Crater Lake Lodge as soon as possible), I at least already had an idea of what these overlooks were about and wouldn't have regrets about not stopping for some of them.
Anywyays, we were done with the lookout with the trail to the observation tower at 10:50am, which was perfect timing as the traffic jam building up due to the road construction backing up the traffic going the other way and kind of blocked us from being able to move out and further to the south part of Crater Lake. And when we got back into the car, that jam was loosening up as they finally let people through that construction area which opened the door for us to continue on.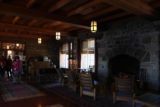 At 11am, we finally arrived at the Rim Village. At first, we had stopped at some cafe and gift shop, which was where I'd imagine Julie and I stopped at the last time we were here. But Mom had Yelped that there was better food at the Crater Lake Lodge, and when it became apparent that this little spot didn't have much in the way of good food, we got back in the car and parked closer to the Visitor Center and hence the Crater Lake Lodge.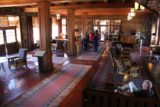 While Mom and Dad made a beeline for the lodge to try to get lunch early before the rush, I walked to the Visitor Center (trying to dodge big bee swarms in the process) to pick up an official park map and then make the scenic walk from the Visitor Center to the lodge with more views of the sapphire blue Crater Lake. Apparently, the blues were so pronounced here because the lake lacked runoff and sediment combined with the depth of the lake making other colors absorbed out.
When I got to the Crater Lake Lodge closer to 11:30am, we happened to line up just as they were about to open in less than 5 minutes, which was perfect timing. So we were promptly seated shortly after they were open for business at 11:30am sharp, and we wound up pretty soon ordering things like the Lodge Burger, Rainbow Trout, and Fish and Chips.
We didn't get a window seat, but it really didn't matter a whole lot here. So we left the restaurant pretty satisfied, and then we slowly walked our way back towards the Visitor Center. Mom took the lead enjoying the views, and we ultimately spent some time at a pseudo-outdoor-but-sheltered observation area where there was a relief model of Crater Lake as well as a nice panoramic view from the south side of Crater Lake.
Inside an adjacent room, a video was playing simulating the specific chain of events that gave rise to Crater Lake, which I kept reminding Mom and Dad that it was similar to Changbaishan on the North Korean-Chinese border. The difference was that we had to be content with limited views since we couldn't get into the North Korea side of that lake, plus we happened to be there when the lake was still frozen so it didn't quite have the impact that Crater Lake had.
At 12:55pm, we made it back to the car. By this time, the Crater Lake Rim Village was crazy busy and it was a good thing that we had gotten our early start. Now, we started to drive out though we were curious about Plaikni Falls and Duwee Falls since they were mentioned in the park map.
After determining that Plaikni Falls was going to be too much trouble for us to do (said to be 2 miles round trip plus we had to go all the way back to the Phantom Ship Overlook area), we decided to do Duwee Falls since it was on the way.
So at 1:10pm, we decided to stop at the trailhead for Godfrey Glen. There were a handful of cars here so that kind of gave us hope that perhaps we happened to be at the right place for the falls. After all, we saw mention of Duwee Falls in the literature during our pre-trip research, but we noticed a lack of follow up literature describing any trail leading us to the closest and most satisfying view of it. So we took a punt and just went for it under the guise of post-lunch exercise.
And so we took the loop trail in the clockwise direction (to our left), which promptly skirted Munson Creek. It didn't take long before we started to see interesting wrinkled ash cliffs where the breeze kind of scattered the ash this way and that. Anyways, we could hear the creek making noise and we suspected that the waterfall must be close by, but at first, we couldn't spot the falls.
It wasn't until it was apparent that the trail was veering away from the creek and the falls that we turned back and backtracked. Along the way, we noticed some cars parked alongside a road way downstream, and we decided that we had to be at that pullout in order to view the falls because it was apparent that this trail really wasn't it.
Just as we were going to give up on it, I finally managed to spot just a glimpse of the top of the falls though it was too dangerous to even try to scramble to improve the view. So we were content with whatever unsatisfying partial views we could get before returning to the car knowing that there was a more distant roadside view to try later.
So at 1:55pm, we were back at the car. I guess that explained why that the signage for the Godfrey Glen Trail lacked any mention of Duwee Falls even though the maps made it seem like it was the closest trail to the falls. These are the kinds of things you can only find out when out in the field.
At 2:05pm, we eventually made it to the roadside view of Duwee Falls. It was actually along Hwy 62 bound for Klamath Falls as opposed to Medford, which was just outside the park entrance. They didn't stop us on the way out like they did at Tioga Pass in Yosemite, though we saw that going the other way, there was a huge line waiting to get into the park. Again, it was a good thing we beat the rush.
Anyways, at this overlook, we could definitely see the front of Duwee Falls and it was clear that this waterfall was quite tall even though some trees were in the way. It was actually a bit more satisfying than I anticipated though it would have been nice to get closer to this falls if it was possible. Regardless, the pyroclastic flow cliffs were attractive, and there even appeared to be some kind of meadow way down below in the gorge.
After having our fill of this spot, we then drove off some five minutes later. Next, as we were driving the Hwy 62 towards Medford, we had a bit of another lengthy stop for road work again. This time, the line was longer and there was a slow bus leading the caravan of cars so we were actually going quite slow before making it back to the junction that would ultimately lead us south towards Medford.
At 2:50pm, after turning off for the signposted Natural Bridge Viewpoint, we'd ultimately rock up to the car park there, which was quite big but also quite empty. We promptly got out of the car and did the paved walk towards the Rogue River where there paved path went over a footbridge, then alongside the Rogue River offering up different viewpoints of the river re-emerging and disappearing into lava tubes (and hence the Natural Bridge name).
This really was the kind of place to be experienced as opposed to taking photos as the photos didn't do this place justice. But regardless, we lingered around for a bit noticing things like a blowhole as well as the hidden river as a large chunk of what appeared to be the bedrock of the Rogue River was exposed before it was filled in with rushing water further downstream.
This strange phenomenon was hard to capture in photos, but I think the videos might have done a better job of capturing and communicating this to whoever we'd show it off to.
At 3:30pm, we got back to the car. The whole time, I was debating whether to treat this place like a waterfall (so it would get its own writeup) and we ultimately decided that it should though it would probably be rated a 1.
Next, as it was getting late in the afternoon, we could finally drive towards the Mill Creek Falls Scenic Area. This was something that we thought we might run out of time and do first thing Saturday morning, but it was nice that we could finally do this set of waterfalls before ending the trip for our last night in Medford.
So we followed the brown signs (not going into the town of Prospect as the GPS
tried to get us to do), which had us turn left a little further down the road before making a couple of left turns, then backtracking towards the parking area for the Mill Creek Falls trailhead. We got there at 3:50pm.
There was a huge sign showing a map of the area, and from this map, it was clear that we should visit Mill Creek Falls and Barrs Creek Falls on the same excursion, which we were about to do. However, it also appeared that we should check out Pearsony Falls since it looked like it was very close to the parking lot over there. So that was the plan.
The hike down towards Mill Creek Falls was pretty straightforward as we followed a wide gently descending trail amongst some tall trees. At each junction, there were these pi-shaped log arrangements with writings on them telling us which way the branching trails would go. There'd be one near the Mill Creek Falls and Barrs Creek Falls junction where the same pi-formation told us that Mill Creek Falls was 173 ft tall and Barrs Creek Falls was some 232ft (???) tall. We got to Mill Creek Falls at 4:10pm.
There were lots of false trails going this way and that to try to get a view of Mill Creek Falls through the obstructing foliage, but the sanctioned view was easily the best one and those other trails weren't necessary. Anyways, this falls was gushing and it had a classically tall drop. The afternoon light seemed just right for this west-facing falls though the trees were conspiring to obscure parts of the falls from the bottom.
After having our fill of this look-but-don't-touch falls, we then continued towards Barrs Creek Falls where ten minutes later, we climbed up onto a jumble of rocks which had a different direct top down view of Barrs Creek Falls which was much thinner than the gushing Mill Creek Falls, but it had a different character to it.
We could also get a glimpse downstream at the context of the gorge as well as looking upstream through the foliage towards partial views of Mill Creek Falls, which was also somewhat visible from Barrs Creek Falls. So it didn't take long to get our fill of this spot though once again, the mosquitos were a bit bothersome and kept us from totally wanting to linger here for longer.
Eventually at 4:40pm, we took a brief shortcut that went up a steeper but just-as-easy trail of use to the parking lot. Thus, we were done walking uphill on the upside-down hike. But as we approached the trailhead, all of the sudden, the car park was a lot more full than earlier on when we were only one of four cars here. That was a bit unusual as we would have thought this place would get less and less busier the later in the afternoon it became.
Seeing how the sign at this car park suggested that Pearsony Falls was very close to the parking lot, we decided that since we're here, we mind as well go for it before heading back to Medford. Dad was hoping we'd get back to town sooner as I think he had gotten waterfall-saturated.
So we drove further along the Mill Creek Rd until we eventually got past a bridge over the Rogue River, and then turned right into a spacious parking lot though we weren't sure if we were in the right spot or not since we didn't see any big signage suggesting this was the trailhead for Pearsony Falls.
It wasn't until we stopped the car at 4:45pm and walked towards the bathroom there that we finally saw a small trail sign pointing the way to Pearsony Falls. The trail was a bit longer than I had anticipated as the sign at Mill Creek Falls trailhead made it seem like this one was roadside. Still, we walked quickly and eventually got to the shady confines of Mill Creek and Pearsony Falls, which was a short but wide cascading falls that was probably conducive to long exposure photographs.
While Mom and I were busy taking photos of this cool spot (where it was noticeably cooler than the trail itself), apparently Dad was nowhere to be found. We surmised that he must have not noticed Pearsony Falls nor us taking photos of it and he kept going. So we ultimately went further down the trail (further encouraged when a couple going the other way confirmed that Dad went down there), and we eventually caught up to Dad as well as checked out an overlook of some cascades on the Rogue River revealing parts of itself amongst a huge jumble of boulders.
At first, I wasn't sure what this place was, but then it became apparent to me that this must be the so-called Avenue of the Giant Boulders. There were some people on the other side of this Giant Boulders area looking for a play spot, but there was no way we'd be going there. Mom and I were content with the view while Dad was already headed back up to the trailhead.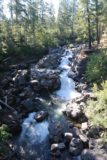 By 5:30pm, we were back at the car. I guess this excursion took a little longer than expected due to Dad overshooting Pearsony Falls, but in the end, I was glad we did it and now pretty much fully experienced this trail. Technically, we could have made this a longer hike and linked everything together (i.e. hiking up from Mill Creek Falls Trail), but in the grand scheme of things, we felt we did this place right either way.
On the way out, Dad stopped the car at 5:40pm right by the Rogue River bridge. There, I got out of the car and walked to the bridge (where there was no pedestrian shoulder or walkway) and hastily took my photos and movies of more attractive cascades spilling towards the bridge then continuing further downstream at the Giant Boulders. In the distance, there was some conical snow-capped mountain though I wasn't sure which mountain that was. Regardless, I didn't quite get the view that Gregory Plumb
(whom I'd imagine also informally named this waterfall as "Rogue Falls") got which was showing both the bridge and part of the waterfall, but I thought it was probably better from the brige anyways (even though it wasn't sanctioned and I was trusting that a passing car wouldn't run me over).
So it didn't take long to get my fill before the next car would come along to this bridge, and then we drove off back to Medford, finally. We'd eventually decide on having a filling meal and a splurge at this place called Porter's, and we'd ultimately get there at 6:45pm.
This restaurant was actually an old train station and the whole train theme was quite apparent. We'd eventually order a special tomato heirloom salad, some prime rib, halibut, and some kind of Cordon Bleu chicken all topped off with a sweet dessert of a Jack Daniel's bread pudding and ice cream sundae. I guess we pretty much went all out with this dinner since it was the last one of this trip, but I somehow wondered if all that weight I had lost in the last two months was probably gained right back on this one meal.
Regardless, despite the very slow arrival of the food, we enjoyed ourselves and basked in our accomplishments of this trip. And by 8:35pm, we were back in the car just as the moon was rising above the Porter's restaurant and bar while the skies were turning orange with the setting sun.
At 8:45pm, we were back at the Candlewood Suites where we could finally call it a night. Indeed, it was yet another exhausting and surprisingly full day, and we were pretty much crashed for the rest of the night for an early wake-up the next morning for the long marathon drive back home…