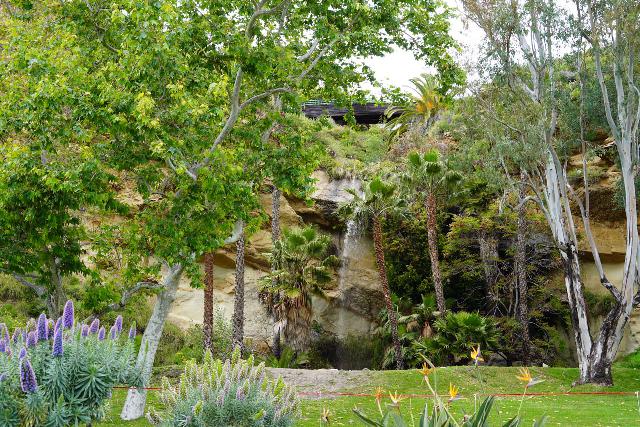 10-April 2020:
Still, with all the mental stress from being stuck in the house and the uncertainty for how long COVID-19 was going to last in America, we were definitely getting cabin fever.
Spring was usually the time to go out waterfalling, and it was quite difficult being without a critical part of one's physical and mental health in order to do our part by staying home as much as possible…
Ever since the governor made it official that shelter-in-place laws were in effect since around March 20, we had pretty much been couped up in the house.
While this gave me a chance to get caught up on things regarding the website (a very long term project), it was also getting increasingly difficult as we were left home schooling Tahia.
There was no live instruction, and really all that the school district was doing was giving out assignments and scheduling online tests.
It kind of made me wonder why we paid so much in property taxes if our district couldn't adapt to online learning with live instruction as opposed to self-learning and home schooling.
Nevertheless, the teaching duties fell on Julie and I, and while Tahia was already strong-willed about not taking instruction from us, it was definitely wearing on us mentally the added responsibilities of extended home schooling.
On top of that, I also had existing duties from my job, Julie's motherly duties, and overall trying to hold things together as our mismanagement of the earth finally came back to bite everyone as a whole.
We also had to really oversee what Tahia was doing because she kept trying to sneak in YouTube, chat, or Roblox with absolutely no intention of doing her school work nor doing any chores to help us out.
But now that Tahia was on Spring Break, it was as if the home schooling part of it didn't apply as much anymore.
Still, with all the mental stress from being stuck in the house and the uncertainty for how long COVID-19 was going to last in America, we were definitely getting cabin fever.
Spring was usually the time to go out waterfalling, and it was quite difficult being without a critical part of one's physical and mental health in order to do our part by staying home as much as possible.
Thus, on this day, Julie was determined to turn a grocery store outing to the Fermentation Farm and Mothers into an extended errand run that included a drive-by to the Dana Point Waterfall.
She actually floated about that idea to me yesterday, but I was kind of lukewarm to the idea since we were supposed to stay home.
But at the same time, our physical and mental health probably weren't what they could be since we hadn't gone on any hikes to reconnect with Nature.
I was even struggling with tinitis that just started yesterday, and it made me wonder whether all the lack of physical activity and the Vitamin D the last few weeks was causing my body to complain.
Even though all we had to show for was taking short walks to the local park and perhaps getting a little sense of Nature healing, I knew we had to do something to balance the mental and physical health again.
At least we could take comfort in the fact that it did seem like Nature was on the mend given the sudden pause in economic activities, especially with regards to the dramatic drop in air travel and commerce in general.
Indeed, we noticed the skies were getting clearer and even the Spring rain was coming again (I wondered if that had anything to do with the sudden decrease in industrial activity).
In any case, Julie made the push to get this plan going, and she started by getting dressed and dragging me out of my working position.
She was hoping that maybe our visit to the Dana Point Waterfall would be like a local walk in the park around it.
I somehow doubted that the city of Dana Point would even allow parking nearby as all beaches and beach access (it was close to the harbor) were to be closed in order to keep people at home and not crowding beaches and trails.
So after a rather lethargic start to the day with breakfast and the start of work (not really sure we were really doing this), we eventually left the house at 11:20am.
It had been raining all last night and even last couple of days non-stop, so Julie was hoping that the Dana Point Waterfall would perform today.
We'll see as I kind of had my doubts about its longevity.
So we promptly headed out and made our way towards the I-5 from the 91, but we had already hit a snag as CHP was running a traffic break.
Apparently, road crews were either clearing debris or they were filling potholes.
Whatever the case was, it was a frustratingly long wait, and I was beginning to wonder if this was a sign that we shouldn't be doing this.
On top of that, Julie was supposed to meet with someone who was buying an unused sink basin from us, and we were supposed to him at 2pm (which was not a good time for Julie to spring this on me).
Regardless, as much as I wanted to abort this drive down to Dana Point, the traffic finally did move, and I was actually quite surprised by how many cars were still on the road (though at least there was no traffic).
By around 12:15pm, we finally arrived at the Dana Point Waterfall.
Down this far south in the Southland, it was actually raining on and off and sometimes the rains were heavy.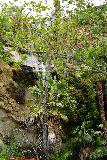 But it was a far cry from our saturation rain event that happened back in 2017 when we last saw this waterfall with high flow.
Instead, the Dana Point Waterfall had a decent flow, but with all the police red tape and cones set up before the falls with signage saying no public parking (as I suspected), we were relegated to briefly stopping the car so Julie could get out and take pictures.
There were other people doing the same thing, and there was even one family of four who got right to where Julie was without masks and essentially behaved as if social distancing rules didn't exist.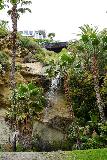 Julie acted quickly and tried to self distance herself from them, but everyone finally dispersed when someone came up in a white motorcycle.
Thinking a cop was coming by to cite people stopped here to enforce the shelter-in-place law, Julie quickly retreated back to the car.
So we drove out to a road closure where we then made a U-turn and headed back the way we came.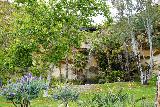 Along the way, we got another look at the Dana Point Waterfall from across the street, which I took pictures out the car window.
By about 12:20pm, we left our rather rushed and unsatisfying visit to the Dana Point Waterfall, and then we were essentially running Julie's grocery errands that she intended to do anyways as per our COVID-19 routine.
After all, we still needed to eat healthy and whole plant paradox diet foods to help our immune systems fight off any potential infections (including COVID-19).
But this was the first time that Tahia and I were in the car with Julie.
So headed back up the I-5 and towards the I-405, and eventually the 55 Freeway.
We ultimately got to the Fermentation Farm at 12:55pm just as the rain was starting to come down again.
After a quick 15-minute visit (with full-on mask and gloves and lots of wiping down once we got back in the car), we then headed to Mother's and got there at about 1:15pm.
Mother's was a bit busier than Fermentation Farm, and the rain was coming down harder over here in Newport Beach.
But Julie got in, did her errands, and meanwhile Tahia and I were keeping each other busy inside the car.
We noticed how most people wore masks but not everyone did, and I wondered if Orange County had the same mask restrictions as LA County did.
Whatever the case, we were out of Mother's by 1:30pm and by 2pm, we finally made it back home.
It wasn't the most fulfilling of outings, but at least it was a slight alleviation of the cabin fever we were getting.
Visitor Comments:
Got something you'd like to share or say to keep the conversation going? Feel free to leave a comment below...
No users have replied to the content on this page