Day 1 (January 21, 2017): "Conspiracy Theories"
It wasn't until 11am when we finally started to leave the house. As had become customary when we decided to last-minute hiking day trips in the local mountains, we would get later-than-usual starts after having a fairly full and healthy breakfast as Julie continued to tend to her gut issues while ensuring Tahia and I wouldn't suffer the same fate.
We knew that the forecast for today said that the weather would be good, and that this would be the lone window of decent weather when the rest of the weekend as well as the last two days would be socked in with storms. Yesterday's rain was especially of the cats and dogs variety, which I knew firsthand when I had to go to and from the Metro to work under such conditions (wetting the shoes in the process due to street flooding).
In any case, we now made the customary drive on the freeway, which was relatively light given the typical sluggishness around the freeway interchanges. But at least most of the way on the I-605 north was somewhat smooth going. The drive was accentuated by cool crisp air which allowed us to see the extent of the snow that had accumulated on the mountains east of the San Gabriels. There was even a dusting of snow that we could see on the far eastern part of the San Gabriel Mountains just around the Duarte and Azusa area I would guess.
All of us (especially Tahia) were quite giddy looking at the lovely snow-capped mountains as I was making the drive. But when we got to the 210 freeway, that was when the snowy mountains would be behind us, and then we'd have to get through the somewhat heavier (but still flowing) traffic towards Sierra Madre.
The target of today's hike was the Bailey Canyon Falls thinking that the pretty rainy Winter we've been getting combined with the downpours from Thursday night through to yesterday afternoon ought to make this waterfall perform. So we were expecting something a bit better than this time a year ago when this waterfall was bone dry. That said, I did have in the back of my mind the possibility that this falls could still disappoint, which would mean that this would probably count more as an ephemeral waterfall as opposed to a legitimate waterfall. But I guess we'll have to see and find out.
At first, when we got off Baldwin Ave and headed into the Sierra Madre area, Julie was following the Yelp directions, but when we wound up at the foot of the Mt Wilson Trail, we knew that we were not in the correct spot for the Bailey Canyon Park. And so we then followed the directions from our own website, which eventually got us to where we needed to be but only after taking the Carter Rd, which skirted the foothills. We definitely took a different route than before.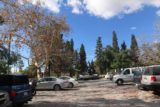 Regardless, it was about 11:40am when we arrived at the Bailey Canyon Park, where we secured the last parking spot available. There was definitely a lot of cars parked here, but after getting ready for the hike, when we walked towards the toilet and trailhead, we saw that some people were setting up for some kind of Pine Trees Hiking Club gathering. I guess the busy car park had more to do with that than the hiking itself, I reckoned.
The hike proceeded as usual through the semi-forested picnic grounds before reaching a sloping road where there were piles of logged tree stumps and chunks on the opposite side of the road. When we got towards the apex of the road, we were curious to see how much water might have accumulated at the Sierra Madre dam, but once we got high enough to see, we clearly saw that there was nothing more than a pond of water off to the side of the drain. So it wasn't a good sign as far as the performance of the Bailey Canyon Falls would be concerned.
Still, we continued on with the familiar hike as we followed the sign bypassing the bridge, and then walking a few more paces into the narrowing canyon as we then got to the familiar signposted junction. Keeping left at the signposted junction, the trail narrowed even more as it pretty much went in and alongside the stream responsible for the Bailey Canyon Falls. Unfortunately, it didn't appear that there would be much water in the creek bed, which further made us concerned about the conditions of the falls.
The hike was pretty quiet, which was always a nice aspect of doing waterfall hikes like this. Tahia and I were even listening to church bells tolling and playing hymns with those bells as the clock had struck high noon. There had to have been at least a couple of different occasions of the church bells tolling suggesting that there were two separate churches nearby this hike.
As we got further into the hike, which got progressively rougher, we did see some water in the stream, which was enough to wet some rocks around a tiny 3ft waterfall. As we were being allowed to pass by a group of hikers (seeing Tahia was leading our little group of three), she was making some loud commentary like "Yucky Mud!", which prompted some of the ladies who had let her pass by to chuckle and agree verbally with Tahia.
She was definitely at that age where we was vocal about all sorts of things while also being very curious. And it was quite the joy to be spending time with her while watching her grow (and entertain) when we went on these local outings.
The hike continued to get rougher the further up we went, but apparently, the creek started to get stagnant and dry again. I guess the water that we had seen earlier must have come from a different source or spring. When Julie asked another trio carrying a baby how the waterfall was, they flat out said that the falls was just a trickle. So that pretty much confirmed our worst fears about this place.
Still, we had to get to the end and see for ourselves, especially after having gone through the trouble of getting here in the first place. And as we continued along with the rougher hike, we got to a spot where there was a little bit of a landslide which caused Tahia and I to backtrack and find the proper trail (which had a little rock cairn) to skirt up and around the fallen tree and little ravine.
After the steep descent following the fallen tree, we were then on the familiar final stretch of the Bailey Canyon Falls hike, and after rounding the familiar bend, that was when we got to the dead-end where the Bailey Canyon Falls was supposed to be. And as expected, the falls was really nothing more than a trickle going down a wet wall, which at least was a little more water than last time, but it was clearly disappointing.
That was when I had to conclude that this was indeed nothing more than an ephemeral waterfall, and that it marginally counted as a legitimate waterfall. In fact, even rating this guy as a 0.5 was being generous if it was this unreliable. So Julie and I speculated about how it could be that the falls was so disappointing less than 24 hours removed from the downpours that most of the Southland was getting.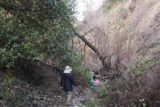 We had some theories that perhaps some water bottling companies (Nestle was the most notorious of those companies that had siphoned water from drought-stricken public lands in the Southland) might have diverted or pumped out water from Bailey Canyon. Or, that perhaps it was the local developments that might have been responsible for it as homes would continue to be developed and sprawl right up against the foothills of the San Gabriel Mountains. Then again, perhaps the unsustainable water-siphoning ways were already in place years ago, and that Bailey Canyon Falls could no longer be as reliable or counted as a waterfall as it might have been decades ago. Who knows?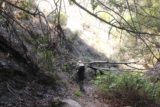 Regardless, Julie and I decided that we would probably never seek to attempt visiting this waterfall again. It was much like our experience with La Jolla Canyon Falls in the Santa Monica Mountains near Malibu, where after days of storms, that falls couldn't perform either. That said, we did plan on going down to Dana Point to try to time our visit for a rare waterfall in the Dana Point area tomorrow, when it was forecasted to rain.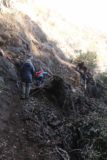 I don't know if that was a good idea or not, but Julie had made a visit down there before after visiting a doctor in the OC, and said that the place was easy to visit and felt like an oasis. So perhaps we might be getting lucky. Or in the worst case, we'd wind up chasing another ghost of a waterfall.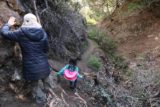 A little after 12:25pm, we started to head back out down Bailey Canyon. Tahia was saying that she was hungry, and so were the rest of us. So we hastily made our way back out where we were surprised to see quite a few other hikers making the scramble and hike up towards Bailey Canyon Falls. I guess they were in for a disappointment.
At least the hike back out was pretty scenic as the Los Angeles basin across the San Gabriel Valley could clearly be seen under the crisp cool air. Sure we were looking against the sun, but at least the San Gabriel Valley didn't appear to have the infamous pollution haze obscuring the views as we were making the downhill walk back from the dam towards the picnic area.
Along the way, I paid more attention to a section of a cliff that appeared to have some kind of pavement that was designed to look like dirt. It was definitely man-made and it reminded me of the kind of thing they did at the Aliso Viejo Waterfall, which made me question whether that waterfall was legitimate or not.
At 1pm, we made it back to the car park. Indeed, that Pine Trees Hiking Club was definitely in full effect as there were probably over two dozen people gathered under the signed tent that they had going along with lots of mostly senior people of different ethnicities (though I thought I heard Korean in the dialogs) getting together for a picnic.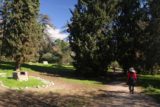 Soon thereafter, we drove off and 15 minutes later, we got to the familiar Tender Greens in Pasadena where we could finally indulge our grumbling stomachs for some relatively clean food (for eating out). Tahia was complaining that she couldn't have quesadillas and was crying because of it, but we persisted in insisting she was to eat the healthy stuff and not the junk. And eventually, the lunch went by without too much further incicent as we left the restaurant at around 2:10pm.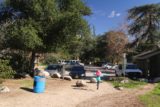 But it wouldn't be until about 3:05pm when we would finally get home as traffic was quite bad on the 210 going east and then on the 605 going south. During this time, I was listening to my UCLA basketball team get the game taken to them by the University of Arizona with them visiting Pauley Pavilion. It was quite a statement win by the Wildcats, and at least that helped to keep my mind off of the traffic somewhat.
With the day over as far as waterfalling was concerned, I spent the rest of the day working on the website migration as well as indulging Tahia in playing a game of Monopoly with her (as sort of an excuse for me to try to teach her or at least get her to apply some of the addition and subtraction math skills that would serve her before getting to the common core stuff that might make it harder for her to learn in a timely and accurate manner). In any case, we'll see what tomorrow brings…