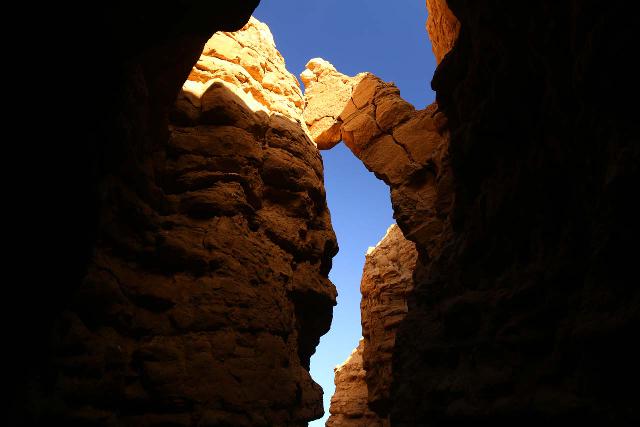 8-February 2019 to 10-February 2019:
Along the way, I spotted an amphitheater perhaps for ranger led talks at night. I also ran into an English person who said that there was some commotion about bighorn sheep. However, he didn't see any.
Finally at about 12:20pm, I had returned to the trailhead and our parked car. However, Julie was nowhere to be seen despite having been ahead of me (at least fom what I could tell during my return hike).
When Julie finally got back to the trailhead at 12:25pm, she told me that she saw a ram! And she made sure to let me know that I should have taken the main trail back instead of the alternate one. In any case, she showed me the iPhone photo and sure enough, she saw one…
Day 1 (February 8, 2019 – Julian, California): "The Imagine Dragon"
It wasn't until about 11:50am when Julie and I finally left the house. It was much later than I was hoping knowing that daylight was limited in the Winter time (I was hoping we'd be out the door by 10am). I was thinking that at around 5pm, either it would be dark in the Julian area or at least the shadows would get long. At the rate we were going, we probably wouldn't make it to Julian until around 2:30pm or so.
Further complicating the worries on this trip was the forecast for rain and snow Saturday morning in Julian. I was hoping that timing would be on our side this time around where we could be hiking in the deserts of Anza Borrego while the storm hit the mountainous community up at 4200ft.
Nearly 10 years ago, Julie and I were caught in a snow storm that had gotten worse throughout the day. Not only did it snow in Julian, but it was snowing harder east of San Diego by where Kitchen Creek Falls and the I-8 were. It was crazy to think that the forecast had called for sunny skies, but it couldn't have been more wrong!
Just as I was loading up the car, I was also dealing with equipment trouble once again as our new Garmin Nuvi 50 (well, new as of 2017) didn't want to boot up. I wondered if it was an issue with the firmware update that prevented it from powering up.
So I had to revert back to using our trusty old Garmin Nuvi 265W that we've owned for well over 15 years or so. That one still hadn't quit on us!
Anyways, both Julie and I were looking forward to this mini Valentine's early getaway.
Julie was looking forward to a break from Tahia while I was looking forward to a relaxing waterfalling weekend without dealing with the website migration (now maintenance as it had been relaunched as of the new year) as well as detoxing from an already stressful project at work where they made me the lead on something where they're asking for the impossible to be done on 2.5 heads.
Seems like I can't catch a break as I get older. And I got the feeling that me having to be the team lead is going to be the new normal from here on out, which I knew would impact work-life balance that I learned over the years is more paramount to any aspirations of moving up in the company.
Well, the drive out of Los Angeles County was already somewhat heavy at the start, but once we were on the I-5 going south, we were fine as we zipped through a good chunk of the OC.
However, Julie wanted to make a stop at Chipotle, which I knew would further impact the amount of daylight we had left.
We made our lunch stop at the Crown Valley Road exit, where there happened to be a Mission Viejo Chiptole. Parking there was difficult to find at the time, and I almost had Julie go in and order to go while I was circling the tiny parking lot.
But eventually, I found parking just as someone in front of me was leaving, and then we decided to have our lunch at 12:30pm.
By about 12:45pm, we left and continued south on the I-5. This drive already had a fair bit of traffic volume, and I kind of knew that it would get even more intense once we got into the Oceanside area. At least it seemed like most of the rush hour traffic hadn't started yet.
The weather so far was beautiful as we were driving past San Onofre while witnessing the Pacific Ocean. Eventually, we'd hook up with the Hwy 78 headed east to Escondido. That was when we eventually met up with the I-15, where Julie's iPhone had us go south on the I-15 for a bit before exiting some 4 miles south of the Hwy 78.
This was different from the route I've taken in the past where we drove a lot of local streets in Escondido right where the Hwy 78 ended. I figured local street driving was not desirable so we mind as well give Julie's iPhone a shot.
Anyways, we eventually exited at E Rancho Parkway (or was it Bear Valley Parkway?) where we then headed east. It was definitely unfamiliar territory to us, but we were following behind a truck that was labeled the Julian Pie Company. Perhaps that ought to have indicated to us that they guys knew the best route to get to Julian and so perhaps the iPhone was right after all.
Sure enough, we were pretty much following the truck though they then took a small street that we should've taken that I missed out on, and we then took the Hwy 78 east past the San Diego Wild Animal Park and ultimately to Ramona. So they lost us at that point.
In any case, we then followed the familiar continuation of the Hwy 78 all the way to Julian.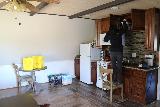 By about 2:35pm, we made it to our self-catered accommodation, which was right across the street from the Nickel Brewing Company. It was already quite chilly in Julian and the ice in the little parking lot at our accommodation certainly attested to that.
I sure hope we wouldn't have to contend with ice issues once the expected rain would hit tomorrow.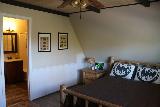 It took us some time to get our stuff upstairs to our accommodation, which seemed like an attic of the hardware store or something downstairs. They did a nice job turning this attic into a loft with the slanted roof of the building acting as our ceiling.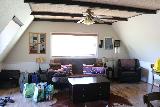 The place had a spacious living area with kitchen along with a bedroom and bathroom towards the back. However, it already felt cold in this place and we knew that it was going to be quite frigid tonight.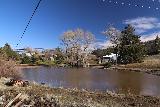 They did provide space heaters though I wasn't sure how effective they would be. We also had to be careful to not get too overzealous with the heaters or else we might trip the circuit breakers. That was something we definitely didn't want to be doing when the temperatures plunge into the teens and 20s.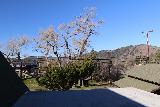 Eventually, Julie got the pressure cooker loaded up so we could have soup for dinner tonight. That way when we return from our late afternoon excursion, we shouldn't have to wait for long to have dinner.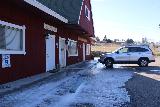 By about 3:10pm, we got back in the car and then continued on the Hwy 78. This time, we were driving some pretty curvy roads as we were headed east into the desert. We noticed some patches of snow and ice on the road both in Julian and parts of this road so that told me how easy Julian could get snow; making us a bit nervous about the expected precipitation tomorrow.
After the curvy stretch of the mountain road, the Hwy 78 started straightening out as we entered the desert of Anza Borrego. We had never been here before so it was quite refreshing to see the knobby mountains at the foothills together with some interesting desert vegetation.
Back in August, we had this notion of going to Anza Borrego to see the Galleta Meadows despite the over 100-degree heat, but we ultimately decided against it. This time, we weren't going to be denied the opportunity to check out the Galleta Meadows, which Julie had been wanting to do ever since we checked it out on Pinterest a while back.
Galleta Meadows was basically a place where some local artist named Ricardo Breceda put up some rusted metal sculptures of various animals spread out around the town of Borrego Springs. With the late afternoon light, it seemed like afternoons were perfect for checking out these sculptures with the mountainous backdrops.
Indeed, as we entered the town of Borrego Springs, then approached the Christmas Circle roundabout, we could already see some of the impressive metal animals glowing nicely in the late afternoon light.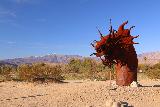 After getting past the roundabout and continuing on Borrego Springs Road, we'd eventually arrive at the famous metal dragon towards the north end of Galleta Meadows. We got there at around 4pm, where there was another vehicle and some people taking their obligatory shots in front of the dragon's head.
Just as Julie and I were taking photos, another couple as well as a Dutch guy with a drone also shared the attraction with us. Clearly, these sculptures provided a reason for a lot of people to come to Borrego Springs, which didn't seem at all like a touristy town.
I'd learn later that that was for a reason. Basically, it was low key because it was an International Dark Sky Community, which meant they intentionally kept the light pollution low to preserve the quality of stargazing. We got a taste of that last August in Joshua Tree. So I'd imagine Borrego Springs would be quite the place to do activities in the day then go stargazing at night. Perhaps that's the appeal of Anza Borrego, and having never been here before, we were learning new things as we went…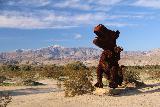 I had wondered if it was more strategic to stay in Borrego Springs instead of Julian, but it seemed like Julian was more charming. Plus, we were pretty familiar with the town having been here at least three or four times now. The only downside besides the extra driving distance to the hikes for tomorrow as well as Galleta Meadows was the weather risk we were facing tomorrow morning.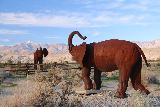 Anyways, after having our fill of the dragon, we then briefly headed south towards some sloths, which also had a nice mountainous backdrop. Then, we briefly headed north all the way to the end of Galleta Meadows where there were a couple of elephants with some signage for Galleta Meadows.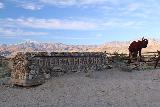 However, light had already faded and sunk behind the nearest mountains from this spot so we decided to head south again in the hopes of catching the horse sculptures with nice mountainous backdrop lighting that we had witnessed earlier on.
Well, when we got past the Christmas Circle and got to the horses, part of them were in somewhat muted afternoon lighting thanks to high clouds obscuring the last of the late afternoon sun. Then, the sun had also sunk beneath the mountains so that was the end of the decent photo conditions for the Galleta Meadows.
By 4:45pm, we had left Borrego Springs and headed back to Julian.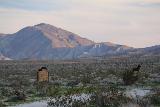 It wouldn't be until about 5:25pm when we returned to our accommodation. Without the afternoon sun, it was even colder than it was when we first arrived.
Some brave folks were busy chatting it up and having beers at the Nickel Brewing Company across the street as they were sitting outside. It seemed like a real popular locals hangout spot.
And as we were now making use of the space heaters while Julie was finishing the preparations for our low key dinner, we definitely enjoyed each others' company while enjoying the tea and soup which helped to offset the frigid evening.
By a little after 7pm, we were done with dinner.
We were kind of looking forward to sleeping early for once and possibly sleeping in to stay cozy against the cold frigid temps that were already inundating the town of Julian.
Especially with our thinly-insulated accommodation, I knew it was going to be hard waking up the next morning. However, with the expected snowfall, that would be motivation to escape to the desert before that happens, I hope…
Day 2 (February 9, 2019 – Julian, California): "Misdirections"
It was about 6:20am when we awoke. Outside, it was foggy, which wasn't surprising considering that they were expecting rain or snow to come in at around 8 or 9 in the morning.
But from looking out the rear of the property, it looked like there was a dusting of snow higher up on the hillside behind us (possibly up where the Butterfield Bed and Breakfast was). So that kind of upped the sense of urgency to get down to Anza Borrego State Park where it wasn't expected to rain as it sat in the rain shadow of the mountains we were in.
So as much as we wanted to sleep in a bit more and remain cozy against the cold temperatures, we had to get up and get moving.
It wouldn't be until about 7:55am when we finally started to leave Julian. We had leftover soup from last night for breakfast.
As I was waiting for us to leave, I took a peek at the weather forecast for tomorrow, and it appeared to have gotten worse from the expected 12pm arrival of the next storm to now 10am! With our first experience in Julian where we were caught in a snow storm, we certainly didn't want a repeat of that experience!
There were already a handful of cars making their way east into the desert. We pretty much followed this caravan of cars through the now-familiar curvy roads of Hwy 78. But eventually as we entered the basin, the cars in front of us had dispersed and pretty soon we were back at the Yaqui Pass Road en route to Borrego Springs.
Eventually, we got to the familiar Christmas Circle roundabout. This time, we took the west exit onto Palm Canyon Drive, which passed through what appeared to be the main drag of Borrego Springs. We saw along this stretch several lodging accommodations as well as some restaurants and gift shops. So that kind of opened our minds even more to the possibility of staying in town the next time we visit Anza Borrego State Park.
Anyways, we continued towards the west end where we then turned right towards the campground. Even though the signs said there was a visitor center going straight instead of turning right, we were targeting the Borrego Palm Canyon Falls as our first excursion for the day considering it was said to be the most popular hike in the reserve.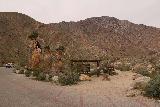 So after paying the $10 vehicle fee at the campground entrance, we ultimately parked the car right across from the well-signed trailhead at about 8:45am. We were only one of a handful of cars parked in the day-use area. With our relatively early arrival, we could see that the clouds that had produced or threatened rain or snow in Julian had started to subside down here in the desert.
After spending some 15 minutes to get geared up, we grabbed a hiking brochure and then proceeded onto the main trail.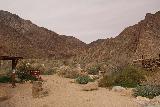 It was strange to see that most of the signage here mentioned the California Fan Palm Oasis that was perhaps the main highlight of this trail, but it seemed like there was no mention of a waterfall here. It made me wonder if this waterfalls were merely incidental attractions to the fan palm oasis or if there was something else going on that prevented people from checking out the waterfalls here.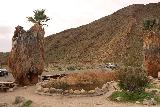 Still, we brought our trusty Ann Marie Brown book (or at least a photograph of the relevant pages for this hike), then we proceeded to head slightly uphill on the wide open (flanked by desert brush) trail at 9am.
Indeed, the start of the hike was fairly straightforward. It didn't take long before we started to the hear the rush of the creek that I was likely to be responsible for the anticipated waterfall sightings here.
The trail was seemingly mostly flat or slightly uphill. Although the trail was a wide open alluvial fan at the start, it didn't take long before the canyon started closing in.
After the first stream crossing, we pretty much hugged the base of the northern cliffs where we noticed some ocotillo cactus (the strange trees that Julie noticed yesterday at Galleta Meadows) as well as some large boulders.
We also noticed some fallen fan palms now acting as trail barricades or trail guides. Apparently, they were washed down from a large flash flood.
By the time we got across a second stream crossing, we were greeted with quite a few revegetation area closed signs that appeared to discourage upstream hiking to what I'd imagine was access to the base of a waterfall.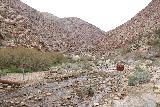 On the other side of the crossing, there was a trail junction with the so-called alternate trail. Julie pushed on along the main trail towards the fan palm oasis. Meanwhile, I was busy taking pictures while also reading signage about what happened here. The time was now 9:40am.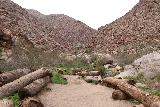 That was when a park worker was chatting with me about Anza Borrego seeing that I was showing an interest here. I did ask her about whether she spotted a bighorn sheep or not, and she said she hadn't seen one all morning.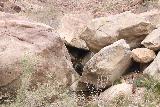 I also asked about the closures around the creek, and she said that they were trying to give the bighorn sheep safe access to drinking water without people spooking them.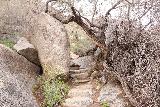 We were also making small talk about accommodation options in Borrego Springs considering that we were thinking about exercising this option to cut out the 45-minute drive in each direction from Julian to Borrego Springs.
Well, I know Julie was probably concerned about me since she was way ahead of me at this point, so I had to cut off our conversation.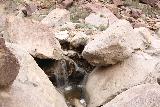 Then at around 9:55am, further on along the trail, I noticed that there was indeed a small but attractive waterfall over some boulders down below. There were more revegetation or area closed signs preventing any more legal access to the water to at least get to the base of the waterfall. So I wound up doing a boulder scramble towards the edge where I could peer down right at the waterfall as well as the creek (said to be year-round) further downstream.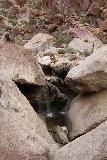 I wasn't sure if this waterfall was the main waterfall or not, but it seemed significant enough to assume that status. And if it wasn't the main waterfall, then I was really looking forward to seeing what was further up ahead, especially considering the fact that I could see the California Fan Palm Oasis further up ahead now.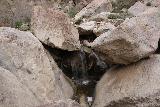 So once I had my fill of the waterfall, I then continued along the main trail. Just then, Julie seemed to be going backwards looking for me as she was wondering where I had disappeared to.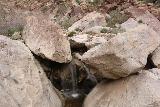 After explaining about the ranger chat I had then the short bouldering detour to the waterfall down below to our right, we then continued forward to get closer to the fan palm oasis.
The hiking remained pretty straightforward as there were now about three small parties of people heading out just as we were going in. All of those folks we had seen earlier on in the hike when they passed us.
By about 10:30am, after some more short stream crossings and even some short stream scrambling, we finally arrived within the small but dense grove of California fan palms. This was said to be the largest such natural grove in California. But given the size of this oasis, that must mean that all the other larger groves we had seen must have been helped along and not completely wild like this one.
The end of the trail seemed kind of anti-climactic as it was hard to get a satisfying shot of the fan palms from this close. Plus, there were signs urging visitors not to hop the barricade and continue further. And that was pretty much where Ann Marie Brown's book said there was supposed to be another good one about 15 minutes of hiking further on.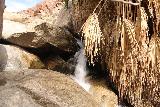 Naturally, we decided to check it out since no one else was around, but it didn't take long before we spotted a hard-to-see cascade while the overgrowth and boulder scrambling got trickier and harder to negotiate. So then, we turned back.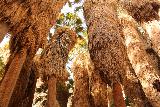 Next, I changed into my Chacos to try to wade towards the small waterfall just before the final turnoff to the dead-end beneath the fan palm cluster. But after going into pool, the water was both icy cold and appeared to be waist deep. So I didn't bother going any closer than what appeared to be a muddy submerged quicksand part that I was standing on before heading back.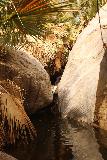 After changing the shoes back to boots and wool socks, we then started to head back down at around 10:50am.
But just as we were making our way out, we couldn't help but notice some trail behind the arrow pointing the way to cross the creek. Yet given how unsatisfying the waterfalling experience was to this point, we decided to explore that trail behind the misleading arrow.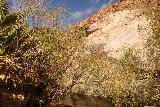 After a few minutes of going up what appeared to be a pretty established trail, we then reached some boulders where it appeared necessary to squeeze through an opening underneath some huge boulder leaning against another.
Just on the other side of that "boulder tunnel" there was a sign with a much better view towards the California Fan Palm Oasis that we had just come from. I found it strange that there was this sign and what seemed to be pretty fine trail except for the misleading arrow leading hikers away from this spot.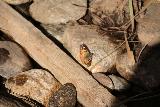 We weren't sure what was going on, but that kind of encouraged us to do a little more exploring with renewed hope to see if we could find that waterfall that Ann Marie Brown talked about in her book.
After a little more bouldering and following of faint trails, Julie and I eventually made it to what appeared to be a wide open creek area with another bouldery waterfall. We spent a few more minutes doing some more boulder scrambling to see if there were any more waterfalls, but the scrambling seemed to get rapidly more difficult the higher up we went.
So the risk reward factor wasn't in our favor anymore, and thus we made our way back down to get our fill of this waterfall one last time before heading back down. By now, it was about 11:15am when we started to make our way back from what I was calling the "fifth cascade".
On the way out, there were many more hikers making their way in. Once again, we were glad that we had gotten our relatively early start so we could enjoy the hike in a little more peace than right now.
Eventually, we made it to the junction between the Main Trail and the Alternate Trail. I wanted to complete this excursion so I opted to go the Alternate Trail. Meanwhile, Julie saw that it was more undulating and she preferred the flatter approaching along the main trail.
So we agreed to meet up at the trailhead after going our separate ways.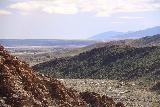 The alternate trail was actually significantly more primitive and much quieter than the main trail. I was kind of hoping that all this relative silence might improve the odds of seeing one of the Peninsular Bighorn Sheep in the wild here.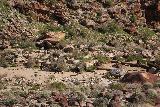 As I was scouting out the other side of the trail, I could see that Julie was actually quite a bit ahead of me, which further attested to how much longer this alternate trail was. There was even a family of three where their son was crying and clutching his teddy bear probably unhappy with the amount of exertion necessary to do this alternate trail.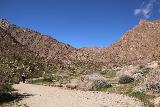 Ultimately, this trail curved this way and that with lots of rocks conspiring to turn an ankle. I then got to a part where the trail descended into a wash before veering away from it once more as it eventually ended at the southern side of the day use parking lot.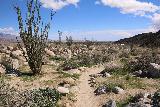 Along the way, I spotted an amphitheater perhaps for ranger led talks at night. I also ran into an English person who said that there was some commotion about bighorn sheep. However, he didn't see any.
Finally at about 12:20pm, I had returned to the trailhead and our parked car. However, Julie was nowhere to be seen despite having been ahead of me (at least fom what I could tell during my return hike).
When Julie finally got back to the trailhead at 12:25pm, she told me that she saw a ram! And she made sure to let me know that I should have taken the main trail back instead of the alternate one. In any case, she showed me the iPhone photo and sure enough, she saw one.
Pretty cool!
Anyways, it was now time for a late lunch, and I was also re-evaluating just how realistic it was to attempt to do Maidenhair Falls after lunch. By that time, I had it in my mind to perhaps punt Maidenhair Falls for a different Anza Borrego Trip while pursuing The Slot and a few more Galleta Meadows sculptures before returning to Julian for a bit of a splurge dinner at Jeremy's on the Hill.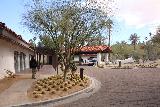 At about 12:45pm, we made it to the Casa del Zorro, which was known to be a bit of a posh resort in Borrego Springs. However, we were going there in the hopes of getting a somewhat clean lunch. We weren't expecting any of that in any of the restaurants in the main drag through Borrego Springs.
Once we got seated and looked through the menu, we ultimately settled on a rack of lamb as well as a Chilean Sea Bass. The service was a bit on the slow and inattentive side so I kind of knew that we probably wouldn't be out of this place until well after 2pm.
Well, at least the food was pretty good even if it was a bit on the pricey side for a lunch. And as expected, we wouldn't be back in the car until about 2:05pm. Along the walk back, we saw that there were some hazy clouds in the distance which appeared to be dumping rain.
In fact, we were feeling some sprinkles in the high desert winds that were starting to blow.
That made me a little concerned about going into The Slot at this time, but when we saw on the GPS directions that The Slot was actually further southeast of town, that made us a little less hesitant to do this excursion.
And so we were off. We pretty much following Borrego Springs Drive all the way back to the Hwy 78. Then, we briefly headed east on Hwy 78 until we saw a very easy-to-miss signed turnoff for Butte Pass.
Then, we turned left and went right onto the washboarded dirt road as there seemed to be plenty of traffic in both directions despite the not-so-friendly road to get there. Indeed, this place seemed popular.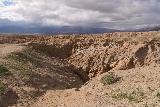 By about 2:25pm, we finally arrived at the pretty busy car park for The Slot. We wound up taking what appeared to be the last remaining parking spot in the lot. They were kidding about this place being popular!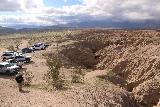 After gearing up once again, we then tried to find a way down into the slot canyon, which was right beneath the parking lot. According to Hikespeak, they were saying to go straight down and not take the trail up the hill on the right.
However, the way directly down didn't seem particularly safe nor stable. So we went up the hill and saw at the top that there was a sign for "trail" pointing down to the left. Indeed, this approach seemed a bit less steep and treacherous, and in no time, we found ourselves inside the wash within the so-called Slot.
As we then made our way downstream, the canyon walls quickly started closing in as they were twisting this way and that. It got a bit tricky as people were squeezing past each other in some of the tighter spots. I was also wishing that I hadn't brought my backpack and water bottle because there were getting all scraped up against the narrow slow walls.
Still, we couldn't help but feel like we were somehow in Southern Utah instead of Southern California!
Indeed, this slot canyon featured some wedged rocks as well as an intriguing natural bridge perched high above the slot floor.
As we continued past the natural bridge, we couldn't help but notice that the canyon started opening up once again. The winds were also getting stronger as well. So that wound up being our turnaround point once we determined that the interesting part of the slot was over with.
And so we started heading back at around 2:55pm.
After squeezing through the familiar slot canyon once again and taking a few more photos (most of them in vivid mode, which really brought out the oranges and reds out of the otherwise dull beige and white cliffs), we then made it back to the car park at about 3:20pm.
What was kind of befuddling was one guy who thought he could jump across the slot while he was blaring some kind of rap music. I had chatted with Julie about how this Instagram and Yelp generation had gotten too used to things being made easy and handed to them, which resulted in people showing up to these kinds of places for all the wrong reasons.
I guess that was the two-edged sword of all this free info on the web being ruined by people who come here but can't appreciate the nature for what it is and have to ghetto-ize the experience.
Regardless, with still sufficient daylight left, we then drove back onto the Hwy 78 before turning back onto Borrego Springs Road. Once we got back to the Yaqui Pass Road, we then turned right and followed it towards the Borrego Canyon Drive.
There was supposed to be a dinosaur statue on this road, but we were unable to find it. However, after getting back to the Christmas Circle then heading north before turning right onto Big Horn Road, we finally saw where the scorpion sculpture was.
And so by about 3:50pm, we briefly checked out the intricate details of the scorpion sculpture accompanied by a giant grasshopper.
We then drove back towards some camels as well as elephants and a couple of tortoise. Those would be the last of the Galleta Meadows statues we'd be checking out before heading back to the town of Julian at 4:05pm.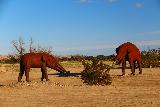 The drive back was pretty uneventful as we were following slower vehicles for most of the drive. Julie had a keen interest in listening to some show on AM 830 (a sports radio station) talking about restaurants in Southern California.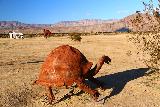 That was kind of unusual, but they were talking about stuff concerning Yelp and the Yelp Elite Reviewers as well as some of the insider perspectives of the hospitality business, which was kind of interesting.
Eventually at 4:55pm, we made it back to our accommodation in Julian, where it was once again bitterly cold, especially compared to the relatively mild temperatures down in Anza Borrego. However, it appeared that the snow and ice patch at the parking lot of our accommodation was gone!
We took some time to get changed and then head out. So we left the accommodation at 5:35pm, and eventually at around 5:50pm, we made it to Jeremy's on the Hill in Santa Ysabel.
There were lots of cars already parked here so clearly we were showing up at a pretty busy time, even though we thought we were showing up pretty early for our 6pm reservation.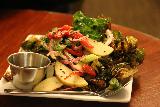 But once we got inside, the hostess mentioned that she was about to give up our seats because we had a 5:30pm reservation!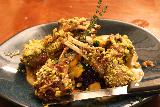 Regardless, we got seated and we'd pass the next couple of hours stuffing ourselves with brussel sprouts, truffle fries, grass-fed ribeye steak, my full rack of pistachio-crusted lamb, and a dessert of apple cobbler.
Indeed, we splurged on this meal and probably overate as we could have done with just a half-rack instead of a full-rack as well as not having the fries. Perhaps I was stress eating considering that I knew the stress that was waiting for me when the workweek would start once again and it was time to face the music once again.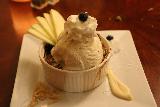 Well, that would be Monday, but we were trying to savor tonight as well as tomorrow morning. We were well aware of the Winter Weather Advisory, but we were hoping to be out of Julian before the snowfall. We'll just have to wait and see what happens in the mean time.
Anyways, we did chat with one of the waitresses who told us (when asked about which pie was recommended) about the Mountain Canyon Bakery across the street. So that got Julie to look into it as a possible alternative to Mom's Pies in downtown Julian, which always seemed to have a line.
In any case, we drove back and returned to our room at 7:55pm. Once again, it was quite frigidly cold, especially with the wind chill. But once we got into the room, we did the usual unwinding, getting cleaned up, and trying to warm up the rooms with space heaters.
And so ended this day. Of course, my anxieties now pertain to fitting in Green Valley Falls while Julie's asleep as well as beating the incoming snow storm by leaving Julie before then…
Day 3 (February 10, 2019 – Los Angeles, California): "Racing The Winter Storm"
It was 6:10am when we awoke. At this time, there was just enough light outside to look out the window and see that it was foggy and that the ground did not have any new snow.
It was also hard to go back to sleep (or even get continuous sleep through the night) because the heater kept making clicking sounds. And it was too sporadic and irregular to blend into white noise.
Nevertheless, I was determined that with a small window of fair weather before the incoming predicted Winter Storm, I had to get ready and fit in a Green Valley Falls excursion before we check out of this accommodation and start heading home.
Upon looking at the weather forecast, it was now calling for showers at 11am. And the snow was supposed to come in at around 1pm. So we shouldn't be having any trouble doing what needed to get done before the snow would hit this area.
By about 6:35am, I got my stuff together and got into the car. Julie stayed behind to pack up all of our belongings while also preparing her breakfast.
There was a definite wind chill outside, which made the 31F temperatures bitingly cold despite me wearing multiple layers from my T-shirt to Les Stroud shirt to Scottish jacket. I even contemplated wearing the even thicker big jacket on top of all of that.
But once I started the car and started driving slowly, things were better as I could at least have some heat generated by the car.
The drive south on the Hwy 79 was slow going mostly because I didn't want to slide off the road due to black ice. I guess the slow pace also kind of benefitted me from the standpoint that I managed to brake for a deer crossing the road with plenty of time to spare.
The sunrise glow against the low-lying clouds over Lake Cuyamaca was also quite beautiful. Unfortunately, I was in no position to pull over and try to capture the fleeting scene.
So far, the weather was still holding up though there were some menacing dark clouds looming in the distance.
Anyways, as soon as I got to the familiar turnoff for the Green Valley Campground, not surprisingly, I saw that the campground itself was gated off and closed. I had read that the campground was only open from May through October. With this being early February, I would have to find a place to park then walk into the campground area.
Well, as I was looking for a place to park, it was clear that there were no legal shoulders to park along the highway. So as I was driving further south along the Hwy 79, I finally saw a long pullout for the East Mesa Trail.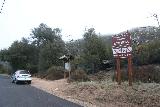 I wound up making a U-turn then stopping the car at this long pullout at around 7:05am. And upon looking at the signage here, I saw one little section showing something about hiking or biking to the falls from here. It appeared that the hike was extended another half-mile in each direction so that had to be figured into the overall time that I had expected to do this hike.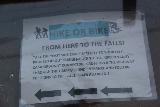 Although the Ann Marie Brown book said that the hike was 0.5 miles round trip, that was from the Falls Picnic Area or campground. It was not from this pullout as well as the road I would have to get from the campground gate all the way to the Falls Picnic Area as well. I'm sure that would make the overall hike at least 4 miles round trip or so.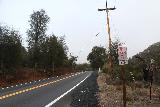 So I walked along the road shoulder of Hwy 79, which didn't seem to be a sanctioned walk. And I wondered if I was supposed to take some kind of foot trail that paralleled the Hwy 79.
With the exception of a small hill and the awkwardness of walking on a combination of loose tar and dirt in the gutter by the road shoulder, this was a pretty straightforward walk. By about 7:25am, I crossed Hwy 79 and entered the Green Valley Campground beyond the gate blocking vehicular access.
There was definitely an eerie silence to this place as clearly it would be quite the busy spot in the Summer as I could see campground numbers getting upwards of 80 or even 100! Regardless, I followed the paved road towards the campgrounds then went past a concrete ford with not enough water for the creek to go over it. But there was definitely enough water in the creek to make that rushing sound as it flowed beneath the concrete ford through side holes.
Beyond the ford, there were more large picnic areas and campgrounds as the road curved to the left and went up another hill. Signs still pointed the way to the Falls Picnic Area so I continued to walk in that direction.
When I finally got to a junction where the road either forked left or continued straight ahead for the Falls Picnic Area, I apparently spooked three deer who pranced away from me. I wondered if they were around to get a drink from the Sweetwater River, which I'd imagine the waterfall flowed over (thus making me wonder if the Green Valley Falls was a year-round waterfall).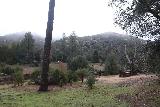 At this junction, I wound up taking the left fork thinking it was the closest to where I needed to go. It went downhill then curved to the right eventually leading to a wishbone-shaped parking lot. Beyond the pavement, there were lots of picnic tables as well as some small trail signage indicating that the falls trail was straight ahead.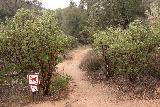 I could start to hear the rush of Sweetwater River again so I'd imagine that the waterfall couldn't have been far away.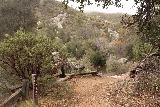 But at this point, I could finally say that the official hike to the falls finally began. Everything up to this point was extra walking as a result of the Green Valley Campground vehicular access being closed.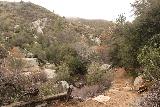 The narrow foot trail was pretty straightforward to follow as it gently descended before reaching a bottom. Right there, the trail then went briefly up some steps but there was also what appeared to be a branch then a dead-end further down to the left.
Since one of the signs suggested that there was an upper and lower Green Valley Falls, I wondered if this was somewhere nearby the upper waterfall. So I did a little more investigating.
Once I got to a log positioned so it discouraged further travel, I could see that indeed there was the Upper Green Valley Falls to the left. I scrambled onto the top of one of the boulders for a more commanding look. And upon looking down at the jumble of boulders beneath me, it seemed pretty doable to at least scramble to one of the boulders right at the riverbed.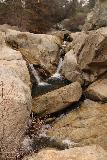 So I carefully went down there and experienced the Upper Green Valley Falls. Clearly, this particular falls wasn't meant for swimming but at least it was quite photogenic as it had a pair of converging segments of the river falling side-by-side before converging and falling together over a sloped rock bed immediately thereafter.
After having my fill of the Upper Green Valley Falls, I then scrambled back to the main trail and followed the steps up before following along a wide ridge or ledge with another view of the Upper Green Valley Falls. I guess I really didn't need to do the scramble to get up to the upper waterfall to see it as I had a fairly commanding (albeit distant) view from here.
In any case, I continued along the trail downstream as it eventually followed along the banks of the Sweetwater River. Then, it reached a rock-dominated area, where I knew the lower Green Valley Falls had to be.
Sure enough, I saw that there was some steps for a trail leading 0.1 mile back up to some Fire Road while there was also an informal side trail to the left apparently leading down to the base of the Lower Green Valley Falls.
By now, it was 8am, and I took a few minutes to savor this spot. Looking down from the boulders alongside the Sweetwater River, I could see that this waterfall was really a series of three small falls with the middle being the most impressive as it had a pair of segmented drops going right into individual potholes or plunge pools etched right into the slab of bedrock.
If the temperatures and the water itself weren't so cold, I could easily see how this spot would be quite the poopular swimming hole in the Summer. In a way, it kind of reminded me of a poor-man's version of what Bassi Falls would be like.
Anyways, after having my fill of the Lower Green Valley Falls, I then went back up the steps to the fire road, eventually getting there at 8:15am. By this time, I realized that I wouldn't be back in Julian by the promised time of 8:30am, and I just hoped that Julie could sit tight for another 30-45 minutes or so.
Whilst on the fire road, I did the uphill walk for another five minutes before reaching another car park, which must have been where the other fork of the Falls Picnic Area road went. In between the car parks, I saw the familiar extensive picnic area.
By about 8:30am, I had walked all the way back to the campground gate again. Along the way, I saw some interesting blue birds with black heads as well as another deer prancing its way away from me. So I couldn't take a photograph of it.
Once I got to the other side of the Hwy 79, I saw that there was actually a footpath that seemed to belong to the East Trail. At first, I was following along this trail on the way back to the car at the East Mesa pullout, but then, when I saw that the trail veered inland even more then started climbing, I decided to cop out and do the easier flatter walk along the Hwy 79's road shoulder.
Eventually at 8:45am, I returned to the car. By this time, I was pretty hot underneath the jacket so I took it off. I also changed back into Chacos so my feet could breathe.
Julie had texted me whether I was close or not, and I indicated to her that I was on my way back. Unfortunately, there were lots of slower cars who were slow to use the pullout lanes. Still, I'd ultimately make it back to Julian and our accommodation by the Nickel Brewing Company at 9:10am.
We then proceeded to get the car loaded up while Julie also emptied out her pressure cooker so I could have chicken feet stew for breakfast once again. Once that was done, we dropped off the keys, and we got into the car at 9:35am.
We then drove into the main part of Julian where there was no street parking along the main drag. However, on the grill side of the four-way stop, we managed to parallel park near some residences.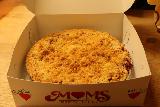 Then, we walked over to Mom's Bakery, where we waited in line to pick up a whole pie to go (and give to a neighbor who helped to pick up our little girl from school) while I also treated myself to an expensive slice of an apple-boysenberry crumble with cinnamon ice cream. We also had a hot spicy apple cider though that felt more like just hot apple juice with powder in it.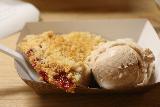 Regardless, we had our fill of this charming little bakery, which clearly sold the charm and ambiance even if some of the locals argued that the California Mountain Bakery was better (which we were also keen on trying even though it was closer to Santa Ysabel than Julian).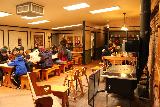 By about 10:15am, we were back in the car. Again, it was frigidly cold in Julian but at least we knew that we'd be heading back down in elevation from here on out so it would only get warmer the further we went.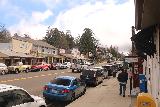 At about 10:20am, we then stopped at the California Mountain Bakery, which was almost right across the street from Jeremy's on the Hill. This time, we picked up another whole pie to go, but this would be just for Tahia and I. And we wound up getting some kind of apple Summer berry crumble pie as we sought after something a little more tart and not overly sweet, which was what tended to be the case if it was just straight apples.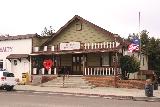 By about 10:30am, we got our whole pie to go and we were finally leaving. It still hadn't rained or snowed in Julian yet, but everyone knew that it was coming.
On the way back, we pretty much followed the Hwy 78 towards Ramona, then we took the Old Milky Way Road towards San Pasqual Road en route to the I-15. Once it junctioned with the Hwy 78 again, we then took that to the I-5 in Oceanside before following the I-5 all the way up to the I-405 towards Long Beach.
Once in Belmont Shores, we went to a farmer's market where Julie picks up some grass fed meats as well as a lunch that focuses on ferments and more ketogenic fare. We got there at about 12:50pm, and it was only once we got our stuff did we have to eat in the car because the rain finally started to fall.
We left Belmont Shore at about 1:25pm, and then we ran another grocery errand before finally arriving at home at about 2:30pm. Tahia was excited to see us though I also had a feeling that she had a fun weekend because no one besides Julie's Mom was nagging her about doing homework. And she probably spent a good deal of time watching YouTube videos on iPad as well as playing with other kids.
So in that sense, it was already back to life, back to reality…
Visitor Comments:
Got something you'd like to share or say to keep the conversation going? Feel free to leave a comment below...
No users have replied to the content on this page