Day 1 (February 8, 2019 – Julian, California): "The Imagine Dragon"
It wasn't until about 11:50am when Julie and I finally left the house. It was much later than I was hoping knowing that daylight was limited in the Winter time (I was hoping we'd be out the door by 10am). I was thinking that at around 5pm, either it would be dark in the Julian area or at least the shadows would get long. At the rate we were going, we probably wouldn't make it to Julian until around 2:30pm or so.
Further complicating the worries on this trip was the forecast for rain and snow Saturday morning in Julian. I was hoping that timing would be on our side this time around where we could be hiking in the deserts of Anza Borrego while the storm hit the mountainous community up at 4200ft.
Nearly 10 years ago, Julie and I were caught in a snow storm that had gotten worse throughout the day. Not only did it snow in Julian, but it was snowing harder east of San Diego by where Kitchen Creek Falls and the I-8 were. It was crazy to think that the forecast had called for sunny skies, but it couldn't have been more wrong!
Just as I was loading up the car, I was also dealing with equipment trouble once again as our new Garmin Nuvi 50 (well, new as of 2017) didn't want to boot up. I wondered if it was an issue with the firmware update that prevented it from powering up.
So I had to revert back to using our trusty old Garmin Nuvi 265W that we've owned for well over 15 years or so. That one still hadn't quit on us!
Anyways, both Julie and I were looking forward to this mini Valentine's early getaway.
Julie was looking forward to a break from Tahia while I was looking forward to a relaxing waterfalling weekend without dealing with the website migration (now maintenance as it had been relaunched as of the new year) as well as detoxing from an already stressful project at work where they made me the lead on something where they're asking for the impossible to be done on 2.5 heads.
Seems like I can't catch a break as I get older. And I got the feeling that me having to be the team lead is going to be the new normal from here on out, which I knew would impact work-life balance that I learned over the years is more paramount to any aspirations of moving up in the company.
Well, the drive out of Los Angeles County was already somewhat heavy at the start, but once we were on the I-5 going south, we were fine as we zipped through a good chunk of the OC.
However, Julie wanted to make a stop at Chipotle, which I knew would further impact the amount of daylight we had left.
We made our lunch stop at the Crown Valley Road exit, where there happened to be a Mission Viejo Chiptole. Parking there was difficult to find at the time, and I almost had Julie go in and order to go while I was circling the tiny parking lot.
But eventually, I found parking just as someone in front of me was leaving, and then we decided to have our lunch at 12:30pm.
By about 12:45pm, we left and continued south on the I-5. This drive already had a fair bit of traffic volume, and I kind of knew that it would get even more intense once we got into the Oceanside area. At least it seemed like most of the rush hour traffic hadn't started yet.
The weather so far was beautiful as we were driving past San Onofre while witnessing the Pacific Ocean. Eventually, we'd hook up with the Hwy 78 headed east to Escondido. That was when we eventually met up with the I-15, where Julie's iPhone had us go south on the I-15 for a bit before exiting some 4 miles south of the Hwy 78.
This was different from the route I've taken in the past where we drove a lot of local streets in Escondido right where the Hwy 78 ended. I figured local street driving was not desirable so we mind as well give Julie's iPhone a shot.
Anyways, we eventually exited at E Rancho Parkway (or was it Bear Valley Parkway?) where we then headed east. It was definitely unfamiliar territory to us, but we were following behind a truck that was labeled the Julian Pie Company. Perhaps that ought to have indicated to us that they guys knew the best route to get to Julian and so perhaps the iPhone was right after all.
Sure enough, we were pretty much following the truck though they then took a small street that we should've taken that I missed out on, and we then took the Hwy 78 east past the San Diego Wild Animal Park and ultimately to Ramona. So they lost us at that point.
In any case, we then followed the familiar continuation of the Hwy 78 all the way to Julian.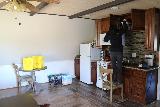 By about 2:35pm, we made it to our self-catered accommodation, which was right across the street from the Nickel Brewing Company. It was already quite chilly in Julian and the ice in the little parking lot at our accommodation certainly attested to that.
I sure hope we wouldn't have to contend with ice issues once the expected rain would hit tomorrow.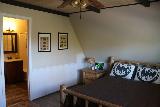 It took us some time to get our stuff upstairs to our accommodation, which seemed like an attic of the hardware store or something downstairs. They did a nice job turning this attic into a loft with the slanted roof of the building acting as our ceiling.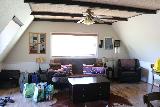 The place had a spacious living area with kitchen along with a bedroom and bathroom towards the back. However, it already felt cold in this place and we knew that it was going to be quite frigid tonight.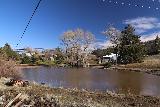 They did provide space heaters though I wasn't sure how effective they would be. We also had to be careful to not get too overzealous with the heaters or else we might trip the circuit breakers. That was something we definitely didn't want to be doing when the temperatures plunge into the teens and 20s.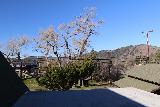 Eventually, Julie got the pressure cooker loaded up so we could have soup for dinner tonight. That way when we return from our late afternoon excursion, we shouldn't have to wait for long to have dinner.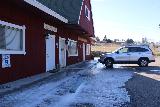 By about 3:10pm, we got back in the car and then continued on the Hwy 78. This time, we were driving some pretty curvy roads as we were headed east into the desert. We noticed some patches of snow and ice on the road both in Julian and parts of this road so that told me how easy Julian could get snow; making us a bit nervous about the expected precipitation tomorrow.
After the curvy stretch of the mountain road, the Hwy 78 started straightening out as we entered the desert of Anza Borrego. We had never been here before so it was quite refreshing to see the knobby mountains at the foothills together with some interesting desert vegetation.
Back in August, we had this notion of going to Anza Borrego to see the Galleta Meadows despite the over 100-degree heat, but we ultimately decided against it. This time, we weren't going to be denied the opportunity to check out the Galleta Meadows, which Julie had been wanting to do ever since we checked it out on Pinterest a while back.
Galleta Meadows was basically a place where some local artist named Ricardo Breceda put up some rusted metal sculptures of various animals spread out around the town of Borrego Springs. With the late afternoon light, it seemed like afternoons were perfect for checking out these sculptures with the mountainous backdrops.
Indeed, as we entered the town of Borrego Springs, then approached the Christmas Circle roundabout, we could already see some of the impressive metal animals glowing nicely in the late afternoon light.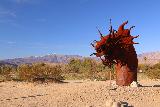 After getting past the roundabout and continuing on Borrego Springs Road, we'd eventually arrive at the famous metal dragon towards the north end of Galleta Meadows. We got there at around 4pm, where there was another vehicle and some people taking their obligatory shots in front of the dragon's head.
Just as Julie and I were taking photos, another couple as well as a Dutch guy with a drone also shared the attraction with us. Clearly, these sculptures provided a reason for a lot of people to come to Borrego Springs, which didn't seem at all like a touristy town.
I'd learn later that that was for a reason. Basically, it was low key because it was an International Dark Sky Community, which meant they intentionally kept the light pollution low to preserve the quality of stargazing. We got a taste of that last August in Joshua Tree. So I'd imagine Borrego Springs would be quite the place to do activities in the day then go stargazing at night. Perhaps that's the appeal of Anza Borrego, and having never been here before, we were learning new things as we went…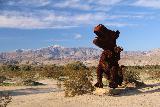 I had wondered if it was more strategic to stay in Borrego Springs instead of Julian, but it seemed like Julian was more charming. Plus, we were pretty familiar with the town having been here at least three or four times now. The only downside besides the extra driving distance to the hikes for tomorrow as well as Galleta Meadows was the weather risk we were facing tomorrow morning.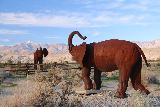 Anyways, after having our fill of the dragon, we then briefly headed south towards some sloths, which also had a nice mountainous backdrop. Then, we briefly headed north all the way to the end of Galleta Meadows where there were a couple of elephants with some signage for Galleta Meadows.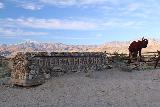 However, light had already faded and sunk behind the nearest mountains from this spot so we decided to head south again in the hopes of catching the horse sculptures with nice mountainous backdrop lighting that we had witnessed earlier on.
Well, when we got past the Christmas Circle and got to the horses, part of them were in somewhat muted afternoon lighting thanks to high clouds obscuring the last of the late afternoon sun. Then, the sun had also sunk beneath the mountains so that was the end of the decent photo conditions for the Galleta Meadows.
By 4:45pm, we had left Borrego Springs and headed back to Julian.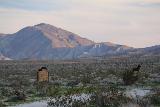 It wouldn't be until about 5:25pm when we returned to our accommodation. Without the afternoon sun, it was even colder than it was when we first arrived.
Some brave folks were busy chatting it up and having beers at the Nickel Brewing Company across the street as they were sitting outside. It seemed like a real popular locals hangout spot.
And as we were now making use of the space heaters while Julie was finishing the preparations for our low key dinner, we definitely enjoyed each others' company while enjoying the tea and soup which helped to offset the frigid evening.
By a little after 7pm, we were done with dinner.
We were kind of looking forward to sleeping early for once and possibly sleeping in to stay cozy against the cold frigid temps that were already inundating the town of Julian.
Especially with our thinly-insulated accommodation, I knew it was going to be hard waking up the next morning. However, with the expected snowfall, that would be motivation to escape to the desert before that happens, I hope…