Day 3 (February 10, 2019 – Los Angeles, California): "Racing The Winter Storm"
It was 6:10am when we awoke. At this time, there was just enough light outside to look out the window and see that it was foggy and that the ground did not have any new snow.
It was also hard to go back to sleep (or even get continuous sleep through the night) because the heater kept making clicking sounds. And it was too sporadic and irregular to blend into white noise.
Nevertheless, I was determined that with a small window of fair weather before the incoming predicted Winter Storm, I had to get ready and fit in a Green Valley Falls excursion before we check out of this accommodation and start heading home.
Upon looking at the weather forecast, it was now calling for showers at 11am. And the snow was supposed to come in at around 1pm. So we shouldn't be having any trouble doing what needed to get done before the snow would hit this area.
By about 6:35am, I got my stuff together and got into the car. Julie stayed behind to pack up all of our belongings while also preparing her breakfast.
There was a definite wind chill outside, which made the 31F temperatures bitingly cold despite me wearing multiple layers from my T-shirt to Les Stroud shirt to Scottish jacket. I even contemplated wearing the even thicker big jacket on top of all of that.
But once I started the car and started driving slowly, things were better as I could at least have some heat generated by the car.
The drive south on the Hwy 79 was slow going mostly because I didn't want to slide off the road due to black ice. I guess the slow pace also kind of benefitted me from the standpoint that I managed to brake for a deer crossing the road with plenty of time to spare.
The sunrise glow against the low-lying clouds over Lake Cuyamaca was also quite beautiful. Unfortunately, I was in no position to pull over and try to capture the fleeting scene.
So far, the weather was still holding up though there were some menacing dark clouds looming in the distance.
Anyways, as soon as I got to the familiar turnoff for the Green Valley Campground, not surprisingly, I saw that the campground itself was gated off and closed. I had read that the campground was only open from May through October. With this being early February, I would have to find a place to park then walk into the campground area.
Well, as I was looking for a place to park, it was clear that there were no legal shoulders to park along the highway. So as I was driving further south along the Hwy 79, I finally saw a long pullout for the East Mesa Trail.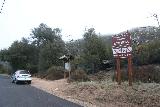 I wound up making a U-turn then stopping the car at this long pullout at around 7:05am. And upon looking at the signage here, I saw one little section showing something about hiking or biking to the falls from here. It appeared that the hike was extended another half-mile in each direction so that had to be figured into the overall time that I had expected to do this hike.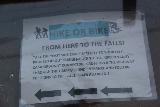 Although the Ann Marie Brown book said that the hike was 0.5 miles round trip, that was from the Falls Picnic Area or campground. It was not from this pullout as well as the road I would have to get from the campground gate all the way to the Falls Picnic Area as well. I'm sure that would make the overall hike at least 4 miles round trip or so.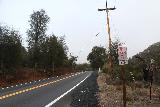 So I walked along the road shoulder of Hwy 79, which didn't seem to be a sanctioned walk. And I wondered if I was supposed to take some kind of foot trail that paralleled the Hwy 79.
With the exception of a small hill and the awkwardness of walking on a combination of loose tar and dirt in the gutter by the road shoulder, this was a pretty straightforward walk. By about 7:25am, I crossed Hwy 79 and entered the Green Valley Campground beyond the gate blocking vehicular access.
There was definitely an eerie silence to this place as clearly it would be quite the busy spot in the Summer as I could see campground numbers getting upwards of 80 or even 100! Regardless, I followed the paved road towards the campgrounds then went past a concrete ford with not enough water for the creek to go over it. But there was definitely enough water in the creek to make that rushing sound as it flowed beneath the concrete ford through side holes.
Beyond the ford, there were more large picnic areas and campgrounds as the road curved to the left and went up another hill. Signs still pointed the way to the Falls Picnic Area so I continued to walk in that direction.
When I finally got to a junction where the road either forked left or continued straight ahead for the Falls Picnic Area, I apparently spooked three deer who pranced away from me. I wondered if they were around to get a drink from the Sweetwater River, which I'd imagine the waterfall flowed over (thus making me wonder if the Green Valley Falls was a year-round waterfall).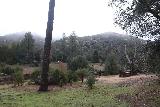 At this junction, I wound up taking the left fork thinking it was the closest to where I needed to go. It went downhill then curved to the right eventually leading to a wishbone-shaped parking lot. Beyond the pavement, there were lots of picnic tables as well as some small trail signage indicating that the falls trail was straight ahead.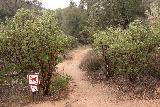 I could start to hear the rush of Sweetwater River again so I'd imagine that the waterfall couldn't have been far away.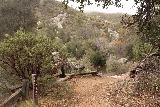 But at this point, I could finally say that the official hike to the falls finally began. Everything up to this point was extra walking as a result of the Green Valley Campground vehicular access being closed.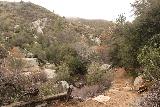 The narrow foot trail was pretty straightforward to follow as it gently descended before reaching a bottom. Right there, the trail then went briefly up some steps but there was also what appeared to be a branch then a dead-end further down to the left.
Since one of the signs suggested that there was an upper and lower Green Valley Falls, I wondered if this was somewhere nearby the upper waterfall. So I did a little more investigating.
Once I got to a log positioned so it discouraged further travel, I could see that indeed there was the Upper Green Valley Falls to the left. I scrambled onto the top of one of the boulders for a more commanding look. And upon looking down at the jumble of boulders beneath me, it seemed pretty doable to at least scramble to one of the boulders right at the riverbed.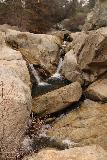 So I carefully went down there and experienced the Upper Green Valley Falls. Clearly, this particular falls wasn't meant for swimming but at least it was quite photogenic as it had a pair of converging segments of the river falling side-by-side before converging and falling together over a sloped rock bed immediately thereafter.
After having my fill of the Upper Green Valley Falls, I then scrambled back to the main trail and followed the steps up before following along a wide ridge or ledge with another view of the Upper Green Valley Falls. I guess I really didn't need to do the scramble to get up to the upper waterfall to see it as I had a fairly commanding (albeit distant) view from here.
In any case, I continued along the trail downstream as it eventually followed along the banks of the Sweetwater River. Then, it reached a rock-dominated area, where I knew the lower Green Valley Falls had to be.
Sure enough, I saw that there was some steps for a trail leading 0.1 mile back up to some Fire Road while there was also an informal side trail to the left apparently leading down to the base of the Lower Green Valley Falls.
By now, it was 8am, and I took a few minutes to savor this spot. Looking down from the boulders alongside the Sweetwater River, I could see that this waterfall was really a series of three small falls with the middle being the most impressive as it had a pair of segmented drops going right into individual potholes or plunge pools etched right into the slab of bedrock.
If the temperatures and the water itself weren't so cold, I could easily see how this spot would be quite the poopular swimming hole in the Summer. In a way, it kind of reminded me of a poor-man's version of what Bassi Falls would be like.
Anyways, after having my fill of the Lower Green Valley Falls, I then went back up the steps to the fire road, eventually getting there at 8:15am. By this time, I realized that I wouldn't be back in Julian by the promised time of 8:30am, and I just hoped that Julie could sit tight for another 30-45 minutes or so.
Whilst on the fire road, I did the uphill walk for another five minutes before reaching another car park, which must have been where the other fork of the Falls Picnic Area road went. In between the car parks, I saw the familiar extensive picnic area.
By about 8:30am, I had walked all the way back to the campground gate again. Along the way, I saw some interesting blue birds with black heads as well as another deer prancing its way away from me. So I couldn't take a photograph of it.
Once I got to the other side of the Hwy 79, I saw that there was actually a footpath that seemed to belong to the East Trail. At first, I was following along this trail on the way back to the car at the East Mesa pullout, but then, when I saw that the trail veered inland even more then started climbing, I decided to cop out and do the easier flatter walk along the Hwy 79's road shoulder.
Eventually at 8:45am, I returned to the car. By this time, I was pretty hot underneath the jacket so I took it off. I also changed back into Chacos so my feet could breathe.
Julie had texted me whether I was close or not, and I indicated to her that I was on my way back. Unfortunately, there were lots of slower cars who were slow to use the pullout lanes. Still, I'd ultimately make it back to Julian and our accommodation by the Nickel Brewing Company at 9:10am.
We then proceeded to get the car loaded up while Julie also emptied out her pressure cooker so I could have chicken feet stew for breakfast once again. Once that was done, we dropped off the keys, and we got into the car at 9:35am.
We then drove into the main part of Julian where there was no street parking along the main drag. However, on the grill side of the four-way stop, we managed to parallel park near some residences.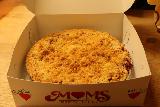 Then, we walked over to Mom's Bakery, where we waited in line to pick up a whole pie to go (and give to a neighbor who helped to pick up our little girl from school) while I also treated myself to an expensive slice of an apple-boysenberry crumble with cinnamon ice cream. We also had a hot spicy apple cider though that felt more like just hot apple juice with powder in it.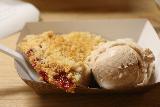 Regardless, we had our fill of this charming little bakery, which clearly sold the charm and ambiance even if some of the locals argued that the California Mountain Bakery was better (which we were also keen on trying even though it was closer to Santa Ysabel than Julian).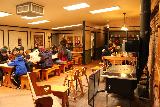 By about 10:15am, we were back in the car. Again, it was frigidly cold in Julian but at least we knew that we'd be heading back down in elevation from here on out so it would only get warmer the further we went.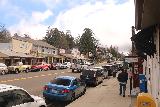 At about 10:20am, we then stopped at the California Mountain Bakery, which was almost right across the street from Jeremy's on the Hill. This time, we picked up another whole pie to go, but this would be just for Tahia and I. And we wound up getting some kind of apple Summer berry crumble pie as we sought after something a little more tart and not overly sweet, which was what tended to be the case if it was just straight apples.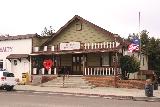 By about 10:30am, we got our whole pie to go and we were finally leaving. It still hadn't rained or snowed in Julian yet, but everyone knew that it was coming.
On the way back, we pretty much followed the Hwy 78 towards Ramona, then we took the Old Milky Way Road towards San Pasqual Road en route to the I-15. Once it junctioned with the Hwy 78 again, we then took that to the I-5 in Oceanside before following the I-5 all the way up to the I-405 towards Long Beach.
Once in Belmont Shores, we went to a farmer's market where Julie picks up some grass fed meats as well as a lunch that focuses on ferments and more ketogenic fare. We got there at about 12:50pm, and it was only once we got our stuff did we have to eat in the car because the rain finally started to fall.
We left Belmont Shore at about 1:25pm, and then we ran another grocery errand before finally arriving at home at about 2:30pm. Tahia was excited to see us though I also had a feeling that she had a fun weekend because no one besides Julie's Mom was nagging her about doing homework. And she probably spent a good deal of time watching YouTube videos on iPad as well as playing with other kids.
So in that sense, it was already back to life, back to reality…