Day 1 (November 16, 2018 – San Simeon, California): "Smoke And Mirrors"
Julie and I didn't leave the house until about 10:55am, which was a bit later than I would have liked, but we were doing a precarious juggling act between waiting out the worst of the rush hour traffic through Los Angeles and the onset of darkness with the shorter days combined with falling back an hour a couple of weeks ago.
Even though we had just voted to go one step closer to getting rid of the falling back an hour in Fall and springing forward in Spring, the ultimate resolution of that wasn't going to help us on this trip.
And so we were moving somewhat fluidly through Los Angeles freeways though there were plenty of stop and go moments. But eventually at some time around 12:30pm, we finally descended into the Grapevine where we were suddenly faced with thick smoky haze that seemed to envelope most of the Central Valley.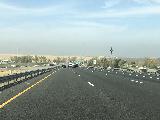 Clearly, this was the result of the Woolsey Fire that ripped through the Thousand Oaks area as well as Malibu. However, there was also the deadly Paradise Fire further north of Sacramento. That was the event that made the current fire the deadliest in the state's history, but we knew that it was a matter of time before the next fire would eclipse it as the deadliest or most abnormally damaging.
I remembered Paradise as an alternate place to stay because of Oroville's limited lodging selections when Mom and I went there in 2016 to finally hike to Feather Falls. And speaking of Oroville, that was where they had a near dam break last year with all the heavy rains. But now this year, they're faced with extreme fires.
This case of extremes was definitely a symptom of the kind of all-or-nothing climate we as a society had been dealing with for a while in all aspects of life. However, in terms of our environment, this was obviously a result of Global Warming (aka Climate Change) as there are more frequent "fire seasons" in the forests as a result of the warmer and drier climate in the forests.
And regardless of whether you want to deny it or not or whether it's human caused or whatever deniers want you to believe, it doesn't take away from the science that predicted this long ago and now everyone is living with the consequences of ignoring it or not taking the measures necessary to mitigate it (and yet still vote as if this problem doesn't exist; go figure).
And while the air quality and smoky haze was depressing, it was nowhere near as bad as when we were driving through Spokane, Washington last year (from the British Columbia fires) or when Mom and I were driving south on the 395 during the Kern River fires.
That said, the drive up the I-5 was fairly smooth going (aside from annoying drivers who still clog the passing lane and do not adhere to the road etiquette of keeping right except to pass. California really should enforce those laws since it appeared to be better enforced in other states (judging by how the road etiquette seemed to be better adhered to out of state than here).
Given the shortened amount of daylight that we were faced with as days would continue to get shorter until the Winter Solstice at around December 20, we had to take this more direct route instead of the more gradual Route 101 through Santa Barbara and beyond along the coast. There would have been no way to get to Ragged Point (where we were staying for the first time in 17 years) before dark had we gone the scenic route.
At some time around 2pm, we had a choice to follow Julie's iPhone onto some more rural route to hook up with the Route 46 to Paso Robles or take the more direct route from the Hwy 46 junction at Lost Hills.
Thinking the Lost Hills route was the way to go, we stuck with our instincts, but when we got to the off-ramp linking the I-5 with the Hwy 46 directly, we saw that we had to wait at least three lights before we could finally get off the off-ramp, turn left, then head west through some overpriced gas stations before finally heading towards the coast.
So I guess in hindsight, we should have followed Julie's iPhone routing since we could have avoided those delays while also dealing less with the big rigs as we knew this was a supply route for the Central Coast area. This was also a seemingly oil route as there were large fields of oil wells extracting the crude from the ground in this area. We didn't remember seeing this before in the past, but I guess we were probably taking a different route than we did previously (or perhaps they allowed more drilling or something given the current administration in charge).
Still, we were making pretty good time, and we were holding out for lunch (not interested in diners or Taco Bells or other poisonous fast foods en route) until we'd eventually get to Chipotle. That didn't happen until around 2:55pm when we finally got there, which was definitely a much later-than-usual lunch.
After leaving the Chipotle in Paso Robles, we then continued west towards the Pacific Coast Highway. We decided that we were going to continue past Ragged Point and get to Salmon Creek Falls before it got dark. It was definitely getting late in the day, but at least I felt a little more comfortable about getting to the falls at a reasonable time before it got dark.
The question, however, was whether this waterfall was going to flow given the extended dry conditions. But hey, I had read somewhere that Salmon Creek Falls was supposed to be a year-round waterfall, and I guess we were about to test that claim. Generally, I was not keen on going to Big Sur in the Autumn, but now we had an opportunity to learn something we otherwise would not have in the more usual times of the year when we'd be here in the Spring.
As we eventually joined up with the Pacific Coast Highway, we then headed north on the familiar undulating roads north of San Simeon and Cambria. However, just when we thought that the smoke from the fires from the south were finally behind us, we saw that there was definitely some haze from the fires no doubt still lingering along the Central Coast possibly blowing in from the north.
Indeed, I thought we were well north of the Woolsey Fire and well south of the Paradise Fire, but maybe there was yet another fire going on somewhere in the vicinity or something. I guess this year's fire season was quite bad, and I knew it was only a matter of time before it would get worse from Global Warming.
Anyways, we got past Ragged Point Inn at around 3:40pm-ish and kept going as the roads really started to be less busy while it was winding and curving a bit more. I knew Salmon Creek Falls was pretty close to Ragged Point Inn, and sure enough, we got to the familiar hairpin turn containing the waterfall at around 4:05pm.
There were two other cars that were parked here (though at first I thought no one was going to be here, which made me fearful of break-ins).
After spending a few minutes to put on hiking boots and socks, we then went on the familiar short trail along the Salmon Creek ravine before the trail then went past what appeared to be a new sign (or one we hadn't seen before) pointing the way straight ahead to the falls as opposed to uphill to the right, which led to other campsites.
The trail then started to disappear near a really rocky area, where we then descended some use trails before scrambling over towards a calm and reflective pond fronting the lower tiers of Salmon Creek Falls. But further upstream between the rocks, we could see that there were a couple of thin strands still belonging to the waterfall, and thus we could confirm that indeed, this waterfall was a year-round waterfall even though it was struggling to flow at the moment.
There was a couple that was also here and they appeared to look for a way to get closer to the base of the waterfall, which didn't seem easy. Still, I scrambled a little closer and I wound up at a different rocky pond where some kind of fallen log could have been used to scramble a little further upstream to get right to the base of the main drop of the falls, but that didn't seem like a risk worth taking.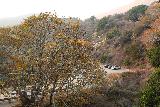 At least there was a cave nearby this spot, which was something I didn't recall noticing before. However, I did notice the familiar alcove potentially behind a fuller flowing Salmon Creek Falls, but now I was pretty certain that had I continued on the regular trail going uphill, we would have gone up to that alcove near the top of Salmon Creek Falls just like when we were here back in 2010.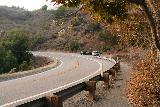 But with the daylight continuing to fade and with me worrying about not making a viewing of sunset as the light continued to fade behind the hills flanking our set-back canyon that we were in, I was in no mood to do any additional scrambling or waterfall pursuits in the dark.
So both Julie and I returned back the way we came, and we ultimately made it back to the car at 4:40pm. As we headed back south towards Ragged Point, we suddenly noticed that the sun still had not set yet. This bit of a surprise meant that maybe we could find a place to pull over and check out the sunset before checking into the Ragged Point Inn.
And at around 4:45pm, we found such a pullout where we got our views, watched the sun continue to get redder as it sunk behind the smoky haze in the distance (definitely not a marine layer), and then raced back into the car before an approaching bus would pass by and hold up traffic with us behind it.
Well, we didn't have to worry too much because it was only another ten minutes later when we finally made it down to the familiar Ragged Point Inn. There was much we didn't remember about this place since our first time being here some 17 years ago. I only had faded memories of watching some Final Four basketball games as well as our room facing out towards the sunset from the backside.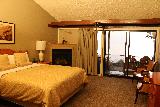 This lodge seemed to be much expanded from back when we were there, and the rooms certainly seemed to be a bit more updated than the sleapeazy feel I thought I had recalled back in the day.
So Julie and I got settled, and then we promptly went to the nearby dining room, where it seemed like the reservations that we had made earlier on didn't seem to be at all necessary as we had our choice of seats.
Our dinner was a relaxing affair as we enjoyed some oven-roasted Hawaiian Sea Bass (probably the best dish of the night) and some rib-eye steak. The dessert was an apple cobbler with a generous portion of ice cream. We wound up paying around $90 with tax and tip for the whole thing, which actually wasn't that bad considering what we were getting and how our lowered expectations were actually exceeded!
It wasn't lost on us that the dinner was relaxing mostly because Tahia wasn't with us on this trip. We definitely noticed straight away how much travel changes without a child. But in the case of this weekend, Julie had already experienced "ruined" birthdays from Tahia's misbehaviors in the past so this weekend getaway was just what was needed to momentarily leave the worries behind.
Personally, I could use the break as well as I was burning myself off trying to transition the waterfalls website from static html to a more dynamic server-side-oriented website. It was currently a three-year migration project that really tested my mental resolve, but the lack of having any down time after coming home from work and losing weekends or falling behind when a new trip with new content came up really became a strain. This was further exacerbated by non-cooperative contractors, which strengthened my resolve to figure things out on my own.
Once dinner was done, the night suddenly got a bit chilly, but the presence of the gazeebo (or wedding arch or whatever you call it) near some trail descending down to the coast made me think about going down there first thing tomorrow morning. I know the last time we were here, there was supposed to be a waterfall down a gully that the gazeebo was overlooking, but we didn't give ourselves the time to check it out before we left for home back then.
I was hoping that the first thing tomorrow morning, I'd at least give this place a chance before regretting not doing it again (even though I didn't expect the waterfall to be flowing this time around as we were pretty much at the end of the dry season). But hey, you never know. Stranger things have happened where our expectations belied the reality.
And so we ended off the day when we returned to the room at 6:40pm. To offset the chilly night, Julie had turned on the natural gas fireplace and the room got toasty. The rest of the evening was pretty much spent with Julie reading and me composing this diary entry.
But tomorrow promised to be a busy full day, and for sure, we wouldn't be back at Ragged Point until well into the darkness since we had a 6pm dinner reservation over there and we intended to catch the sunset at McWay Falls just like 8 years ago when we last saw the sunset over there (after driving up here from work).