Day 3 (November 18, 2018 – Los Angeles, California): "Savoring The Splurges"
It was about 6am when I awoke. As much as I wanted to sleep in, I knew I had to get some stuff done before it was time to check out and get out of Ragged Point for the long drive home. This time instead of the quicker route that we took on the way in, which was mostly along the I-5 then west towards Paso Robles, we were taking the coastal route south past San Luis Obispo and ultimately towards Santa Barbara.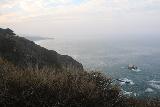 The particular sense of urgency was mostly Julie's desire to return to the Lilac Patisserie, which was a gluten free bakery that really does their French goods better than even the regular gluten- and sugar-filled counterparts. But because they have gluten free, sugar free, and flour free cakes, this was especially a priority for Julie. And beating the rush to get there meant that we had to at least leave Ragged Point by 8am since we were looking at a minimum of 2.5 hours of driving but more likely was going to be 3 hours if we counted the expected traffic, stops, etc.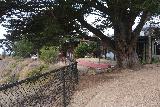 So after getting caught up on the blogging, getting packed up and ready to go, and then taking our last photos of the backside of the Ragged Point Inn, we then headed south on the Hwy 1.
Barely about 10-15 minutes into the drive, we stopped at the Elephant Seal Rookery, which was something we never really stopped for in all the years we had been visiting Big Sur. But now we were finally making the stop.
We were one of a handful of cars that parked here so it was definitely uncrowded. But the signs pointed the way to the "Best Views" and sure enough, we saw the groups of elephant seals in plain sight below the walkway and on the beach.
Most of them were lying down side-by-side like sardines even though there was plenty of space for them to spread out. I'm guessing there must be some kind of evolutionary reason for them to be laying down so close together the way they were doing. This experience was not unlike the sea lion colony that Julie and I witnessed around this time last year at Kangaroo Island in South Australia.
Both of us knew that Tahia would have adored these real-life seals though we also knew that we had to keep our distance since we were well aware of how aggressive they could be when they felt provoked or under threat. The New Zealand Fur Seals were certainly examples of that when we witnessed how some people idiotically tried to get as close as possible for a selfie yet being oblivious to their menacing glare and potential for charging.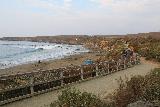 By about 8:25am, we had our fill of the elephant seals and then we continued the drive against the low-on-the-horizon morning sun. The haze seemed like it was due to marine moisture in the air as opposed to fire smoke so the skies definitely weren't clear until the road veered inland towards San Luis Obispo well after we had passed through Morro Bay and Pismo Beach.
Once we returned onto the 101 Freeway, the driving was quite smooth going as the traffic was relatively light and we were able to use the cruise control for a good chunk of the drive.
Eventually, the highway rejoined the coastline as we descended towards Gaviota and then ultimately in the direction of Goleta and ultimately to Santa Barbara. It wouldn't be until around 11am when we finally got off at Cabrillo and then made our way to the downtown area where we parked somewhere near the famous courthouse.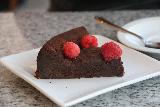 Then, we made a beeline walk right to the Lilac Patisserie, where it wasn't busy at this time of the morning so we went right in for a brunch.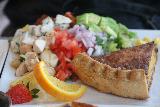 Julie went nuts buying up a Belgian Waffle (served only on weekends), a kind of croque monsieur sandwich with eggs and pesto, and a very good quiche lorraine combined with a chicken salad. She also got a Black Forest cake (though I knew they wouldn't have the German Kirschwasser in it for that hard liquor kick) as well as a couple slices of sugarless flourless chocolate cake, and a blueberry muffin.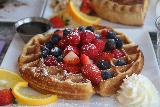 The food was so delicious that a guy sitting next to us was raving with Julie about the food there as well. We even bought another quiche lorraine to go because I never recalled having such a great quiche (and it was gluten free so Julie was able to finally have it). Even the manager of the store came out and spoke with us about how they had trouble getting the amount of mix from their supplier for what they wanted to do since such mills were quite rare.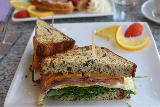 But they shared the sentiment that gluten free doesn't have to mean a subpar experience, and they hoped to be able to expand to Los Angeles though they wanted to make sure they did everything right with their Santa Barbara location before doing any expansion. Probably a good move on their part though it kind of sucks that we would have to drive all the way out this way to get their goods.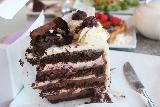 After the lunch was over, we then walked to the McConnell's Ice Cream shop so I could indulge a little in my flight (a three-small-scoop size) of cookies and cream flavor before going back to the car to drive home. This was the last of our splurges, and it certainly seemed like we had been paying over $100 USD for every meal or location that we had done on this trip. Indeed, this trip was really more of a foodie run than it was a data collecting run for Big Sur Waterfalls in the dry season.
Anyways, the drive home was on the busy side, which was not surprising, but at least it wasn't as much stop and go as it was the last time we were visiting the Santa Barbara area back in late March 2017. However, we were well aware of the traffic passing through the Thousand Oaks area and other parts of the valley so we actually followed Julie's iPhone to follow some road leading to the Hwy 118.
The 118 eventually became a freeway (after what seemed like a long stretch of traffic lights through farmlands), and once we were on that freeway, we were making pretty good progress.
This was a freeway that we rarely drove on, and my only recollection of a prior drive on it was to get to Trail Canyon Falls from an apartment we used to live at near Venice Beach. But now we were pretty much paralleling the 101 and in the end, we might have had a less stressful drive considering how backed up the 101 tended to be on Sunday afternoons.
Eventually, at around 3pm, we made it to Julie's Mom's place in Alhambra where we picked up Tahia and allowed my legs to stretch for a bit (and get some feeling back in my buttocks).
Tahia really missed us and called us quite a bit on this trip. So we did what we could to console her, but we also savored our time alone without the drama that she brought. So while absence made the heart grow fonder, we were quickly settling back into the old ways as Tahia would get into her mischief and drama while we resigned ourselves to deal with the here and now as the reality of city life (and work on both my website and my day job) was kicking in.
Indeed, this return to work life was the part of every trip that I hated over the years. I sure wished trips would never end, but that can't be the reality.
Anyways by 3:55pm, we were finally back at home and then we promptly unpacked and settled back into our routine while I was trying to get up to speed on the latest happenings of our trip as new content for the website – when it finally relaunches after I finish the ongoing migration…
Yep, lots to do, so little time, but gotta stay in the moment and keep pressing on…