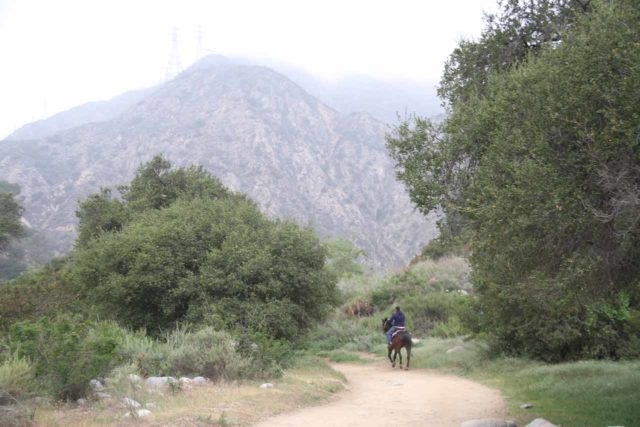 24-March 2012:
…it became apparent as we waited until about 9:15am that no HiPos from work were going to show up. I knew one guy (whom I had coordinated this event with) had to attend a funeral so that was anticipated.
Still, I was a bit disappointed given how many other verbal commitments I had received, but I figured people might flake given the pattern of this kind of behavior for a while at work now…
I awoke to a 6:30am alarm as I knew I had to allow myself plenty of time to get to the trailhead anticipating a group hike in which I was leading.
For the past two months, I had coordinated with another coworker a hike for High Potential Leadership (HiPo) program members at work. The thinking was that perhaps this would be a pleasurable way of encouraging the so-called future leaders of the company to network in addition to appreciating Nature in a laid back yet scenic backdrop.
The HiPo program itself was on the decline, however, so there was always in the back of my mind the likelihood that people would flake out and the group hike might end up being just a handful of people.
In any case, since I was the organizer, I still had to make sure that I was there in time waiting for would-be participants whether there were going to be people or not.
And since I had agreed with interested parties that the hike would start at 9am, I had to be sure that I was out of the house by about 8am.
At first, we were going to bring Tahia on this repeat hike (since we had just done this hike nearly two months ago). But when it was apparent that it wouldn't be easy to get her out of the house by the required time, we left her with Julie's mom.
I think Julie sensed the possibility of a low turnout so she decided at the last minute to tag along with me.
When all was said and done, it was about 8:15am when we left the house. It was a bit later than I wanted, but we figured traffic would be light and we should still be at the trailhead by 9am.
So the drive was pretty uneventful as expected with fairly light traffic as we made it all the way to the Sierra Madre exit. However, instead of going straight for the first light, we turned right on it.
It turned out that we were going up some unfamiliar streets (past a farmers market at a high school it seemed), and we quickly realized that we were on Sierra Madre Blvd instead of Altadena Dr.
Fortunately, there was a street where we cut across to our left and drove for a few more minutes until we were able to turn right at Altadena Dr, which was right before the entrance to Eaton Canyon Nature Park.
When we got to the car park, we were surprised by how busy it was. We ultimately drove all the way to the end of the lot, did the three-point turn, and then found a parallel parking spot on the opposite side of where the cars would be parked perpendicularly.
It was about 8:55am when I was waiting at the trailhead hoping to see some familiar faces from work.
Julie then joined me at 9am when she was done doing her preparations.
However, it became apparent as we waited until about 9:15am that no HiPos from work were going to show up. I knew one guy (whom I had coordinated this event with) had to attend a funeral so that was anticipated.
Still, I was a bit disappointed given how many other verbal commitments I had received, but I figured people might flake given the pattern of this kind of behavior for a while at work now.
I was thinking to myself that perhaps it was because we weren't able to secure an executive or a popular person who would've been a social hub. Maybe it was just a social event and not something HiPos could get volunteer hours for or get face time with a manager or exec.
Whatever the case, it was just going to be Julie and I. It was a bummer that we were repeating the same hike with Tahia (we're usually not keen on doing repeat hikes unless there was something different [like a hiking in a group in this case]), but with things turning out the way they did, I guess the silver lining to was that we would finally have our Din Tai Fung soup dumpling fix after the hike. After all, without Tahia, it would be early enough to reasonably beat the rush and not have to wait for a crazy long time over expensive Chinese food.
I guess the takeaway from this experience was that I probably shouldn't even bother setting these types of events up unless I get a firm commitment from someone I know who can bring or attract larger groups. Otherwise, the uncertainty and the trouble was probably not justified considering we kind of wasted a Saturday (though it would turn out that we made the most out of this situation).
So the hike began as just us two. Just like old times. Boy did I appreciate Julie tagging along to ensure I wasn't doing this hike solo.
There were still wildflowers around the picnic area before having to cross the wash. Clearly, it was Spring though it probably started since our early February hike when there were more wildflowers.
With the overcast skies from the fog, it was much cooler than it was last month. So that (along with not bringing Tahia along) allowed Julie and I to move quickly.
Somewhere near the Coyote Canyon junction, we saw a lot of eggs placed by a sign. We weren't sure what the whole point of that was. Nonetheless, we continued hiking.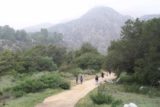 One thing that surprised us was that we could hear water flowing in the wash as we got closer to the bridge at the mouth of Eaton Canyon. I didn't recall hearing anything flowing until we were well into the canyon during our February hike so that meant that were was probably a lot more water in there today.
It wasn't long before we got to the bridge and then proceeded further into Eaton Canyon.
As anticipated, the increase in water in the stream made the stream crossings a little bit trickier than before. It was a good thing that we had brought Tahia when it was drier because it would've been a lot trickier today (sticks or no sticks).
Since there was no one else coming with Julie and I, we had left our hiking sticks in the car. Turned out that we probably could've used them today. Nonetheless, we still managed.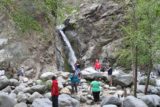 After about another half-dozen crossings, we eventually got to the familiar falls.
It was not quite as crowded as it was at high noon last February, but there were still quite a handful of people here. It always amazes me how popular the waterfalls in So Cal are, but then again I think Julie said it best when she thought there weren't a whole lot to choose from down here so the reliable waterfalls in a dry year tend to be even more crowded than in a year with more distributed precipitation.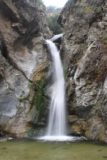 It was about 10:30am when we decided to head back to the trailhead.
As expected, we saw larger groups and even more people heading towards the falls as we were heading out.
But with our light load, we were determined to get to Din Tai Fung before the crush at midday.
Soon we were out of the canyon and not much longer thereafter, the walking was benign (i.e. without more rock hopping).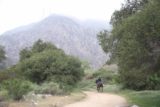 Julie noticed there was one person and a kid on horseback, which was something that caught her eye. Not long thereafter, we were back at the familiar Coyote Canyon junction but this time the eggs were gone.
By about 11:30am, we were back at the trailhead. As expected, there were many more cars here. I thought about how we started the hike back in February at this time. Now, we were done with the hike when we would've only gotten started with our daughter. I guess that was a clear indication of how much slower things go when you bring a baby or toddler.
Anyways, we managed to make it to Din Tai Fung at around 11:45am and even though there was a wait, it wasn't a bad one.
Eventually, after a short visit to REI, we were back home at 2pm. Tahia was a little late on her schedule as she was just drinking milk when she should've been napping by now. Still, it allowed us to see her and play with her a bit before she settled back into her daily routine…
Visitor Comments:
Got something you'd like to share or say to keep the conversation going? Feel free to leave a comment below...
No users have replied to the content on this page