Day 2 (April 1, 2017 – Santa Barbara, California): "Near Perfect Moments"
It was about 6:40am when I awoke. Apparently, I had slept through my alarm or it had never gone off because I had originally set it for 5:30am. Anyways, the sun was barely up at the time, and the morning seemed a little on the chilly side. So I quickly got dressed and ate some of the leftovers from last night as well as a hard-boiled egg that we brought and some kefir.
By about 7:05am, I was in the car and ready to go to Seven Falls solo.
The drive out to Seven Falls went pretty smoothly as traffic was light this early in the morning. With the decent morning light, I took a few minutes to stop for the Mission Santa Barbara to take some photos before I kept moving on.
However, when I got to the familiar Tunnel Drive, I couldn't help but be amazed at how many cars were already parked along the street for the hike! I wound up parking in some designated spots further down the road and not too far up the road from where we parked the last time a couple of years ago (and we thought that was easily over a quarter-mile from the official trailhead)!
So I geared up and immediately started hiking in my Keens
(anticipating some hiking and scrambling in water) as I was determined to go further than we went last time.
So I quickly made my way back to the familiar fork in the road at the very end of the drivable part of Tunnel Drive, and then I passed the familiar gate as I embarked on the paved part of the Seven Falls Trail, which was really the trail for Inspiration Point and the Jesusita Trail further on. There were already quite a few people on the trail, but they were mostly trail runners or joggers, who were probably locals. Nonetheless, the hike was already peaceful and the sun wasn't too overbearing, especially given how chilly it was this morning.
As the trail eventually curved inwards towards Mission Canyon, the paved part of the trail crossed a bridge, where sure enough, there was water in the stream. There was even a waterfall downstream of that bridge though it was hard to photograph given the overgrowth. Plus, it didn't feature much water though it was certainly way better than the dry fall we had two years ago.
By about 8:05am, I made it back to the familiar creek scramble as the Inspiration Point Trail crossed Mission Creek. I then went off the main trail and followed the fainter trails alongside the left side of Mission Creek. Sure enough, I saw that there was indeed water in the creek though it didn't seem like there was a whole lot of water in terms of yielding satisfactory waterfall sightings. The water that remained in the pools were still attractive and reflective, and I gladly took photos just to show how different things were today as opposed to two years ago.
By about 8:20am, I made it to a part of the scramble where the trail encountered a few forks. I first followed a fork that went back towards the creek, where there were a couple of small waterfalls near some potholed rocks. The falls themselves were nothing terribly special, but I distinctly remembered this spot from the last time thanks to those potholes.
As I went back on the trail, I explored some of the other forks. One went steeply higher and higher and I started to wonder where it went. Eventually, it joined up with an established trail, but it was way too high to be any part of Seven Falls and the creek they sat in. So I knew that I had somehow scrambled back up to the Inspiration Point and Jesusita Trails. So I immediately went back down to the fork, and then continued in the upstream direction, where I saw another faint trail leading past the potholes and the graffitied rock.
At about 8:25am, I made it to a pair of small cascades that was the stopping point from last time. And like the last time, there wasn't much water in the falls. But at least the falls was running (albeit trickling). Anyways, unlike the last time, I was determined to push forward past this obstacle.
It didn't look like going left around this falls was very wise, but I did see an opportunity to go rigbt around the pool, and then up and around the falls, which we'll call Pool 1.
Above this pool, the creek scramble continued where shortly thereafter, I encountered a more attractive dropping falls into another pool, which I'll call Pool 2. It looked like there was a landslide to the left of the pool revealing either a natural arch or a tunnel or some kind of balancing rock of some sort. It was interesting, but the falls itself was also captivating even in its trickling state.
Given that the canyon walls had closed in, I wondered if this was the end of the line. I had read in the literature that some people would indeed climb past this falls on the right side, and so I went ahead and did that. However, this scramble was quite precarious as it was full of dropoff exposure and the slope of the rocks always slanted towards the dropoffs. Good thing these rocks weren't wet, or I wouldn't have a prayer of continuing on.
Once I made it up to the top of the waterfall above the second pool, I saw that there was yet another deep pool. However, further progress at this point seemed like I would have no choice but to wade in the pool, which was chilly and deep. I decided that this would be my stopping point, but it was a fine (albeit awkward) one at that as beyond the pool was a series of maybe four small drops in succession.
When viewed from a direct angle (not easy given the slope of the bedrock I was trying to balance on), I could see why they named this falls "Seven Falls". There were also interesting vein-like patterns on the bedrock fringing the pools, which very much reminded me of the kind of patterns I saw at Castle Rock near San Jose.
While I was enjoying this falls, I heard voices and some swearing, which made me wonder if I was being accompanied by someone else. But it turned out that they were coming from high up on the cliffs that must've been part of the Inspiration Point Trail. So I'd still have this place alone until I finally had my fill and carefully made my way back down towards the second pool again. Then, I had an apple and some water before I started hiking back out at 8:50am.
By then, I saw another couple who had just made their way up to the second pool. And after greeting them and getting confirmation from them that the falls above the second pool was probably as far as most sane people would go, I then got back past the first pool and then the trail again, where I encountered at least two or three more groups of hikers.
When I got back on the main trail at 9:25am, there were a group of Latino guys I greeted (I thought about greeting them in Spanish) as they opted to go right up the stream instead of bothering to follow the trails to the left of the stream. As I continued making my way back downhill towards the trailhead, I'd encounter at least a dozen or more groups of hikers going up the other way. Indeed, this trail was very popular.
Eventually at 10am, I had regained the car. Just as I was about to leave, there was a lucky guy who was about to claim my parking spot as the choicier spots were already taken. Indeed, this place was quite busy as I noticed longer lines of cars parked off the side of the street much further down the road.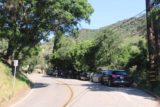 Eventually at 10:15am, I made it back to the Hyatt Centric, where Julie and Tahia were still having breakfast at the Marbella Restaurant. I guess they were having a pretty deliberate morning given how I was able to get a hike accomplished while they hadn't even started their day yet!
I showed up just in time for Tahia to be about done with her brekkie. So Julie was tending to getting ready for the day, while I took Tahia across the street to get onto the beach. It was a gorgeous sunny day as the beaches were bustling with bikers, people building sandcastles, lots of people playing volleyball, and even a few stoners chilling out being amused by whatever they see while some homeless people were digging through rubbish near them.
I spent the next say hour or so watching Tahia do her thing on the swings, then the slides, then playing in the sand, and then trying to make trails in the sand that made their way to a sheltered pavement area. Eventually, Julie joined us at around 11:30am, and then some 15 minutes later, we were back in the car as we decided to go to downtown Santa Barbara instead of going straight to San Ysidro Falls as I had hoped we could do as a family.
Anyways, at about 12pm, we parked somewhere near State Street at Lot 2, which seemed to be in the heart of downtown Santa Barbara. But before we'd do any sightseeing, Julie had us go to this place called the Finch and Fork for lunch before they'd get really busy. We got there at 12:15pm, and when we were seated, we noticed that there was only the brunch menu instead of the full menu.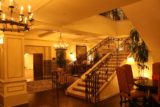 That was kind of a bummer since Julie now wasn't sure she could have any of the food on their menu. But we opted to just go forward with the brunch as she looked intently for the cleanest dish they had, and that appeared to be pork belly dish. I had also gotten some slow cooked short ribs as well as a burger that both Tahia and I could share.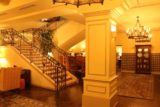 Well, it turned out that this meal was very good for a brunch. The food was cleaner than thought, and it seemed to be prepared quite well. So we were all pretty satisfied with our meal, and more importantly, none of the foods seemed to have set Julie off so far. Indeed, it was a good call on Julie's part to come here.
When we went to the restroom downstairs, the decorations really reminded Julie and I of a more subtle version of Morocco or even Andalucian Spain. Indeed, the Santa Barbara architecture always brought us back to Spain, which was really saying something now that we had been there and could really see the influence play out.
At 1:30pm, we were done with the brunch and then started walking towards the Santa Barbara Courthouse, which we recalled was a really attractive mission-style building with a clock tower. We really looked forward to re-visiting this spot now that Tahia could come with us on this trip, where it was just Julie and I two years ago for Valentines Day.
Along the way, we stopped by this dessert place called the Lilac Patisserie. Julie was drawn to this place because apparently they had flourless and gluten free cakes as well as some kind of sugarless cake. Julie wanted to try out this place to see if her body would react unfavorably towards such desserts, and after trying some of the stuff (and buying a couple of cakes and cookies), she didn't break out in any new rashes.
So after finally leaving the patisserie, we continued walking towards the courthouse, and sure enough, we got back to the familiar attractive building which contrasted nicely with the blue skies in the background. Once we got into the building, we immediately took the elevator all the way to the top of the clock tower, where we were treated to the familiar nice views in all directions – towards the mountains, the ocean, and even towards the Mission Santa Barabara in the distance.
The experience was quite different with Tahia here, and we finally got to take our family shots before we started walking downstairs. As we did so, we saw that the clock gallery room was open. So we went in there, checked out the fine machinery powering the clock, and did a little reading of the history of this place before the worker closed the door. I guess we showed up just in the nick of time!
Another floor down, we then saw that one of the courthouse rooms were open. It was a pretty ornate room that I swore could have doubled as a church or something. There were murals all around the walls and ceilings, and there was some guide giving explanations about the history of this place and its role in the acquisition of California as part of the United States.
Again, it was another case of perfect timing as now we really felt like our tour of the Santa Barbara Courthouse was more complete and fulfilling than the last time. Next, we took a few more photos of the courthouse from the outside from a lawn area in its front. We tried to duplicate some postcard shots that Julie noticed while strolling along State Street. And when we had our fill of that, we then walked back in the other direction towards McConnell's Ice Cream, which we knew was a Santa Barbara institution as far as ice cream was concerned.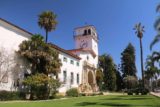 When we finally made it to McConnell's at 2:45pm, we were surprised that we had to wait in a line that went outside the door and bent a little ways down the sidewalk! Since I was hoping this would be a quick dessert before we'd head over to San Ysidro Falls to try to squeeze that in before the day was over, this delay was not what the doctor ordered, so to speak.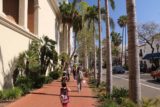 Well, after finally getting our McConnell's ice cream and combining that with the Lilac Patisserie cakes (for that right contrast between vanilla bean ice cream and rich chocolate cakes), we were finally back in the car at 3:45pm. This was just as the downtown Santa Barbara scene was quite alive and kicking, and it featured quite the ambience. I sure wished we could have stayed longer, but I saw an opportunity to fit in San Ysidro Falls, and I wasn't going to give that up today.
At about 4pm, we arrived at the San Ysidro Falls Trailhead. There were probably about a dozen or so cars parked alongside the street containing the actual trailhead for the San Ysidro Trail. Either this falls wasn't very popular or we must've have waited out the peak visitation because we didn't have much problems parking near the trailhead. However, as I was gearing up and getting ready to go, Tahia was knocked out in her afternoon siesta. So Julie opted to stay in the car with her, and use that time to do some research on a dinner spot for tonight.
And so instead of doing a family waterfall outing to a new waterfall (as we had never visited this falls before), I was about to go solo yet again on another Santa Barbara waterfall hike.
I wasn't sure how long this hike was going to take, especially since we had forgotten to bring our Ann Marie Brown book
, but I thought I had recalled that it was 4 miles round trip with some non-trivial elevation gain. That said, I also recalled that this was supposed to be a family-friendly hike so I was estimating that I'd be away from the car between 2-3 hours. That would mean I'd be back around 7pm, which might make it non-ideal for eating dinner as I'm sure every place she'd pick would require at least a hour or more wait.
So I immediately set on the well-established trail, which initially passed between some private yards under some tree cover, which was certainly welcome given how quickly the weather turned warm at this time in the afternoon. After going between the yards, the trail then joined a road, which I think was called Park Lane West. I had to continue walking along the road past a bunch of no parking signs (I guess no public vehicles were allowed on this road except for residents) before the trail would veer away from the pavement and eventually pass through a couple of gates.
At this point, the pavement was nowhere to be found, but I now found myself following wide dirt paths that appeared to have at one point been a 4wd dirt road or something. So given the width of the trail, I could totally see why this was considered a family-friendly trail. That said, there were a handful of trail junctions that I encountered. And it would have been worrisome given that I didn't have my guidebook with me, but I basically just kept right to stay on the San Ysidro Trail at these junctions.
I made it to the McMenemy Trail at around 4:20pm and the Edison Catway Trail at around 4:35pm. There was also some other trail junctions going behind me to the right, but I knew those couldn't be it. Anyways, these left-forking trails appeared to have crossed the San Ysidro Creek, which by the way had some pretty healthy flow. In fact, the San Ysidro Trail pretty much followed alongside this creek and the healthy flow meant the calming sounds of cascades and rapids, which always made for a relaxing hike.
Once I was past the Edison Catway junction, the trail would continue to ascend a bit more steeply and the trail would narrow a bit more. But it was still quite easy and the trail would continue following the San Ysidro Creek. I recalled in one instance, I made a detour just to check out one of the short falls with a wading pool since I had now gone nearly an hour without actually getting close to any of the countless mini-waterfalls and cascades on San Ysidro Creek to this point.
I'd eventually get to a point where the trail seemed to have disappeared into the San Ysidro Creek. There was a family here about to head back the other way, and they told me that I had missed the trail that would keep going up to the main waterfall, but they did say that there was another waterfall further up the creek from this point.
So I backtracked, and sure enough, I saw the steeply climbing trail that I should have taken in the first place. As I continued further past some cacti and interesting rocks hugging the trail itself, I then noticed the waterfall down below that that family must have been talking about. I took a mental note that perhaps I might come back and try to scramble for a closer look at this falls (probably 15ft or less), but I'd keep pushing forward since it was getting late in the day.
I'd eventually pass one mid- to elder guy who was walking with the aid of a walking cane or stick, but he seemed to really be struggling with this trail. His wife was way ahead of him waiting for him to catch up, and she seemed to be impatiently waiting for him. Anyways, I went past them as well as another group of hikers chit chatting around a cactus along the trail.
Then, the trail descended past a section that was affected by a landslide before it descended upon a stream crossing. It looked like the crossing was near a confluence of two creeks. The creek that was being crossed appeared to be the larger of the two creeks. And since the trail seemed to be going away from this larger creek, I could only assume that San Ysidro Falls must be flowing on the smaller creek.
Well, sure enough, by about 5:10pm, I was finally at San Ysidro Falls. The final approach was a bit eroded as clearly this area had seen a landslide or two. And perhaps the postings I had seen at the Seven Falls Trailhead earlier and this trail as well, must've been talking about a volunteer effort to restore this particular part of the trail, especially as well as other parts that could use a little work given the rains from this past Winter.
So I spent some time experiencing this falls by myself, which was more impressive than I thought. It kind of reminded me of a larger version of Little Falls near Arroyo Grande given the underlying mossy bed for the falls to run over. Anyways, after having my fill of the falls, I decided to continue going up the trail just to see where the trail would go. I wasn't sure if there were yet more waterfalls along the way or not.
Well, after taking in a nice view down the canyon towards the ocean, I then rounded a bend where it appeared that the trail showed signs of more erosion as well as an obstructed view of the brink of San Ysidro Falls. There was another lone hiker and his dog going the other way, and I asked him if there were more falls further up the canyon.
He didn't answer that question, but he did say there were butterflies further up the canyon as well as rattlesnakes. I wasn't going to keep Julie waiting for much longer as it was definitely getting late in the day, so after briefly walking a short distance further, I decided that there wasn't going to be more falls further up the canyon so I started hiking back. It was about 5:30pm when I did that.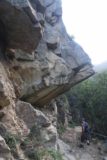 After making the steep descent, I'd catch up with the guy and his dog somewhere downstream from the San Ysidro Falls. We kept each other company on the return hike talking about miscellaneous things pertaining to the hikes in this area as well as the Sespe Wilderness. He even told me of a story of a firefighter who was apparently high on LSD and ran over a cliff while trying to chase his dog (which never went over the cliff). That firefighter, who was experienced in the outdoors, didn't make it out, but his dog led the search and rescue (or retrieval) team to the body. I guess strange things and strange stories come about when you're out in the woods.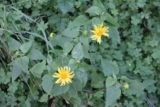 After leaving the hiker alone as he knew I had to rush to get back to Julie, I was back at the Edison Catway by about 5:55pm. Then, I continued hiking quickly until I'd eventually make it back to the gate near Park Lane West, where I saw the couple (with the struggling husband) that was almost at the San Ysidro Falls. The wife told me that they had turned around because the husband didn't want to go further, but when I showed them my pictures, the wife was regretting not making it all the way to the falls after having come all this way.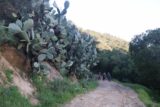 Well, at least they were locals and they could easily come back here as desired. We also chatted about other matters like gut health since she apparently had a family history of gut-related issues like what Julie was going through right now. But like we suspected and she confirmed, it pretty much meant that we had to refrain from sugar to keep things under control.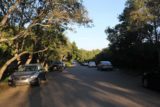 By about 6:20pm, I was finally back at the car. By then, Julie had already decided on a dinner spot, and so we promptly drove off and headed right for this place that was said to have a nice view of the ocean.
Well, when we showed up to the public parking lot near the restaurant called the Boathouse, we were in the Arroyo Burro Beach area, which apparently was also called Hendry's Beach. It was a bit on the chilly side out here, but with the soft light of the waning sun painting the cliffs a nice orangish color and the Arroyo Burro itself casting gorgeous mirror-like reflections, I knew that this was the perfect spot to chill out and watch the sun set while we had to wait some 60-90 minutes just to get seated for dinner.
Tahia was enjoying the sand and both Julie and I were enjoying taking pictures of the scenery here as well as the obligatory people shots. When the sun had finally set some time after 7:15pm or so, we then spent time near the bar watching North Carolina and Oregon play in their Final Four game.
It was too bad that this restaurant had run out of the local Santa Barbara uni (sea urchin) because I was really looking forward to having it. Anyways, it wouldn't be until about 7:45pm when we were finally seated. And after having a meal of crab claw appetizers, ceviche, lobster, and salmon, we were sated and ready to go back to our room. The dinner was over at around 9:25pm, which was quite late but at least it was time well spent in near perfect memorable moments and settings.
By about 9:50pm, we returned to the Hyatt Centric, where we had to valet this time as apparently the self-parking lots were full. Anyways, we then quickly got cleaned up and didn't take much longer before we all crashed from a very long day.
Tomorrow, given the San Ysidro Falls experience, I decided that I should go check out Tangerine Falls first thing in the morning before heading back to finish packing and get Julie and Tahia for one last bit of sightseeing in Santa Barbara before checking out Rose Valley Falls, and then finally heading for home. I was anticipating that like the Portrero John Day trip with Mom a couple of weeks ago, that we wouldn't be home until around 9pm, especially given the traffic on the 101 Freeway…
Visitor Comments:
Got something you'd like to share or say to keep the conversation going? Feel free to leave a comment below...
No users have replied to the content on this page