Day 1 (January 24, 2015): THE FIRST ATTEMPT
Once again it was around 6:30am when we awoke to Julie's iPhone alarm. I had looked forward to doing today's hike even though I had pretty low expectations of it in terms of the wow factor. And the reason why was because it would be the first local waterfall in California in a while that we hadn't seen. And the one we were targeting today was Etiwanda Falls.
As we were getting ready to meet up with my parents at their place at 8am, Julie suddenly didn't feel the need to be rushed as she was preparing breakfast for herself and for Tahia. So I knew that based on that mentality, we wouldn't be at my Mom's place by 8am and we probably wouldn't be starting the hike until after 10am, which I thought we be late. And this tardiness wouldn't benefit us since today was forecasted to be in the 80s as apparently the Santa Ana easterly winds were probably in effect and responsible for this unusually warm January weather.
So after a little bit of tension between Julie and I over this difference of opinion on being rushed versus having a better experience out in the field, we finally left the house at 8:10am. Not surprisingly, it was already starting to get a little warm outside, and the skies were cloud free.
It wouldn't be until about 8:55am when we would leave the parents' place, which was a little behind schedule from the Sturtevant Falls excursion we did last week. I guess this just goes to show you that with a kid, it seems that no matter how much you try to be early, it never works out that way for one reason or another.
Anyways, we headed out east taking freeways that reminded us of what it was like driving to Vegas or Southern Utah, or even Ontario Mills and places like that. Regardless, we would eventually get off the I-15 freeway at Base Line, then follow Ann Marie's directions towards the North Etiwanda Reserve. We were using her new book this time, especially since we knew that the old book that we still keep didn't describe Etiwanda Falls or others that we did (or did not) have in the Schaffdog book.
While driving on the I-15 then onto Base Line, we did notice how the trees were quite violently swaying. Mom was telling Tahia that the trees were dancing as they seemed to have a bit of a vigor to their swaying.
In the car, it was hard to appreciate the force of the winds since the car's body was deflecting most of it from us. But we could imagine how much crazier it would be had we been standing in it.
Mom even told us of a story of how they were opening up a 3M warehouse in Ontario long before the inland empire was being built up, and how everywhere around them was pretty empty. She was in a vehicle with some managers for a grand opening, but when it came time for the formalities, the forceful winds and quickly moving tumbleweeds with sand kicked up around them made it so they briefly got out of the car, then went back in the car saying that was enough. Besides, no one else was really around given the desert storm that they were faced with.
Anyways, it was times like these that reminded us of why trucks with trailers would flip over on their sides in the desert regions, especially near the Cajon Pass. And apparently, we were seeing a wind-tunnel effect where winds were being funneled into a narrow canyon or pass between the San Bernardino Mountains and the end of the San Gabriels. Little did I realize how relevant Mom's story was when it became our turn to attempt the hike to Etiwanda Falls on this day.
The force of the winds were becoming even more apparent as we were driving through the local streets along both Base Line and Etiwanda Ave. That was because we saw a handful of downed trees and even whole chunks of tree branches in the middle of the road on both Base Line and Etiwanda Ave.
Now it was getting serious.
There were even pebbles attacking the car near the Wilson Ave turnoff as the powerful gusts made us hear crackling sounds from the pebbles hitting Dad's SUV.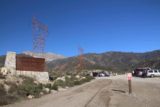 As we got closer to the end of the road at the North Etiwanda Preserve, we started to get nervous about what's the next tree that would fall on us or block the road. We mercifully made it to the unpaved trailhead at 9:40am, which was quite exposed to the sun and beneath high voltage power lines. There were actually quite a few cars already parked here (the car park was nearly full), and that kind of gave me a little hope that perhaps it would be possible to do the hike despite the apparent hurricane force winds.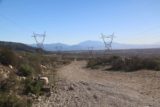 But when Mom and I started to get out of the car, we both took some time to take trailhead photos, yet the winds were making it quite challenging to even do that. Some of the sand pebbles that were whipped up by the strong winds were even stinging our faces and necks where we were a little exposed to the elements. And our clothes were flapping about making us look like the Michelin Man (from those tire commercials). In fact, it was quite hard to stand up and keep our balance. The winds were also so strong that we were hearing tornado-like whooshing sounds as they were probably created from the winds passing through the steel pylons (holding up the power lines) themselves.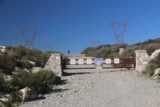 The last time Julie and I experienced something like this was in Patagonia in late 2007, but it turned out that we never had to hike in this kind of weather back then.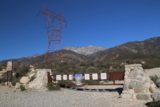 All this prompted Julie to comment how scary things were, and at that point, everyone (Dad, Mom, and Julie) talked me out of doing this hike. Tahia was pretty obliviously still strapped into her car seat. But when I came to my senses and realized that Tahia wouldn't be able to stand up in this kind of weather, that was when we had to abort today's hike and get back into the shelter of Dad's car at 9:50am.
So now we know what it really means to have Santa Ana Winds!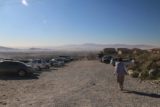 Totally defeated and deflated given what Mother Nature (and Climate Change) had dictated on this day, we ultimately headed over to Rowland Heights for some dim sum. That would make this the second aborted excursion in a row (Sturtevant Falls being the first one back on the penultimate day before New Years Day) followed up with a Chinese restaurant (the aborted Sturtevant Falls hike resulted in us going to Din Tai Fung).
And so it was that with hardened hair (from all that sand that accumulated in our scalps) and hiking gear, we came to the busy restaurant dressed the part. I guess one could say that we quite literally "hiked" to the Dim Sum restaurant as it could easily be seen that way to an outside observer…