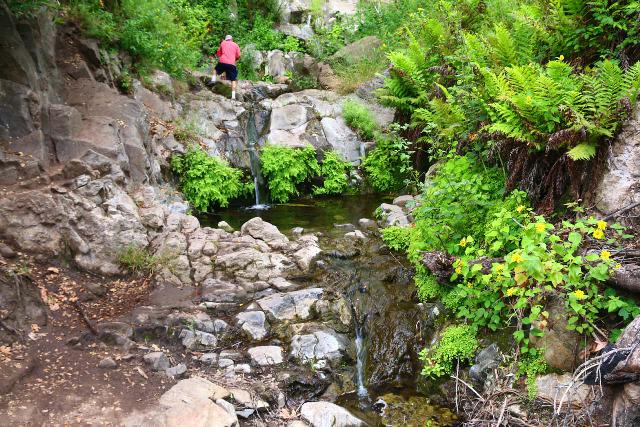 1-June 2019:
We got here at 12:55pm, and we wound up spending some minutes taking pictures (actually one mother waiting for her husband and sons helped us out here), before Julie checked out some salamanders on the creek while I decided to go up the falls to see what everyone else had been seeing all this time.
Actually, the scrambling up to the top of the falls wasn't very trivial as I had to grip some sloping hard-rock surfaces that could easily be difficult to get a grip, especially if wet.
But I eventually got to a spot where I noticed a small tier as well as a small sloping notch of water, but I didn't see a fairly obvious way to continue up.
And just as I was about to give up…
With Tahia sleeping over at my Mom's place with her cousins Joshua and Sophia for this weekend, Julie and I were alone at home for all of today.
So Julie and I decided to make today a "date day" (as opposed to a date night), and we were celebrating the temporary "freedom" with a hike to a waterfall that we hadn't been to in many years – Sycamore Canyon Falls.
This was one waterfall that I wanted to visit when there would have been more waterflow earlier in the year, but due to the Woolsey Fire, I wasn't sure that the trail to it would be open.
But now it was getting late in the season as far as the Santa Monica Mountains were concerned, and we figured that with the high rainfall from this year, we mind as well just go for it even if I was afraid the waterfall's flow might be on the lesser side.
Who knows? Maybe we might be pleasantly surprised.
So after a satisfying breakfast, we loaded up the car and left the house at 10am.
This was probably going to be our last hike before our big Summer trip. And last week, we had bought some new gear in preparation for that trip.
And today's excursion was an opportunity for me to try out some of this gear in the field (conditions that you can't reproduce at REI).
Among these things were new hiking boots as well as a new day pack.
We had to know straight away if the gear was suitable for the long trip.
Knowing that Sycamore Canyon Falls was pretty far west, I knew that the late start meant we were probably going to have a late lunch, which would throw off Julie's desire to have meals at regular times.
And we had all the excuses to not go out and do this excursion.
After all, I had to work overtime for my day job this weekend and I had more website stuff to do before I had to stop working on it due to this upcoming trip.
Yet, we seized the opportunity to have our date day and get one last waterfalling excursion (especially in the Santa Monica Mountains).
Who knows when waterfalls would be flowing in those parts again, especially if we hit another multi-year cycle of droughts?
So the drive out towards Ventura County was for the most part uneventful. It was already somewhat heavy traffic, but we still managed to ultimately get out to the Thousand Oaks area at around 11am-ish.
But instead of following our own directions, which had us get off at Newbury Park then take the Wendy Drive all the way to the parking area for the Wendy Trail, we followed the iPhone directions, which had us get off at Lynn Road (the same exit for Paradise Falls).
Then, we'd eventually take Lynn Road for nearly five miles (going past Wendy Drive) and all the way to Via Goleta, where we turned left towards the park entrance.
This was the first time we had ever gone this way. For in all the prior visits, we had presumed that the trail would be farther than the Wendy Trail approach that we had taken in each of the previous two times we were here.
We had to go slow on the park road (15 mph), and there was even a park ranger pulling a CHP tactic of being parked slightly off the park road waiting to nab someone going faster than this really slow speed limit.
Fortunately for us, we were already going slow anyways since we weren't sure which of the parking lots presented to us we should take. But judging by how empty the overflow parking lots were, we just kept going slowly past the ranger seemingly itching to write someone a ticket.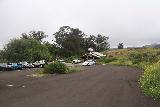 Eventually at 11:25am, we finally parked at the busy main parking lot. But given the heavy June Gloom overcast day, the parking lot still had plenty of empty spots so we had no difficulty finding parking.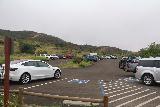 While on the one hand the June Gloom was good for keeping things on the cool side, it came with a two-edged sword in that the views towards Boney Mountain were covered by the low-lying fog.
Indeed, it was almost as if there was a low ceiling put over this part of the Santa Monica Mountains.
Anyways, after gearing up with the new stuff, we then made our way towards the restrooms, which were being cleaned at the moment (but it wasn't closed).
By the way, when we left the restroom, we saw that ranger pull someone over. I knew he was itching to write that ticket!
So Julie and I proceeded onto the trail that went behind the restroom and onto a path flanked by lots of small yellow flowers (which I suspected were the invasive black mustard plants that we learned about from a worker at Escondido Falls a few weeks ago.
Actually, the wildflower display at this time was surprisingly good considering how late in the season it was.
After all, we had noticed a variety of other wildflowers of different colors as well as even a small patch of California poppies!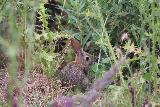 Julie and I theorized that it must have been due to the cooler-than-expected Spring season combined with the rainier-than-expected season as well.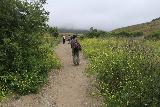 In the quarter-mile of the trail leading towards the Satwiwa Nature Center, we knew we were on a trail we hadn't done before.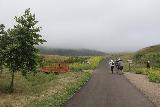 But from looking at the maps, I could also see that it wasn't exactly the closest distance since we were a bit more west than the Wendy Trail or Windmill Trail approach.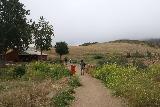 Nevertheless, this trail also allowed us to spot quite a few rabbits by the trail. We wondered if they were native to this area, and we wondered if the coyotes that might call this area home would be able to feast on them for sustenance.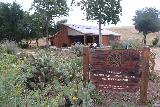 Anyways, after dodging a few mountain bikers screaming by the fairly wide trail, we then arrived at a paved path next to what appeared to be a handicap parking area adjacent to some small buildings that I assumed to be part of the park staff area.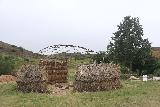 This must be the Satwiwa Native American Indian Culture Center since I also saw the familiar round hay shelter.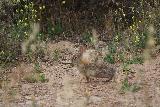 Julie and I decided to cross the bridge and briefly check out the shelter as well as a small table where one guy was showing off the fur belonging to a coyote.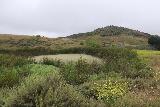 As much as we wanted to linger here and touch the fur, we continued on our way to look for the waterfall.
So we continued on what turned out to be the Satwiwa Loop Trail.
We happened to pass a strange scene where one family decided to make eggs or something with a camp stove right besides the trail (a really strange place to have a camp picnic without being by a campsite or picnic spot), we continued on the wide open path where the June Gloom continued to shroud the mountain scenery that certainly would have made the scenery here more worthwhile.
After what seemed like a path that took us towards the Windmill, upon inspecting the map one more time, I noticed that it appeared we were hiking away from the Sycamore Canyon Falls and towards Wendy Drive!
In hindsight, it suggested that the shortest trail actually veered from the bridge away from the Satwiwa Native American Culture Center, and directly towards the Danielson Road.
What we wound up doing was hiking the loop trail on the north side of the pond (instead of the south side of it) and now we had to backtrack on the Lower Satwiwa Loop before joining up with the Danielson Road.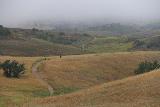 During the Lower Satwiwa Loop Trail portion, the trail appeared to be overgrown in parts, which suggested that this trail wasn't that well used.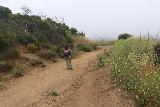 For none of the trail we did to this point seemed that familiar to us (though it had been over nine years since we last did this trail).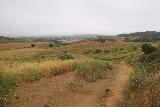 Anyways, after getting past a few junctions, by about 12:15pm we then followed the Danielson Road up a climb that took us alongside the contours of Sycamore Canyon.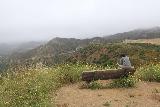 When we got up to a bench overlooking the canyon, Julie and I started having doubts about whether we were going the right way or not.
So as we were looking at the map once more, we did ask a couple of people going down in the opposite direction, and one guy was friendly enough to tell us that he did go to the waterfall, and that we were going the right way.
I guess this excursion had so many trails going this way and that, that it was surprisingly difficult to stay on track (even though we had done this waterfall twice before in the past).
Regardless, now we were determined to keep going up the hill and follow Sycamore Canyon upstream as we eventually got up to the junction with the Hidden Valley Overlook Trail at around 12:30pm.
We kept right as we finally saw a sign for the waterfall, which was the very first one that we saw since the trailhead by the bathroom back at the main lot.
From this point forward, the trail briefly climbed a little more before descending in a gentle grade as we continued along the contours of Sycamore Canyon.
There were still lots of people both going to the falls and coming back, but it was nowhere near the crowds that we had seen at Paradise Falls earlier on, nor was it the zoo that was Sturtevant Falls last Monday on Memorial Day.
The trail eventually entered the vegetated confines of the seasonal creek responsible for Sycamore Canyon.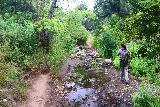 There, we noticed quite a few burned trees, which was clearly the evidence of fire that had passed through here though we weren't sure if it was from the Woolsey Fire or something that happened earlier.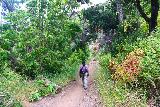 After crossing the stream (an easy crossing since the creek didn't seem to flow high), we then continued on a somewhat uphill trajectory as we were now on more familiar waterfall hiking trail surrounded by trees and even thicker groves of plants with flowers on them.
We did see one narrow trail that veered to our right to continue going uphill, and we must have somehow missed the connecting trail that connected the Upper Sycamore Canyon Trail with the Danielson Road approach (for I did notice some hikers on that lower trail down below earlier on).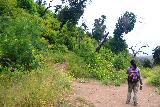 Regardless, we proceeded on the creekside trail and eventually got down to a side stream on our right where we had to do some pseudo-scrambling past a couple of giant boulders before reaching the familiar cascading Sycamore Canyon Falls.
As expected, the waterfall didn't have very high flow, and it was a bit on the disappointing side. I guess coming here in June was probably a couple of months or more too late, but at least it was still flowing (which attested to how much rain we had gotten this year).
We got here at 12:55pm, and we wound up spending some minutes taking pictures (actually one mother waiting for her husband and sons helped us out here), before Julie checked out some salamanders on the creek while I decided to go up the falls to see what everyone else had been seeing all this time.
Actually, the scrambling up to the top of the falls wasn't very trivial as I had to grip some sloping hard-rock surfaces that could easily be difficult to get a grip, especially if wet.
But I eventually got to a spot where I noticed a small tier as well as a small sloping notch of water, but I didn't see a fairly obvious way to continue up.
And just as I was about to give up, I did notice a side path through the bush then going around this obstacle before another precarious scramble back down towards the creek to get right in front of the very last (or uppermost) drop of Sycamore Canyon Falls.
I got up here at around 1:05pm, and this spot was seemingly secluded with a small pool and a tier that felt more like a spring with the falls percolating through weepy moss as well as the stream itself having a few of those water bugs I had seen many times before (those with the long legs and propelling themselves after floating in the water for a bit).
While I did finally get to see up here what I had been missing out on all along, I had to say that the effort wasn't all that worth it (especially with the dropoffs and poison oak exposure).
Nonetheless, at least I had my curiosity piqued, and then I sat and scooted my way back down to rejoin Julie for one last selfie before we headed out at around 1:20pm.
The hike back was for the most part uneventful though we did catch up to that family whose mother helped to take photos for us.
They had two young sons, and it kind of reminded Julie and I of how it must have been when we were bringing a younger Tahia along on some of our hikes (though I had a frame pack carrying her at their age just in case – guessing they were about 3 or 4 years old).
Indeed, they had boundless energy, which really made us feel our age. The mother said they were "tired" yet they were hopping and running back and forth on the trail.
Eventually, they let us pass and we then made a beeline back on the trail we should have taken in the first place towards the Satwiwa Cultural Center.
By the time we got back to the familiar bridge by the cultural center, we could see now how we had missed the direct trail the whole time!
After all, the trail we were on was narrower and unsigned compared to the main Satwiwa Loop Trail. Plus, it didn't even have a sign for the waterfall. No wonder why it was so easy to miss!
Regardless, we were ultimately back at the main parking lot at about 2:10pm. Along the way, we saw one more rabbit scurry across the trail.
And with the June Gloom persisting even this late in the afternoon, I guess it just wasn't meant to be to witness Boney Mountain this time around.
Anyways, it was getting late, and we knew that we were still probably nearly an hour away from Julie's preferred lunch spots – which she targeted Granville's again in Studio City.
Indeed, with the traffic, we wouldn't get there until about 3:10pm.
At least it wasn't terribly busy at the time so it didn't take long for us to have another branzino while Julie enjoyed her Paleo Plate.
We probably overdid it with the beets and sweet potato fries as appetizers, but we really went over the top with a check-in that allowed us to try their flourless chocolate cake for the first time (since last time we were here last week to see cousin Diana, Tahia and I were under the weather).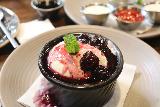 Regardless, we were eventually back in the car at 4:40pm, and we then decided to drive towards the 405 south, where we faced more heavy traffic.
Julie wanted to check out this supposedly grain free and gluten free dessert place called the Sugar Free Shack in Torrance, and when we eventually got there at around 5:40pm, we picked up their chocolate donut and a couple of cupcakes. But they had run out of the churro donuts.
Eventually, at 6:15pm, we finally made it back home. During the traffic on the drive home, we did try the desserts, but we weren't that impressed. Plus, Julie did some more digging, and it turned out that these desserts did indeed have sugar (I guess they didn't have cane sugar, which was what "sugar-free" meant in this sense) so she was probably going to pay for it with a breakout or something.
When we decided to have another late dinner so she wouldn't have to cook, she ended up with a headache so we weren't sure if it had to do with that dessert or if we inadvertently had something with lectins in it (we forgot to tell the waitress to not make a particular snail salad spicy).
Anyways, it wouldn't be until after 8pm when we finally got home again, and then we could unwind on this surprisingly busy day where it was kind of like old times.
I guess sometimes it could be this love-hate relationship with our daughter. On the one hand, we love her to pieces, but on the other hand, she really could stress us out (especially Julie who was far less lassie-faire than I was regarding her routines and diet).
That's parenthood I guess. And we'll be taking her with us to our big Summer trip so for better or for worse, we're looking forward to making more memories that would hopefully last us a lifetime…
Visitor Comments:
Got something you'd like to share or say to keep the conversation going? Feel free to leave a comment below...
No users have replied to the content on this page